When we were kids, our parents had very few baby monitor options. Baby monitors of the 80s and 90s looked very much like walkie-talkies, except only one end had a mic, and the other had a speaker. They were usually constructed of cheap plastic that would crack under the slightest pressure. In addition, the baby monitors of yore would sometimes pick up your neighbors phone conversations and pipe them directly through the monitor speakers. Wireless landline phones and wireless baby monitors ran over close frequencies, so every once in a while, you would luck out and hear some juicy neighborhood gossip.
Consumer electronic companies are finally starting to wise up to the true needs of new moms and dads. Parents want a reliable monitoring system that utilizes modern technology to keep their children safe. The Arlo Baby, which we reviewed last year, was a step in the right direction, but technology has come a long way. There's nothing more important than keeping our family safe, so we're constantly on the lookout for the latest in security tech.
Note: At no extra cost to you, we may earn a commission for purchases using our links. Learn more.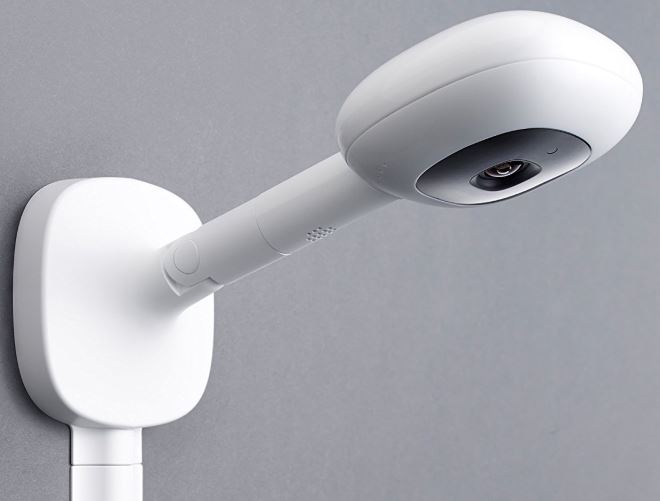 First Impressions
The Nanit smart baby monitor system is the next technological leap in youth surveillance. Smart technologies are taking our homes by storm. We have smart home security cameras, so why not smart baby monitoring? The Nanit combines HD video, a built-in nightlight and smart environmental sensors to ensure your child is secure and comfortable. As new parents, we were thankful to have the chance to review the Nanit over the last few months. We used the device as out primary baby monitoring system, so we were able to become very familiar with its capabilities. Here is our honest review of the Nanit sleep security system.
What's in the Box?
The Nanit is packaged using premium materials, as you would expect from a premium priced consumer electronic. Contained in the box is the camera itself, a specially designed mount with wall mounting hardware, which also serves as the device's cable management system. Perhaps the most important element of the Nanit system cannot be stored in a box, and that's the Nanit smartphone app. If you're wondering why there isn't a receiver in the packaging material, it's because the Nanit doesn't have one. Instead, your smartphone becomes the monitoring device.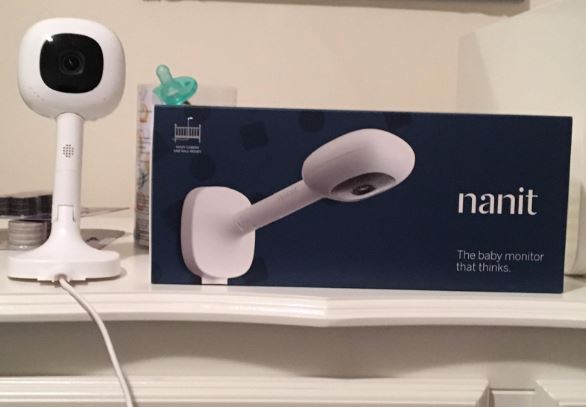 Installation
The Nanit sleep system ships with a wall mount and a "multi stand." The company also sells a floor stand separately if you prefer to have your crib located away from the wall. The multi stand is a great accessory because it allows the Nannit to become portable. You can detach the camera from the wall mount and carry it with you to grandma's house or wherever your baby is sleeping that night. Since we chose the wall mounted option, the installation process was a little more complicated than a walkie-style tabletop monitor. The good news is that Nanit provides great, easy-to-follow instructions, so the process was easy enough.
The mounting hardware includes a cable management system, which completely houses all the power cabling. This cable covering should calm the nerves of any parent who fears that their toddler would be strangled by wiring. The mounting is built securely and ensures safety. The camera has no dangling or moving parts, and the construction is engineered to eliminate any safety hazards. If we had noticed any potential safety issues, there is no way we would have used the device in our own nursery, but once we saw the mount's quality, any fears were squelched.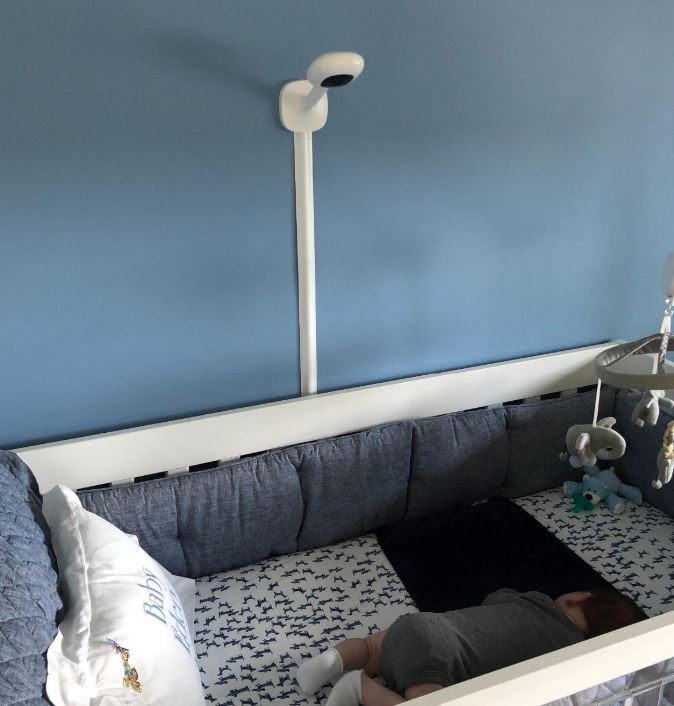 Connectivity
One of our favorite features of the Nanit is how it handles Wi-Fi outages. When we are relying on a device to ensure our child's safety, we don't want to have to worry about connectivity issues causing any lapses in our monitoring. When the Nanit loses internet connection, the device automatically stops cloud recording and uses your router to stream video directly to your phone. If your router is running, you'll have access to the video stream, even if your Internet is down or acting spotty. The internet-free feature made us confident enough to even use Nanit overnight.
During our review we didn't experience any network interruptions that were caused by the Nanit itself. We did have a brief network outage, which allowed us to out the system's router streaming system. We were a little skeptical of how effective the system would actually be, but thankfully our skepticism was unfounded. The HD picture was just as clear as the cloud streaming option.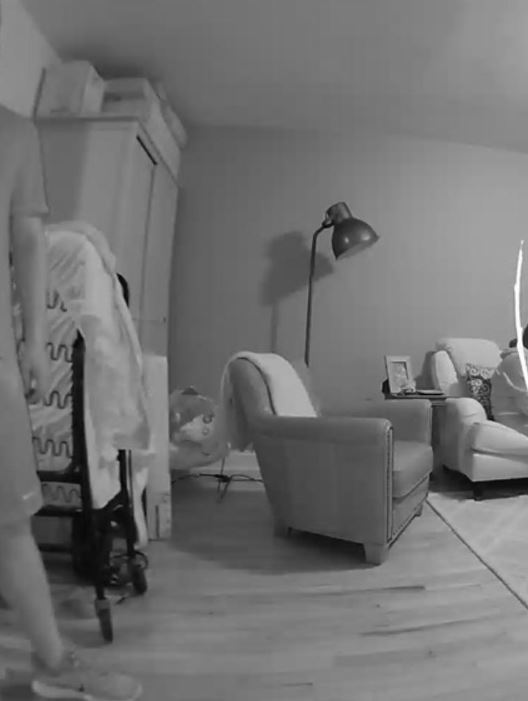 Smartphone Connectivity
The Nanit doesn't ship with a designated receiver like many traditional monitors once did. Instead, the device uses your smartphone as the receiver. Once you download the Nanit app, the sleep system wirelessly connects to your smartphone through your Wi-Fi connection. When the two devices are synched, you'll be able to watch a live birds-eye video feed of your child's crib. The app also allows you to outline your crib, which aids the software in producing accurate activity reports, which we will discuss in a separate section a little later.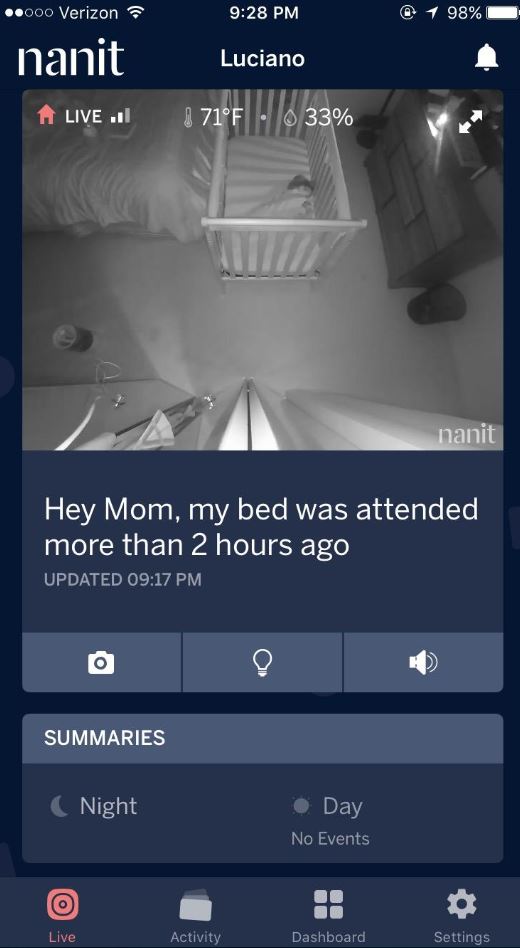 Video Quality
The Nanit's video camera produces 960p HD video, which looks better than any other sleep system we've ever had the chance to review. We were particularly impressed with the device's daytime video quality, which is sometimes a major weakness of child monitoring systems. Babies frequently need naps during the day as well, and Nanit seems to understand that darkness isn't the only light condition that needs surveillance. The camera also features 10 infrared LEDs, which allows great video quality in low-light conditions, as well. The importance of HD quality video is particularly noticeable with the smartphone app's pinch-to-zoom feature, which allows you the user to zoom-in if they'd like to see their sweet baby's face.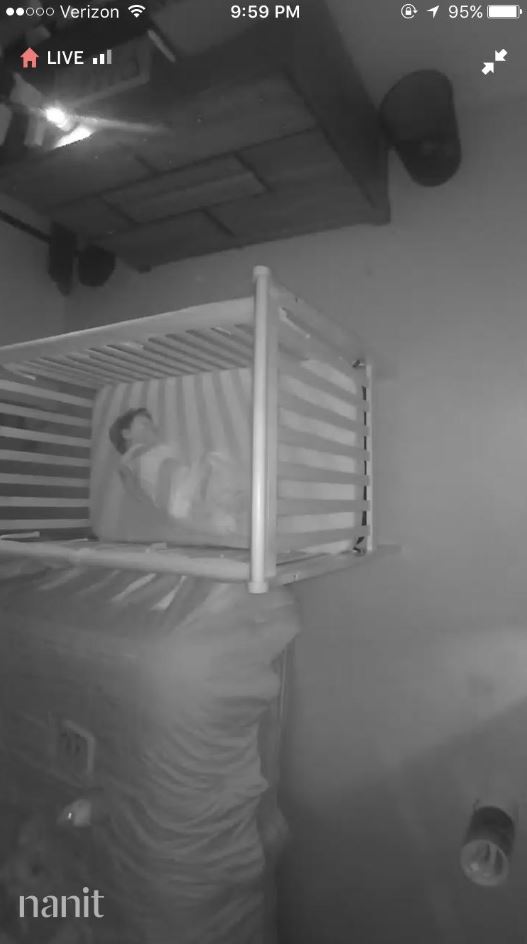 Environmental Sensors
One of our favorite features of the Nanit is the plethora of extra sensors, which monitor not only motion and sound, but humidity, temperature and crib positioning. The app allows you to set notification thresholds based on any of the monitored conditions. Once the humidity or temperature goes to high, or if the crib is moved out of position, you'll instantly be sent a notification that provides details about the room's conditions. The app can be used by multiple users on multiple devices, and each user can set their own notification threshold settings.
We found the temperature setting to be the dig difference maker. While our home has central heating, the insulation can sometimes make our bedrooms a little too warm. The Nanit app notified us when our newborn's room was getting a little too steamy, which allowed us to keep our baby comfortable and happy. Any new parent knows that a happy baby means happy parents. An unhappy baby means sleepy parents.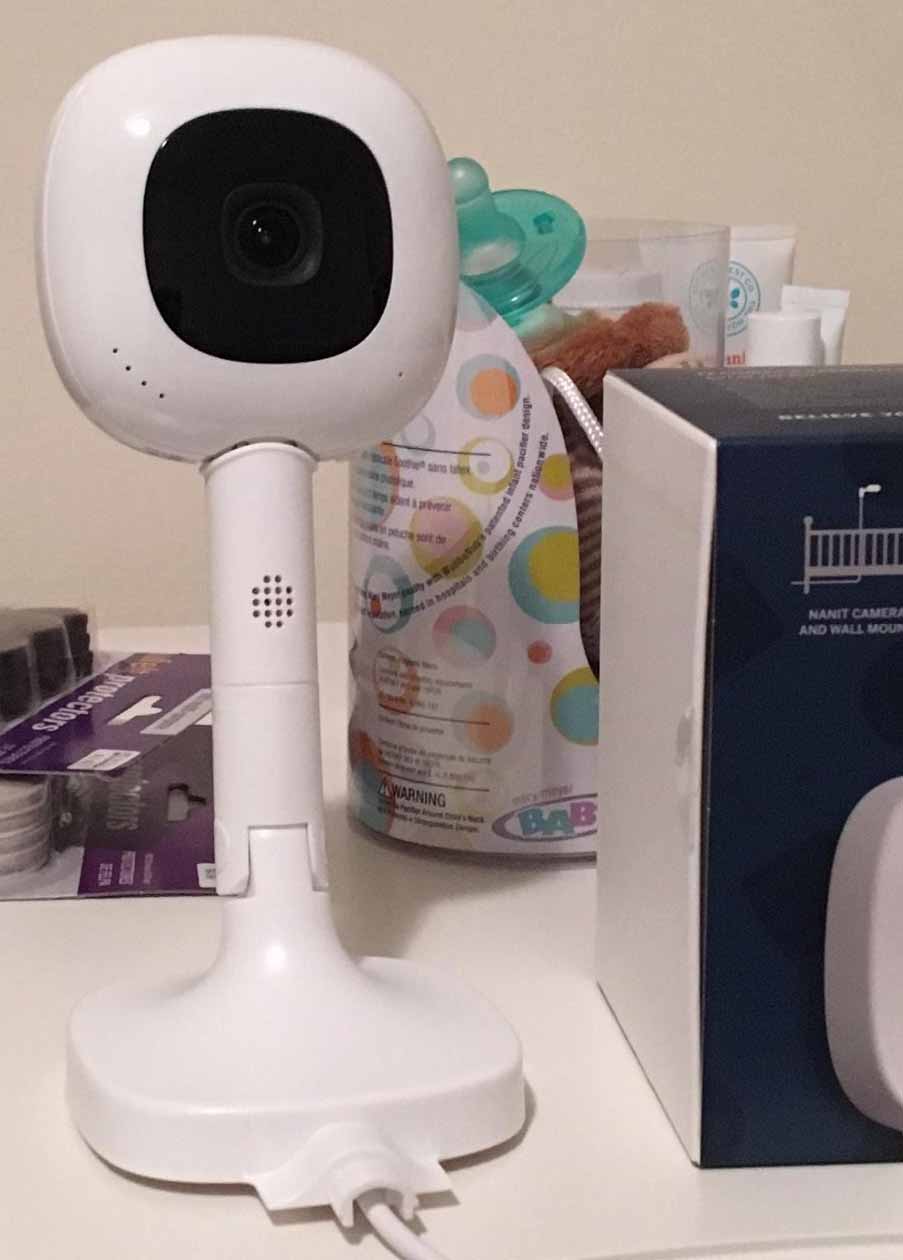 Sleep Data
So, where does the word 'smart' come into play? In addition to environmental sensors, the Nanit also keeps track of your child's sleeping habits. Nanit offers a subscription-based statistical service, called Nanit Insights, which turns the camera into a data collection tool. When using the Insights service, the device will automatically store a clip of the moment your child was put in their crib, and a clip of the moment your child falls asleep. The Nanit then uses this video data to tell us how long it took for our child to fall asleep, how long they slept, how many times an adult visited the crib, and how often the child woke up. Insights then uses all of the data to determine the quality and efficiency of the child's sleep. The system lets you know whether your baby had a good night's sleep or a not-so-good night's sleep. Knowing this data helps parents pinpoint any potential causes of sleep disruptions.
A year of Nanit Insights is included with your purchase. The free edition provides 30 days of video history. For an additional cost of $100 a year, you can subscribe to Insights Unlimited which, if you couldn't tell from the name, offers unlimited video history. After the initial free year, the service costs $10 per month or $100 per year. The Unlimited plan costs $30 per month or $300 per year. After the first year, your toddler will almost certainly be sleeping through the night, which will make the Insights feature a less must-have service.
Nightlight
While a simple nightlight might seem like a feature that doesn't require its own review section, we felt compelled to point out the light's unique design. Since the camera is mounted right above the crib, there was the potential for a nightlight feature to do more harm than good. Direct light makes it much harder for a child to fall asleep. Luckily, the Nanit's nightlight is located above the camera and points towards the celling. The result is a soft glow which is more soothing than distracting. A less-careful manufacturer might have missed this detail, but the directional light makes the feature a must-have instead of a must-avoid.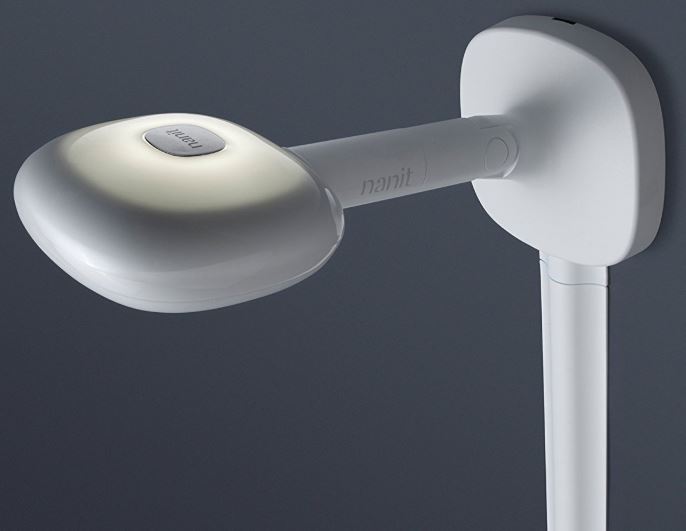 Final Thoughts
Nothing more important than the safety of our children. It's true that there are cheaper options on the market, but safety is not something we are willing to sacrifice in the name of affordability. The Nanit has become an indispensable member of our smart gadget family. The device's combination of HD video quality, smartphone connectivity, environmental sensors and an app which uses data unlike any other baby monitor we've ever used.
The premium price results in features which we wouldn't part with now that we know their potential. The Nanit sleep system has helped us ensure that our child gets a comfortable and safe night's sleep, and it helps us improve our child's sleep through data analysis. The Nanit Insights system is worth its weight in gold, and the free year of the service is an essential tool for any parent. If you have the budget for a pricier monitor, than you won't find a better option than Nanit. Take our advice; don't skimp where it counts.
Please consider sharing:
Note: At no extra cost to you, we may earn a commission for purchases using our links. Learn more.