A business router is concerned with slightly different things. When you're at home, a short hiccup with the internet is a minor inconvenience. When you're at work, it might reflect on your professionalism, get in the way of accepting payments, halt productivity, or worse. With more on the line, performance gets held to a higher standard.
Which is probably a good thing. In an increasingly interconnected world, the health of your network and the health of your business can also be interconnected. A security breach might leak tax information, customer data, and everything else necessary to steal the identity of every employee in your business.
Of course, it's not all about security. Business routers have to deliver on more immediately practical concerns. And in doing so, providing you with all the information necessary to make informed decisions about the health and status of your network.
NETGEAR Insight Instant VPN Business Router
NETGEAR produces half a dozen product lines of specialized routers. The Insight series is about worry-free management in the interests of business. Concerning yourself with the day-to-day happenings of a network, you don't want the process to be tedious or time consuming. And whether you're primarily focused on network storage, data backup, or security, the Insight series can deliver in impressive ways.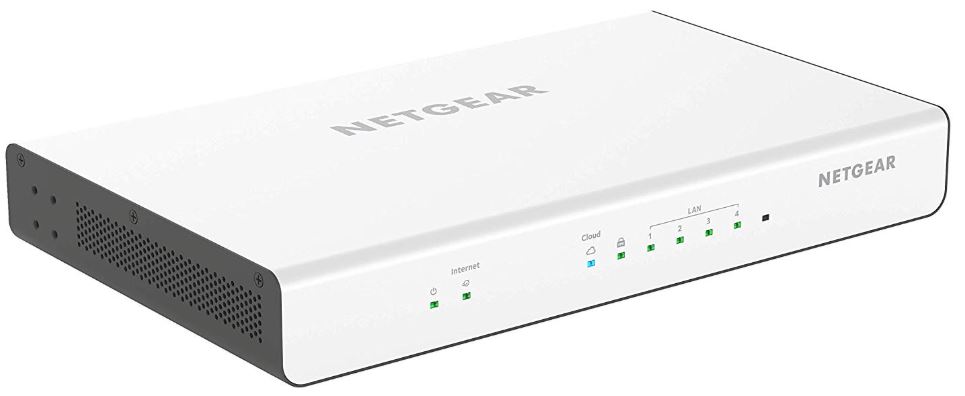 The recently released NETGEAR Insight Instant BR500 VPN Business Router is a pretty good example. Its name might be somewhat confusing at first, but a closer examination reveals equipment that's actually a bundle of smartly designed business-oriented features. From its clean, professional aesthetic, to redundant layers of security protection, the Insight Instant VPN Business Router has quite a bit to offer.
Build & Design
Insight measures 7.4 x 1.7 x 12.4-inches. It's been constructed of aluminum alloy, allowing its chassis to feel sturdy in your hands. Insight has a bright white body, looking professional, if a bit sterile. That helps it match up quite well with Apple equipment specifically. In most respects, the Insight Instant VPN Business Router resembles any other router. Most of the big differences are unseen.
Weighing about 3.4lbs, this router definitely has some heft to it. The casing uses a feet-free design. While capable of sitting flat on a shelf, it's somewhat transparently designed to be wall-mounted. If you do go that route, you'll need to do a secure job mounting this kind of weight. Discard the possibility of using sticky-pads entirely, it won't work out well.

Physical Control
Along its front facing side, you'll find the standard array of networking LEDs. They indicate if the power is on, the internet is connected, the Cloud connection is live, and if a VPN is being used. They also give you information about the network status of each of the four Ethernet jacks. With intuitive labeling a little color-coding, the entire presentation is easy to use.
Along its backside, there's a small reset button that's been recessed within the chassis. You'll need to grab a pin or needle to access it. Adjacent to that, four Ethernet jacks. There's also a single yellow WAN port to connect with your modem. Having the port color-coded is a nice touch.
Rounding things out, there's the power button and D/C power port, and a Kensington locking mechanism. If you don't happen to have a Kensington locking cable sitting around, adding an aftermarket locking cable to secure the Insight Instant VPN Business Router will cost in the neighborhood of $20.
VPN Security
For consumer grade routers, being protected behind a VPN mostly about remaining anonymous. People tend to use them for things like illegal file downloading, or for privacy concerns. But those same tools can be used to protect business data, prevent the duplication of data, and locate all devices on the network with ease.
Physical security is one thing; cyber security is another. The NETGEAR Instant Insight Business Router has quite a few cyber security options. The most prominent is your ability to create a VPN network. Whether you're a tech savvy large business, or a smaller business with simpler needs, creating a secure VPN for your business takes about 90 seconds.
Within the NETGEAR control apparatus, you can get VPN access constructed in essentially one step. That can help facilitate secure site-to-site access for business-to-business collaboration, and department-to-department communication. You can setup secure channels to your home, office, or wherever you'd like. Keep in mind, Insight's site-to-site VPN service is restricted to three total VPNs. For client sites, the service is restricted to ten.

Network Security Adaptation
Suppose you buy a $60 consumer-grade router. The security you get from even a basic NETGEAR router is already close to cutting edge. Going the extra mile for security is one of many was a business router can distinguish itself. And the Insight Instant VPN Business Router does just that, starting with VLAN in VLAN support, helping you create a private VLAN.
In addition to standard protections, you receive an additional firewall against unauthorized access. A packet inspection firewall, with rule settings to help instantly protect you against intrusion. Instant Insight works to be proactive about providing instant warnings for any questionable attempts to connect.
The firewall supports DDoS prevention, stealth mode, Block TCP Flood, Stateful packet inspection, port forwarding, NAT Traversal. Configuring the rules of these settings can be done through Cloud Portal or the Insight app. From there, you can establish trusted domains, setup web-based keyword blocking, or otherwise create content filtering appropriate for your business.
Network Speeds
The 802.1Q compliant hardware keeps speeds high for both wired and wireless connections, with the LAN to WAN throughput reaching a peak of 924Mbps. Provided only that you're not expecting to move more than a Gigabit of connectivity through a single router, that makes the Insight suitable to most businesses.
Network traffic is managed with the assistance of a 1.7 GHz processor, working with 128MB flash memory and 1GB RAM. It's really only in unusual circumstances that internal hardware that strong will begin to falter. When've got 90-people on the network simultaneously, and half of them are streaming video, that's when you're going to encounter problems.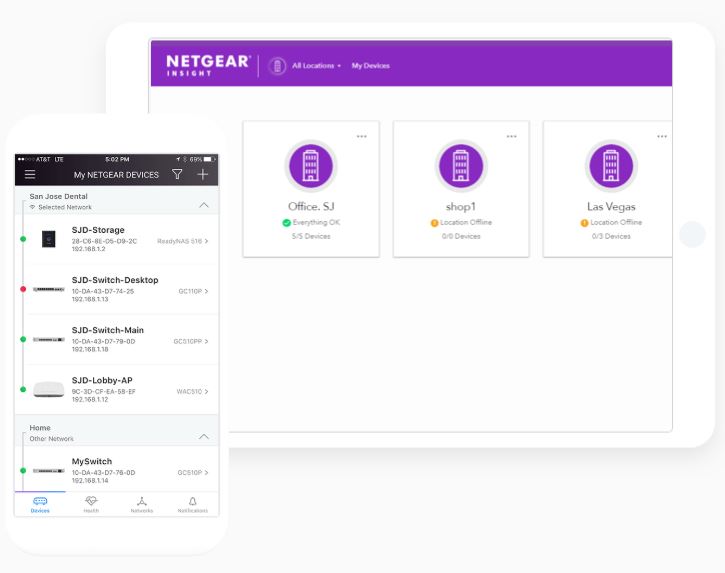 The Insight Premium Service
The Insight software suite provides insight into the status of your hardware, including port speeds, the temperature of the device, current CPU load, and the utilization of memory. It also gives insight into the status of VPN networks, the people who are connected, the means by which they authenticated, the location of traffic at any given moment, the volume of your data, and so forth.
You can try the Insight Premium service for free because there's a 30-day trial included with the router. Whether or not you'll want to monitor your network remotely from the cloud really depends on the unique needs of your business. But whether you're concerned about security or employee productivity, just about all the data you need is available within Insight.
Insight Service Pricing
If you decide that you need the Insight service after the trial, NETGEAR has highly economical subscription plans. Up to two Insight devices can be managed for free. For about $5 a month, their basic plan extends the number of devices out to accommodate a small business. And the premium plan extends support for $1 per device, per month.
Whether or not you actually end up using the Insight service, having it to setup the router actually makes things incredibly simple. After you've given the router power, and after you have installed the Insight app on your phone, you're about 95% done with the entire installation process.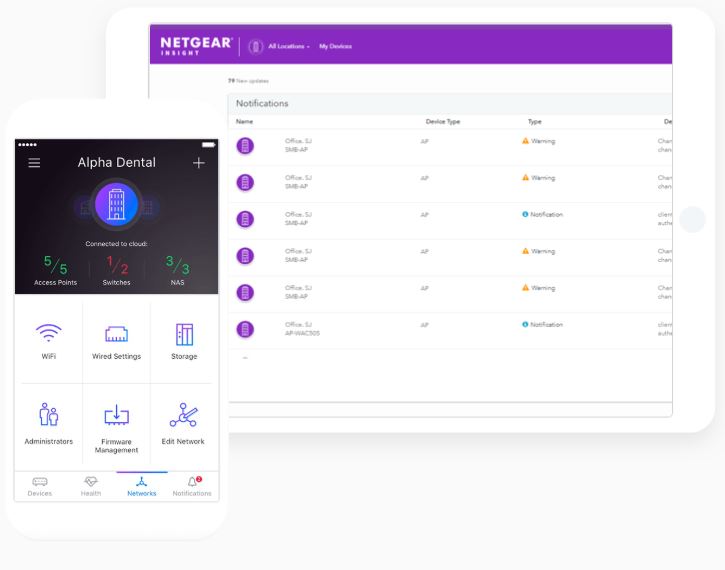 Other Considerations
It should almost go without saying, but the Instant Insight VPN Business Router stays up to date through the cloud. That helps you keep your network protected against the latest threats, long before they're in the headlines, and long before you ever knew there might have been a danger.
The Insight Instant VPN Business Router includes an impressive 5-year warranty. NETGEAR includes 90-days of tech support by phone or e-messaging. The already impressive warranty is further backed by the promise of next day business replacement.
That's a good thing because when you build 1,000 routers, two or three are going to come out bad. The problem might not become transparent until a year of use. But if your router suddenly croaks, you don't want the hole in your network to hold-up business.
In addition to a 5-year warranty, NETGEAR offers next business day replacement. If you're not familiar with these types of services, the way they work is quite simple. You tell NETGEAR your router is dead. They help you confirm it's actually toast. After that, they immediately mail you a replacement.
Before they've even received your busted router, your new gear is on its way. It does require NETGEAR place a temporary charge covering the replacement. But it's automatically refunded once they receive the broken unit you mail back. Exceptionally useful for businesses who rely on the Internet.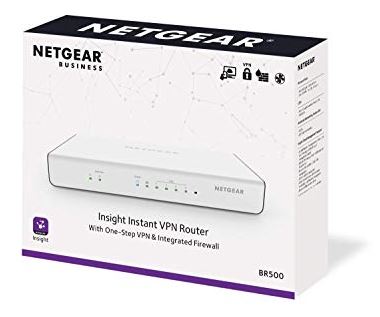 Who Should Choose the NETGEAR Insight Instant VPN Business Router?
Who's on your network? What are they doing? Insight can give you a complete picture of your network. It's a router built to scale-up along with the growth of a business. Delivering flexibility, reliability, and security, this router provides even amateur users complete remote access over the management of traffic.
The information you get from Insight comes through an easy to use interface, which can be used on essentially any device that has a browser and a screen. Of course, ease of use isn't the only thing Insight Instant VPN Business Router has going for it. With additional firewall protection, and a wide bundle of instant VPN options, this router can deliver quite a few extra layers of security and network isolation.
NETGEAR happens to be among the most trusted names in cloud security. Providing bandwidth support suitable to the majority of small and medium-sized businesses, just about any business with a serious interest in security will want to take a close look at the NETGEAR Instant Insight BR500 VPN Business Router.