When you're on a tight budget, choosing a gaming headset can be tough. You don't want to sacrifice comfort, microphone quality, or audio fidelity. But you're going to have to make sacrifices along the way. More often than not, finding a gaming headset for less than $50 is about making sacrifices you can live with.
ONIKUMA K5 Stereo Gaming Headset
ONIKUMA isn't exactly a household name, but they're still a popular brand with about two million sales under their belt. Their audio gear might best be compared with brands like Turtle Beach, except with less emphasis on branding and more on value. And they have a soft focus on creating audio specifically for gamers.
The ONIKUMA K5 is an entry-leveling gaming headset. It's actually an updated version of a similar headset, the enormously popular blue K5. This updated version is still a definitely a budget oriented headset, and it's definitely made for gaming. But now it also has a handful of features that apply to general use.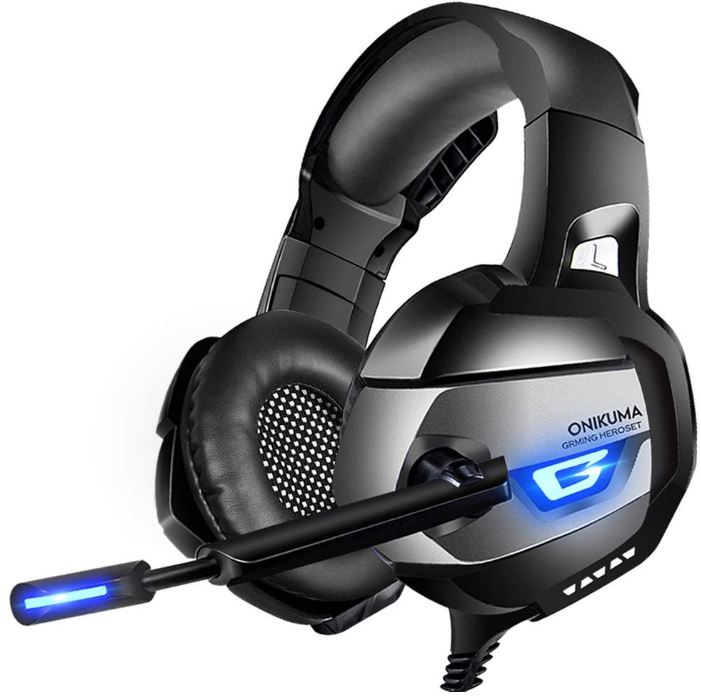 The K5's soundscape is largely about recreating spatially rich 3D sound. Their ergonomic design is largely about creating lasting comfort. The microphone is largely designed to facilitate clear communication. None of these things go over the top in terms of their performance, but none of them are sources of disappointment either.
Build & Design
The K5 makes use of a fairly simple black-and-silver chassis, helping it look like a fairly generic gaming headset. The end of the microphone and both ear-cups have been covered with blue LEDs, which light up when the headset is in use.
Five years ago, these would've helped the ONIKUMA K5 Stereo Gaming Headset truly look unique. But LEDs have become so ubiquitous that these LEDs ironically help the K5 blend-in rather than stand out.
Another thing to notice about their build is how the K5 Stereo Gaming Headset's joints are quite sturdy. Each ear cup is made to move in an omnidirectional manner, capable of being adjusted freely to create sound in any direction. That freedom is also quite conducive to comfort, but we'll look closer at comfort later.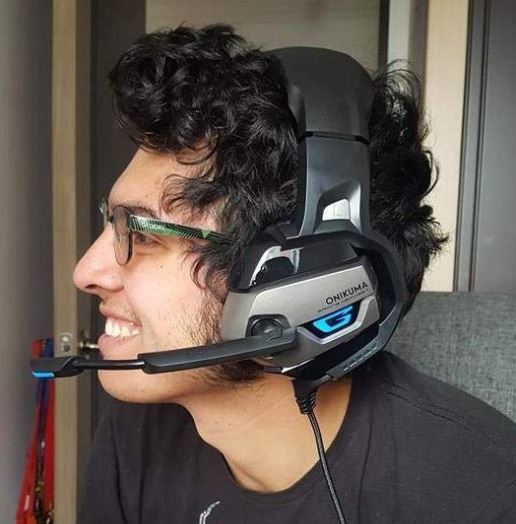 Basics Done Right
When you're choosing gaming headphones on a tight budget, and you're also trying to get the best sound quality possible, there's a short checklist you can go through to guide your selection. Near the top of that checklist is audio driver size.
Unless you're seeking a highly portable headset for mobile gaming, then you want to look for 50mm audio drivers, exactly like those used by the ONIKUMA K5 Stereo Gaming Headset. And larger drivers like these tend to indicate there's slightly more space between your ears and the drivers, which translates to greater air volume for those drivers to manipulate. These basic elements can help maximize audio quality from an entry-level headset.
Cable and In-Line Controller
At the end of its cable, the K5 terminates in two connections. The first is a standard 3.5mm audio plug, and the second is a USB connection. The USB connection is required to power the LEDs.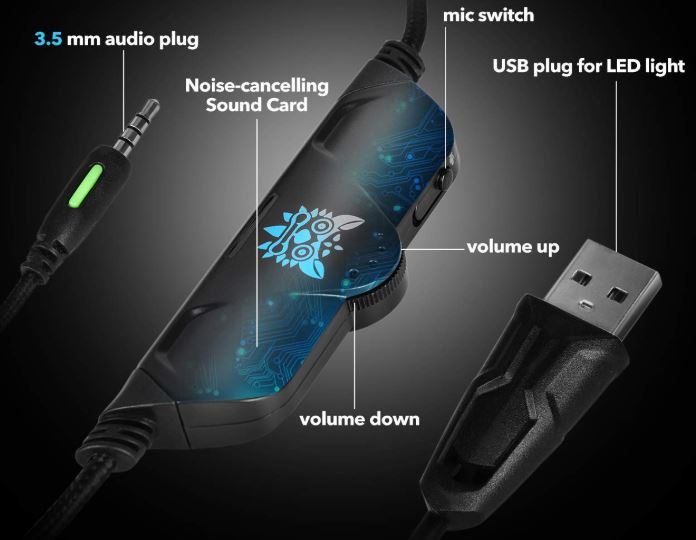 But if you don't care about those, you can choose whatever connection is easiest for you. That's rather convenient because you generally don't have to get adapters involved, yet you're totally ready to plug the headset into almost any device.
The cable itself is quite thick. Though it's not tangle-resistant, it seems quite unlikely to be the source of any problems. Nevertheless, it's always a good idea to take care of your equipment, especially cables that can't be replaced.
Another essential feature for almost any gaming headset is volume and microphone control. As you move from one game to another, or match to another, you might want to make adjustments.
The K5 Stereo Gaming Headset's microphone on/off switch is also great, giving you total assurance your microphone is disabled when you think it is. Naturally, that switch is positioned on the in-line controller, adjacent to the volume wheel.
Claims of Surround Sound
Some special headphones are manufactured to deliver surround sound experiences. They do this by literally using multiple additional speakers within the headset, or having support for proprietary software like Dolby Atmos.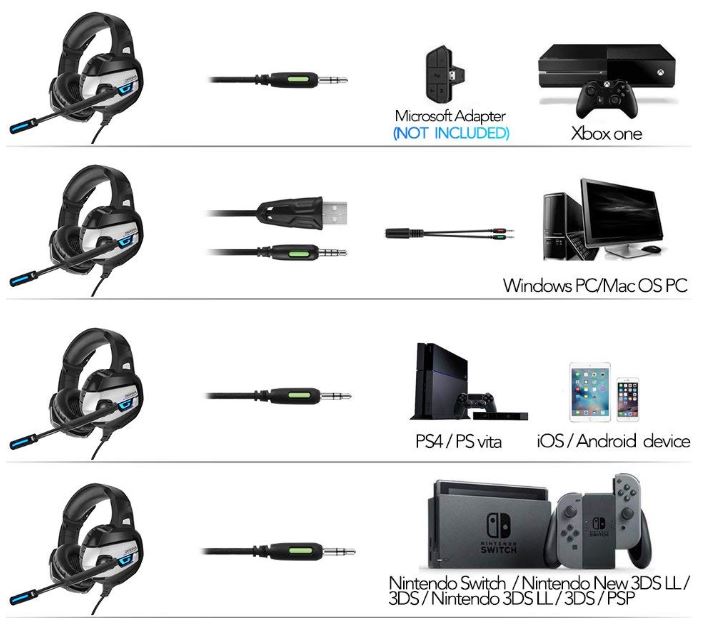 There are many different ways to digitally create an experience that's similar to surround sound. And almost any headset, including whatever pairs you may already own, are capable of using those software-based technologies. That includes headsets made decades before these software technologies ever existed.
The ONIKUMA proudly points to its support for 7.1 surround sound. But their support is the same type and depth of support provided by almost any pair of stereo headphones to ever exist. Because they're not bringing anything unique to the table, like a multi-speaker design, the claim is somewhat absurd.
Lasting Comfort
Like many headsets, the ONIKUMA K5 Stereo Gaming Headset makes use of memory foam. But it's a somewhat unique foam, crafted to form a bionic protein cushion coat. It's both dense and responsive to touch, which is quite comfortable. Each ear cup can be raised or lowered independently, using standard metallic sliders. They also swivel freely.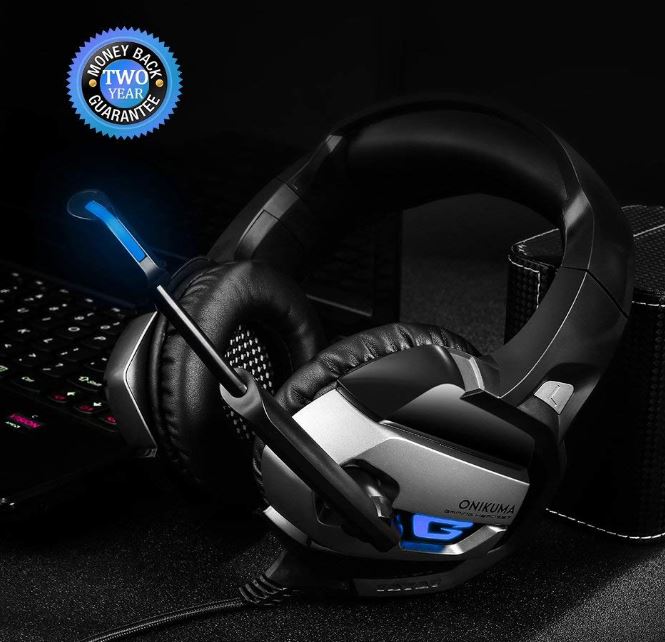 The ear padding is quite thick, measuring about ¾". This is partially in the interests of comfort, and partially to help position your ear slightly further away from the audio drivers. Putting aside those thick ¾" ear pads, the headband uses some of the thickest padding you'll find on any headset. It's actually a bit thicker than the ear cups themselves.
The K5 weigh just over half a pound, which does not intercede their ability to provide lasting comfort. It's actually fairly close to the ideal weight for a headset, but still slightly on the heavier side. Because this is an over-ear headset, it won't hurt your ears after you've been listening for an entire day, and that's exactly what you want from a gaming headset.
Comfort Issues
The only issue with comfort is heat. The ONIKUMA K5 does not address heat. Over-ear headphones which are built to block sound from the outside environment suffer a couple of side effects. Most pertinently, they tend to trap heat.
It's a bit like if you were wearing a hat on your ears. If you're playing from warm and toasty environment to begin with, that kind of thing can cause comfort issues quickly.
The ONUKUMA K5 Stereo Gaming Headset will trap heat, so you might want to take a couple of short breaks to let them breathe. It's hard to hold that against ONIKUMA because very few headsets address this issue directly, and none of them are within this price range.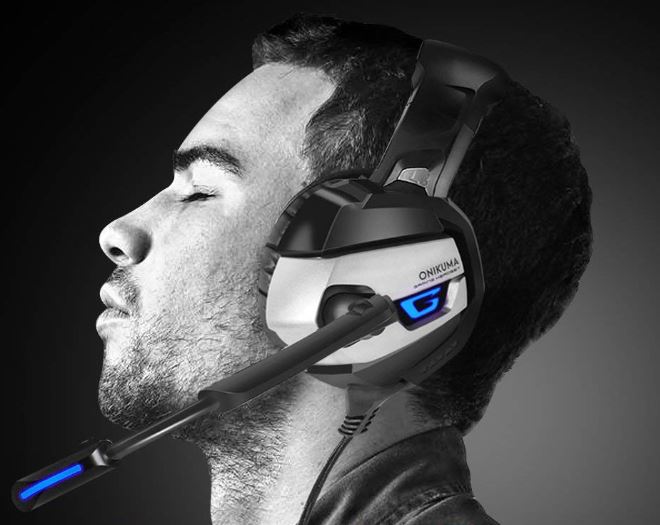 Audio Quality
The ONIKUMA K5 Stereo Gaming Headset recreates a wide soundstage, allowing you to easily identify the location of sound within a 3D space. Whether you want to hear the footsteps of enemies creeping towards you, or you're running towards the sound of gunfire, the K5 provides perfectly sufficient audio fidelity.
Some of their marketing material gloats about the sensitivity and frequency range of this equipment, but it's pretty close to standard. Actually, much of their success is the result of doing basic things correctly. Using 50mm drivers with an over-ear design carries the ONIKUMA K5 Stereo Gaming Headset half of the way through the race for affordable excellence.
Among most headphones in the $30 to $100 range, there are not tremendous differences in audio quality, there are only incremental differences. If you want to get audio quality that's a full step above average, you need headphones which are powerful enough to require an amplifier to properly drive them.
It's fair to say the ONIKUMA K5 sound about average for a gaming headset. But again, that's not necessarily a bad thing. It also means the ONIKUMA K5 compare favorably to plenty of headsets in the $60 range.
Microphone Quality
Among the list of things that people want from a gaming headset, a gaming-quality microphone is typically near the top of the list. The microphone used here is modest, but respectable.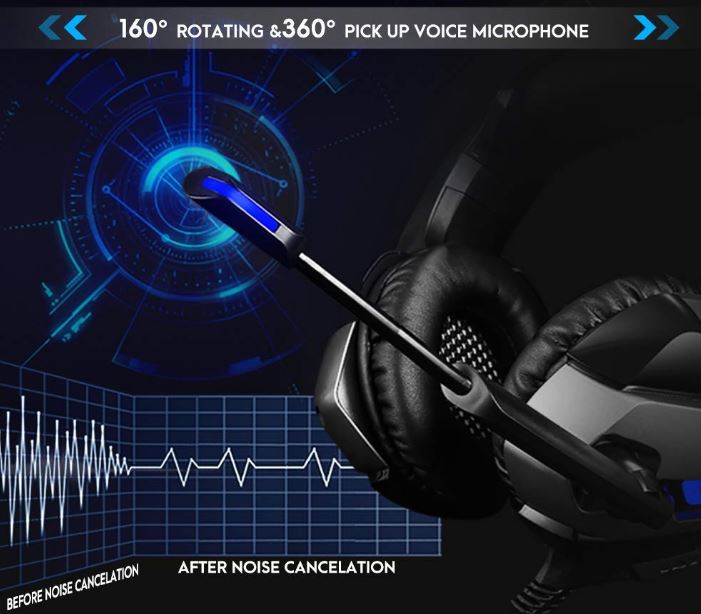 The ONIKUMA Stereo Gaming Headset positioned its microphone at the end of a widely adjustable mic arm, which can rotate about 160°. That's not quite totally adjustable, but it's enough to get it out of the way when you're eating, or to place it directly in front of your face at any angle.
The microphone itself is marginally better than average. Its best feature is use of an anti-static design to help ensure your communication doesn't get interrupted. And the incorporated noise canceling technologies make sure that just because someone's playing a television in the background doesn't mean your teammates can't hear you anymore.
Other Considerations
The ONIKUMA K5 enjoys wide compatibility with essentially any platform you can name. That includes the Nintendo Switch, 3DS, Windows/Mac PC, iOS, Android, PS4, Vita, Xbox One, and so on. You may need an accessory to connect to an Xbox, depending on the Xbox controllers you have.
The K5 does not have the higher end features found on top-shelf gaming headsets. Some headsets allow you to check your microphone output by listening to your own voice, or can augment their output to amplify small noises for competitive advantage. These niche features aren't terribly important to most people, but it's something to think about.
The ONIKUMA K5 Stereo Gaming Headset includes a 3.5mm audio splitter, which terminates in a pair of male 3.5mm audio plugs. The K5 also includes a two-year warranty, and actually undergoes quality checks before released by ONIKUMA. It seems they're pretty serious about their headsets actually lasting for at least two years.
Who Should Choose the ONIKUMA K5 Stereo Gaming Headset?
The ONIKUMA K5 offers sound quality on a level which is essentially unsurpassable without greatly increasing your budget. They offer comfort that's ideal for gamers, and particularly hard to beat within this price range. Though their ability to dissipate heat is weak, the only way you can solve that problem is by making deeper sacrifices or by raising your budget.
A budget headset isn't going to live up to the standards of high-end headsets. But the ONIKUMA K5 Stereo Gaming Headset seems to be an instance where you get exactly what you pay for. That makes it a good choice for many gamers on a tight budget.