Sunglasses that let you listen to music? Believe it or not, this isn't a totally new idea. Back in the early 1980's, there was a short-lived clavicle headphone fad, where people would listen to their music by placing a speaker on their collarbone. Needless to say, bone conduction technology has improved a lot since then.
Applying the principles of bone conduction to sunglasses makes a lot more sense than using your collarbones, anyway. Sunglasses are something you might want to wear on their own merit. Certainly better than strapping some kind of device to your collarbone and hoping it doesn't awkwardly slide out of position.
OptiShokz Revvez
Not to oversimplify things, but the OptiShokz Revvez are essentially bone conduction technology that's been refined to the point it can work through contact with the cartridge of the earlobe. Because the audio is transmitted through ear cartilage, it's actually much smoother than other types of bone conduction gear. After all, the sound is being transmitted almost directly to the ear.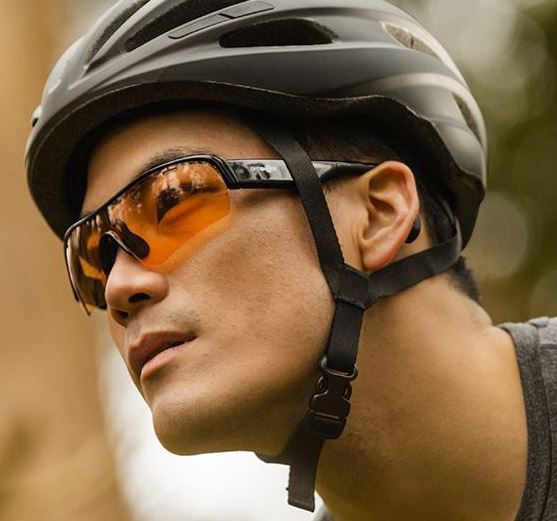 Similar to how different types of headphones sound a different, the same is true with bone conduction headphones like the OptiShokz Revvez. This pair was constructed to utilize behind the ear transducers to send audio signals towards your inner ear. Quite distinct from doing it from the outer ear instead, or another location on the body.
The vibration against your ear is something you can definitely feel on higher volume settings, but it isn't really off-putting. It certainly beats having to stuff an object inside your ear, like with in-ear headphones. And because you don't have objects in your ear, your perception of sound remains fairly undisturbed by wearing the sunglasses. In other words, your ambient sound awareness is pretty much unaffected.
These glasses are pretty stealthy, too. Being able to listen to music while other people are unaware that you're doing it has always been one of the bigger appeals of bone conduction technology. And Revvez probably deliver on that more than any previous iteration of this type of tech. After all, nobody expects a pair of glasses to be playing music. Especially not without some kind of earbud that's inside of your ear.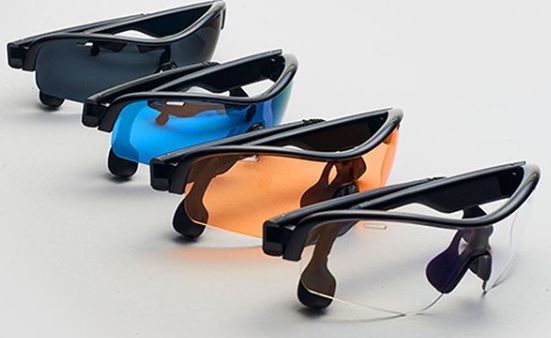 Ease of Use
Actually using the OptiShokz is about as easy as putting on a pair of sunglasses. You start by syncing the glasses alongside a Bluetooth device, like your smartphone. From there, you can use the glasses to control the volume settings, or use them for selecting between tracks. And that's literally all the setup involved. Just put on the glasses, and you can start enjoying your music while moving through the world.
Design & Size Options
These glasses weigh about a tenth of a pound. The front frame has a 140mm width, and a height of 45mm. That's a full sized lens, intent on providing a wide range of protection from the sun. Each of the glasses arms extend about 102mm, a reasonably compact, but ultimately universal design.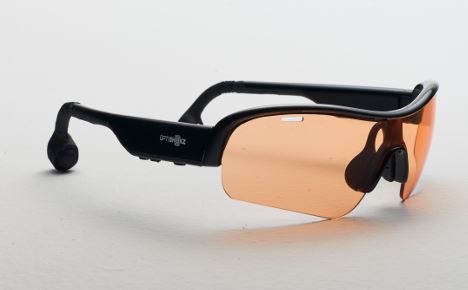 The sound transducers resting behind your ears can be bent into two separate positions, allowing for gentle contact between your skin and these "headphones." In terms of comfort, it's probably more important to point out the included rubber nose pads are interchangeable. That's the portion of the sunglasses which help support the frame against your nose.
When you're picking earbuds, you have to focus on the quality of their silicone ear tips. For bone conduction headphones like the OptiShokz, what you should focus on are the silicon rubber nose pads. Why bother with separate nose pads? Well, everybody has different face, right? So having a few nosepiece options ensure you get the best comfort possibilities.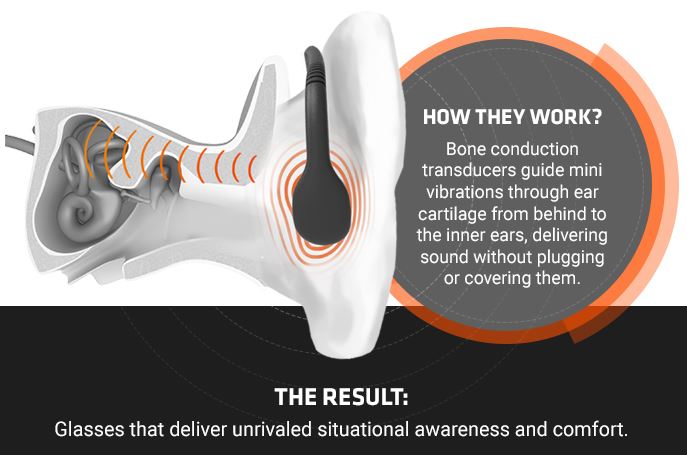 Waterproofing & Sturdiness
Since there are electrical components, it's worth noting these sunglasses were constructed with an IP-55 waterproof rating. That's intended to fight off sweat and rain… but not much else. You don't want to submerge these sunglasses in water. You wouldn't want to wear them in the shower, either. Basically think of them as resistant to water instead of being actually waterproof.
Putting aside any potential vulnerability to water, you'll find the frames themselves are as sturdy as glasses get. They're constructed with TR-90 nylon, which is a special lightweight plastic that was originally developed in Switzerland. It's special because it's strength compares with steel, but it's amazingly flexible, and it's about as lightweight as any other plastic.
Again, the advantage of the nylon build isn't only durability, it's also comfort. Because the nylon frame is pretty flexible, which allows the glasses to slightly contour to the form of your face. Regardless of the size of your head or the shape of your face, this type of frame is built to be pretty close to a universal design.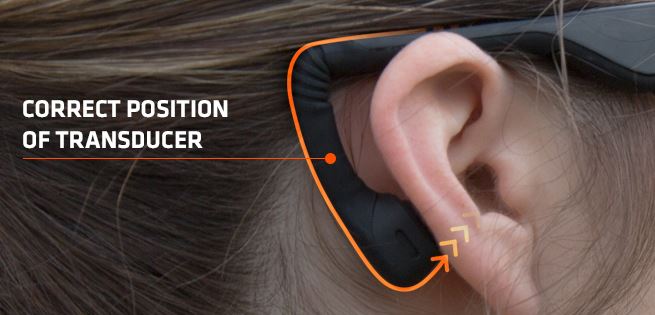 Several Included Lenses
OptiShokz Revvez include four swappable pairs of lenses, which are made for different lighting scenarios. Stylistically speaking, they look a bit different, too. But before getting into their differences, it's worth talking about all the things they have in common.
For instance, they're all UV400 polycarbonate. An essentially a solid lens design for any good pair of sunglasses. They're built to be shatter-proof, so even if a huge impact destroys the lenses, their destruction won't produce a bunch of sharp and dangerous shards.
Additionally, the lenses were given 2H hardening treatment to help prevent scratching. That anti-scratch treatment is pretty similar to the kind of treatment you'll find on really nice smartphone screens. It doesn't mean your display can't be scratched, but it's pretty scratch resistant. And their IP55 exterior is also smudge resistant, so the glasses stay looking their best over time.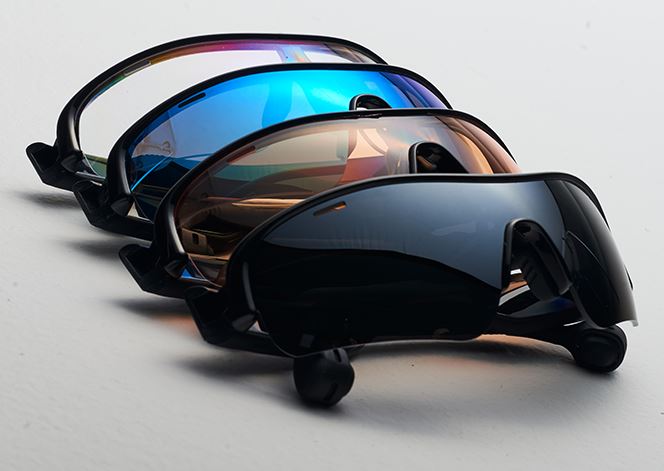 Lens Options
Among those four lens options, what kind of differences will you see? Well, one set is totally clear, and three are shaded with stylish tints. More specifically, you can choose between sapphire blue, moonstone grey, amber yellow. But style isn't the only difference between them. All except the amber yellow are built to filter out blue light, which can cause eye strain.
Instead of filtering blue, the amber yellow lenses are made to enhance visibility, which is something the other lenses do not. The sapphire blue and moonstone grey lenses are made with double sided sea water erosion proof coating, ensuring the glasses can withstand a variety of coarse outdoor conditions, and were made to provide high contrast view of the area around you.
Battery Capacity
It's strange thinking about how long the battery lasts on a pair of sunglasses. But in this case, the answer is about six hours. That's the result of a reasonably powerful 180mAh lithium-polymer battery. The reason they went with a smaller battery mostly has to do with weight. But this battery performs reasonably good.
It's possible to recharge them within about 90 minutes. Charge speed partially depends on what you're charging from, but the 90-minute estimate is about right. That figure changes slightly depending on what you're listening to.
For example, if you're mostly taking calls, you'll find OptiShokz can actually deliver closer to 7 or 8 hours of playback time. And when you raise the volume all the way up, you might find that battery lifespan creeping towards the 5-hour mark.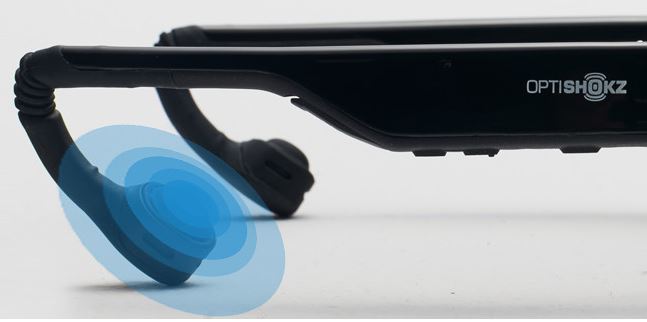 Audio Quality
These headphones were constructed to provide an open-ear experience, allowing you to hear your music without plugging up your ears. And they actually allow for audio clarity to carry into your ear exceptionally well. The audio compares favorably with a typical pair of wired earbuds, for example. However, the audio also is rather distinctly unique to this type of listening experience.
OptiShokz were made with LeakSlayer technology to help reduce the amount of noise that escapes away from the listener. Other people generally aren't able to hear the vibration of these headphones. Though there are certain circumstances where they do become slightly audible to someone who's in nearby proximity of yourself.
For example, if you turn the volume all the way up, and you have firm contact with the glasses, then someone within two or three feet may be able to hear a very faint tune.
Microphone Performance
The microphone is a pretty formidable MEMS device, with a reasonably strong sensitivity design. It's an omnidirectional mic so you don't have to worry about projecting your voice in a particular direction to be heard. Unfortunately, it doesn't take advantage of any special noise cancelling technologies. Though there's really nothing special about the microphone, it performs reasonably well for the basic thing it is.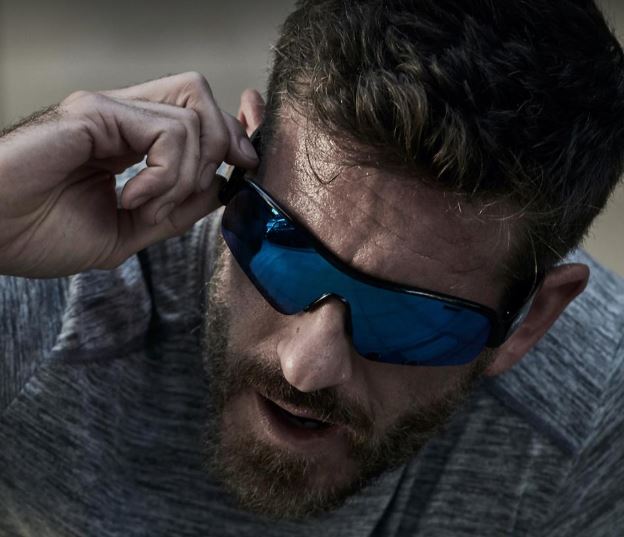 Wireless Connectivity
OptiShokz Revvez are built to make use of Bluetooth 5. That provides a number of advantages. In this case, the most valuable are probably the battery saving advantages. But it's also responsible for providing a security connection for about 33ft of distance.
That's pretty average for a pair of Bluetooth headphones, and it should be about enough for someone trying to use a pair of bone condition headphones like these.
Other Considerations
Revvez includes a two-year warranty with their OptiShokz glasses. In addition to the frame and lenses, the OptiShokz includes a USB charging cable, the interchangeable nosepieces, and a hard shell carrying case. Compared to ordinary glasses cases, this one is nearly one third thicker. That slightly detracts from its portability, but it also ensures you can carry more than your glasses inside.
The two-year warranty doesn't include abuse or accidents, and it doesn't include ordinary wear-and-tear. It basically just covers if there's some kind of product defect, like one of your speakers gives out.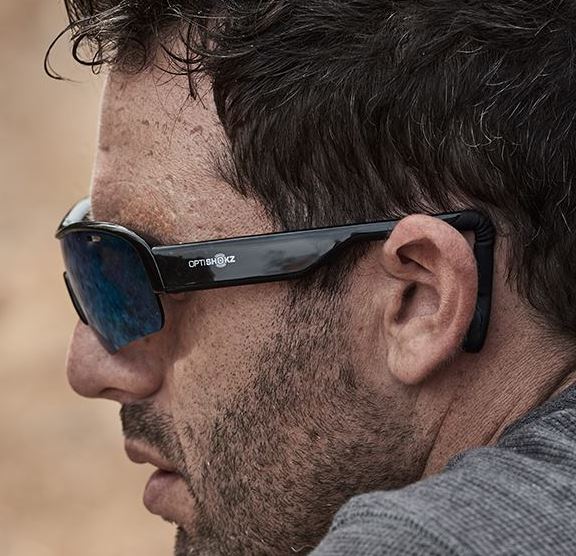 Who Should Choose OptiShokz Revvez?
OptiShokz Revvez are a cool choice for basically two or three types of people. The first is people who are interested in listening to music in a stealthy fashion. Because it's not obvious you have earbuds inside of your ear, you can enjoy a podcast without anyone knowing.
The second is people who are interested in keeping their ears unplugged, so they can be perfectly aware of ambient noise in their vicinity. For a variety of different work conditions, having good environmental awareness is essential to the job at hand. For people working in those conditions, Revvez bone conduction glasses can be a great choice.
The third is for people who are really in love with the idea of bone conduction. Everybody likes to see cool new things, which probably makes OptiShokz an excellent gift opportunity.
Meet Derek, "TechGuru," a 34-year-old technology enthusiast with a deep passion for tech innovations. With extensive experience, he specializes in gaming hardware and software, and has expertise in gadgets, custom PCs, and audio.
Besides writing about tech and reviewing new products, Derek enjoys traveling, hiking, and photography. Committed to keeping up with the latest industry trends, he aims to guide readers in making informed tech decisions.