If you're a creator, you know the importance of having reliable gear that is efficient and built to last. From photographers, to videographers, to graphic designers, knowing that you can depend on your equipment during the creative process is almost as important as the finished product itself. Whether it's a camera, a drone, a recording device or a laptop, the last thing you want is to lose precious information or have to start your project over because of a technical difficulty.
Also, the scope of your project will have an effect on the kind of gear you choose. Imagine you're a filmmaker, and you want to shoot your latest film in 8K. Not only will you need a very powerful camera as well as editing bay to handle that kind of footage, but you'll also need a ton of memory for those larger files. Or maybe you're a photographer and you can't risk your camera or your memory card slowing you down when you're trying to get the perfect shot. Regardless, there's nothing worse than unforeseen difficulties getting in your way when you've got the creative spark. That being said, it can be expensive to get all the gear you need so it pays to choose wisely.
In this review we're going to be taking a look at the newly-released Panasonic SDZA Series SD Card. It's the kind of storage device that is geared toward professionals, creators and those who are looking to store huge amounts of data at very fast speeds. We're going to be looking at the efficiency, the speed rating, the layout of the card itself, as well as any special features that set this heavy-duty storage device apart from others.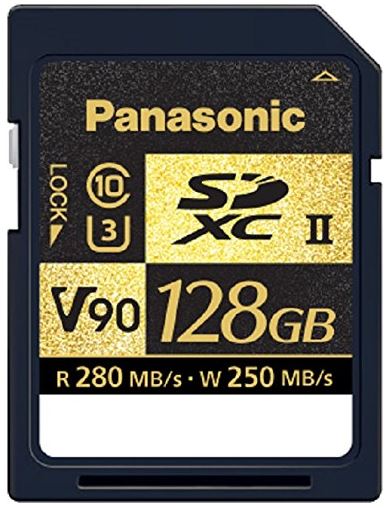 First Impressions
The Panasonic SDZA Series SD Card isn't really any different from a typical memory card when it comes to its appearance. It has the familiar shape of even an 8GB or 16GB card, a lock function, and comes in a relaxed navy blue color. On the label, we found technical information like the read and write speed, the total amount of storage, as well as the Panasonic logo printed against a gold and black background. On the one hand, we felt that the darker plastic shell could make the card easier to lose because it isn't very eye-catching. However, we also saw it as a positive, since the seemingly basic layout might be a deterrent against theft. Until you read the actual sticker, the card just looks like any old storage device.
The design of a product like this isn't particularly important, but considering that this memory card contains so much storage space and is so expensive, we would have liked for it to appear a little bit different than other lesser cards on the market. The shape has to remain the same so that it is still compatible with DSLR cameras or laptops, but we felt that the material could have been something a little sturdier than plastic. The plastic shell had us worried about the card getting damaged or bent on long projects that might take place outdoors.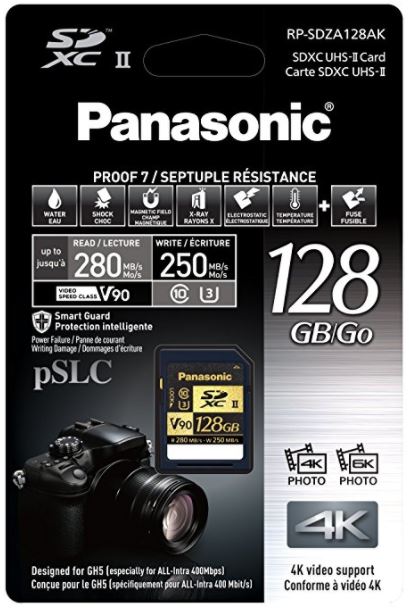 Having such a large amount of memory is kind of a double-edged sword in a storage device this small. Sure, it's great to not have to change your card when you're on a photoshoot, but it also forces you to store all of your data on one device. Essentially, if this card gets lost or damaged after a long day of work your entire project is ruined. It just seemed like too big of a risk. We found it to be a real letdown that the card didn't come with some kind of protective case as well.
Essentially, if you're not using the case in your laptop or camera, Panasonic doesn't give you a ton of options for keeping it safe. You could purchase your own case, but considering the already high price of the card, we would have liked for this accessory to be included. In a way, it made us wonder if just buying two 64GB cards would be a better, safer option for the average creator who is just looking to preserve large amounts of data.
While the amount of data you can store on this device is impressive and, at first, will make you feel like it's the only card you'll need, our opinion is that it really depends on your individual needs. At the very least, a back-up card for safety seemed like a good idea.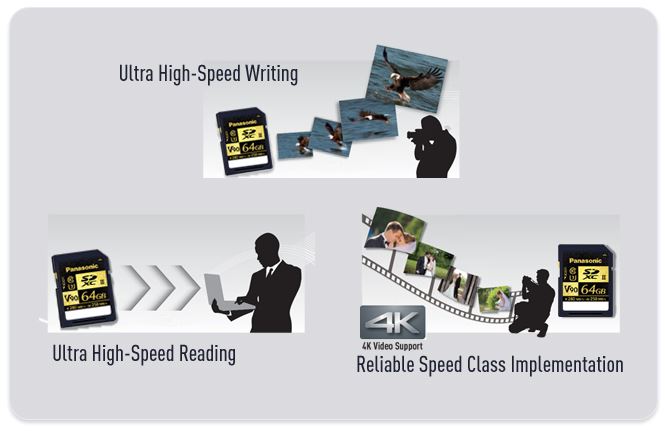 Protective Capabilities
The Panasonic SDZA Series SD Card is water-resistant, shockproof, magnet and x-ray-resistant, and can withstand electromagnetic interference. It can also still perform at extremely temperatures. These protective capabilities add a level of versatility and reliability to the card, insofar as that it makes the device ready to be used in nearly any condition. This makes it especially useful for traveling, or even for a wildlife photographer that might be doing most of their shooting outdoors.
The card is also protected against any power failures that might occur during use. For example, if your camera battery suddenly goes dead or shorts out, you won't have to worry about it affecting the files already saved. Poor battery performance or sudden power surges can be a frequent issue with many DSLR's, so this built-in shock protection can certainly be a lifesaver. Other lesser memory devices can sometimes be susceptible to water-damage or have their files corrupted by magnets or power shortages, which made the Panasonic SDZA Series SD Card stand on its own when it came to protecting data.
Speed Rating
The Panasonic SDZA Series SD Card is a UHS II SDXC memory device, which refers to its extremely high speed rating. Speed ratings measure the maximum transfer speed when it comes to reading and writing images, and is possibly one of the most important parts of a storage device depending on how you use it.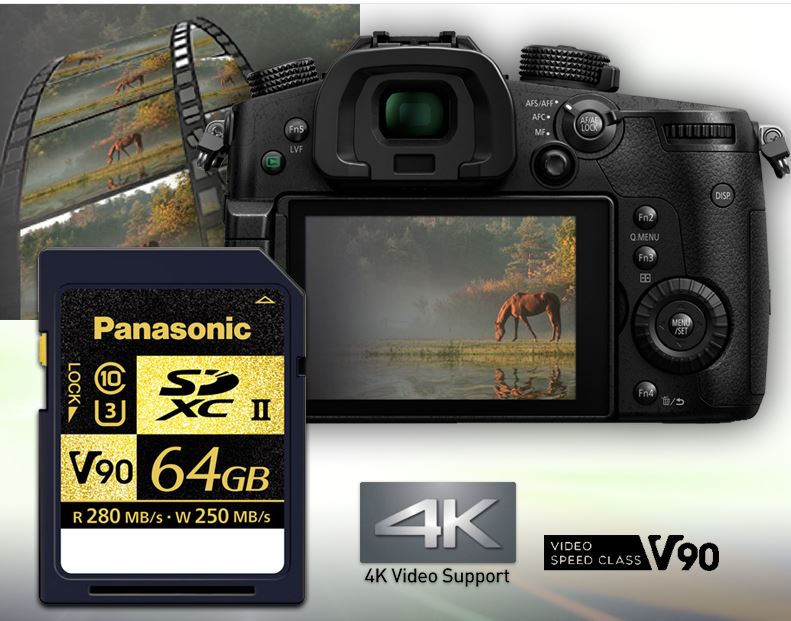 In the Panasonic SDZA Series SD Card, you'll find a read speed of 280 megabytes per second and a write speed of 250 megabytes per second. A fast write speed is especially relevant for photographers because it will allow them to work faster without having to wait for their images to be written to the card. Slower cards usually create some lag time between shots which can be problematic for taking burst photos because the card is struggling to keep up.
As far as we could tell, there aren't many other cards on the market that can perform as fast as the Panasonic SDZA Series SD Card. To give you an idea of the spectrum of speed ratings, there are currently memory cards on the market with maximum read speeds as slow as 30 megabytes per second and only a few that exceed the Panasonic SDZA Series SD Card at 290 or 300 megabytes per second. Also, some cards don't even depict this information which can make it difficult to know exactly what kind of performance you'll be getting before you buy. The Panasonic SDZA Series SD Card is clearly labeled as a UHS II SDXC card, so you can be sure that you're getting your money's worth.
Video Speed Class
The Panasonic SDZA Series SD Card has a video speed class of V90 which, according to the SD Association, is the fastest video speed class on the market right now. Needless to say, you'll be very pleased with your video recording with a speed this high, but also might not need this much power in one memory card. For those that don't know, video speed class or "V-Class" refers to cards that can handle extremely high video resolutions and newer, more complex recording styles. Much like read and write speed, V-Class is also recorded in megabytes per second, and is a measurement of the minimum sustained performance rate for recording video.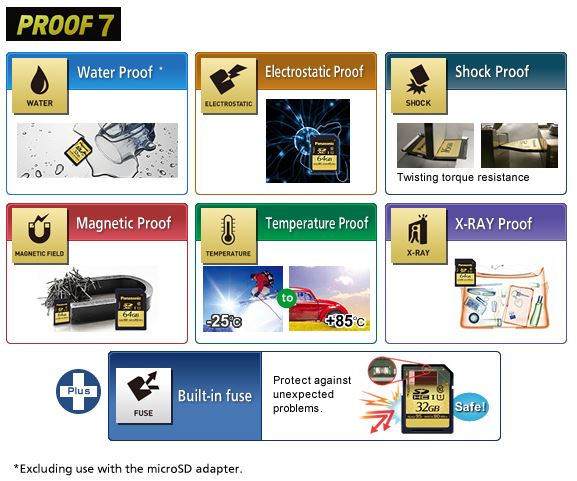 Currently, V-Class memory cards range from V30 to V90. Lower classes like V6, V10 and V30 are capable of recording 4K video, while cards that fall into the higher classes like the Panasonic SDZA Series SD Card, are capable of recording data in resolutions up to 8K. It's not common for most DSLR's on the market to shoot above 4K, which made us think that a V90 class card might be a little bit overkill for the average filmmaker, but nonetheless, the Panasonic card does have the capacity to record significantly higher quality video. Also, the Panasonic SDZA Series SD Card is capable of recording other types of media like 360 captures, multi-camera set ups as well as virtual reality content.
The extremely high video speed class of the Panasonic SDZA Series SD Card will undoubtedly be a bit much for some and may not be worth the price point depending on the kind of camera you use as well as the scope of your project. However, for those looking for the best of the best when it comes to resolution and video recording capabilities, it can certainly deliver.
Speed Class and Compatibility
The Panasonic SDZA Series SD Card is both UHS Class 3 and UHS Class 10 compatible. The UHS Class on a memory card describes the minimum speed that the card can write while still recording a certain resolution. Speed Class is an especially important consideration when attempting to store a steady stream of data, especially video files.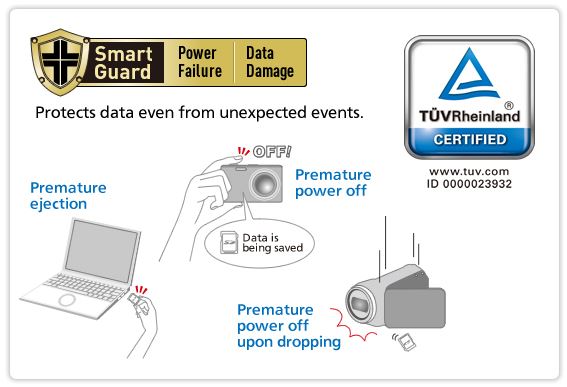 UHS Class 3 signifies that the Panasonic SDZA Series SD Card can record at a minimum steady rate of 30 megabytes per second and still successfully save video at a 4K resolution without dropped frames or buffering. In layman's terms, this card will still be able to record fairly high-resolution video efficiently even if it has to run slower than its maximum write speed. It won't be able to record 8K at this speed, but is still going to be on the faster end when it comes to 4K resolution.
Considering that 4K is still on the cutting-edge for video resolution and 30 megabytes per second is certainly not slow, we found this capability to be truly astounding. To us, it meant that even at its worst performance the Panasonic SDZA Series SD Card will still be able to handle an incredibly high resolution at a respectable speed.
Again, this speed class is a little excessive for certain cameras and might be a waste for someone whose camera doesn't even write as quickly as the minimum write speed on the card. However, if your camera is capable of writing at high speeds and you are concerned with moving quickly during a shoot, the high speed class of this card may be exactly what you're looking for. For example, Panasonic recommends this card for its newest mirrorless DSLR camera, the GH5, but only because the GH5 is capable of writing images and videos extremely quickly.
The Panasonic SDZA Series SD Card is certainly fast, and easily one of the more impressive storage devices on the market, but your existing gear will definitely play a factor before you choose it as your next card.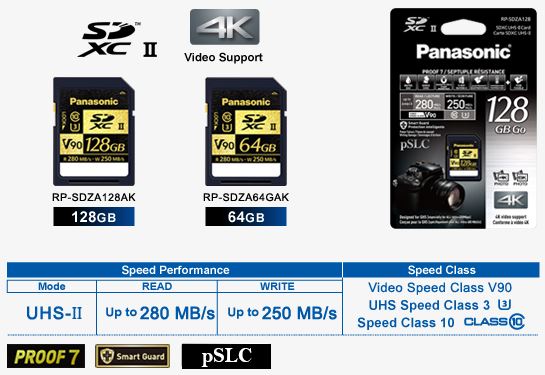 Is This The Right Card For You?
While the Panasonic SDZA Series SD Card is among some of the fastest, most efficient storage devices on the market, it helps to know what works best with your existing gear, especially since cards of this quality aren't cheap. While this card could certainly be used by a hobbyist or traveler looking to take some photos on their next trip, it has more of place with professional photographers and filmmakers as well as those who absolutely must shoot in higher resolutions without being slowed down. Panasonic's recommendation to use it with their GH5 gives you a pretty good idea of the kind of equipment you would already need to own to get the most out of a card like this.