Electronics manufacturers have a tendency to flock toward producing already popular products. While innovations certainly occur, it's far more common to see countless versions of relatively similar products. You can't really blame them. Developing, testing, manufacturing, and marketing a product adds up to some big expenses, and this risk becomes easier to justify if the product has an established demand.
This generally results in very crowded markets with countless headphones, Bluetooth speakers, digital cameras, or other products looking for a slight edge over the competition through advanced features or lower prices.
Though understandable, we always eagerly welcome the chance to take a look at a product that isn't concerned with hopping on an already crowded bandwagon. In fact, some of the most fun and fascinating electronic gadgets are those designed for a very specific niche market.
The PowerVision PowerRay Wizard 4K UHD Underwater Camcorder Robot fully embraces status as a niche product. While we can't imagine a scenario in which any significant percentage of households own an underwater camcorder robot, the PowerRay boasts some amazing features and is just plain fun to use.
If you're a fisherman, videographer, photographer, or just an underwater enthusiast, the Power Vision PowerRay should certainly warrant a closer look. Quality underwater photography and videography was once limited to expensive custom rigs only accessible to film crews with a big budget. Now, products like the PowerRay bring exceptional quality and flexibility to even the hobbyist. And, you don't even have to get wet.
Let's dive in and see what the PowerRay has to offer.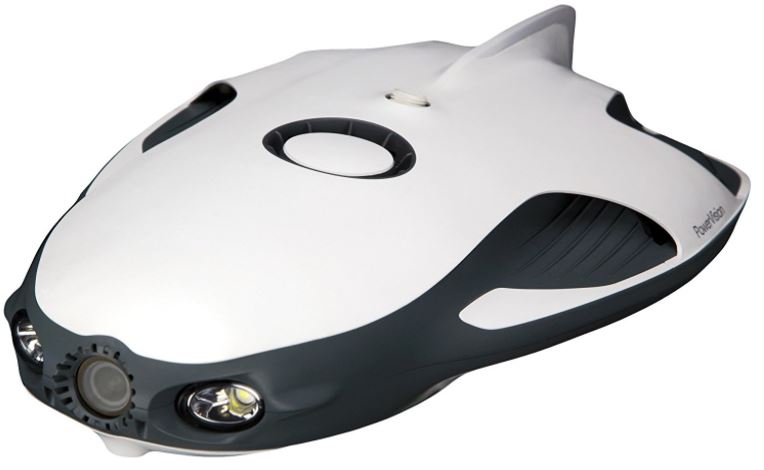 Overview and Design
PowerVision is a Chinese technology company focused primarily on high technology drones. While the company's other offerings, the PowerEye and PowerEgg are both airborne drones, the PowerRay explores the depths of the underwater world.
PowerVision has identified the primary markets for an underwater drone and has tailored the product to meet those needs. While we'll look at the details for each of the use-cases shortly, you can rest assured that whether you plan to fish, explore, or film, the PowerRay has you covered.
The name "PowerRay" was undoubtedly chosen to evoke images of a graceful manta or bat ray gliding through the water. The PowerRay's sleek profile and winged design also draw clear comparisons. Styled in white with black trim, PowerVision sells the PowerRay in three different packages based on the desired accessories.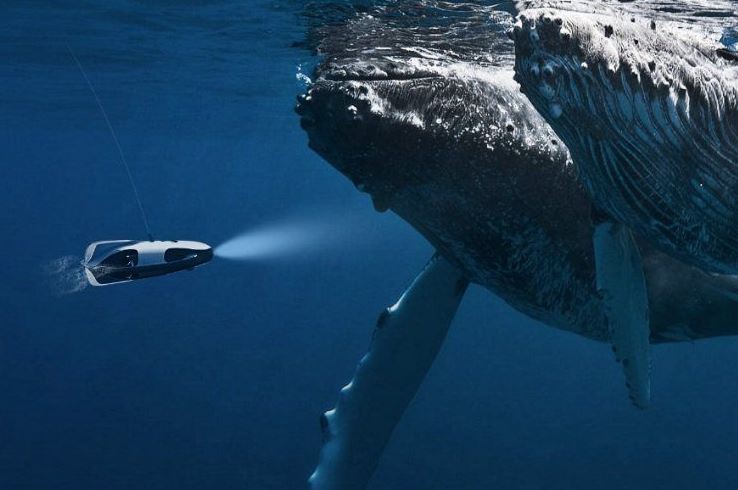 The PowerRay Explorer base package includes everything needed for basic operation, photo, and video capture. The Angler package adds critical functionality for fishing with the PowerSeeker Fish Finder and Bait Drop Line support. Lastly, the top of the line Wizard package includes everything from the previous packages but doubles media storage, adds an extended communication cable, and includes ZEISS VR One Plus VR Goggles for a truly immersive underwater VR experience, no wetsuit required.
Navigation in the base packages occurs by docking your smartphone into a device that looks like a video game controller. The two thumb sticks allow full range of motion and speed control. During VR usage, PowerVision maintains the immersive experience with gesture-based controls.
Though clearly designed for a more specialized target audience, PowerVIsion smartly planned these packages to cater specifically to the few smaller groups that would want the PowerRay. This understanding, particularly of the needs of fishermen, should lead to greater commercial success and future innovation.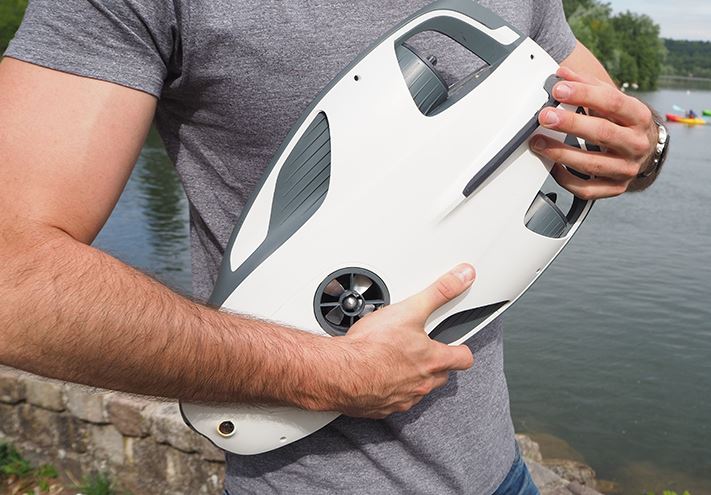 Hardware Specifications
The PowerRay Underwater robot weighs about 8.4 pounds in air. At 18.3 x 10.6 x 5.0 inches, it's about the size of two large laptop computers stacked together. It's quite a durable unit capable of operating in water temperatures between 32 and 104 degrees Fahrenheit. This covers almost any water condition unless you plan to operate in polar regions or some type of hot spring.
A 6400 milliamp hour lithium polymer battery provides primary power while 3 thrusters, 2 horizontal and 1 vertical, provide thrust and steering. Battery life depends largely on usage but ranges from 4 hours in still water with light use to just half an hour in high speed racing mode. The PowerRay clocks a maximum cruising speed around 3 knots, or roughly 3.5 miles per hour.
Given that a full battery charge can take up to 2.5 hours, you'll need to plan your activities carefully if you hope for extended usage. Blasting along at top speed may seem fun, but charging for 2.5 hours every 30 minutes will quickly put a damper on your activities.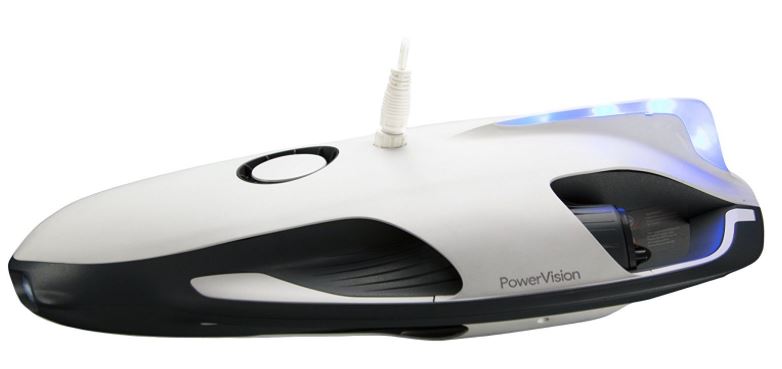 To enhance underwater viewing, the PowerRay houses two 3-watt lights on the front of the unit. Capable of 450 lumens with a 6500K color temperature to simulate daylight, the lights also feature dimming controls to provide you precisely the shot you want.
While the PowerRay can certainly handle some underwater exploration, don't mistake it for a deep sea submersible. Depth capacity, rated at 93 feet, doesn't even extend to the length of the communications cable which is 164 feet or 230 feet depending on your selected accessory package. This means you can't just dive the PowerRay straight down until you run out of cable without risking damage to the device.
Photo and Video Features
Shooting high quality videos and photos represent the primary function of the PowerVision PowerRay, and it certainly delivers.
Equipped on all levels with a 4K Ultra HD camera, the PowerRay can snap full 12 megapixel photos or record video at 3840 x 2160 resolution. This 4K resolution exceeds the capabilities of most existing TVs and media which remain at "Full HD," or 1920 x 1080 pixels. 4K adoption expands constantly, and many new TVs as well as some video content now support the higher quality. Choosing a camera with 4K support today ensures future-proof video that will still seem spectacular for years to come.
The only downside, the PowerRay limits 4K filming to 25 frames per second, whereas lower resolution Full HD can shoot 30 or 60 frames per second. Though casual observers may not discern the difference, higher framerates make for smoother motion in video. Ideally all video modes would support a variety of framerates, but we'd rather have the 4K option than not.
The fixed lens has a wide 95 degree field of vision in air. With most underwater visibility limited, this makes sense to capture a wide, nearby angle. Even with a different lens, you wouldn't be able to zoom in and see distant objects with any clarity.
Livestreaming
PowerVIsion has included a unique livestreaming feature for the PowerRay. If you have an Android device or iOS device you can connect directly to the PowerRay to livestream 1080P video at 30 frames per second. This gives you a spectacular real-time view beneath the waves and allows you to capture just the right shot.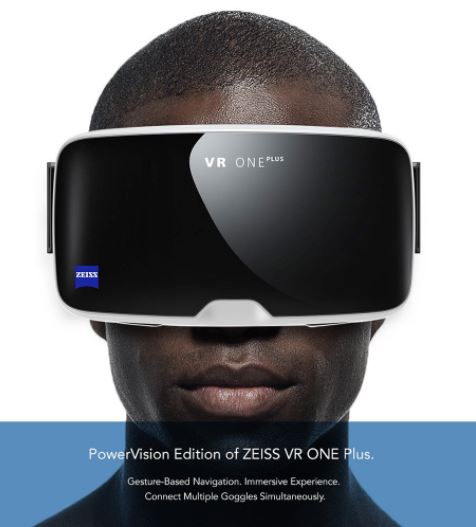 The top-tier Wizard package enhances this feature by including the PowerVision Edition of the ZEISS VR ONE Plus Virtual Reality goggles. By placing your mobile device into the goggles, you get an immersive view as if the camera were your eyes. This is a killer feature that we found absolutely captivating. Though our test pool wasn't particularly interesting, the feature worked well, and the ability to "swim with the fishes" and explore an exciting underwater environment had us dreaming up vacation plans.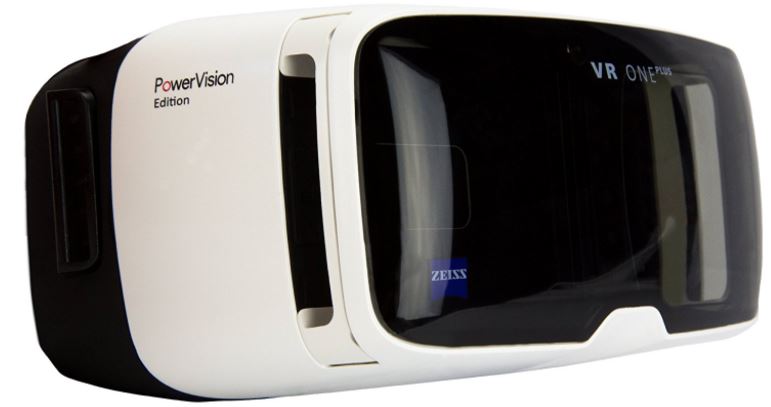 Also impressive, you can connect to multiple goggles simultaneously and switch between basic viewing mode and control mode. This allows you and multiple friends to all share the same first person viewing experience while taking turns behind the wheel. Whether you're just looking to explore underwater without the scuba gear, or you're filming with a crew, this feature really helps to bring others directly into the experience.
Fishing Features
The PowerRay Angler package, specifically designed for fishermen, adds two significant upgrades to the base configuration.
The detachable PowerSeeker FishFinder can operate docked directly into the PowerRay or separately as a standalone device. This small orb-like object provides you with detailed information on depth, fish distribution, underwater landscape, and temperature. The PowerSeeker communicates via WiFi with a maximum range of around 300 feet. All data displays in the PowerVision app, so you must have a compatible device for functionality.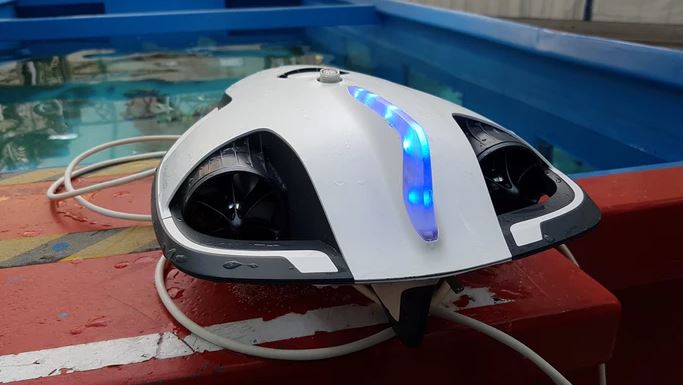 The PowerSeeker adds additional fish finding capabilities to the PowerRay. Compared to other standalone fish finders, it's acceptable but not outstanding. It has a track angle of 30 degrees and a track depth of 130 feet. Other relatively inexpensive trackers can measure up to 300 feet while high-end units with sonar functionality can reach as deep as 3,000 feet.
The other interesting fishing feature, called Precision Remote Bait Drop adds the ability to lock in your line, pilot the drone to precisely your desired location, and release it with precision. Given the PowerRay's 93 foot maximum depth, you may not be heading out to the deep sea, but it's still definitely a novel feature.
If you love fishing, you should certainly consider the Angler package as long as you understand the limitations. We found the features interesting and they adapted the PowerRay from mainly a camera into a useful fishing tool. It does not have the capabilities of pro-level deep sea gear, but for relatively shallow water it could prove beneficial.
Final Thoughts
The PowerVision PowerRay brings some novel capabilities to the casual angler, underwater photographer, or hopeful ocean explorer.
We found the 4K video crisp and stunning, and with the right location and a bit of editing, we could make a relatively professional looking underwater documentary. While not avid anglers, we can definitely see the value in getting a fish-eye view of the waters below our boat. The added ability to precisely position bait could just be a novelty, or it could greatly improve your catch rate.
The virtual reality goggles in the Wizard package were, without a doubt, the most fun aspect. They're not revolutionary as we've seen airborne drones with similar features but not many that bring the same first-person perspective below the waves.
As mentioned, we don't expect the PowerRay to become an everyday household necessity. Few people fit into the target audience. However, we applaud PowerVision for developing such a unique device and taking their drone technology under the sea. We'd love to see undersea drones develop further, as relatively limited battery life and range are the weakest points for the PowerRay, but we understand some compromises must happen to keep an approachable price range for the general public.
If you're looking to catch more fish or simply catch the perfect shot, the PowerVision PowerRay 4K Underwater robot brings you stunning 4K video and innovative features to explore the world below the waves.