ROCWARE RC16
Pros
Premium glass on the lens minimizes distortion and noise.
High quality, omnidirectional microphone.
Solid audio processing for background noise and gain.
Form factor ideal for portability.
AI tracking and framing technology.
Cons
Premium price point.
AI tracking and framing needs to be optimized better for more than three people.
As the world has become more virtual, having high quality video and audio is more important than ever. That's where having a dedicated webcam comes into the picture. It makes video communication and streaming better as a whole by making images and sounds clearer and sharper.
With more people using video conferencing and streaming, both at home and at work, a good webcam can help you look and sound more professional while delivering great audio and video.
When it comes to the next generation of webcam devices, the ROCWARE RC16 got our attention. Mainly for its advanced AI Tracking & Auto Framing technology, Real-4K Ultra HD resolution, and 8X digital zoom. According to users, it's packed with advanced features that make it perfect for video conferencing, streaming, and more.
The specs and excitement around it made us curious to see how it would perform in our real world testing. Thankfully, we were able to get our hands on it to put it through its paces. The goal of this review is to give an in-depth look at the ROCWARE RC16 webcam. This includes its design and build quality, picture and sound quality, AI tracking and auto-framing technology. We'll also look at compatibility and extra features, and compare it with similar products.
Being minimalists, we hate equipment overlap. As a result, a main question we're asking in our testing is whether this webcam can offer next-level professional performance while being intuitive enough to be used for everything we need. Everything from using it in the boardroom to simply running a Twitch stream with some friends.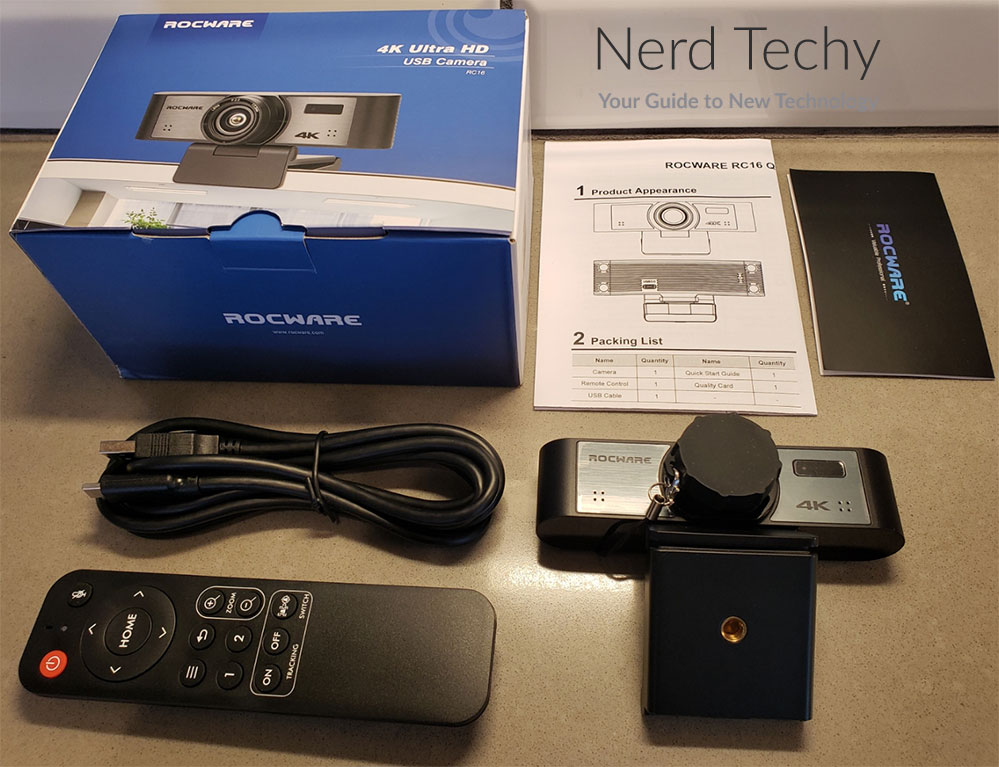 Unboxing and First Appearance
The ROCWARE RC16 comes in a sleek, well-designed box that has all the necessary information about the product on it. If you like unboxing and ASMR, the smooth plastic wrapping and flat packaging are perfect. As far as first impressions go, the presentation points are there. Inside the box, you'll find the webcam, a remote control, a USB cable, and a quick start guide. The packaging is done with care, and it's evident that the manufacturer put some thought into keeping things secure in transit.
The first thing that stands out is its sleek and modern design. The webcam has a modern graphite color with a matte finish that's reminiscent of the materials Apple uses on their iPhones. Compared to the product images, the webcam looks exactly as it's advertised.
As far as first impressions go, this webcam matches our assumptions of what a premium webcam would look and feel like.
Design and Build Quality
Knowing that this brand isn't as well-known, we were interested to see how the design and build quality would compare to more established brands like Logitech. When put side by side with the Logitech C930s, we were impressed to see the ROCWARE hold its own and even surpass it in some aspects.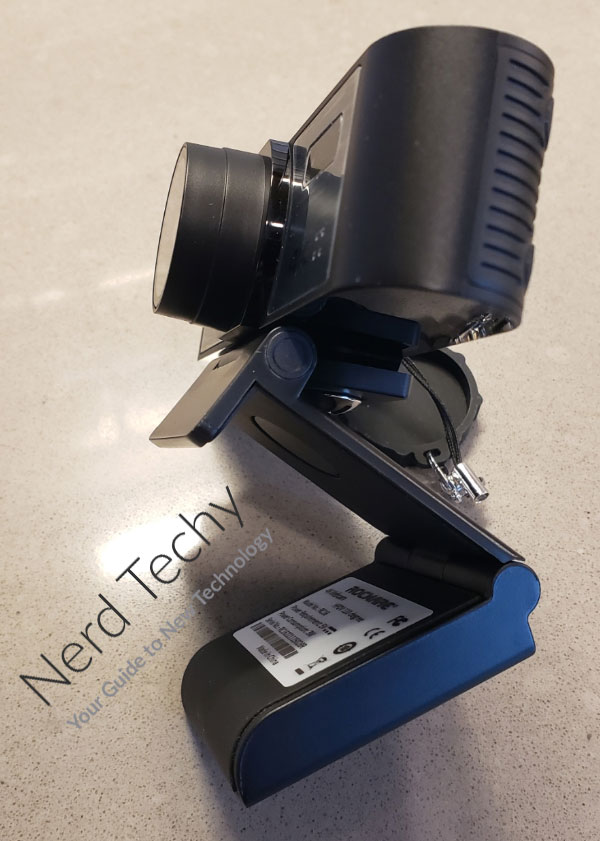 Color and Finish
We're fans of the graphite matte finish on the main body and mounting portion of the webcam. The face plate that surrounds the two speakers and lens is a different shade with a slight blue tint. There's nothing worse than sticking a cheap, plastic-looking webcam onto your premium computer. Thankfully, the color and finish on this one hold their own.
Form Factor and Materials
The webcam has a compact and lightweight design. Even though it's on the lighter side, it has a decent amount of heft to make it feel more robust. It feels sturdy in the hand and gives the impression that it's well built. It doesn't leave the impression that it will wear out easily.
The small form factor avoids monopolizing space, and the compact design also makes it easy to carry around, making it perfect for both personal and professional use. In addition, the folding design inheritably makes it easy to rest on your monitor. If you're a road warrior and need a webcam that can travel with you, this fits the bill. The webcam's build quality is certainly up to par with other similar products on the market. At this price point, it's good to see that they didn't cut corners.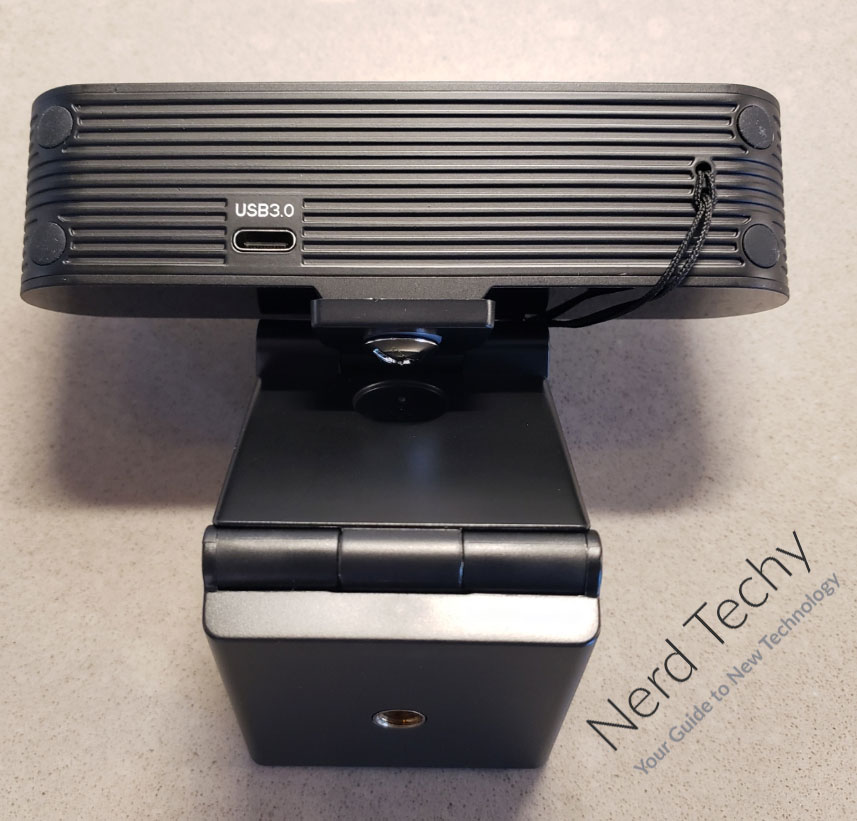 Included Accessories
The ROCWARE RC16 comes with a remote control and a USB-A to USB-C cable, making it easy to connect to a variety of devices. It also allows you to control the camera's auto-framing function and move the angle of the camera up and down. This frees up your screen real estate, providing another way to control your settings. The remote layout is easy to understand and the buttons are far enough apart that you won't accidentally press them.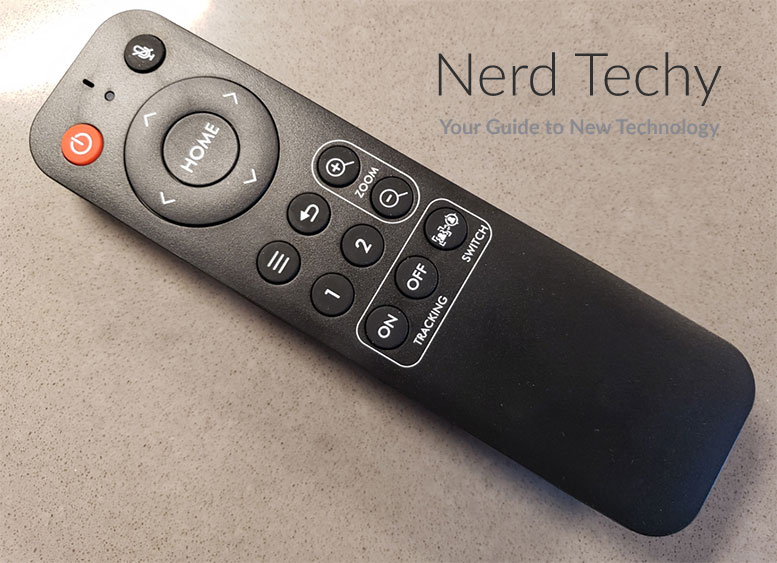 We didn't think we'd like the remote as much as we did. Having control from a distance and avoiding unappealing close-ups of our foreheads while adjusting settings from your screen is a plus in terms of presentation. It produces a more professional presentation.
Also, the bottom of the webcam has built-in threads that let you attach it to a tripod or any other mount that works with it. It's a great feature that isn't common with a lot of other devices we tried.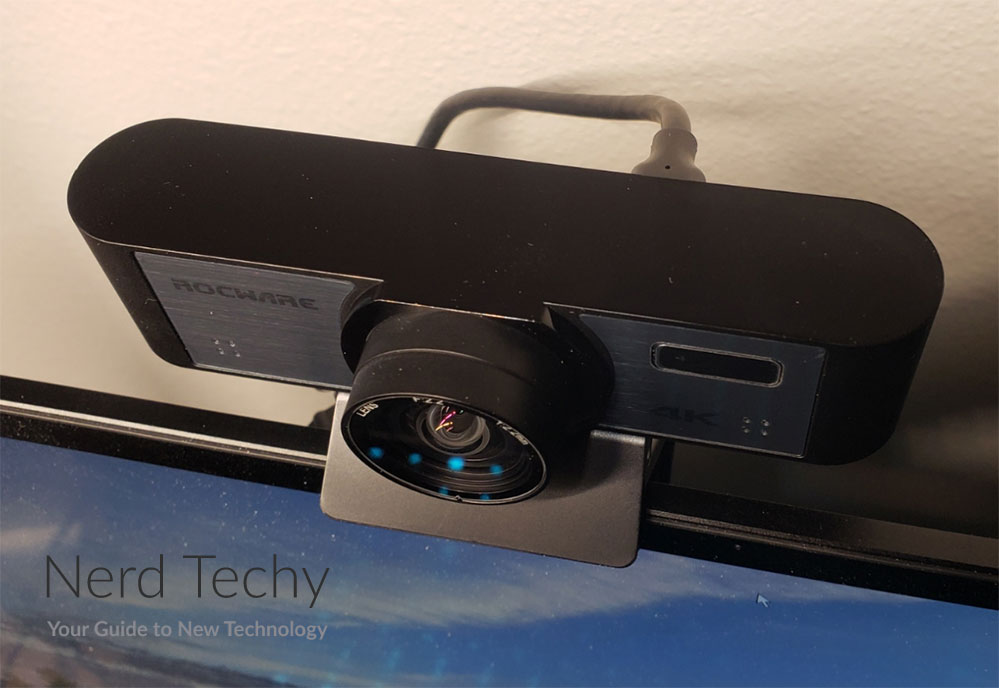 Picture Quality
The main purpose of a webcam is to provide video quality that you can't get from the built-in webcam on your computer or device. According to the specs, the ROCWARE RC16 would fit that bill. Let's look at what those are, and then we'll see how they translate into real-world use.
It features a Real-4K Ultra HD resolution and an 8x digital zoom. High-quality glass and a dynamic microphone make it ideal for video conferencing, streaming, and more. The 1/2.7″ UHD CMOS sensor is operable in light down to 0.5 LUX, which should help provide superior video in low light conditions. It has a 110-degree viewing angle so that you can fit more people or more of your background in the picture.
Image Quality
A solid sign of good image quality is the number of layers of glass a webcam uses. However, having the technology and knowing how to use it effectively is equally important. Being a newer company, we wanted to see if it could output better video quality than a more established company like Logitech. After testing it in multiple settings, we can officially say it's one of the best we've seen in a long time.
The quality of the glass and the way the webcam processes the data reduce the amount of digital enhancement that needs to be done. Every time your webcam needs to tweak the video, the more degraded it gets. The ROCWARE produces a beautifully clean image in natural or well-lit environments. Little to no noise, crisp contrast, and an ideal balance in the blacks and midtones.
Viewing Angle
With the 110-degree wide-view angle, the video captures more detail and can cover more people, making sure you don't miss any important parts of the scene. To cut costs, most webcams will do this digitally, which ruins the picture quality. The RC16 comes with a wide-angle lens that's able to do this "in-camera," keeping the quality the same from normal to wide.
Low-light Light Performance
The webcam's low-light performance is outstanding. Most places do not come with ideal lighting, so it's important to have a webcam that can be consistent regardless. The RC16 maintains its sharpness and brightness even in dimly lit environments. The colors produced by the camera are true to life and don't appear washed out. Distortion will occur regardless of the webcam or camera used. The key is to minimize it as much as possible, and we feel that the RC16 does that better than most.
The wider aperture of the lens lets you work in darker environments before needing to bring in any digital enhancements or boosting the gain.
We only started to see digital noise appear in extremely dark settings, like in a dark room while gaming, where the main light source comes from your screen. Another thing we appreciated is that when processing in a dark environment, it was able to do so without blowing out the highlights to compensate for the shadows.
AI Tracking & Auto Framing
The advanced auto-framing and AI tracking technology was a big part of why people are drawn to the RC16. Putting it through its paces, we wanted to see how well it was able to adapt to rapidly changing events and adjustments such as moving from a one-person to a multi-person shot.
Deep learning algorithms are used by AI technology to pick out specific features, like the eyes or face, which lets it keep up with moving subjects. This feature ensures that your face or the main subject is always in the center of the frame, even if you move around. In practice, it was very solid. It only ran into issues when we moved to the far edges of the frame.
When we used it in low-light settings, where the aperture made the depth of field very shallow, we were impressed at how it was still able to keep us in focus. The only time it ran into issues was if we moved around in unpredictable patterns.
Also, while the advertising says it can accommodate many people, we found that the AI tracking started to have trouble beyond three people, especially if they were not at the same distance from the camera. If you tend to fidget or swivel a lot on calls, it may cause a few more hiccups in terms of tracking and focus.
The auto-framing feature is very effective. It automatically adjusts the size of the picture angle according to things like the number of people in the frame. In fact, it does a great job making sure that the picture is always framed correctly, avoiding the need for manual adjustments. Within a few seconds, it detected an additional person entering the frame and adjusted the width of the frame accordingly.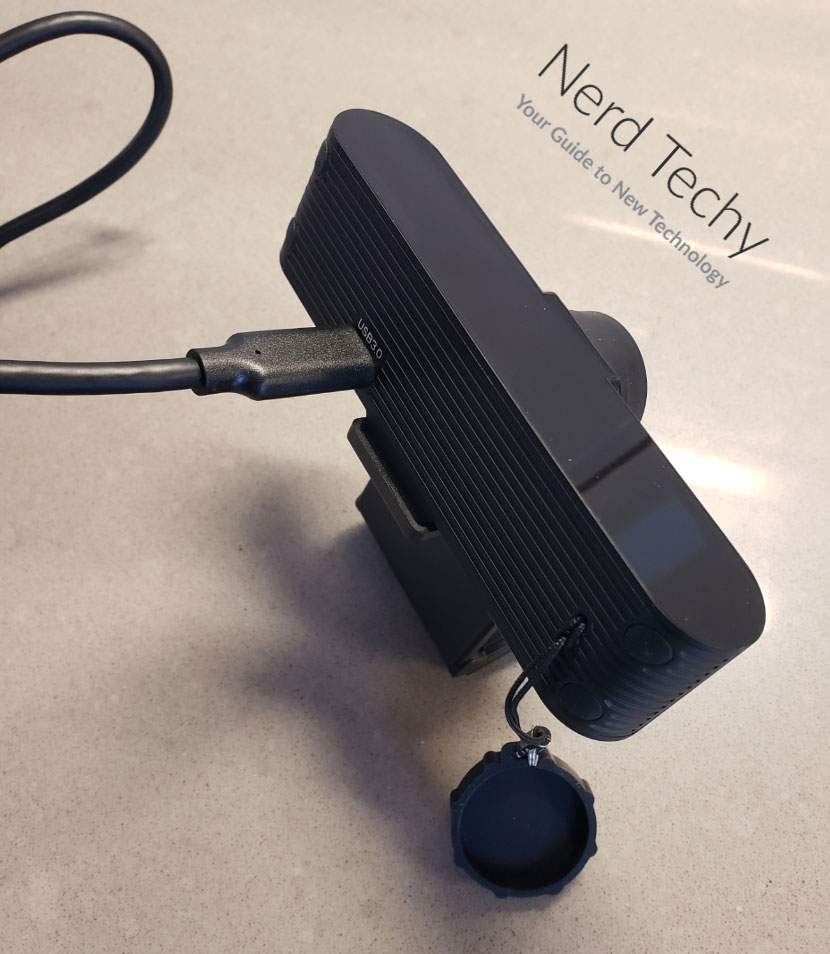 Microphone Quality
The ROCWARE RC16 features a high-performance 3A algorithmic microphone that delivers excellent audio to viewers. The microphone is omnidirectional and thoughtfully designed for online conferences and live broadcasts that may have several people. The algorithm technology does a good enough job of echo cancellation, noise reduction, and gain management to solve most problems you'll run into in different environments. This is a big deal for us since there is often very little we can do to change the noise and sound conditions when we are on the road.
The one setting where the microphones struggled was in large spaces with high amounts of echo. However, we were impressed by how it cut out things like air conditioner hum, clicking, and other rhythmic background sounds without degrading the audio quality.
Audio processing such as gain control was very good. When we switched from high to low volume speaking, it performed well, and it only peaked when we switched from whispering to extremely loud shouting with no transition. It registered changes as close to real time as the Logitech's we've tested. Testing it with different voice types, both male and female, a common characteristic for both is generous mids with lower amounts of lows.
We wanted to make sure that the microphone wasn't an afterthought. Having a serviceable onboard mic eliminates the risk of line distortion from an additional mic. Overall, the mic performance was impressive. As with the video, try to keep the people speaking toward the center of the frame to optimize the audio output.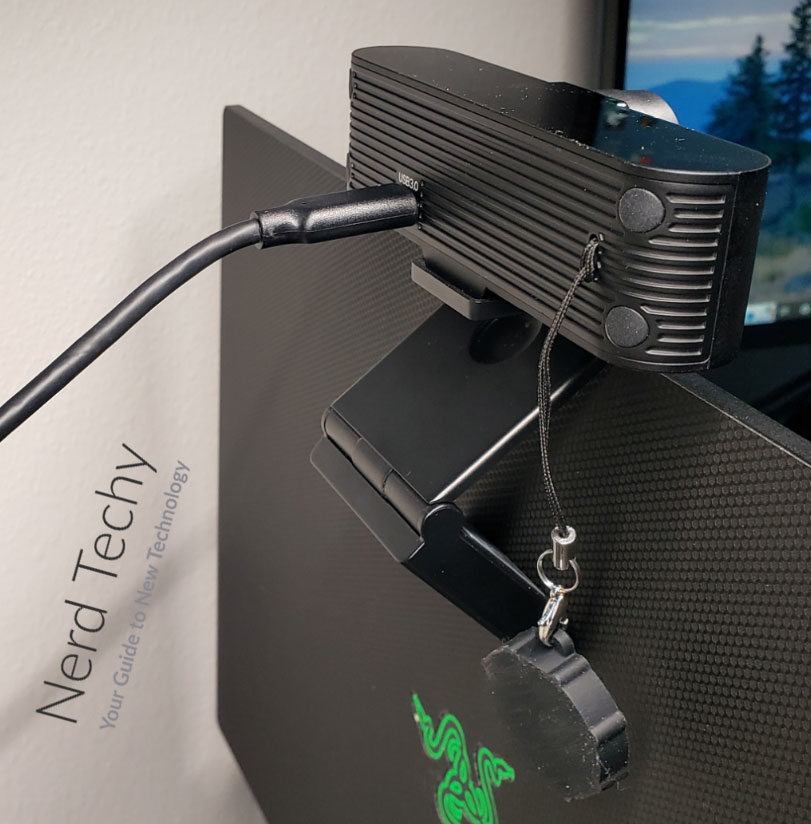 Compatibility & Additional Features
The camera and included utility software work for both Mac and Windows and can be connected to a PC, tablet, or laptop. The webcam uses USB 3.0, which ensures a fast and stable connection. Our tests showed that this was all as advertised.
It has some extra features on top of its main ones, such as manual focus and zoom. The manual focus allows you to manually adjust the focus of the camera, giving you more control over the final image.
The 8X digital zoom feature lets you push in on a specific part of the image, giving you more flexibility in framing your shots. While it's got great AI, having flexibility like this is good for professional setups. These additional features allow for more creative control in your videos. As we mentioned earlier, much of this can be adjusted using the remote control.
Pricing and Final Thoughts
When compared to similar products on the market, the advanced AI tracking and auto framing technology of the ROCWARE RC16 4K Webcam stands out. It's one of the best we've seen. From coffee shops to studios, we ran it through multiple scenarios, and it was able to adjust quickly with minimal hiccups along the way.
The use of multiple layers of high-quality glass for the lens, a wide aperture, and a larger image sensor do a solid job of keeping distortion and visual noise to a minimum. Low-light performance will be inferior to that of a professional micro four thirds camera with an expensive lens, as with any webcam. That said, it's among the top in this category of luxury, professional webcams.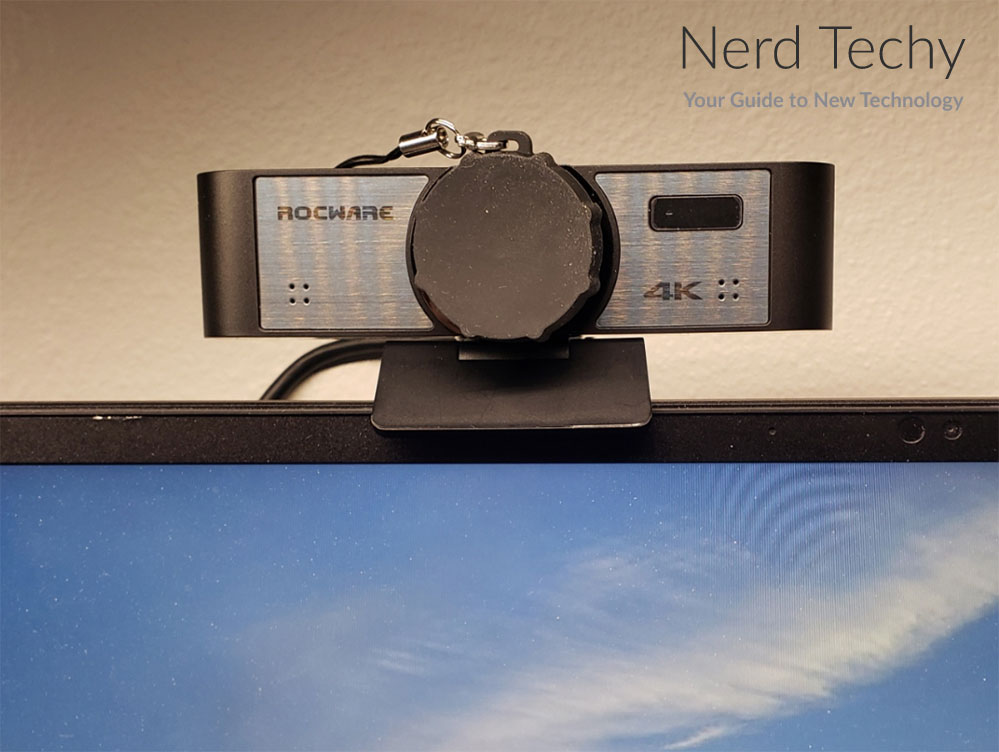 The onboard mics do a better than average job of capturing a range of voice styles and can work in place of a dedicated microphone for zoom meetings or game streaming. The audio processing is effective at cutting out background noise, especially from things like air conditioning units or fans.
The price of the ROCWARE RC16 is on the higher end of the spectrum when compared to other similar products, but the advanced features and high-quality construction justify the cost. The camera is perfect for people who want professional-looking videos and streaming and are willing to invest in a high-quality webcam that can deliver excellent results while being easily portable.
While nothing is going to match advertising claims 100 percent, our tests show that the RC16 spends a lot of effort to get close. In truth, it shows through the build quality and continual firmware updates they keep putting out. Of the dozens of premium webcams we've tested, it's in our top 3 by a wide margin.
Meet Derek, "TechGuru," a 34-year-old technology enthusiast with a deep passion for tech innovations. With extensive experience, he specializes in gaming hardware and software, and has expertise in gadgets, custom PCs, and audio.
Besides writing about tech and reviewing new products, Derek enjoys traveling, hiking, and photography. Committed to keeping up with the latest industry trends, he aims to guide readers in making informed tech decisions.