A dual monitor setups have plenty of appeal. But for all the advantages, there are still issues. You end up with a pair of bezels between each screen. And unless both monitors are identically sized and calibrated, their side-by-side presentation suffers further. To top it off, you've got twice as many cables to manage, and you're going to use up more desk space with two separate stands.
Ultrawide panels are a fairly natural alternative to that chaos. And many of the factors which had caused ultrawide panels to see lukewarm adoption have started to melt away. That's becoming increasingly clear with Samsung's latest line of ultrawide panels.
Samsung CJ89 43-inch Super Ultrawide Curved Monitor
The Samsung CJ89 is a type of monitor that's only been able to exist for a short amount of time. Widescreen panels are no longer as prohibitively expensive as they once were. Vertical Alignment (VA) panels aren't as pricey as they used to be, and the technology has overcome many of its previous limitations. Even the cost associated with curved panels are getting low. The CJ89 marks the point at which people can get a fairly impressive ultrawide panel from a mainstream brand without huge cost.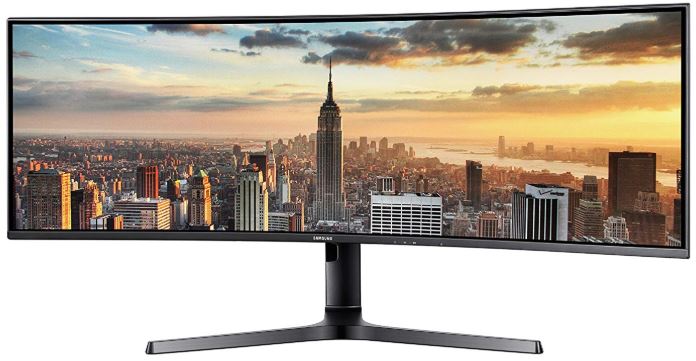 Build & Design
The screen stretches 43" diagonally, creating what may sound like a rather unique 32:10 aspect ratio. A simpler way to think about the CJ89 is to imagine it as a pair of 24" monitors. The 32:10 aspect ratio is a simple multiplication of the 16:10 aspect ratio used by a standard 24" monitor. And the native resolution of 3840 x 1200 is about in-line with that analogy as well. That works out to about 93 pixels per inch, which is slightly better than 1080p resolution on a 24" panel.
Resting in-front of you on your desk, the Samsung CJ89 43-inch Super Ultrawide Curved Monitor measures 45.2 x 10.8 x 17.5-inches. The 10-inch depth is including the front and back-end of the stand's legs. With the stand removed, the panel sinks closer to 3" in depth, depending from which point of the curve you measure. And it's about as heavy as a smaller television, weighing 35.5 pounds with the stand.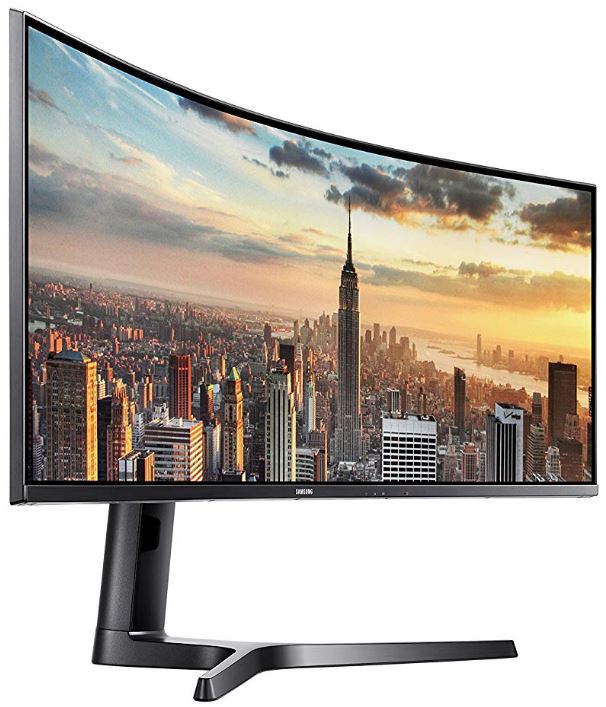 On Screen Display Buttons
For making changes to visual presentation, display buttons on the bottom side of the front bezel, centered near the right-hand side of the panel. Navigating through Samsung's on-screen display interface is fairly simple because they've kept operation down to a small handful of buttons.
Unfortunately, making adjustments with them is not an extremely smooth experience. Like with any monitor, you've got to tap half-a-dozen times to reach the settings you're trying to find. But once you've stumbled through the menu once, you'll be able to breeze through it on your next go.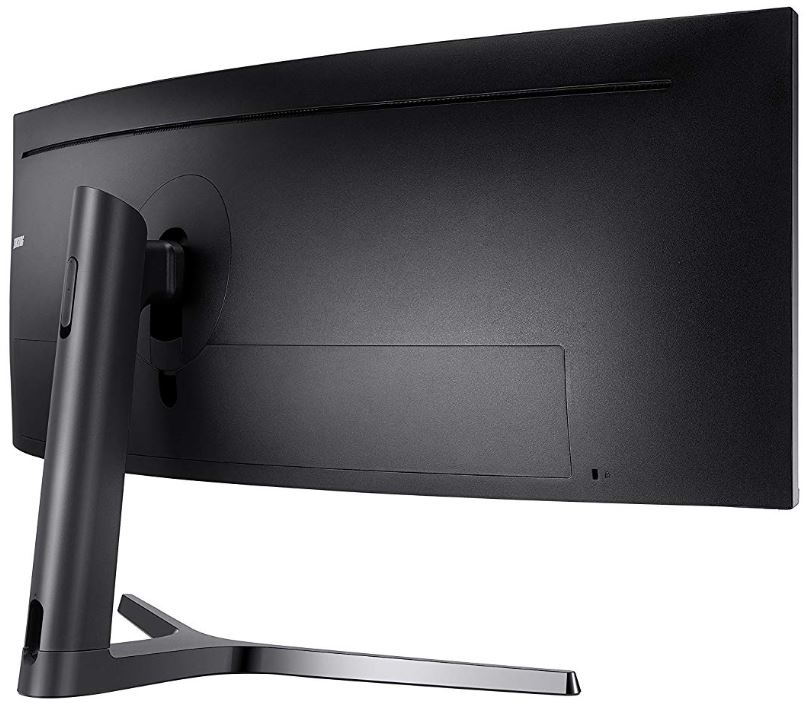 Soundscape
On the backside of the CJ89, a pair of 5-watt stereo speakers provides essential sound support. If sound quality matters to you, then these speakers will be best supplemented with external PC speakers. But when you're in a pinch, it's not bad to have a pair of extra speakers you can use to play sound, and that's more or less what these speakers are equipped to do.
And to their credit, the Samsung CJ89 does sounds better than many top shelf PC monitors, being half-a-step better than an ordinary 24" monitor sounds. That's partially because the CJ89 is somewhat larger than ordinary monitors, which provides more space for speaker components. It's also partially because people expect slightly better sound quality out of panels which are effectively duplicating televisions.
But better or not, ultimately they're monitor speakers, and monitor speakers will never sound especially amazing. At least, not until the day consumers are willing to give-up using flat panel screens in exchange for large, bulky ones.
Curvature and Bezel
From your first glance, it's hard to not see the sleek curvature of the CJ89 leap out at you. Most of the advantages of switching to larger ultrawide panels are about greater degrees of immersion. Whether for workflow or for watching movies, curved panels help bring that to the table.
For people who aren't sitting in the correct position for curved viewing, like a work associate entering the room, photo quality, color vivacity, and overall visibility remains exceptionally high due to Samsung's use of a VA panel for the CJ89. But for getting the benefits of curvature, this monitor does have a favored viewing space that gives preferential treatment to one viewer, or a pair or viewers sitting close.
To keep immersion building, Samsung uses a razor thin bezel on the CJ89. On larger panels like the CJ89 Super Ultrawide Curved Monitor, bezel thickness isn't quite as important for immersion as it is on smaller panels. That's because the ultrawide screen takes up a larger part of your perceptual field than smaller monitors. But nevertheless, a thin bezel contributes, and certainly contributes to the modern aesthetic of the CJ89.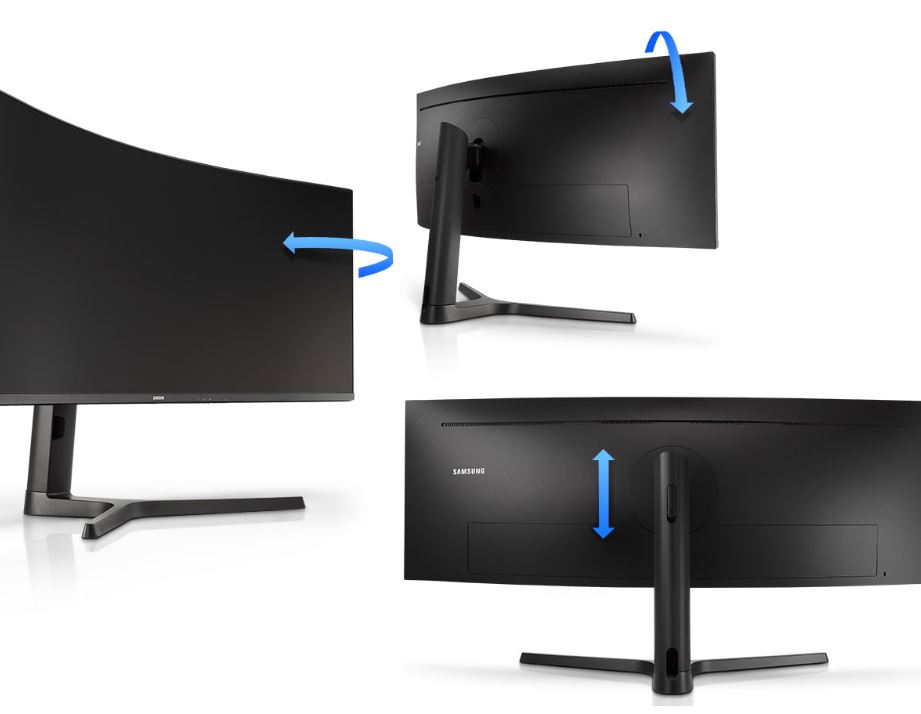 Noteworthy Features
The Samsung CJ89 offers a picture by picture mode, which lets you display two PC inputs at the same time. For clients or colleagues, you want to split your screen with during a collaborative effort, it's a nice addition. You can just connect another device, like a laptop, and have both screens run in parallel on the CJ89.
There's also a picture-in-picture mode. You can split-screen your workspace into several windows, up to six, fully partitioning the workspace for a project. You can also adjust the size of each window for a customizable view appropriate to its program or content.
And when you're doing a collaboration with one of those modes, and you've got two devices connected, you can make use of a built-in KVM switch. That allows you to control multiple PCs at the same time, as may be necessary. For saving desktop space or multitasking, your options open wide.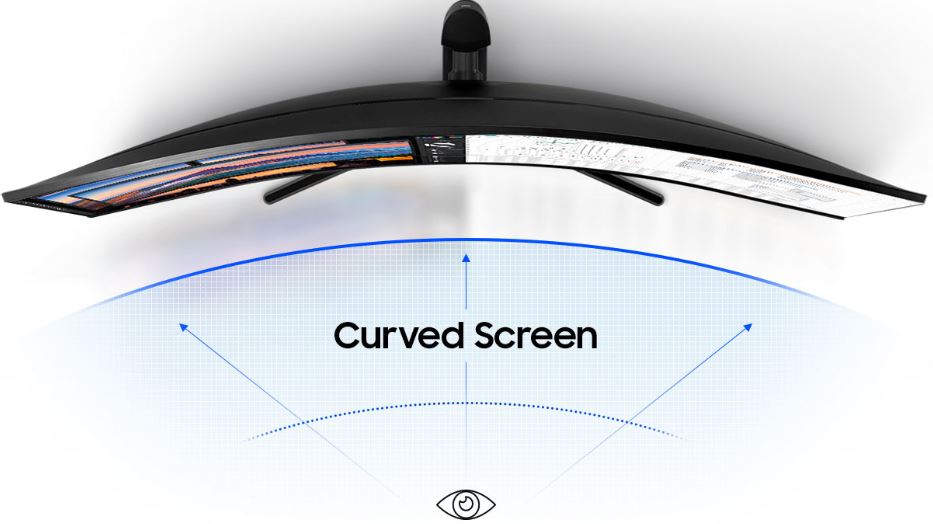 Stand & Mounts
The CJ89's stand is fairly excellent, which is quite rare for monitors of any type. For starters, it's quite minimalistic. The stand takes up very little desk space if you decide to leave the panel without a mount. And although it looks simple, the stand is actually fairly adjustable. Its range of tilt and swivel exceeds what you'll need for a desk-placed panel. More importantly, the stand is height adjustable.
The panel is also VESA standardized so you can throw the panel on a compatible arm. The 35-pound weight will fit on most medium-sized VESA mounts, but you'll want to double-check the weight capacity of your mount before attaching the Samsung CJ89.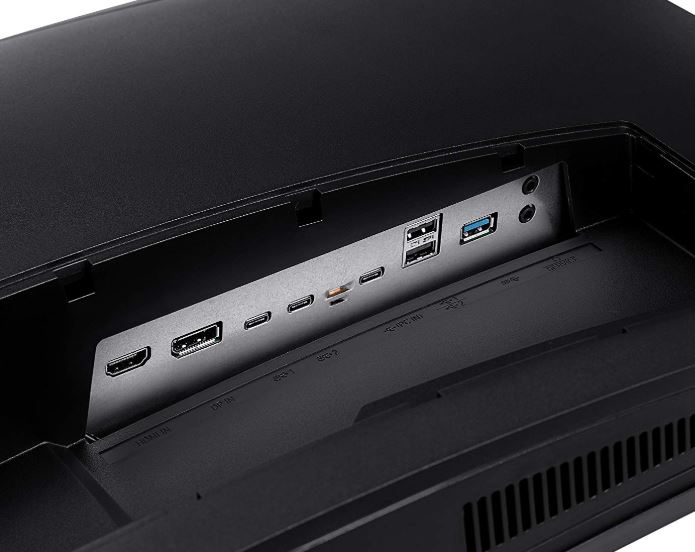 Connectivity
Hidden away on the underside of the back panel, you'll find an HDMI input port, DisplayPort input, a pair of USB-C ports, PC-in port, a pair of USB ports, 3.5mm audio ports. It may be just as useful to mention what isn't present. There's no DVI port, and there's no VGA port. You'll want to be certain your GPU can connect using DP, HDMI, or USB-C.
Interestingly, USB-C port provides data, video, audio, and power transmission through a single cable, and CJ89 has two of these ports. Whether you're connecting video or you're trying to speedily recharge your devices, it's nice to have extra USB-C ports around.
VA Display Qualities
VA panels are about striking a mid-point between two extremes: TN panels and IPS panels. And those differences are most transparent in the high 120Hz refresh rate of the CJ89. But they're also something that comes through in greater color reproduction and brightness, and viewing angles than TN panels.
VA panels also have the best contrast ratios of any common panel type. Where they suffer is in response times. Blurring for fast-moving pictures which can be a disadvantage to playing games. For casual, slow-paced gaming, VA panels work quite well.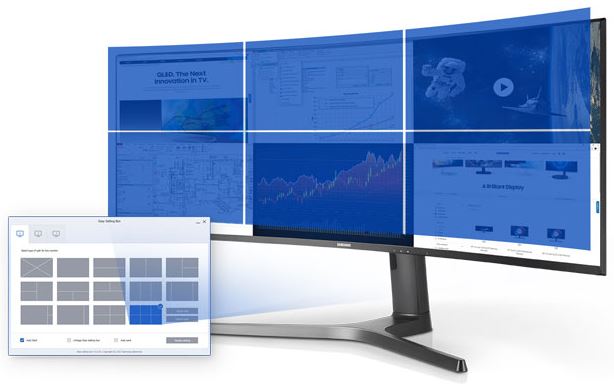 Visual Fidelity
The Samsung CJ89 provides a fairly impressive 120Hz refresh rate. It can be down-toggled to 60Hz if you wish, in the interests of performance. In practical terms, this is really only useful for gamers who want to play games in excess of 60 frames per second. But visually speaking, even everyday users can feel a small difference in smoothness between 60Hz and 120Hz panels.
Other Considerations
How does the CJ89 compare to using two separate 24" panels? The clearest advantage is the elimination of bezels, and a general consolidation of power and connection cables. But with those basics aside, the CJ89 steps outside the box by adding a KVM switch, and a high refresh rate that makes for a generally versatile media experience.
The Samsung CJ89 has two more features that have become standard with almost all big monitor brands. Those are the optional flicker-free eye-saver mode, and a mode which reduces blue light emissions. These can be used to reduce strain on your eyes, and address a variety of sleeping issues that are related to prolonged exposure to blue light, especially during the end of the day.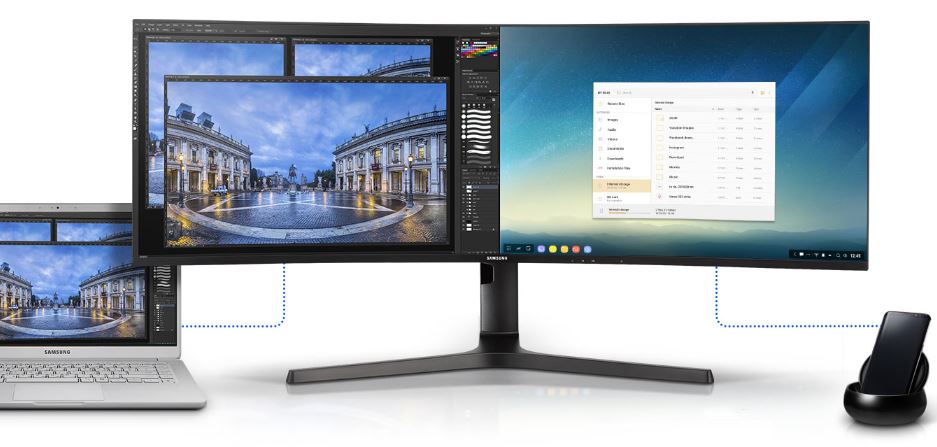 Who Should Choose the Samsung CJ89 Super Ultrawide Curved Monitor?
Ultrawide monitors are a strange thing. Some people love them, others are ambivalent. To make matters even more complicated, the CJ89 is somewhat different compared to typical ultrawide panels. But a few things are clear.
For gamers, this panel can be hit-and-miss because it isn't gamer-oriented. It's possibly not the right choice for highly competitive players who are playing fast-moving action games, but for visually immersive games, the VA panel performs admirably. For workspace, the Samsung CJ89 Super Ultrawide Curved Monitor is an excellent choice for matching or replacing a 2-monitor display.
And for movies, the CJ89 is fairly excellent choice with a highly competitive range of visual quality. The ultrawide presentation uses a multiplication of the standard 16:9 aspect ratio, so you don't need to go out of your way to find specially formatted ultrawide content, and you don't end up with a bunch of black bars around your media. It's got the benefits of ultrawide without the full set of drawbacks.