You don't expect a smartphone to have the same kind of computational power as a full-sized desktop computer. Likewise, you really shouldn't expect true wireless earbuds to deliver the same level of performance as larger wired equipment.
Creating truly wireless equipment can be challenging. It means using an independent battery for each earbud, and then having to sync their signals wirelessly. But some people love the freedom of being truly wireless.
And who can blame them? With no wires to tangle or tame, the only word adequate to describe the feeling of going truly wireless is "freedom." But as country songs often remind us, freedom isn't free.
Sennheiser Momentum True Wireless Bluetooth Earbuds
Ask any group of audiophiles, they'll tell you Sennheiser is among the most respected names in audio manufacturing. If you're not familiar with Sennheiser, it's a German based audio engineering company that primarily creates audiophile equipment. They also make a fair amount of entry-level audiophile equipment, and the occasional pair of mid-range headphones.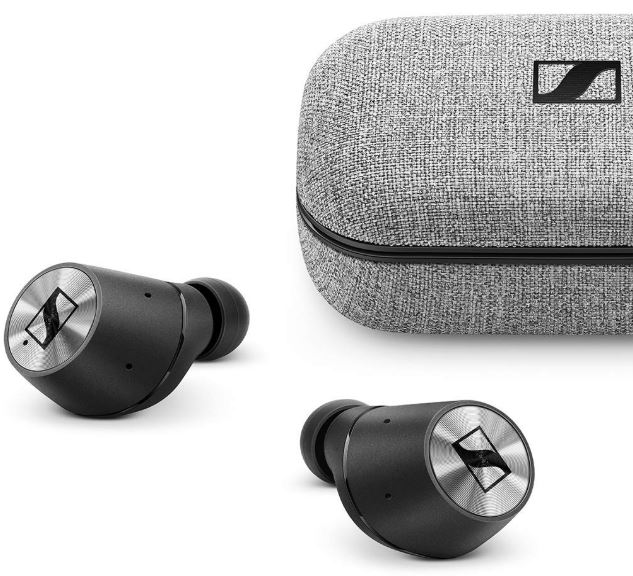 Can Momentum True Wireless Bluetooth Earbuds be considered audiophile equipment? Yes, and no. On one hand, they're certainly among the best sounding true wireless earbuds on the market.
The problem is that true wireless earbuds are generally unable to sound anywhere near as good as larger wired alternatives. For a variety of practical reasons, that's unlikely to change. But for fans of the format, that's unlikely to matter.
Build & Design
It's fair to say Sennheiser Momentum True Wireless Bluetooth Earbuds are at least a little bit impressive. The earbuds look professional while giving off a sense of sturdiness and authority. The metallic exterior of each bud is painted with the Sennheiser "S" logo. Enjoying a partially metallic construction may give off the impression these earbuds are invulnerable, but their protection isn't quite that extensive.
Each bud is made to endure a variety of conditions, and their design is durable enough for an IPX4 certification. That basically means these earbuds are splash resistant. When you're wearing them through the rain, or when something spills onto their case, you don't have to break a sweat.
Sweat is another thing the Sennheiser Momentum True Wireless Earbuds has no problem with. There's equal protection from dust, dirt, and sand. But the IPX4 certification will not help Momentum during moments of submersion. You don't want to intentionally get them wet, nor throw them in a pool.
Ease of Use
Each sculpted earbud is finished with gold plated charging pins, precisely shaped to smoothly fit within the included charging case. Their distinctive bean design makes it possible to pop them inside the case at a glance. The case itself is a black-and-white hatching pattern, wrapped in fabric, and again branded with the Sennheiser logo. The buds are kept snugly in place with the use of snap-in magnets.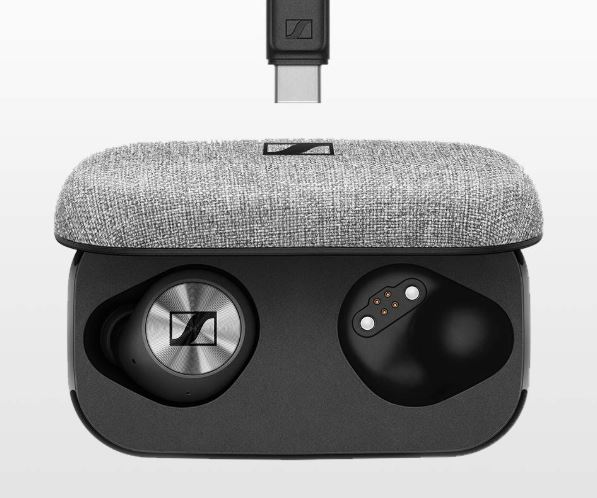 In-ear headphones help block out sound from the environment around you. It's one of the reasons why people like them. But sometimes you need to be able to hear what's going on around you. Momentum True Wireless Earbuds provide a transparent hearing feature which can help you do just that. When activated, it works by letting sound in, so you can listen and chat without removing the earbuds.
The outward face of each bud has no obvious buttons, but their metallic exterior is touch receptive. That allows the earbuds make use of multi-touch fingertip control. They give you full control over voice assistants, calls, and music. The touch patterns are fairly intuitive, allowing you to raise or lower volume, and skip between tracks.
Compared to many similar true wireless earbuds, this design is a rather elegant solution to the problem of adding controls to a tiny wireless headphone earbud. Because it doesn't leave you fiddling with several tiny buttons near your ear. If you can touch the earbud while you're wearing it, then you can use the touch control.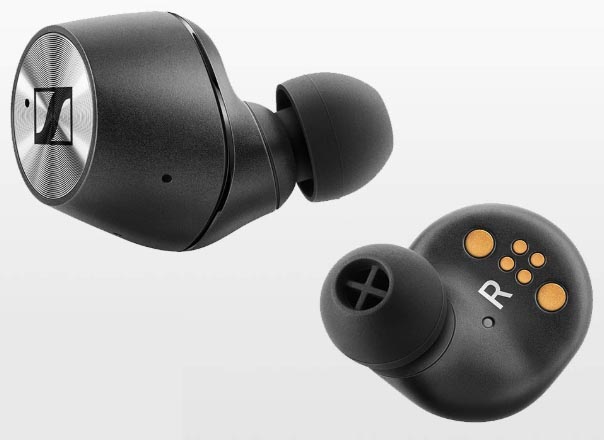 Microphone Quality
Sometimes extra features are thrown onto a product, and even though the features aren't very good, they're nice additions. Sennheiser doesn't tend to build their products that way. When you purchase high-end headphones, you want everything about them to feel high end. Even small complaints about a product can become more severe when you have rightfully raised your expectations.
The Sennheiser Momentum True Wireless Bluetooth Earbuds make use of a two-beam microphone, intended to keep your voice clear in noisy environments. And it does a pretty excellent job of doing so. Though Momentum can't provide quite the same level clarity as when you have a microphone boom directly in front of your face, it does get close.
Battery Life
The Momentum True Wireless Bluetooth Earbuds are made to provide 4-hours of wireless playtime. That 4-hour estimate becomes 12-hours when you start to consider the additional power carried by the charging case. The case carries about 8-hours of power, which can provide two additional charges to the earbuds.
Compared to similar earbuds, these battery estimates are low-average. It's fairly common to squeeze four hours of battery life from in-ear headphones. It's not uncommon to see charging cases that can extend battery life out towards 20-hours. The battery life available here is passable and should disappoint few to none, but it's also unremarkable.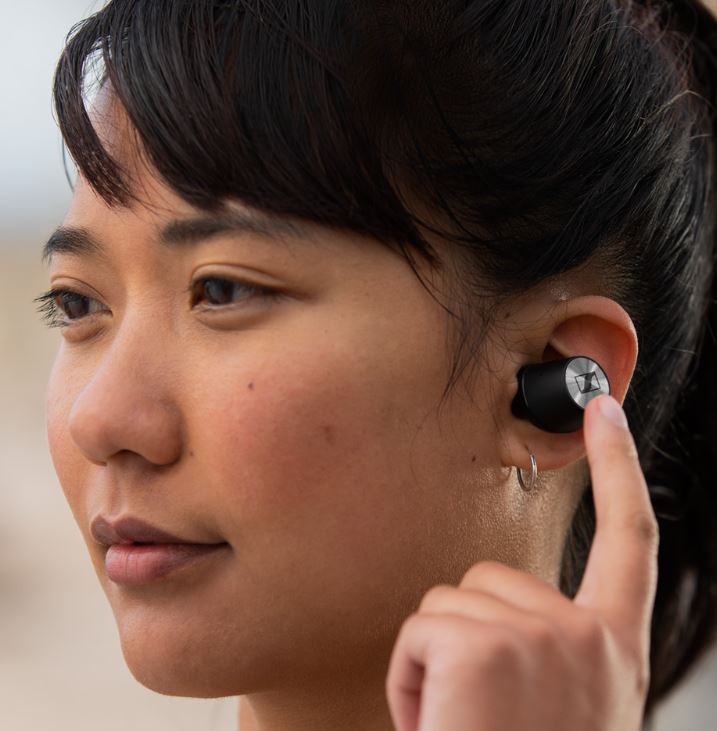 Sound Quality
Momentum True Wireless Earbuds largely derive their sound quality from Sennheiser's proprietary technologies. Consequently, many design issues you might be concerned about with less reputable manufacturers are often no longer necessary to be concerned about. For example, the tiny 7mm drivers which are at the core of Momentum's design.
Such tiny drivers might seem like they're fighting an impossibly uphill battle to create a pleasant soundscape. Especially compared to in-ear headsets with 14mm drivers, which are not terribly uncommon around this price point.
But Sennheiser knows what they're doing. These earbuds are a finely crafted balancing act between several different competing factors. Those factors include things like comfort, battery life, call clarity, and of course sound quality.
Software and Hardware
These days, a significant number of headphone manufacturers create their sound quality through software instead of more traditional engineering. It makes sense – software is cheap. It costs almost nothing to run an algorithm, researching and developing special hardware can be expensive. The thing about Sennheiser's sound development is that they get results through engineering.
Like tuning up an old car, they figure out ways to take the physical components of a headset and make them more functional. Sennheiser also implements software augmentation, especially for headsets like the Momentum True Wireless Bluetooth Earbuds. And you can fine-tune Momentum with an integrated equalizer, or through Sennheiser's own Smart Control App.
But these augmentations are more like a dressing or condiment, instead of the primary force behind what makes them sound great. The combination of good design and good software creates a unique soundstage with its own distinct signature sound. Momentum is clear when it needs to be, punchy when it needs to be, and may generally stretch a person's expectations about how well true wireless Bluetooth earbuds can perform.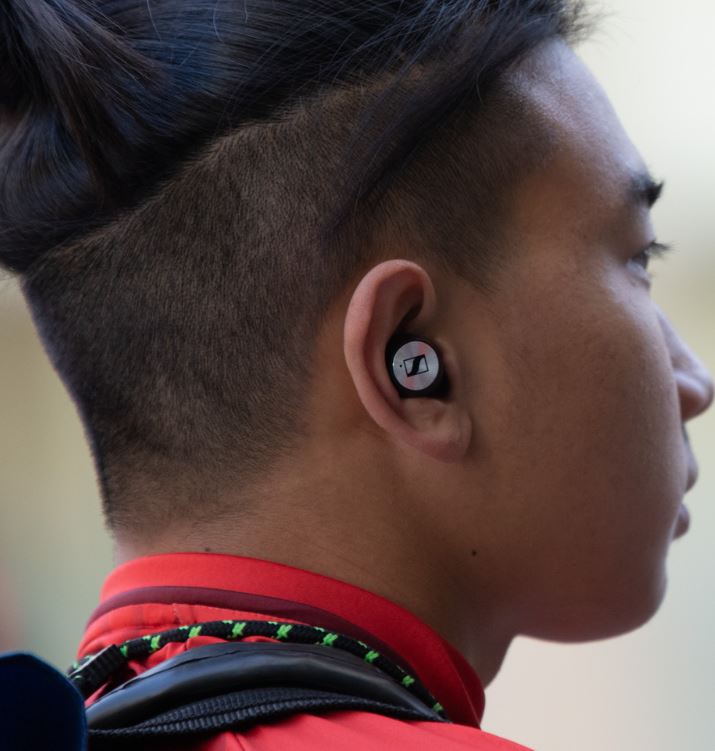 Connectivity
Sennheiser Momentum True Wireless Bluetooth Earbuds use AAC, Qualcomm aptX, and aptX Low Latency technologies. They're compliant with Bluetooth 5.0 for a hassle-free connection. That also ensures wide compatibility with iOS and Android devices, and a lag-free experience with perfect synchronization between the buds.
Comfort Options
Sennheiser knows how to do many things correctly. They understand the experience of enjoying audio is just as much about comfort as sound quality. There's little point to designing a headset you hate to wear, so they've done fairly extensive research into ergonomics and comfort.
Momentum True Wireless include ear tips in four sizes, intended to be suitably for virtually anyone. They're sized large, normal, small, and extra small. Though it takes a moment to move through the different options, once you do, you're nearly certain to find something both secure and comfortable.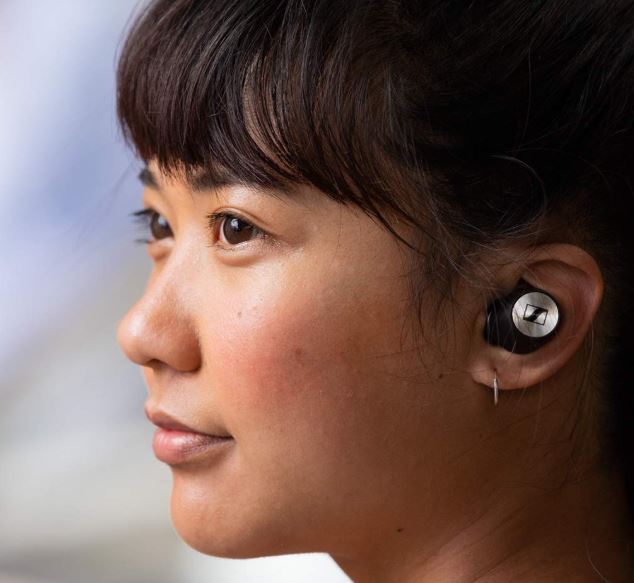 Longevity
Top-shelf audio equipment can last for decades. But true wireless earbuds will not. Rechargeable batteries are perishable, and any device that makes use of a built-in lithium-ion battery will have a finite amount of recharges. Good batteries are made to last for hundreds of recharge cycles.
Thanks to their sturdy construction, these earbuds are very unlikely to meet their doom from any other means except dwindling battery life. In practical application, you can expect about three years of heavy daily usage, after which time you'll want to consider replacing the earbuds.
With moderate use, those estimates could move towards the 5 or 6-year mark. Of course, after a few hundred recharges, the battery performance will slide. Within about 18-months you can expect each earbud to provide about three hours of battery life instead of four.
Other Considerations
The voice assistant control is activated with one tap. It supports Google Assistant, Apple Siri, and every other voice assistant platform you can name. Additionally, momentum makes use of a smart-pause feature, which will pause when your remove the earbuds from your ears.
Momentum includes a charging case, four sizes of ear tips, and a USB-C charging cable which is roughly eight inches long. They also include a three-year warranty.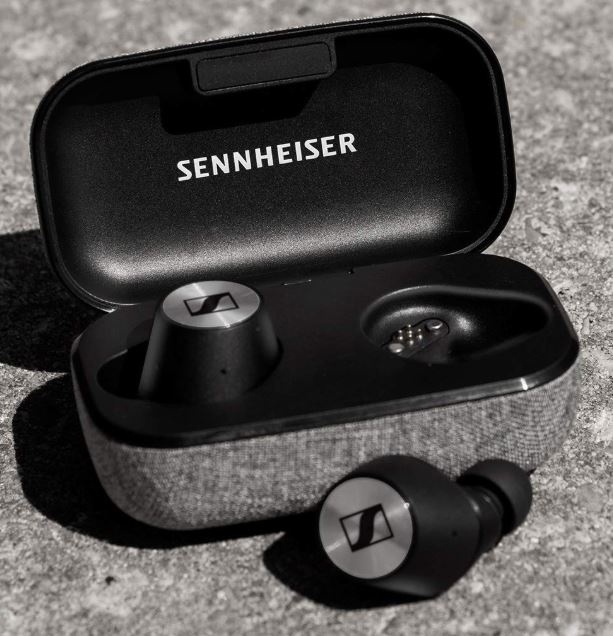 Who Should Choose Sennheiser Momentum True Wireless Earbuds?
Unlike many audio products, Momentum has a deeply finite lifespan. It's part of the reason why Momentum True Wireless Bluetooth Earbuds are essentially the best true wireless Bluetooth earbuds you can create without going back to a wired design.
To their credit, they do sound excellent. To reach another distinctively superior tier of audio quality, you'll need to spend literally three of four times as much, and you'd have to start using a wired connection. Conversely, you can find cheaper alternatives for true wireless earbuds, but none of them can deliver audio performance like Momentum.
Like most of Sennheiser's equipment, these are not value-oriented headphones. They're not the right choice for someone looking for a great bargain. Sennheiser Momentum True Wireless Bluetooth Earbuds are a good choice for someone who loves the freedom of true wireless earbuds, but also demands superb audio quality.