The television has long been a centerpiece for home entertainment, and with each passing year, the technology seems to be steadily improving. Whether you're a family that spends every night enjoying TV, or someone who wakes up every morning and tunes in for some enjoyment, having a nice TV is a real luxury.
If you've been searching high and low for the right TV for your home, you may have been put off by the price of some. However, there are several options that boast both affordability and high-end features into an attractive price tag. One specifically that comes to mind is TCL.
TCL is one of the best-selling manufacturers that are know well for their Award-Winning Smart TVs that hit the market last year. Although they're great TVs, they're slowly being phased out. Why? Because they were only capable of 1080p, and the new standard is 4K.
Set to release near the end of this month, the new 5800 model TCL 55 and 65 inch Smart TVs (55US5800 & 65US5800) will be available. They will still be priced affordably at $599 for the 55 inch and $999 for the 65 inch, but boast two times the resolution with their 4K Ultra High Definition capabilities.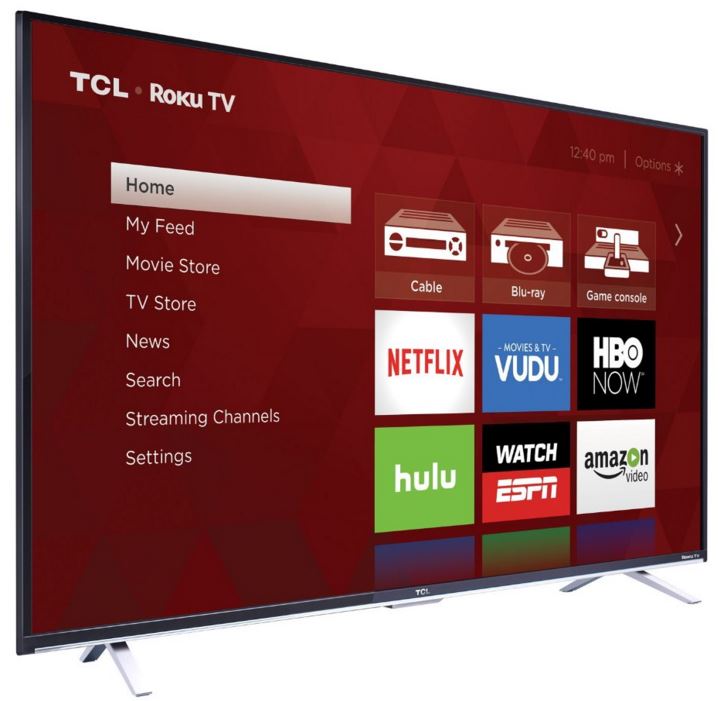 Difference Between 1080p and 4K
For roughly the last decade, 1080p has been the holy grail of resolution by providing an 1920 x 1080 resolution, resulting in high definition imaging. But in 2016, 1080p is clearly on it's way out and being replaced with 4K. How come? Simply because the resolution of 4K can provide two times the amount of content that your current 1080p TV can display.
4K is just a shortened and popularized term since it provides a 3840 x 2160 resolution, although you may also have heard to it being referred to as 2160p. With the ability to display as many as 8 million pixels on your screen, 4K is truly remarkable. It's a technology that you'll only see become more widespread and available.
Is 4K Worth It?
Although the price of 4K was insanely high when it was originally released a few years ago, the price of 4K televisions have dropped significantly. Most notably, TCL is leading the way with one of the least-expensive, yet feature-rich Smart TVs on the market. Their 2016 models are definitely worth the upgrade for many since they boast more than your average 4K LED TV with fully-interactive Smart features.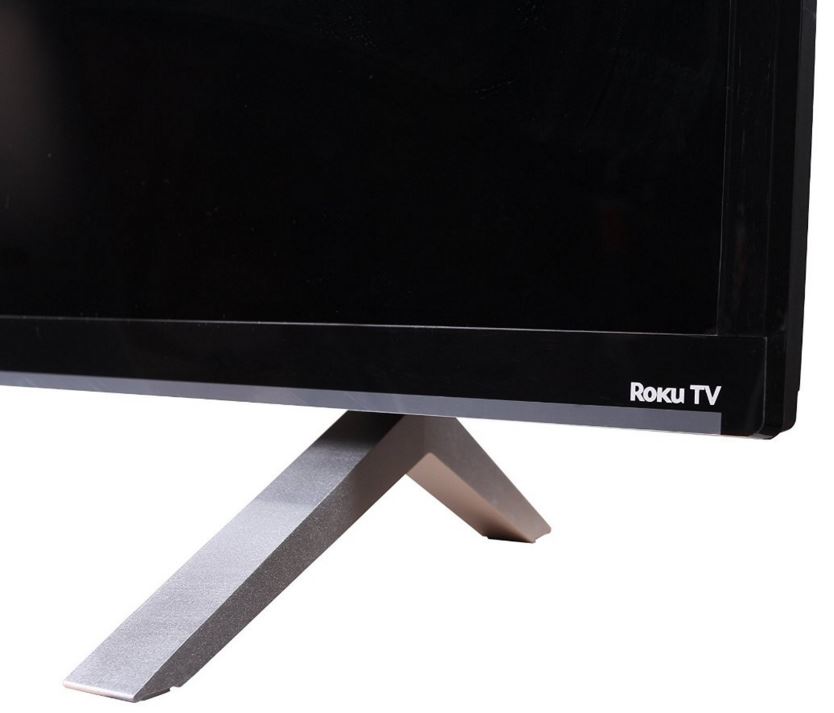 Roku Built-In
What really sets both the 55US5800 and 65US5800 apart is the Roku integration that offers you the largest selection of streaming channels currently available. With over 2000 channels, hundreds of them are completely free and ready for instant streaming.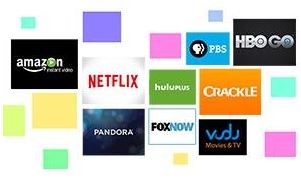 Additionally, you can use a wide range of applications to connect and stream content from Netflix, Hulu Plus, HBO Go, Amazon Prime, Fox NOW, Pandora, and so many more. Although not required, cable subscribers can link into a whole new realm of entertainment – depending on your specific cable provider and subscription package.
The Remote
The TCL 55 and 65 inch Smart 4K Ultra LED TVs come included with a Roku remote. It's built for ease of use and equipped with 20 buttons that enable you to carry out the best in the television's full functionality. Since there's roughly half of the buttons than your standard cable remote control, you won't have a clutter of controls to use and there will be no struggling to adjust your TV to anything you'd like to enjoy.

Best of all, the remote has voice-command capabilities that enable you to speak directly into a microphone. Selecting your content with the sound of your voice is a real treat and enables you to find things faster without any of the confusion, time, and clutter a traditional search may take. Also, if you're not a fan of the remote or you would like an additional one, you can use the free Roku remote app on your smartphone to turn it into a remote controller.
Home Screen
When you turn on the TV you're presented with a beautifully designed home screen that can be fully personalized. It's a streamlined and simple menu of all that your entertainment center has to offer, without the need to configure a variety of different inputs or complicated procedures.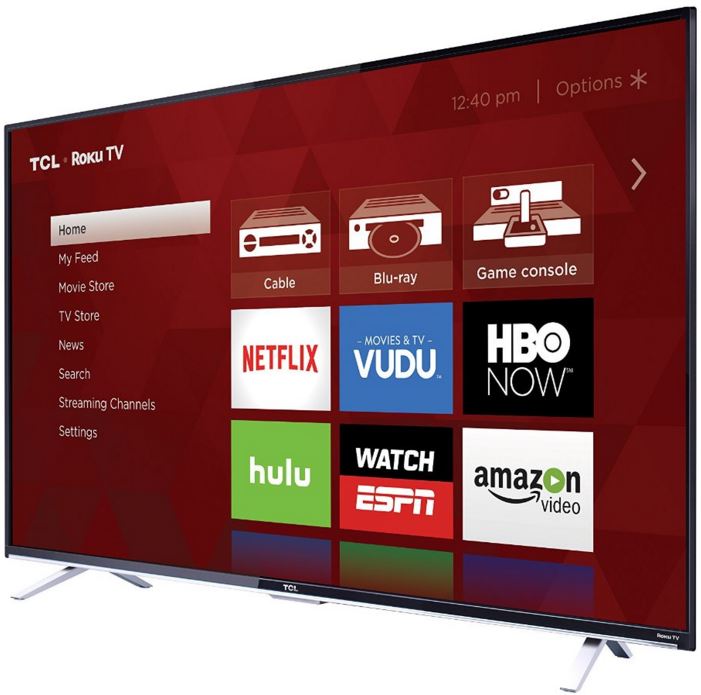 Upon powering on the TV, your favorite broadcasts, streaming channels, video game consoles, and connected devices will be available for your selection. It's a better welcome than most Smart TVs currently offer and you always have the freedom to adjust it as you please.
Wireless Communication
Since the TCL 4k Smart LED TV has built-in WiFi connectivity, it can wirelessly connect and communicate with your home network. There's no need to plug in an Ethernet cable since the wireless capabilities are ready to go right from unboxing. Equipped with dual-band WiFi, it achieves an excellent range away from your router or access point.
Slim and Sleek Design
With the included stand, you can set it up on a table top or on top of furniture in a stable and effective manner. Although some people may like to take the stands off and mount it directly onto the wall, we must say that we're fans of either option. It's slim profile works well for those who are trying to achieve a minimalist or modern look while making it the centerpiece of the living room or bedroom.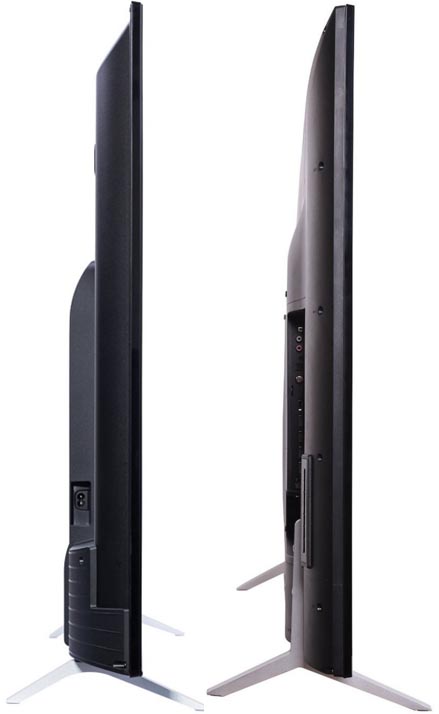 The 55 inch model is just 3.5 inches thick, 49 inches wide, and 28.4 inches tall. The 65 inch model is just 2.5 inches thick, 57.4 inches wide, and 32.9 inches tall. As you can tell, the larger version is slightly thinner, but they both boast an overall very slim profile.
Full Features and Specifications
Refresh Rate: Native – 60Hz. Effective – 120Hz Clear Motion Index.
Backlight: Full Array LED.
HDMI Inputs: Four HDMI 2.0 with HDCP 2.2 (one has HDMI ARC).
USB Inputs: One (for connecting media).
Other Inputs: RF, Composite, Optical Audio Out, Headphone Jack,
Energy Star Compliant
Warranty Period
According to TCL's website, all of their televisions are covered by a generous 2 year (24 month) warranty period. This gives you added peace of mind trusted assurance that your investment will be good and working fantastically for this time. Most television manufacturers offer a one year warranty, so it's very nice to see TCL go above and beyond by extending it to double the length of most warranties in the industry.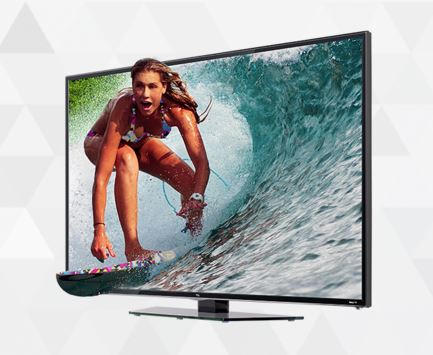 Final Thoughts
Upgrading to either one of TCL's new 2016 model of their 55 or 65 inch Roku Smart LED TVs (55US5800 & 65US5800) is a great option for those who want top of the line features at a drastically reduced price point. With the full array LED back-lighting, true 4K Ultra HD resolution, and innovative smart features that give you access to thousands of channels, we feel that TCL offers the perfect blend of high-end design with the affordability that you're likely looking for.
Regardless if you're looking into getting the 55 or 65 inch version, both boast equally impressive features that'll surely appeal to a wide range of individuals and families.