Bigger audio equipment can generally deliver better audio performance. But if you want a speaker to be portable, it had better fit in your hand. Working through that compromise is essential to selecting the right portable Bluetooth speaker.
In short, you want a speaker that's big enough to deliver on audio quality and battery life, but small enough to take with you as you move through the world.
TREBLAB HD77 Portable Bluetooth Speaker
Over the past two years, Treblab has produced quite a bit of noteworthy audio equipment. The HD77 is an excellent example. It's about as portable as a can of coke, but in spite of its tiny frame, this speaker can pack a punch. With nearly twice the wattage of similarly sized equipment, the HD77 is often nothing short of impressive.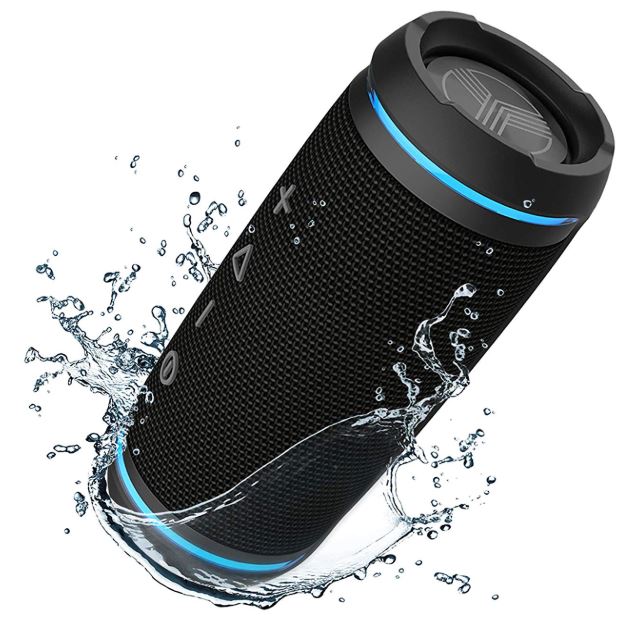 Look at any portable Bluetooth speaker that costs less than $300. Some focus on great support for analogue media connections. Some provide half a dozen different ways to hang-up the speaker. Others speakers provide both Wi-Fi and Bluetooth, or some kind of special integration with their own app.
Needless to say, the HD77 doesn't have everything. And it doesn't aspire to do everything. Instead of focusing its design on software support or LED adjustability, Treblab focused the HD77 on the essentials of a great Bluetooth speaker. While the HD77 isn't going to be suitable for absolutely anyone, its highly generalized design does get close to that level of universality.
Build & Design
The HD77 measures 7.3 x 3 x 3-inches. Its circular body resembles a large can of coke. It even uses an aluminum frame. Apart from that, the chassis is largely made from impact-resistant ABS plastic. That also allows it to be shockproof when dropped from a distance of 3.3 feet — more or less the distance from a table to the floor, or from your hand to the ground.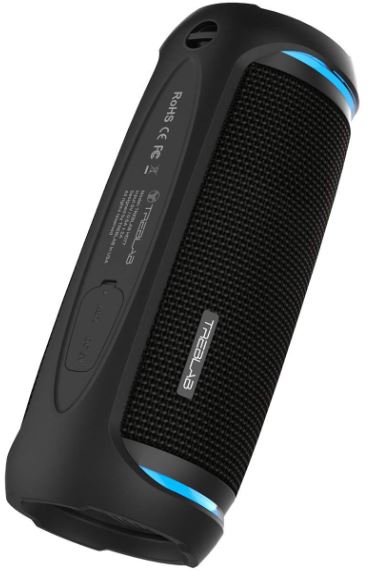 A flattened base allows the HD77 to rest on flat surfaces, but the base measures scarcely 1". Suppose you place the Treblab HD77 on a wobbly table, and someone gave the table a good bump. Having a low center of gravity can help keep the HD77 in place. It can even prevent theHD77 from toppling over.
But because the base is so narrow, sooner later, good bump will send the speaker rolling. And that's when you'll be glad the shockproof design is there. However, you need to keep in mind that as you go beyond 3.3ft, the risk of suffering damage starts to shoot up. The HD77 would likely survive a fall from six feet, but it would almost certainly suffer scarring in the process.
Audio Portability
At the core of any Bluetooth speaker's portability is decent weatherproofing. If a device can't handle a few drops of rain, it's not really that portable, is it? Fortunately, the Treblab HD77 Portable Bluetooth Speaker is constructed with IPX6 weatherproofing.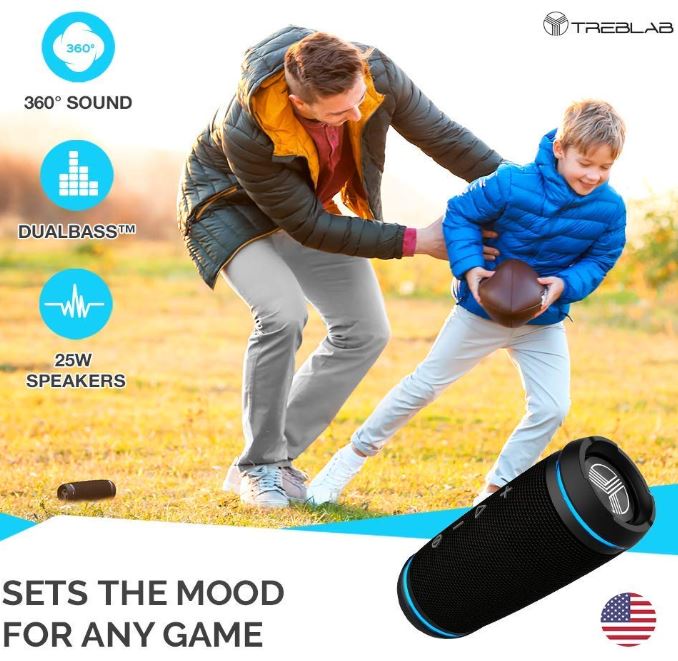 While that's not exactly a marine-grade safety rating, it's more than adequate protection against sweat, rain, dust, and the occasional splash. Just don't go throwing the HD77 inside of pool because prolonged submersion will cause you problems.
On the bottom-side of the HD77, there's hidden pull-away paneling that allows you to connect DC 5V and aux cables. In order to maintain the waterproof protection, you need to keep these ports sealed. And consequently, it does take a modest amount of force to open this hatch.
Sound Quality
The Treblab HD77 is constructed with two drivers, a pair of 12.5 watt speakers. Combined they deliver a maximum 25W of stereo sound. That's actually pretty close to twice the wattage of most similarly sized portable Bluetooth speakers.
The extra power helps in innumerable ways. For starters, it gives the maximum volume a little extra kick. The HD77 can get surprisingly loud for such a small, handheld Bluetooth speaker. Volume aside, from a sound design perspective, Treblab has done some very interesting things.
Instead of providing thin support for the edges of the treble and bass range, Treblab pulled back and focused entirely on tones they know they can produce well. Even though this means exceptionally high tones and low tones are utterly missing from the soundscape, the experience of listening retains exceptional clarity.
As your ears adjust, there's an almost unusually strong quality to the audio. And while the edges of the bass range are not supported, and small speakers nearly always have issues with bass, Treblab does have their own solution. Their own DualBass technology can't make the HD77 sound like it has its own subwoofer, but it does provide a little boost to bass response.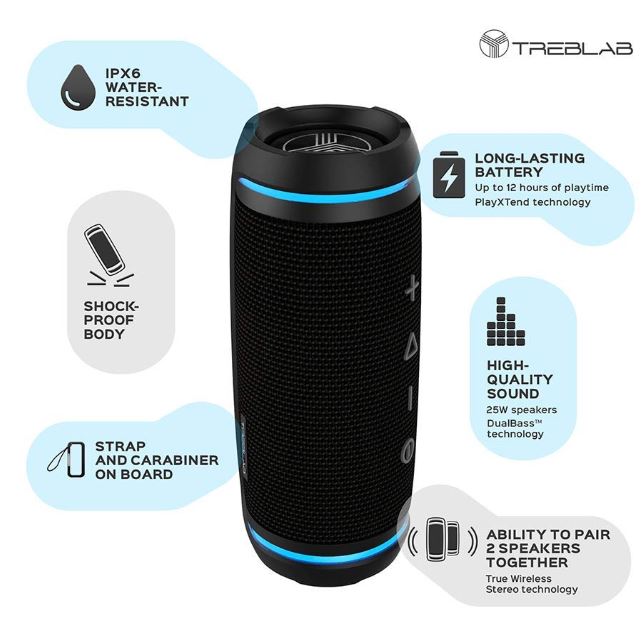 Sound Modes
The HD77 is a blunt instrument. Its frequency response slightly narrow, between 80Hz and 16kHz. It's not intended to deliver clarity to the higher treble range, nor to create thumping bass. It's made to bring television quality sound within a speaker you can hold in your hand. It manages to do that, especially if you decide to switch between its two basic play modes.
They're basically indoor and outdoor modes. To make the difference simple, the indoor setting is focused on providing better bass. The outside setting works to project sound greater distances. In the process of projecting sound in an outward direction, there's considerably less bass, but greater clarity at greater distances.
Ease of Use
Treblab seems intent on putting practical design ahead of all else. While many portable Bluetooth speakers have turned to using onboard LCDs, the HD77 is entirely wrapped in protective metallic audio mesh. In the few spaces not covered in mesh, the remainder is protected with ABS plastic. That leaves little space for controls and LCDs.
Along its face, you can find a handful of easily identifiable analogue media control buttons. They let you quickly raise or lower the volume, skip between tracks, pause or play, or otherwise interact with callers. Keeping things portable, on left-side of its base, the HD77 has a looping space. You can run through virtually any kind of rope or wire for hanging the HD77.
Carabineers snap on without a problem, which allows the HD77 to be carried or worn with a strap. Because the Treblab HD77 weighs about 1.4 lbs., its weight isn't going to stop you from hanging it up almost anywhere. And you generally do not notice its weight when you're hauling it around, especially if you attach the strap.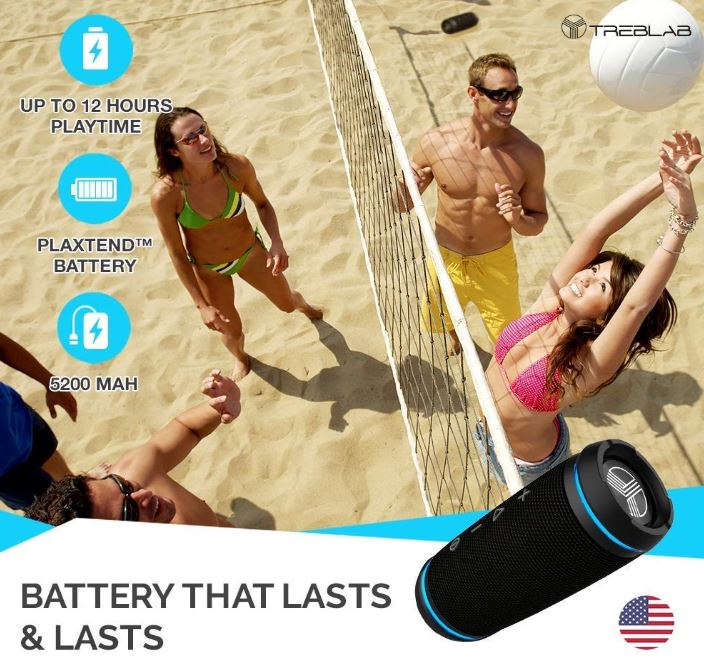 Connectivity
Bluetooth 4.2 helps keep you connected, and also makes setting up take about two seconds. The HD77 is compatible with Windows, iOS, Android devices, allowing it to quickly pair-up with just about any mobile device. Bluetooth connectivity supports a maximum 33-feet of signal strength, though that figure gets cut in half once you start adding obstacles between the speaker and the signal source.
There's no need to use an app to get started. Like with almost any Bluetooth device, you just press and hold the power button for about 6 seconds. You'll see the Bluetooth LED begin to blink, which indicates it's entering pairing mode. You can also connect up with the AUX port on the bottom-side of the HD77.
Unfortunately, there's no wire storage compartment or retractable AUX cable. But if you do decide to go the slightly more burdensome route of a wired connection, you'll be able to operate without having to use Bluetooth. That can easily add a couple of extra hours onto the lifespan of each battery charge.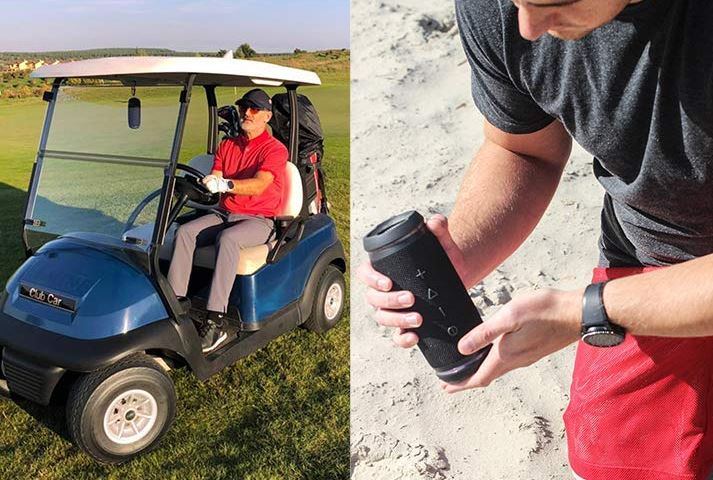 Battery Life
The Treblab HD77 is constructed with an impressive, 5200 mAh battery. Paired up with Treblab's own PlayXTend technology, you end up with about 12-hours of playback time. Those figures drop towards 8-hours when playing 95% volume, which is actually still quite strong.
It's enough to get through most of a day, even with maximum settings. That's certainly more than most people need from their portable Bluetooth equipment. Switching over to wired mode with the included AUX cable, you can avoid using Bluetooth and expand the battery even further.
Once the battery is dry, charging time works out to about 4 hours. Naturally, the total charging time depends on the details of your setup, and the source from which you're charging. With a rapid charge platform, you could plausibly refill the HD77 in closer to 3 hours.
Microphone Quality
The Treblab HD77 uses a built-in mic that's designed to not disappoint, but it doesn't seem intended to impress. There isn't any native support for call assistant features. There aren't any impressive noise cancelling technologies used for the microphone, or any business-quality multiple-microphone setups.
It's more of an essential microphone. You get pretty good clarity when you're taking calls in reasonably calling circumstances. When you're standing next to four other people who are talking in the background, or you're around a noisy engine, there's no microphone magic to make things better.
Other Considerations
The TREBLAB HD77 provides TWS support, allowing you to connect two speakers together. It lets you quickly double the volume of your setup. You can use it to setup multi-room setups pretty simply, or create some 360° sound.
With heavy regular use, you can usually expect a lithium-ion battery like this to provide about 3-years of heavy and regular listening. The shockproof design and general weatherproofing ensure the HD77 means getting at least 3-years is highly likely, with the potential for reaching five or six years on the table with more moderate use.
This speaker includes a carabineer, carrying strap, charging cable, and 3.5 mm aux cable. It includes a user manual that's not especially useful, unless you've never used a Bluetooth device before. The HD77 also includes a 1-year warranty.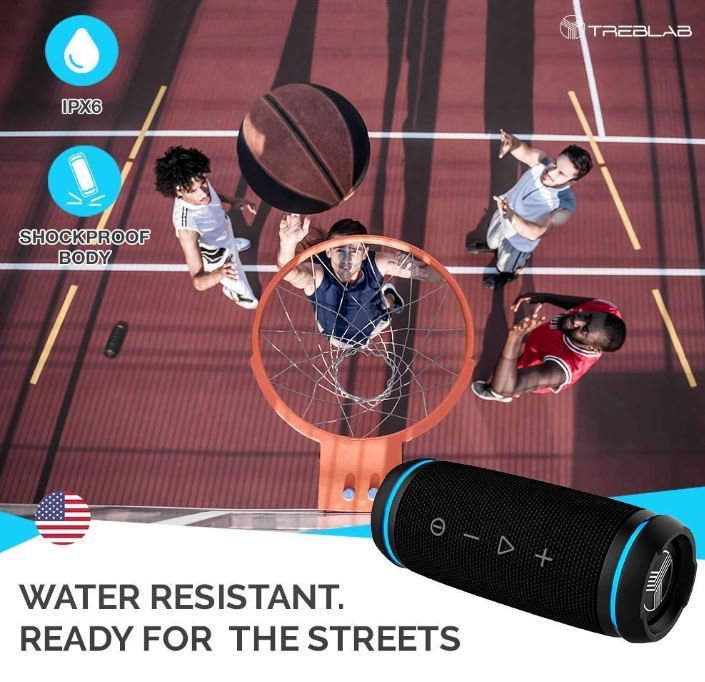 Who Should Choose the TREBLAB HD77 Portable Bluetooth Speaker?
The Treblab HD77 is small and compact, but it carries big drivers, a big battery, and a big sound. There are features it does not have. You can't play music from a USB drive. It doesn't have an attractive LED readout. But what it does have is probably more important to most people looking for a portable Bluetooth speaker.
Its heavy-duty design has greater wattage, greater portability, and an arguably greater sound than most comparable equipment. All in all, the Treblab HD77 Portable Bluetooth Speaker delivers considerable value, which makes it worthy of consideration for anyone who truly needs portable audio.
Meet Derek, "TechGuru," a 34-year-old technology enthusiast with a deep passion for tech innovations. With extensive experience, he specializes in gaming hardware and software, and has expertise in gadgets, custom PCs, and audio.
Besides writing about tech and reviewing new products, Derek enjoys traveling, hiking, and photography. Committed to keeping up with the latest industry trends, he aims to guide readers in making informed tech decisions.