As with so many things, dash cams have become heavily integrated into smartphones. That's great if you carry your phone with you every moment of the day, if it's always around when you need it. It's great if you don't mind spending your phone's battery, and it's great if you don't end up having your phone out at the wrong time and end up with a ticket.
In short, there are plenty of reasons to be able to want to watch what you record without getting your phone involved. And not being able to do so is fairly limiting, like old film cameras before they introduced digital displays. But when you're choosing a dash cam, expectations are what matter most. Whether they're met, exceeded, or underwhelmed depends totally on what you're looking for to begin with.
Vantrue T2 Dash Cam
The Vantrue T2 Dash Cam is a fairly straightforward combination of common sense features and smart design. Without going overboard with unnecessary expense, the T2 seems aimed to score high marks in every essential category. It even incorporates some of fairly powerful camera hardware, allowing for a wide field of view in diverse light conditions.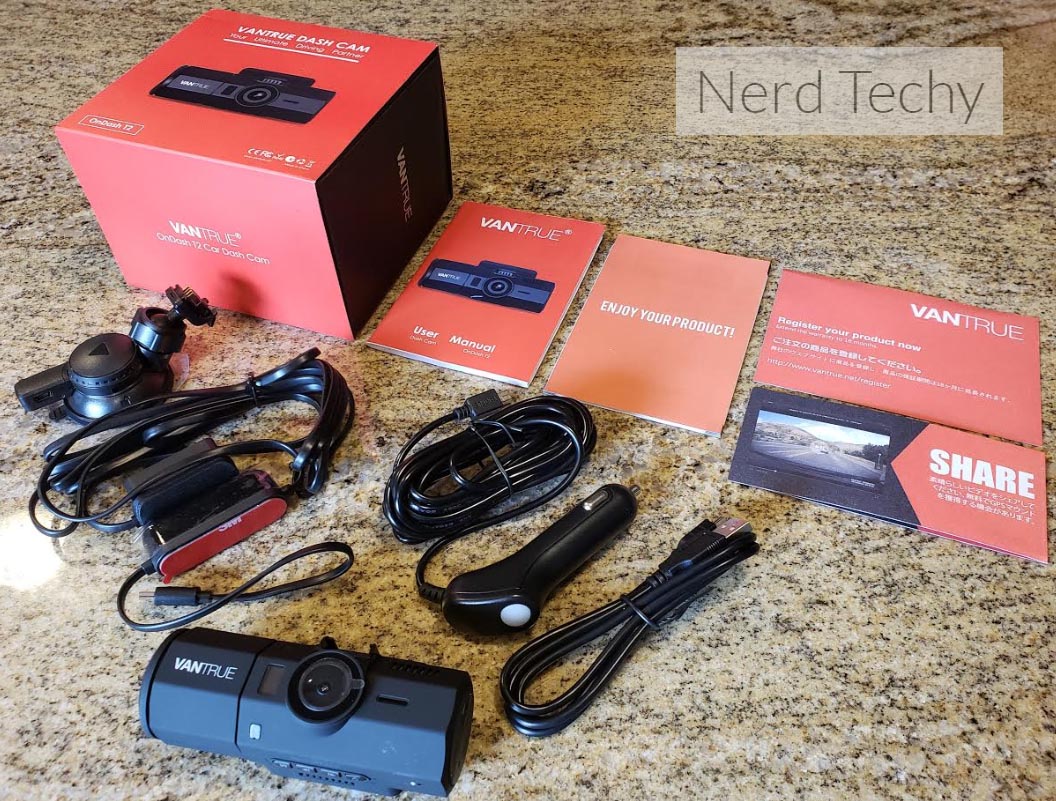 As a result, the Vantrue T2 Dash Cam provides a fairly wide range of adjustability that offers something for everyone. It would be fair to call this more of a mid-ranged dash cam than an introductory product, but it's the full body of features which really make the Vantrue T2 Dash Cam worth a closer look.
Build and Design
Externally, the Vantrue T2 Dash Cam measures 5.6 x 5.3 x 4-inches, weighing about five ounces while independent of its mounting station. That's slightly heavy for a dash cam, but well within the capabilities of its supporting mount to hold in place. And the camera itself is small enough to mount behind your rearview mirror, helping further add to its stealth factor.
Many portable cameras go the route of lithium ion batteries. That's a mistake in a number of common circumstances because of the way those batteries perform in various environmental conditions. Hot batteries run about as poorly as hot cars, and they're just as dangerous.
That's why many dash cams, including the Vantrue T2, instead make use of a super capacitor for power requirements. And that's what allows the T2 to endure temperatures from -4°to 158°F, and provide reliability even within hot cars parked in the desert. It's the capacitor which underlies the T2's full potential as a 24/7 surveillance cam.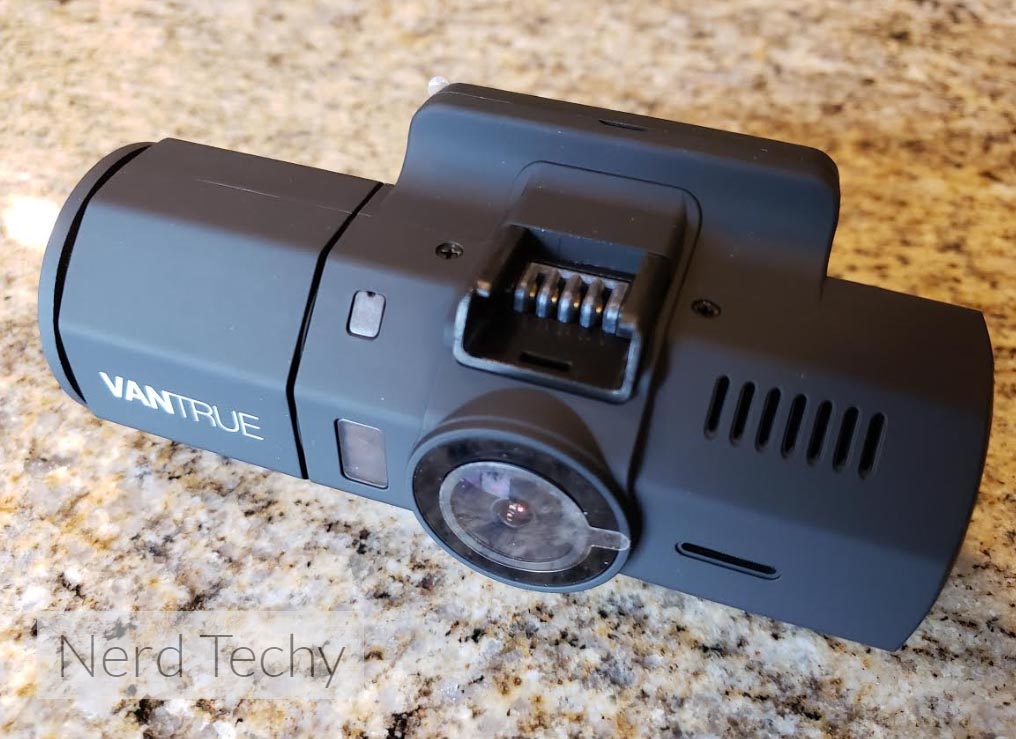 Independent Mounting
But with respect to physical features, the most noteworthy thing about the Vantrue T2 is its mounting station. The mount is a fairly small circular base, beneath which the Vantrue T2 smoothly attaches. And the quality of the mount is a full step ahead of competitors, quite comparable to the original Vantrue dash cam mounting station. It's robust and holds up well while attaching and re-attaching the Vantrue T2 Dash Cam, and even holds up with loud bass in the car.
Being able to dismount your camera from its mounting station provides a lot of utility. For example, it makes it possible to widely adjust the camera without having to change the windshield adhesive. It also allows you to remove the camera if you're parked in a particularly bad neighborhood, and you don't want to give anyone a good reason to smash your windshield. Few dash cams can say the same.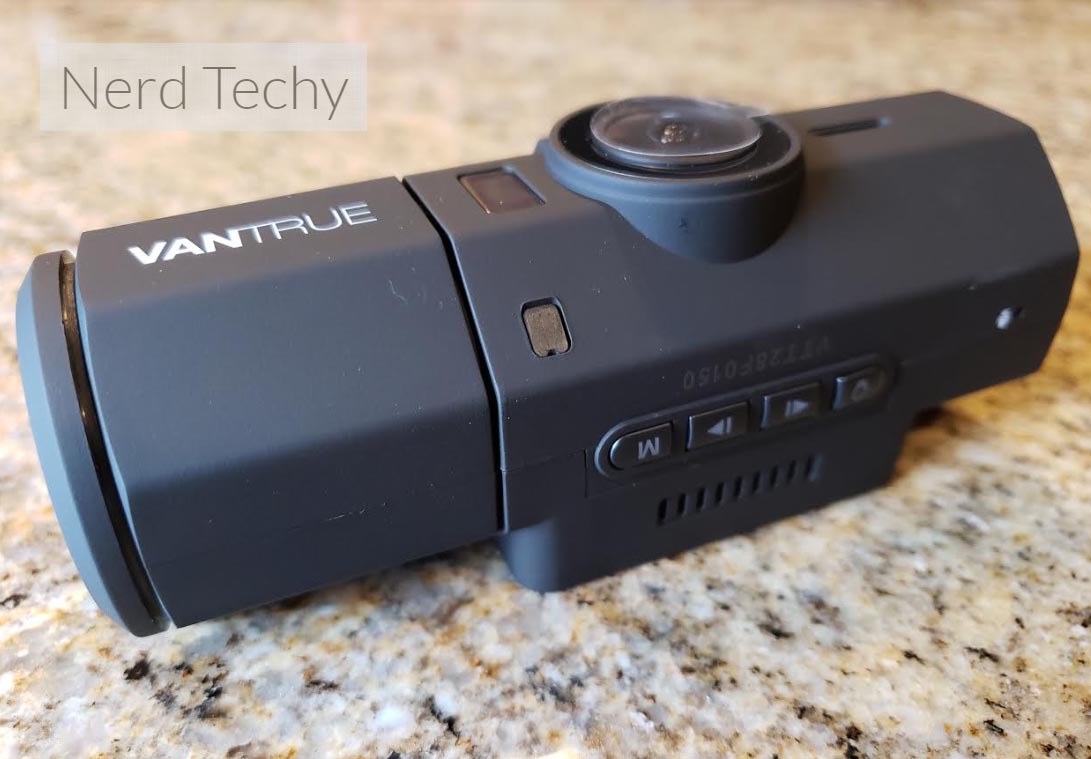 Full HD Display
Another curious difference with the Vantrue T2 Dash Cam is that it's not as smartphone oriented as other dash cams. According to Pew, about one quarter of Americans don't use smartphones. And a handful more use their phones sparsely. If you're among that group, then you'll appreciate how the Vantrue T2 Dash Cam decided to dispense with app support in favor of using the external camera.
The large LCD is well-positioned on the driver-side of the Vantrue T2. The screen size compares favorably to a larger smartphone, and it provides full 1080p presentation. With respect to the screen size, that many pixels per inch actually provides more clarity on the Vantrue T2 screen than you probably have on your television or computer monitor. And the LCD uses an auto-off feature to ensure you're not distracted by the display while on the road.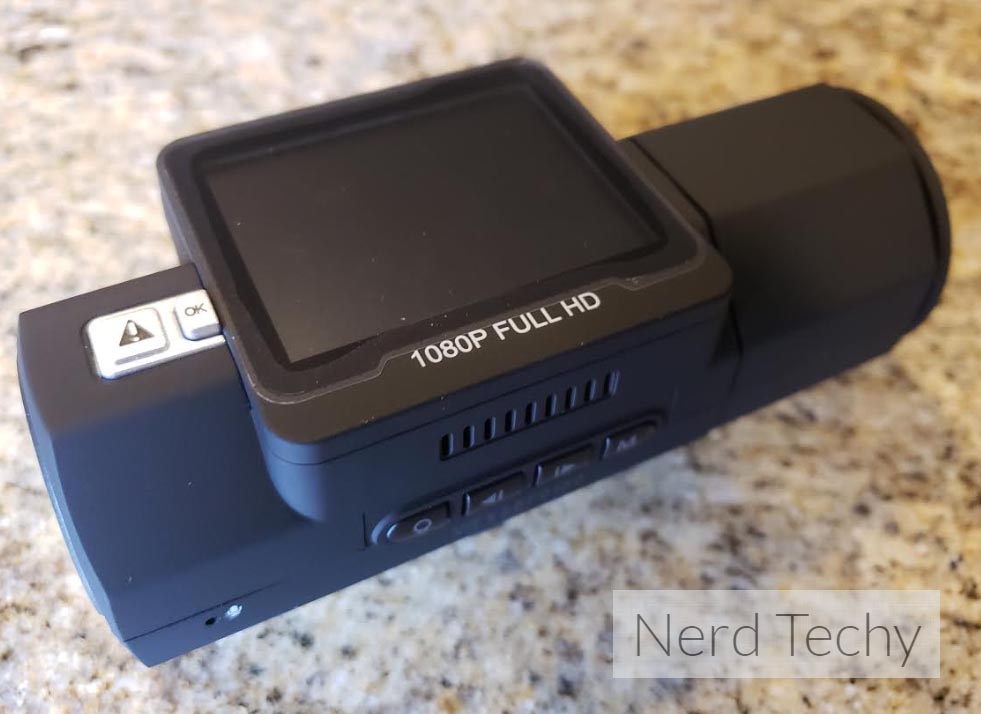 Visual Performance
Internally, the Vantrue T2 Dash Cam uses a fairly sophisticated Sony Exmor IMX323 sensor, after which time data its data is through a NOVATEK NT96655 processor. Paired with support for HDR, the Vantrue T2 provides a fully modern perspective on dash cam clarity. Images are especially crisp with vivid color, and content is presented in native 1080p recorded at 30 FPS.
If you're worried about 30 FPS sounding somewhat low, worry not. That's slightly higher than the frame rate of broadcast television, so your recordings are as smooth as ever. It's great for capturing road signs that are fully readable, or license plates.
And the camera captures a wide radius of 160° around the road, providing full shots of everything you can see. As you might imagine, this viewing angle drastically cuts down viewing of the sky. If you're interested in capturing the sky, you could slightly tilt the Vantrue T2 Dash Cam upwards, but in doing so you'd quickly lose your view of the road.
Another thing to note is how Vantrue handles recording in the dark. It's somewhat formidable lens provides F/1.8 aperture to create a balanced exposure. Whether you're shooting along a sunny road in the middle of the day, or you're driving on a windy road at night, the Vantrue T2 is fairly well-equipped to keep up.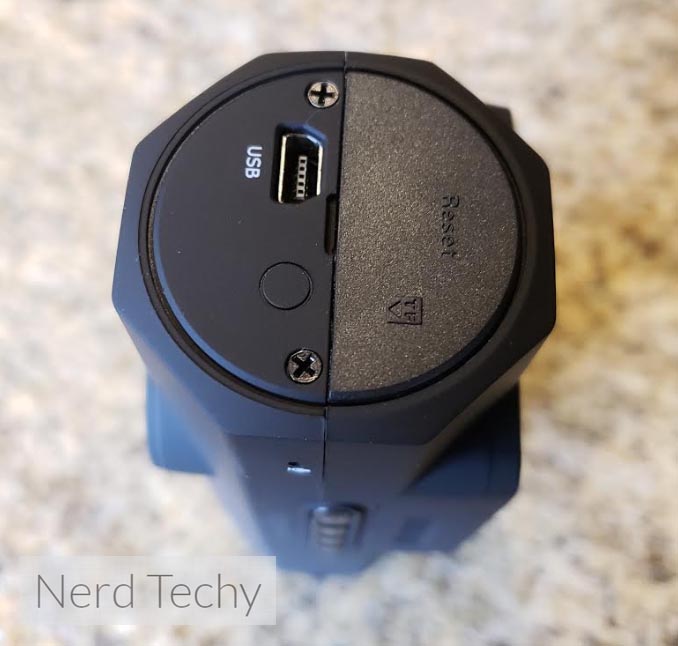 Recording Modes
No modern dash cam is complete without a slew of different recording modes. They've quickly become essential to having a dash cam be adaptable necessary for your specific recording intent. And the Vantrue T2 Dash Cam is no exception, providing a variety of standard and unique modes by which nearby events can trigger its attention. Among those options include parking mode, time lapse mode, and a wave guard indicator feature.
The wave guard indicator works by emitting a microwave signal in front of the vehicle, consuming fairly little power in the process. When an object interferes with the beam, the Vantrue T2 Dash Cam will begin recording. This is essentially the same technology car alarms have used for years to detect people in their proximity, but it's been applied to a more practical recording use.
There's also a gravity sensor that works in a very similar manner. Whenever it detects a collision or shake, the Vantrue T2 Dash Cam can initiate recording, and establish its new footage as prioritized and protecting it from being overwritten.
Further Recording Modes
The T2's time lapse feature needs little introduction. As you may expect, this mode allows the camera to start taking photos at specified intervals, creating a longer video from small composite shots. Depending on what you're trying to record, the time lapse feature can be used for saving battery life, reducing storage use, artistic endeavors, and so on.
There are a handful of manual recording modes as well, most notably, the Vantrue T2 Dash Cam can be configured to capture pictures with a snapshot button. Images come out in standard .jpeg format and at fairly reasonable file sizes, which is something often untrue of dash cams.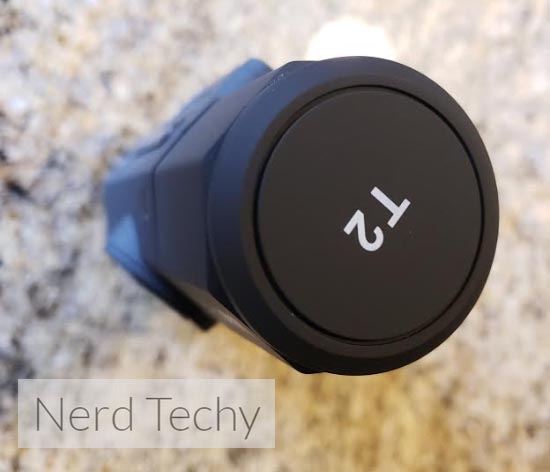 Ease of Use
Of course, the Vantrue T2 provides little reason for you to spend time worry about reducing use of storage. That's because the T2 supports 256GB microSD cards, which represents huge amount of storage capability, literally twice that of most of its competitors. Weeks upon weeks of continuous recording are possible before the Vantrue T2 needs to start looking for new space.
If you don't get around to managing your recordings eventually, loop recording will automatically overwrite whatever the oldest footage on your camera is whenever new footage is recorded. This allows people who don't want to micromanage their camera to be able to set-and-forget their dash cam. You can turn it on, start recording, and you don't have to worry about your footage having memory issues.
Other Considerations
The built-in microphone and speaker can be used for audio recording, or turned off completely. That's a nice touch considering the increasing number of always-on microphone devices. Additionally, both Windows and Mac software are supported through the Vantrue website, although the Mac version is somewhat hidden away.
If you enable GPS, you can track your driving route, speed, and location. These details are then embedded into the recording. You'll need a GPS service, and a GPS mount sold separately. Vantrue sells its own separate GPS mount for around $20, using the same rugged quality as the mount which supports the T2 Dash Cam.
As with essentially every dash cam, The Vantrue T2 does not provide a memory card. And if you plan on taking advantage of continuous recording, Vantrue recommends using Samsung's pro endurance cards specifically.
The Vantrue T2 Dash Cam works for 12V and 24V vehicles. It includes the Vantrue T2 Super Capacitor Dash Cam, an OBD cable, suction mount, car charger cable, USB data cable, and user manual. The charger cable is a lengthy 10-feet, while the portability-oriented USB cable is 3-feet. And the Vantrue T2 Dash Cam includes an 18-month warranty.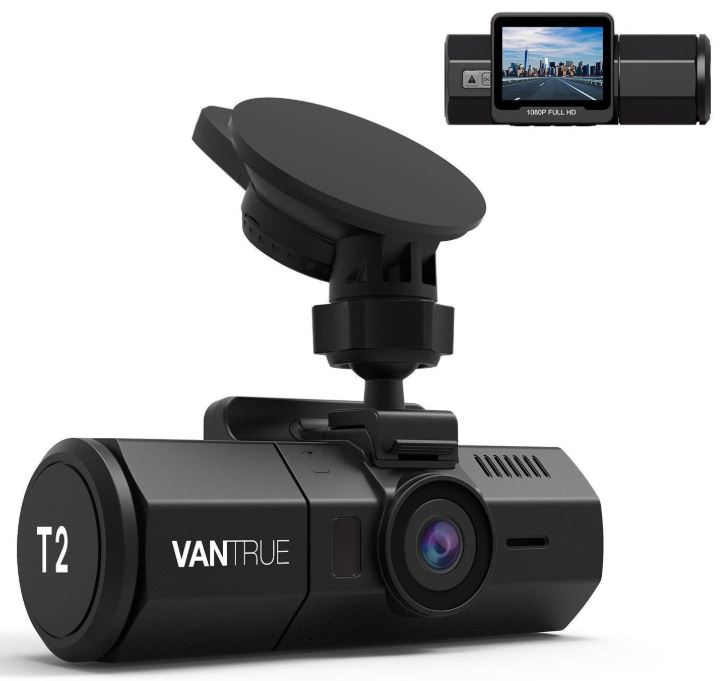 Who Should Choose the Vantrue T2 Dash Cam?
The Vantrue T2 Dash Cam was made for someone who's serious about making an investment in a quality dash cam. It's a slightly higher end camera, intended for people who need versatile recording features and storage space. And being able to separate the T2 from its mounting station is an enormous advantage that most cams simply can't offer.
The T2 does excellent in dark conditions. Just about the only thing that can slow it down is thick fog, the type you don't want to be driving-in to begin with. And its onboard high definition display is a compelling alternative to having to involve smartphones for dash cam operation. All in all, the T2 is worth a close look for anyone who's looking for a high quality general use dash cam.