Direct Answer: A Passkey for Google is a replacement for your passwords for websites and your Google account. They are cryptographic key pairs created using industry-standard encryption. Then they get stored on individual devices that let you use onboard fingerprint, face scan, or screen lock to access. You can use them on multiple different devices to access your favorite website accounts much quicker and easier than having to try and remember every password.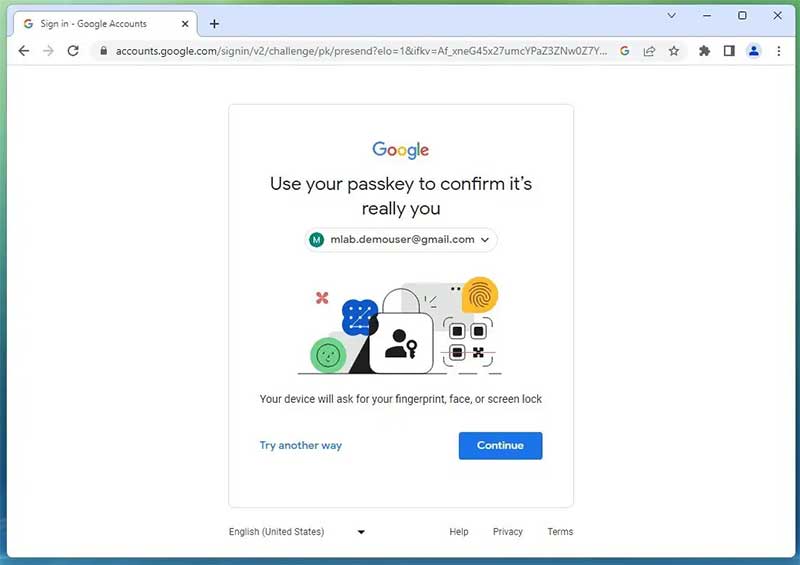 Google Passkey – What exactly is it?
A Passkey offers a simple way to log into your Google account and other website accounts from your various devices. They are cryptographic key pairs that are created for each individual account. One of the key pairs is stored on the device, so to access it you simply need to unlock the device. The other half is stored with the website on your account so you can match it with the device pair you're using. They combine using a securely generated code to let you into each individual website account.
Why would you want to use a Passkey?
There are a few reasons why you would want to use a Passkey instead of your passwords. The first is that there's less to remember. Passkeys are automatically generated and stored on your device as well as on the website. Once you have them created you won't have to remember anything, it will simply let you in.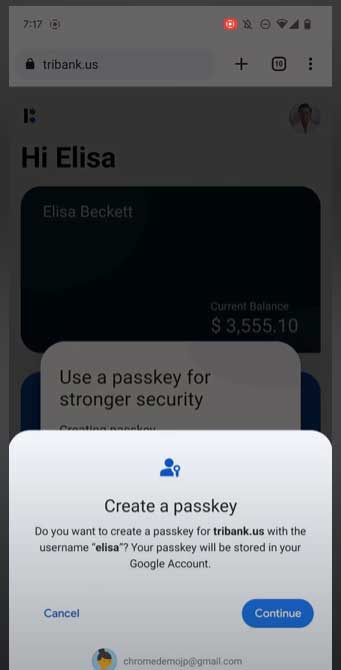 The only barrier between you and your accounts is typically your fingerprint or facial recognition technology. Passkeys are a versatile system that can be used on multiple platforms. They are super secure, ensuring they won't be guessed by outside users.
They also are never re-used so you know your data is safe from hackers. Additionally, each individual Passkey is connected directly to the associated website it was created for. This makes it so you won't accidentally give your information to a fake website looking to steal your data.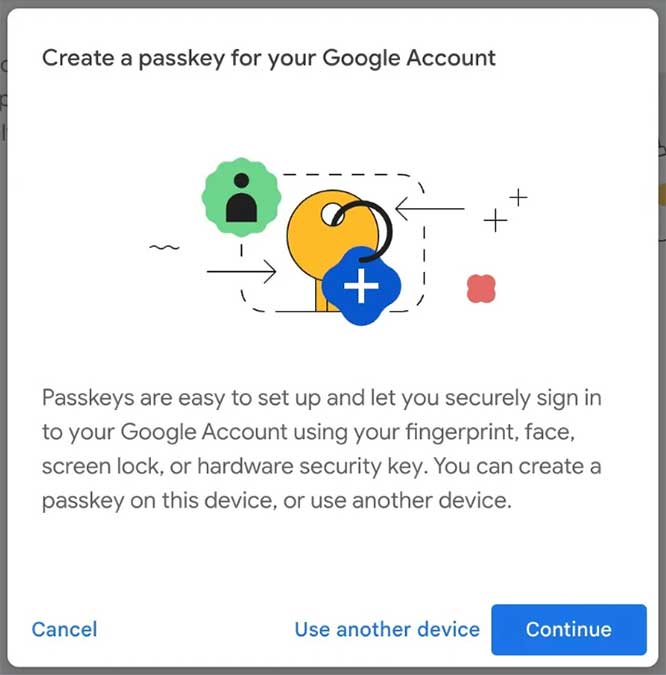 How do I make a Passkey?
Google makes creating a passkey simple. First, using Chrome, go to the website or app that you want a passkey created. Then you sign in the same way you're used to.
Next, a button should pop up saying "Create a passkey". After clicking that button, check the information stored with the new passkey.
Finally, you use your device screen unlock (face scan, fingerprint, code, etc…) to create the passkey. The entire process only takes a few seconds, after that you have a safer and easier way to sign into your accounts.
Can I use Passkeys on my Android device?
Yes, you can! Google and Android work really well together so Android is definitely a great place to use Passkeys. In order to use it there, you'll have to have Android 9.0 or newer.
Additionally, you'll need a screen-locking feature turned on. Passkeys on Android are stored in Google Password Manager to make it simple to access. If you have multiple Android devices, your Passkeys are synced between them all making it a seamless transition to use your accounts.
Can I use Passkeys on my Computer?
It's possible, but it's not quite as simple as an Android device. The first step is to determine which operating system you are planning on using.
For Windows users, you can use Passkeys on Windows 10 or newer. If you have Windows 10, you'll have to set up Windows Hello. One drawback to this is that Windows Hello doesn't synchronize with all your Windows devices. This means if your computer dies, is stolen, or has the operating system reinstalled you won't have access to your Passkeys anymore.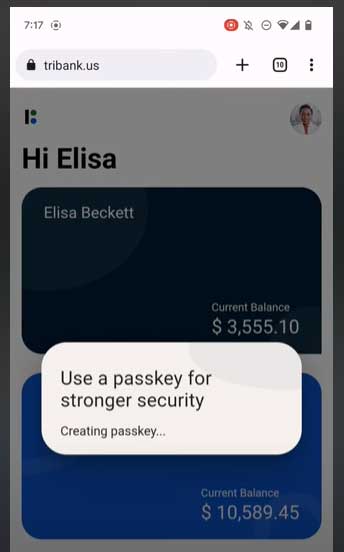 In order to manage Passkeys and have them automatically fill you have to have Windows 11 version 22H2 or later. So while it is possible, using Passkeys on Windows can be a bit of a pain.
If you're a MacOS user, Passkeys are stored in your Chrome profile. Within that profile, they are protected by a MacOS Keychain. Similar to Windows, Passkeys are stored on the device's Chrome profile and aren't synchronized across devices.
Can I use Passkeys on my iPhone or iPad?
The short answer is yes! In order to use them your device must have iOS or iPadOS 16 or newer. They are stored in your iCloud Keychain on these devices, so they can synchronize between multiple devices under the same profile.
However, autofill is not yet supported in iOS. While this is better than using a computer for Passkeys, it's still not quite as good as having an Android device to access the full functionality of this system.
But I like my passwords, do I have to use Passkeys?
That's totally fine! Your passwords won't be going anywhere. Passkeys are not an "instead of" but rather an "in addition to" when it comes to passwords. They are there as an extra way to easily log in on your favorite accounts across multiple devices. You will still need to create passwords for each account that you can track on your own or in a password manager.
As cybersecurity evolves, Passkeys are going to become a more common practice. This may lead some websites to require that you use them in order to bolster your security. While this is going to be an extra step, it's designed and created to be a process that is simple and efficient.
Speaking of password managers, can I put Passkeys there?
Yep! While one-half of the Passkey system is stored on each individual website, the other half is stored directly on your device. Some devices make this simple, while others can benefit from the help of a third-party password manager. These systems allow you to store any passwords as well as Passkeys within them for easy access, keeping you from forgetting them.
How is this different than the 2-Factor Authentication I'm used to?
This is going to be a little different than 2-Factor Authentication (2FA). 2FA requires that you have an entirely separate way to access a code in order to log in manually.
For example, you would log in with your password, then be sent a code or a link to your email or phone, and then input that code back on the site you're logging in on. This is a good system, but if someone has access to your email address or other means of logging in they can circumvent it.
Passkeys are different because they can only be accessed on the device or synchronized devices you have. For them to work, you have to log in to the site, access the Passkey on your device using your fingerprint or facial recognition, and input that code into the site you're logging into. It's more secure as the only way to access it is with the device in hand.
Final Thoughts
While Google Passkeys are a pretty new feature, they are going to be a powerful one. With the ability to have secure ways to log into your accounts without having to remember every password you have, you're sure to have an effortless web browsing experience.