In today's digital age, erasable and reusable smart notebooks offer a perfect blend of traditional note-taking and modern technology, providing an eco-friendly alternative for professionals, students, and creatives alike. In this article, we explore the best erasable smart notebooks on the market, each with its unique features and advantages:
Read on for a detailed review of each notebook, where we'll discuss their key features, what we liked, and what we didn't like, helping you find the perfect erasable smart notebook to suit your needs.
Rocketbook Pro Smart Notebook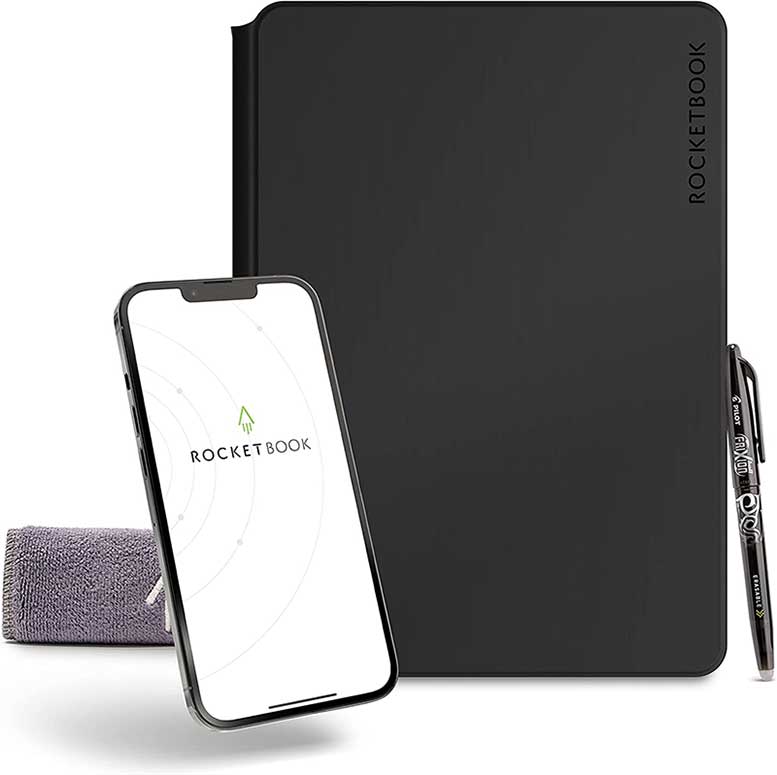 Key features:
Reusable, erasable pages
Customizable, interchangeable Pro Page Packs
Quick note digitization with app
Sleek vegan leather exterior
The Rocketbook Pro Smart Notebook is an innovative, environmentally-friendly notebook designed for the modern professional. This 7 x 9-inch executive-sized notebook offers a sleek, hardcover vegan leather exterior that adds a touch of class to your office essentials. It weighs just 3.53 ounces, so it's plenty portable and versatile. There's also a larger variant available – letter size – which measures 8.5 x 11 inches. It's considerably heavier, clocking in at 1.23 pounds.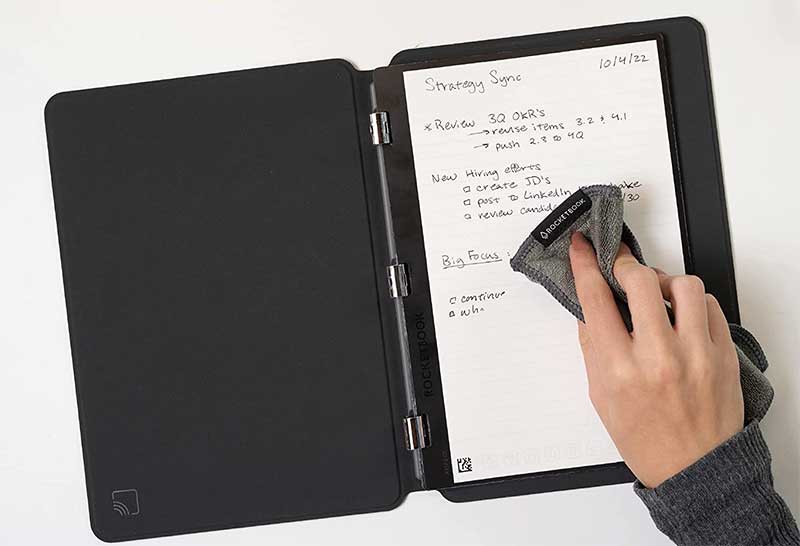 The executive package comes with 20 sheets of lined and dot-grid paper, which are easily interchangeable and customizable with additional Pro Page Packs. This allows users to tailor the notebook to their specific needs, from planning to to-do lists. One of the most notable features is its reusability. With the included Pilot Frixion pen and microfiber cloth, users can effortlessly erase their notes by wiping the pages with a damp cloth, allowing them to reuse the notebook multiple times.
During our testing, we found that the ink from the Pilot Frixion pen dried within the advertised 15 seconds, so it bonds well to the specialized pages. We also explored the free Rocketbook app, which enables users to upload their handwritten notes to popular cloud providers like Dropbox, Google Drive, Evernote, and more. The embedded NFC hotspot further simplifies the process, allowing quick and easy access to digital copies of notes. We had trouble getting the scanning function to work 100% of the time, so be prepared to rescan pages from time to time.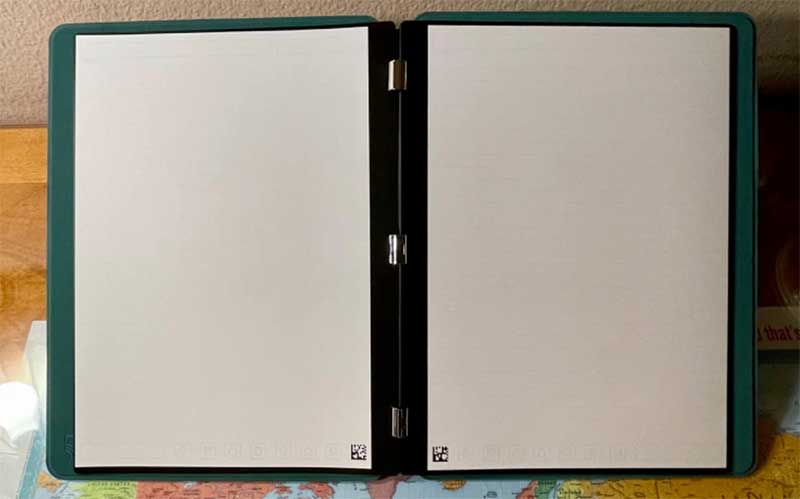 All in all, though, the Rocketbook Pro Smart Notebook offers a convenient and sustainable solution for note-taking, combining reusability with easy digitization. Its customizable nature, along with the elegant vegan leather cover, make it a perfect choice for professionals seeking to stay organized while reducing their environmental impact.
What we liked:
Environmentally friendly alternative
Easy cloud storage integration
Fast-drying Pilot Frixion ink
Embedded NFC hotspot
What we didn't like:
Limited to Frixion pen use
Scanning can be hit or miss
THINKERS Smart Notebook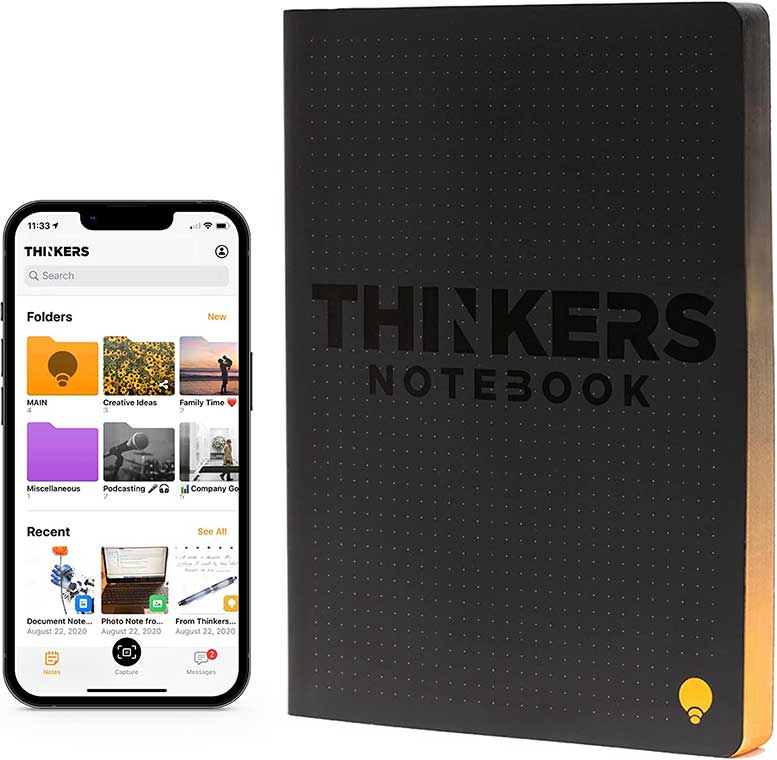 Key features:
Soft-touch flexible leather cover
Intelligent iPhone app for organization
Premium 120 gsm Munken paper
Handwriting recognition and searchability
Next is the THINKERS Smart Notebook. This one offers the tactile experience of pen and paper but with the convenience of digital organization. With a sleek, modern design, it features a soft-touch, flexible leather cover and measures 6.5 x 8.67 inches, making it a serviceable companion for your note-taking needs. And with its 23-ounce weight, it's barely noticeable in your pack.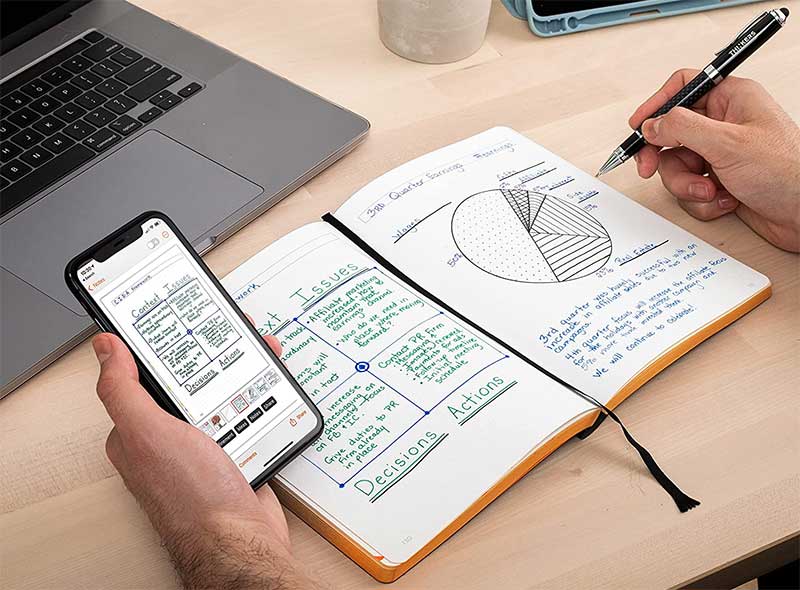 What sets it apart is its intelligent iPhone app that allows users to capture, organize, and share their pages with ease. The app goes beyond simple document capture, offering advanced functionality for organizing and collaborating on ideas. With handwriting recognition, everything from titles and tags to text on pages is automatically converted into searchable text when you capture pages using the free companion app.
You get 256 individually numbered pages, which is a nice bump up from a lot of other similar notebooks. Each page has a 5 mm dot grid design, making it easy to structure your notes or drawings. Moreover, its 120 gsm Munken paper works well with everything from fountain pens to pencils. And the notebook's unique thread binding serves to give the pages a lay-flat design, which we found to be user-friendly and enjoyable to write on.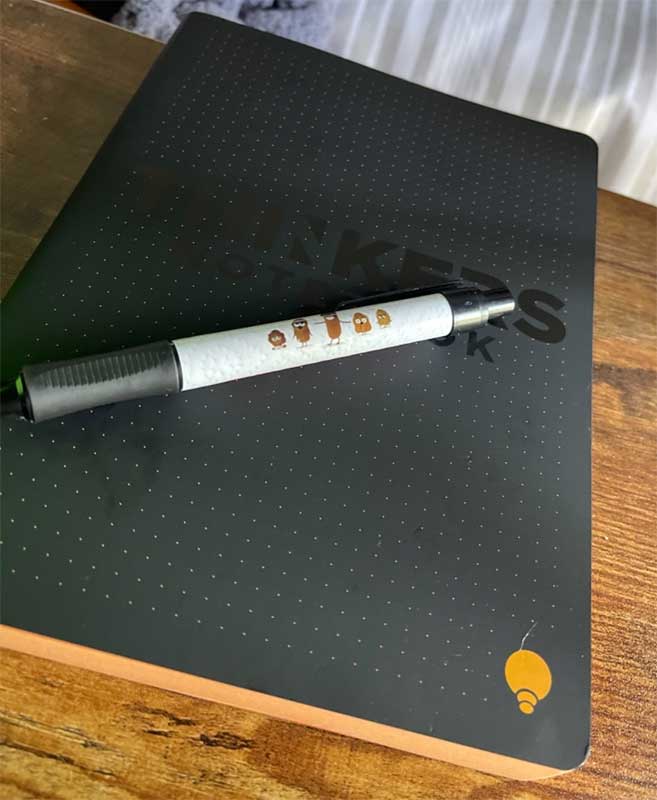 Environmentally conscious users will appreciate the notebook's recycled bonded leather cover and FSC Certified paper, which is printed with plant-oil-based colors. Bottom line, the Thinkers Smart Notebook offers exceptional quality and attention to detail. And with its attractive price point, it's a smart buy.
What we liked:
Unique lay-flat thread binding
Environmentally friendly materials
256 numbered pages for easy reference
Advanced app collaboration features
What we didn't like:
iPhone app limited to USA & Canada
App not available for Android users
Boogie Board Blackboard Authentic Reusable Notebook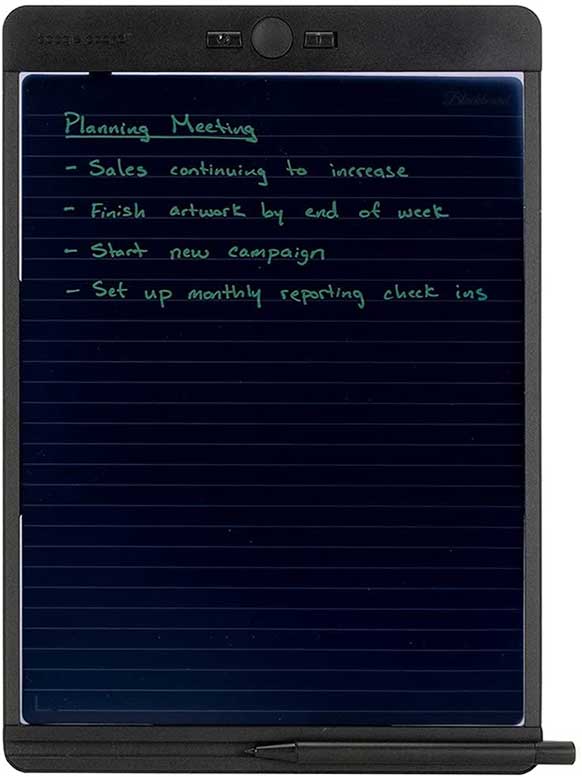 Key features:
Semi-transparent and reusable tablet
Instant Erase, Exact-Erase, Erase-Lock functions
Four interchangeable templates included
Compatible with Blackboard app for organization
The Boogie Board Blackboard is a versatile and reusable notebook, perfect for note-taking, document markup, or sketching ideas. It measures 12.9 x 9 x 0.25 inches (of which 8.5 x 11 is available for writing) and weighs 1.1 pounds, offering a unique way to jot down and store your thoughts.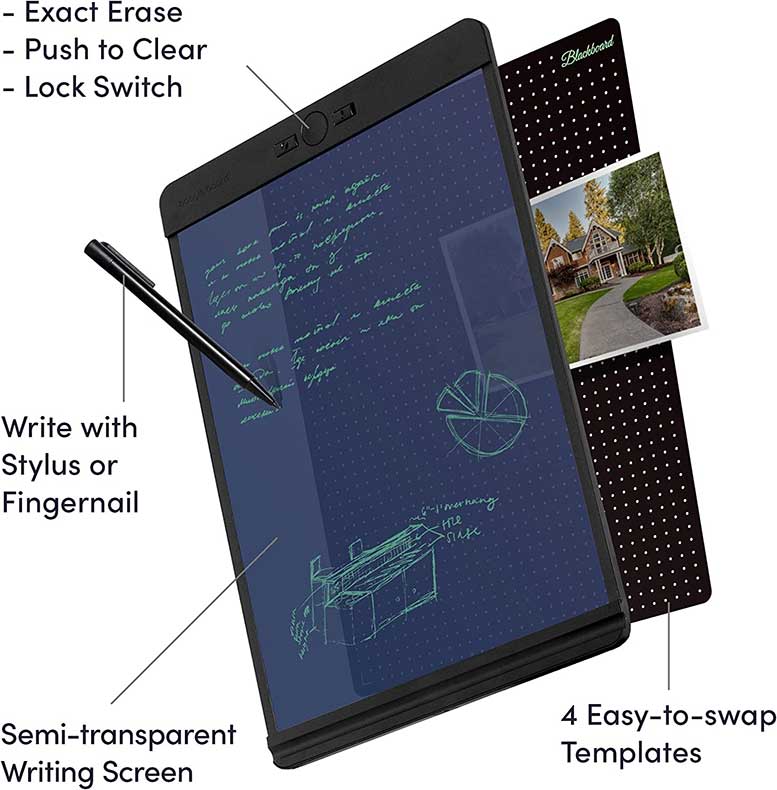 The writing tablet itself is semi-transparent, featuring Instant Erase, Exact-Erase, and Erase-Lock functions. It also includes a Blackboard pen stylus with an eraser, four interchangeable templates, and a magnetic pen holder. The templates provided are Dot Grid, Planner, Black, and Lines, enabling users to customize their writing experience.
Furthermore, the erasing capabilities shine here. You can either clear the entire tablet with a single button press or use the Exact-Erase function on the stylus to remove specific sections. What's more, the Erase-Lock button ensures that your notes remain intact, preventing accidental erasures.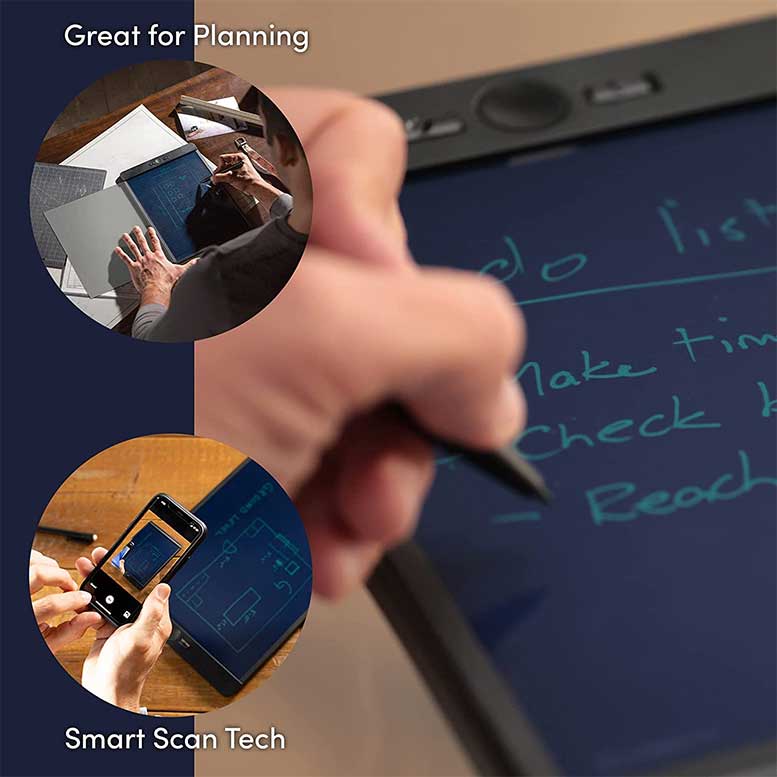 To further enhance its utility, Boogie Board offers the Blackboard app. This iOS- and Android-compatible app allows users to save and organize their notes instantly by scanning them. This makes managing your ideas and content simple and efficient.
The semi-transparent tablet utilizes Boogie Board's patented technology, providing a natural writing experience on a durable, bright screen. Crafted from scientifically engineered materials, it's an excellent addition to any creative professional or student's toolkit.
What we liked:
Eco-friendly alternative to paper
Customizable writing experience
Easy note organization and storage
Durable, bright screen
What we didn't like:
Potential learning curve
App dependency for storage
ISOWESHE Reusable Smart Notebook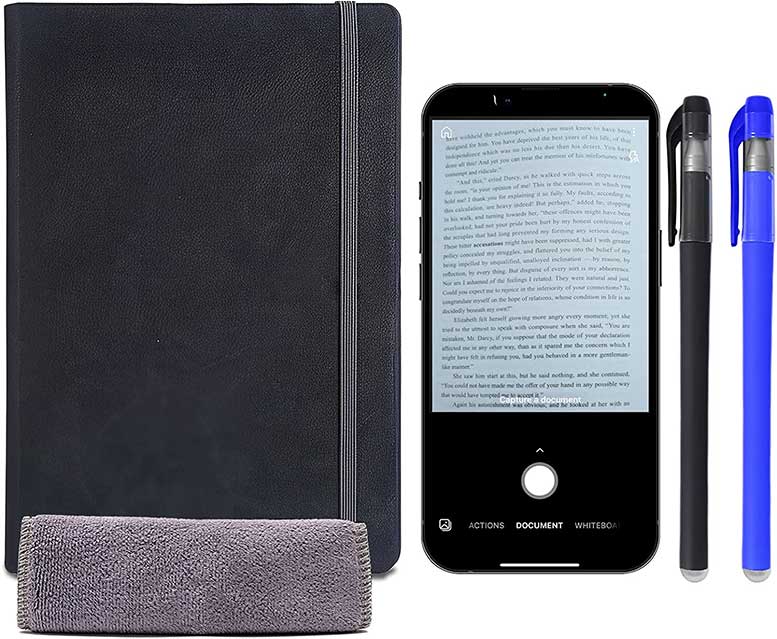 Key features:
Erasable, reusable eco-friendly mineral pages
A5 size, waterproof, durable design
App-enabled cloud storage and syncing
Ideal for professionals, students, and creatives
The ISOWESHE Reusable Smart Notebook is a unique A5-sized digital notebook that offers a blend of traditional writing experience and digital convenience. Measuring 5.6 x 8.3 inches and weighing 13.7 ounces, it's both lightweight and accessible. You get 50 sheets with 100 pages that are split between 25 line-ruled sheets and 25 blank sheets. Made of eco-friendly mineral paper, the pages are waterproof, resistant to breakage, and reusable up to 500 times, allowing users to save paper and money.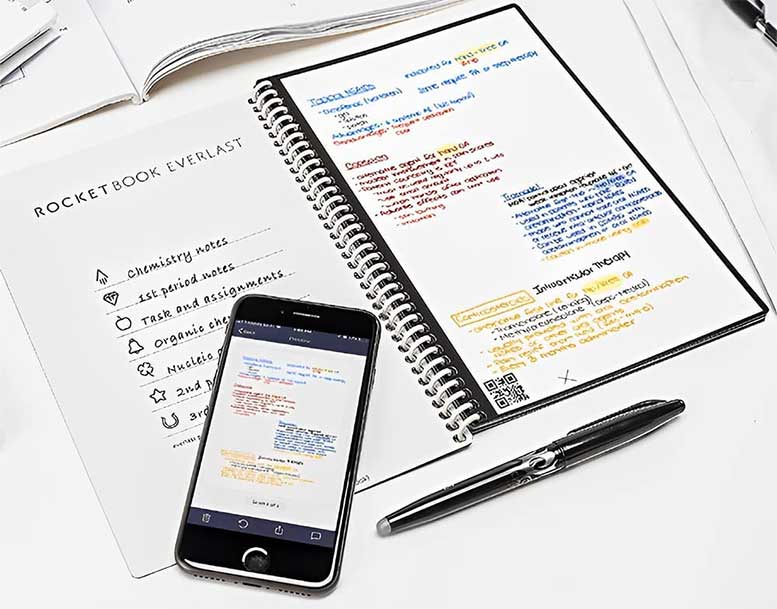 We tested the notebook in various situations, like sketching, writing, and jotting down notes. The erasable pages can be wiped clean with a damp cloth, making them perfect for multiple uses. Plus, the elastic closure band and built-in pen slot make it convenient to carry around.
As with our previous entries, there's an accompanying app that enables cloud storage, allowing users to scan, save, and sync their notes across devices. Compatible with both Android and iOS systems, the app lets you upload, share, search, and edit notes from anywhere. This feature proved invaluable for collaboration and organization.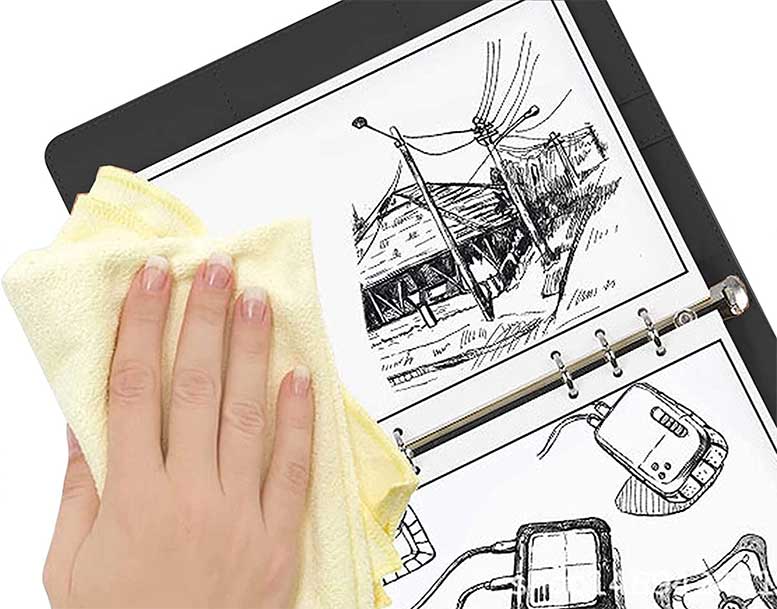 The package includes a smart reusable notebook, a double-ended pen (disc stylus), two erasable pens (black and blue), and a wipe. From students and writers to designers and executives, ISOWESHE's Reusable Smart Notebook is a great fit for anyone who wants an organized and efficient tool for their creative pursuits.
What we liked:
Saves paper and money
Convenient built-in pen slot
Easy note-sharing and collaboration
Dual-purpose pages (ruled and blank)
What we didn't like:
Limited to 500 erasures per page
Requires compatible app for digital features
Rocketbook Orbit Smart Reusable Legal Pad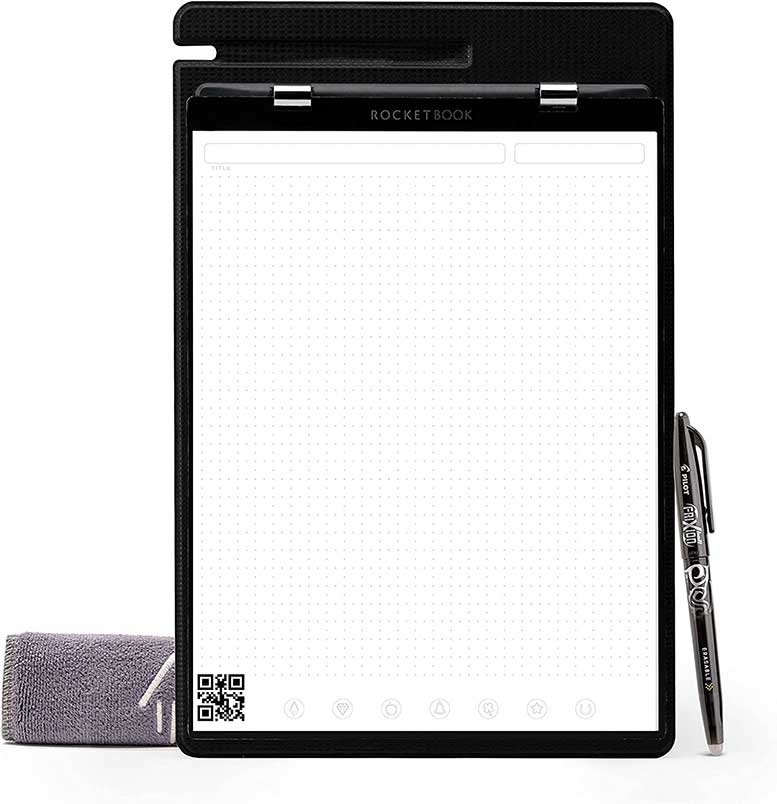 Key features:
Environmentally-friendly reusable notepad
Compatible with Pilot Frixion writing tools
Syncs notes to popular cloud services
Lightweight and portable design
The Rocketbook Orbit Legal Pad Letter, a smart reusable notepad, offers an innovative solution to reduce paper waste and streamline note-taking. Designed in a sleek black color with both lined and dot-grid pages, this environmentally-friendly device is perfect for those looking to minimize their ecological footprint without sacrificing efficiency.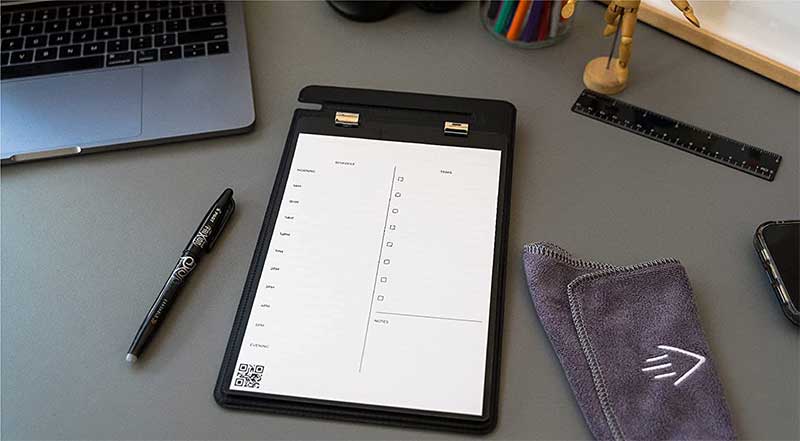 During our testing, we found it to be easy to use and accessible. Simply write with any Pilot Frixion pen and wait about 15 seconds for the ink to dry. You may also use markers or highlighters. They all bond quickly to the specialized pages. And to reuse the pages, just wipe them clean with a damp cloth – they're ready for your next drawing, note, journal entry, or whatever you please.
The thing that makes this notepad stand out from many others is its ability to integrate with a whole host of cloud services. By using the free iOS- and Android-friendly Rocketbook app, users can effortlessly blast their handwritten notes to all kinds of clouds. We didn't have any issues using it with Google Drive, iCloud, Dropbox, email, or OneNote. But keep in mind that it's compatible with much more, such as Evernote, Slack, and many others. As a result, the Orbit proves itself worthy as a powerful tool for organizing and accessing your notes across various platforms.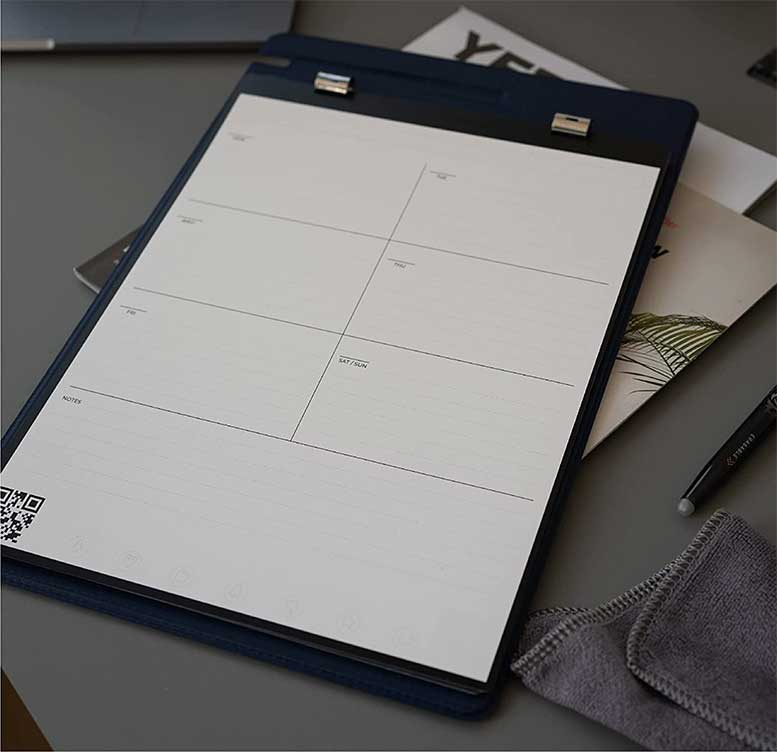 With this kit, you get a 9.33 x 13.07-inch Orbit Pad, a magnetic lined/dot grid page pack, a Pilot Frixion pen, and a microfiber cloth for easy cleaning. The entire package weighs 1.19 pounds and has dimensions of 14.84 x 10.79 x 1.18 inches, making it a convenient and portable solution for both personal and professional use. Overall, the Rocketbook's Orbit is a remarkable fusion of technology and sustainability, offering users a smart and eco-friendly alternative to traditional notepads.
What we liked:
Easy to erase and rewrite
Free Rocketbook app integration
Magnetic lined/dot grid page pack
Includes Pilot Frixion pen and microfiber cloth
What we didn't like:
Requires specific Frixion pens
Short ink drying time needed
Erasable Smart Notebook FAQs
What is an erasable smart notebook?
An erasable smart notebook is a reusable, eco-friendly note-taking solution that combines traditional writing with digital features, such as cloud storage and app integration.
How do I erase and reuse pages in an erasable smart notebook?
Most erasable smart notebooks use specialized pens that can be erased using a damp cloth or an eraser built into the pen itself. Always follow the manufacturer's instructions for proper erasing techniques.
Can I use any pen on an erasable smart notebook?
Not typically. Erasable smart notebooks usually require the use of specific pens or markers, such as Pilot Frixion pens, which are designed for easy erasing on the notebook's specialized pages.
Are erasable smart notebooks compatible with all devices and cloud services?
Most offer app compatibility with iOS and Android devices, and they often integrate with cloud services like Google Drive. However, compatibility may vary between notebooks, so always check the product specifications.
How long do erasable smart notebooks last?
The lifespan of an erasable smart notebook depends on the quality of its materials and the number of times its pages can be erased and reused. Some notebooks can be reused up to 500 times, while others may last even longer with proper care and maintenance.
Final Verdict
Each erasable smart notebook we reviewed caters to different user preferences.
The Rocketbook Pro Smart Notebook is perfect for professionals valuing style and functionality, while the THINKERS Smart Notebook offers a premium tactile writing experience.
The Boogie Board Blackboard is an eco-friendly alternative for creative professionals and students, and the ISOWESHE Reusable Smart Notebook provides a blend of traditional writing and digital convenience.
And lastly, Rocketbook's Orbit Smart Reusable Legal Pad is an environmentally-friendly notepad that seamlessly integrates with popular cloud services.
All of these erasable smart notebooks bring plenty to the table to appeal to students and professionals alike.