We all know we should brush and floss our teeth. When you go to the dentist they'll likely send you home with a normal toothbrush and some floss.
A lot of people have an electric toothbrush to do even more cleaning, and some may even have a water flosser on their sink. But wouldn't it be nice if it was all one device? Well, SOOCAS thought so too, and developed their own 2-in-1 electric toothbrush – the NEOS.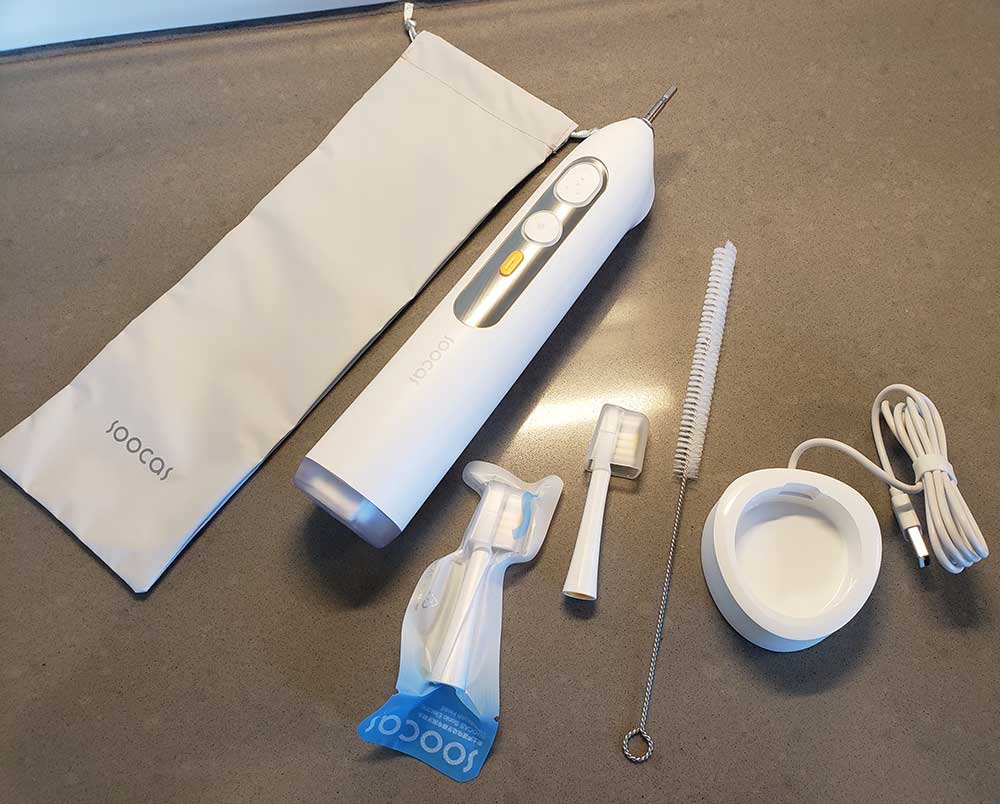 This toothbrush is capable of brushing and flossing your teeth using water at the same time. This is possible due to the built-in water tank in the toothbrush handle. It provides cleaning capabilities far better than other options on the market using state-of-the-art technology. If you care a lot about your dental hygiene then you may be intrigued.
Multiple Cleaning Modes
The SOOCAS Neos combines all its technology in one easy-to-use package. There are three buttons on the front of the handle that allow you to control every function. Once it's powered on, the first choice you have is which cleaning mode to use.
The two options are Deep Clean and Quick Clean. Deep Clean will switch between brushing and flossing, allowing you to focus on each one as thoroughly as needed. You will know it's about to switch due to a 3-second vibration reminder. Quick Clean, on the other hand, is a little different. Rather than switching, it simply has brushing and flossing happen at the same time. As the name implies, this gives you a quicker tooth-brushing experience that still is effective.
After choosing your cleaning mode, you'll need to decide how intense the water flossing feature needs to be. There are three levels to pick from. Gentle is at the lowest, standard is in the middle, and strong is at the high end. All of these options give you great customization in your tooth-cleaning ability.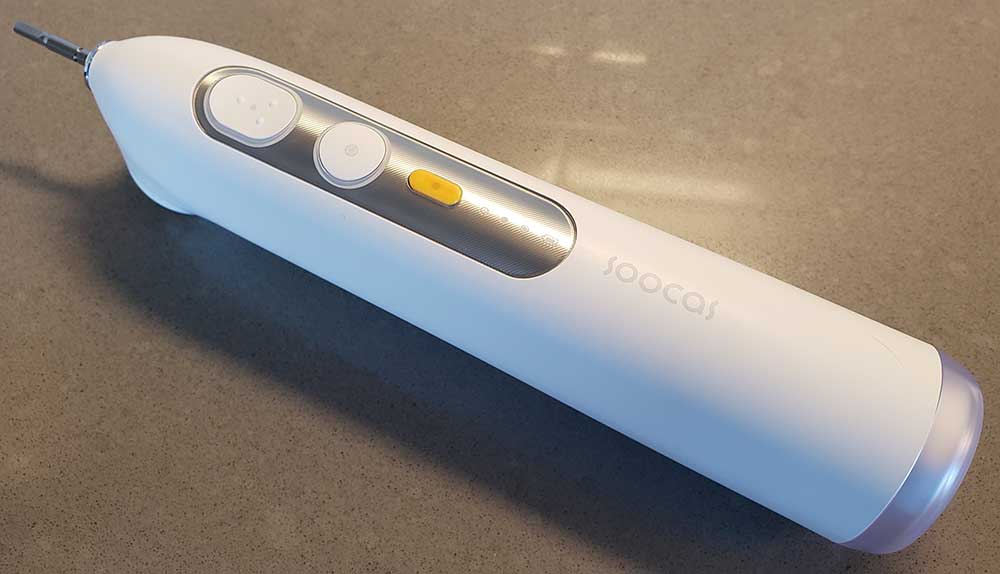 Powerful FlowPulsePump For Great Flossing
To achieve a high level of flossing, a device like this needs a great water pump. The SOOCAS Neos uses a FlowPulse pump to accomplish that. This pump shoots water in pulses rather than a single stream of water.
This allows you to get in between your teeth and along your gums with precision. It also has a system implemented to help ensure the water is at a safe level of pressure, keeping you from getting injured. This pump is great at getting water where it needs to be and cleaning your teeth extremely well.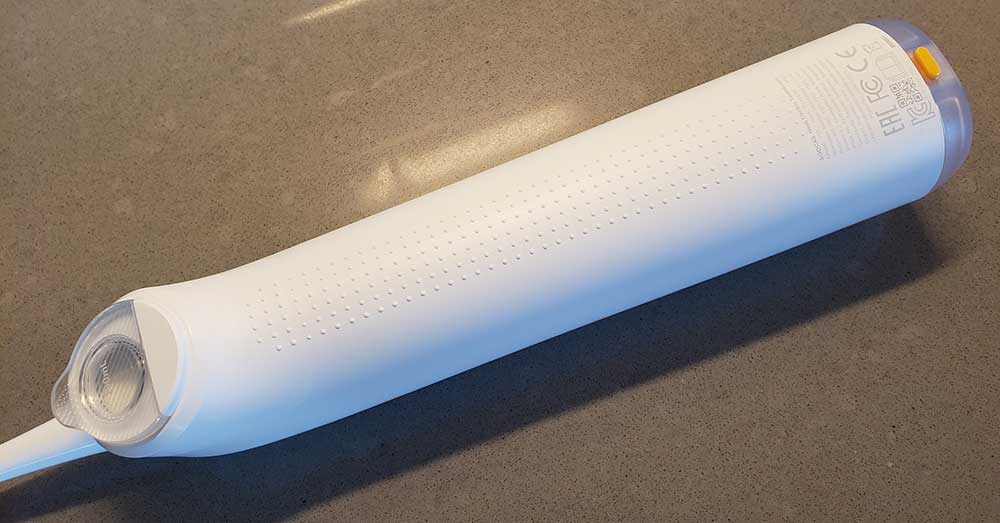 Innovative MagVortex Engine For Better Cleaning
Electric toothbrushes are known for their vibrations used to clean teeth better and to do that they need a good motor. SOOCAS went with a MagVortex levitation motor for their toothbrush.
This motor needed to be a bit unique, as the design required water to flow through the motor for the flossing feature. This led them to use a hollow shaft motor as well. Working together, these motors create 30,000 vibrations per minute. This gives you ample vibrations to deep clean the surface of your teeth.
Unique CompClean Brush Head To Combine It All
The motors and pumps used in the NEOS are fantastic, however, they'd be nothing without a great brush head to actually deliver the power to your teeth. That's where the CompClean brush head comes in.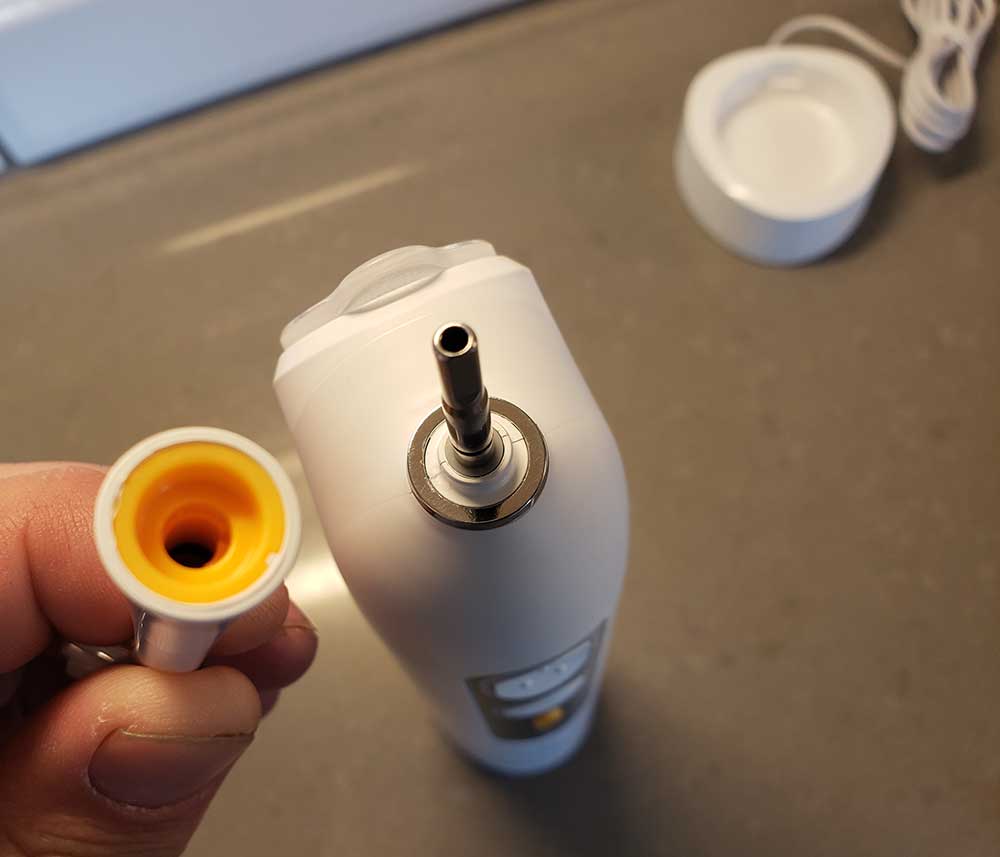 This patented design has multiple different bristles to perform various functions, while also having a place for water to flow out. There are bristles used for tooth surface whitening, gum line cleaning, and tooth gap cleaning.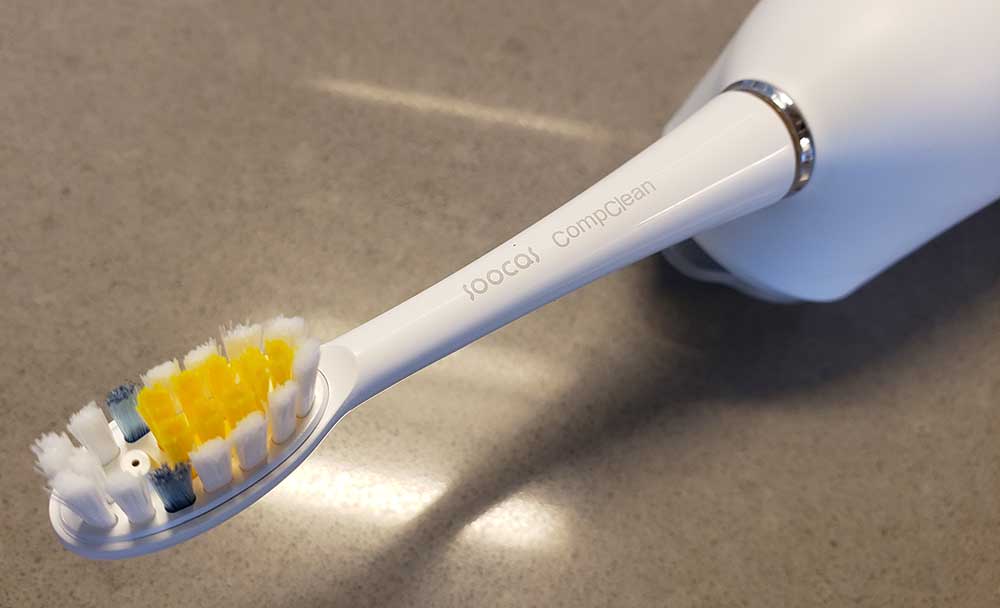 This allows you to fully clean the surface area of each tooth, no matter how difficult it is to reach. Additionally, the color of the bristles will fade over time. This lets you know that it's time to change out the brush head for a new one.
HydroSonic For Hard To Reach Areas
With traditional brushing, there's always somewhere that you just can't seem to reach with your toothbrush. The SOOCAS Neos uses hydrosonic technology to help eliminate this problem. It can create dense bubbles with its 30,000 vibrations per minute at high frequencies.
This pushes foam from your toothpaste into those hard-to-reach places. Additionally, it can even get into your interdental spaces and your gum line. This lets your toothpaste do its job even better to kill bacteria.
AquaJet Flossing Ability
We know the Neos is capable of some awesome cleaning. They wanted to take it a step further and have the pulsating flossing tech tested independently.
The results found that the explosive water power generated is more effective at cleaning and removing food than traditional flossing. It can also target specific areas better and won't irritate your gum line nearly as much. The water tank can hold up to 3 oz of water. When combined with the pulsed water flow, you can floss for up to 40 seconds.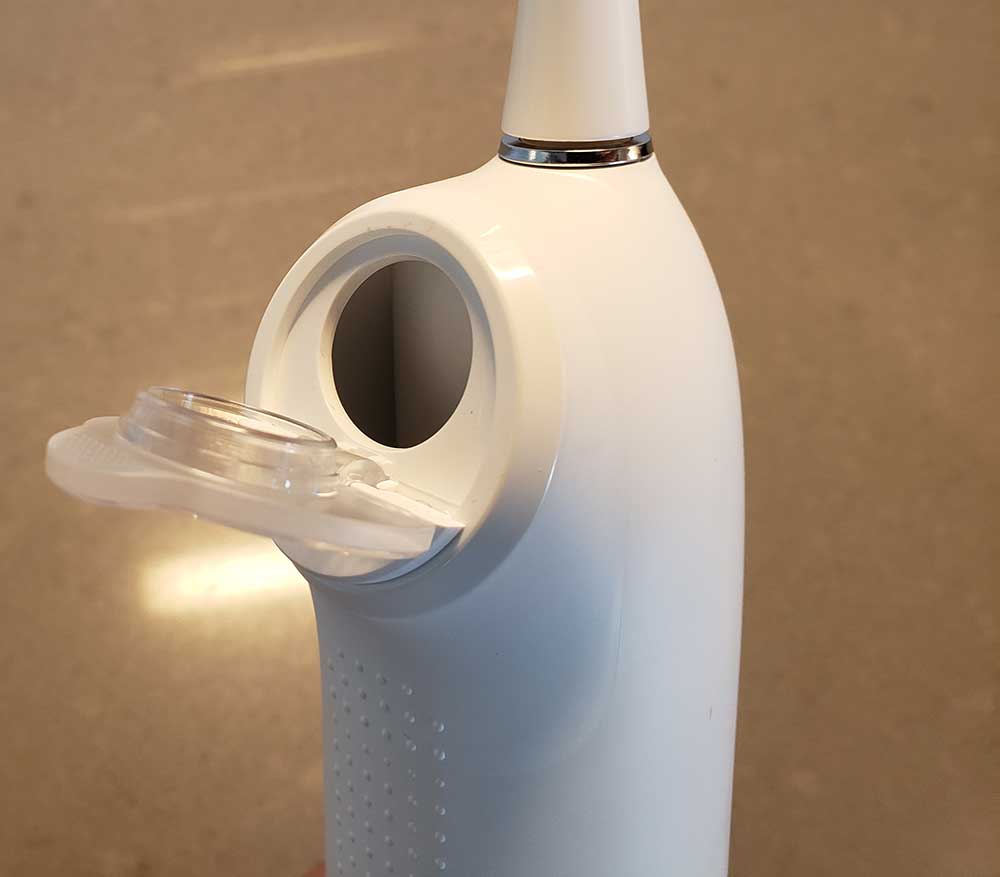 Cleaning Comparisons
A further comparison was conducted on the SOOCAS Neos vs. manual toothbrushes and the results are amazing. When testing plaque removal, SOOCAS does 40X what a manual brush can do. With plaque being so disastrous to your dental hygiene, it's important to get rid of as much as possible.
Next, dental gap cleaning was tested. SOOCAS does 10X what a manual brush does. This lets you be sure that you have the best tool to get in between your teeth and really clean everything, not just brush over it and hope for the best.
Finally, whitening efficiency was tested. SOOCAS won again, doing 2X more efficiently than a manual toothbrush. This gives you bright pearly whites faster than before.
Additional Features
While all the cleaning capabilities of the SOOCAS Neos are awesome, it has some other features worth noting as well. The first is how to actually charge it. Rather than traditional plug-in charging, it uses wireless to make it even easier to use. When fully charged, this toothbrush can be powered for up to 30 days based on brushing twice per day.
Another great feature is its waterproofing. It has a rating of IPX8, giving you fantastic peace of mind when it comes to water exposure. This way, you can keep it around your sink and even submerge it in water and have no worries.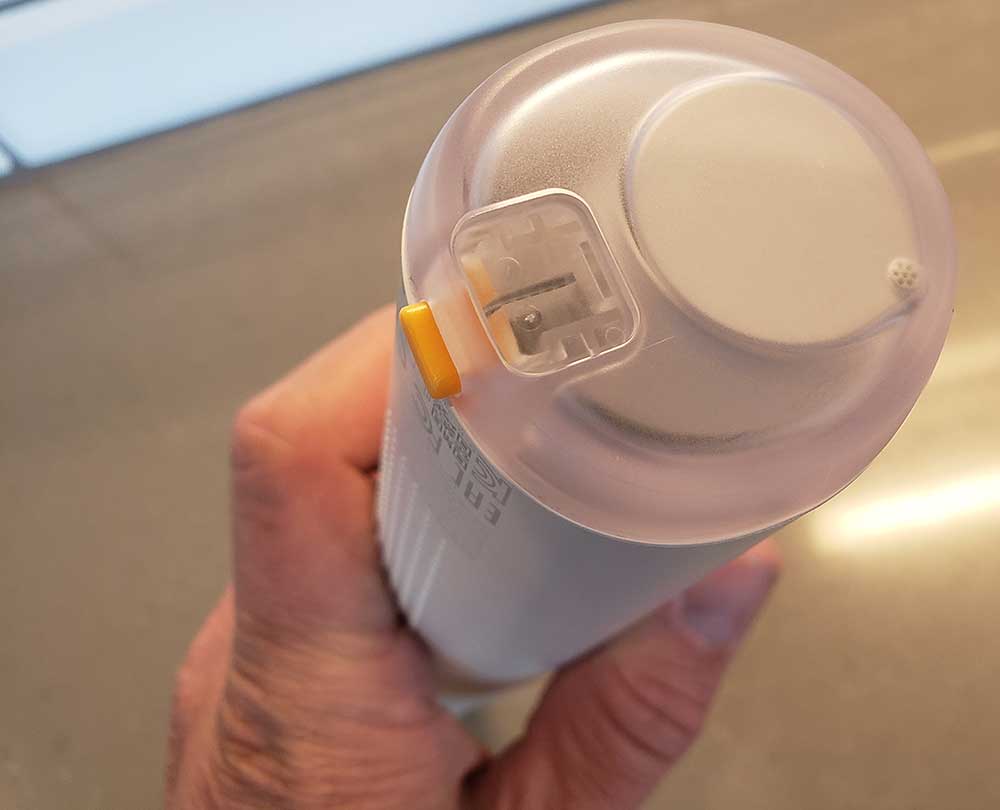 One additional feature that stands out is the water tank design. The top of the tank has a small opening that you can easily fill with water. Once you're done brushing, the tank has a bottom that opens completely. This lets you dump out all the water and dry it out to keep the tank clean. Included in the kit is a water tank cleaning brush to help clean it even further.
Finally, there are a few included lights on the front of the handle. They are used to clearly show you which mode you're using and how much battery you have left in the toothbrush. These indicators are great for knowing exactly when the toothbrush is running out of power.
Conclusion
The SOOCAS Neos 2-in-1 is the ultimate toothbrush to keep your mouth healthy and clean. To achieve even remotely the same level of cleaning, an electric toothbrush and separate flosser would have to be used. This is inefficient, takes up space, and just isn't the best way possible.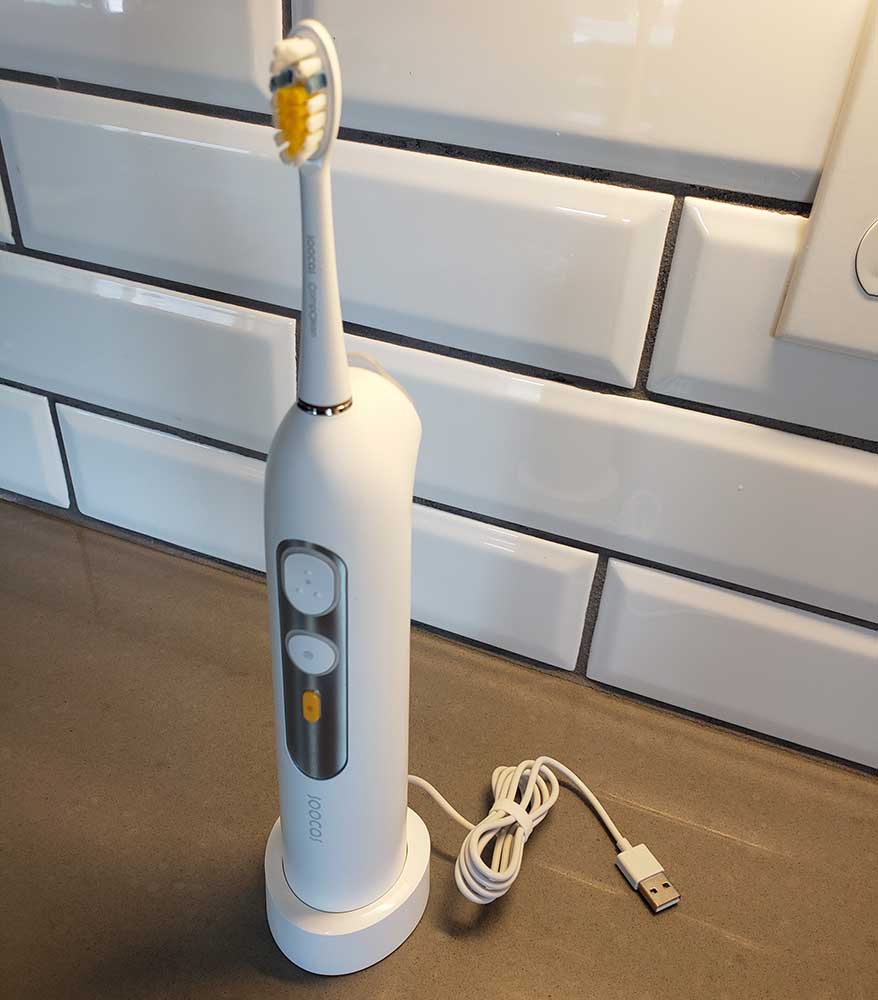 The SOOCAS Neos strives to combat this problem, but taking all the best features from an electric toothbrush, and combining them with a powerful water flosser all in one device. With the ability to remove plaque 40X better, get in gaps 10X better, and whiten 2X more efficiently compared to manual toothbrushes, you can't go wrong.
It does this with its TriSync structure of the FlowPulse Pump, MagVortex motors, and CompClean Brush Head. These features all work together to be used in two different modes and three different flossing intensities. This makes it perfect for times when you want a longer deep clean, or a faster clean when you're in a rush.
Regardless of your needs and preferences, the Neos 2-in-1 is a toothbrush that's definitely worth checking out.
Meet Derek, "TechGuru," a 34-year-old technology enthusiast with a deep passion for tech innovations. With extensive experience, he specializes in gaming hardware and software, and has expertise in gadgets, custom PCs, and audio.
Besides writing about tech and reviewing new products, Derek enjoys traveling, hiking, and photography. Committed to keeping up with the latest industry trends, he aims to guide readers in making informed tech decisions.