In the modern age of cleaning, the sheer power and convenience of steam cannot be overstated. Handheld steam cleaners, in particular, have risen in popularity due to their versatility, portability, and deep-cleaning prowess.
Here, we've scoured the world of steam cleaners to bring you the very best that the industry has to offer. Take a quick peek at our top picks and why they made the list:
We're here to help guide and direct you toward the best steam cleaner for your needs. Our intricate reviews below highlight what sets each model apart in terms of functionality, design, and value.
Best Overall: Beendou High Pressure Steam Cleaner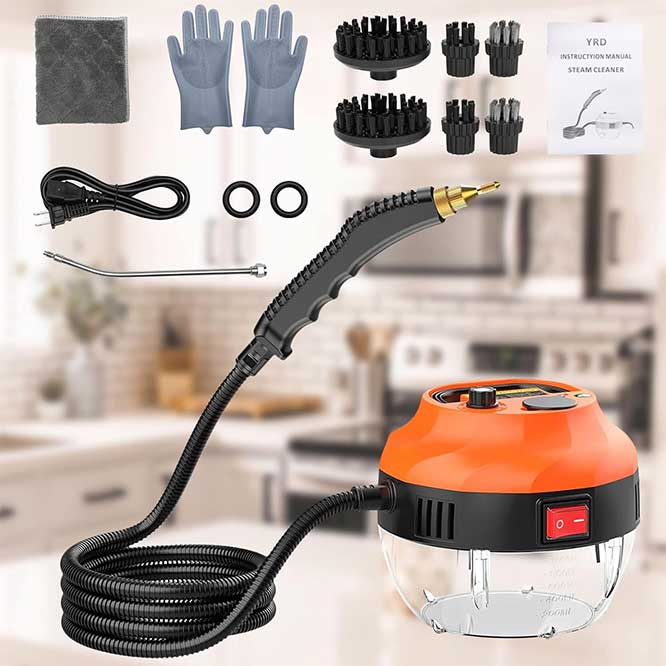 Key features:
2500W quick heat-up
1000 mL large water tank
ABS housing, lightweight design
6 adjustable intensity levels
The Beendou High Pressure Steam Cleaner stands out in the realm of home cleaning solutions. Powered by a robust 2500W heater, this unit springs to action in a mere 10 seconds, reaching an impressive 221°F/105°C.
What's intriguing is the innovative design – the closer one gets to the nozzle, the higher the temperature. This feature ensures efficient removal of stubborn stains, as the high-temperature steam easily breaks down grime, leaving only a simple wipe-down for a spotless finish.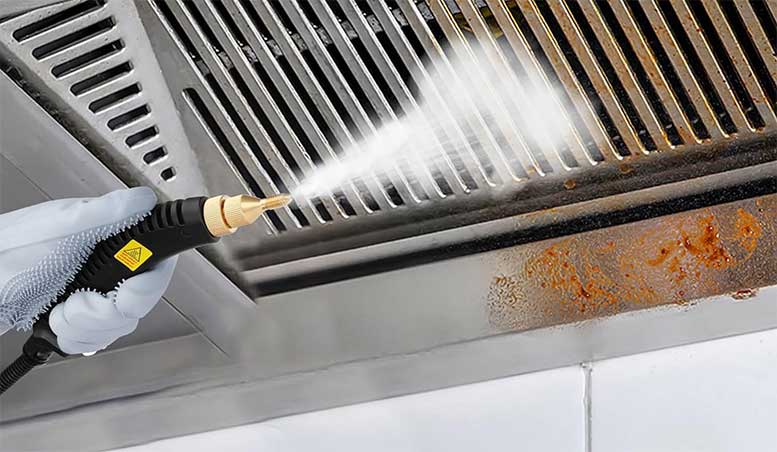 Its tank is generous with a 1,000 mL capacity, though it's advisable to pause after 30 minutes to ensure the nozzles are clear. The addition of being able to include cleaning solutions in the water is a thoughtful touch, enhancing the unit's versatility.
With dimensions of 9.06 x 8.94 x 8.74 inches and weighing 4.51 pounds, it strikes a balance between portability and functionality. Its ABS housing is both sturdy and lightweight, and the inclusion of a 6.5-foot steam hose coupled with a 4.9-foot power cord ensures flexibility both indoors and out.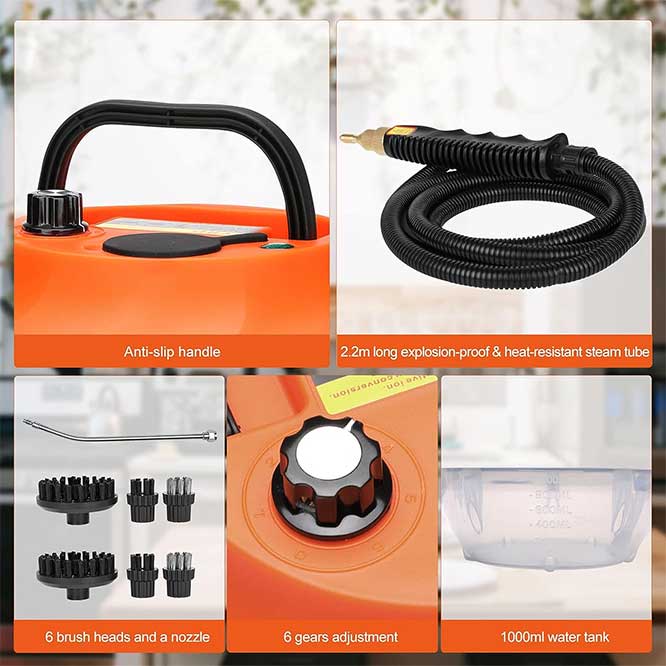 For those seeking variety, its six adjustable intensity levels and multiple brush heads make it adaptable to a myriad of cleaning scenarios, from kitchen counters to car interiors.
However, users should exercise caution when attaching brush heads, especially wire ones, and while the nozzle's heat provides superior cleaning, it does demand careful handling.
What we liked:
Heats rapidly to 221°F/105°C
Versatile cleaning applications
Generous hose and cord length
Multiple brush heads included
What we didn't like:
Nozzle can get extremely hot
Brushes may wear out quickly
Best Runner-Up: Vivibyan Handheld Pressurized Steam Cleaner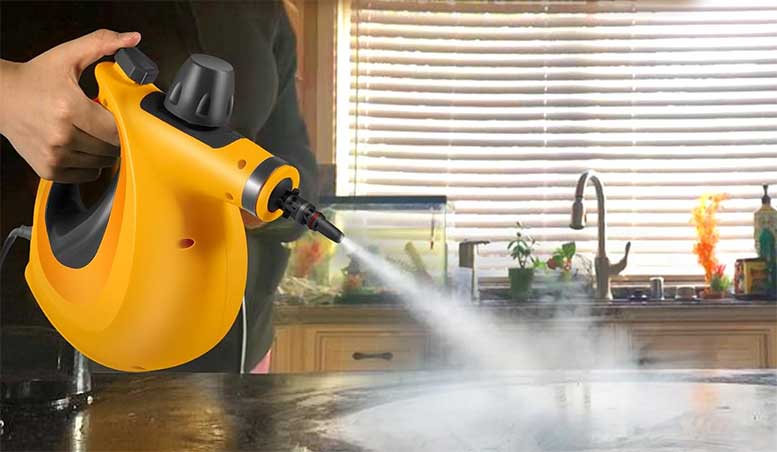 Key features:
Chemical-free cleaning
11-piece accessory set
180-degree nozzle flexibility
25g-30g/min steam flow
Vivibyan's handheld steam cleaner is a master at multitasking. The tool's dedication to providing a chemical-free cleaning experience is noteworthy, ensuring that households remain free from harmful fumes and residues, a stark difference from many other steamers that target limited-use scenarios. Included are an impressive array of 11 accessories that cater to various cleaning tasks. 
From the window cleaning tool and the bent nozzle for hard-to-reach spots to the upholstery tool and the three round brushes, Vivibyan ensures you're well-equipped for any cleaning challenge.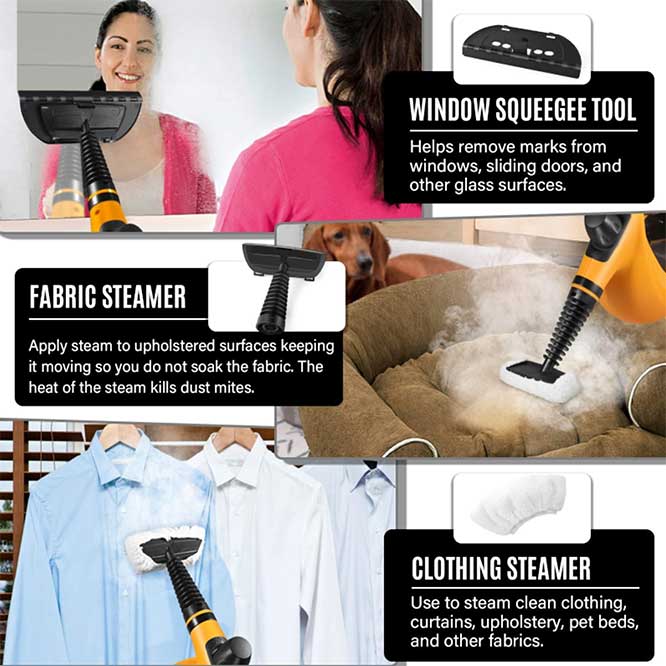 A particularly remarkable feature is the 100 cm Flexible Hose with Gun Nozzle, granting flexibility and reach. Specifications shed light on its capabilities. Operating between 900 and 1,050 watts, it provides robust steam flow at 25g-30g/min. 
Its 350 mL water tank promises continuous steam for around 8 minutes. Furthermore, the 180-degree nozzle, designed to maneuver tight spaces and beneath furniture, is a testament to its thoughtful design.
Its ease of use is evident: simply attach the required accessory, fill the tank, and plug in. Once heated, the steam button is all you need to manage its powerful emissions. At 9.8 x 5.3 x 9.3 inches and weighing 3.94 pounds, it's both compact and lightweight.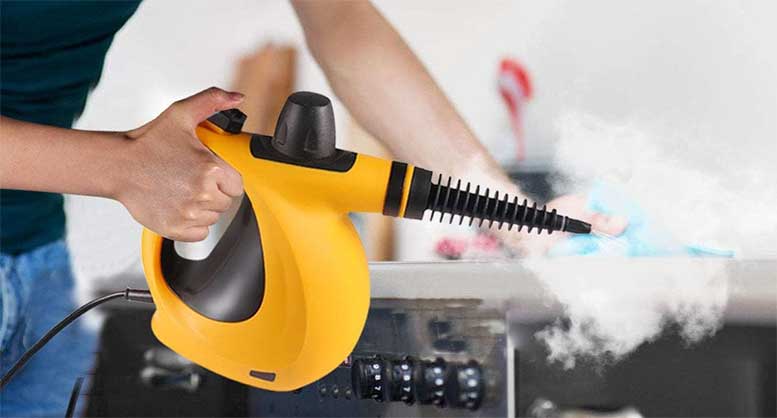 If you prefer an aesthetic touch in your home applicances and tools, its bold orange hue adds a dash of vibrancy to your cleaning routine. In our testing, the device excelled in cleaning cars, toys, window seals, heaters, and even blinds.
It truly shines in extracting dirt from the tiniest crevices, confirming its prowess in deep cleaning tasks. While it's no substitute for a power washer, it considerably amplifies cleaning efforts, ensuring efficiency with minimal exertion.
What we liked:
Lightweight and portable
Multi-surface cleaning ability
Comprehensive accessory kit
Efficient dirt extraction
What we didn't like:
Limited continuous steam time
Requires corded power
Best Budget: Spurgehom Pressurized Handheld Steam Cleaner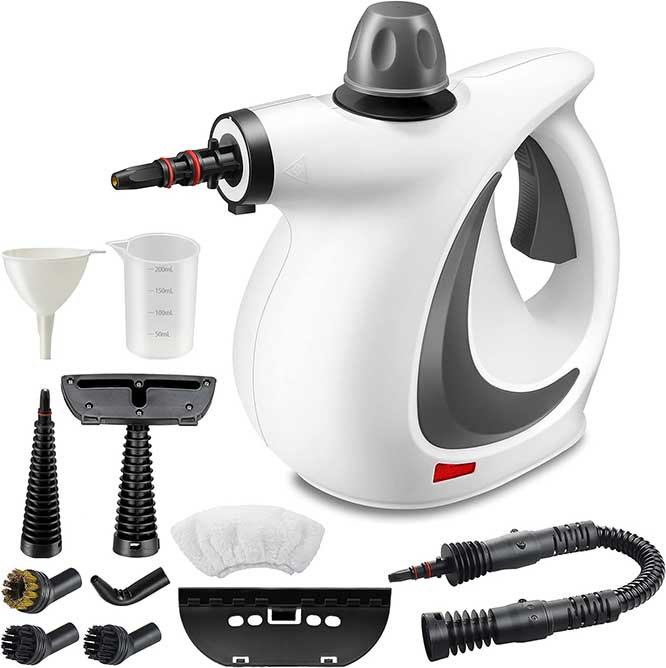 Key features:
Chemical-free cleaning
11 versatile accessories
Fast heating in 3 minutes
Extra-long 9.25-foot power cord
The Spurgehom Pressurized Handheld Steam Cleaner offers a versatile and eco-friendly approach to cleaning, standing out as a notable choice for those prioritizing chemical-free methods.
Designed primarily for home use, this steam cleaner stands out with its 11 included accessories, providing options to tackle a variety of cleaning tasks. One of the defining features is the absence of chemical agents, making it a safe choice for households.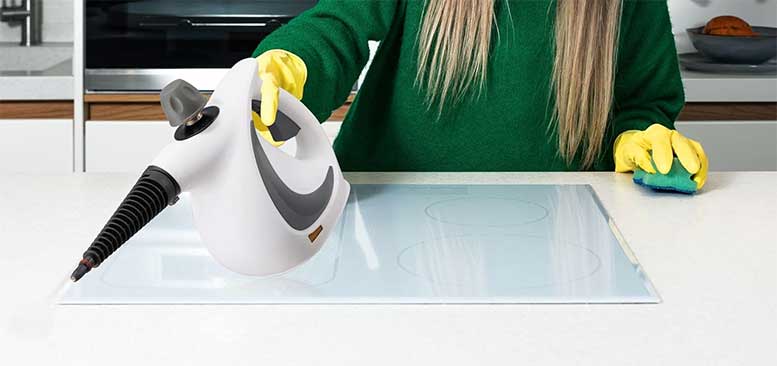 Integrated with specially-made heating tubes and a boiler body, the device ensures efficient overall heating, translating into commendable energy savings. This feature was put to the test during our deep-cleaning sessions, where the unit showed impressive results, especially on hard-to-reach places like toilet edges and crevices, thanks to the bent nozzle.
Moreover, its application isn't limited to homes. It doubles as an effective car detailer, capable of refreshing car surfaces and windows. 
Although it has an extra-long 9.25FT power cord for convenience, its steam duration might be a tad short for larger vehicles, needing a cooldown after about 15 minutes. Beyond cars, its performance on carpets and upholstery was another highlight.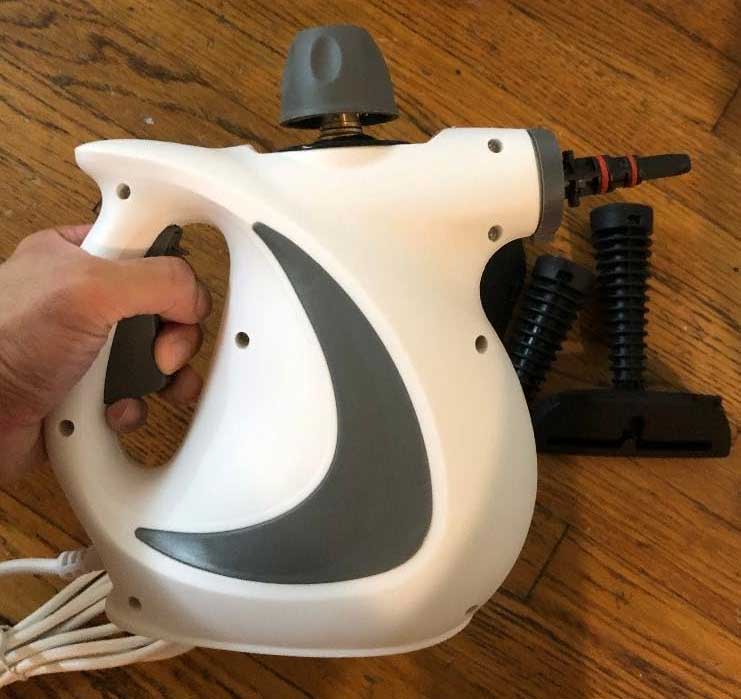 Relying on high temperature and pressure, it efficiently removed deep-seated stains and bacteria. When used as a couch steam cleaner, care was taken to avoid soaking the fabric. 
The device's rapid heat-up time of just 3 minutes and its ability to deliver pressurized hot steam continuously for up to 10 to 15 minutes was certainly a standout.
Safety has been taken into account, evident with the inclusion of a safety cap and the continuous button. Weighing at 2.76 pounds with dimensions of 5.12 x 11.2 x 9.05 inches, it's compact and fairly easy to maneuver.
What we liked:
Efficient stain removal
Safety features included
Lightweight and compact
Multipurpose usage
What we didn't like:
Short steam duration
Cooldown needed for cap removal
Best Alternative: Eave Pressurized Handheld Steam Cleaner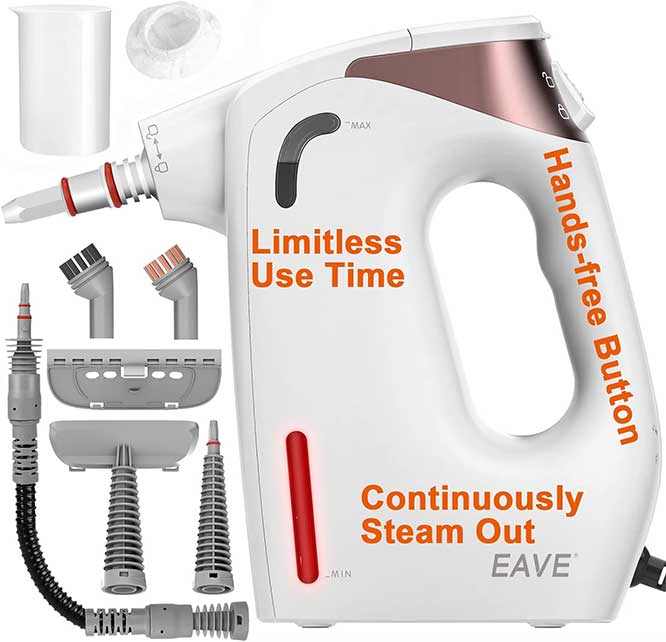 Key features:
20-second rapid heating
Continuous, limitless steaming
Visible water level indicator
270ml tank capacity
The Eave Pressurized Handheld Steam Cleaner demonstrates innovation with its patented design. Our in-depth testing and evaluation showcased its unique hands-free steaming feature, enabling users to avoid the cumbersome task of holding the trigger continuously.
This unit stood out from its competitors with its 20-second fast heating system, eliminating the tedious wait time that is characteristic of most handheld steamers.
A prime feature is its capacity to be refilled during operation, allowing for uninterrupted and limitless cleaning time. The process is simplified and safe, thanks to its design that ensures steam sprays only from the nozzle. This is a marked difference from many models that necessitate waiting periods for both reheating and refilling.
The unit boasts a sizable water tank capacity of 270ml, paired with a visual water level indicator to alleviate guesswork. Weighing in at 4.91 pounds, the device manages to be lightweight without compromising efficiency.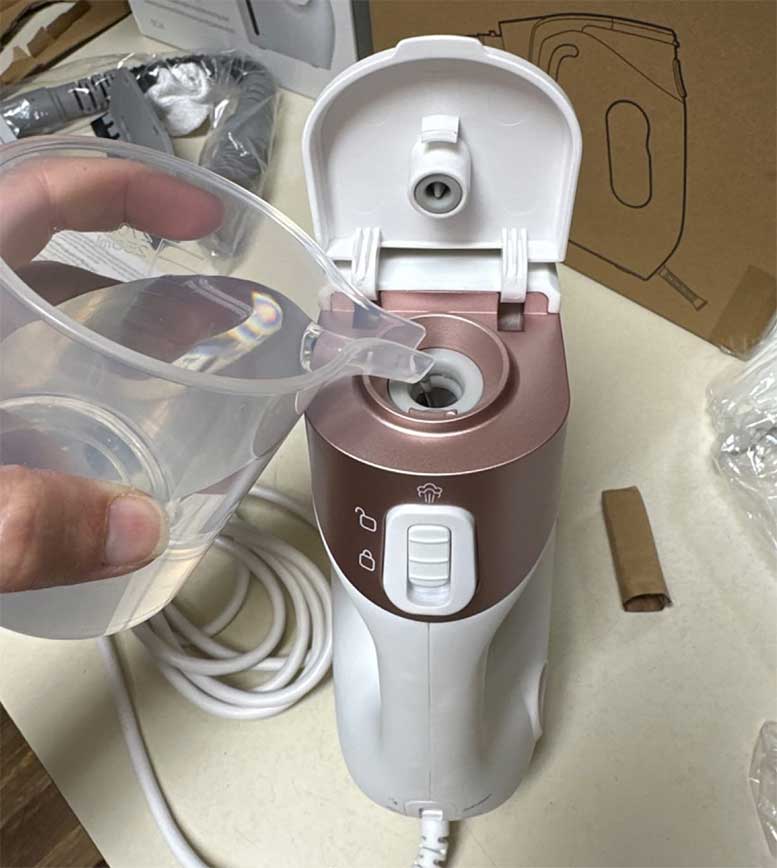 The accompanying array of attachments, including brushes and a hose, makes tackling different surfaces and dirt types effortless. From hard floors to upholstery and even car seats, its versatility shone through in our tests.
With a 248°F pressurized steam output, the device delivered impressive results, especially when paired with the sturdy metal brush on grout surfaces. Its self-cleaning function is an added boon, especially for those in hard water areas. The unit's aesthetic appeal, in white and rose gold, isn't lost on us either, blending functionality with style.
What we liked:
Lightweight yet efficient
Diverse attachments included
Hands-free continuous steaming
Safety-focused refilling design
What we didn't like:
May tip over due to light weight
Requires ground-level work for grout cleaning
Most Compact: Hapyvergo Handheld Pressurized Steam Cleaner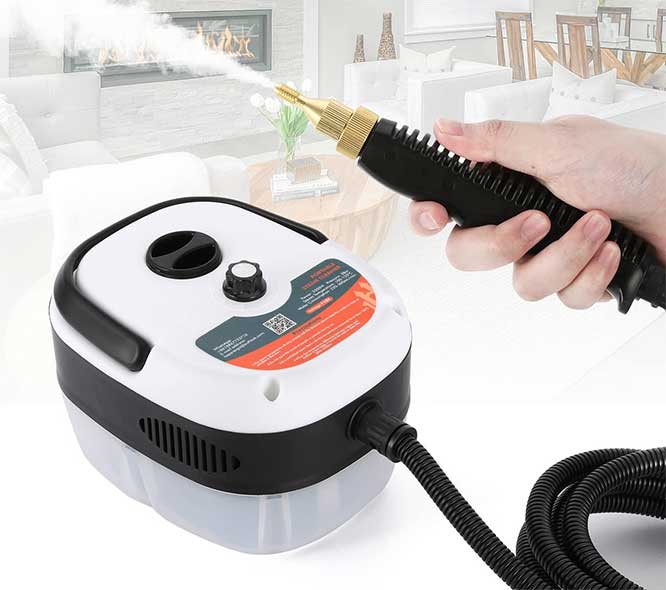 Key features:
Rapid 30-second warm-up
High pressure: up to 50 PSI
Large operational radius
Multi-surface applications
The Hapyvergo LU-5, branded as the most compact, offers a versatile pressurized steam cleaning solution suitable for various surfaces, notably tile, grout, and car exteriors. Powered by 2500 watts, this electric steam cleaner warms up rapidly, delivering a consistent flow of steam within 30 seconds.
Although the steam's temperature decreases rapidly upon meeting air, its warmth is palpable up to 2 inches from the nozzle.
With a capacity of 34 fluid ounces., users can anticipate 15-20 minutes of continuous steam on a single fill. Remarkably, water can be replenished during use, eliminating wait times. On a full tank, the device can run for a maximum of 60 minutes.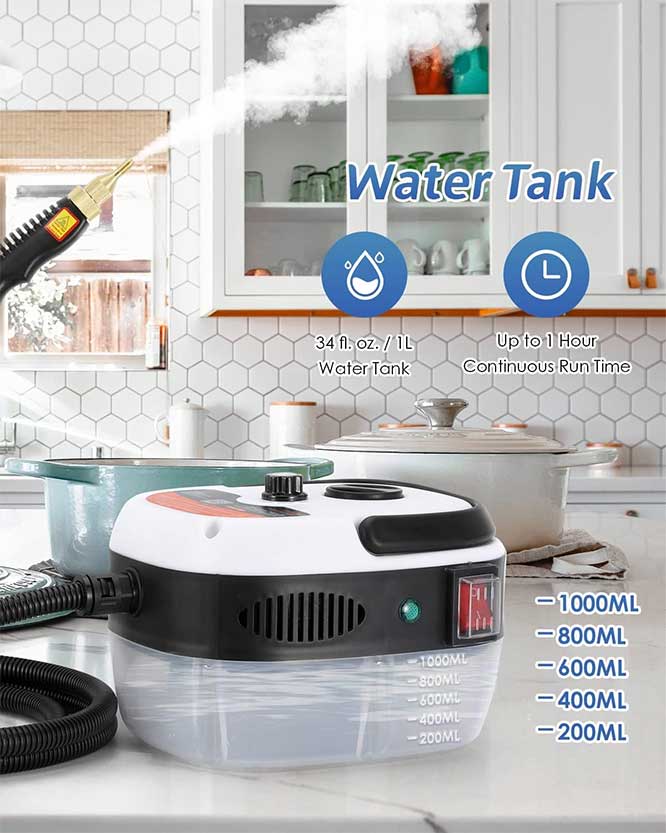 This unit boasts a significant operation radius, thanks to its 5-foot power cord and 7-foot steam hose. This ensures large areas are tackled efficiently, reducing the necessity to hop between power outlets. 
More than just a cleaning tool, the high-temperature steam guarantees elimination of 99.99% of invisible health hazards, a testament to its efficiency. In terms of applicability, the LU-5 doesn't disappoint. For instance, its nylon brush adeptly handles regular dirt, while the brass brush targets stubborn, greasy residues.
Furthermore, it's been noted to work wonders for car detailing, capable of cleaning greasy engine residue and refreshing car interiors.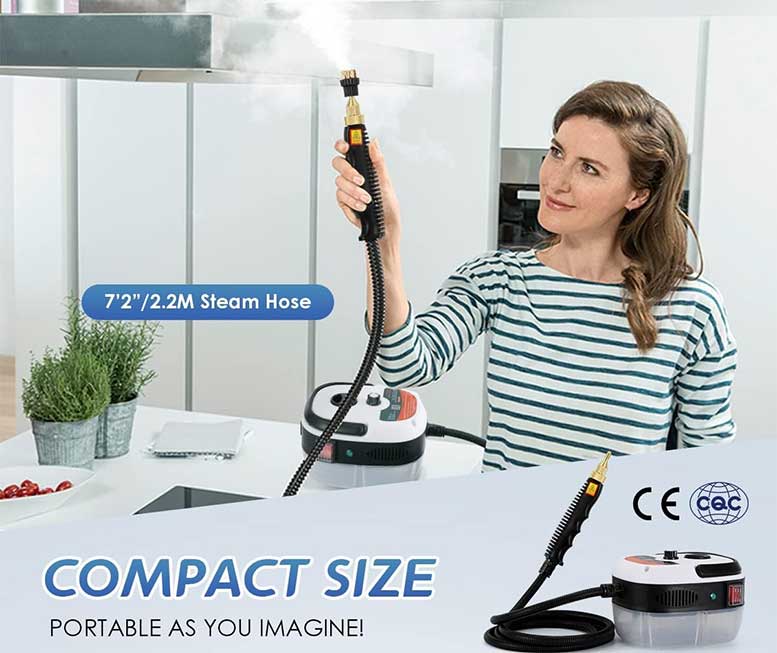 Weighing in at 4.07 pounds with dimensions of 7.5 x 5.9 x 5.1 inches, it's not only compact but also fairly lightweight. Storing it is a breeze – it can be placed on the floor, a table, or simply held. However, a slight drawback is the handle's tendency to heat up with prolonged use.
What we liked:
Efficient high-temp cleaning
Versatile brush attachments
Lengthy continuous run-time
Compact and lightweight
What we didn't like:
Handle heats up over time
Power may be insufficient for tough stains
Pressurized Handheld Steam Cleaner FAQs
Why choose a handheld steam cleaner over traditional methods?
Handheld steam cleaners offer a chemical-free, efficient, and eco-friendly cleaning solution. Their portability ensures that you can tackle a variety of surfaces, from kitchen counters to car interiors. And you can do so with ease.
Is it safe to use a handheld steam cleaner on all surfaces?
Most handheld steam cleaners are safe for a multitude of surfaces. However, it's crucial to read the manufacturer's instructions and test a small area first, especially on delicate fabrics or surfaces. Thin plastics and similar materials should also be approached with caution, as the high temperature of steam cleaners can potentially warp and melt the material.
How often should I refill the water tank on my handheld steam cleaner?
This varies depending on the capacity of the steam cleaner's tank. Some models allow for 10-15 minutes of continuous steam, while others may offer up to an hour. It's essential to monitor the water level and refill as needed to prevent damage to the unit.
Final Verdict
Our research and hands-on testing have revealed that the Beendou High Pressure Steam Cleaner is the top contender when it comes to power, tank capacity, and versatility, making it our pick for Best Overall.
Vivibyan stands as a close runner-up, its comprehensive accessory set ensuring you're well-equipped for various cleaning tasks.
Meanwhile, for those prioritizing eco-friendly cleaning, the Spurgehom is unmatched in providing a chemical-free deep clean. 
Eave brings innovation with its hands-free steaming feature, ensuring user comfort during extended cleaning sessions.
And finally, for those constrained by storage space or desiring maximum portability, Hapyvergo, with its compact design and rapid heating, is the go-to choice.
Each of our picks excels far above even the closest contenders. As such, you can trust that you're making a sound investment in both value and performance.
Meet Derek, "TechGuru," a 34-year-old technology enthusiast with a deep passion for tech innovations. With extensive experience, he specializes in gaming hardware and software, and has expertise in gadgets, custom PCs, and audio.
Besides writing about tech and reviewing new products, Derek enjoys traveling, hiking, and photography. Committed to keeping up with the latest industry trends, he aims to guide readers in making informed tech decisions.