Ready for a blast from the past? Thanks to the innovations of slide projectors, or film viewers, you can dig out all your old film and see it in a new light. These handy devices are perfect for preserving and sharing your cherished memories from the past.
Of course, narrowing down the best ones is easier said than done. So we decided to do all the hard work you, compiling our top five picks for your consideration. Here's what we found:
There's much more to share, so read on to explore each model's features, benefits, and potential drawbacks in detail. Soon, you'll be able to make an informed decision about which slide projector best suits your needs.
1. KODAK Mini Digital Film & Slide Scanner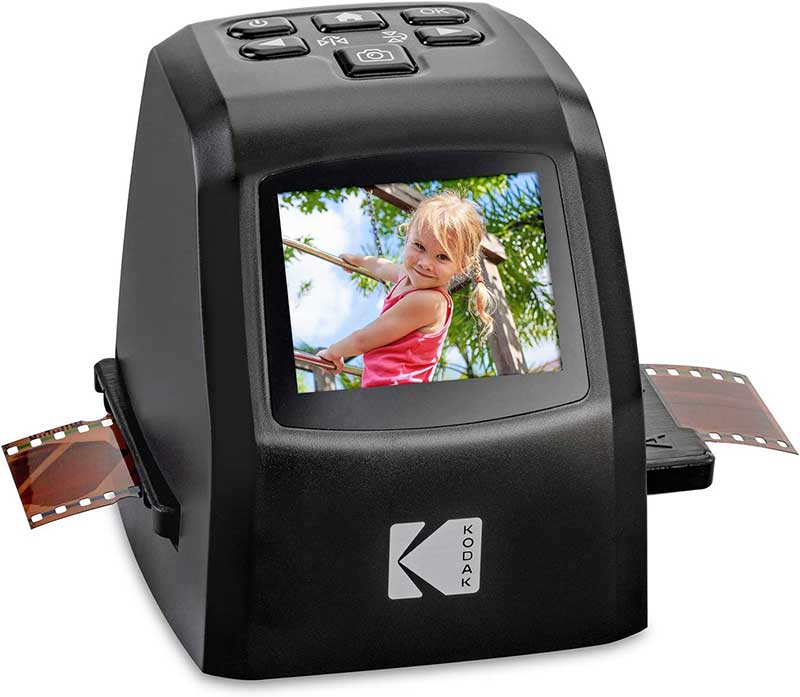 Key features:
Compact, portable design
Multiple film format compatibility
2.4-inch LCD screen
Effortless image enhancement
The KODAK Mini Digital Film & Slide Scanner is an all-in-one device that allows you to scan, view, edit, convert, and save old 135, 126, 110, Super 8, and Monochrome negatives and slides into sharp, clear, and detailed 22MP JPEG files. With a compact design measuring 3.6 x 3.4 x 3.9 inches and weighing just 1 pound, this portable gadget is easy to carry and store. The scanner is equipped with multiple adapters for fast loading and compatibility with various film formats.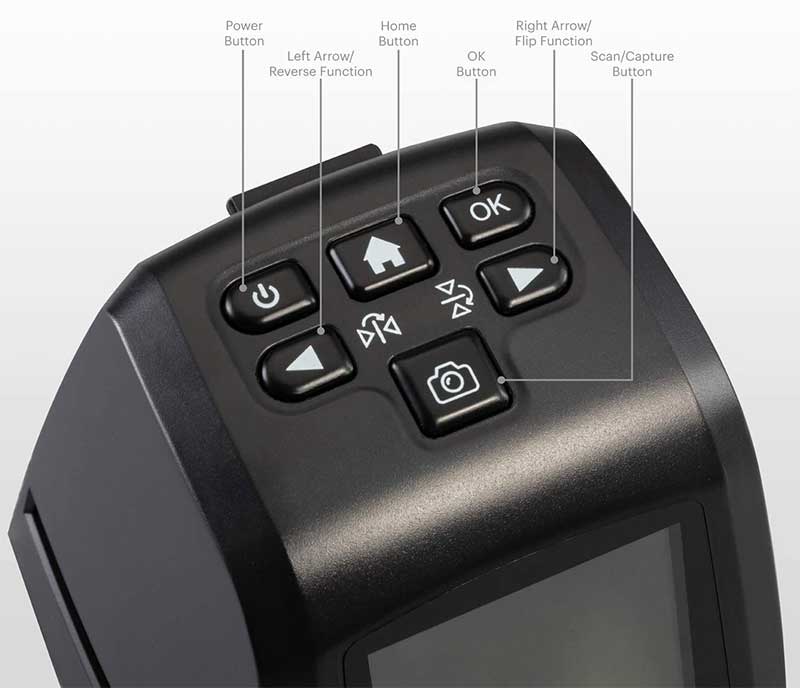 Its user-friendly interface features a 2.4-inch LCD screen and dedicated buttons for easy navigation and one-press scanning. The device's internal memory holds up to 128MB, and it supports SD cards up to 32GB for additional storage. Just keep in mind that you'll have to provide your own, as one isn't included with the projector. Thankfully, image enhancement is effortless, as it allows you to adjust brightness, color, reverse, and flip settings to obtain the perfect image.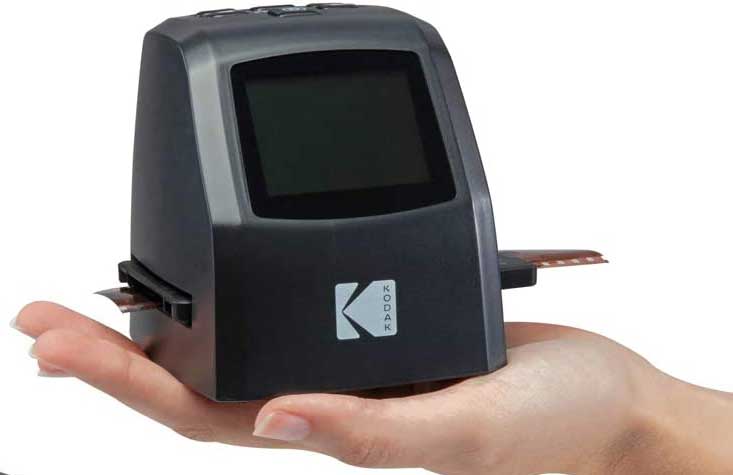 It also offers color correction tools to adjust RGB levels, ensuring old photographs look as good as new. In case of mistakes, such as loading film upside down, the flip and mirror tools can quickly fix the issue. With an extended accessories pack that includes a cleaning wand, a 3-in-1 power adapter for US, EU, and UK, a USB cable, and a TV cable power adapter, the KODAK Mini offers versatile connectivity options. Converting your old film formats has never been more convenient or enjoyable.
What we liked:
Easy-to-use interface
Continuous loading adapters
Versatile connectivity options
Integrated color correction tools
What we didn't like:
Limited internal memory
SD card not included
2. DIGITNOW Slide and Film Viewer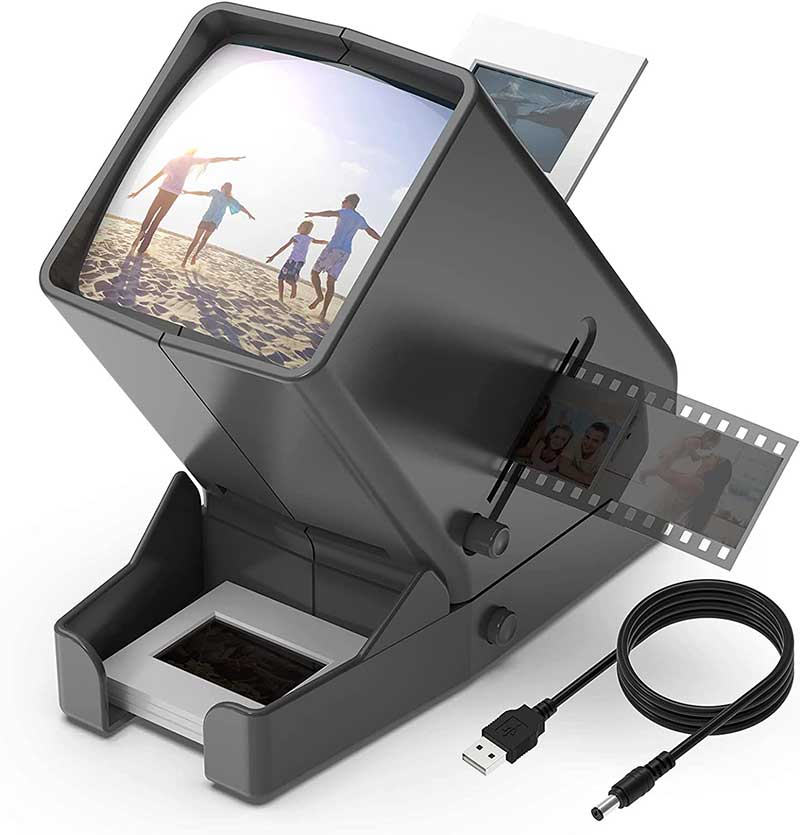 Key features:
3X magnification glass screen
Bright LED light box
USB and battery powered
Compatible with slides and negatives
The DIGITNOW Slide and Film Viewer is a perfect companion for those looking to rekindle memories from the past. This compact unit, measuring 7.9 x 6.6 x 4.5 inches and weighing 1.59 pounds, enables users to view 2 x 2-inch mounted slides, 35 mm film strips, and negatives with ease. And thanks to the 3X magnification glass screen, all of your images are enlarged without distortion or loss of detail. The built-in LED light box provides bright and even illumination, allowing for crystal-clear viewing of your treasured memories.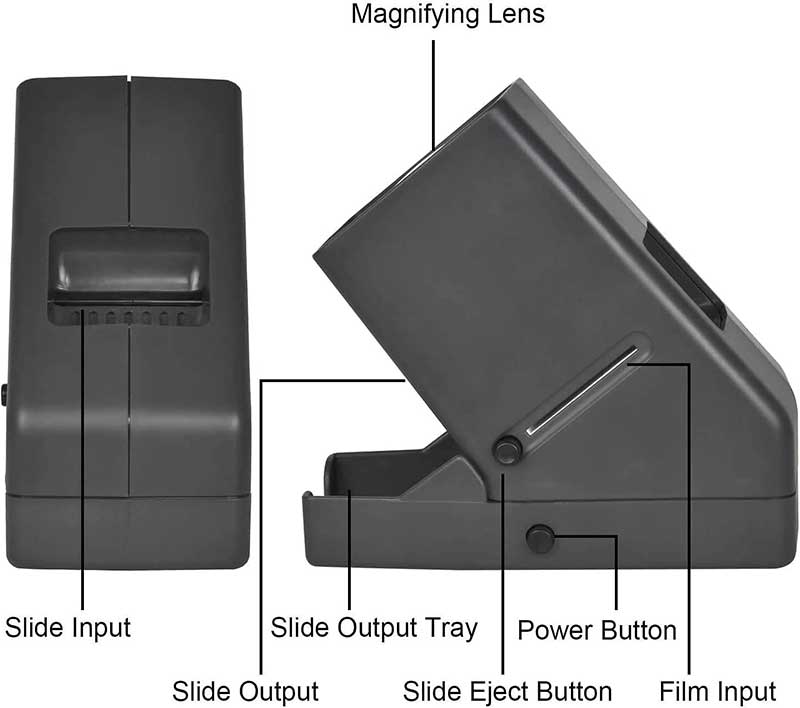 To use the device, simply slide your film or slide into the designated entrance and enjoy the magnified image through the magnifying lens. The unit also includes an eject button and slide tray for easy operation. It is compatible with both USB cable power and 4AA batteries, making it ideal for use anywhere. Thankfully, both the cable and batteries are included, courtesy of DIGITNOW.
We tested the viewer in various settings, and the results were consistently impressive. The device was easy to use and effectively displayed the images, capturing their original colors and details. The large field of view and ultra-bright daylight LED lighting further enhanced the experience.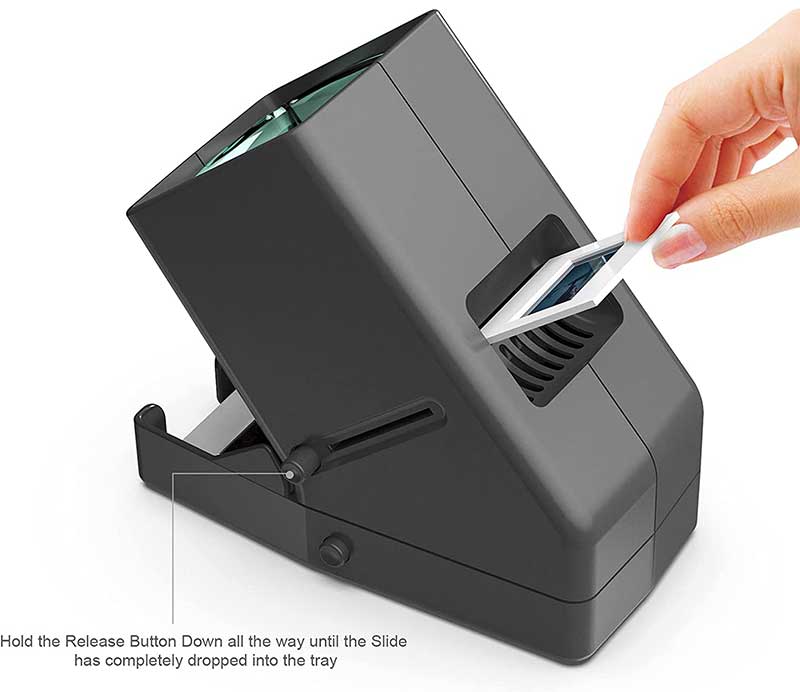 With all that in mind, we recommend DIGITNOW's Slide and Film Viewer – it's an excellent buy for those seeking to relive their past memories through slides and film negatives. Its portability, simple operation, and impressive performance make it a valuable tool for preserving and enjoying these precious moments.
What we liked:
Easy-to-use design
Portable and lightweight
Vivid image reproduction
Large field of view
What we didn't like:
Slide insertion can be tricky
Limited to 35 mm format
3. Vivitar 5000 AF Slide Projector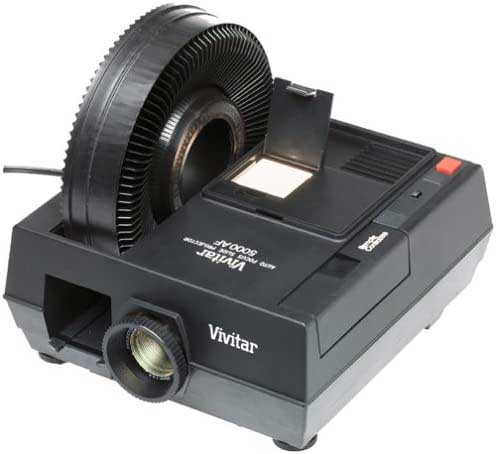 Key features:
Automatic focusing for sharp images
Cool, quiet operation with low-voltage lamp
Remote control with forward and reverse
Smartphone compatibility for added versatility
The Vivitar 5000 AF Slide Projector is a versatile device suitable for various applications, including educational, home cinema, and business settings. Measuring 10.8 x 10.3 x 5 inches and weighing 9.5 pounds, it's a compact and relatively lightweight projector that can easily be placed on a tabletop mount. Helping to enhance your viewing experience is automatic focusing capability. This ensures that slides are displayed sharply and clearly, without the need for manual adjustments. We tested this feature with various slides and were impressed by the quick and precise focusing achieved.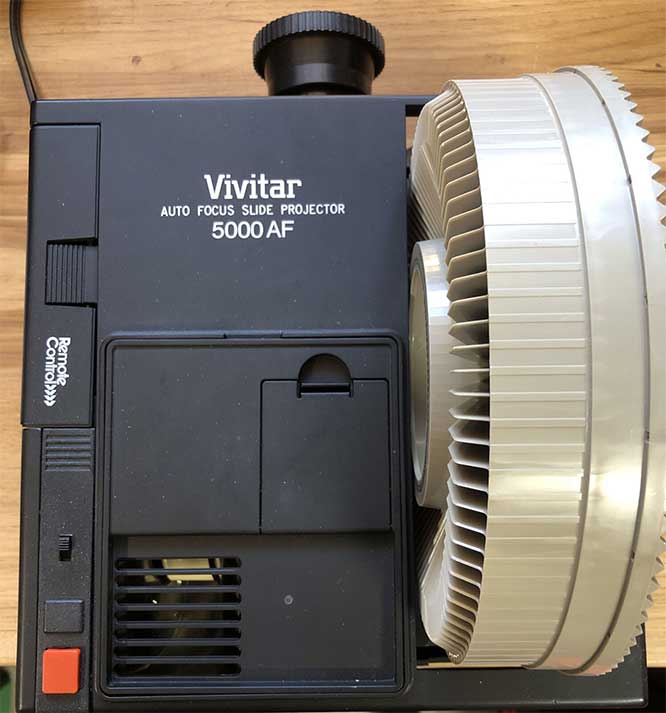 The device is equipped with a low-voltage quartz lamp, which contributes to its cool and quiet operation. This is particularly beneficial during long presentations or movie nights, as it minimizes distractions and reduces the chances of overheating. During our testing, the projector maintained a comfortable temperature and noise level throughout extended use. There's also a handy remote control for added convenience. It lets users navigate through slides with forward and reverse functionality, which we really like.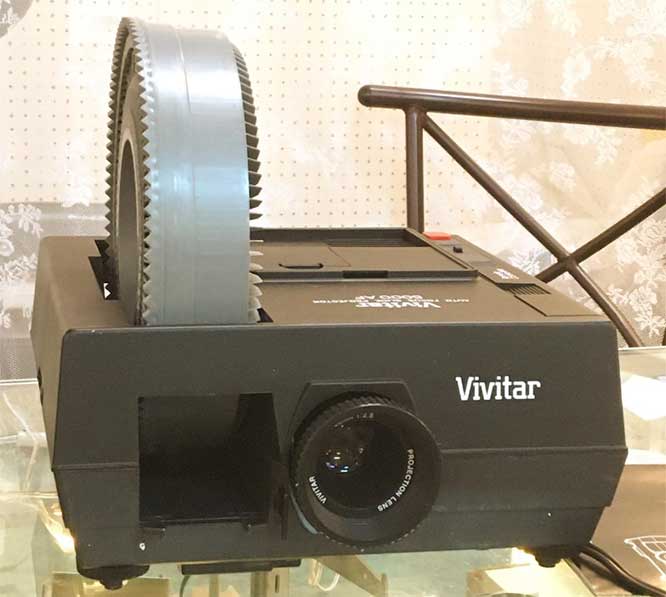 Additionally, the slide previewer feature allows for quick and easy examination of slides before projecting them on a screen. The projector is also compatible with smartphones, which broadens its usability and makes it more adaptable to various scenarios. With a maximum image size of 150 inches, this projector is capable of delivering large, immersive visuals for an enjoyable viewing experience. Bottom line, Vivitar's 5000 AF Slide Projector works well with its combination of useful features and dependable performance – a valuable tool for a range of purposes.
What we liked:
Compact and lightweight design
Large maximum image size (150 inches)
Slide previewer for easy examination
Suitable for various applications
What we didn't like:
Limited to 3.8 out of 5 stars
No built-in speaker for audio
Only available "used" – they do not make it anymore
4. Rybozen Slide Viewer Illuminated Slide Projector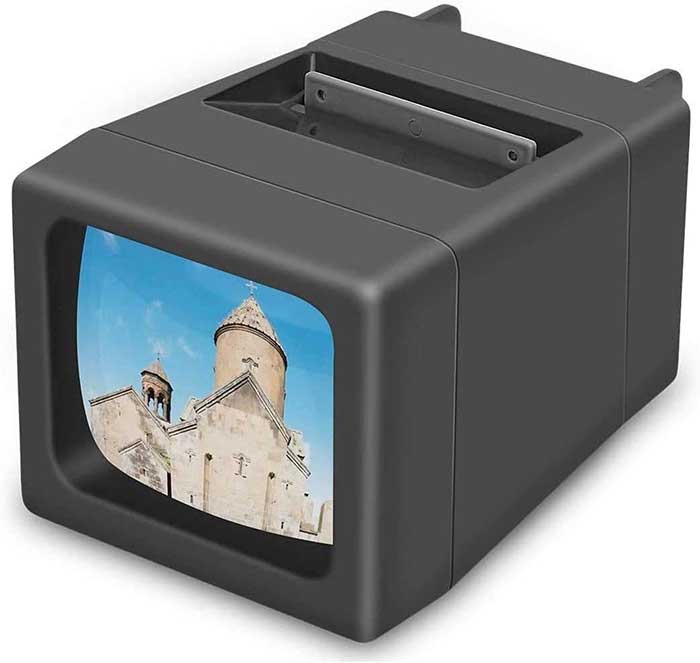 Key features:
2X magnification glass screen
Ultra-bright daylight LED lighting
Compact and portable design
High-strength plastic construction
Next, we have the Rybozen Slide Viewer Illuminated Slide Projector, a compact and portable device designed to bring your old memories back to life. With its ability to magnify and illuminate 35 mm slides and film negatives, it offers an opportunity to relive cherished moments with exceptional clarity. As with others on this list, a 2X magnification glass screen enhances viewing and clarity. Rybozen utilizes high-definition polymer glass here, which really does a fine job of improving image quality.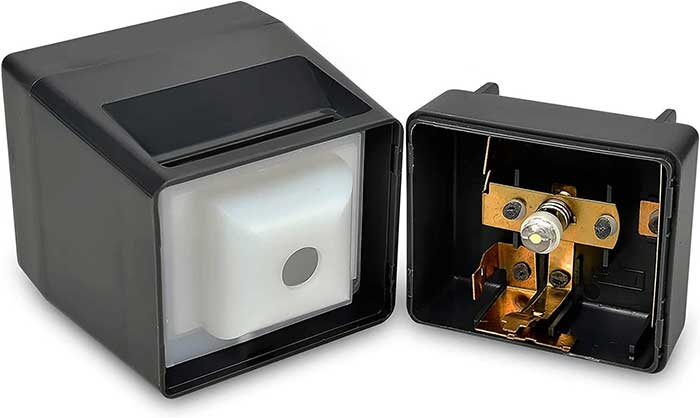 This built-in magnifying glass ensures that you can view every detail of your slides and films without distortion, blurriness, or loss of detail. It also boasts a high-quality luminous box that provides a large field of view and ultra-bright daylight LED lighting. This ensures that the images displayed are vivid, crystal clear, and detailed, showcasing the intricacies of your film photos. And measuring just 2.98 x 2 x 1.99 inches and weighing a mere 1 pound, it's incredibly portable and easy to use.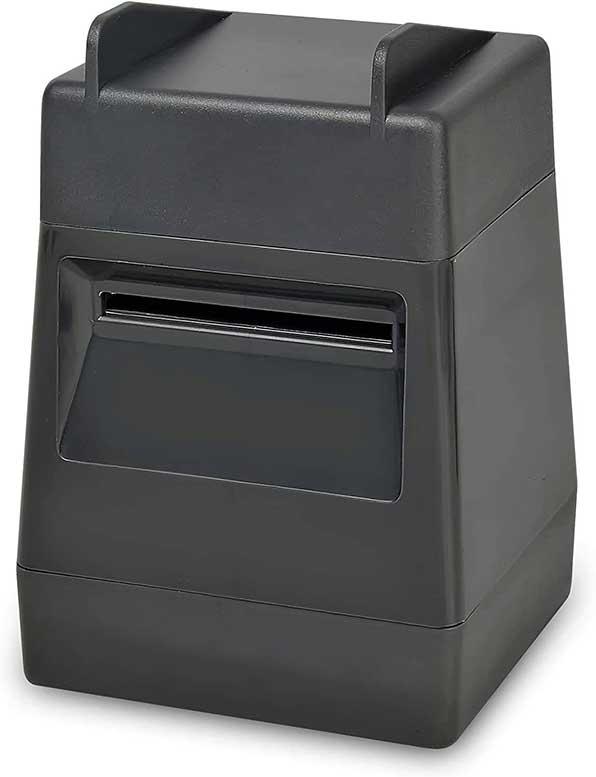 What's more, its desktop design allows you to simply insert a film or slide from the side, making it an excellent choice for use at home or while traveling. And the unit's high-strength plastic construction and ergonomic edge arc design serve to contribute to its durability and comfort in hand. Rybozen delivers a user-friendly solution for reliving your precious memories by magnifying and illuminating your 2 x 2-inch slides and 35 mm film negatives with ease and precision.
What we liked:
Vivid, crystal-clear images
Easy slide and film insertion
Comfortable ergonomic grip
Suitable for home or travel
What we didn't like:
Limited to 35 mm slides
No digital conversion option
5. Porta Slide PS-3 Slide Viewer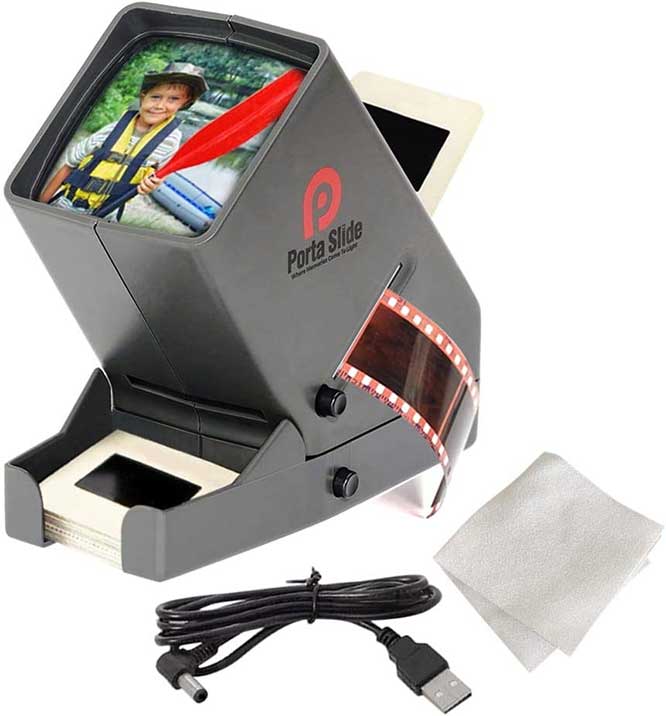 Key features:
Portable 35 mm slide and film viewer
4-inch LED-backlit viewing screen
3X magnification for detailed images
Multiple power options available
The PORTA SLIDE PS-3 is a handy device designed for bringing life to your old film strips, 35 mm 2 x 2-inch slides, and negatives. With a compact design measuring 13.89 x 6.42 x 2.24 inches and a weight of 1.48 pounds, it's perfect for sharing memories with loved ones anytime, anywhere. We love the small and portable build of this projector. It's a cinch to haul around to family gatherings and parties, so you can conveniently share past images with everyone.
And thanks to 3X magnification, you get clear and detailed images without any warping or haziness. What's more, the 4-inch screen uses a bright LED light to make the images sharp and vibrant. For such a budget-friendly device, we were really impressed by its visual clarity. It's on par with many pricier units we considered. But for the price and performance, we have to give Porta Slide the nod on this one. It's simply too reliable and versatile to pass up.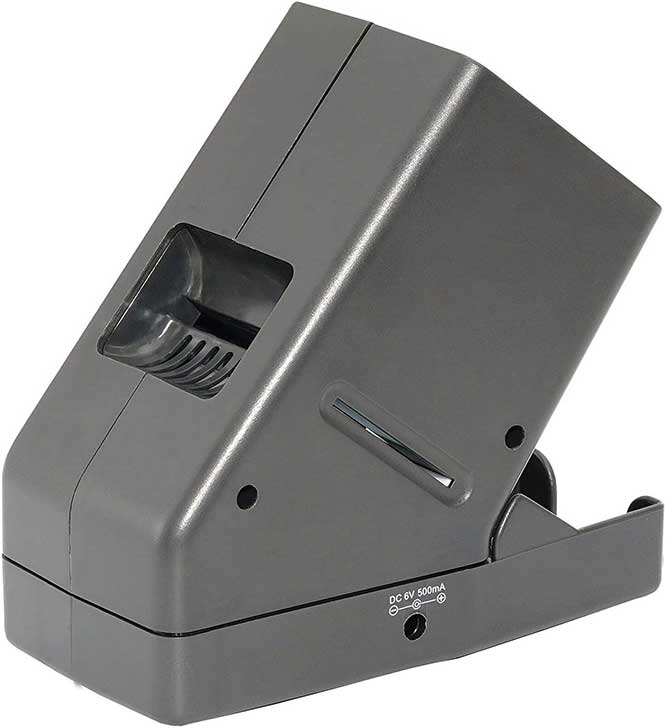 When it comes to powering the device, you're presented with multiple options. You can use the included USB adapter for charging on the go, or you can opt to use 2 AA batteries. An optional DC 6-volt adapter works for use at home, but it's sold separately. We should mention, though, that the USB cable serves as a power source only and not for transferring images.
The improved slide and film input slot ensures smooth loading of slides without any jamming issues, a feature we appreciated during our testing. The package includes easy-to-follow instructions and a bonus microfiber cleaning cloth to maintain the cleanliness of the high-quality glass lens. In all, Porta Slide's PS-3 Slide Viewer proved to be a solid investment for anyone who wants to enjoy and share their precious 35 mm film memories in a user-friendly and portable format.
What we liked:
Compact and lightweight design
Easy slide and film loading
Vibrant image display
Bonus microfiber cleaning cloth
What we didn't like:
USB for power only
Power adapter sold separately
Slide Projector FAQs
Can I use a slide projector to digitize my slides and film negatives?
While some slide projectors and film viewers are designed specifically for digitizing your slides and film negatives, others are meant for viewing only.
What types of film formats are compatible with slide projectors and film viewers?
Different slide projectors and film viewers are compatible with various film formats. Common formats include 35 mm, 110, 126, Super 8, and Monochrome.
How can I ensure the best image quality when using a slide projector or film viewer?
For optimal image quality, consider the following factors: magnification, illumination, and image enhancement features. Devices with higher magnification and better illumination will provide clearer, more detailed images.
Final Verdict
These slide projectors sure do bring a lot to the table despite their compact and portable construction.
KODAK's Mini Digital Film & Slide Scanner stands out for its compact design and compatibility with multiple film formats, making it a versatile option for those looking to digitize a variety of old film types.
And DIGITNOW's Slide and Film Viewer offers impressive 3X magnification and a bright LED light box, ensuring vivid image reproduction for an enjoyable viewing experience.
Next, Vivitar's 5000 AF Slide Projector is notable for its automatic focusing capability and smartphone compatibility, adding versatility to its range of applications.
The Rybozen Slide Viewer Illuminated Slide Projector excels with its 2X magnification and ultra-bright daylight LED lighting, providing clear and detailed images of your cherished memories.
And lastly, Porta Slide's PS-3 Slide Viewer offers portability and convenience with its lightweight design and multiple power options, an excellent choice for on-the-go viewing.
Ultimately, the best choice for you will depend on your specific needs, whether it be digital conversion, magnification, or ease of use. Each of these models has its own strengths and may cater to different preferences, but all of them are excellent options for preserving and sharing your treasured memories captured on film.
Meet Derek, "TechGuru," a 34-year-old technology enthusiast with a deep passion for tech innovations. With extensive experience, he specializes in gaming hardware and software, and has expertise in gadgets, custom PCs, and audio.
Besides writing about tech and reviewing new products, Derek enjoys traveling, hiking, and photography. Committed to keeping up with the latest industry trends, he aims to guide readers in making informed tech decisions.