For the mechanical keyboard enthusiasts of the world, keyboard switch openers are an absolute must-have item. Some people are fine with buying and using a stock keyboard. Some people switch out their keycaps or switches.
But hardcore keyboard lovers take it a step further, opening and conducting maintenance within each individual key. In order to do this, you'll want one of the best switch openers on the market.
What is a keyboard switch opener?
These tools are small and typically made out of metal or plastic. They are used to open your keys and provide access to the internal hardware for maintenance. While you could try to pry open your switches without an opener tool, we don't recommend it.
This could result in scratching, damaging, or even breaking your switches. Another reason to use a keyboard opener is to speed up the process. Most modern openers open each switch in about one second.
How does a keyboard switch opener work?
They are specially designed to work with various brands and types of switches. To open a switch, you simply fit the switch into place and apply pressure. This should pop the top casing off the bottom casing, allowing you to pull them apart.
What kind of maintenance can I do to my switches after using a keyboard switch opener?
There are a few different things you may want to do in order to maintain your keyboard switches. Each switch has tiny gaps and spaces that allow access to the internal components. Dust and debris can get in there and collect, so opening them up to clean is important.
Another reason is to add lubricant. Sometimes the internals of your switches can feel a bit sticky and not work correctly. Adding lubricant helps eliminate this issue.
What's the main consideration when looking for a switch opener?
There are many different things to consider when buying a switch opener. However, the most important is going to be switch compatibility. Make sure that you know what switches are inside your keyboard and then compare it to whichever opener you decide you want to order before purchasing.
Best Overall: HONKID Switch Opener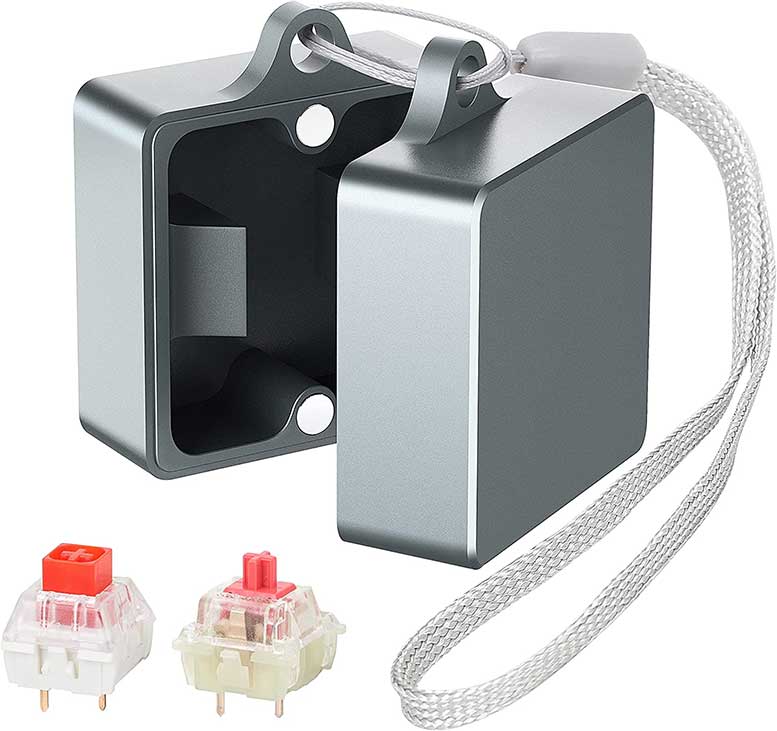 Key Features:
Aluminum body
7 color choices
Designed for multiple switches
The HONKID switch opener is a high-quality tool for pulling switches apart. Once opened, you have two different designs to choose from based on the switches your keyboard has. It's compatible with Cherry MX, Kailh, Gateron, Outemu, TTC, Tealios, Zealios, and Holy Panda switches. During thorough testing of this opener, it was found that most switches can be opened in one second.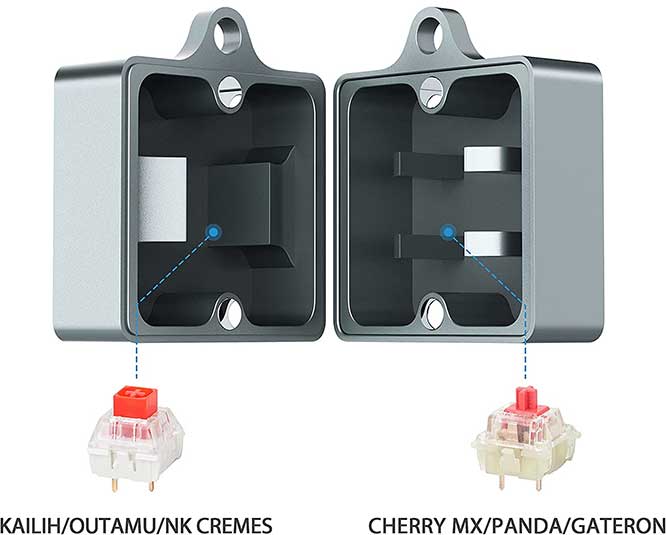 The HONKID is constructed completely out of aluminum. This alloy material underwent an anodizing process, has a matte texture, and won't have fading colors. It's extremely compact, weighing only .35 oz. On the inside of the opener are two powerful magnets. These keep both sides of the HONKID stuck together tightly to ensure no dust gets in while not in use. You also won't have to worry about the tool getting damaged while opening switches.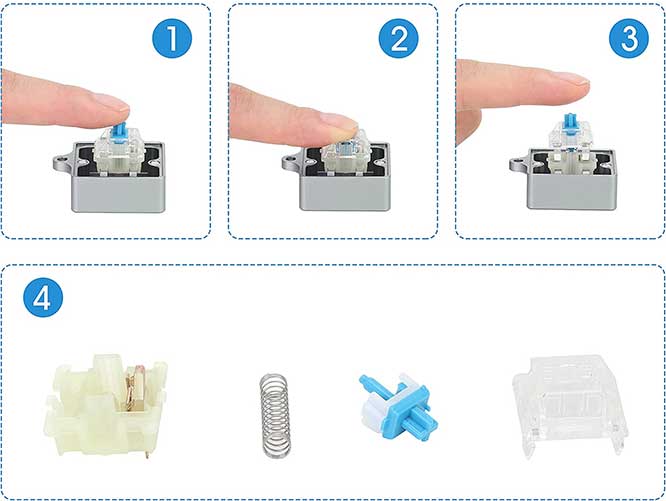 Aesthetically, this is a very pleasing tool. The simple square design looks nice with any computer setup. It's available in multiple colors, including grey, silver, blue, black, gold, purple, and red. If you prefer to take it with you on the go, there's a matching carrying strap that attaches to the top of the tool.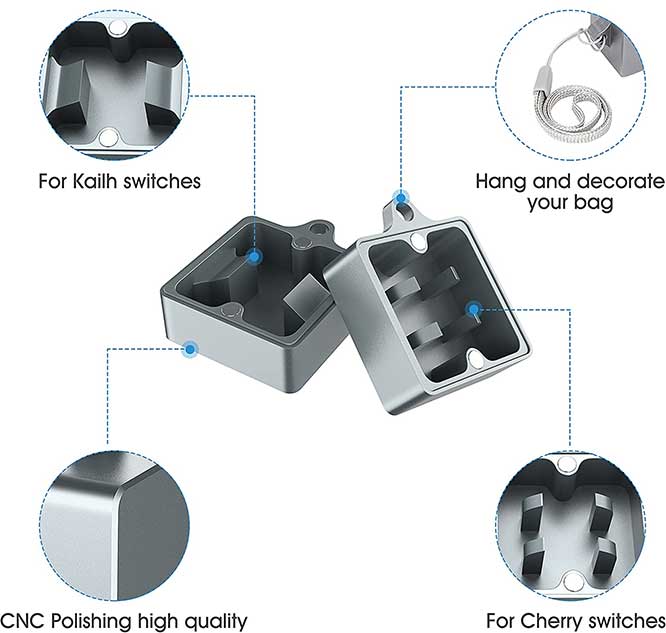 In our opinion, the HONKID is a great option if you want a sleek tool with a variety of uses. The design keeps additional dust out and is strong enough to pull apart as many switches as you can throw at it. It's compatible with a huge variety of switches so chances are it will work well with any keyboard you have at home.
Pros:
Compatible with 8 different switches
Multiple colors to choose from
Easy to take on the go
Cons:
Best Alternative: Glorious Switch Opener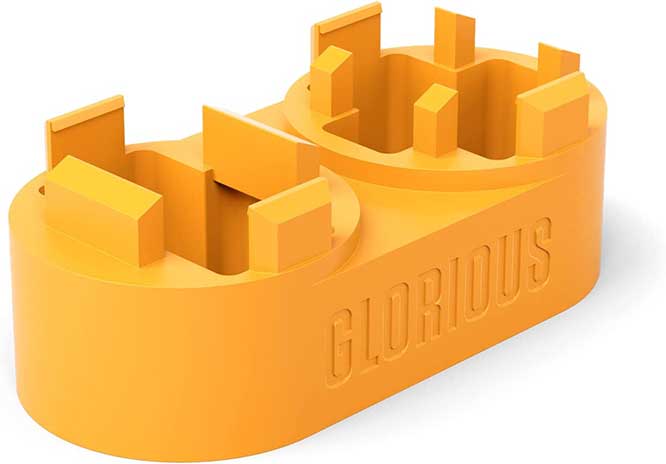 Key Features:
Compatible with most plate-mounted mechanical switches
ABS plastic body
Weighs 3.5 grams
The Glorious Switch Opener has a different design than the HONKID. While it still has two different styles of opener included, it doesn't have pieces that are separate from each other. When it comes to what switches are compatible, you can use most plate-mounted mechanical switches. This includes options from Glorious, Cherry MX, Gateron, and Kailh.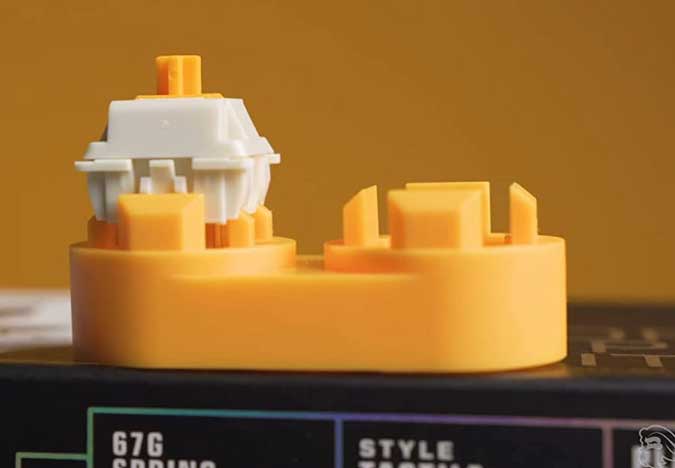 The Glorious Switch Opener is made out of ultra-durable ABS plastic. This allows it to last a very long time and open lots of switches. This material won't damage your switches either. While the design is different than the HONKID, this won't affect the performance of the tool.
When it comes to looks, there aren't many options available. It's available in only a yellow matte plastic body. It doesn't come with a carrying strap, but it's still extremely compact. This allows you to easily store it or take it with you wherever you need to go.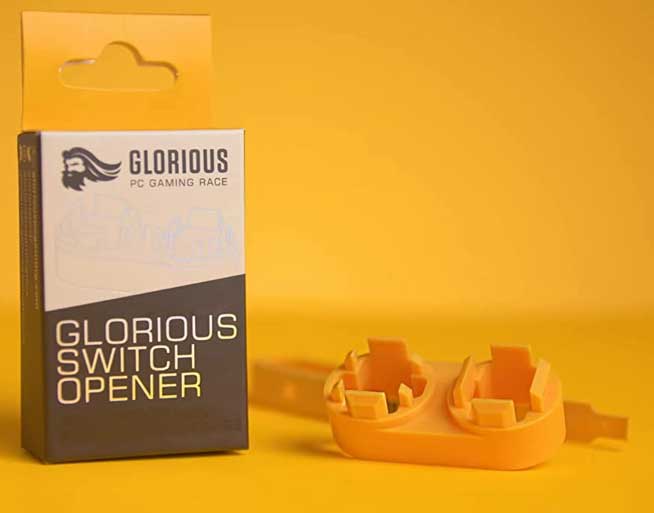 In our opinion, the Glorious Switch Opener is another option you can't go wrong with. Its multi-switch design lets you open most available plate-mounted switches. The ABS plastic ensures it's super lightweight and shouldn't impact durability at all. This also keeps your switches scratch-free and safe while in use.
Pros:
Lightweight plastic body
Many switches are compatible
Cons:
Only one color is available
Best Design: Lucky Cat Aluminum Switch Opener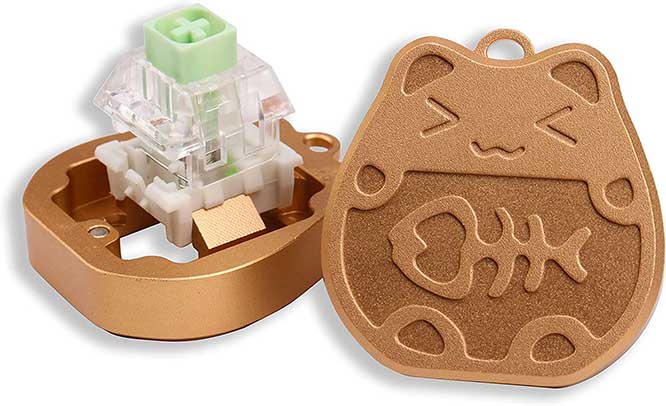 Key Features:
Unique design
Multi-switch type compatible
Aluminum body
The Lucky Cat Aluminum Switch Opener is the most unique option we're including. Just like the HONKID and the Glorious, it's compatible with multiple switch types. If you have Kailh, Gateron, or Cherry MX switches you will be able to use this opener. In testing, it has been shown to open switches in one second, just like the HONKID can.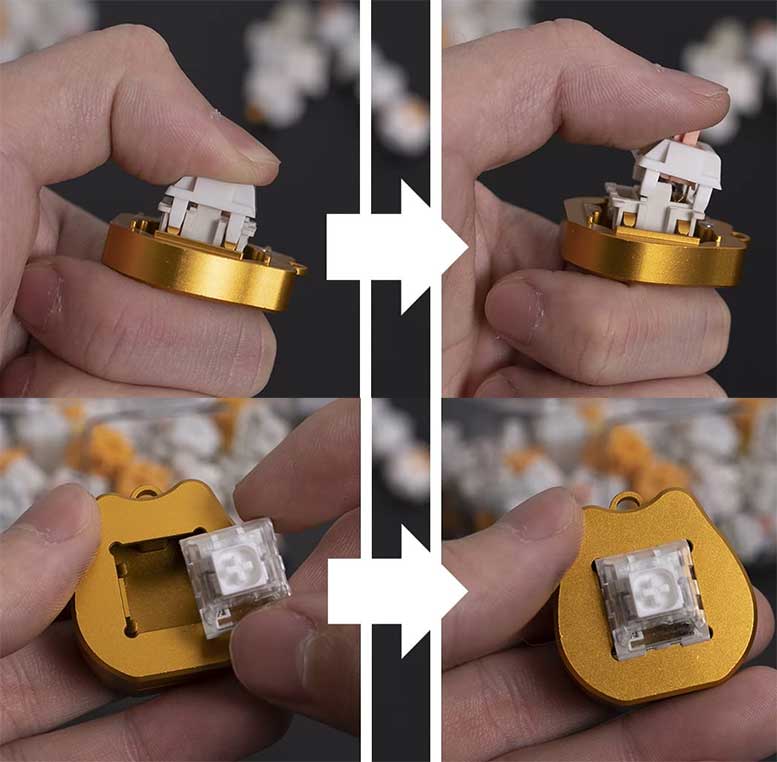 The Lucky Cat is made out of aluminum. This makes it lightweight and durable at the same time. Additionally, it has two magnets just like the HONKID to keep the pieces of it together. This helps it from breaking as well as reducing dust within the opener.
As for looks, the Lucky Cat is pretty awesome. It's shaped just like a cat with a fishbone design on the front. With 6 colors to choose from you'll be sure to find one that fits your aesthetic. You can choose from gold, pink, blue, grey, red, and purple. The top of the opener also has a loop that you can attach a carrying string to (however this isn't included).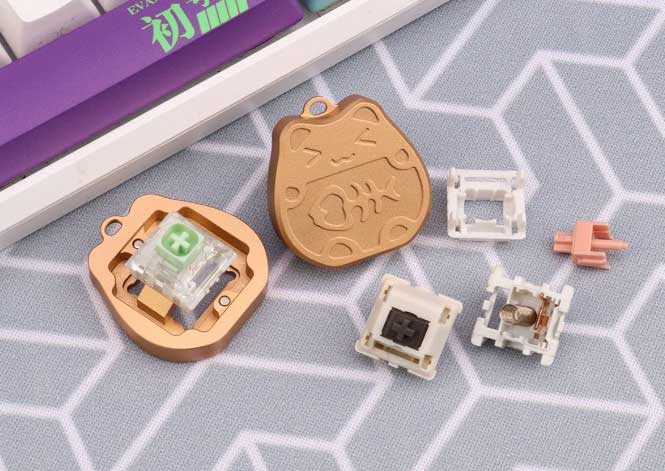 In our opinion, this is a perfect opener for anyone who loves cats or wants to stand out. It has many of the same switch compatibilities as other options on this list, while also having an awesome design. It's sure to take care of all your keyboard switch opening needs.
Pros:
Cat design
Lightweight aluminum construction
6 colors to choose from
Cons:
Some reviewers say the magnets fall out eventually
Best Comfort: Ausvrkkit Switch Opener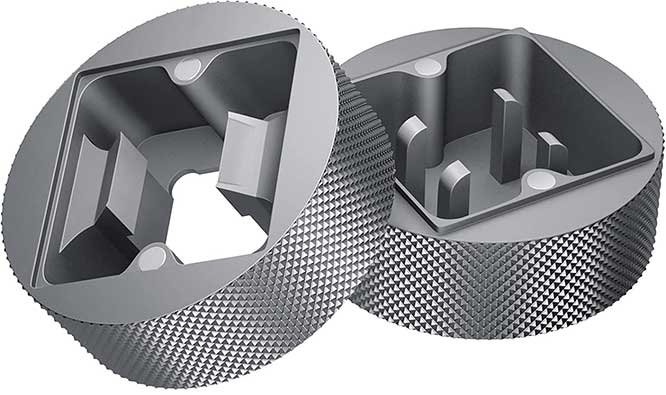 Key Features:
Circular shape
Aluminum alloy construction
Two-sided open shaft design
The Ausvrkkit follows the same design as the other options covered so far. It features a two-sided open shaft design to make it compatible with a variety of switches. For comparison, it has the same design as the HONKID. This allows use with switches such as Cherry MX, Gateron, Outemu, Kailh, Box, Panda, and Akko.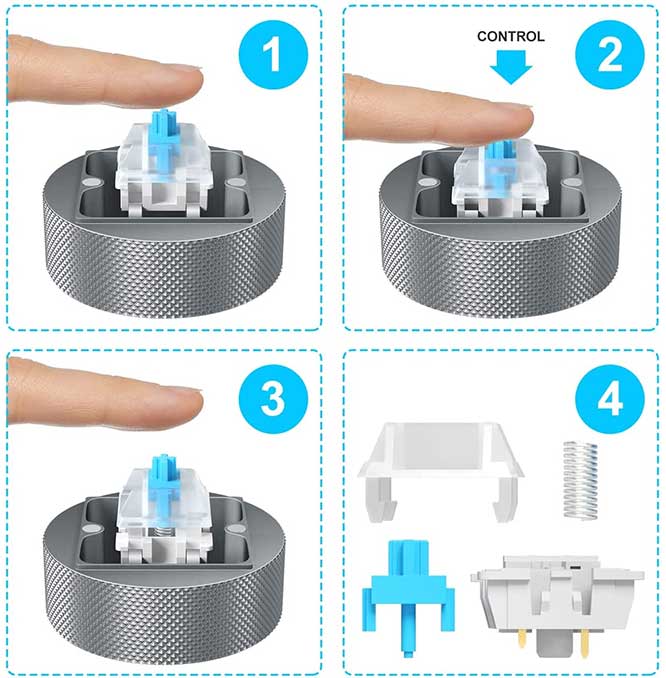 The body is constructed out of aluminum alloy. This ensures it won't get damaged in storage, travel, or while in use. The aluminum should also keep your switches safe from harm while in use as well. Just like the HONKID and the Lucky Cat there are magnets included on both sides. They are used to keep the tool stuck together, but won't help with dust much since the top has an open design.
The Ausvrkkit is the only circular option we have included. It has a textured exterior that will help you keep your grip while using it. It's only 1.5 inches across and weighs 1.44 ounces. As for color options, you have 6 choices. Available options include grey, black, blue, red, silver, and purple.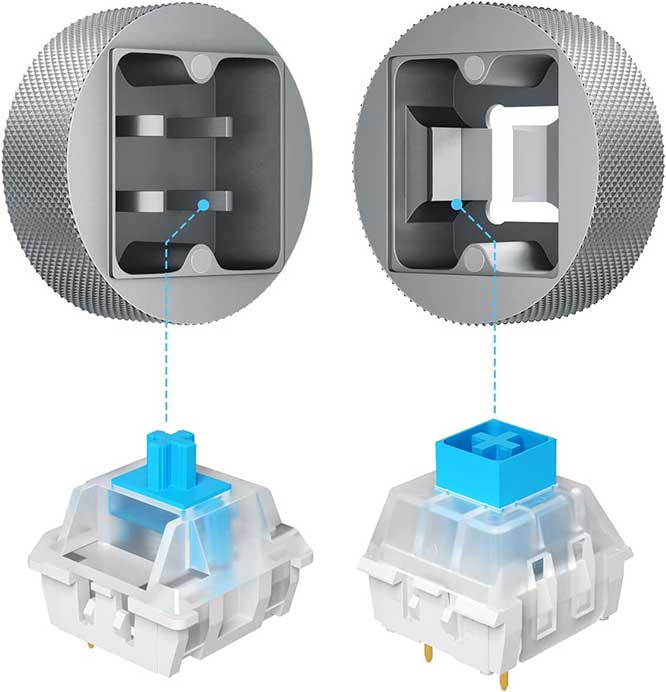 We can recommend this option to those who are looking for a switch opener that feels great in your hand and won't slip while using. The aluminum alloy keeps it from being damaged or damaging your switches. With 6 colors to choose from, there will be an option that matches your setup well.
Pros:
Tons of switch compatibility
Non-slip exterior
Cons:
The open top could allow dust to get in
Best Budget: Gliging Switch Opener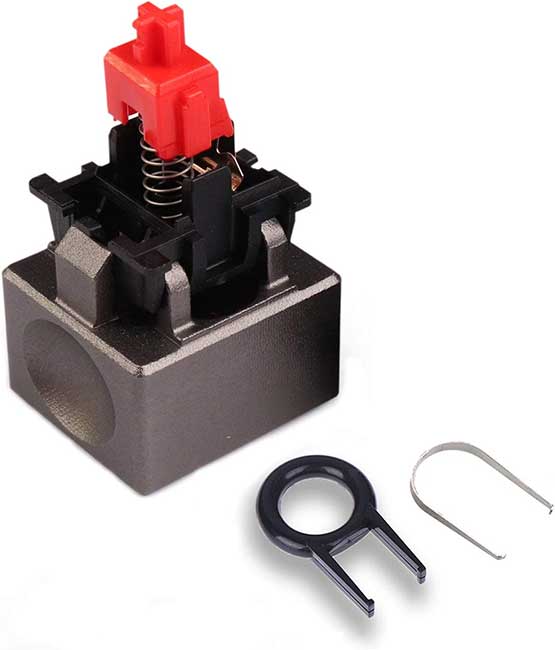 Key Features:
Specifically designed for Cherry MX
Aluminum alloy construction
Indent design
The Gliging is the most affordable option we've included, but also the most basic. When it comes to switch compatibility, it definitely does the least. It's designed to work only with Cherry MX switches. While some users say it's able to open other switch types, Gliging only claims that Cherry MX is possible. We wouldn't recommend trying other switch types, this will keep your switches safe.
It's constructed from a durable aluminum alloy. There's a non-slip finish and indents on the side. These indents allow you to get a better grip on the switch opener and have a more comfortable experience. Along with the switch opener, there's also a keycap puller and a switch puller included in the packaging.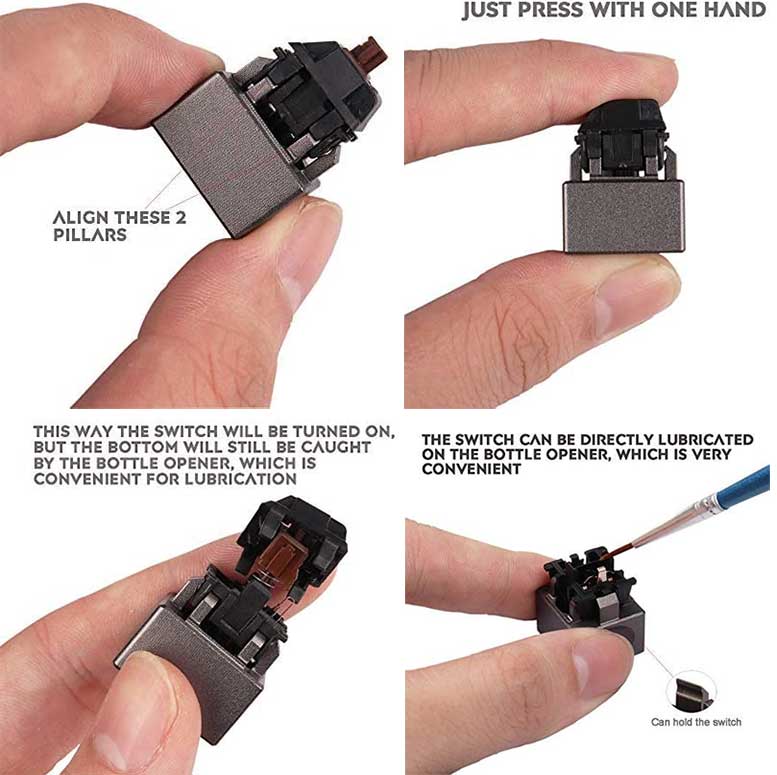 The looks of the Gliging are best described as technical. It lacks some of the more modern and concealing looks that the HONKID and the Ausvrkkit have. It doesn't add any metal or materials that aren't absolutely necessary for the function of the device. As for color choices, there's only one dark grey metal option available.
The Gliging is a great choice for people who have Cherry MX style switches and also want the best budget option. It doesn't lack in quality or durability with its aluminum alloy construction. The only real issue is its lack of compatibility with different switches.
Pros:
Most affordable on the list
Indented body for a better grip
Compact design
Cons:
Least compatible switch varieties