There are very few devices as iconic as the original NES. Despite hitting the market during the famous video game crash of the 80s, this impressive little console managed to become America's favorite gaming system. For many gamers, this console was their first foray into the modern world of video games. Many of its bestselling titles helped to shape the landscape of modern video games.
Consumers who want to pay tribute to this iconic system have many options. There is plenty of apparel on the market, and Nintendo still sells many of the NES' best games. If you're not on the market for a new shirt, the 8Bitdo Twin Cube Stereo Speakers are the most functional way to pay tribute to your favorite game console.
Audio gear is commonly sold as a fashion accessory, and there is no question in our mind that this is one visually appealing pair of speakers. The question is, are they any good? Most consumers will be purchasing these speakers for their functionality as well as their look. From a price standpoint, they're definitely set to compete against most midrange speakers. To find out if you get your monies worth, we decided to try them out for ourselves.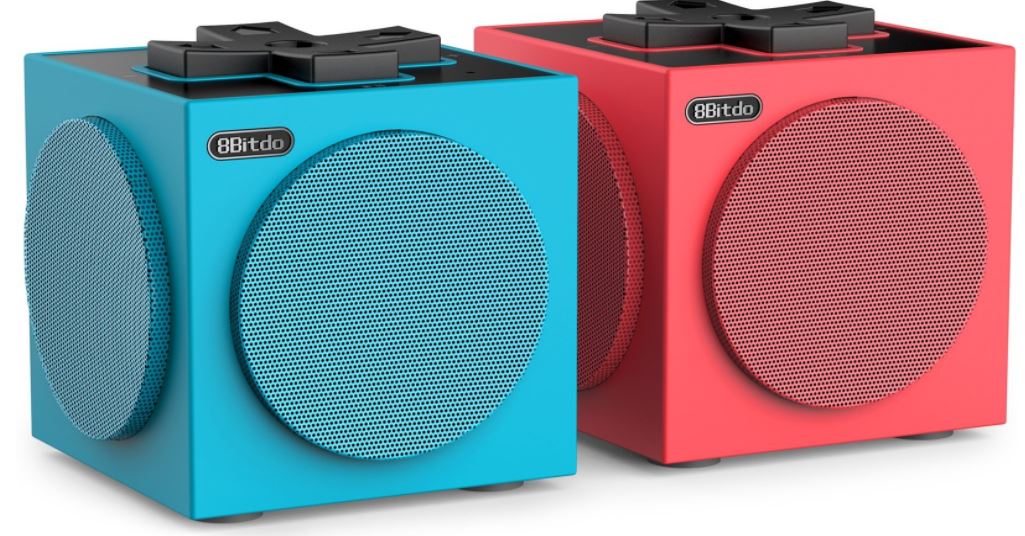 First Look
The 8Bitdo Twin Cube Bluetooth Speakers are compact, cube-shaped speakers with round grilles and an NES style control panel. Unlike most speakers, these are actually stereo. Most portable Bluetooth speakers include two drivers, but both of them play the same channel. These are an exception, with dual full-range drivers and a passive radiator in each model. They support standard Bluetooth communication, allowing you to sync them up with your favorite mobile device. As the coloring matches Nintendo's Switch console, many consumers will purchase them to be used with the Switch.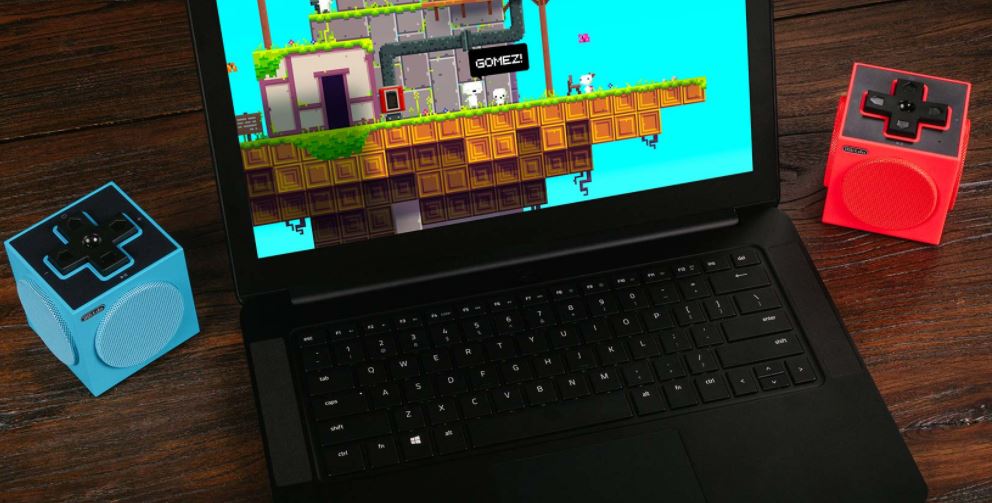 What's In The Box
The first thing you'll notice about the 8Bitdo speakers is the unique box. It's got a very sleek design that contrasts the bright red exterior against the white face. The packaging is simultaneously retro, but also sleek and modern. Inside the box you'll find an instruction manual, which features clean visual diagrams explaining all the features. You also get a Micro-USB charger and an AUX cable, enabling you to connect it to older devices.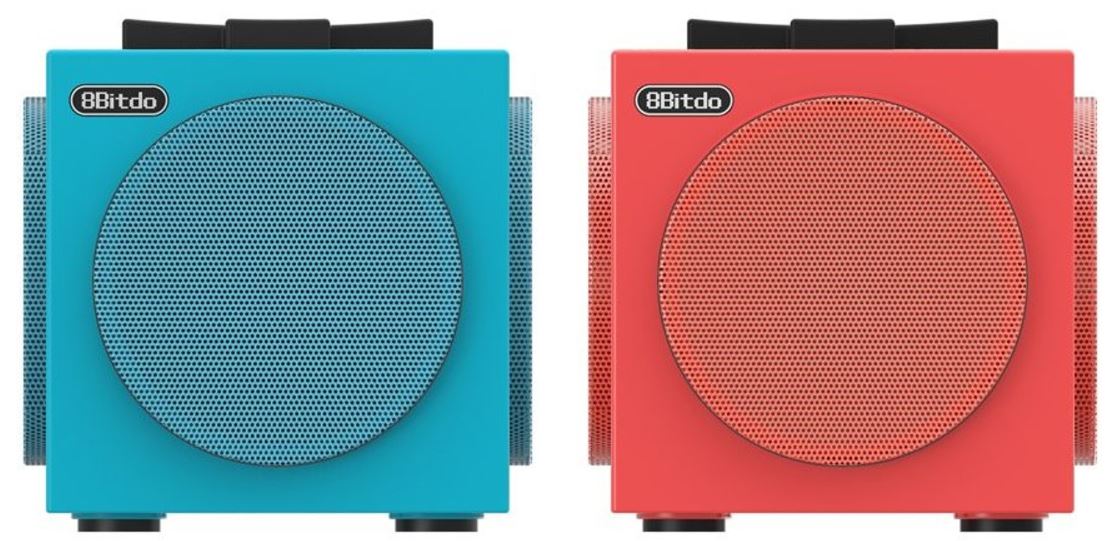 Design
The enclosure for these speakers is a perfect cube. The face is a very smooth and shiny plastic, which contrasts against the round speaker grills. The grills have a mesh metal cover, which looks great against the sleek exterior. Each package contains one red speaker, and one blue one. These colors are perfectly matched to the Nintendo Switch, featuring a more playful shade. A small 8bitdo logo is featured on the top right, but the enclosure is otherwise blank.
On the top you'll find the control panel. These controls look exactly like the directional pad on an NES controller. Unlike the rest of the speaker, the top portion is all black. The controls are lightly accented with a colored stripe that matches the rest, giving a bit of contrast to the unit as a whole. The buttons are all labeled for easy access, but this labeling is on the enclosure rather than on the buttons themselves. This lets them keep the design consistent with the NES pad, giving it a little more authenticity.
Finally, four little rubber feet sit at the bottom of each speaker. This helps isolate it from the surface it sits on, preventing the speakers from vibrating.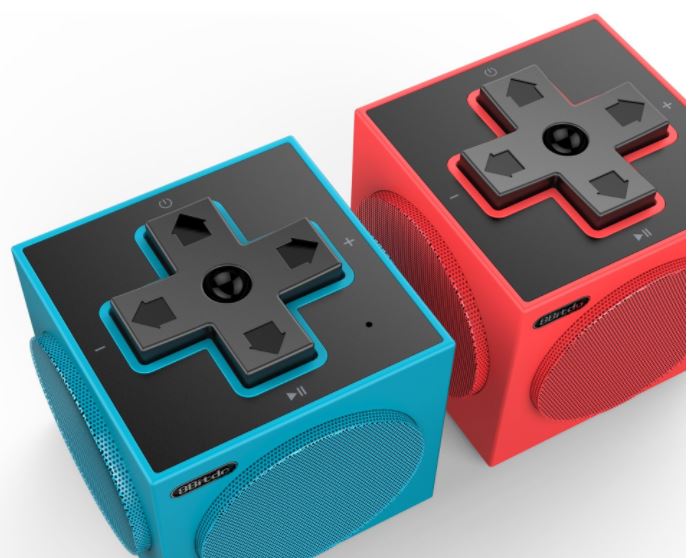 Functionality
Our 8bitdo speakers came with the batteries partially charged. Pressing and holding any of the buttons for 2 seconds will turn it on. You'll be greeted with a cheerful little jingle that announces the "8bitdo" brand, and then the speakers are ready to pair.
The pairing procedure is actually quite simple. You don't have to enter pairing mode on the speakers. Unless a device is connected, it's always in pairing mode. Simply by opening our phone and searching for devices, we were able to find the 8Bitdo speaker. Both speakers are treated as a single unit, so you don't have to pair them separately. You do, however, need to ensure that both of them are turned on. If you don't do this, one speaker won't be able to connect after the fact. Once pairing is complete, the speakers will play a little chime to let you know the connection was successful.
If you do want to use the speakers separately, you simply pair one before turning the other one. This allows you to use them in Mono mode, with two separate sources.
Once you're all synced up, you'll want to get familiar with the buttons on top. The left and right buttons each have a little plus or minus logo next to them. At first, we thought that this would be for volume. In reality, this is a previous and next button. This allows you to skip through tracks, or you can hold them to rewind or fast forward your music.
The top button is used to turn the unit off, although you can turn it on using any button on the face. At the bottom you've got a play / pause button to mute the music.
You've probably noticed that there are no volume buttons. The volume is controlled entirely through your audio source, so you'll want to have your phone on hand if you expect to be changing the volume regularly.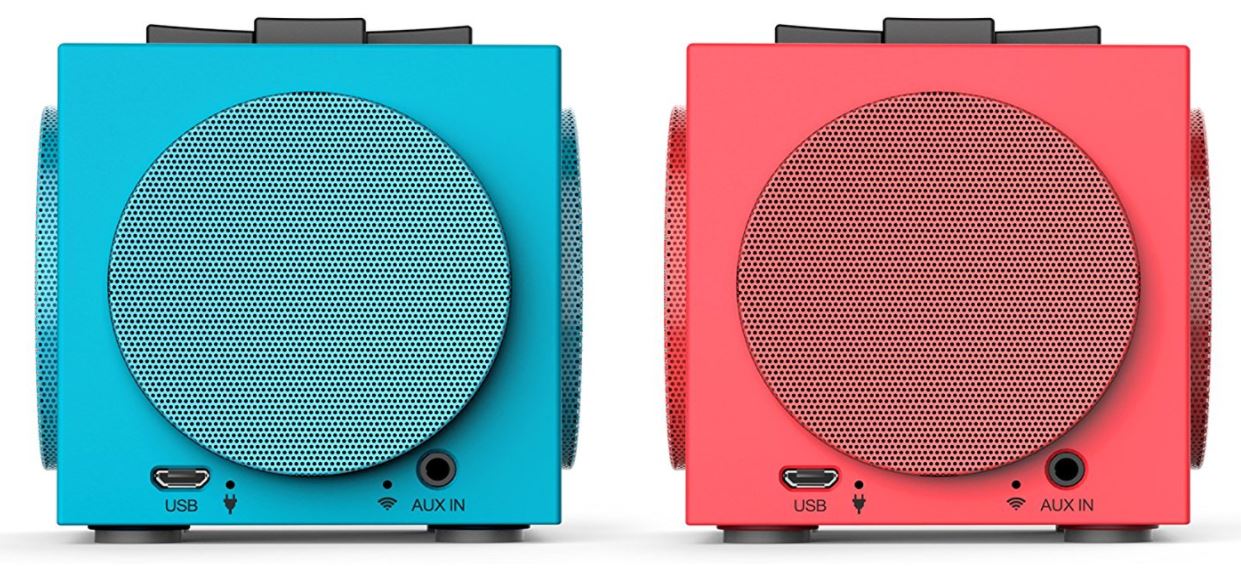 Sound Quality
You'll see four mesh grills on each of the four sides of these speakers. At first glance, it looks as if there are actually four drivers inside. In reality, this isn't the case. There is one driver and four passive radiators. One moves to produce the music, and the others simply compensate for the reduce airflow.
There is a good reason for this. With speakers, the size of the box plays a large role in producing the full range of frequencies. Including passive radiators allows the manufacturer to use a smaller box, and still produce a full range of sound.
Overall, we can say that it worked pretty darn well! Despite these speakers being extremely compact, they adequately represented all of the frequencies. The treble was sharp and clear, and the mid-range was accurate and detailed. The bass, which is commonly overlooked in small speakers, had a surprising amount of punch to it.
One of the things we liked the most was the fact that these are stereo speakers. Many consumers find that mono speakers leave a little to be desired. Since music isn't always identical in the right and left channel, summing to mono can cause some elements to disappear. In this case, you get the full effect of your favorite music.
The volume wasn't mind blowing. They're compact speakers, ideal for use with one or two listeners. That being said, they still adequately filled a room. The sound isn't exactly audiophile grade, but it's just as good as anything else we've tried in this price range.
Disadvantages
Since the coloring perfectly matches the Nintendo switch, you might think that these would be the perfect wireless speakers for your console. Unfortunately, Nintendo uses a special Bluetooth protocol that the 8Bitdo speakers do not support. You can connect to it via the Aux cord, but wireless audio is available exclusively to standard Bluetooth devices. Since this speaker is clearly marketed towards Nintendo fans, we would have liked to see it support their latest console.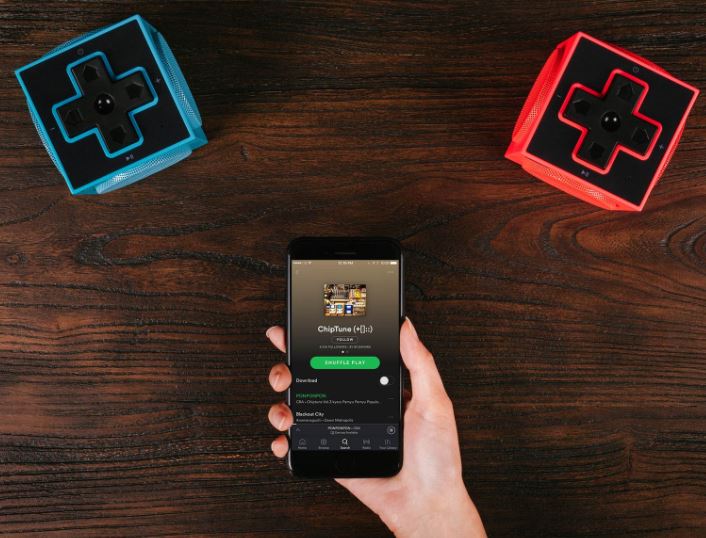 Final Verdict
For the money, the 8Bitdo Twin Cube Bluetooth Speakers are pretty impressive little speakers. They've got plenty of bass, and produce a sound that seems like it's coming from a speaker many times its size. You can use them as a pair and enjoy full range stereo sound, or you can split them up and use two separate speakers. The control system is easy to use, and comes in a form factor that everyone will recognize.
For all of the above reasons, these speakers are competent. They're not mind blowing, but they're certainly competitive. The real reason you'd choose these speakers over another option is the look. 8bitdo found the perfect balance between retro and modern, ensuring that these little cubic speakers will look great on anyone's desk.
If the 8bitdo isn't enough retro action for you, check out our guide on how to build your own mini-NES emulator. We found a custom Raspberry Pi case that looks just like a minified version of everyone's favorite console. It's got a line out, so you could easily pair these speakers and create your own classic gaming station.