Have you ever come up with a t-shirt design that you wanted to bring to life, but didn't want to have to pay a company to make 100s of them? Heat press machines are a great solution to this problem, and the HTVRONT Auto Heat Press machine is a great option to consider.
The HTVRONT does a great job of making heat pressing easy to do and hard to mess up. It has many features that make it a great choice, but one of the best is its compact size. Many options on the market take up a ton of room and weigh so much that you can't easily move them around.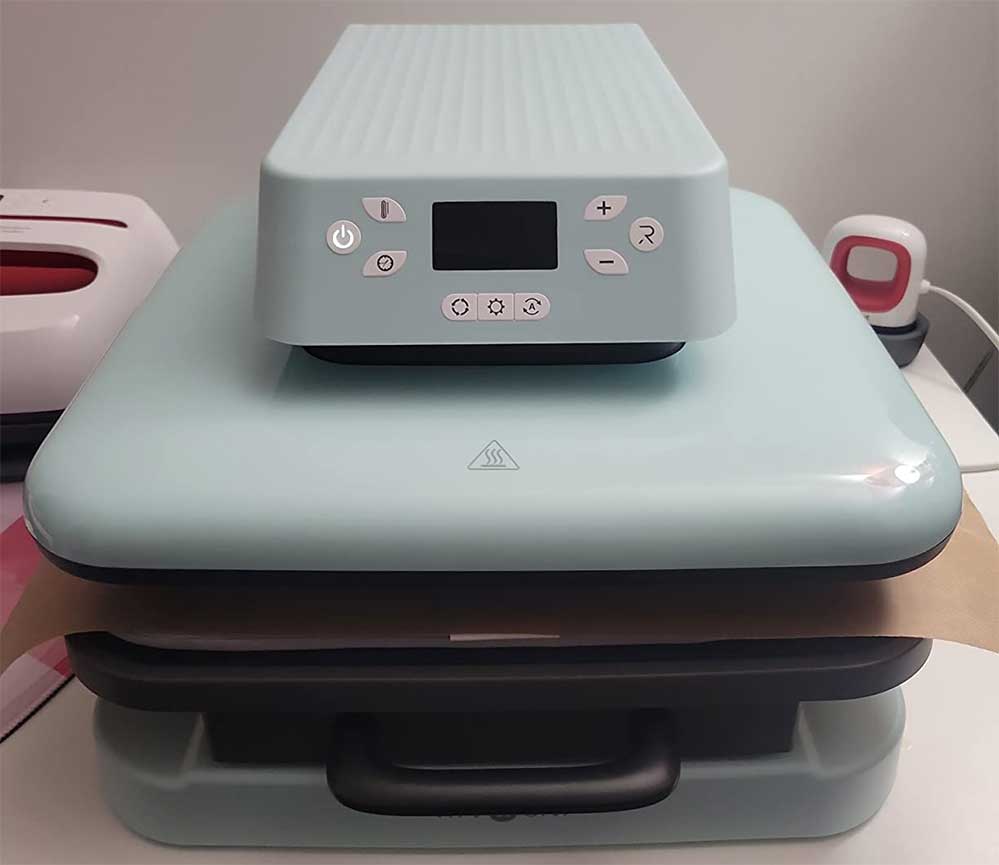 The HTVRONT is a compact machine that will easily fit on a desk and doesn't weigh so much that it has to be there forever. Additionally, the machine has been created to be user-friendly from the start. There are multiple pre-programmed heating modes that correlate to the most common project types. All you have to do is look in the manual and it tells you which one you should use depending on what you're planning on heat pressing.
So, if you've ever thought about getting into heat press machines and want to learn about a great starter option, you may want to keep reading.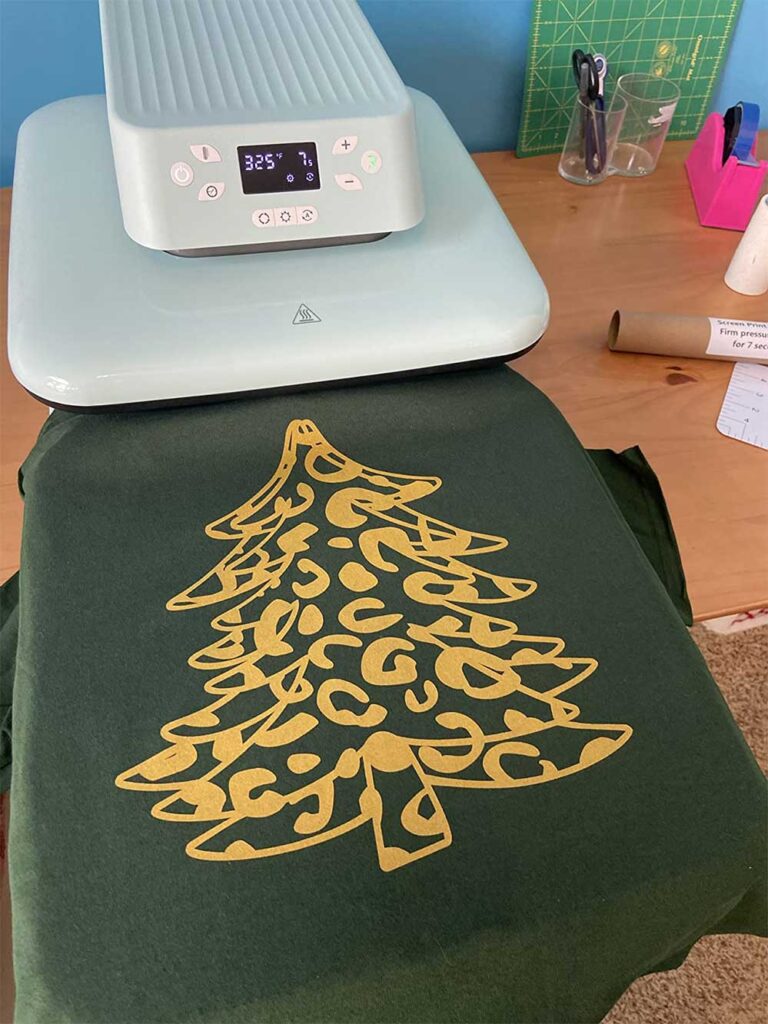 Revolutionary New Pressure Sensor
For a heat press to work, it has to first heat up and then press together. On older models, the pressure application required a lot of guesswork to figure out what was enough. This wastes energy and sometimes creates bad end products.
HTVRONT has brought an industry-first solution to this problem with their advanced pressure transducer. This allows the machine to sense what you're creating, how large it is, and apply the exact right amount of pressure needed. Additionally, once it's done pressing together, it will automatically release pressure and stop the heating process.
Fast Heating Time
The heat plate used on the HTVRONT is 15 x 15" and can fully heat nearly twice as fast as leading competitors. It comes with 4 pre-set modes, 2 custom modes, and an auto mode to give you options that are easy yet flexible for heating needs. The maximum heat achievable is 210 degrees Celsius. The time needed to achieve that amount of heat is only 6 minutes.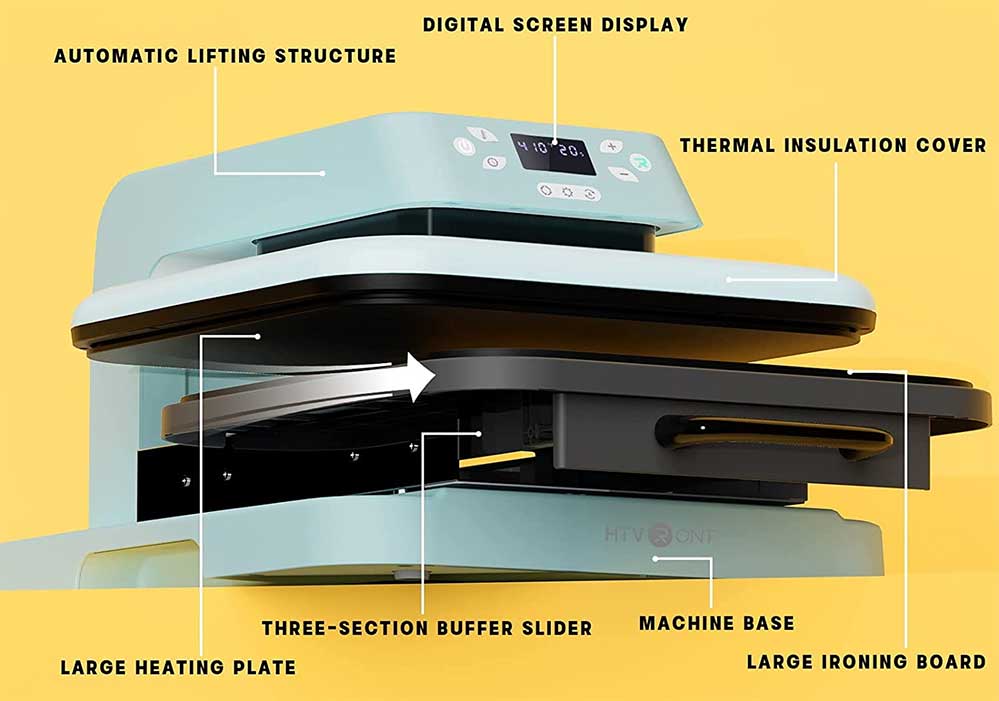 However, this amount of heat isn't very common, as most projects will likely be around the 160 degrees Celsius range. It takes less than 4 minutes to hit that temperature. Internally, the heat plate has been built with a dual-zone heating engine and NTC thermistor technology. This allows it to uniformly heat the plate, providing an even heat application to your project.
Multiple Ways to Keep You Safe
Whenever you talk about machines that generate a lot of heat, accidental burns or fires become top-of-mind concerns. However, HTVRONT knows this and has implemented multiple ways to keep you and your family safe while using the machine.
First, it has a pullout drawer design for the lower plate. This lets you easily access your project without having to place your hands in between the plates. It also has H-Cooling technology and thermal insulation layers to help it cool down faster after use. This prevents you or your family from accidentally burning themselves after the machine is done being used.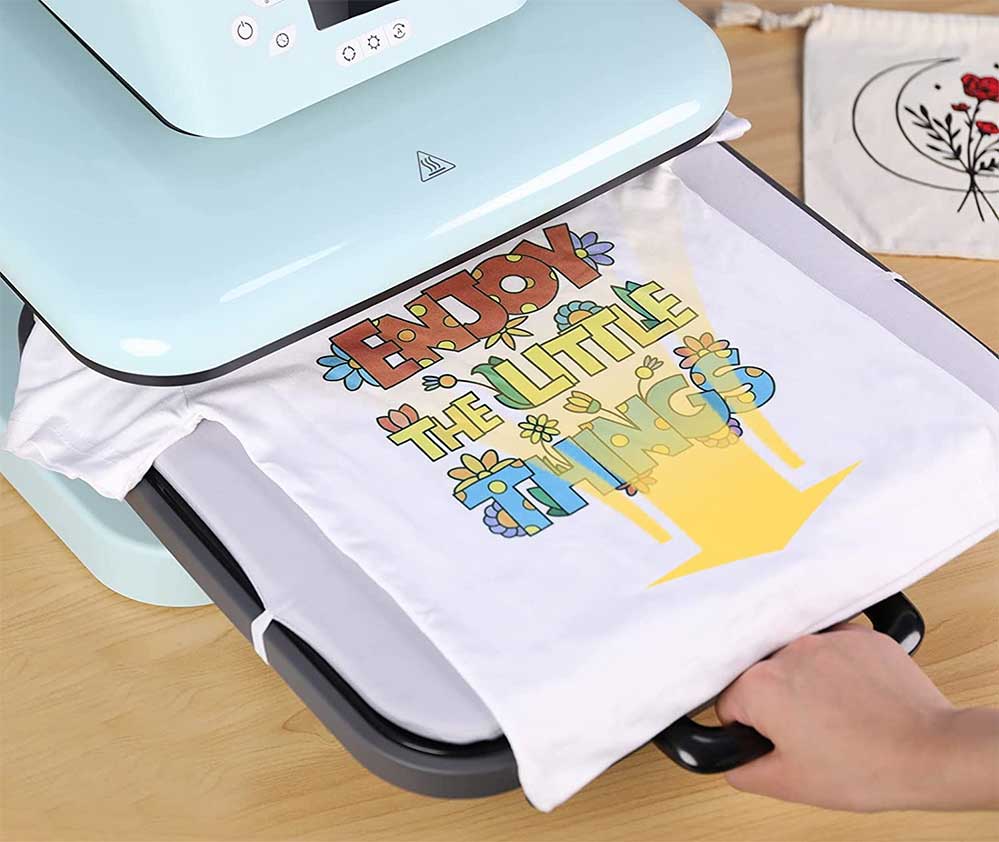 As for fire hazards, this heat press seeks to eliminate that problem with its auto-off feature. This shuts off the machine after no activity happens on it for 10 minutes. That way, even if you forget about your project you won't be at risk of an accidental house fire.
Quality Construction
Every component used to build the HTVRONT heat press is quality. In addition to the heating systems, pressure application systems, and safety systems, the wires and plugs used are great too. Each wire and plug used is FCC and UL certified to ensure safety and quality.
Additionally, the front of the device has a high-tech resin display screen. This lets you see information such as the temperature of the heat plate and the time left in your press. Next to the display are multiple different buttons to control which mode you're using, power, custom temperature and time controls, and more. They are safely located away from the heat source so you can use them without risk of burns.
As for the looks, it's going to be a relatively discreet option compared to the others available. Best of all, it even comes in two different colors (white or blue) to match your style preferences.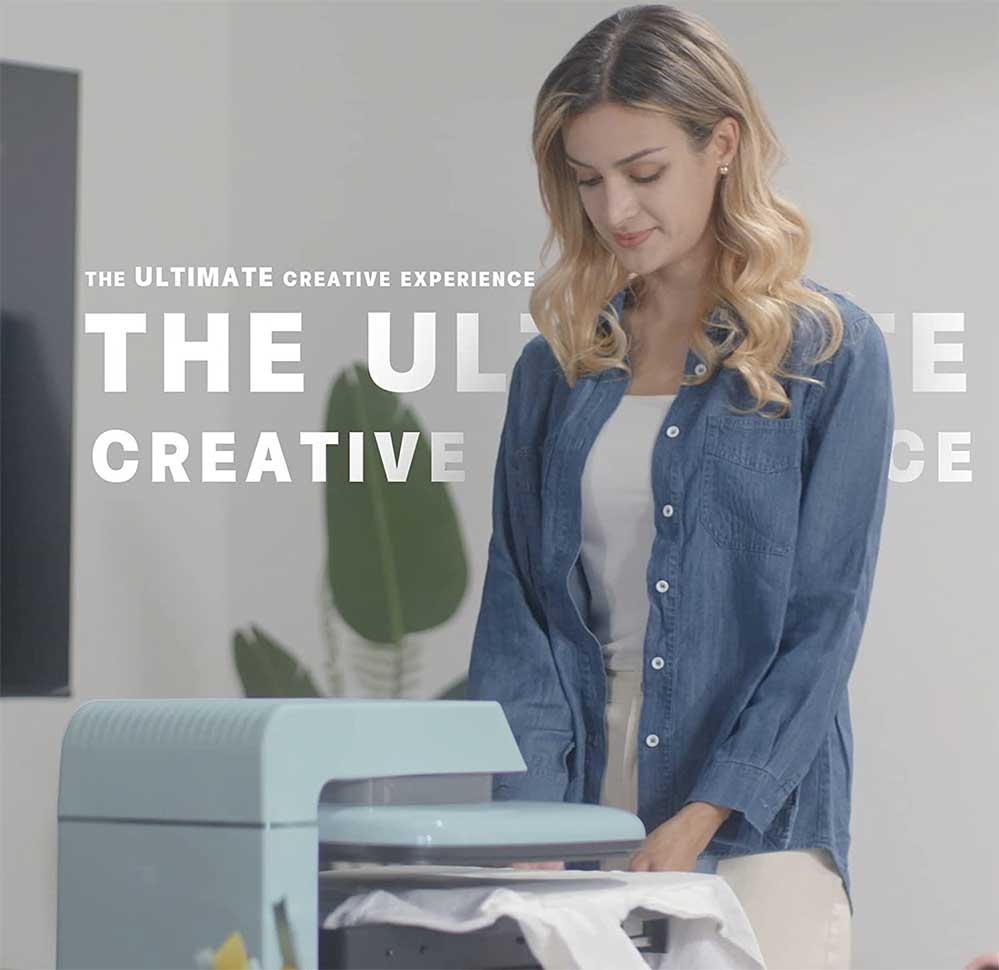 How do I iron on vinyl with HTVRONT?
Never used a heat press before? No problem! They are a really simple device to use once you get the hang of it. Once you have your design created, you create it in Vinyl. Then apply the vinyl to your desired material (t-shirt, hat, pillow, etc…). Next, you pick a heating mode on the machine, place your fabric on the heat plate, and have it apply pressure. This will heat up the vinyl and attach it to your end product.
What can I do with iron-on Vinyl?
There are tons of possibilities for what you can do with iron-on Vinyl. This type of vinyl is available in multiple colors and styles to give you a wide variety to choose from. Once you pick out your desired type, you'll want to get it cut into a design. Letters, logos, and simple pictures can all work great.
As for what you can stick vinyl to, you have a ton of choices. Fabrics like polyester, cotton, and stretchy material are great to use vinyl on, with the main variables being heat and time needed to print. You can create t-shirts, hats, pillows, and more using iron-on vinyl.
How are heat presses made? What are all the parts?
The HTVRONT heat press is made up of various components to give you the best pressing experience possible. This machine has two square plates positioned between two larger arms. The very top arm holds the top plate and has the main controls and displays.
Next is the top plate. This plate has the heating element and lowers down onto the bottom plate to apply pressure. The bottom plate holds your fabric and vinyl and also pulls out like a drawer. This lets you easily l
What else do I need to get started with heat pressing?
There are a few additional items you'll want in order to have a great heat-pressing experience. The first is heat transfer vinyl. Without this, you won't have anything to apply to your project. These sheets have three layers that all provide different functions in order to have a quality application.
The top sheet holds the vinyl in place, the middle sheet is the colored vinyl itself, and the bottom sheet is the heat-activated material. The next tool you'll want is a weeding tool. Once you cut out your design (either with scissors or a crafting cutting device) it may be too intricate to pull apart with your fingers. In this case, a weeding tool is helpful.
It looks like a set of tweezers with a curved end that helps you easily grab onto the vinyl you want and pull it away safely. Another great tool is a Teflon sheet. This sheet goes over the top of your vinyl design in order to provide another layer of safety between the vinyl and the heat source.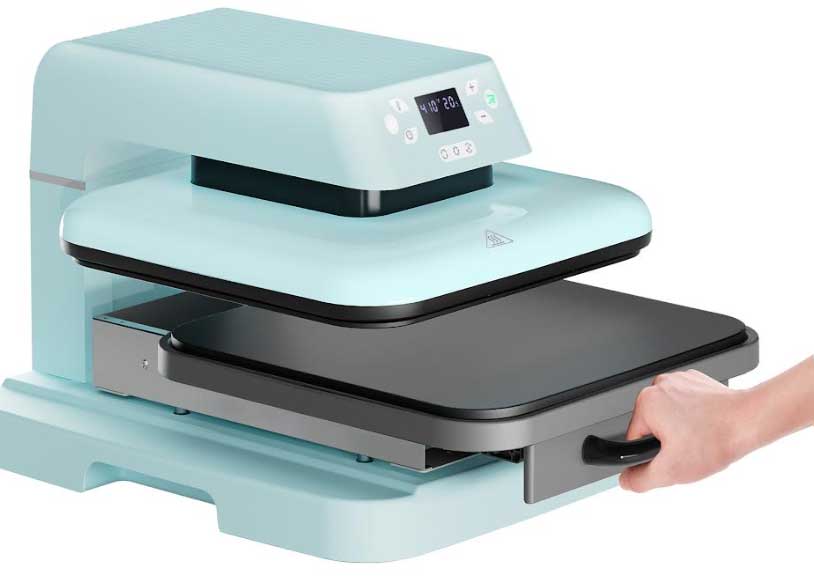 Final Thoughts
The HTVRONT heat press is a great choice for those looking to start getting into heat press projects and also take them seriously. It's not a bulky, industrial-sized press that is hard to move and difficult to use. It comes in a compact package and offers a ton of great features.
The added safety measures and smart controls help keep you safe and ensure you have a great press every time. Even though it's compact, you won't have to sacrifice functionality. You will still be able to create any t-shirt or other common heat press vinyl project you can dream of.
Meet Derek, "TechGuru," a 34-year-old technology enthusiast with a deep passion for tech innovations. With extensive experience, he specializes in gaming hardware and software, and has expertise in gadgets, custom PCs, and audio.
Besides writing about tech and reviewing new products, Derek enjoys traveling, hiking, and photography. Committed to keeping up with the latest industry trends, he aims to guide readers in making informed tech decisions.