Overall Design -

8/10

Performance -

7.5/10

Battery Life -

6/10

Audio Quality -

5/10
Summary
The ACEMAGIC AX15 may not blow your socks off in any particular category, but it does offer a balanced blend of features and functionality. It's a solid, well-rounded machine that handles day-to-day tasks with grace, all without leaving a gaping hole in your wallet. If we could compare this laptop to a type of vehicle (and we're just speaking straightforwardly here), the AX15 is your reliable economy car. It's not built for hardcore gaming or advanced graphics editing, but it holds its own for daily tasks at a reasonable price point.
Pros
Sturdy build quality
Ample port selection
Snappy day-to-day performance
User-friendly design
Cons
Average battery life
Lackluster speakers
Welcome to our in-depth look at the ACEMAGIC AX15 Intel Laptop. We're sure you're as keen to get to know this device as we were, so sit tight.
We've got you covered with the works – from what's in the box to how it performs under real-world conditions.
What You Get
When you're unpacking the AX15, the first thing you'll notice is the unassuming cardboard box it comes in. Simple, with the ACEMAGIC logo on the front and back, it gets straight to the point.
Flip the box around, and you'll find some quick stats – RAM, SSD, market, and color – enough to whet your appetite but not spoil the meal. The top flap locks securely and even features a carrying handle.
OK, as for inside the box, open it up, and you'll find:
The Main Unit: Safely nestled inside foam sleeves, there lies the piece de resistance, the AX15. A machine that weighs just a little over 3.5 pounds and takes up less room than your average textbook.
The Charger: Housed in its own petite box, this charger is more than just an accessory; think of it as the heart of your energy ecosystem.
User Manual: Tucked away but not to be ignored, the manual is there to get you started.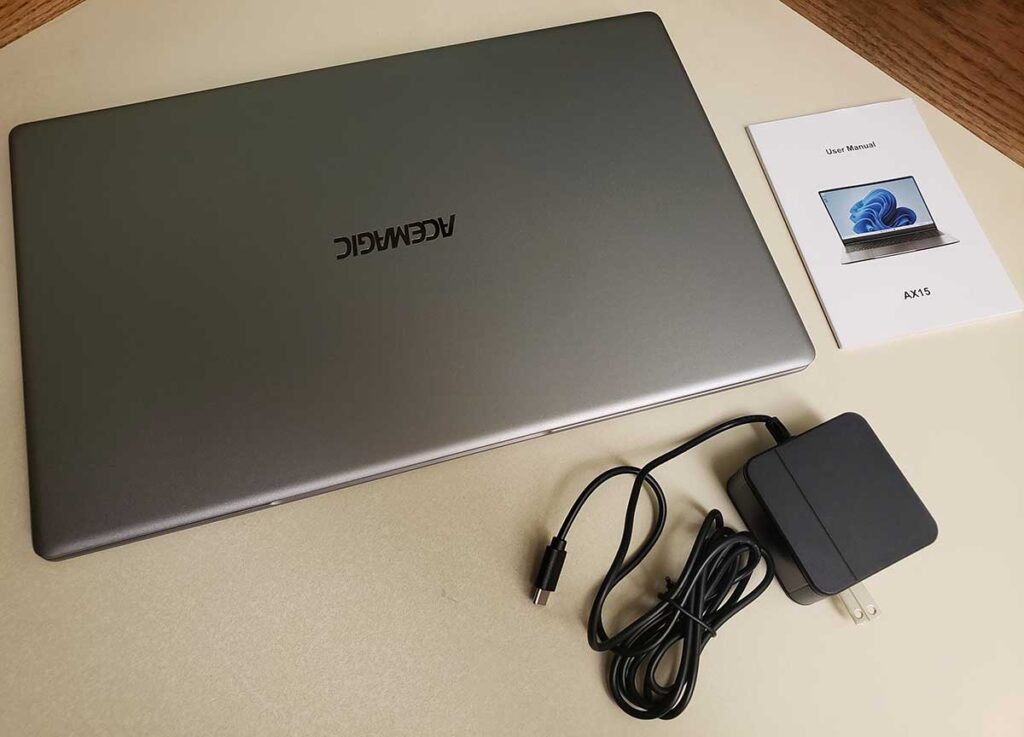 While some might view the packaging as lean, we see it as efficient. You've got everything necessary for a seamless startup without any needless frills. So worry not; the real substance lies in the device's capabilities, which we'll get into shortly.
Design and Build Quality
When it comes to design and build quality, the ACEMAGIC AX15 tends to sway more toward the subtle than the sensational. But don't mistake its subdued look for a lack of features or quality.
The Aesthetics
This is the silver model we're talking about, and let's just say it's a hue that means business – perfectly at home in a corporate setting. With a large mousepad, a base that elegantly curves up to meet the front edge, and a thin black screen bezel, the AX15 certainly borrows design cues from some of the industry's big names.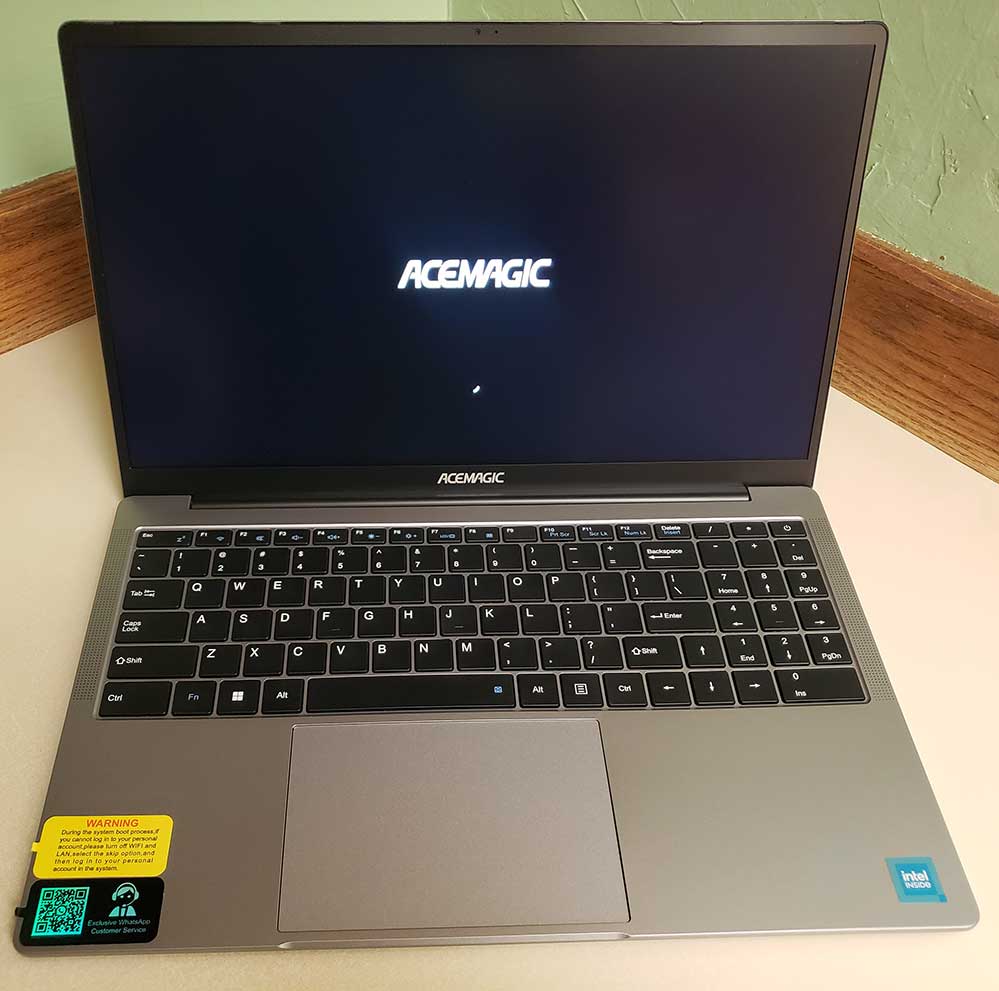 Under the Hood
Should you dare to pop off the base cover – which is secured by 10 conventional screws, by the way – you'd see all components neatly laid out. From the fan and WiFi module to the 16GB RAM and 512GB SSD, everything is systematically organized. The components use industry-standard connections, so any future repairs or upgrades shouldn't cause a migraine.
Keyboard Dynamics
The keyboard employs a 90% layout with full-size keycaps. The key travel is shallower compared to some of its competitors, but what it lacks in depth, it compensates with a balanced keystroke action – neither too stiff nor too spongy.
Need to manage your media or lock your screen? The function keys come pre-programmed with several useful shortcuts. However, there's no backlight, so late-night work sessions might require some extra lighting.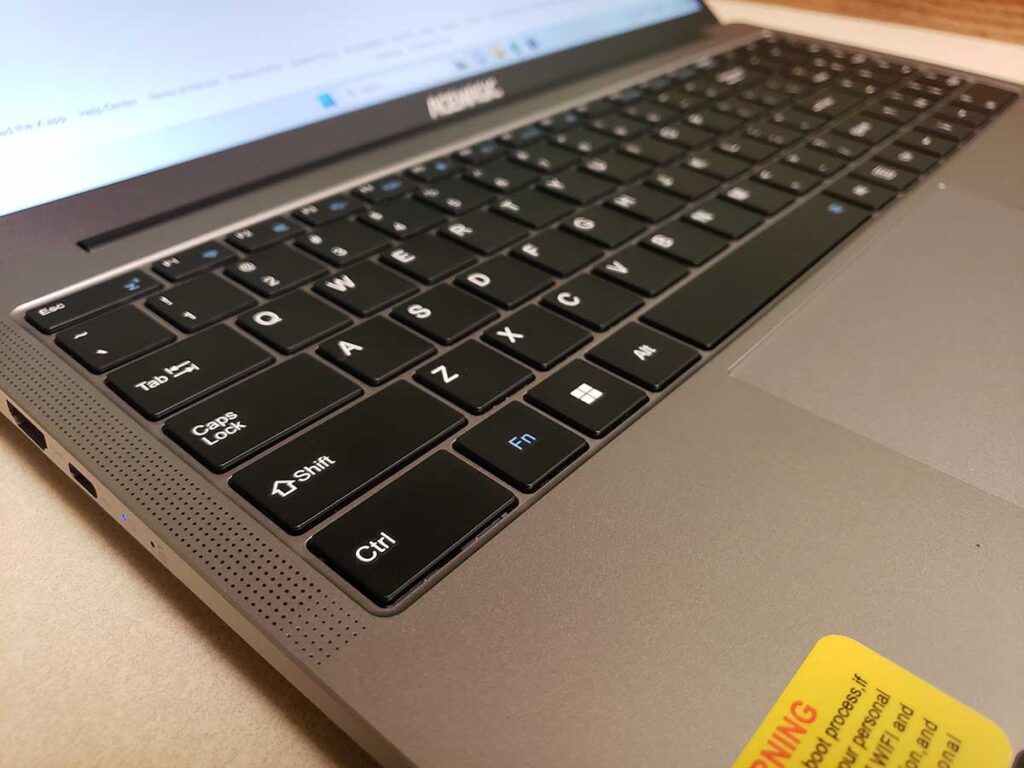 Touchpad Essentials
The AX15's clickpad is pretty well-thought-out. The lower half serves as your left and right mouse buttons and responds with an audible click. It's reassuring and a nice touch. Now, for those into multi-finger swipe actions, the click pad offers a seamless experience.
The device's sensitivity settings are adjustable, allowing you to fine-tune your touchpad interactions. So, whether you're a light swiper or more of a vigorous scroller, customization is just a few settings away.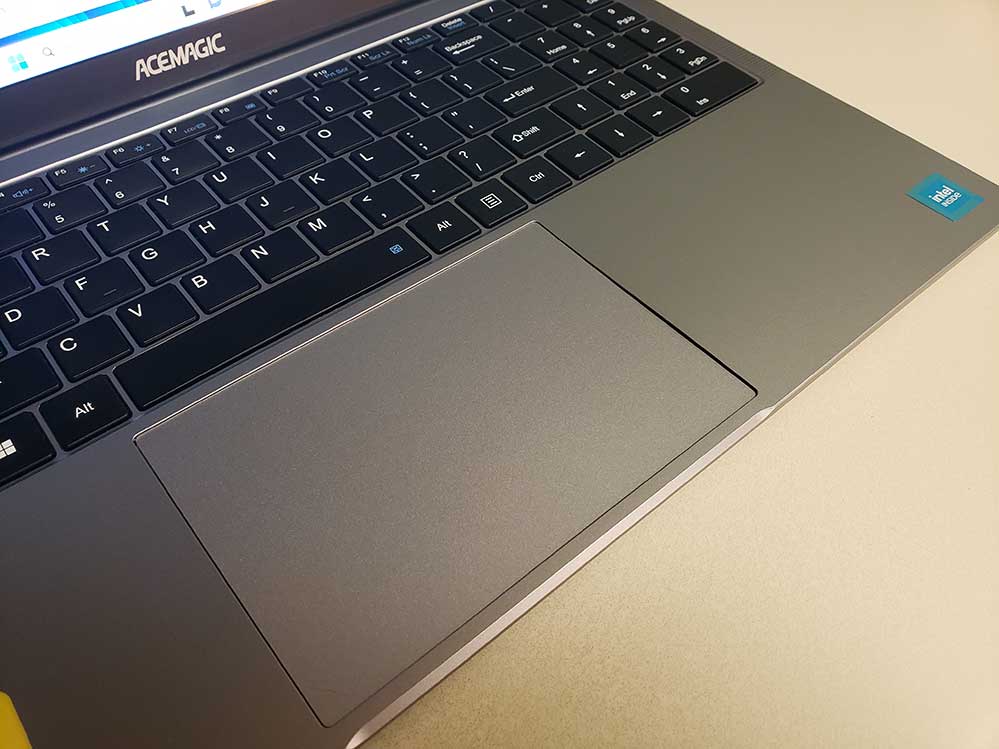 Screen Specs
The laptop's screen hinge is nothing short of engineering poetry – firm when you need it to stay put and flexible when you're flipping it for a group presentation. The screen can stretch back to almost 180 degrees. It might not be doing yoga, but it's pretty darn flexible.
While the screen doesn't adapt its brightness to your surroundings, the IPS technology compensates with stellar wide-angle views and an anti-glare finish that cuts down on those pesky reflections.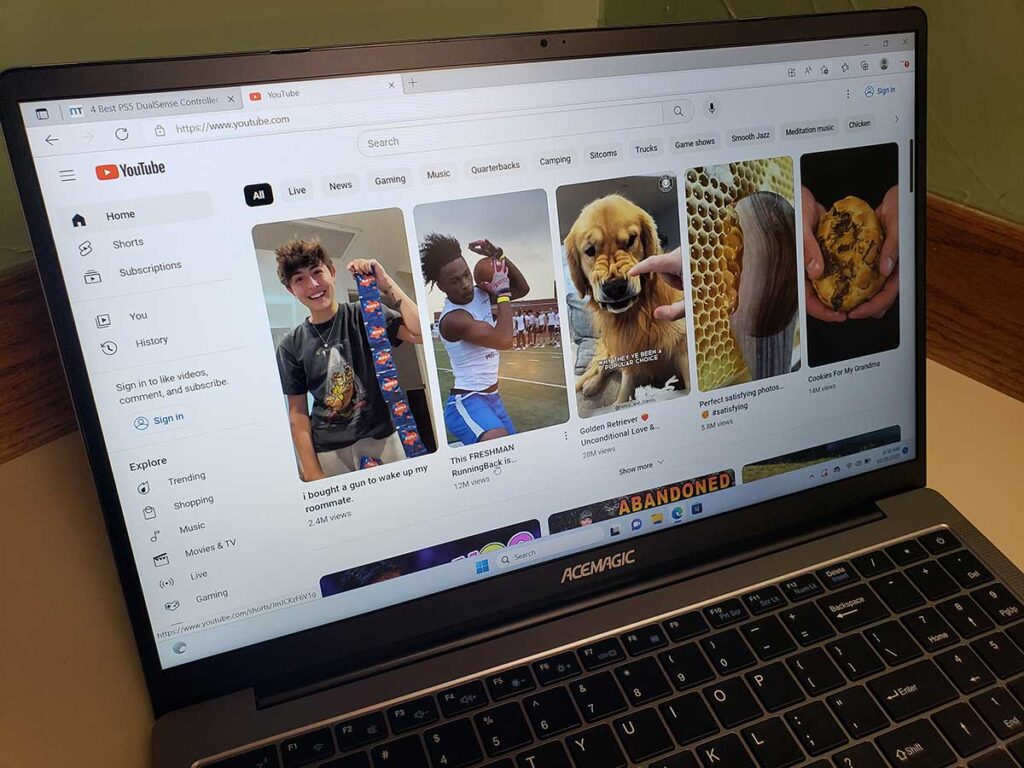 Onboard Camera
Let's just say the built-in 720p camera won't be winning any Oscars for best picture quality. It's functional but doesn't measure up to the 1080p and 1440p cams we see in many contemporary laptops.
But don't sweat it – if you're a serial video conferencer or an aspiring YouTuber, a separate high-quality webcam might be your new best friend.
Charger
The charger may give you Apple vibes, but unlike an Apple charger, its cable is steadfastly attached, and the prongs stay put.
More importantly, it reliably delivers just under 40 Watts to keep your laptop humming along. It may lack the frills, but it nails the fundamentals.
Material Quality
The laptop's base is crafted from a single piece of aluminum, offering a lightweight yet sturdy foundation.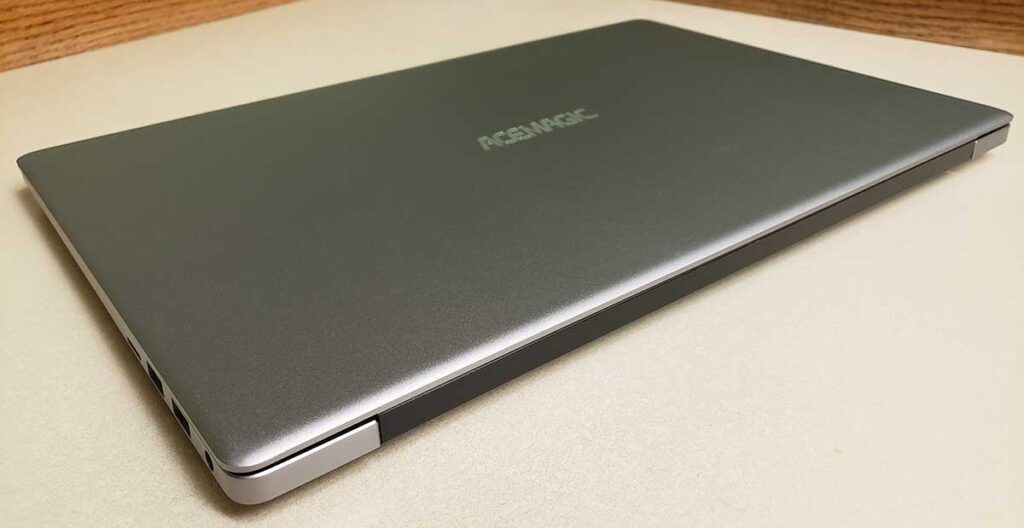 Flip it over, and you're greeted by a metal back cover with a sandblasted finish. It doesn't just look good; it feels good, ensuring the laptop isn't just another pretty face but a durable piece of technology.
Overall, it's a thoughtfully designed and well-constructed device. While certainly important, most of you out there are interested in things like performance. So keep reading to find out how it holds up under our testing; we've got some insights you won't want to miss.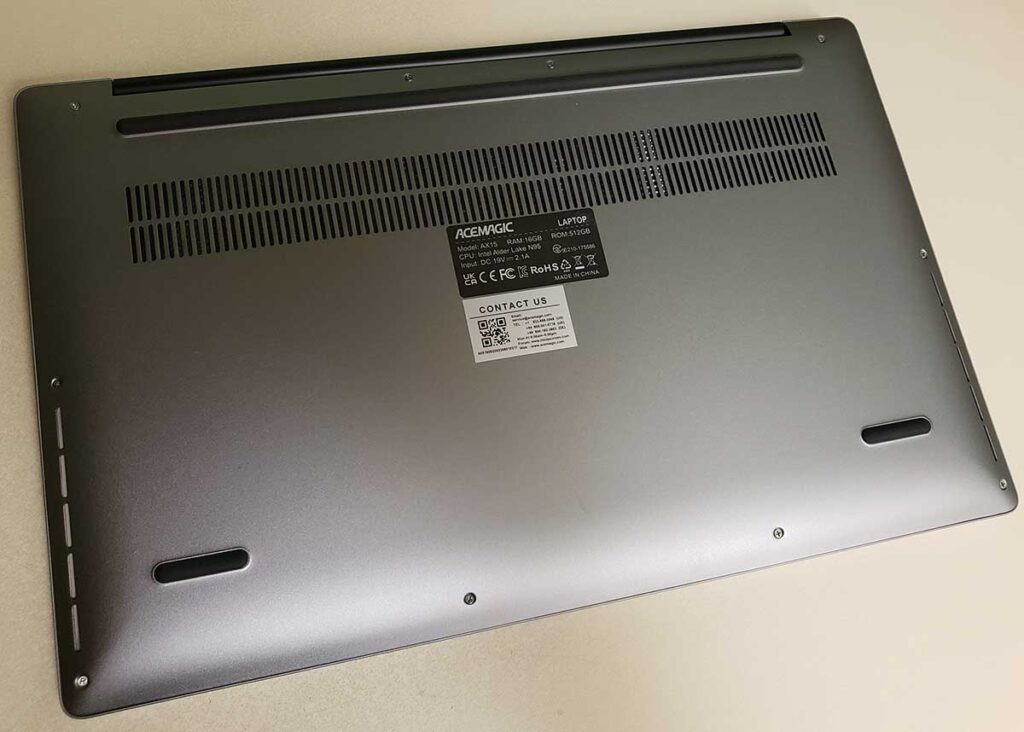 Specs: The Heart of the Machine
Alright, let's get to the core of this laptop – the specs. The ACEMAGIC AX15 is more than just a pretty face; it's got some solid internals that you'll want to know about.
Processor and Memory
The laptop is powered by Intel's Alder Lake-N95 processor. Now, what does that mean for you? It translates to robust performance whether you're multitasking, streaming, or powering through your workday.
Paired with 16GB RAM and 512GB ROM, you've got ample space and speed for both work and play.
Screen Details
Your eyes are in for a treat. The laptop sports a 15.6-inch IPS FHD screen with a 1920×1080 resolution. It's the kind of clarity that makes binge-watching and spreadsheet wrangling equally enjoyable.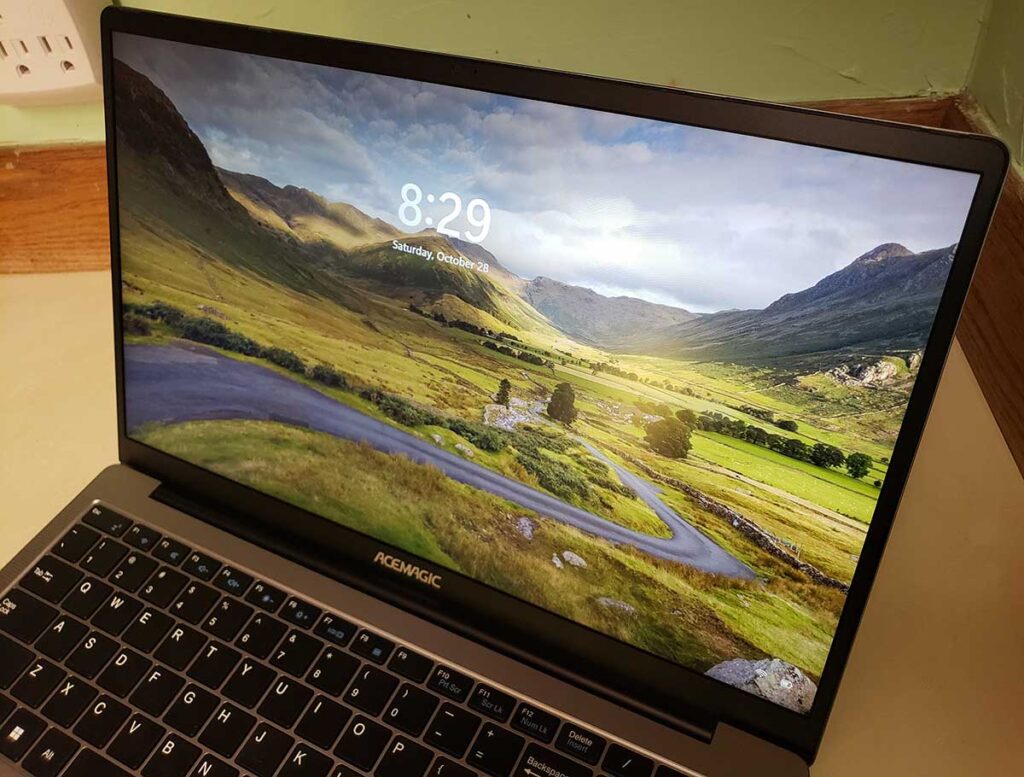 Camera
Let's manage some expectations here: the built-in camera offers a modest 1MP. It's functional for a quick video call but won't replace your DSLR anytime soon.
Battery Life
The 38Wh Lithium-ion Polymer Battery is your power companion through those long work hours. While it may not run a marathon, it's certainly up for a substantial sprint.
Connectivity
For those who love their peripherals, the AX15 comes ready with a smorgasbord of ports. It features one Type C charging jack, two USB 3.2 ports, one USB 2.0 port, a separate Type-C for data, an HDMI, and a headphone jack.
Want more? There's also a TF card reader that can accommodate up to 128GB. Wireless? With 802.11a/b/g/n/ac WiFi 5 and Bluetooth 5.0, you're well-covered on that front too.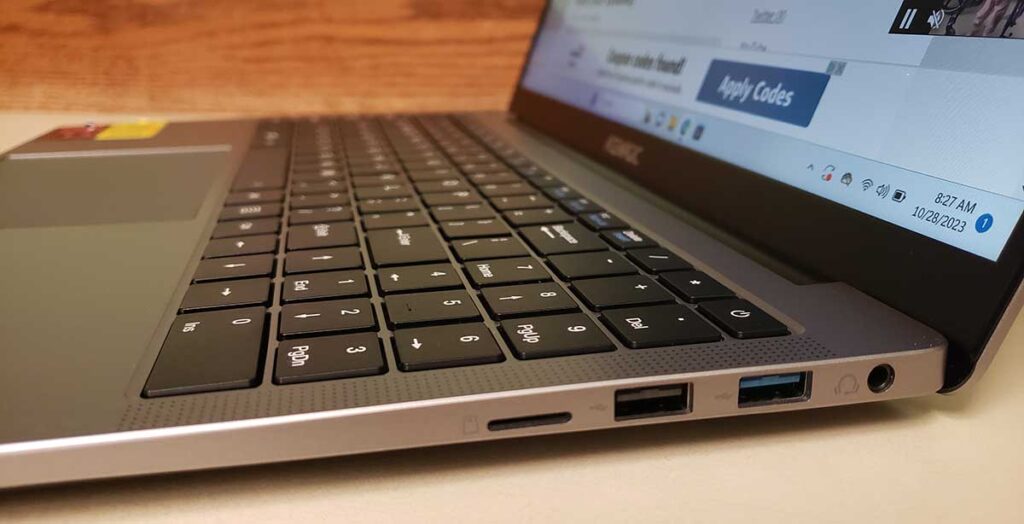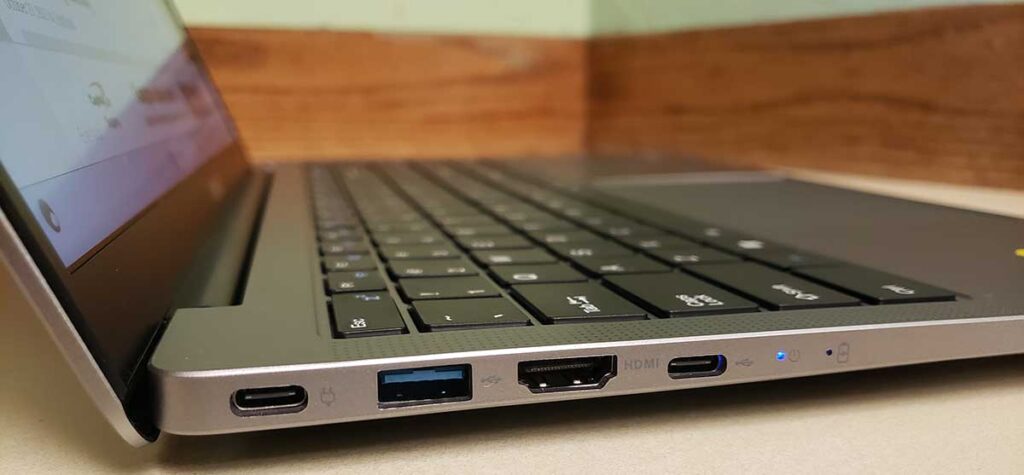 Audio-Visual
The laptop comes equipped with two 4R 1.5w stereo speakers and two microphones. It's not a home theatre system, but it gets the job done when you're in a Zoom meeting or caught in a YouTube rabbit hole.
If audio quality is important to you, you'll ditch the tinny internal speakers in favor of a soundbar or full-fledged audio system.
Power Adapter
Don't overlook the humble power adapter. This one clocks in at 19V/2.1A, ensuring that your device stays powered when you need it most.
Now that you know what this machine is capable of, we're ready to move on to our tests. Is it best for gaming, editing, web browsing, all of the above? Let's jump right in and find out.
Performance Overview
Now for the big reveal – how does the ACEMAGIC AX15 perform in real-world scenarios? We broke down performance and operation into several categories for your consideration.
Office and Productivity, Primarily
First off, let's talk about Microsoft Office 2021. The software suite opens swiftly and runs smoothly on the AX15.
No extended periods of that dreaded blue circle, just good old responsiveness. It's a reliable machine for your typical office tasks and productivity applications. If you need to take a break, just close the lid.
The laptop enters sleep mode promptly, signaled by a breathing blue LED. Lift the lid, and you're back in business within seconds. In synthetic benchmarks related to system performance, the AX15 trails behind the pack.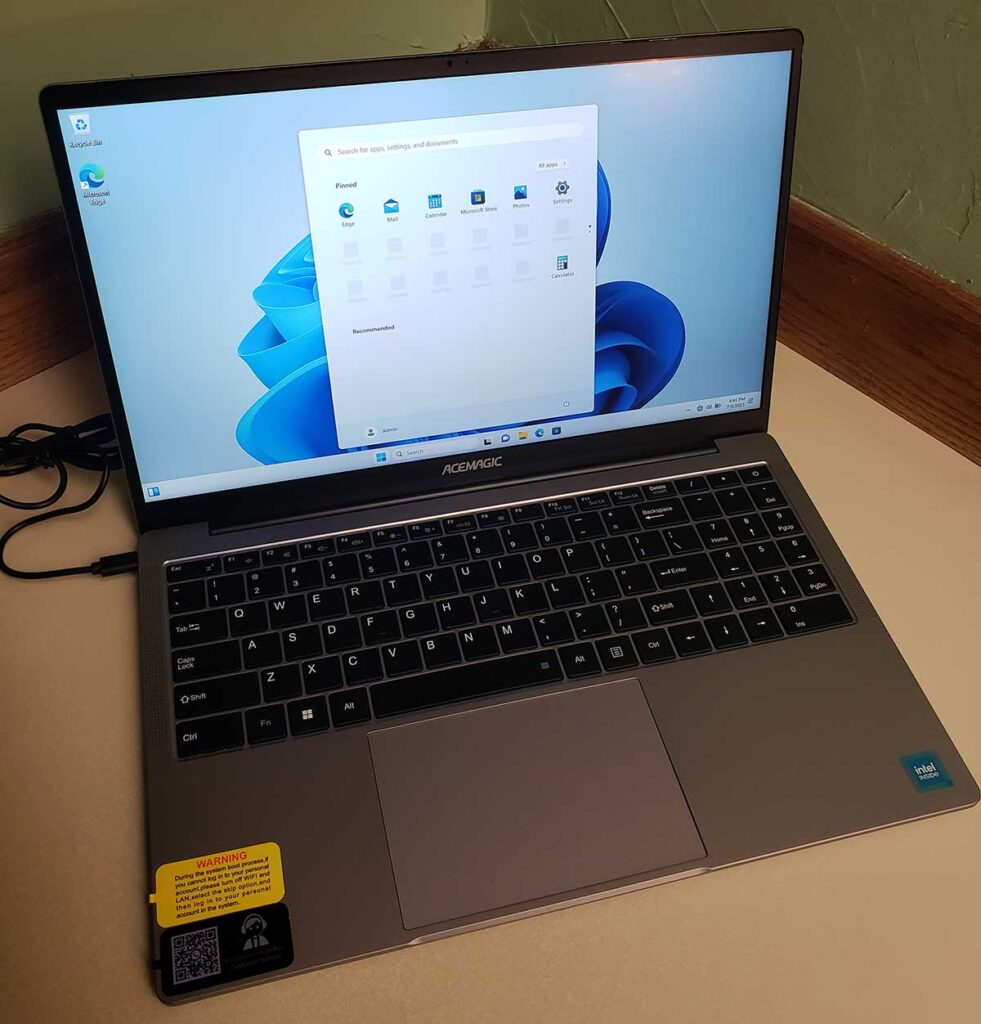 However, the laptop still performs adequately for routine tasks and won't let you down unless you push it to its limits.
So, what else? Well, office-related programs are what this machine is best suited to. The laptop houses an Intel UHD Graphics with 16 EUs, which – let's face it – won't replace your gaming console anytime soon.
Browser games and light graphic tasks? Sure. But 3D gaming or high-end video editing? Not the laptop's forte.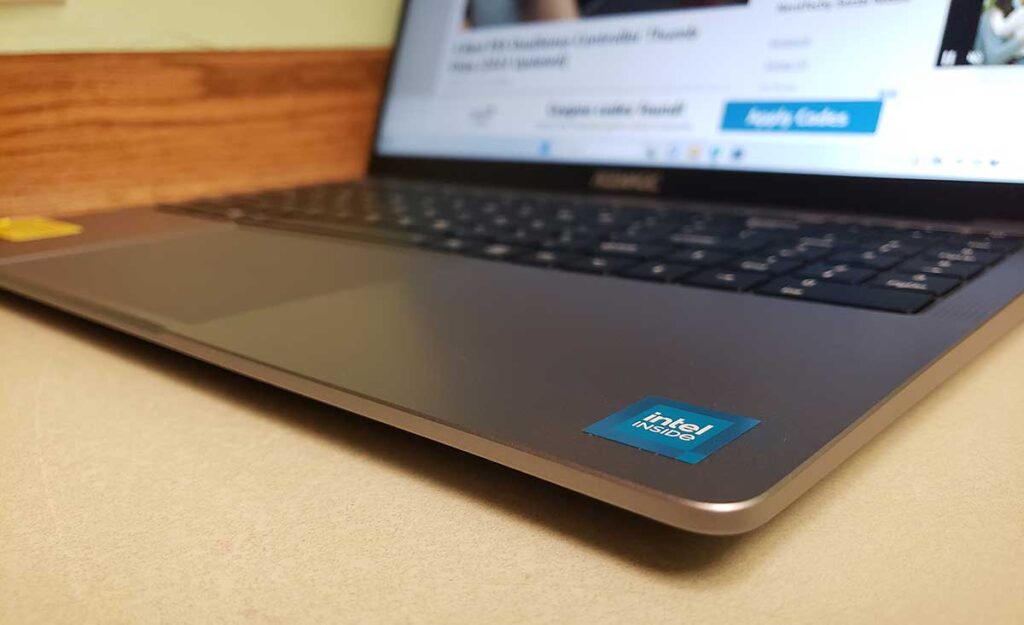 Benchmark Performance
When subjected to benchmarking tests like Cinebench release 23, the AX15 performed in line with its mini-PC sibling, the ACEMAGICIAN AD03 N95.
There's room for improvement, sure – DDR5 memory and NVMe architecture could boost performance. But is it worth the cost implication? Likely not, given the price-to-performance ratio the AX15 already nails.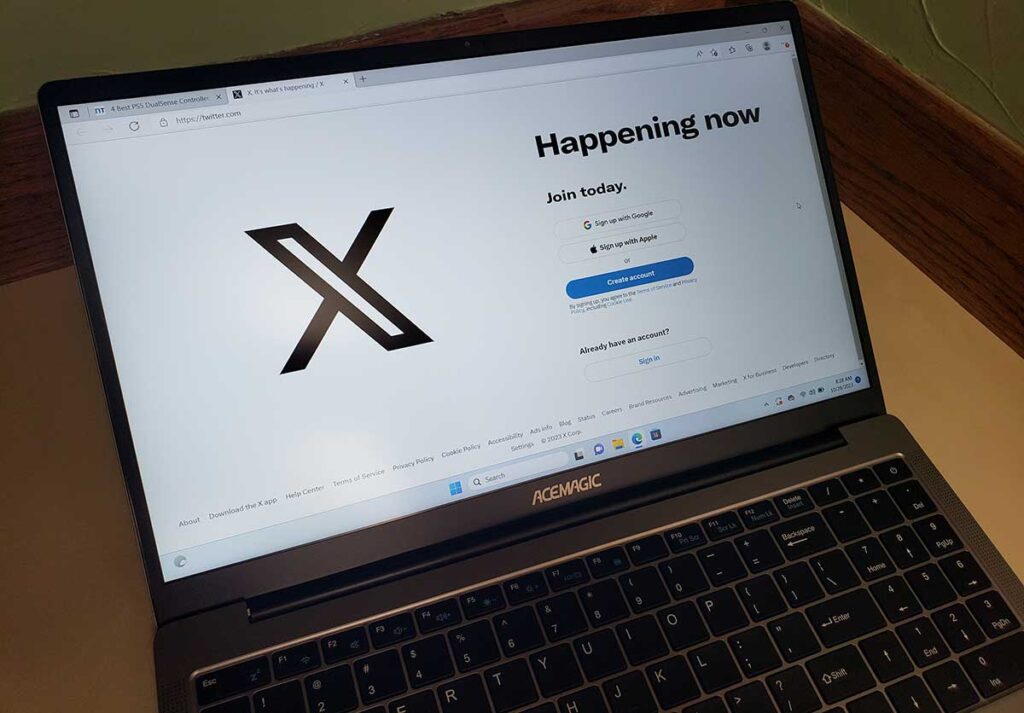 Storage Speeds
The TF card reader operates at speeds akin to a USB 2.0 interface. Perfectly adequate for static content but not so hot for high-res movie playback.
Battery Life
As of this writing, the battery life clocks in at roughly 6 hours, but let's be fair – that includes heavy benchmark testing. In a WiFi test where a script loads websites, the 38 Wh battery clocked in at 5 hours and 44 minutes.
Not quite a match for some competitors like the Lenovo IdeaPad 3, but it's sufficient for home use. Recharging to full capacity takes a bit over two hours. Yet, there's a silver lining: About halfway through that charging cycle, the battery reaches a respectable 75%.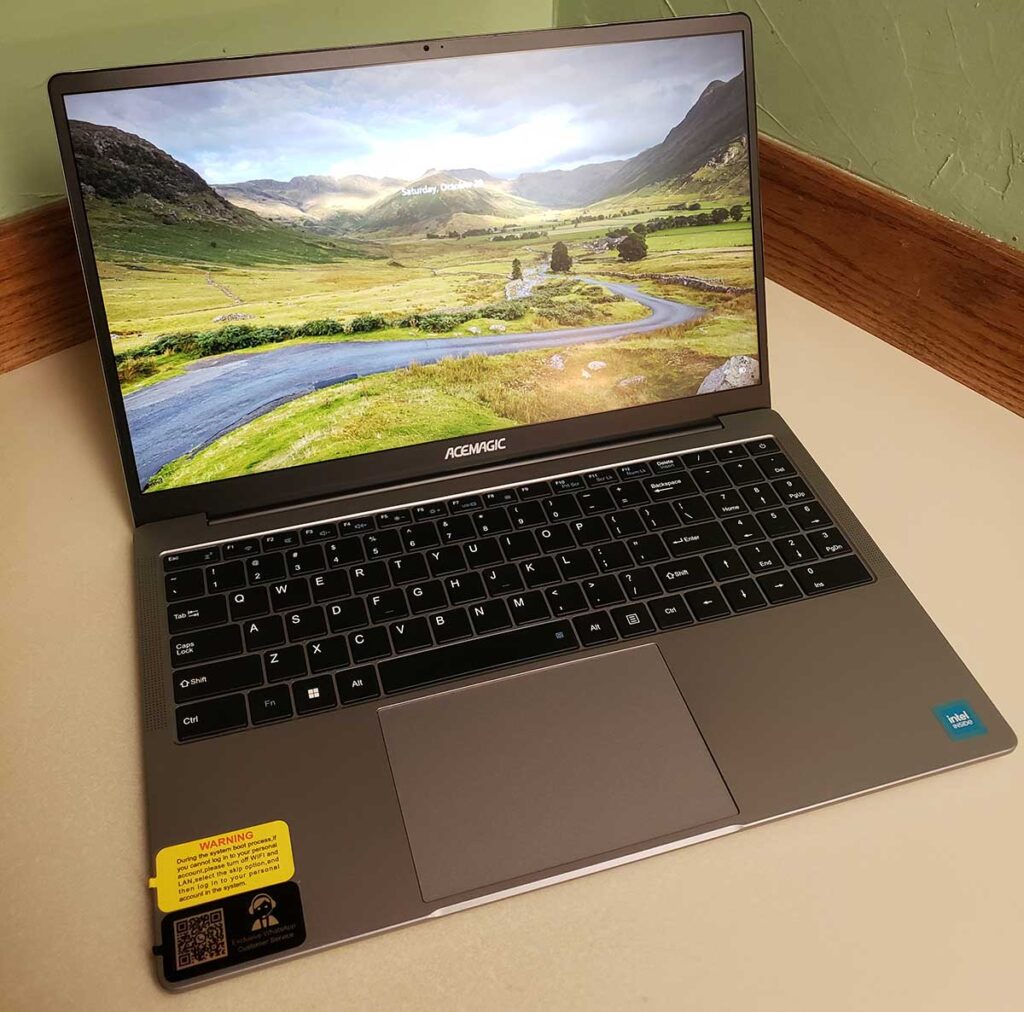 The ACEMAGIC AX15 is a jack-of-all-trades in the laptop realm – adept at many tasks but not specialized in any. It's a solid pick for those who need a dependable device for everyday use without breaking the bank.
Final Verdict
The ACEMAGIC AX15 may not blow your socks off in any particular category, but it does offer a balanced blend of features and functionality. It's a solid, well-rounded machine that handles day-to-day tasks with grace, all without leaving a gaping hole in your wallet.
If we could compare this laptop to a type of vehicle (and we're just speaking straightforwardly here), the AX15 is your reliable economy car. It's not built for hardcore gaming or advanced graphics editing, but it holds its own for daily tasks at a reasonable price point.
Meet Derek, "TechGuru," a 34-year-old technology enthusiast with a deep passion for tech innovations. With extensive experience, he specializes in gaming hardware and software, and has expertise in gadgets, custom PCs, and audio.
Besides writing about tech and reviewing new products, Derek enjoys traveling, hiking, and photography. Committed to keeping up with the latest industry trends, he aims to guide readers in making informed tech decisions.