Are you tired of your home theater system running hot, threatening the longevity of your cherished equipment? The right AV cabinet cooling fan can be the silent guardian for your gear.
These compact, efficient fans are engineered to dissipate heat, safeguarding the electronics that power your cinematic experience.
By promoting air circulation, they prevent your AV components from overheating. Thus, ensuring optimal performance and extending their lifespan.
| Feature | AC Infinity AIRPLATE S7 | GDSTIME Big Airflow 120mm | AC Infinity CLOUDPLATE T7 | Coolerguys 120mm Cabinet Cooler |
| --- | --- | --- | --- | --- |
| Design | Dual 120mm fans, slim profile | Four 120mm fans, configurable | Rack mounted, 2U space | Single 120mm fan, simple design |
| Max Noise Level | 19 decibels | 45 decibels | 36 decibels | 20 decibels |
| Airflow | Up to 104 CFM | 93 CFM per fan (372 CFM total) | 50 to 220 CFM | Not specified |
| Speed Control | Built-in with settings | Included controller | LCD controls, smart operation | Pre-set thermal controller |
| Mounting | Vertical or horizontal | Inside cabinet preferred | 2U rack mount | Any |
| Special Features | Link up to six fans, USB powered | 3 configuration modes. | Alarm alerts, expansion port | Patented Sony bearing system |
| Additional Controls/Settings | Turbo Wall Adapter for speed boost | Manual speed adjustments | Six fan speeds, SMART mode | Automatic thermal control |
1. AC Infinity AIRPLATE S7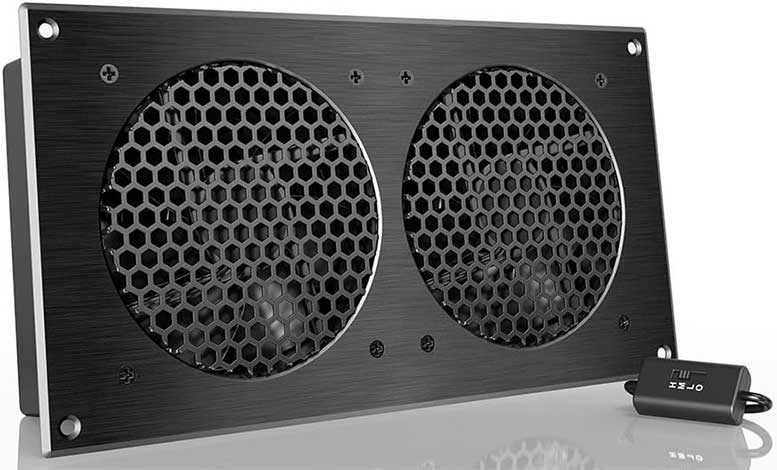 Key Takeaways:
Ultra-quiet, dual 120mm UL-certified fans.
Dual-ball bearings rated at 67,000 hours
High airflow up to 104 CFM.
Maximum noise level is a whisper-quiet 19dB.
Versatile vertical or horizontal mounting options.
Connectable with up to six S-Series fans.
After installing the AC Infinity AIRPLATE S7 in our media cabinet, we noticed a cool difference almost immediately. The dual 120mm fans, which are UL-certified for safety, spun silently, working their magic without adding any buzz to our space.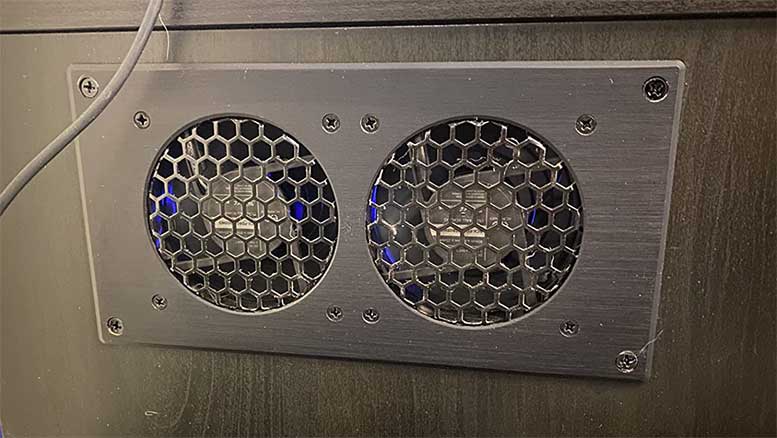 It's clear this fan is made for places like cabinets where you don't want a racket. Simply put, the quality feels top-notch. With the fans going, our AV equipment stayed chill even when the action on screen heated up.
We clocked the AIRPLATE S7 pushing air at just over 100 CFM. It produced a gentle breeze constantly sweeping through the cabinet, keeping everything at just the right temperature. Even at full tilt, with speeds up to 1300 RPM, the noise level didn't go over 19 decibels.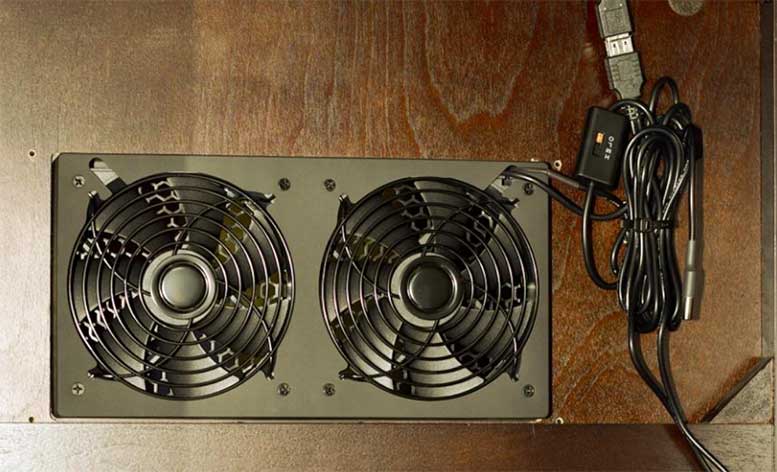 That's really quiet – softer than the sound of rustling leaves. Plus, the dual-ball bearings are built to last for ages – 67,000 hours! You can even mount the fan flat or standing up, which is perfect for any funky cabinet layout.
Tweaking the fan speed was a breeze thanks to the built-in controller. We could switch between low, medium, and high settings or turn it off with a simple slide. On days when our gaming console worked overtime, the Turbo Wall Adapter, which came with it, gave the fans a boost – said to increase the RPM by 25%. That little extra power was very noticeable, and just what was needed.
Best of all, you can link up to six of these together. For some setups, it's a no-brainer to cool the whole entertainment system with a similar configuration. And when they're all daisy-chained together, they all can run off one power source and thermal controller.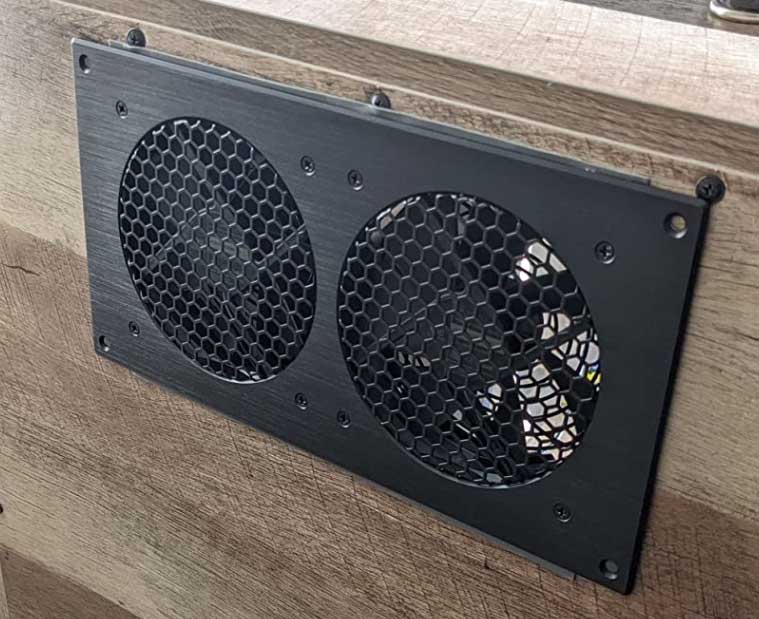 The AIRPLATE S7's dimensions made it a snug fit. A single unit has a 6.3″ total height (5.31″ cutout height) x 11.69″ total width (10.94″ cutout width), with a depth thickness of 1.3″.
As for looks, the CNC machined aluminum frame is awesome. The cool brushed black look matched the aesthetics of our cabinet with ease. From first glance, it looks like a cool piece of equipment. During testing it out for 2 weeks, we can assure you – it's definitely awesome!
2. GDSTIME Big Airflow 4X 120mm Fans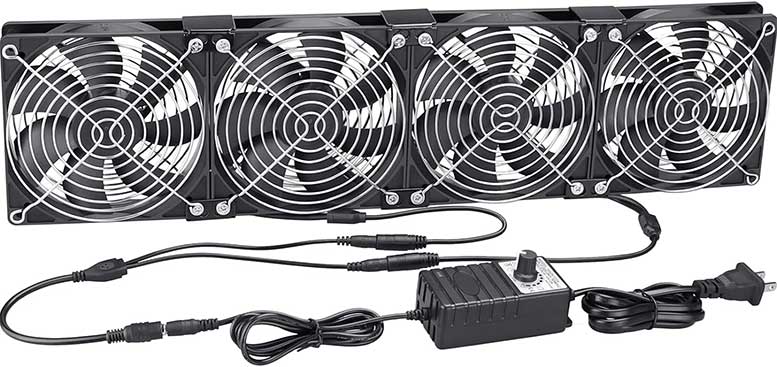 Key Takeaways:
Four adaptable 120mm fans for various configurations.
Affordable alternative to higher-end models.
Can be used in pairs or as a quartet.
Speed controller included, albeit a bit bulky.
High fan speed capacity of 2500RPM.
Rubber feet minimize noise and improve stability.
As another excellent pick, the GDSTIME Big Airflow 4X 120mm Fans are much cheaper but very adaptable. These fans come in a pack of four, and they're quite unique.
You can configure them in a long rectangle (18.9″ x 4.7″ x 1″) or square format (9.45″ x 9.45″ x 1″), depending on the layout of your cabinet. This flexibility was useful for finding the best possible fit.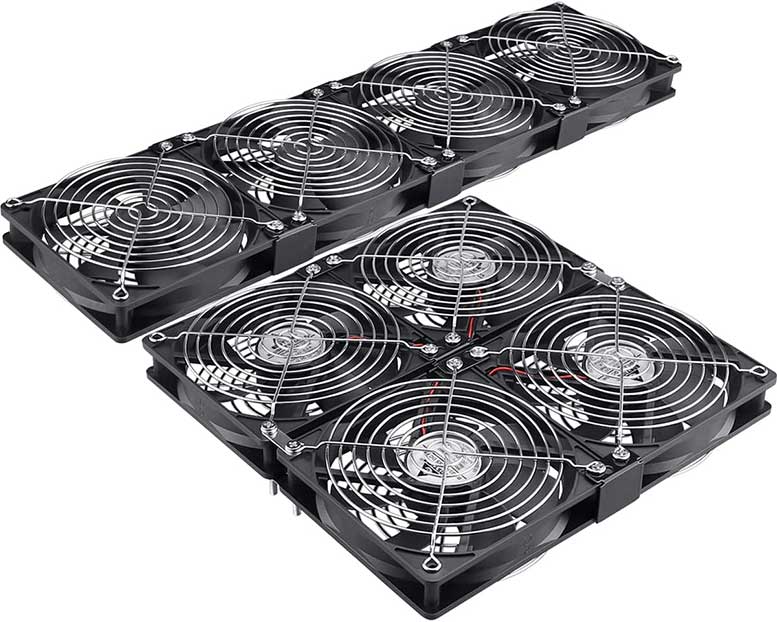 During use, we arranged the fans in different configurations to see which provided the best cooling. Whether as two pairs or all together, they effectively moved air through the cabinet. With each fan rated at 93CFM, the combined airflow helped in maintaining a cool environment for our Xbox, PS5, and AV receiver.
The included fan speed controller, although larger than some other models we've seen, was straightforward to use. It allows three fan speeds to be set or completely turned off. The fans themselves can get up to 2500RPM, which is plenty for when you need quick efficiency.
The fans are built with dual ball bearings, suggesting longevity, and the package includes a Y-splitter, which simplifies controlling the fans in pairs.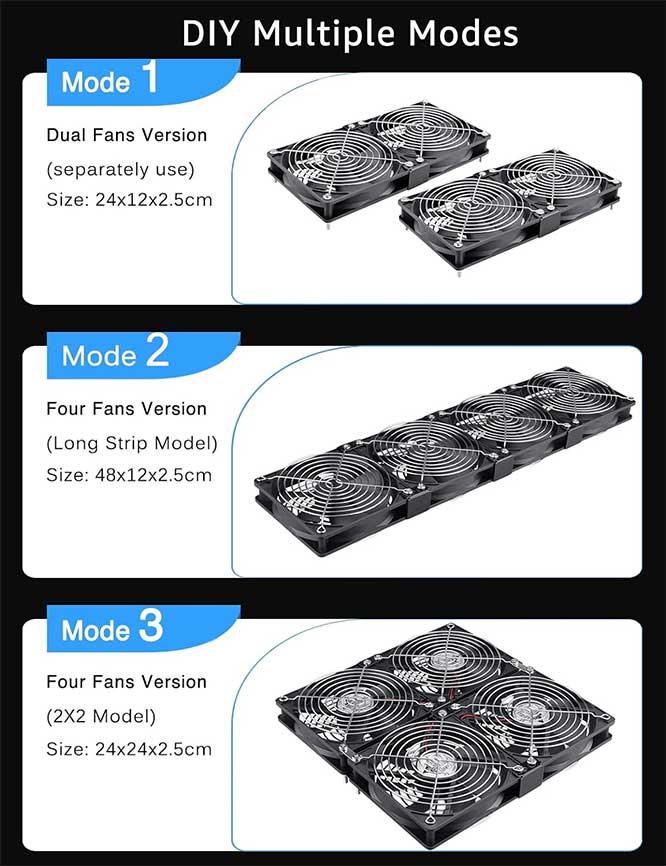 We positioned the fans strategically below and above the AV receiver. It was immediately apparent that the silicone rubber feet provided were effective in reducing vibration and noise.
However, it's worth noting that these fans aren't designed to be mounted on the side of a cabinet. They work best inside, either on top or beneath components.
While they may be much more basic than other options, some may prefer this. For someone looking for a non-expensive cooling solution and is okay with a more hands-on installation, the GDSTIME fans are a suitable option.
3. AC Infinity CLOUDPLATE T7

Key Takeaways:
Fits perfectly in 2U professional home theater racks.
Intuitive LCD for temperature and fan speed control.
Three operational modes, including a smart automatic adjustment.
Solid aluminum construction with a professional finish.
Fans rated for 67,000 hours with CE, RoHS.
Airflow ranges from 50 to 220 CFM.
The AC Infinity CLOUDPLATE T7 is a wonderful high-end option. The rack-mounted design fits seamlessly, occupying a 2U space with a professional look. The solid aluminum construction feels durable and is finished with a light-brush anodize, giving it a sleek appearance that meshes well with the rest of our equipment.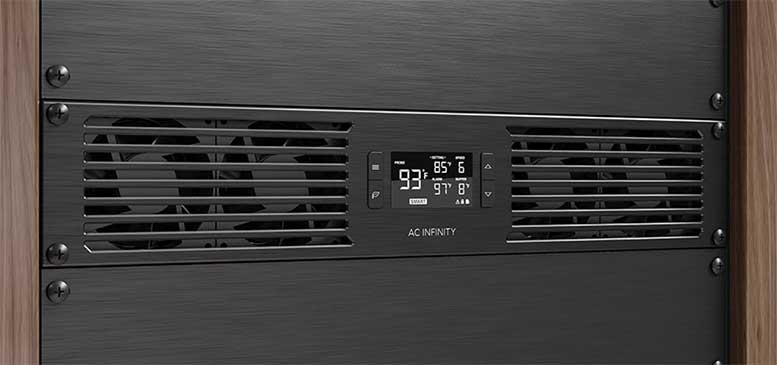 The front panel is pretty intuitive, sporting a centered LCD that shows the temperature and fan speeds. We found the customizable display – a choice between always on or only lighting up for a few seconds – quite handy in maintaining the ambiance of our home theater.
It's equipped with three different operation modes, which we tested thoroughly. The manual setting keeps the fans running continuously, while the auto mode smartly switches the fans off once the temperature drops 2 degrees below the target, and then back on when needed.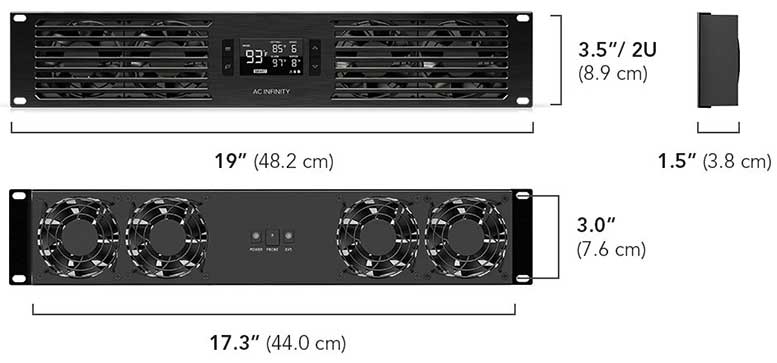 The smart mode was particularly interesting, as it adjusts the fan speed dynamically to match the desired temperature. It also has an easy-to-use thermostat and a SMART mode that genuinely helps in adjusting the fans based on the room temperature.
The unit's three dual-ball bearing fans are designed to last. Each are rated for 67,000 hours, and they do their job well, pulling hot air out of the rack. Positioning them near the top of the rack, as recommended, optimized their performance. The noise level varies with the fan speed, but even at its highest, it wasn't disruptive, staying within the 10 to 36-decibel range.
This kit came with everything needed for installation, including a thermal probe and all the necessary mounting hardware. It even includes an expansion port at the back for adding another CLOUDPLATE unit or a rack roof dual-fan kit. This could be useful down the line.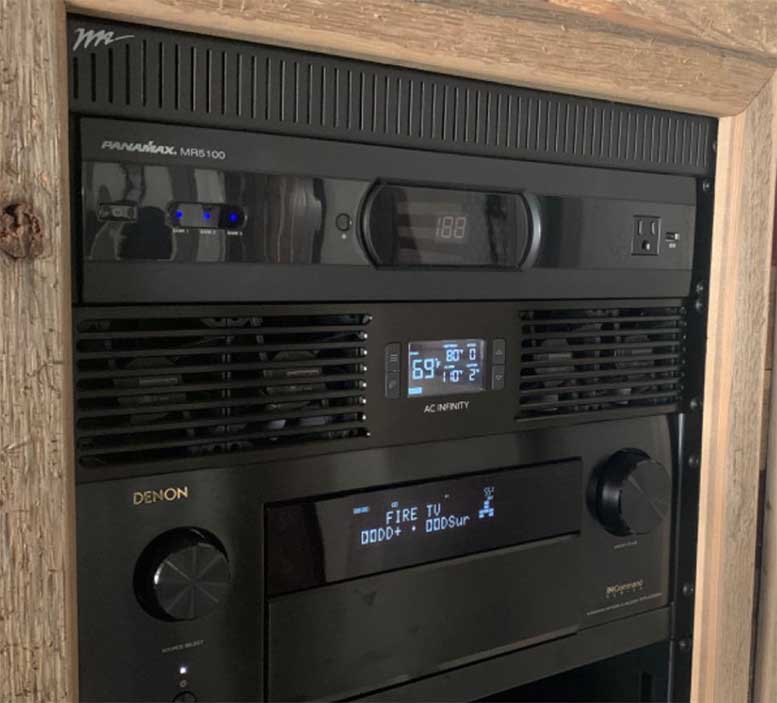 The fan speeds and screen brightness settings, along with the alarm alerts, fan failure triggers, and power-saving settings, are all part of the package. With a backup memory feature, it remembers settings even after being powered down.
The plug-and-play nature made installation straightforward. In fact, it can be mounted either horizontally or vertically, offering flexibility depending on your AV rack's configuration.
In use, the airflow adjustment range from 50 to 220 CFM proves ample for cooling down the equipment without much fuss. All in all, a very solid, albeit pricey option for professional setups.
4. Coolerguys 120mm AV Cabinet Cooler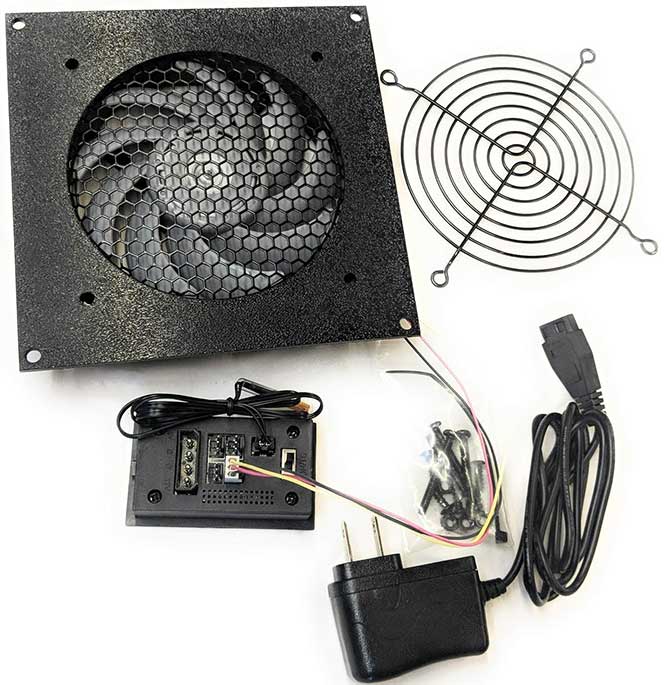 Key Takeaways:
Easy DIY installation with complete kit provided.
Ultra-quiet Nidec fan, max 1450 RPM.
Patented Sony bearing for quiet, strong performance.
Fan setup options include intake or exhaust.
Pre-set thermal controller with auto on/off.
Solid build with a 3-year warranty.
The Coolerguys 120mm AV Cabinet Cooler is a simple, to-the-point option. This complete kit comes with everything you need for a do-it-yourself installation, which anyone can appreciate.
The heart of the system is the Nidec-brand Gentle Typhoon fan. We were initially a little skeptical about its claim of being ultra-quiet, but once we got it running, the fan lived up to its reputation. Even at its top speed of 1450 RPM, the sound was barely noticeable, under 20 decibels. It's equipped with a Sony bearing system that's whisper-quiet and moves air effectively.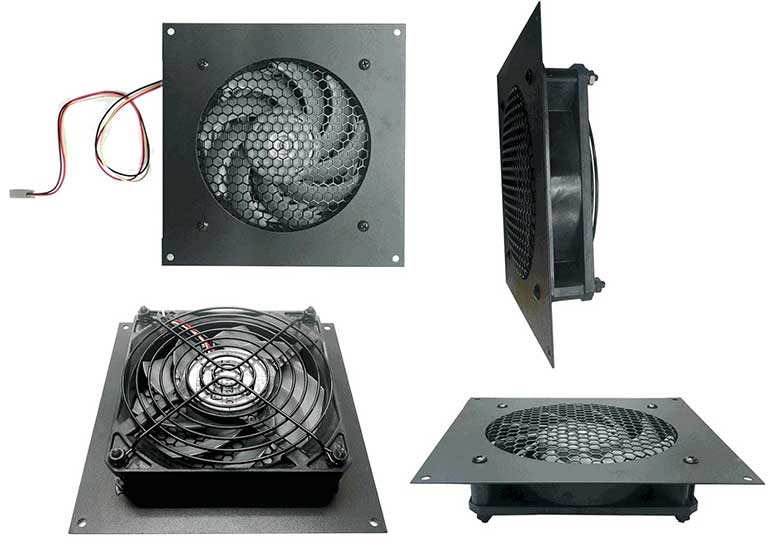 We had the option to set up the fan as an intake or exhaust, which was pretty convenient. The orientation is what determines this. The built-in thermal controller was a nifty feature; it kicked the fan into gear at exactly 86 degrees Fahrenheit and turned it off again once the temperature fell to 81 degrees.
While we couldn't tweak the thermal controller's settings, its preset levels seemed well-chosen to keep things cool without constant intervention. The temperature probe, attached to a 4-foot long wire, was helpful because we could place it right where I thought the heat was most concentrated.
Build quality was evident from the get-go. The fan bracket was sturdy with a sleek powder-coated finish. It measures 6.25″ x 6.25″ with a depth of 1.25″. Plus, it came with two types of metal fan grills, standard and honeycomb, to suit different aesthetics and airflow preferences.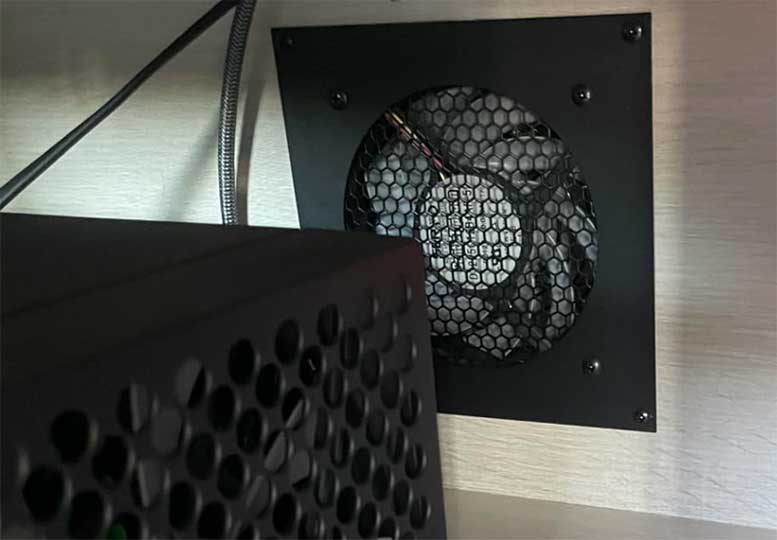 Although setting it up is more involved than other options, we found the installation to be straightforward. And knowing that there's a 3-year replacement warranty provided some peace of mind about the investment.
If you're looking for a simple single-fan cooling solution for your AV cabinet and don't mind not having adjustable settings, the Coolerguys cooler is a reliable option.
AV Cabinet Cooling Fans FAQs
Why do I need an AV cabinet cooling fan?
AV components generate heat during operation. Without proper ventilation, this heat can build up, potentially shortening the lifespan of the equipment. A cooling fan helps circulate air, keeping components at optimal temperatures and preventing overheating.
How do I choose the right size cooling fan for my cabinet?
Measure the internal space of your AV cabinet and consider the heat output of your equipment. Fans are rated by CFM (cubic feet per minute), indicating how much air they move. Choose a fan with enough CFM to circulate the warm air out and keep cool air moving in.
Can I install an AV cabinet cooling fan myself?
Yes, many come with complete DIY kits. These typically include mounting screws, a fan, a power supply, and a controller. Basic handy skills should suffice for installation. Always follow the manufacturer's instructions carefully.
Are AV cabinet cooling fans noisy?
It varies. Fans are rated by their noise level in decibels (dB). Many modern fans are designed to be ultra-quiet, with some operating at noise levels as low as 19 dB, which is barely audible. Always check the fan's dB rating before purchasing.
How do I know if my AV cooling fan is working properly?
Your fan should turn on when the cabinet reaches a certain temperature and turn off when adequately cooled. Some fans have LED indicators or LCDs showing the current temperature and fan status. If your equipment stays cool and the fan cycles on and off as expected, it's working properly.
Can I control the speed of my AV cabinet cooling fan?
Many come with adjustable speed settings. Some have a simple low, medium, and high setting, while others offer more precise control. High-end models may include smart controls that adjust fan speed automatically in response to temperature changes.
What's the difference between intake and exhaust setup for a fan?
An intake fan pulls cool air into the cabinet, whereas an exhaust fan expels hot air out. Your setup will depend on the layout of your AV cabinet and where the heat builds up the most. Some fans offer the flexibility to be set up either way.
Meet Derek, "TechGuru," a 34-year-old technology enthusiast with a deep passion for tech innovations. With extensive experience, he specializes in gaming hardware and software, and has expertise in gadgets, custom PCs, and audio.
Besides writing about tech and reviewing new products, Derek enjoys traveling, hiking, and photography. Committed to keeping up with the latest industry trends, he aims to guide readers in making informed tech decisions.