ACHOICE F1
Pros
Very comfortable design without any pressure points.
Decent sound quality for the price.
Bass is present and highs/mids seem to be acceptable.
Minimalist, ultra-lightweight form-factor.
Pairing process is very straightforward.
Cons
Touch controls can be accidently activated.
Questionable "game mode" doesn't seem to be available.
Battery life is mediocre.
Only available in white.
Wireless earbuds are an essential part of most people's daily lives. Whether you hop on a bus, go on a run or spend some time at the gym, you're likely going to bring a set of Bluetooth wireless earbuds. But what happens if your buds are in need of a replacement? Likely, you'll head to Amazon and search for a new pair.
Like many, you're probably already aware of the massive influx of options available. You search "wireless earbuds" on Amazon and you get hundreds, if not, thousands of choices to browse through. Needless to say, this gets old fast. But if you've already got your eyes set on a specific pair, you already have a good start.
That said, if you're reading this, you may have already discovered the new ACHOICE F1 wireless earbuds. These minimalist, budget-friendly Bluetooth earbuds seem to have quite a bit going for them. Take one look at their features, and one might expect them to cost twice as much.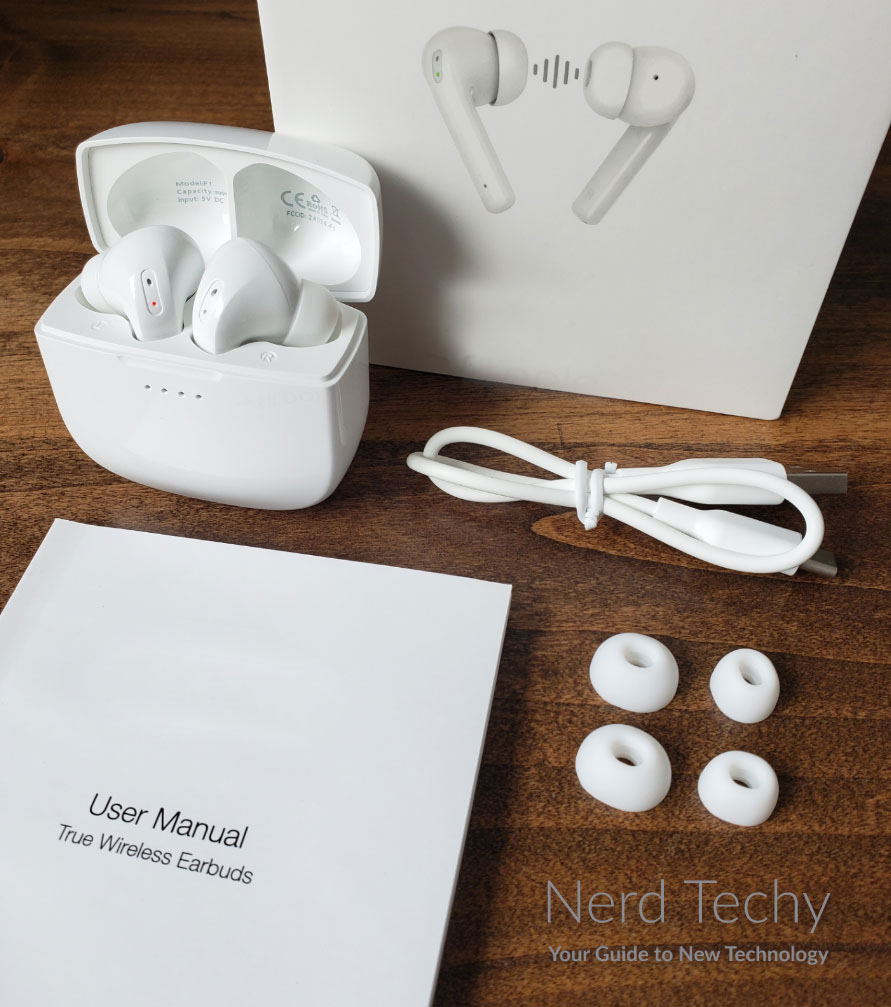 However, since they're hyped up quite a bit, we knew we had to set-out for ourselves and try them out. Luckily, we were recently personally invited by ACHOICE to test out their new F1 wireless earbuds. Today, we're going to thoroughly test them out, go over each feature and ultimately determine if they're worth purchasing or passing up on. We'll try them on for size, see how they feel and discover what kind of sound quality they're capable of. Without further ado, let's get right into it!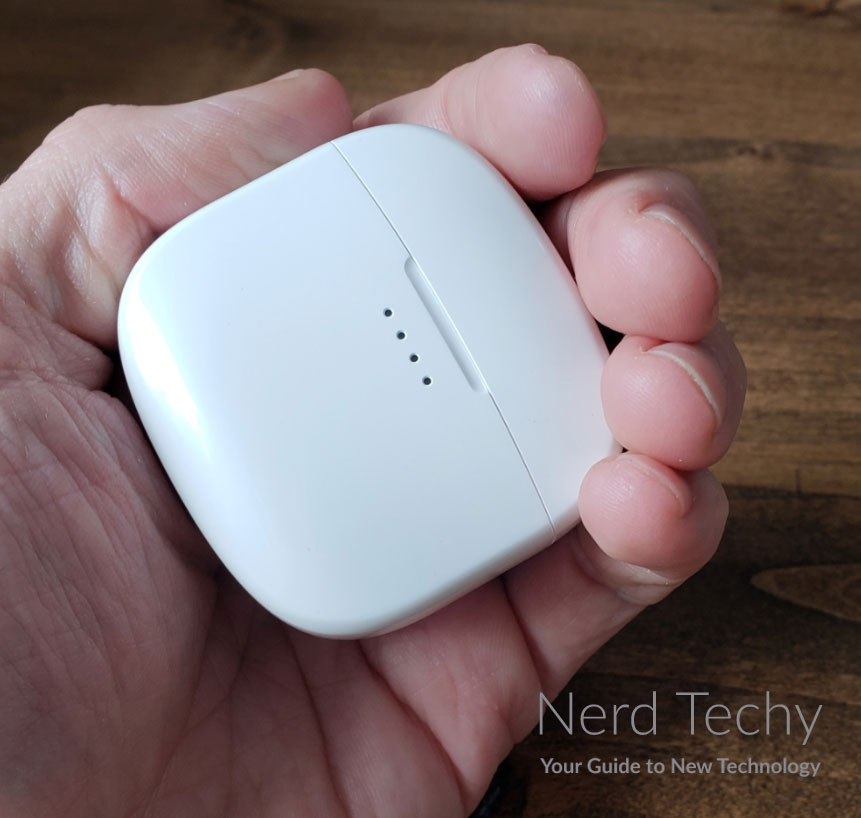 First Impressions
At first glance, the ACHOICE F1 True Wireless Earbuds look strikingly similar to Apple's AirPods. While this is obviously the style they were going for, they do have a generic, glossy-white appearance without any visible branding.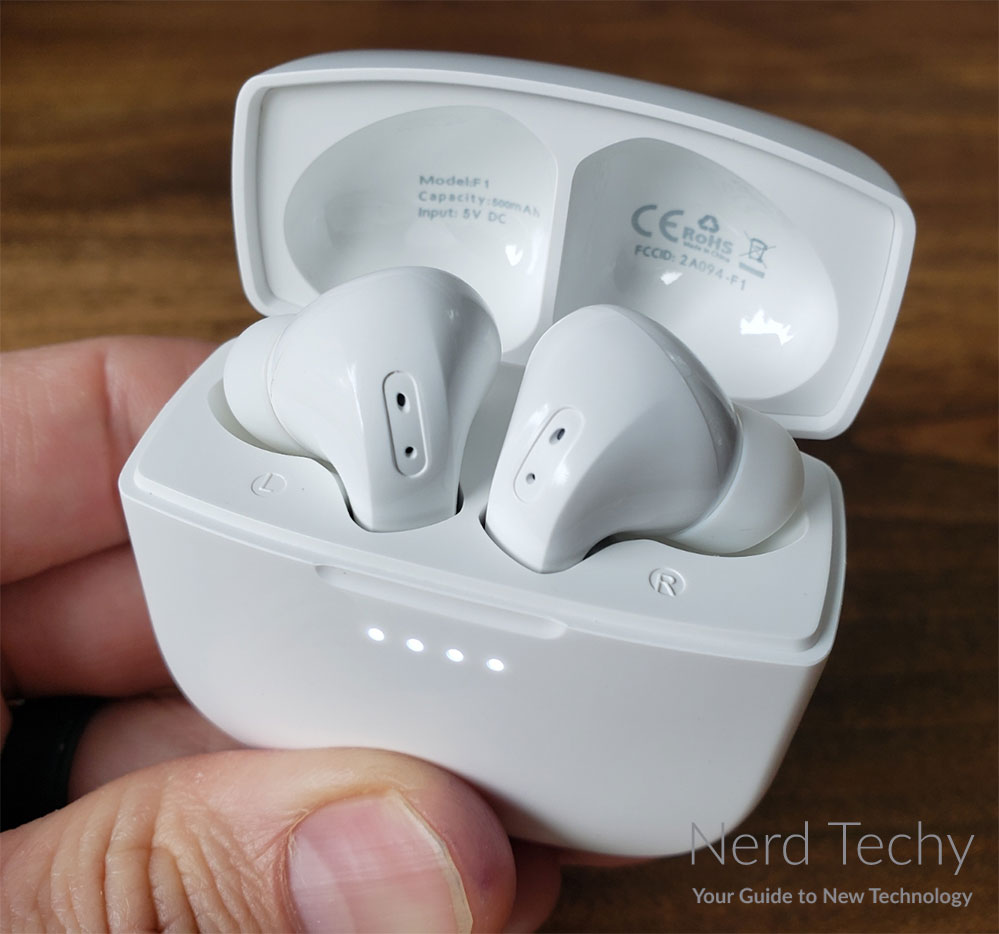 Inside the box is everything you need. You get a charging case that houses the earbuds, a short USB-C charging cable, instruction manual and an extra set of large/small eartips. The case not only keeps the earbuds charged-up while not in use, it doubles as a convenient way to protectively store them. It has a flip-up lid that exposes the earbuds in their respective charging cradles. On the bottom of the case is a USB-C charging port while the front has four LEDs that indicate remaining battery life.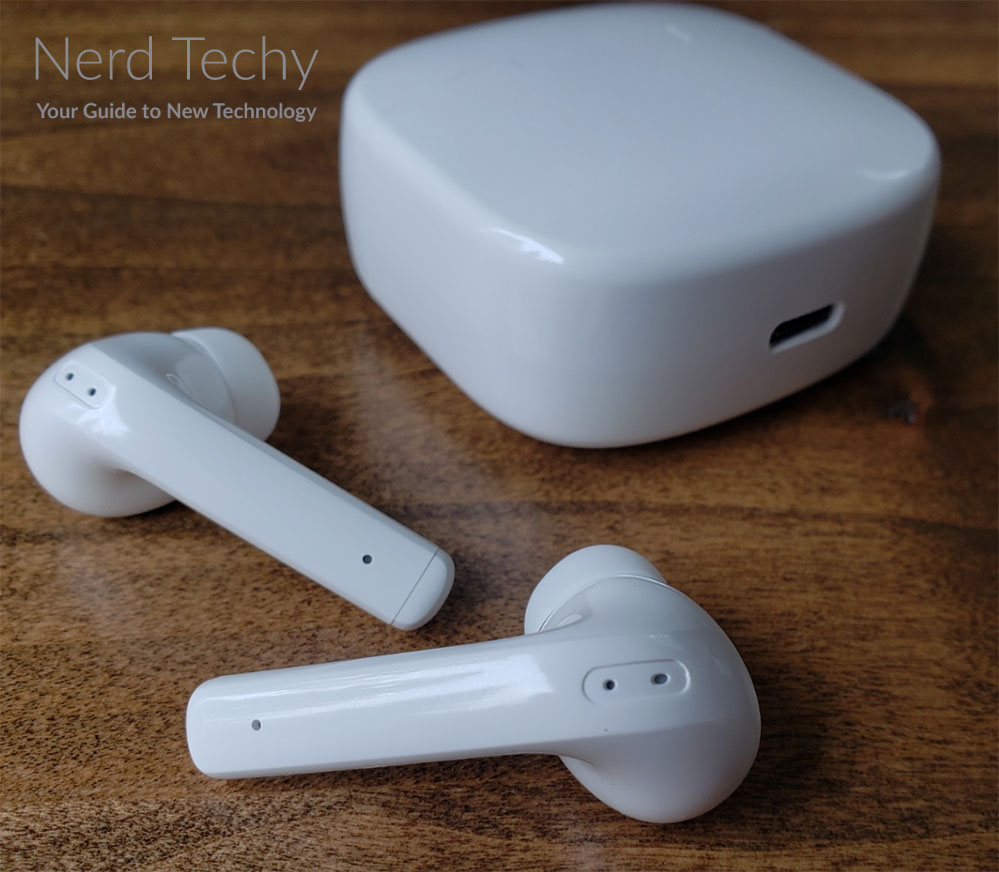 Moving on, each earbud is easy to pull-out and begin using. Best of all, the earbuds immediately go into "pairing mode" once you pull them out. Move over to your smartphone or other Bluetooth-enabled device and search for nearby signals. You should see "F1" as an available connection. Select it and within less than 10 seconds, they should be paired and ready to go. Best of all, the earbuds will remember your device, so you should only need to complete the pairing process one time.
Comfort and Fit
The ACHOICE F1 earbuds have a minimalist design, which we prefer. They're small enough for an easy-fit with petite users, but with the provided large-sized tips, they also seem to fit nicely for larger folks. Regardless, take a few moments to swap-out tips if you feel any wiggle or movement when placed properly in each ear. A good fit is essential for a proper soundstage and long-lasting comfort, so get it right!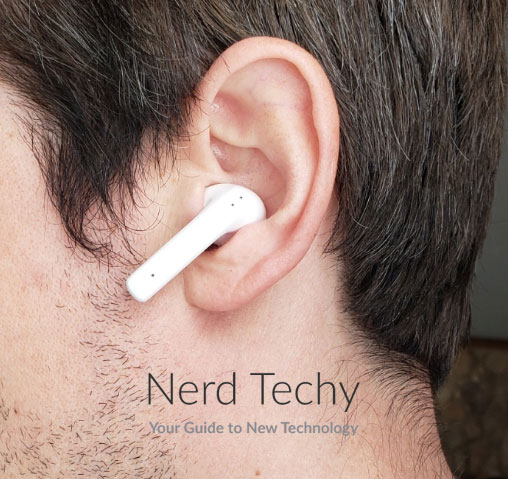 We think the F1 earbuds are quite comfortable. In fact, when wearing them, they're so lightweight and supple feeling that we have no complaints in regards to the way they fit. The shape seems to contour the inner-ear in an ergonomic manner that we really enjoy. There's no pressure points, hot spots or fit-related issues that we feel the need to mention. In fact, we'd say that they're naturally more-comfortable than most in-ear style earbuds we've tested in the past.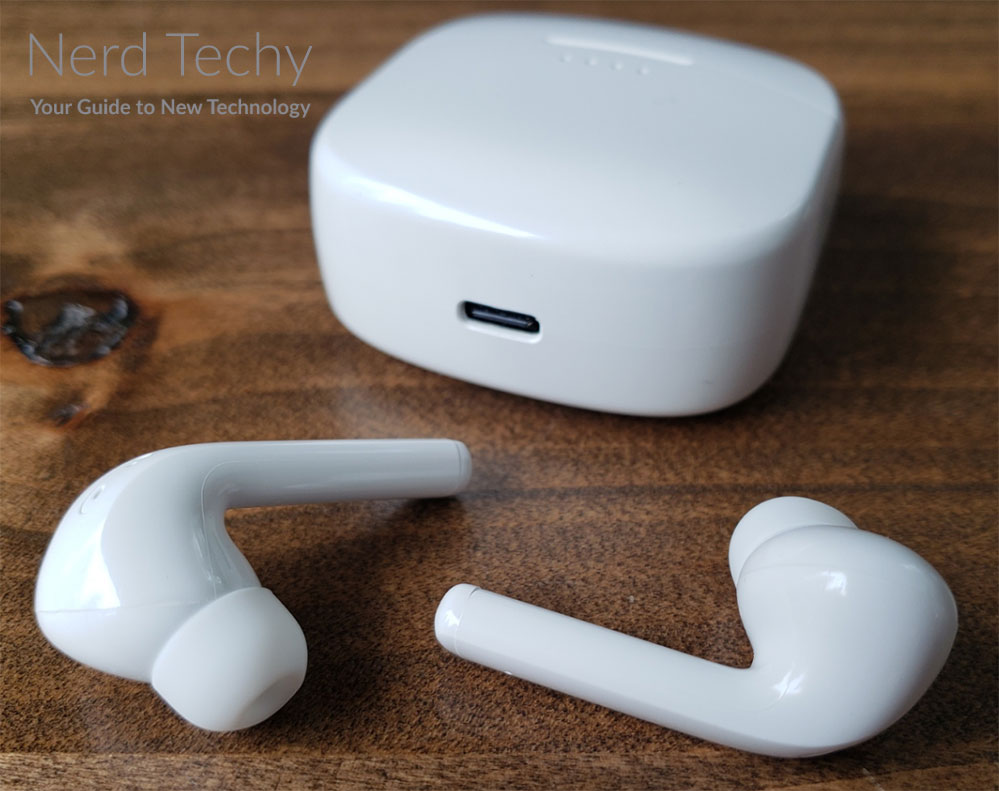 Purchase the ACHOICE Wireless Earbuds on Amazon and use code 40UTJNS9 and clip the coupon at checkout for a 60%-off total discount.
Sound Quality
Arguably, the most important factor for any set of earbuds or headphones is the sound quality. The ACHOICE F1 earbuds are equipped with Bluetooth version 5.0 and a special ANC (active noise cancellation) and game mode. In this day and age, these are enticing features that you'd normally only see in high-end earbuds. That said, we knew that ANC would be our preferred listening mode.
To activate ANC, simply press and hold the outside of either earbud for 2 seconds. Once activated, the earbuds will use each of the 4 external microphones (two on each earbud) to actively cancel-out background noise. It does this by listening to the environment around you and emits the precise opposite soundwave to cancel-out any distractions. While it does seem to make the sound quality a bit more pleasing, we don't think it cancels out 40 decibels of sound, like ACHOICE actually claims. Either way, the improvement is definitely noticeable. In fact, we found ourselves leaving ANC mode activated at all times.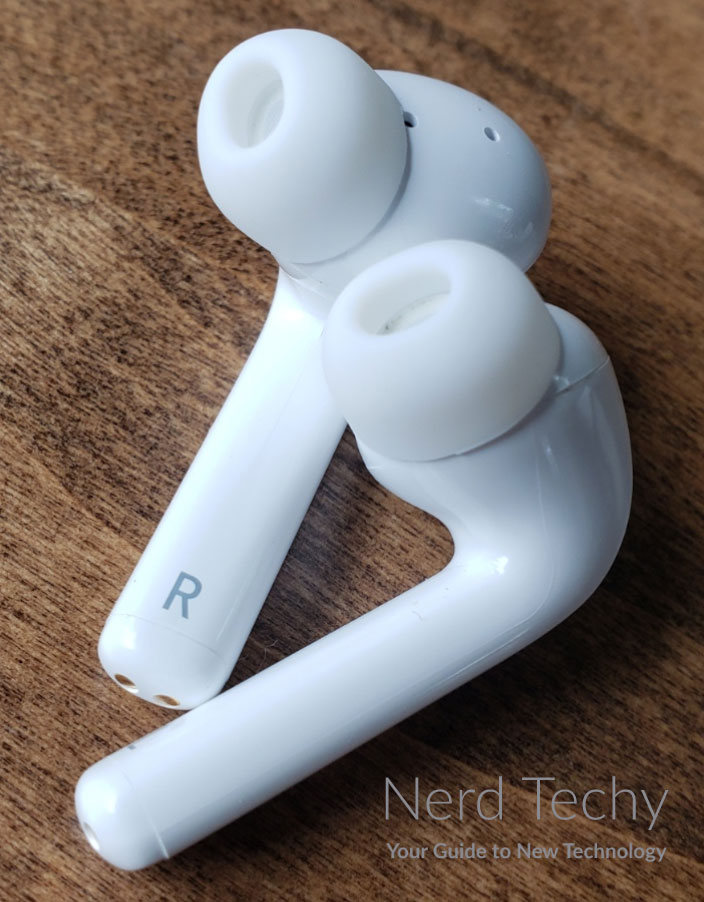 Game mode usually refers to a low-latency mode. The Amazon sales page clearly advertises a gaming-specific mode. However, we couldn't find any reference to this "game mode" in the instruction manual. In fact, we couldn't figure out how to turn it on, at all. That said, we're not sure there's even a game mode available. If there is, they didn't make activating it obvious.
Although we had trouble with configuring "game mode", the F1 earbuds seem highly capable when it comes to their sound quality. Regardless of the kind of music we listened to, we never experienced any noticeable distortion or transmission delay. Bass is decently present and the mid and high tones seem quite accurate. While we didn't crank the volume up all the way, this is probably the only time you'd notice any unwanted effects.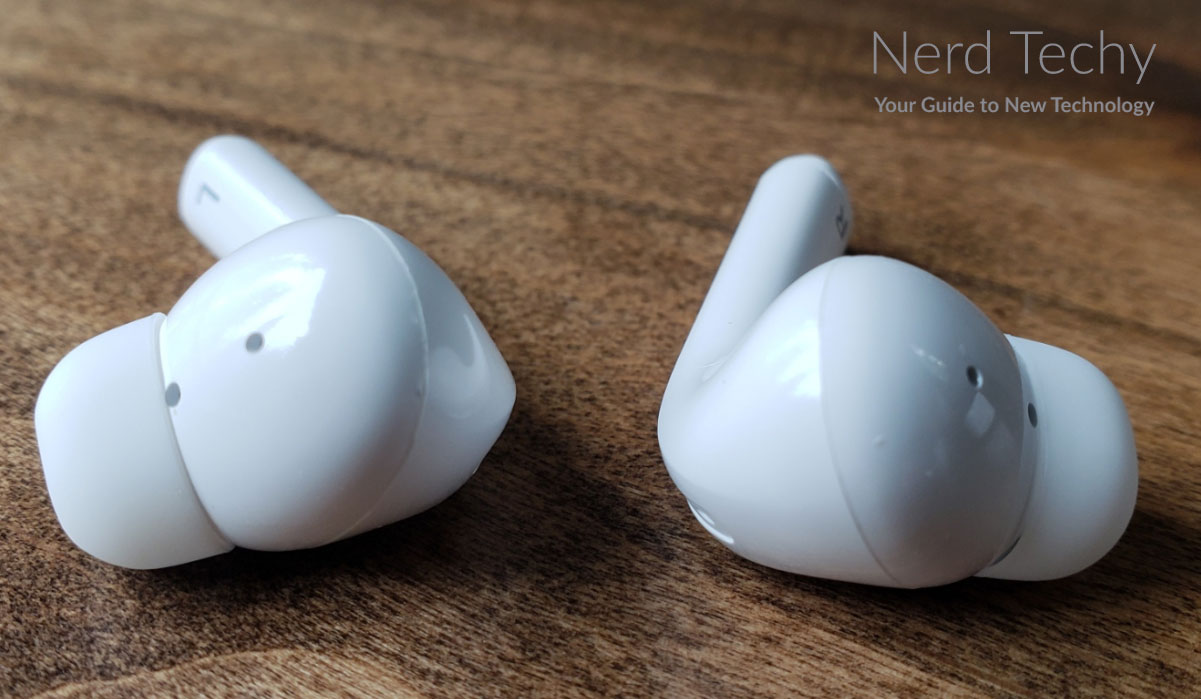 Call Quality
Using the F1 earbuds to make or receive phone calls is enjoyable. The audio quality is excellent with clear transmission for both ends of the phone call. We tested out the microphone by hearing how it performed through a planned phone call. To our liking, we have no complaints on the microphone quality or capabilities. The earbuds seem to pick-up voice with ease and let you hear the other side of the conversation with ease.
Controls
The ACHOICE F1 wireless earbuds are equipped with external touch controls. What this means is that there's no physical buttons protruding from the buds themselves. Rather, the exterior of each earbud is touch-sensitive. Simply tap, press and/or hold the outside of each one to adjust the music, skip tracks or answer/hang-up phone calls. Unfortunately, there's no touch-control for adjusting the volume.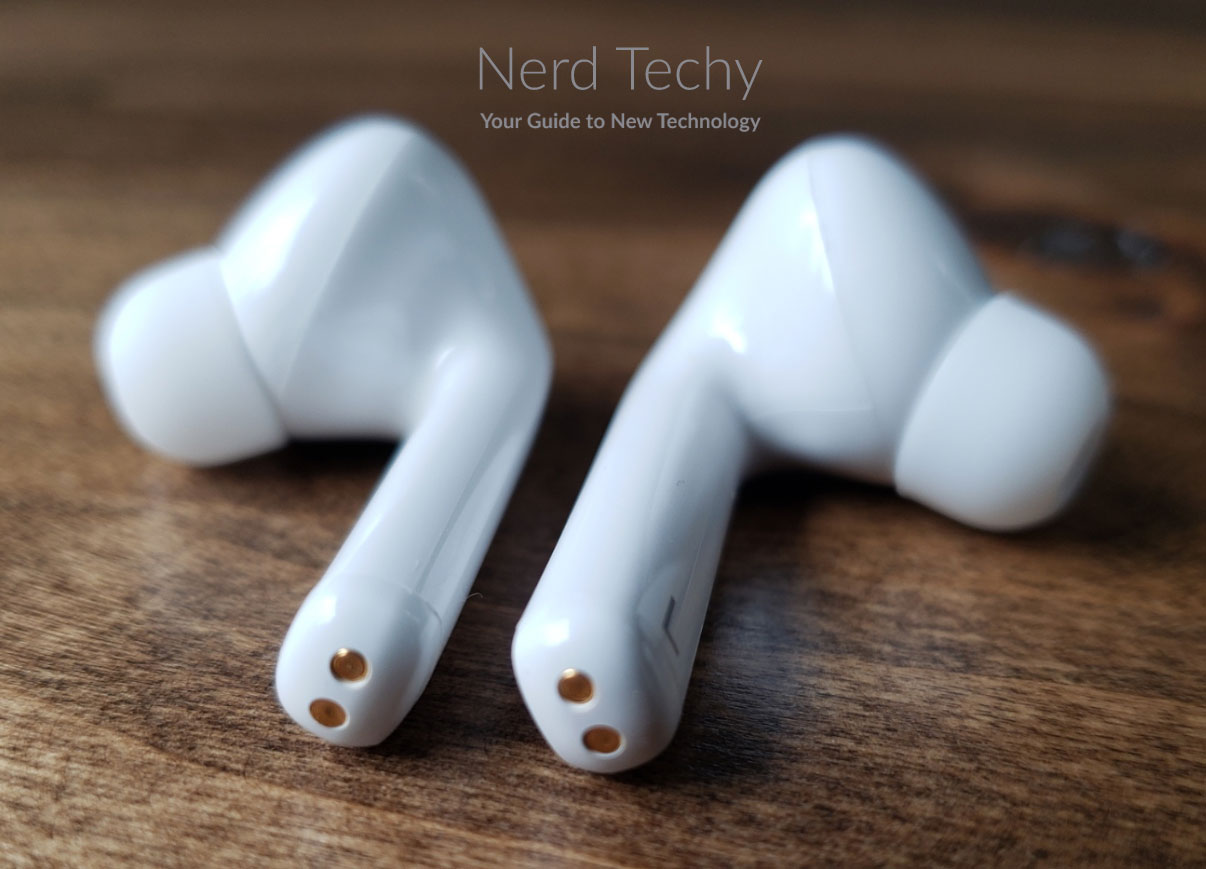 While touch controls are seen as a benefit by most, there's something you need to know. Specifically, touch controls are indeed handy, but they can be problematic while you're manually adjusting or setting the earbud in your ears. Simply put, it's easy to mistakenly skip tracks or pause the music without a desire to do so. In addition, you'll need to memorize each touch-control since there's a bit of a small learning curve to master each command.
Regardless, the F1 earbuds' touch controls for music are not overly confusing. A single quick-tap will play/pause music. A double-tap on the right earbud will skip the track, while a double-tap on the left earbud will go to the previous track. Touching and holding the control area of either earbud will activate or disable ANC. Lastly, a triple-tap will activate voice assistant through your paired smartphone.
Touch controls for phone calls are quite similar. A single tap on either earbud will answer an incoming call while touching and holding for 2 seconds will end the call. The same goes for rejecting an incoming call; simply touch and hold for 2 seconds.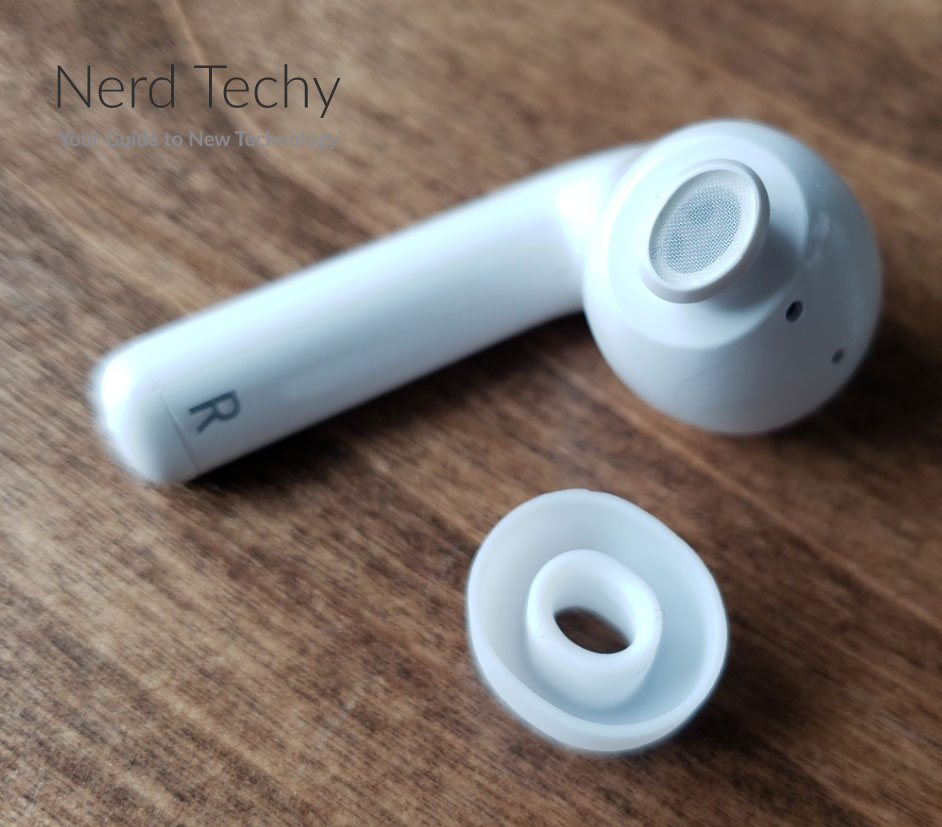 Durability
With a water resistance rating of IPX4, the ACHOICE F1 earbuds are properly sealed for most scenarios. In fact, they can easily withstand sweat, moisture, dirt and dust without any qualms. That said, you can take them in a rainy downpour or use them while vigorously working out and sweating your brains out. They're made for dripping sweat and moisture resistance so they actually work really well for exercise and fitness related activities.
While the earbuds are in-fact resistant to water and moisture, the case is not. Just make sure you don't expose the case to any of the same elements you may encounter while listening to the F1 earbuds. Place the case in a pocket, bag or simply leave the case in your car or at home. That way, you won't find yourself in a situation where you need to over-obsess on keeping the charging case safe and sound.
We like the fact that there are hardly any moving parts in regards to the case or earbuds themselves. This keeps things long-lasting and durable over the course of time. In fact, we feel they're well-made and comprised of decent materials that'll hold up well.
Battery Life
When we received the ACHOICE F1 earbuds in the mail, they were nearly completely depleted of a charge. That said, before you truly put them to use, you'll want to make sure to plug-in the provided USB-C cable and charge them up with the earbuds inside the case.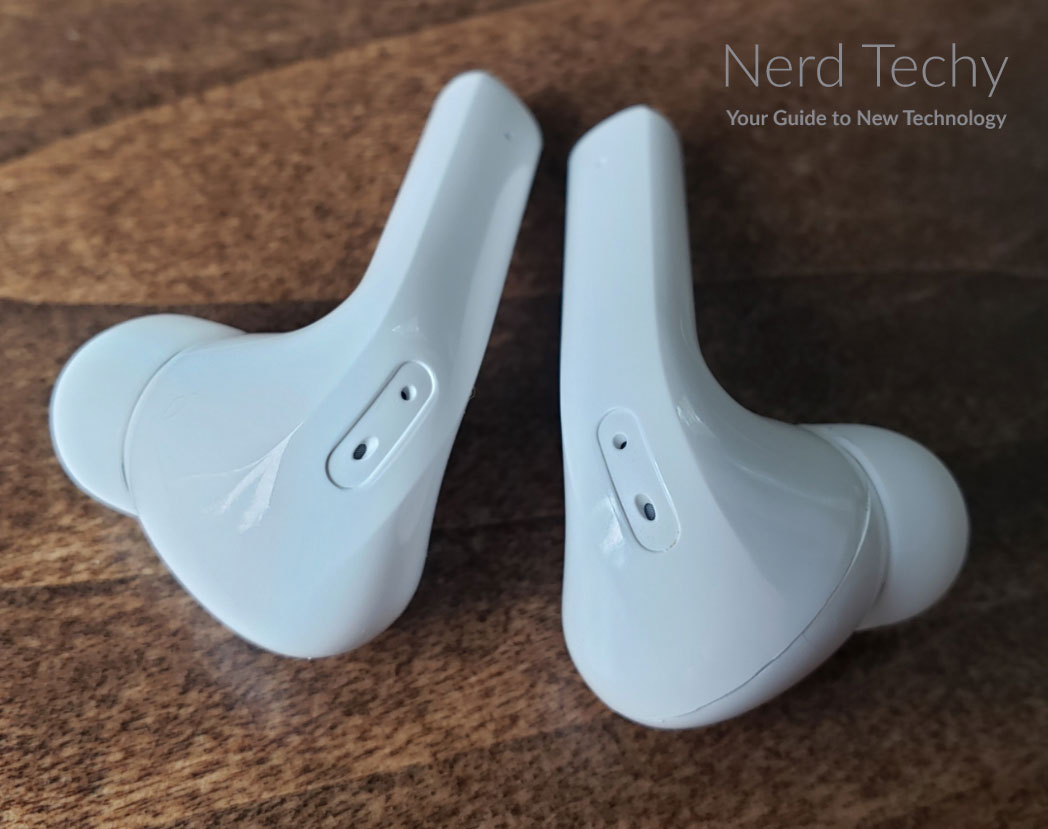 On paper, each earbud is said to have 4 hours of battery life with a single charge. In addition, the case holds an additional 5-6 re-charges. Simply put, this is where ACHOICE gets the advertised "25 hour battery life" from. They figure if the set of earbuds last 4 hours, the case can re-charge them 5-6 times, so they have a total battery life of ~25 hours.
In our experience, we encountered 3-4 hours of battery life per charge. This is relatively accurate to their estimates. However, we only got 4 separate re-charges before the charging case was depleted. Ultimately, this means a 20 hour grand total battery life is a bit more accurate. Regardless, this is relatively decent, but not entirely impressive. We'd consider it to be middle-of-the-road when compared to other wireless earbuds in the same price-range.
Keep in mind, however, that the battery life is dependent on a wide range of factors. Notably, ambient temperature, volume, music style, listening mode and wireless distance all play an important factor that directly impact actual battery life. Needless to say, our estimates might be better or worse on your experience based on these variables.
Final Thoughts
All in all, the ACHOICE F1 are a decent pair of true wireless earbuds that have a lot going for them. They're minimalist in design and quite comfortable right from the get-go. With a little bit of adjustment to the proper-sized tips, they'll work well for anyone; big or small.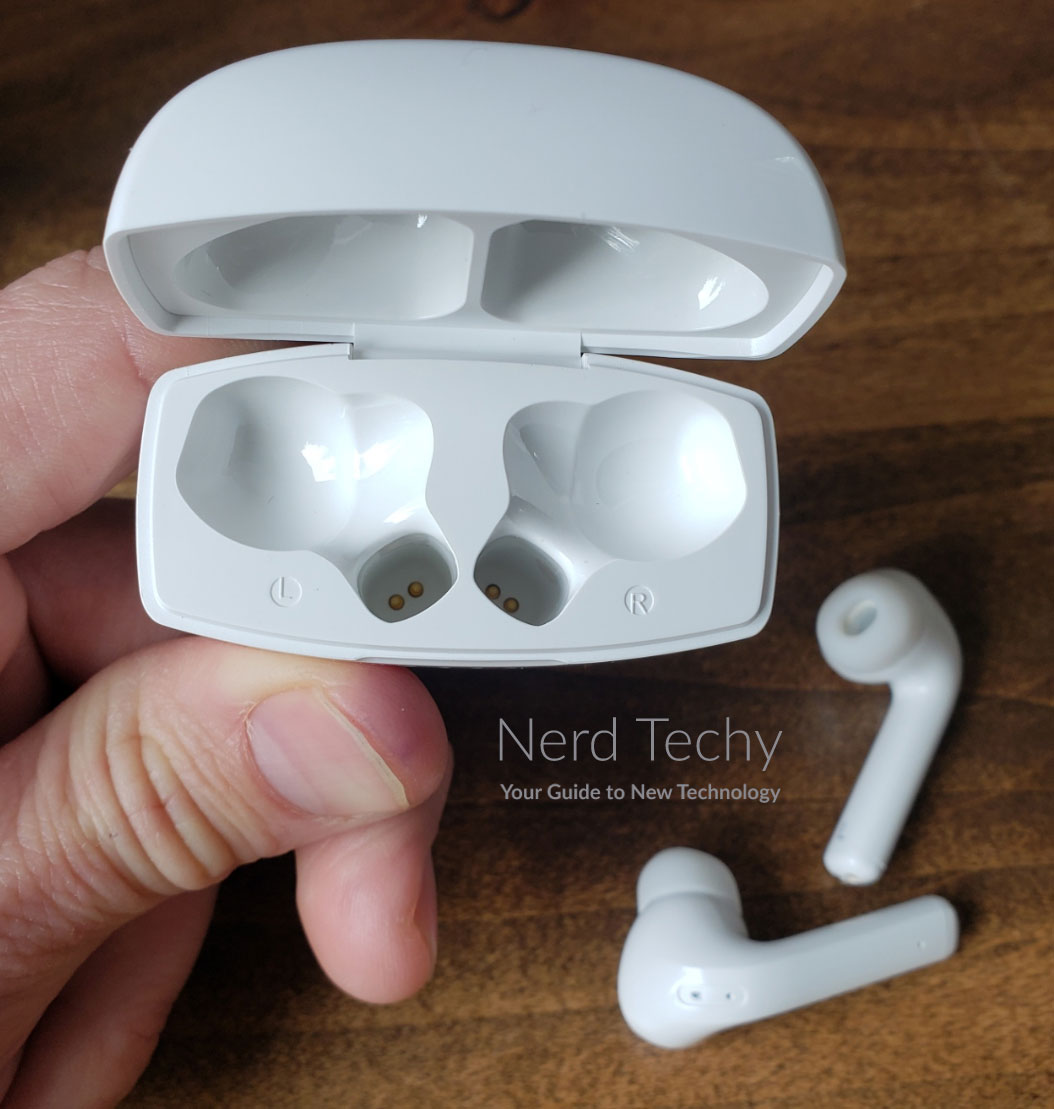 We found ANC mode to deliver the most favorable audio quality. While we can't agree that they cancel-out 40 decibels of sound, ANC mode does seem to make a noticeable improvement in every regard. Bass is relatively present and the mids/highs are seemingly on-point. While we didn't have any luck activating a specific "game mode", they're still highly capable.
The battery life is about average, if not, slightly on the lower-end. However, at this price-point, you're not going to get everything you want and more. Simply put, the F1 earbuds offer plenty of value to justify the low price point they're available at.
Purchase the ACHOICE Wireless Earbuds on Amazon and use code 40UTJNS9 and clip the coupon at checkout for a 60%-off total discount.
Being that they're IPX4 water resistant, they're ideal for individuals who lead an active lifestyle. That said, they're also a great fit for casual listeners who want a reliable pair of earbuds to use on the way to work or while relaxing at home. Ultimately, we wouldn't hesitate to recommend them to anyone who want a nice pair of wireless earbuds at a favorable price-point. Just be aware of some of the potential downsides before making a commitment to purchase them.
Meet Derek, "TechGuru," a 34-year-old technology enthusiast with a deep passion for tech innovations. With extensive experience, he specializes in gaming hardware and software, and has expertise in gadgets, custom PCs, and audio.
Besides writing about tech and reviewing new products, Derek enjoys traveling, hiking, and photography. Committed to keeping up with the latest industry trends, he aims to guide readers in making informed tech decisions.