You don't have to look hard to find wireless earbuds. Even with noise cancellation and similar features, you've got an almost endless supply of choices available. And that high degree of granularity means audio manufacturers end up making earbuds for many different types of listeners. People who want to throw their next three paychecks at a pair of earbuds can find premium equipment packed with every feature imaginable. And people who are on a budget can pick-and-choose between which types of features matter most for their needs.
A good example are sports headphones. Those are usually built for portability, durability, and comfort. Most people typically don't exercise for more than two or three hours, so sports headphones don't really need giant 12-hour batteries adding to their weight. Consequently, sports headphones are great for athletes, but miserable for road trips. Making these kinds of trade-offs is what allows you to end up with earbuds which perform unusually well relative to their cost.
ACIL H1 Wireless Earbuds
Getting high quality sound on wireless earbuds is frankly difficult to do. The entire production is driven by two tiny audio drivers, which are powered by a modestly sized battery. Out of the gate, that can create some issues in sound quality. This isn't to say wireless earbuds sound bad. On the contrary, people around the world love using them every day. But there is a soft ceiling on what you can achieve with sound quality in the wireless format, especially if you don't want to spend hundreds of dollars.
It might sound counter-intuitive, but sometimes sound quality shouldn't be your top priority in a pair of earbuds. That's because when you're comparing one set of mid-ranged earbuds to another, differences in sound quality will largely be gradients rather than plateaus. One brand might have marginal sound improvements over the next, but you're going to encounter few examples of night-and-day difference.
When you start to spend hundreds of dollars, you'll run into those kind of night-and-day differences. And many of those differences end up being more of a matter of taste rather than what's best or worst. But when you're buying around this price range, as long as you can be assured there aren't serious problems with the sound, you can almost immediately turn your attention to other types of essential features. It's ultimately these seemingly-secondary factors, like noise cancellation, which will determine which earbuds you'll really want.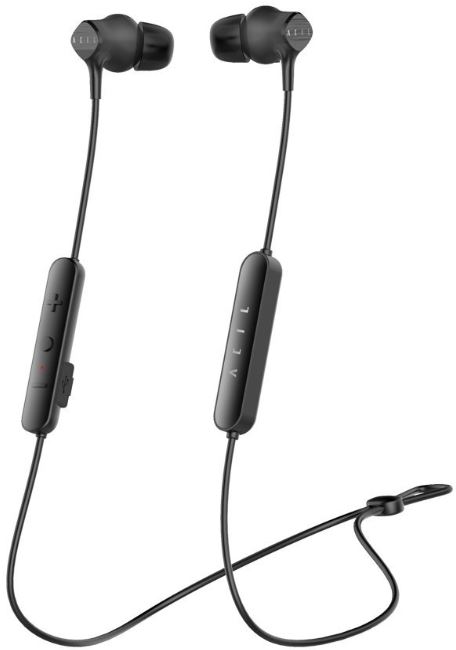 Build & Design
ACIL H1 wireless earbuds aim to deliver on three main points: utility, price, and comfort. And essentially every primary feature of the device builds towards that overall goal. For example, the cabling is flat. Using a flattened design helps prevent the wires from tangling. It's a subtle detail done right, which is characteristic of the entire device.
Physically speaking, ACIL H1 Wireless Earbuds have an ordinary black build that looks sleek and professional. If you know anything about the construction of wireless earbuds, you can spot these have been built to last. The highly durable silicone cording connecting each bud has several stress-points which help distribute strain evenly across the wire. If you accidentally tug off the ACIL, you're not going to immediately destroy your earbuds.
The overall sturdiness of its build is further reflected in the IPX5 water resistance rating. Each earbud is covered with a hydrophobic material that feels similar to cloth. The resulting protection ensures the entire earbud is resistant to dust, sweat, and bad weather. You wouldn't want to wash these in the sink or go for a swim, but short of that, you shouldn't have to worry about water causing you any problems.
The sweat-proof design is runner-friendly in other ways as well. When you're not using the ACIL H1 earbuds, each earpiece has a powerful magnet on the ends. They can be adhered together, allowing the ACIL H1 wireless earbuds to sit firmly around your neck like a necklace. It makes them easy to wear and take off, and prevents them from jumping back and forth on your body as you move around.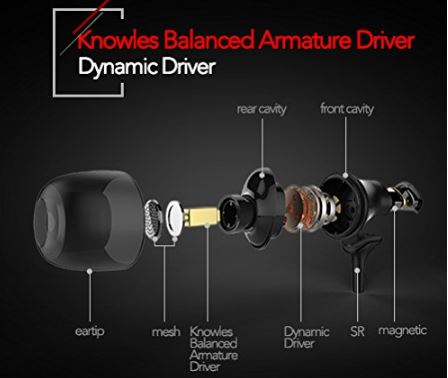 Establishing Comfort
It shouldn't shock you to learn that different people have different sized ears. Most sizes are fairly similar, but even seemingly small differences can have a dire impact on comfort and sound isolation. To make the fit customized to each individual wearer, ACIL H1's include 4 pairs of flexible silicone earpieces. That frees you up to pick and choose the size fits you best. It's a good decision made partially in the interests of comfort, and partially because it provides better sound isolation.
The portions of the ACIL earbuds which make contact with your ears are made of an incredibly soft liquid silicone material, which provides an excellent combination flexibility fit and comfort. You'll notice some matte plastic used on a number of portions of the ACIL wireless earbuds, which is there to help toughen the build. While it's not as smooth as the silicone parts, it's clearly been carefully picked to make comfortable contact with skin.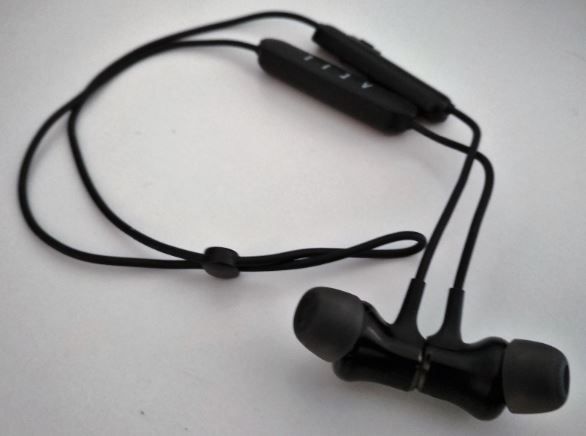 Accurate Noise Cancellation
Along with the customized ear-tips provided by ACIL, these earbuds use an asymmetrical design which is individualized to each ear. The result is more comfortable fit, especially for longer periods of listening. But more than that, this smooth fit is important for achieving noise isolation, and ultimately getting strong sound quality from some rather small earbuds.
ACIL's earbuds make use of passive noise cancellation instead of active noise cancellation. Passive noise cancellation is achieved by building a physical barrier between your ear canal and the world around you. The great fit of the silicone is what makes that possible. And some circumstances favor active protection rather than passive. If you're sitting under a droning air conditioning machine, active noise canceling might be preferable because that technology is great for taking on ambient motor noises. ANC is also a power-drainer that starts producing noise when exposed to the lightest gust of wind.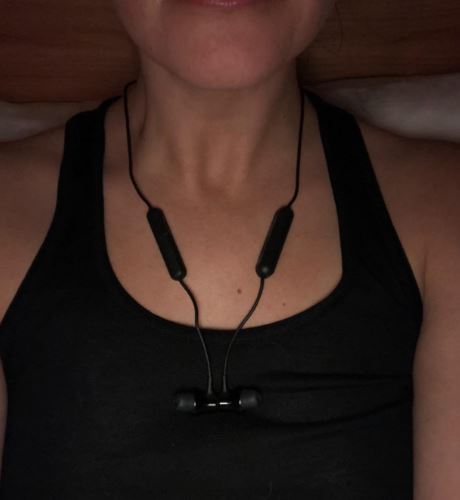 Ease of Use
Using the ACIL H1 earbuds is easy after you've figured out how to work the multi-function button (MFB.) You press for four seconds to power down, two to reject a call, once to pause, and so forth. It could take a minute to memorize all the patterns, so you might want to keep the instructions for a few days. But after you know how many times to tap, single-button operation starts to be incredibly convenient.
While you power-up the ACIL wireless earbuds, you'll be greeted by a female voice. She'll let you know that you're ready to listen, and then relay the status of your battery's charge. You'll hear from her again if you disconnect from your Bluetooth network, and again as your battery life starts to decrease. Those are incredibly convenient features, but you do need be paying attention to hear them. You'll get additional heads-up as your battery life heads towards critical, and these steady reminders are never unwanted or too frequent.
Sound Quality
The ACIL H1's are built from hybrid drivers that offer well-rounded audio experience. The best thing they bring to the table is they handle distortion quite well. You can raise or lower your volume considerably, and sound quality is steady as a rock. Its dynamic drivers ensure mid-tones are well represented, which makes the ACIL H1's good for listening to podcasts, watching TV, and nearly all genres of music. The treble range performs somewhat above average for earbuds in this price range, albeit largely due to the strength of ACIL's sound isolation.
Bass tones are rarely any good on wireless earbuds, and unfortunately ACIL is no exception. ACIL claims their dynamic driver delivers lush bass, but what they deliver is closer to exactly what you'd expect from a pair of earbuds in this price range. Getting great bass on earbuds is tough without getting closer to the $150 range, or abandoning some other critical feature.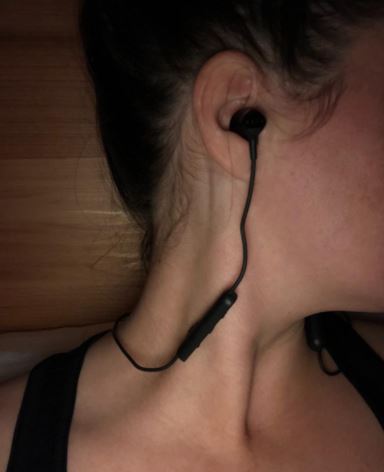 Battery Life
ACIL advertise you can get about 11 hours from a single charge of their wireless earbuds. But of course, that depends on a huge variety of conditions, from room temperature to volume settings. In real world situations, you might find yourself getting closer to 8 or 9 hours of battery life. That's still quite a powerful battery, and helps ensure ACIL has few prominent competitors for earbuds in this range.
The included dual lithium ion batteries help evenly distribute weight to both side of the device. And a full charge for ACIL wireless earbuds takes about 2 hours. Relative to their battery size, that is once again slightly better than most headphones.
Other Considerations
One more thing to note about ACIL H1 wireless earbud sound quality is how they use Bluetooth 4.1 for connectivity. Bluetooth is an evolving standard, and it's great to see even lesser-known brands like ACIL keep up. The result here is a certain baseline of audio quality and stability to all your listening. It may be worth noting, ACIL offers free replacement for their earbuds under a 1-year warranty.
Of course, there are some things you won't find on these earbuds. You don't see one-button Bluetooth connectivity, and there isn't any native support for voice assistants. But given the sporty and active nature of these headphones, those omissions feel less like an oversight and more like a design decision.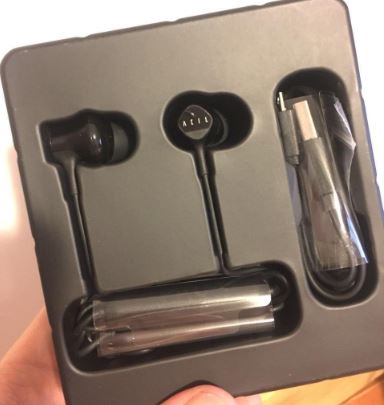 Who Should Choose ACIL H1 Wireless Earbuds?
Every pair of earbuds from the $10 range to the $300 range claim they have great sound. No brand is going to print "average-sounding bass" on the side of their box. But ACIL H1 wireless earbuds really do sound as good as many earbuds which cost twice as much.
That's because until you start paying out hundreds of dollars, the most substantive differences between any two pair of decent earbuds will all be features improving ease-of-use, not leaps and bounds of sound quality. The ACIL H1's are an excellent middle-point of quality without redundancy. It's a device that aims to deliver on comfort, cost, and utility.
And it delivers on them pretty well. Each earbud is highly ergonomic and customizable to your ear. The soft silicone material makes for a smooth and comfortable fit that feels like a high-end product. The battery life and waterproof rating is much better than you'll see in many pairs of headphones advertised specifically for athletes.