With the popularity of smartphones, the world has become full of amateur photographers. But while digital photography clearly has its advantages, being digital can make it difficult to display your work in the real world. Unless you feel like going out of your way to specially order film prints, most of your best photos may never see exposure outside of social media websites.
And that's a shame. One of the advantages of photography is being able to share special moments and interesting things with other people. In an increasingly digital world, when everything seems to be getting easier, it can actually be more difficult to share photos. And digital photo frames are made to address precisely that problem, allowing you to bring buried digital treasure to life.
Many of the earliest digital photo frames were mostly regarded as a novelty or fad. And truthfully, many of those frames were little more. They had virtually no storage, a tiny screen resolution, and few extra features. But technology tends to get better over time. Digital photo frames are no exception, and the HP DF1050TW is an excellent example.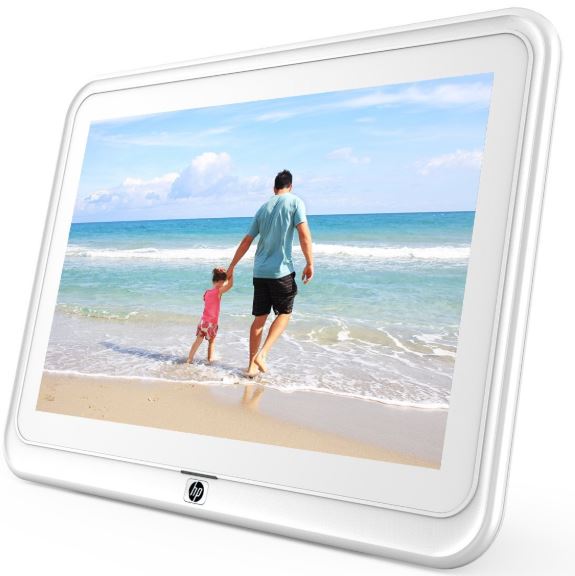 HP DF150TW WiFi Photo Frame
The HP DF150TW is a 10.1-inch touchscreen display. Unlike many of its competitors, it operates at a comfortably large 1280 x 800 resolution, which provides an ample amount of pixel density to give detail and life to your favorite photos. Internally, the DF150TW has 8GB of storage memory, as well as another 10GB of storage space you can access through their cloud service.
If you're not familiar with those metrics, 8GB of storage, with the supported resolution, is good for more than 20,000 photos. As if that wasn't enough, you can add on further storage with an SD card or USB flash drive. SD cards are restricted to 32GB, but that should be more than enough for even the most vivacious amateur photographers.
Design & Build
As you would expect, the DF150TW and it's 10.4 x 7.6 x 0.31-inch build roughly resembles a photo frame. The large 10.1-inch touch-based display is perfectly adapted to taking on the kind of photos taken by smartphones and other ordinary consumer cameras. That's because most of those photos are made in a 16:10 aspect ratio, which matches the aspect ratio of this HP Wi-Fi photo frame.
However, if you use a DSLR camera or any other device that shoots in an aspect ratio besides 16:10, then you'll end up with bars around the edges of your photos. That letterboxing effect can be adapted by adjusting your photos before or after you've entered them into the photo frame, but it's important to know the extra step is there if you plan on using shots from a DSLR.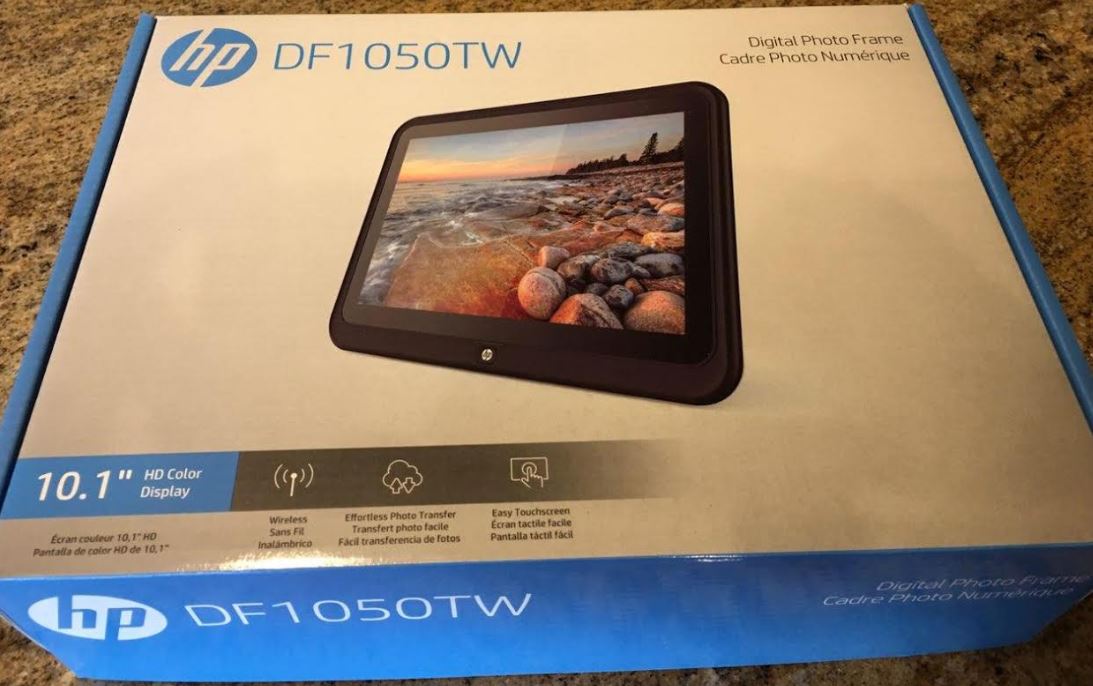 There are a few more things to notice. This tablet-like photo frame uses a fairly wide bezel. The size of the bezel helps create a strong point of contrast to your photos, but it's ultimately a stylistic decision you may like or dislike. Placed next to old-fashioned décor, this frame has the potential to stick out. And because the frame isn't minimalistic, you'll want to think about how it fits in with the space around it.
Along the top right-hand side of the frame, you'll find a small sensor that looks like a camera. And like a camera, it's a sensor which detects light. But the DF1050TW uses this sensor to detect ambient light conditions within the room. That allows some of its more advantaged features to be enabled: the ability to automatically adjusting the brightness and contrast of your images to better accommodate the specific conditions of a room.
If the name didn't give it away, the HP DF1050TW Wi-Fi photo frame has supports for Wi-Fi. It connects with a somewhat standard Wi-Fi 802.11 network card, so anyone who's ever connected a device to the Internet should be able to set up this frame. And fortunately, you won't have to make an Ethernet connection, which is just about the only thing that could make this frame seem more like a tablet.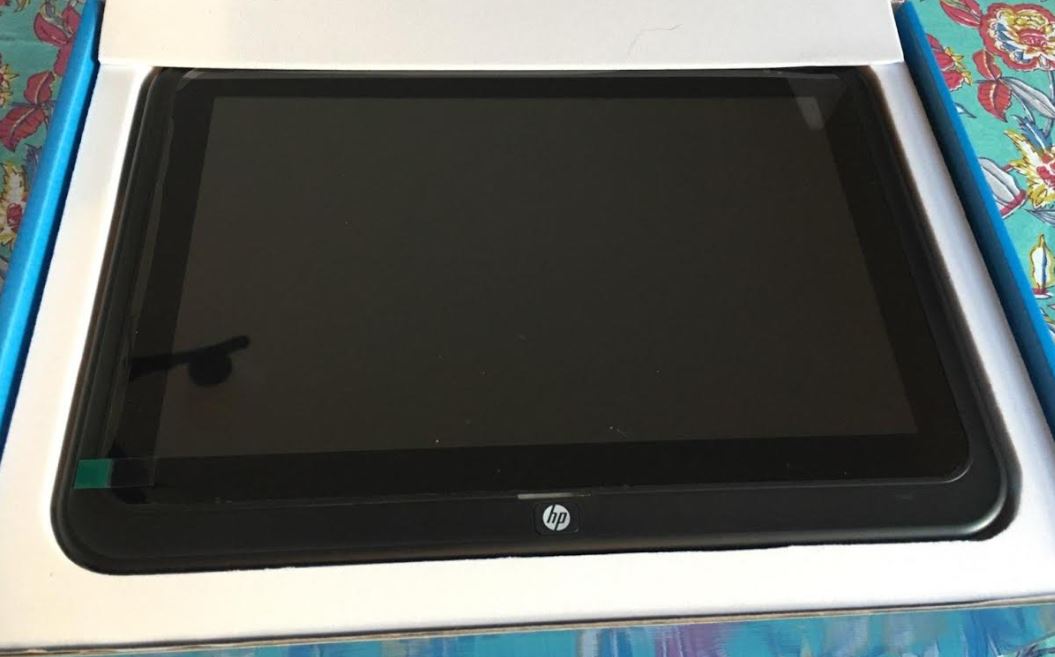 Aesthetic and Placement
Photo frames are ultimately decorations, and not every frame is for every home. The DF1050 is available in both black and white. The black is muted enough for the frame to mesh well with most home décor. By contrast, the white design clearly has a presence in the room. You'll want to be certain white is the right choice for the specific room you have in mind. In places where the white may stick out, the black frame may fit seamlessly.
The DF1050TW has a distinctly modern appearance that makes it seem more like a piece of technology than a photo frame. That tablet-like appearance is sure to be polarizing. And nowhere is that design clearer than when you're viewing this frame from the backside, at which point it looks almost exactly like a small computer. Rather than a photo frame, you might even think of it more like a tablet with a wide base.
And that wide base contributes to what could be the greatest weakness of the DF1050TW. Most photo frames are only a few centimeters thick, which provides you with a pretty diverse range of ways you can display those frames. But this bulky base is built-in, meaning the only way to display this frame is sitting on some flat surface, like a nightstand. Most digital photo frames are displayed in that manner regardless, but this is a limitation worth noticing if you had plans on hanging the frame.
On the plus side, the bulky backside of the frame is where you'll conveniently find all media inputs, power plug, and headphone jack. The included power cord is just short of five feet. You'll want to be sure that there's an outlet without about five feet of where you'd like to display this frame.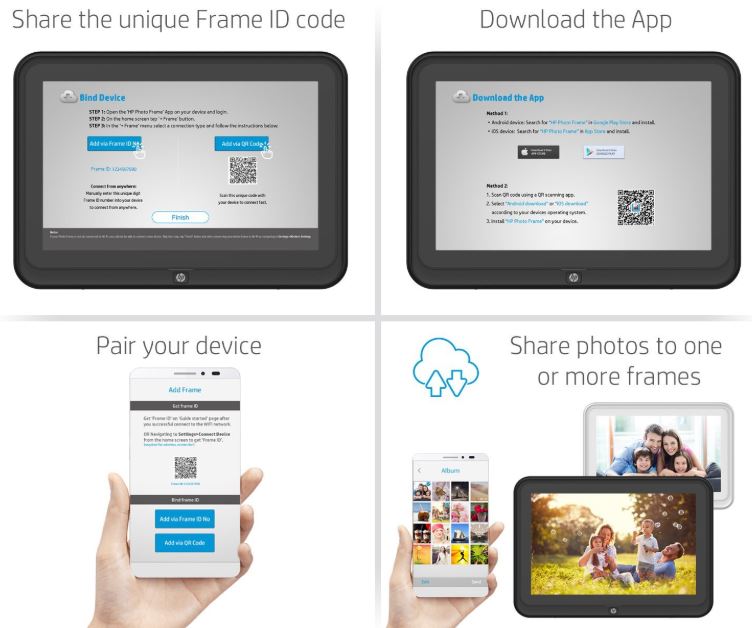 Ease of Use
Many digital photo frames don't have their own OS, but the DF1050TW is a rare exception. The home screen is very simple. You'll find the HP logo on a white background, the time and date, and only six buttons to choose from. Since this is a touch-screen device, you can access them by tapping directly on the screen. Those six options include: calendar, music, photo drop, settings, and information.
It's from here that you can set a screensaver, adjust the night-mode presentation of your photos, connect to a Wi-Fi network, use the auto-brightness feature, and so forth. Conveniently, you can install the HP photo frame app using a QR code displayed right on the frame. And completing this setup allows you to connect several devices to several frames. Different family members could have their own frames, and then have loved ones share photos to family frames in real time.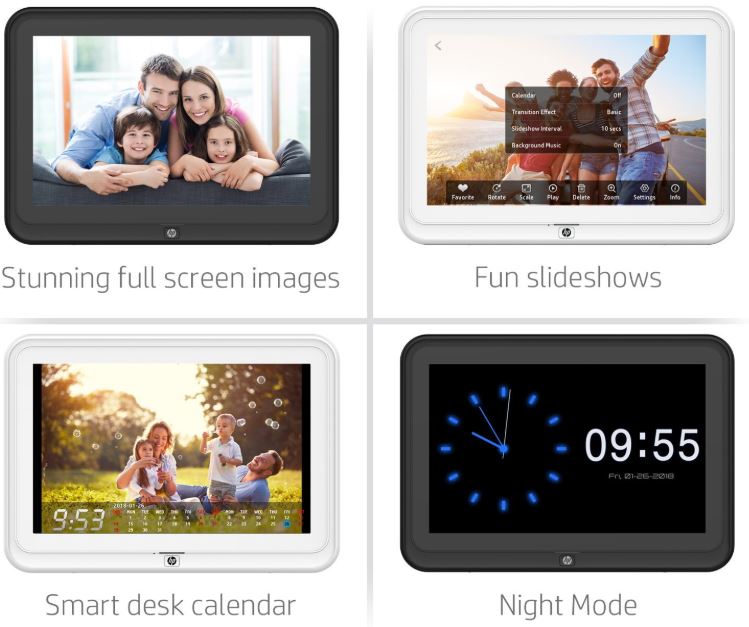 Added Features
Among the DF1050TW's many features, you'll find an alarm feature can be found hiding under the clock widget. The alarm produces an audio and visual alert to get your attention, like a digital egg timer. Admittedly, few people turn to a photo frame for an alarm, but it's not hard to imagine some people getting a little use out of having an extra alarm.
The DF1050TW's distinguishing feature is called Photo Drop. Most frames restrict you to plugging in a physical media drive to display your photos. The DF1050 expands on that basic feature set by enabling you to send photos straight from your phone through their Photo Drop service, a cloud-based service. While Photo Drop doesn't make clear in their advertising, the service has a 10GB / 5-year storage limit, and you can exceed those limits with a fee.
The DF1050TW has one more feature that's not common among digital photo frames, and that's the ability to adjust your photos right inside the frame. With a few taps, you can view any photos you've got stored on the device, and then pinch and zoom on each individual photo to make adjustments. Once you're done pruning, you can start a slideshow by tapping on the photos you want to be used. And from the settings panel, you can change transitions between photos, or even add your own background music.
Other Considerations
The backside of the device prominently features the HP brand logo, but this frame was actually manufactured by iDea electronics, which have a license to use the HP brand. You'll find some design qualities which are similar to HP products, but the integration between the aesthetic of other HP products isn't entirely seamless.
It's fair to say that the calendar feature is largely unnecessary, especially because it can't be synced with other calendar apps. You can't add events to the calendar, meaning it's basically just a list of dates. And at various points in using their software, you'll find varied use of fonts, and other small problems which make the software feel unfinished.
But like so many new electronics these days, the DF1050TW is capable of adding on features that didn't exist when you first purchased the frame. That's possible thanks to automatic updates through an Internet connection. Those updates mean that some of the minor issues facing the DF1050TW may be improved in the future. That includes things like the use of several disjointed fonts, and possibly adding improvements to the lackluster calendar app.
Finally, one word of warning about glare. The DF1050TW looks great, but part of what makes it look that way is a glossy finish. Glossy bezels are absolute glare magnets if they're placed in direct sunlight. With normal indoor lighting, you won't find any issues with glare. But you may want to keep this frame away from windows.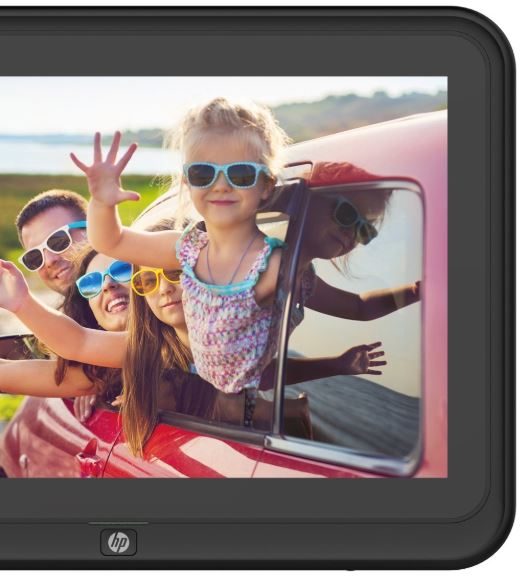 Who Should Choose the HP DF1050TW Digital Photo Frame?
The HP DF1050TW displays your photos, which is what it's supposed to do. If you like digital photo frames, then you'll love it. It improves on everything that makes photo frames great. The Photo Drop feature makes uploading your photos incredibly easy. And this frame displays photos at a much higher resolution than similar frames, which really helps your shots stand out.
The frame itself is somewhat bulky. You're not going to be able to hang it, but it should still fit nicely in most of the same spaces you'd see photo frames resting. Provided that you take care to choose the right aesthetic for the space you want to use the frame, it's a great choice for anyone who wants quality.
Meet Derek, "TechGuru," a 34-year-old technology enthusiast with a deep passion for tech innovations. With extensive experience, he specializes in gaming hardware and software, and has expertise in gadgets, custom PCs, and audio.
Besides writing about tech and reviewing new products, Derek enjoys traveling, hiking, and photography. Committed to keeping up with the latest industry trends, he aims to guide readers in making informed tech decisions.