It's easy to see the appeal of instant photography. Being able to whip out a polaroid camera and be holding fresh prints in a couple of minutes is undeniably cool. But unfortunately, that method means you're never going to be able to use your favorite photos, or even your best shots. You're ultimately at the mercy of fate as you do your best to hope your next photo comes out well.
Mini photo printers solve that problem. They allow you to pull your favorite photos from Facebook, Instagram, or from your camera roll. You can dig up your favorite selfies, or take your time and shoot a dozen pictures to find the one you like best. Once you've got your shots, you can start printing just as quickly as any instant-film camera.
And compared to printing from an inkjet, you're escaping the need to deal with ink cartridges altogether. Unless you're paying big bucks, it doesn't tend to be particularly economical to buy ink for color prints. Mini photo printers you can avoid that with a zero-ink design. The only thing you have to worry about is replacing the paper. And your consumption of the paper is inevitably going to be far more economical than the hit-and-miss shots you get from instant film.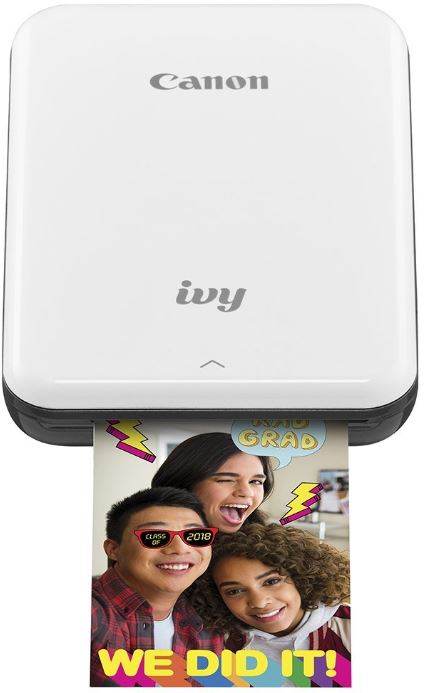 Canon IVY Wireless Bluetooth Mini Photo Printer
On occasion, good things come in small packages. The IVY is Canon's smallest and lightest printer. While it's not the first mini photo printer on the market, it certainly has its own unique take on what it is to offer portable prints. For instance, the IVY provides you the opportunity to be creative with your prints. You can apply stickers, photo frames, augmented reality face distortions to your images. It's easy to use the onboard photo editing tools for adding text, or drawing on your photos.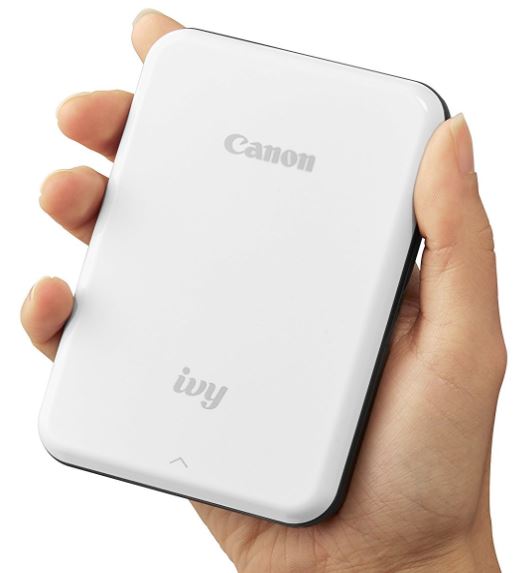 Design & Build
The IVY looks like a small, flat computer scanner. That impression doesn't go away as you pop open its top to enter new paper. The IVY uses a tiny 4.7 x 3.2 x 0.7-inch build that's meant to be flat and unobtrusive. Combined with a weight of just over 5 ounces, the IVY is quite easy to store and carry. And from out its petite frame, the IVY produces two-by-three photo prints with a stick-and-peel backing. Those prints elegantly slide out from the bottom of the IVY, like an ordinary printer.
Internally, the IVY uses 64MB of RAM to keep tabs on your print jobs. That's about half of what you'd find inside an ordinary desktop printer, but it's more than enough for the kind of printing the IVY is built to do. You'd have to work hard to run into problems with 64MB, but it could be done. For example, it would be ill-advised to try and print a dozen 4K photos simultaneously. Needless to say, it would also be rather pointless given the 2-by-3 dimensions of the prints.
Internally, the ENVY is powered by a 500mAh lithium-ion battery. Getting a full recharge takes about 90 minutes with standard 5V/A charging speed. However, the battery does dissipate rather quickly. You can get about 20 sheets of printing per charge, which is two full packs of 10. That's not especially limiting, so unless you're printing a massive collage, you probably won't run into power concerns. And the relatively fast recharge time won't keep you waiting long.

Ease of Use
Getting started is only as complicated as connecting the Canon IVY Mini Photo Printer through Bluetooth to a mobile device. Everything else is orchestrated through Canon's free Mini Print App. The process of physically setting up the IVY is just as smooth. After you've downloaded the Canon Mini Print App, you'll need to set up the IVY. You just power it up with the included USB cord, and wait for the onboard power LED to switch from red to green.

Pop open the top of the IVY as though it were a PC scanner, and load in the paper. After that, connect to the IVY through Bluetooth, and open the Canon Mini Print App. From here, you can already start setting up your first prints. Within the IVY, the automatic paper sensor keeps those prints moving smoothly. All in all, it only takes a few moments of poking through the app before you can hold fresh prints in your hands. And it takes about 25 seconds to print a photo after you've started the print job.
Along the outside of the Canon IVY Wireless Bluetooth mini photo printer, you'll find two prominent LED lights. These lights are used to indicate the charging status, power status, printing status. Even if you're not logged into the app, these lights can help you stay in touch with what's going on with IVY. The most immediate advantage here is easy troubleshooting, but more than that, it's a convenience feature that ends up saving you time.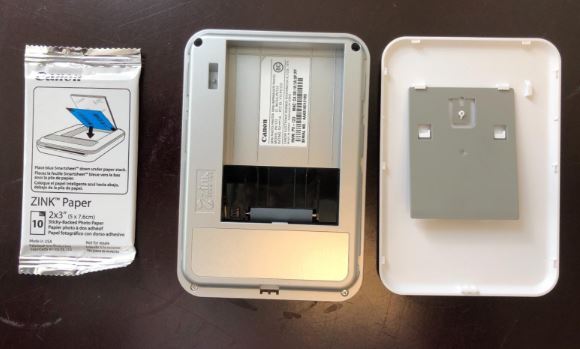 Print Quality
The IVY prints on 2-by-3 sticker-paper, which is smudge free and water resistant. Those smaller prints can be made into something larger by creating an image composed of 4-9 separate prints. The resolution of each print is 314 x 400 dpi, which can be strung together into larger images quite nicely. It's an excellent picture quality relative to the size of the prints. Furthermore, Canon's app allows you to mash together multiple photos for a collage, or take advantage of image filters to help enhance the mood of your shots.
The Canon IVY also uses some fun augmented reality filters. It's the same face-tracking technology found in popular apps like Snapchat. And while the AR filter options available through IVY aren't quite as vast as the library you find on apps like Snapchat, they work exactly as you expect. And that makes mastering their use and finding great shots very easy to do.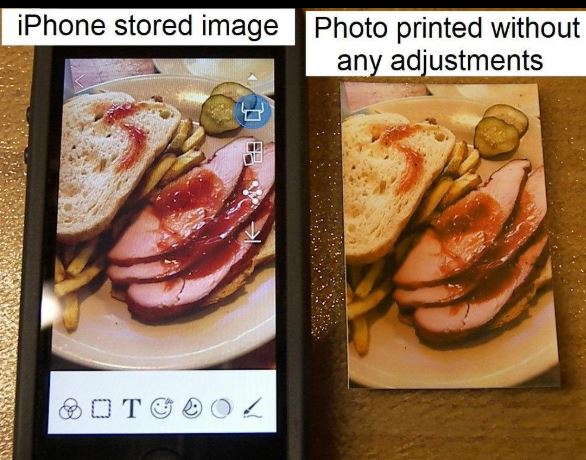 Connectivity
The only means of connecting to the Canon IVY Mini Photo Printer is through their app. You won't find Wi-Fi cards, memory port connectivity, or other means of connecting to the IVY. In other words, you'll need a smartphone or tablet. IVY is compatible for Mini Print iOS, iOS 9.0 and beyond, and Android 4.4 and beyond.
Once you're in their app, it's smooth sailing. You can do some quick and easy prints straight from your social media accounts or basically from any photo-bearing device with a Bluetooth connection. After you're connected, you can enjoy Bluetooth 4.0 and all its benefits.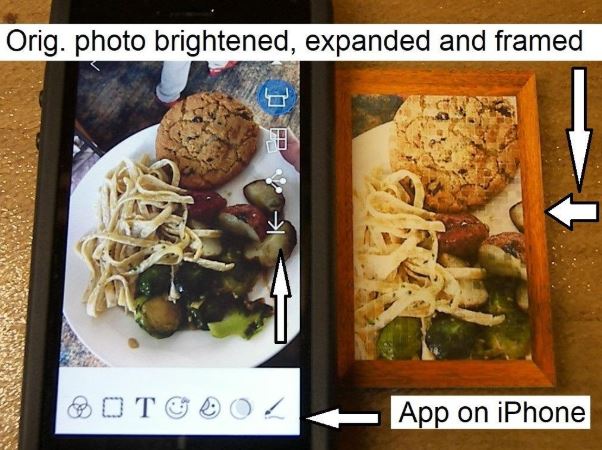 Print Paper
The Canon IVY uses ZINK Photo Paper, which is constructed with a peel-and-stick backing. The prints themselves are smudge free, water repellant, and tear resistant. The IVY includes 10 sheets, which is the maximum load capacity for the tray. The IVY can also be purchased alongside additional sheets in sets of 20 sheets or 50 sheets.
Compared to film, the paper is reasonably economical. Canon IVY Mini Photo Printer paper works out to roughly 50 cents per shot. That favorably compares with the purchase of essentially any sticker, let alone one that you've personally created and customized. It's a much a better deal than you'd find trying to get orders from a print-shop, and that's really all that matters.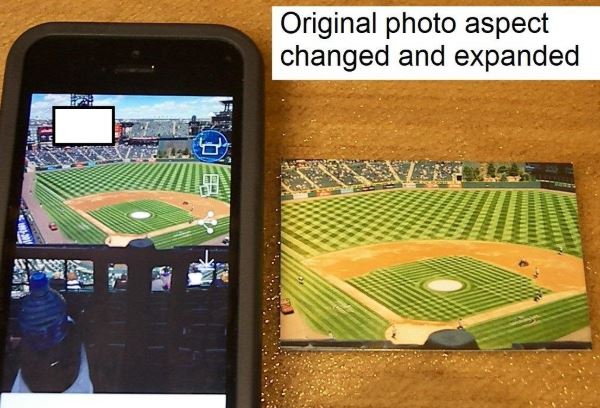 Other Considerations
Only being able to hold 10-sheets at a time isn't a significant drawback. However, the IVY can have longer print times. Slower printing can be troublesome when you plan on doing several prints in a row. For example, the IVY prominently advertises its ability to produce a collage composed of 9 separate prints. Creating that collage would require nearly five minutes of printing time, and that's not a worst case scenario. You can't approach IVY expecting to get the same 10-second print speeds you'd get from a home office Inkjet printer.
There are some small concerns to note as well. Compared to a typical desktop printer, the IVY has a slightly narrower operating temperature. It's built to operate between 59-89°F. The Ivy may be highly portable, but you wouldn't want to do your prints in the arctic winter. This limitation shouldn't be a major concern for many people, but it is something you should keep in mind before trying to do prints outdoors on a sunny day.
The IVY includes Canon's one-year warranty, which comes with toll free tech support. Canon tech support is actually fairly good. In large part due to using US based tech support with offices around the country. The IVY also comes with 10 sheets of the ZINK photo paper to get started, a USB charging cable, quick start guides to help you get accustomed to using the IVY.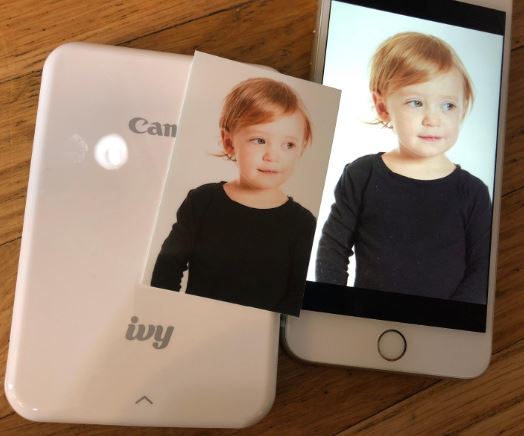 Who Should Choose the Canon IVY?
The IVY is great for enhancing and sharing your memories with others. Smartphones are basically small computers, and the IVY is essentially a small photo printer for your phone. It allows you to bring shots worthy of Instagram to physical media. It allows you to share your favorite moments, like a Polaroid, except with far more control over the end product. It might not be as spontaneous as instant-film, but the artistic-minded people will appreciate the greater degree of control.
Desktop photo printers usually have size limits, and those limits are usually close to 3×5 or larger. The IVY's unique 2 x 3-inch sticky prints are a cool way of adding a personal touch to small photos, and of helping bring your favorite digital memories to life. It's not terribly hard to make larger prints by combining two-or-more sheets of the ZINK paper. Consequently, IVY is far more versatile than its small form would initially lead you to believe.
It's not going to replace an ordinary full sized photo printer, but the IVY certainly has something to offer. It makes it exceptionally easy to connect to your social media accounts. It's a good choice for social media aficionados, selfie-addicts, and people who love photography. Whether you have favorite photos, or you want to pull graphics off of the Internet, the IVY is a good choice for anyone interested in mobile photo printing.