Finding the right Bluetooth speaker is mostly about knowing where you'll be doing most of your listening. Different spaces have different acoustics. Audio equipment that sounds incredible in your living room can sound terrible when you take it outdoors. Even great gear can start to underperform under the wrong conditions.
Just because you can take a speaker outside doesn't mean it was built to be there. Waterproofing is a good start. But if you're in an open-space and using a unidirectional speaker, problems with sound quality are going to be unavoidable.
Anker Soundcore Flare
Anker doesn't have the same recognition as a brand like Sony, but they do have a reputation for high quality equipment relative to its price. The most noteworthy features of the Anker Soundcore Flare are right in its name, portability, 360-degree sound production, and high portability to round out your experience. But the Flare doesn't stop there. It has something for everyone, as you can immediately tell from the stylish LEDs running around the base of the device.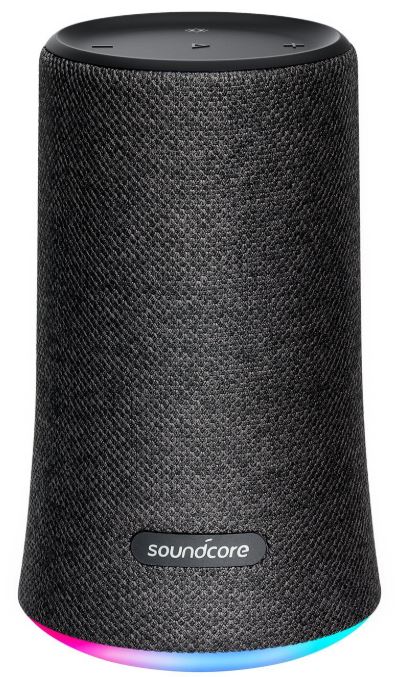 360 Degree Soundscape
The Anker Soundcore Flare creates sound in all directions. More specifically, it creates sound on either side of the Flare. The fact there's only two drivers used in the Flare's build means it's not totally immune to the kind of sound-degrading you experience when standing at awkward angles relative to your audio equipment. But the 360° design does clearly outclass any speaker using a solely unidirectional design.
When people are listening to a portable speaker, they're not necessarily sitting in fixed positions like watching television. Instead, they're at the beach, working outdoors. They might be moving from one space to another, like from their front yard to dining room. And that means the no matter how good a front-facing speaker performs, sound quality is going to be all over the place.
If you drew a large circle around a unidirectional speaker, you'd find the sound quality you're looking for while standing in about 40% of the circle, the portion which were directly facing the output of the speaker. If you drew a large circle around the Flare, you'd find you get the sound quality you want in 90% of the circle's positons. That's more than twice the coverage of a unidirectional speaker.
The 360-degree design doesn't have preferential sound treatment. You don't have to be perfectly positioned to hear the music. And when you're actually using the portability of a speaker, that's a feature which can make-or-break your selection.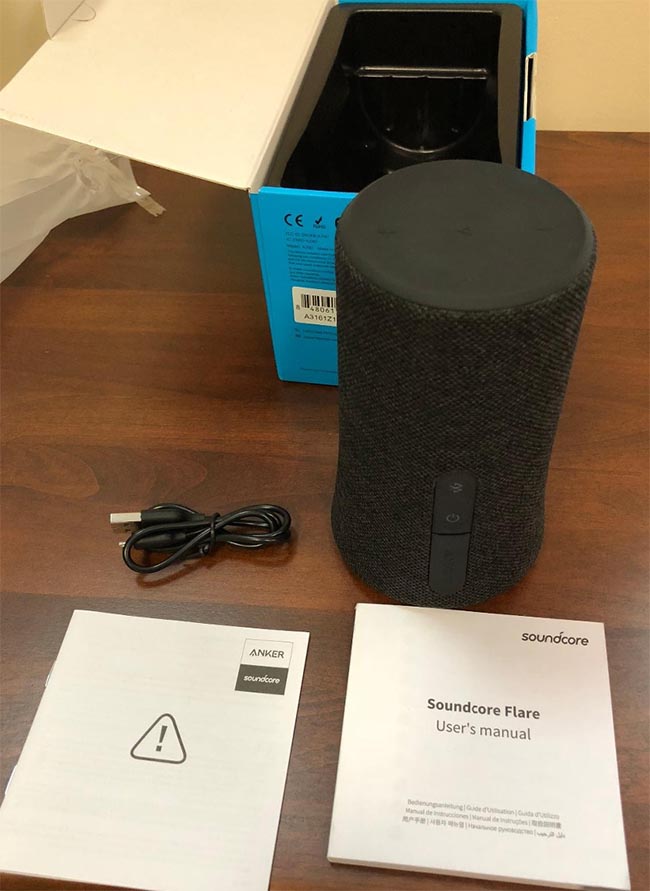 Build & Design
LEDs have made their way onto everything from buildings to computer mice, and it's certainly not unusual to see them on speakers. Nevertheless, the Flare's LED light show does add to the generally modern feel of the flare. Sitting at 5.9 x 3.5-inches, the Flare weighs slightly over a pound. It's essentially a long cylinder that widens towards the bottom. On each side, you'll find full-range 6W audio driver. Built in with each driver is a passive radiator.
Even without the passive radiators, these drivers would be suitable for filling an entire room with booming audio. You can find $3,000 televisions and projectors with audio equipment in the 6-watt range. But the Flare being able to take advantage of a larger build space means it can perform somewhat better than anything you'd find built into a TV. And that's quite a feat for a device running on such a modestly-sized battery.
The external casing of the Anker Soundcore Flare is wrapped with cloth for added protection, a nice touch you don't generally see on speakers in this price range. And the bottom of its base is rubberized. Part of that is to help ensure the Flare doesn't get knocked over easily, but it also helps prevent the Flare from creating resonance when you stick it on a table that's less than sturdy.
Like an increasing number of Bluetooth speakers, the Flare is built to be IPX7 waterproof protected. That rating indicates the Flare is equipped for submersion up to one meter, for about half an hour. Most waterproofing for speakers is somewhat light, typically closer to IPX5 which protects from small splashes. Even if you don't anticipate needing heavy waterproofing, the IPX7 rating is indicative of a generally sturdier build. And that's a little unusual to see on audio equipment in this budget range.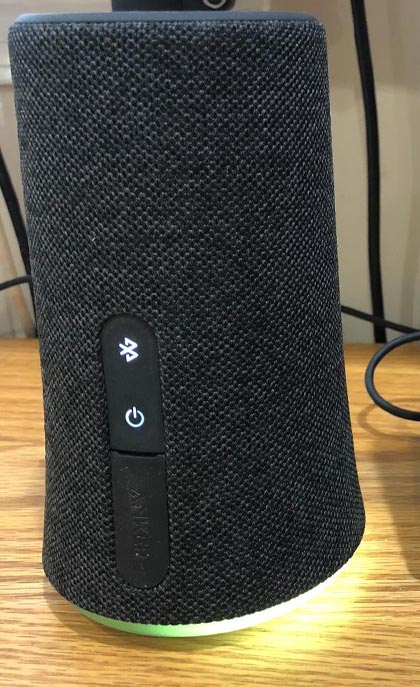 Buttons and Connectivity
The backside of the speaker has a rubberized panel where you can find the pairing and power buttons. Here is where you can access the 3.5 mm audio inputs and the USB charging cable port. The top panel is also rubberized, and is the home to your essential controls. On either side of the play/pause buttons, you'll find the volume controls, a bass button, and a button for the Flare's LEDs. If you tap the LED button a handful of times, you can switch between different patterns and hues, until eventually the lights are disabled.
Ease of Use
If you bother to download the free Soundcore app, you can use a firmware update on the Flare. All in all, their app more useful than you'd think. It isn't packed with a bunch of bloatware like you'd normally see with budget-oriented audio equipment.
Doing so can you more control over playback settings, and of course EQ. You can toggle adjustments to the bass boost button, and adjust essentially every preset on the device. When changing audio tone presets, the Flare will show you how each change affects the frequencies you're altering. The app also lets you explore the LED light settings a little more carefully, selecting between five different light modes, and allowing you to choose between sub-modes to further customize your LEDs.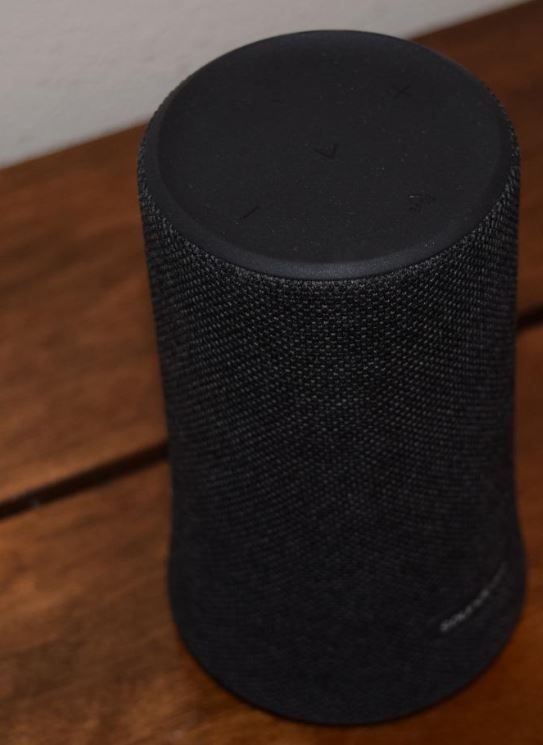 Battery Power
The Flare has a battery life expected to last for about 12 hours. But performance will always depend on your circumstances. If you're looking to squeeze extra life out of the battery, swapping to wired mode may help you get an additional two hours. You can also toggle off the LED display, use lower levels of volume, and so forth. But you can also turn all of those things to the max, and when you do that, you're going to find the Flare provides closer to 8 hours of power than the advertised 12.
Connectivity
Anker uses Bluetooth 4.2 in the Flare, providing an effective wireless range of approximately 66 feet. That's pretty close to double what you ordinarily find on Bluetooth speakers. Even if you don't necessarily need the extended range, it's reflective of an underling increased signal strength. When objects that get in the way of your signal, like walls or vehicles, you encounter less immediate problems with sound quality and connectivity.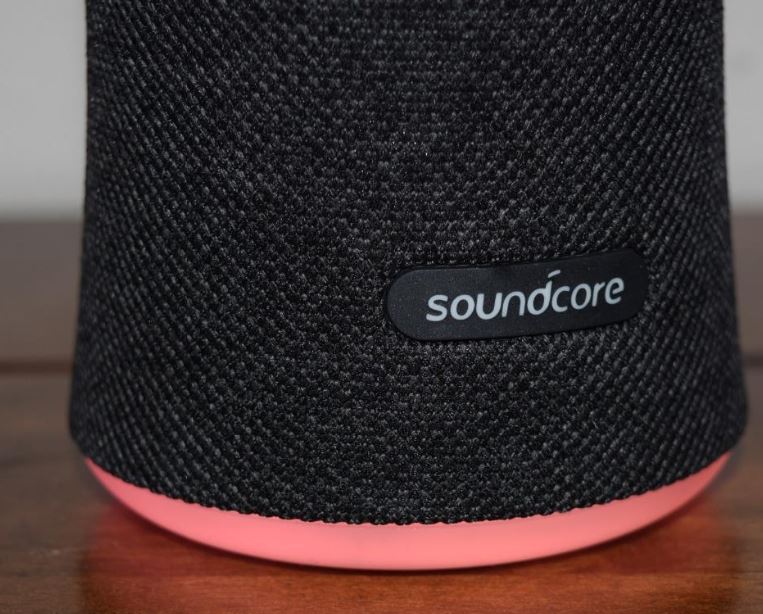 Sound Quality
One problem with smaller speakers is as you crank the volume, you'll find they have a tougher time performing at higher levels of volume. Flare does an excellent job of keeping sound quality up as you increase the volume, relative to the smaller size of this speaker and its price. In general, small speakers aren't really expected to deliver deep booming bass, or get super loud. But the Flare does have great volume relative to its small size.
The bass can't compete with something you'd get from a subwoofer, but it doesn't distort your music. Unfortunately, the onboard bass boost mode is somewhat underwhelming if you don't make adjustments through their app. You may not even be able to tell the difference between having it on or off prior to adjustments.
It's fair to say the Flare has a natural sound signature. It's managed a balance of sound which keeps music punchy, but sounds great for just about anything. Whether you're listening to rock and roll or opera, watching a nature documentary or listening to the news, the Flare doesn't have any particularly weaknesses by genre. And when if you find its sound signature doesn't match your tastes closely enough, EQ settings can nudge them in the right direction.
Added Features
The Anker Soundcore Flare doesn't have much in the way of added features. One thing that helps it along is compatibility with Alexa. You can use Alexa to access all your Alexa house devices, and access all the essential Amazon services ordinarily accessible. The performance of the Flare when using Alexa isn't quite as good as an Amazon Echo because the Flare doesn't make use of multiple microphones. You sometimes have to speak carefully or repeat yourself, especially if there's other noise going on.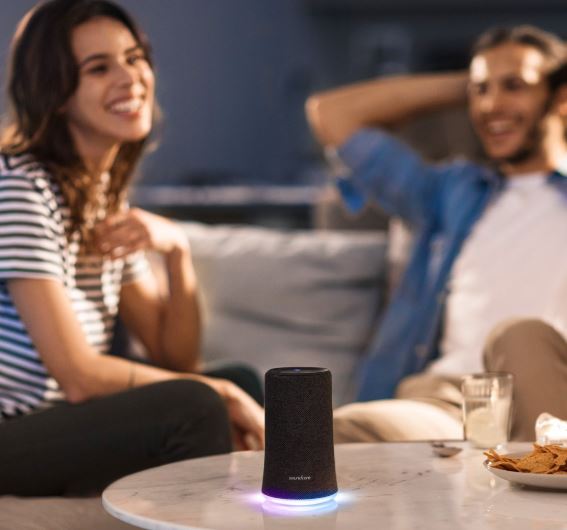 Other Considerations
The preset EQ modes aren't too impressive, but you don't have to rely on them. You can't connect multiple devices to the Flare. You can however connect 2 flares to a single device for stereo sound or improving volume output. The 360-degree design of the Flare means it's not always great for small spaces. The result of sound waves colliding off walls in close proximity to each-other produces distortion and noise which can be jarring. But as long as you keep the Flare outside of your small closets, you shouldn't encounter those kind of issues.
Many of the Flare's LED display modes are fun and interesting, but one potential source of disappointment is their music mode. Like any music mode, this one attempts to match the LED display along with the beat of the music. Unfortunately, this mode doesn't match up particularly well with the beat. Furthermore, the speakerphone microphone is one area where the Flare is perfectly average relative to other Bluetooth equipment. But without the kind of multiple-microphone configuration you only see in top-shelf models, it's hard to get substantially higher quality than the Flare.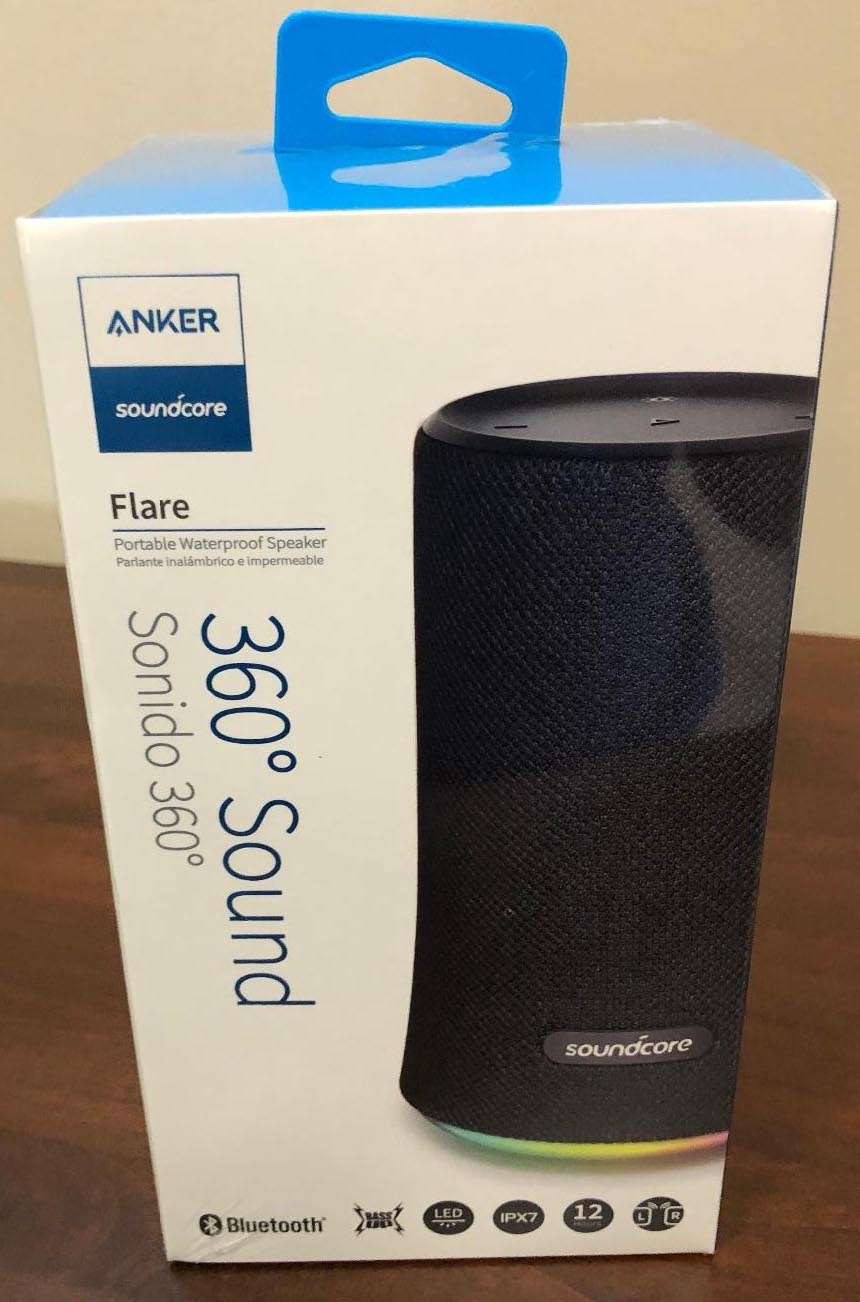 Who Should Choose the Anker Soundcore Flare?
The Anker Soundcore Flare has something for everyone, and with a price that's easy to swallow. It's got a cool party aesthetic, a highly pragmatic and immersive 360° sound-scape, and the generally sturdy build that you want from a portable device. It's a good choice for nearly everyone who needs a portable Bluetooth speaker. It's a particularly strong choice for someone looking to maximize audio quality on a low budget.
The Flare has countless competitors. You could raise your budget by $30 and find Bluetooth speakers with a more impressive LED lightshow. You could give up the lights and save $20. The Flare is for people who want a little bit of everything, from audio performance to aesthetics. It's a jack of all trades with an app that will surprise you.