Choosing a great printer is easier than ever. With how many formerly premium product features have become standard on home printers, it's actually starting to get difficult to go wrong in your selection. Difficult, but not impossible.
Home office printers can still surprise you with ink costs, or frustrate you with inscrutable design decisions. For the most part, these mistakes can be avoided by being cautious. Examining the most important aspects of any given printer can give you all the insight you need to be confident in your decision.
HP ENVY 5055
At some point in your life, you've probably encountered an HP printer. About one fifth of the entire printer market belongs to HP, and it's not by coincidence. People want easy-to-use print devices, and that's what HP delivers. The ENVY 5055 is the latest in their line of home inkjet printers, and if you've ever used an HP printer, then you already have a good idea of what to expect.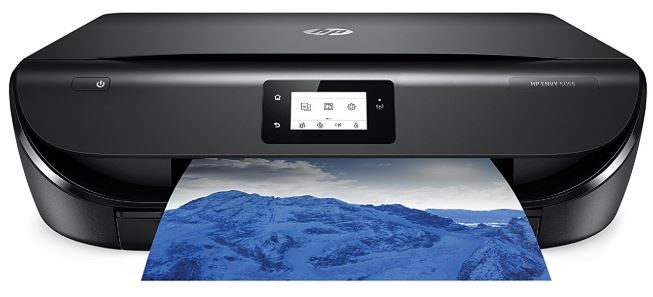 Inkjet printers are ideal for rich graphics and crisp text. By spraying tiny droplets of ink onto paper, inkjets can be used for printing in a greater range of paper sizes. From business envelopes to scrapbooking, inkjets have been the go-to device for decades. And with the 5055, you can expect more of that.
But because you're dealing with higher quality prints, inkjet printers like the ENVY 5055 tend to have slower print speeds. This makes them better suited for people who have light print needs, as opposed to someone sharing an office space with a dozen others. Used in an environment like that, the 5055 would produce printer traffic jams as slow print speeds caused one job to run into another. Clearly, it's important to choose the right printer for the right environment.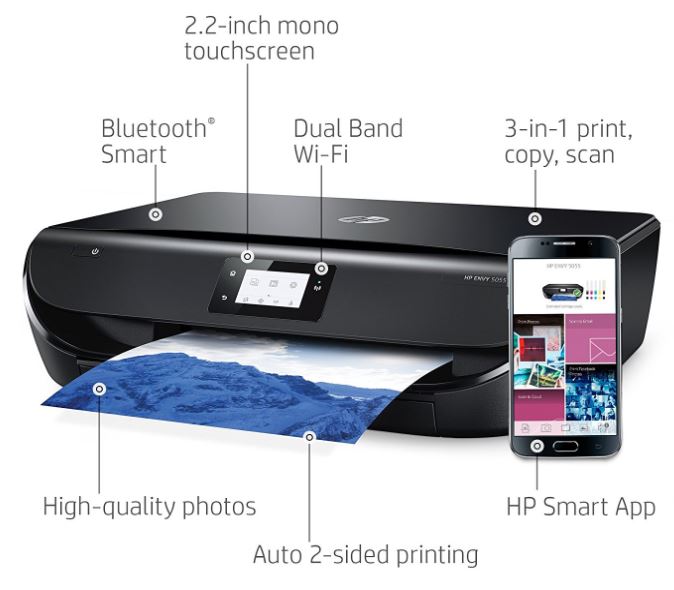 Design & Build
Like most home printers, the HP ENVY 5055 is built with a modestly low throughput in mind. It has a recommended monthly volume of about 400 sheets, or slightly more than ten pages per day. That throughput is somewhat reflected in the low-profile build of the 5055. It's clearly been made to fit subtly on a desk without taking up much space.
It's worth noting the 5055 uses a standard horizontal paper tray rather than a top-loading design. Consequently, paper is drawn through the 5055 with rubber rollers. By contrast, top-loading printers use gravity to help feed documents, and tend to be better for types of media which can't be bent. But top-loaders also eat through space, which is why you don't see that feature on a more compact printer like the 5055.
The build of the ENVY 5055 is professional to the point of being almost too-generic. It looks almost identical to every other HP home office printer of this type. Fortunately, its performance is anything but generic. The ENVY 5055 supports a max printing resolution of 1200 x 1200 for monochrome or 4800 x 1200dpi for color. Combined, those resolutions provide crisp text and vivid photo coloring for all your prints.
The touch screen display is a modest 2.2", but provides all the essential access you need. The monochrome screen is easy to read and use, though you'll find it responds somewhat slowly between taps. Within you'll find HP has included 258MB of standard memory, which is useful for loading large print jobs smoothly into the printer. And on the backside of the 5055 you'll find one USB 2.0 slot, which unfortunately cannot be used for USB printing.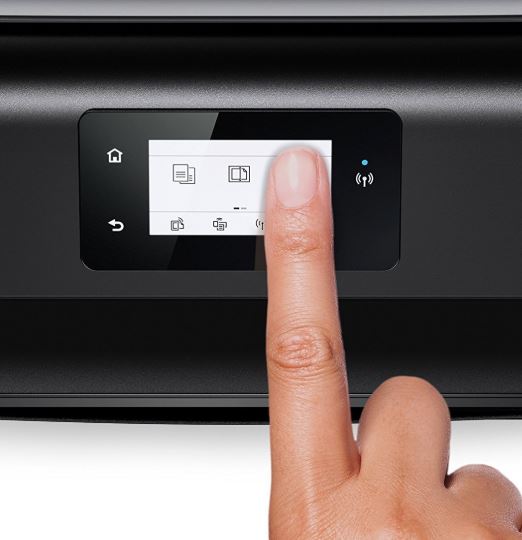 Essential Features
Photo printers like the Envy 5055 tend to be more about printing great photos than churning out text quickly. And to that end, the 5055 is quite successful. It offers photo quality which rivals or exceeds what you'd get from ordering prints online. Another critical feature to note is the automatic duplexing. Duplexing allows you to print on both sides of a page, which saves you time, effort, and money.
Speed usually isn't something you have to worry too much about with a home printer, but becomes an issue once you've got large print jobs or several people using the same printer. Pages per minute PPM measures how fast your printer can go through paper. The ENVY 5055 offers a print speed of 10ppm for black and white pages, which is high-average for a color printer. The 7 ppm speed for color prints is only just lagging behind, while remaining slightly faster than a handful of competitors.
Turning to the copier, you'll find speeds of 8ppm for monochrome and 4ppm for color. That's not exactly blazing fast, but you'll find the slower speed contributes to the quality of your copies. Unfortunately, the maximum copy resolution is somewhat low, but the included ID-card copy feature is a nice consolation.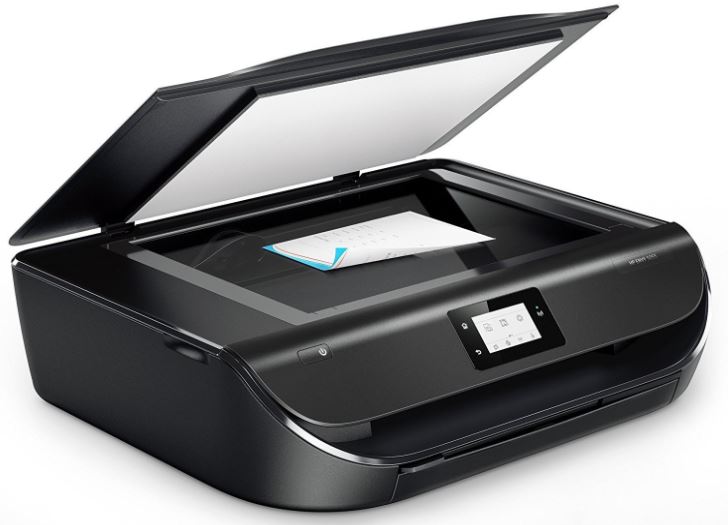 Print Quality
The ENVY 5055 operates using ordinary A4 paper, with a maximum sheet size of 8.5 x 11.7 inches. That's perfect for a variety of envelopes, photo paper, ordinary paper, and smaller legal stationary. But you should take note of the minimum 3 x 5-inch size necessary to feed through the printer. And whatever size you end up shooting, you can get gorgeous borderless photo prints.
As far as quality is concerned, Inkjets tend to have similar performance. If you've used an inkjet printer before, you won't be in store for any surprises. Even moving up to the slightly more expensive HP 6255 wouldn't affect quality of your prints as much as the feature set available to you. To get much past the kind of quality of a home inkjet printer can offer, you have to add some zeros to your budget.
Connectivity
Wi-Fi may only be a minor convenience when you're only connecting to a single device. But when you're trying to share a printer between several devices, wireless connectivity can be an essential. Given only that you've got good Wi-Fi to provide the printer, it should only take seconds for someone to hop on the 5055. The quick setup speed is ideal for small businesses and homes alike. Furthermore, the 5055 is ready for Bluetooth connections thanks to the inclusion of a second wireless antenna within the ENVY.
But there are some connectivity options you won't find. You can't jack-in an Ethernet cable, or do USB printing. In fact, you can't use any form of digital memory sticks. Accessing the 5055 necessarily has to occur through a wireless gateway. For general users, that should pose no problem. Especially given the fact that the ENVY 5055 has native support for Apple Air Print, Mopria Print Service, of course HP ePrint.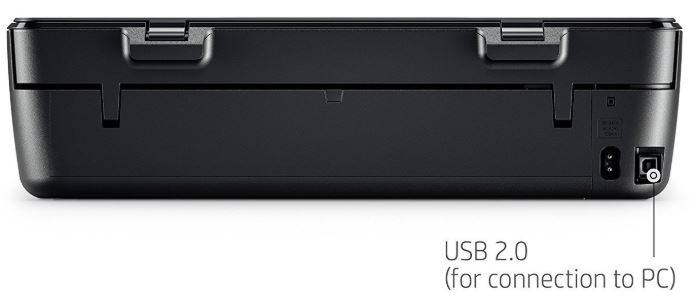 Ease of Use
Setting up the HP ENVY 5055 takes slightly more than 5 minutes. After years of refining their installation process, HP has made it scarcely more difficult than pressing a few buttons. And it only gets easier once you've got everything setup. From there, you can choose to install the HP Smart App to help manage your printer.
It's an optional app that can help you keep an eye on ink levels, print photos from your social media accounts, and otherwise make the 5055 easy to use. Under many circumstances it would be a little silly to use a printer app, but this one can really help you squeeze more versatility out of the 5055.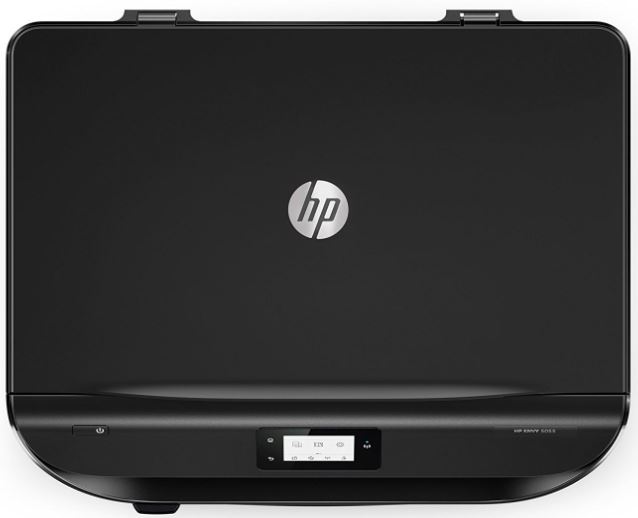 Ink and Toner
Different printers use different kinds of ink cartridges. And those cartridges often have subtly different hues, or different ways of creating those hues. The 5055 uses somewhat standard inkjet cartridges, including 1 black and 1 color cartridge. The color cartridges use a simple design consisting of cyan, magenta, yellow.
The 5055 comes with one pair of ink cartridges, consisting of one black and one color cartridge. Unfortunately, the cartridges which come preinstalled in most printers are rather small. Those in the ENVY 5055 are good for about 100 prints before needing replacement. The good news is that if you're someone who does plenty of printing, the ENVY 5055 can be equipped with high-capacity cartridges.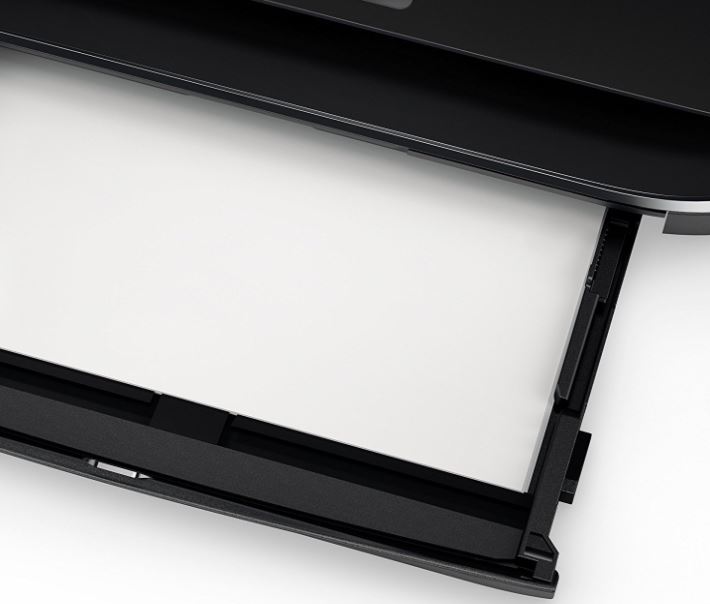 Other Considerations
Some consumers will understandably be frustrated by the print speeds of the ENVY 5055. It may feel like they've only marginally improved over the past 20 years, and that's because they haven't. Greatly increasing color print speeds isn't easy or cheap. Unless you're willing to pay a high premium, slower speeds are the price you pay for high image quality without having to take out a third mortgage.
Living up to high energy efficiency standards, the ENVY 5055 has an impressively low power consumption under 1 watt while sleeping. It rises up to only 14-watts during operation. Furthermore, the 5055 keeps quiet during operating, about 51db at max. That's about average for an HP home printer, so you know what you expect if you've used one before. The minimum and maximum operating temperatures of the 5055 are 41-104°F, which is also about average. The ENVY 5055 also includes HP's standard 1-year warranty.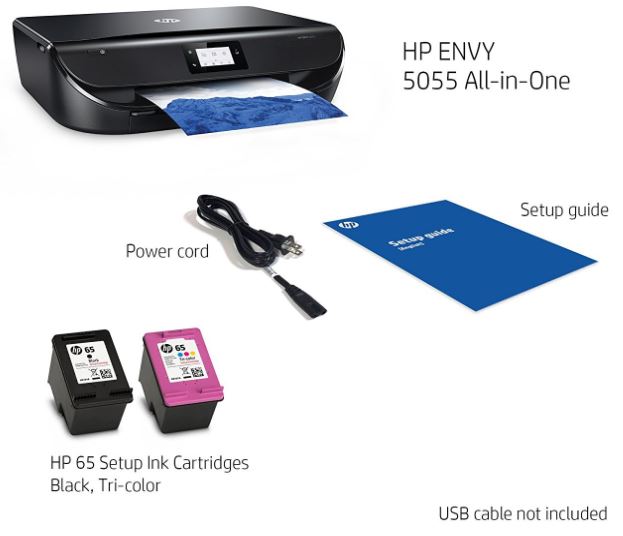 Who Should Choose the HP ENVY 5055?
People who print casually will love the ENVY 5055. And if you do enough printing to justify joining the HP Instant Ink program, which is about 50 pages per month, then you'll love the ENVY 5055 as well. The ENVY 5055 is incredibly cheap considering the hardware you're getting, but HP is hoping to make that money back on ink. Replacement ink costs for the 5055 can be steep unless you're printing infrequently, or able to take advantage of the better prices through their ink savings program.
The ENVY 5055 isn't fully loaded, it's more like a device trying to provide all of the basics in good measure. You won't find an automatic document feeder for set-and-forget faxing. You can't connect with an Ethernet cable, print from USB, or use SD cards. What essential features are present are extremely well-rounded and easy to use. But if you're looking for more than the basics, you may want to check out OfficeJet 5225 for a generally higher capacity device.
The ENVY 5055 is easy to use, largely thanks to its touch screen design. It's built to be widely versatile, from its connectivity options to the optional use of high-yield cartridges. It even has features that have in the past been reserved for high-end machines, like print duplexing. That makes it a generally well-rounded home printer, and an easy choice to make for someone who doesn't have many special demands for their device. It's versatile, but not excessive. It's quality, but not expensive.