Flooding on any scale is never good for your home. Carpeting gets soaked, woodwork gets damaged, and even your furniture can get destroyed. The first step to cleaning up is getting out all of the water. This is most often the case in basements, where a failed sump pump can quickly flood any finished space. But it can also happen in other areas, such as a bathroom or laundry room.
In all of these scenarios, you may not want to spend a small fortune on a temporary pump. Instead, an affordable, battery-powered pump is going to be a better option. But a battery-powered pump can be good for a lot more than just draining a flooded room. Maybe you have an outdoor fish pond, and you need to shut down your regular pump for maintenance. Point being, a battery-powered pump can be a lifesaving device.
A small, battery-powered pump can also be useful for working off-grid. Yes, you can always use a gas-powered pump in those scenarios. But even the smallest gas-powered pumps are big and heavy. You have to lug them out to your jobsite, and you also have to lug fuel along. If you don't need all that power, a more portable pump makes way more sense.
Acquaer Battery Powered Water Pump
Today, we'll be reviewing the Acquaer Battery Powered Water Pump. This is a compact, battery-operated pump that you can carry around in one hand. Despite this, it connects to a standard garden hose, and has an impressive flow rate for the size. And thanks to its oil-free pump design, it's safe to use in water with aquatic animals.
Of course, those are just a few of the design features we'll need to look at. We'll also have to think about several other factors, such as the physical construction and durability. We'll have to talk about the setup, and how long the battery lasts.
Also, we'll need to evaluate the charging mechanism, and of course the specifics of the pumping performance. Only after we've gone over all those things will we be able to make a fair evaluation. Let's dig in, and see what we uncover!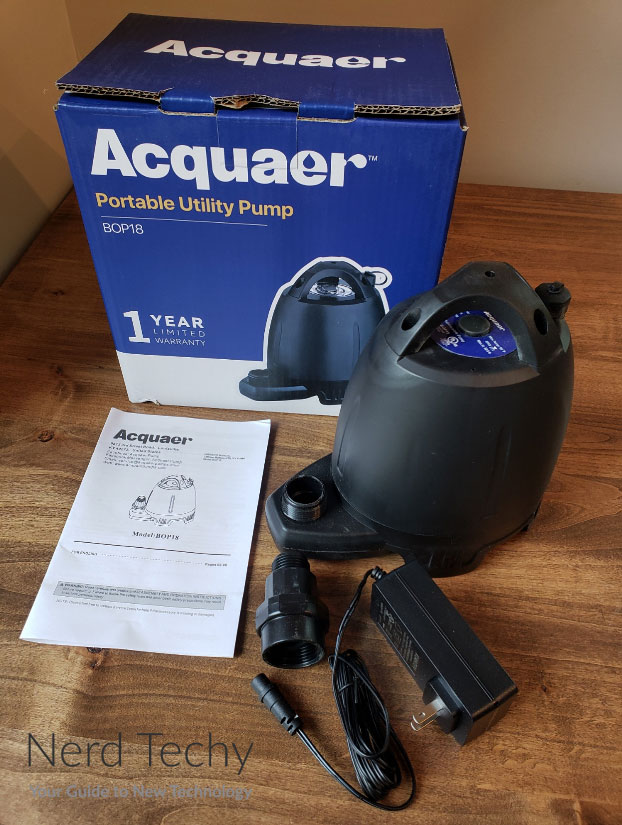 Overall Design
The Acquaer Battery Powered Water Pump has a matte black housing, constructed from a durable thermoplastic. This isn't as rugged as a traditional metal housing, but it doesn't need to be. After all, this pump is not designed for permanent installation. You'd constantly have to be taking it out to charge the battery!
The housing is circular, with a base that measures 8.78 inches in diameter. It's slightly tapered towards the top, with a domed shape that comes to a flat top. The total weight is only 6.27 pounds, so it's easy to tote around in one hand. This is made all the easier by a handle that arches over the top. This handle is actually three-sided, which provides a surprisingly comfortable, ergonomic grip.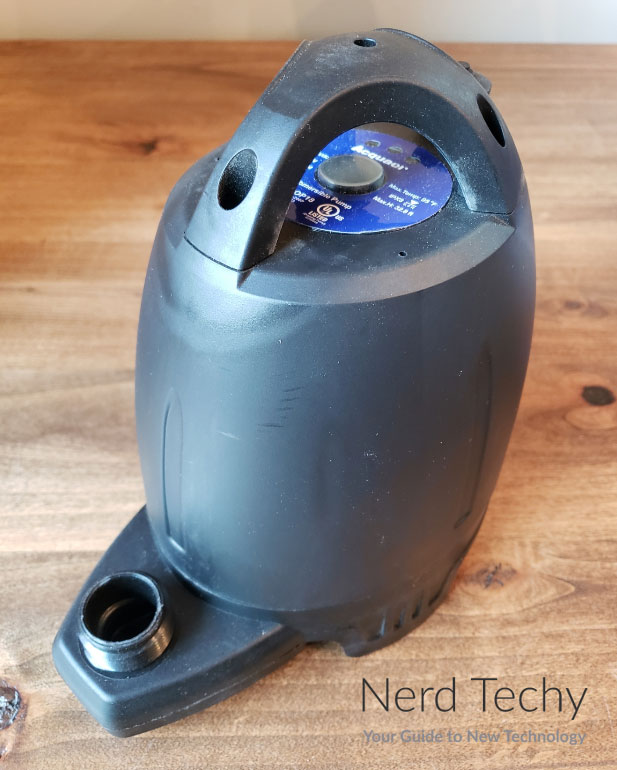 The base of the housing is designed to sit flat, even on a surface that isn't totally even. It has three downward-pointing flanges around the perimeter, which serve as very stable feet. At the same time, the gaps underneath allow water to freely flow into the intake on the bottom.
This pump is protected by a 12-month manufacturer's warranty. If anything fails due to a factory defect, you'll receive a free replacement part. This isn't quite as robust as a repair-or-replacement warranty, but it still keeps you protected.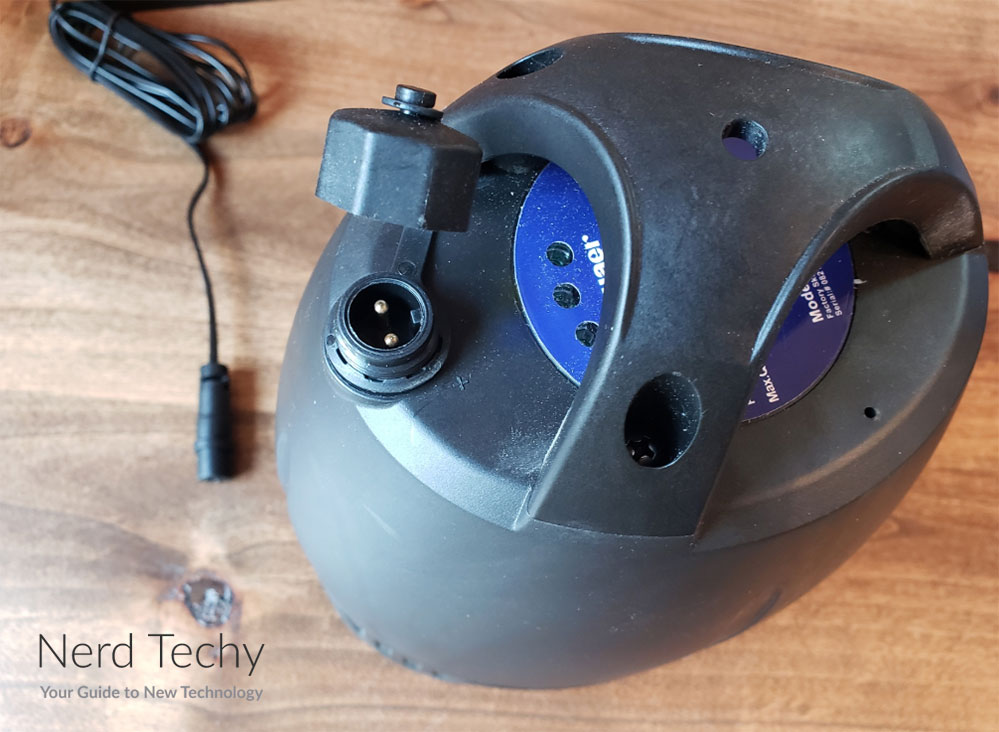 Everyday Use
To use the Acquaer pump, you'll first need to attach a drainage hose. This hose attaches to the top of a little extension that just out to the side of the housing. The extension is tipped with a standard garden hose thread, so you can attach any ordinary hose. There's none included in the kit, but they're cheap enough at any home improvement or big box store.
Keep in mind that a hose isn't necessary if you're just using this as a circulating pump. If the only purpose is to temporarily agitate the water and keep it aerated, it can be used bare. But if you actually want to move water from point A to point B, you're going to need a hose.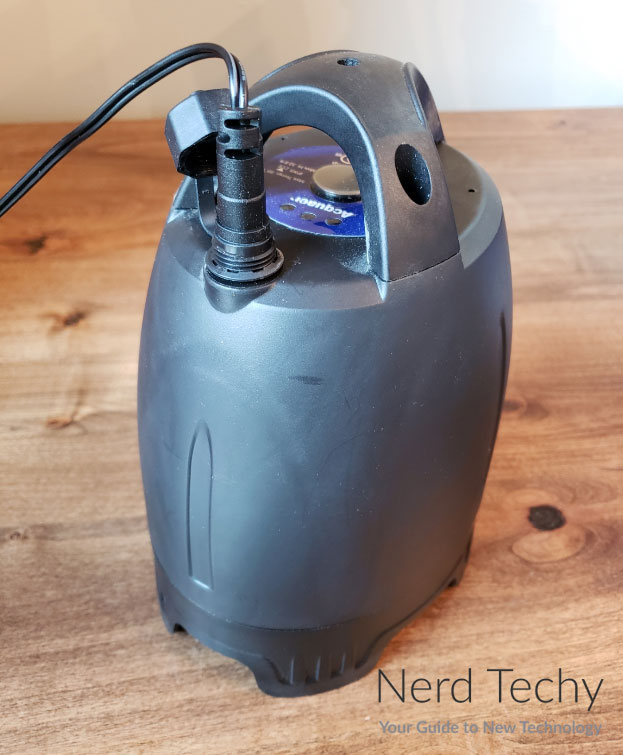 Next, immerse the pump in water. It's extremely important to do this before you turn on the motor. This pump uses the water passing through it as a coolant. If you run it under dry conditions, it will quickly overheat and get damaged.
So make sure to put it in the water and get it positioned before you start running it. Also, make sure the end of the hose is where you want it to drain. The last thing you want is to pump a bunch of water right next to your foundation, for example.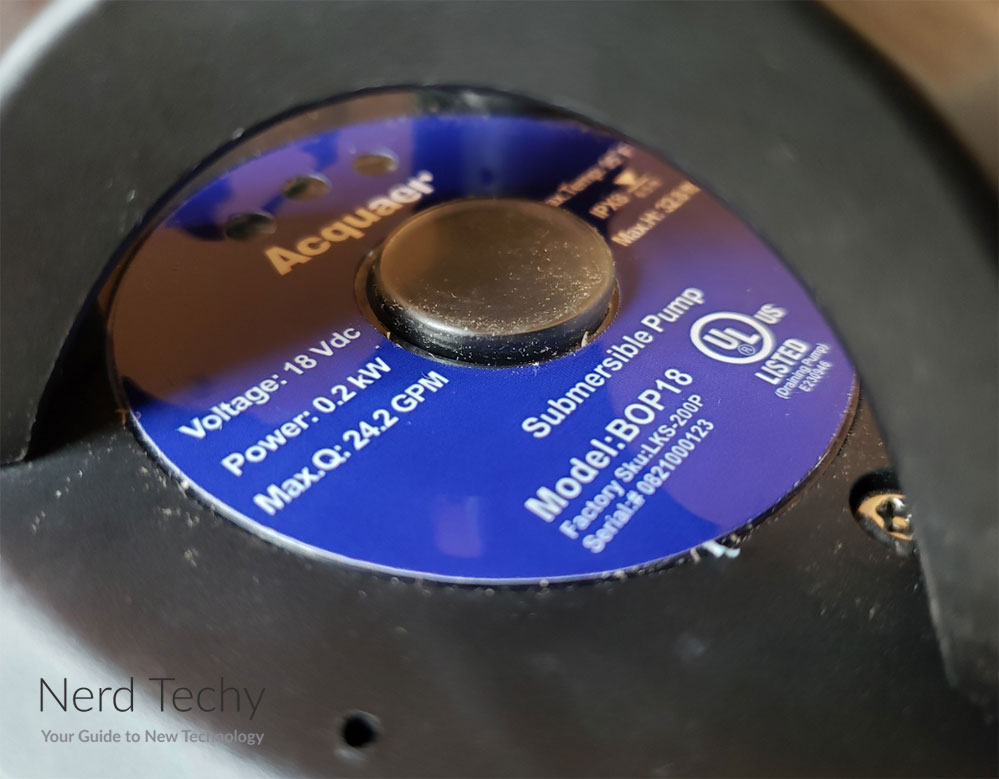 To turn the pump on, just press the power switch on the top, which is protected by the handle. The pump will keep on running until the battery dies, or until you turn off the switch. For this reason, make sure to keep an eye on it. If it finishes the job and keeps on running, it will be just like you'd started it dry to begin with.
Pumping Capabilities
The Acquaer battery-powered pump has a 1/6-horsepower motor. To put this in perspective, an ordinary sump pump has between 1/3 and 1 horsepower. Still, you're looking at a reasonable amount of power.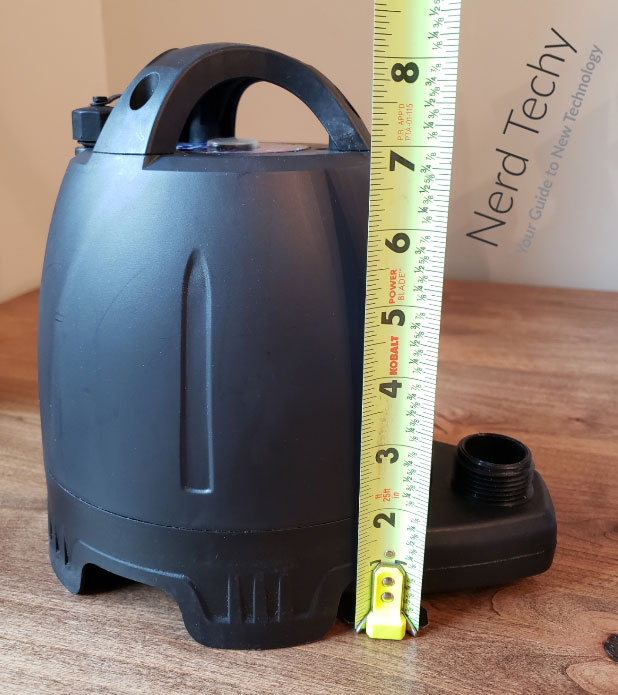 As with any pump, the performance will depend on how high it's pushing the water. The greater the delivery height, the less it will perform. This pump has a maximum delivery height of 32.8 feet, which is pretty impressive for the size.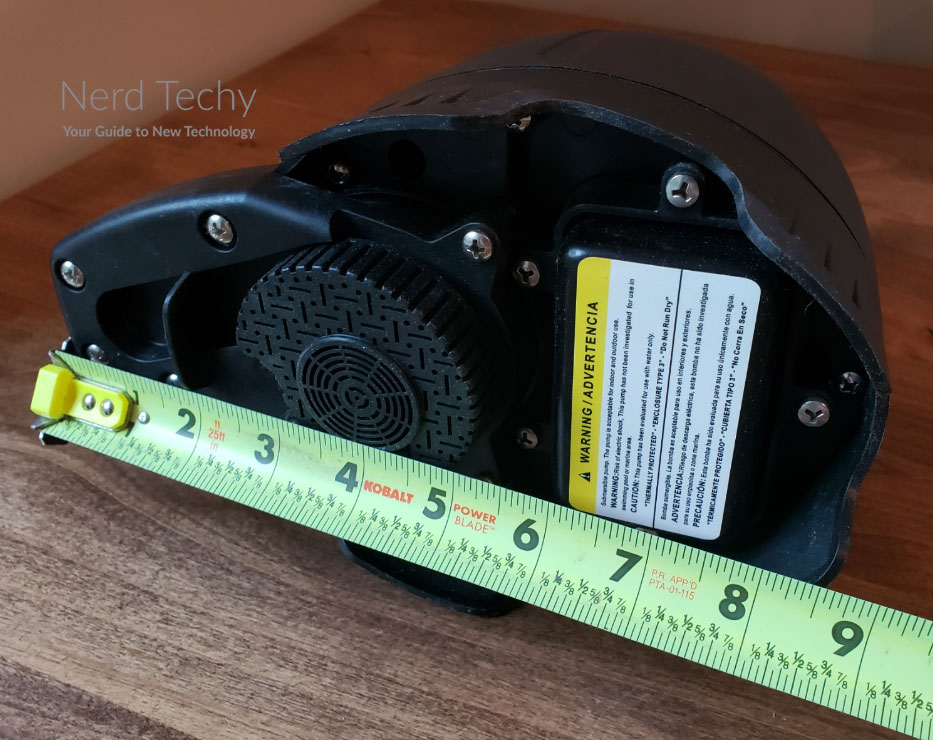 At a more modest delivery height of five feet, it can move 21.1 gallons per minute. That works out to 1,268 gallons per hour, a substantial amount of water! Of course, that's not nearly as much as you'll get from an AC- or gas-powered pump. But you're also getting a unique level of portability.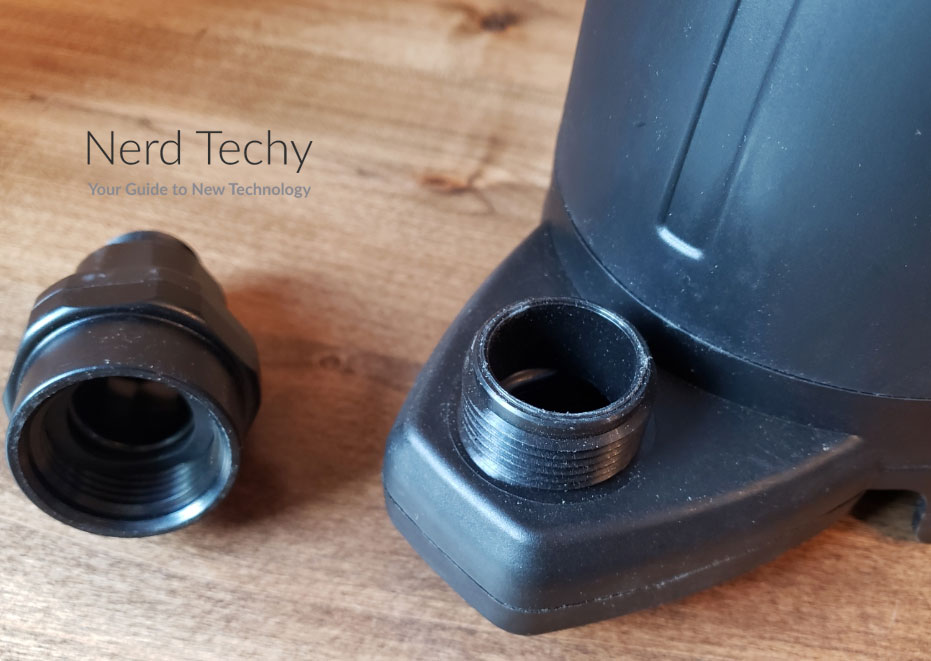 One thing we really appreciated about the design is that there's no oil. Without any oil, there's no risk of leakage. This makes the pump safe for use in environments where fish and other aquatic life are present.
Battery Performance
As with any battery-powered device, a lot depends on the battery itself. If your battery burns out after 10 or 20 minutes, you aren't getting enough performance for it to be worthwhile. Thankfully, that's not an issue here. Acquaer's pump battery lasts for an impressive 45 minutes per charge. And unlike many battery-powered device, that's more or less a hard and fast number.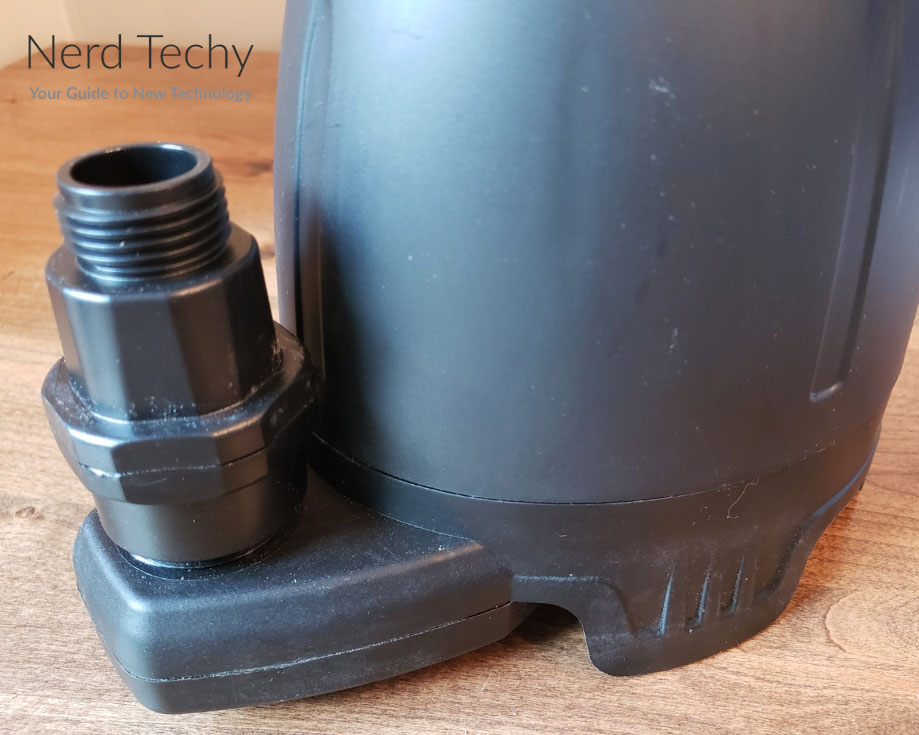 There aren't any settings you can change that might affect the performance, so it's pretty reliable. Using our earlier number of 1,268 gallons per hour, you can pump around 951 gallons per charge.
Charging the battery is simple and straightforward. At one side of the top handle, there's a little screw cap which can be easily removed. This screw cap covers the battery connection, which has a unique, 2-prong design.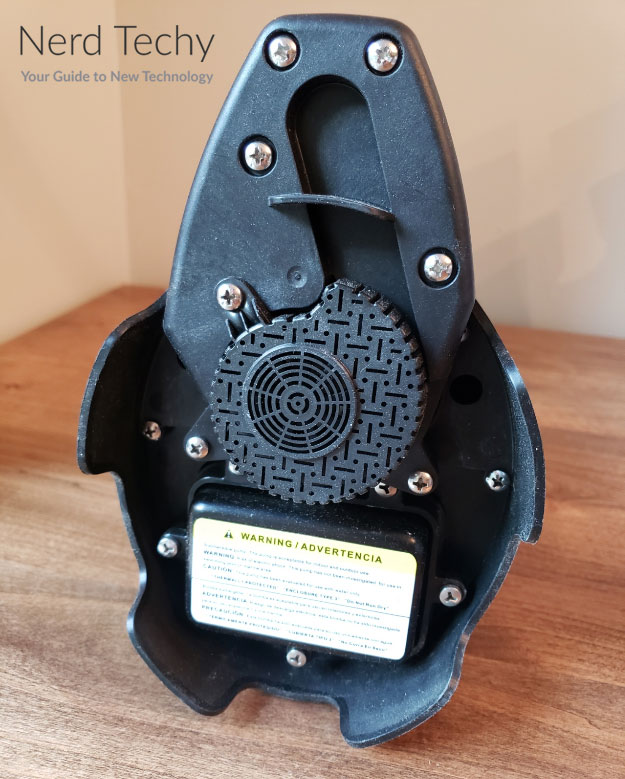 A cable is included in the kit, and it takes just a few hours to charge. One thing we didn't like was that the cable is proprietary. If it gets lost or broken, you can only order a replacement from Acquaer.
There are a couple of important safety features that help keep the battery safe during charging. To begin with, internal circuitry provides overload protection. If there's a power surge or the level of AC power is otherwise excessive, it will automatically disconnect.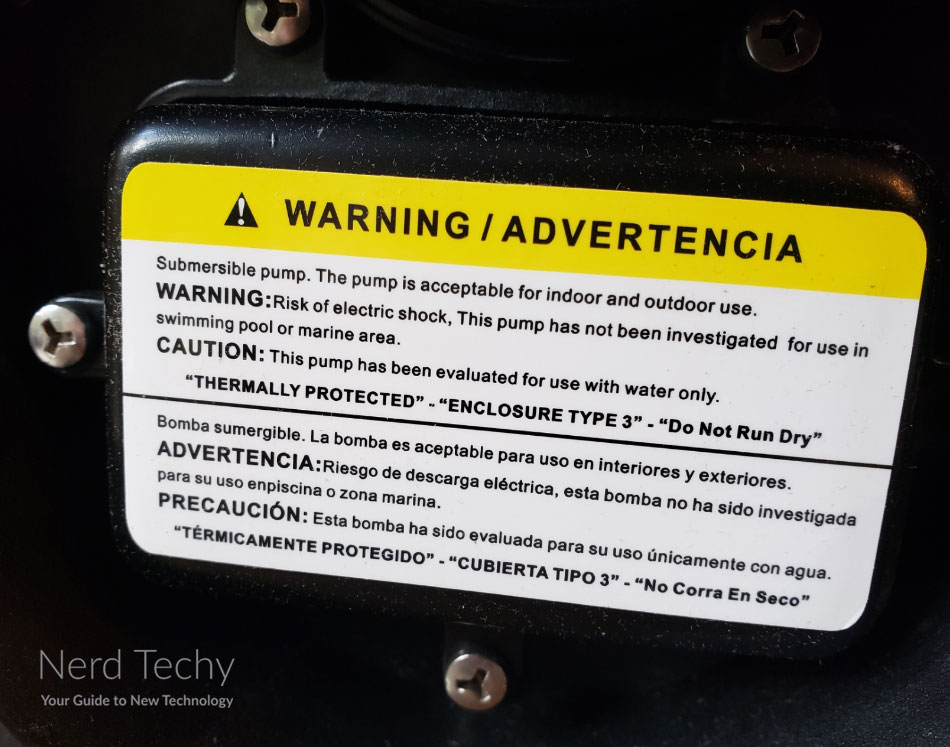 Along the same lines, over-current protection ensures that the battery itself won't receive an excessive charge. Both of these protections ensure the battery's longevity, so it won't wear out during the short term.
Choosing the Right Water Pump
Before we wrap up, we should take a minute to talk about water pumps in general. What are the most common types, and what is it that makes the Acquaer pump different? Here's a quick summary.
Gas-powered pumps
Gas-powered pumps are favored when you need a lot of power. They're used on commercial jobsites, and they're commonly used in agriculture for irrigation. They use wide-diameter hoses with firehose-style clamps, and they have large gas motors. In some cases, these pumps can move as much as 750 gallons per minute! Unfortunately, they produce carbon monoxide, so they can't be used indoors. They're also very large and heavy to move around.
Electric-powered pumps
Electric-powered pumps are popular for applications when you don't need quite as much power. In fact, a large, 240-volt electric pump can move as much as a small gas pump. That said, most common electric pumps use standard 120-volt power. These pumps require less maintenance, since you don't have to take care of a gas engine. They're also perfectly safe for indoor use, since they don't produce any exhaust gas. On the downside, they're ill-suited for off-grid use.
Of course, these aren't the only kinds of pump. There are many possible applications, which is where the Acquaer finds its niche. It's an electric pump that can still be used off-grid. But it's far from the only unusual type of pump you might end up needing. For example, we recently reviewed the best 12-volt water pumps for RVs. They're no good for cleanup or drainage, but they're fine tools for what they are.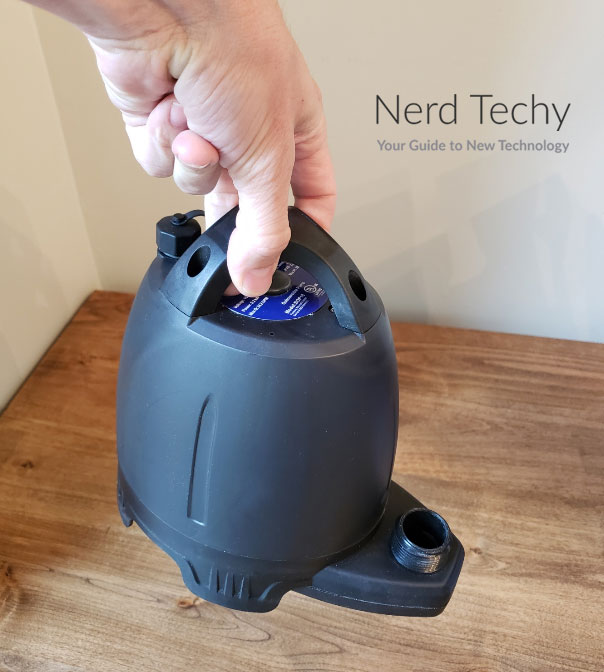 Final Verdict
As you can see, the Acquaer Battery Powered Water Pump is a unique and valuable tool. As pumps go, it's a bit under-powered. But it's unfair to compare a battery-powered pump to an AC- or gas-powered pump. For what it is, the performance is quite impressive, with a high flow rate that can drain a lot of water.
One of the most appealing parts of the design is how compact and lightweight it is. Compared to most pumps, this one is easy to carry with you pretty much anywhere. For many off-grid applications, the light weight will more than make up for the lower power. And for homeowners, the low price makes it an ideal choice for occasional use or one-off projects.