Watching battery bars creep lower and lower, as you get closer to being cut off from the rest of the world, can cause a lot of anxiety. And battery anxiety can ruin a person's day. But once you've got a decent power bank, you pretty much don't have to worry about running a low battery anymore. Forget to recharge your phone? It doesn't matter. At least, if you've got a power bank.
Picking the Right Ainope Power Bank
Ainope have actually made a number of pretty impressive power banks over the past five years. But in picking between them, it's a good idea to keep in mind that it's not about which is better or worse. Because really, different power banks are made for different people. Some people need to prioritize portability, others need to prioritize capacity. Mixing and matching these factors can be important for finding the right power bank,
Power Portability
Sometimes, you may want the most portable power bank you can possibly get your hands on. That being the case, you typically want the power bank to be smaller than a smartphone, and nearly as light. If you're less concerned about portability, larger power banks are usually a better choice. Because having a larger power bank means you can have a larger battery, which leads us to capacity.
Battery Capacity
Bigger tends to be better, but it's also worth keeping in mind that there's no reason to go far beyond what you need. If you really only need a day's worth of charge, then getting a battery that can power you for three weeks' worth of uninterrupted charge really only means one thing. It means you're paying for far more than you actually need. Which is why it's important to not overshoot or undershoot when anticipating your needs.
Charge Speed
Related to capacity, you'll find Ainope Power Banks have a slight variance when it comes to recharge speeds. This isn't usually a big deal because recharge speed variations tend to amount to only a matter of minutes. However, if you are someone looking to save a couple of minutes on recharge times, you'll want to look for at least 2A output on the charger.
Aesthetic and Durability
Beauty is in the eye of the beholder, but if you're going to be carrying around a power bank with you, then you might have an interest in whether it looks cool or not. Ainope Power Banks in particular tend to have a rather sleek style, making them look more like a high-tech gadget than a simple battery. They're also often available in at least two colors.
The tradeoff is typically with respect to durability. Unless you're actually planning on taking your power bank into some rough environments, you probably don't want to choose a power bank that was made specifically for its durability.
Because aluminum casings and similar designs really do make your power supply a bit sturdier, but they also add unnecessary cost if you don't actually need those extra protections. For people who are planning on using their power bank from inside their vehicle, from their desk at work, or from the couch in their home, you're probably better off without an armored battery.
Lasting Power
Batteries don't exactly have a lot of moving parts. When it comes to lasting power, what will really determine how long you can use an Ainope power bank is the number of recharge cycles each battery is rated to provide. Under normal circumstances, this figure is around 500. But some of the larger Ainope power banks are actually capable of withstanding a few thousand recharge cycles. These differences make a big deal over the long run.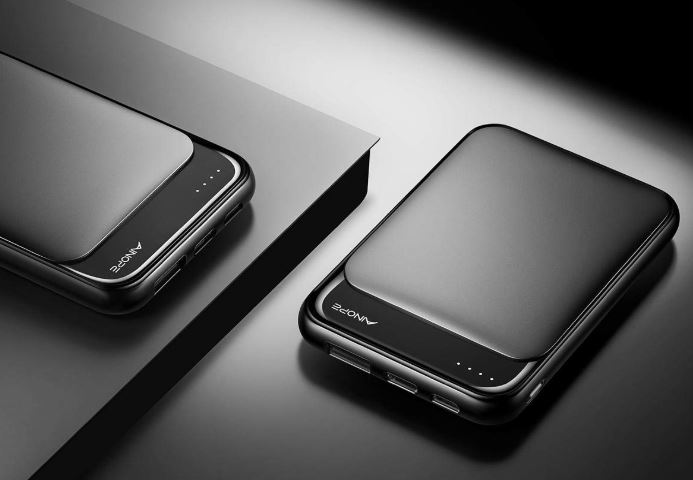 Ainope Mini Portable Charger (5,000mAh)
Looking for something small? The Ainope Mini Portable Charger is the smallest and the slimmest among any of Ainope's numerous chargers. As you can probably expect, a smaller charger will have a smaller capacity.
But even though it's small, this mini charger is still basically as powerful as carrying around a second phone battery. That makes it pretty useful for people who are primarily concerned with recharging their smartphones, but don't really have aspirations of regularly using their charger for tablets or laptops.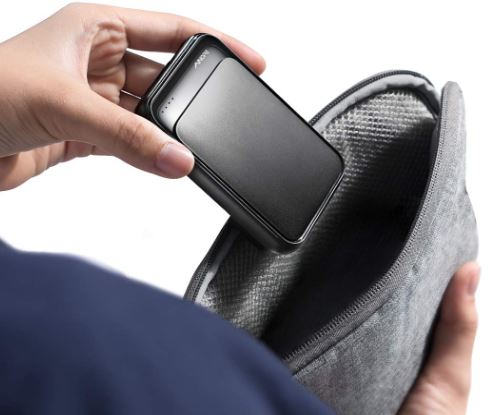 Design & Layout
The Mini measures only 4 x 3.4 x 0.8 inches, allowing it to be quite hand-held in nature, which makes its name very appropriate. It also weighs only four ounces. Portable chargers like this tend to weigh more because batteries tend to be relatively heavy. But sitting at around four ounces, this is easily one of the smaller and more lightweight chargers out there right now. Putting that into more practical terms, that means it weighs about the same as two eggs.
The unit really looks a bit like an old flip-phone, except it's a bit thinner. Still, the thickness is marginally greater than a modern smartphone, but it comes quite close. Compared to a number of similar chargers, you'll find the volume of this unit is as much as one third smaller.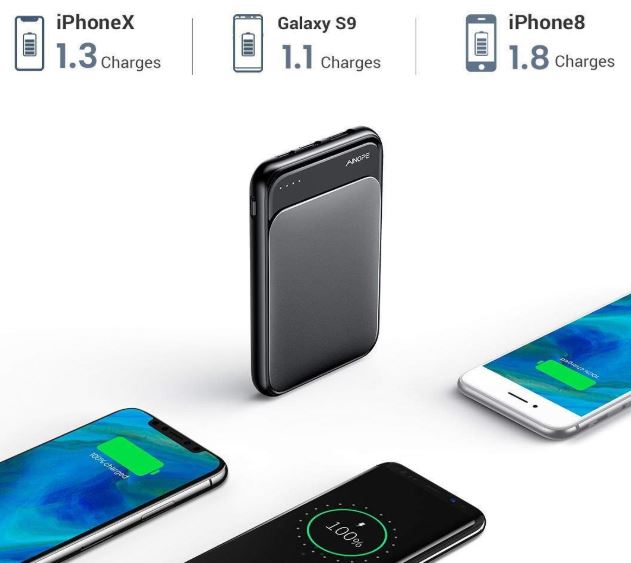 Battery Capacity
As you can tell from its name, this Ainope Mini Portable Charger has a battery capacity of 5,000mAh. That's capable of providing about one full charge for an iPhone X or Samsung Galaxy S9. If you're using something with a slightly smaller battery, you can get even more out of it. For instance, it can deliver nearly two complete charges for an iPhone 8. And because you've got both a micro USB connection and a USB-C connection terminal, the dual charging output is capable of putting out a maximum of 2A.
Other Considerations
Charging for this device was made to support intelligent chip tech, which works to determine what devices are connected with the charger, and then select the charging speed most appropriate for those devices. This also ensures you have protection against overcurrent, overvoltage, and so forth. All the electronics connected to this charger are also protected, so some kind of electrical incident won't cause you to damage your smartphone or tablet.
Consequently, this device was made CE and FCC certified. Though not much in the way of extras are included, Ainope includes a micro USB cable that runs one foot in length. They also include a one-year warranty.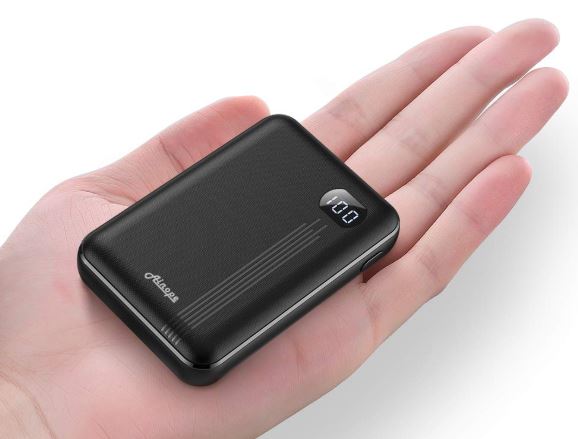 Ainope Portable Charger (10,000 mAh)
The 10,000mAh version of the Ainope Portable Charger is still quite small and compact. It's basically a half-sized charger, yet it manages to provide a considerable amount of power potential. The size difference between this and the mini might be substantial if you were planning on backpacking through nature. But this charger should be preferable to people who aren't counting every ounce of weight on their person.
Design & Layout
The 10,000mAh version of the Ainope Power Bank is just slightly larger than the Mini. It measures 3.7 x 2.5 x 0.9 inches. But it's considerably heavier, weighing nearly seven ounces. Unlike the Mini, you'll find the output here is only a pair of USB-A ports, and a micro USB port for charging the battery.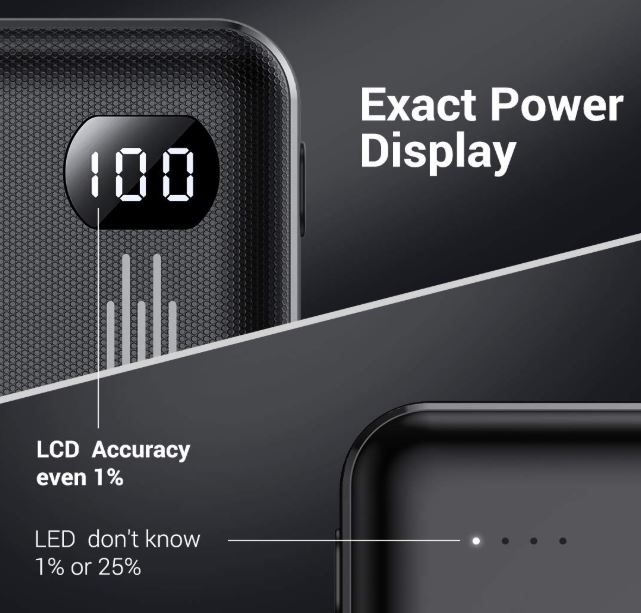 Aesthetically this unit has some advantages over the Mini — you can choose between either a black or white chassis. But beyond that, you'll find the two share essentially the same general design and quality of construction. One basically just looks more elongated than the other.
However, there are a couple of small details that make for a difference in the experience of actually using these chargers. One is a small LED display that's positioned on the front corner of the device. It reads you a number ranging from 100 to 001, letting you know precisely how much battery is left inside the charger. That's far better than a vague row of LED lights, or a battery-bar system.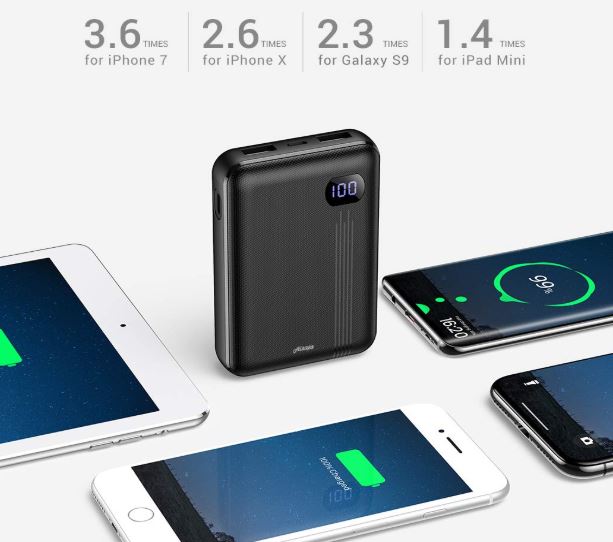 Battery Capacity
How much playtime can you pull out of this battery? Well, the 10,000mAh battery is capable of supporting roughly 3.5 charges for an iPhone 7 or 2.5 charges for an iPhone X. Or you could get around 2.5 charges for a Galaxy S9, or about one and a half while using an iPad Mini. That makes this charger actually appropriate for not only smartphones, but also smaller tablet devices.
The dual USB outputs support 2A input and 3.1A output. But that output is split between the two USB ports separately, such that the right port provides 5V/1A and the left port provides 5V/2.1A. You can charge two devices at the same time, but the maximum you can pull is 3.1A.
Other Considerations
Similar to the other chargers on this list, the Mini 10,000mAh is complete with UL safety certifications and FCC certifications, ensuring your devices remain protected. It's compatible with low-input devices like certain types of smart watches, headphones, and GPS devices.
Ainope includes a one-year warranty. They also include a micro USB charging cable and a user guide. The user guide isn't very useful, but if you could use some tips on helping make your battery last a bit longer, you might want to brush up with it.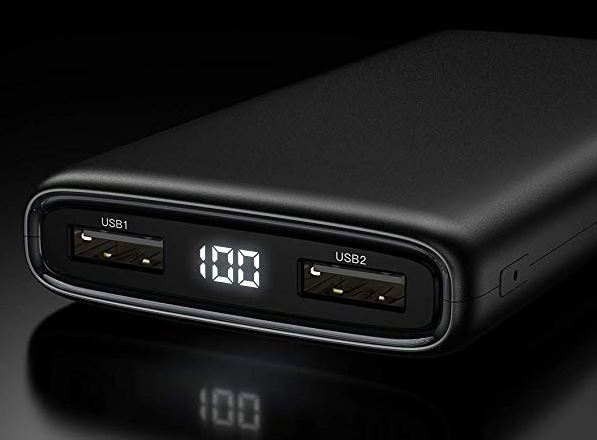 Ainope Portable Charger (20,000 mAh)
Bigger is often better. The 20,000mAh version of the Ainope Power Bank is for people who aren't gravely concerned with handheld portability. Though still small enough to shove into a purse or pocket, the full-sized design of this version is really better suited to life inside of a glove compartment or some similar semi-stationary positon.
Design & Layout
The largest Ainope Portable Charger measures 7.2 x 3.6 x 1.1 inches and weighs nearly 13 ounces. It's fairly portable, though not when compared to the Mini. Still, the size and weight isn't that different from the average smartphone. Similar to the previous member of this list, this version is also available in both black and white. Being the largest of the three, aesthetic is somewhat more important here.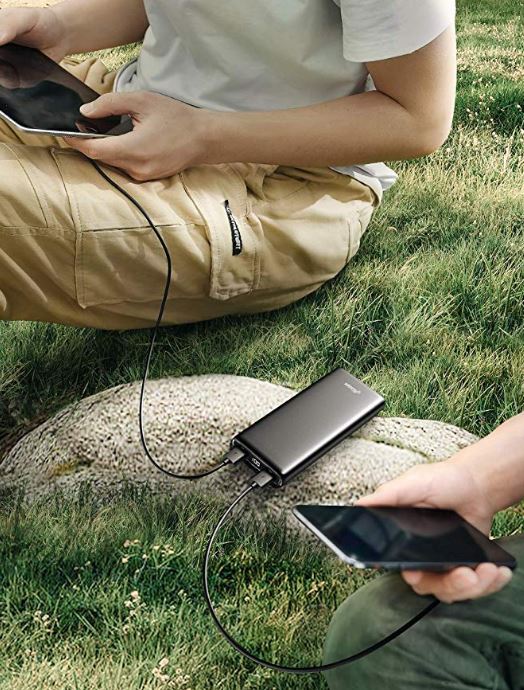 Similar to the 10,000mAh version of the Ainope Mini Portable Charger, this version has a detailed LCD to help let you know how much battery is left inside the charger. And it uses the same percentile system, showing you values anywhere between 1% and 100%. Instead of being on the side face of the device, these battery indicators are positioned on the top, separating the two USB-A ports which can be used for charging.
Battery Capacity
The 20,000mAh battery capacity is capable of a great deal. Obviously, it's pretty much twice as much power as the 10,000mAh version. But in more concrete terms, it can recharge an iPhone 8 about 6.5 times over. It can handle a Galaxy S8 nearly five full times, or an iPad Air 2 about 1.5 times. It's worth pointing out that even though the battery capacity is starting to get fairly large with this charger, it's still possible to take a battery this large onto a commercial aircraft without an issue.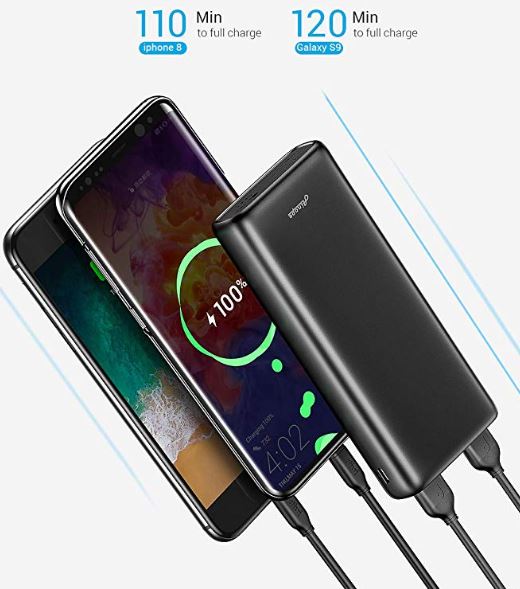 Other Considerations
Similar to the other Ainope Power Banks on this list, this unit offers the same output short circuit protections, under-voltage protections, overvoltage protections, and so forth. The smart chip inside this charger is even capable of monitoring the temperatures inside your smartphone to better protect your devices.
This version of the Ainope Power Bank includes a micro USB charging cable, a user guide, and of course the power bank itself. It also includes the same one-year warranty from Ainope.
Picking the Right Ainope Mini Portable Charger
Some people need more portability than others. For people who are looking for the smallest power bank they can possibly get their hands on, the Ainope 5,000mAh Portable Charger is going to be a great choice. It's basically like carrying a second phone battery with you. It's small enough to not be noticed, but large enough to refill your smartphone at least once.
Dollar for dollar, the best Ainope charger you can select is probably the 20,000mAh. It provides an enormous battery capacity inside a reasonably compact form — and without becoming too weighty in the process. The LED interface is great at letting you know how much power is left inside of the battery. And its capacity is large enough to confidently handle not only smartphones, but tablets and similar electronics.
There's as nice middle point between the larger 20,000mAh charger and the smaller and more petite 5,000 mAh charger. That middle point is the 10,000mAh version. Though not quite as cost effective as running the 20,000mAh power bank, it's a nice mixture of portability and raw power. And it's an effective choice for someone who doesn't want to go as large as 20,000mAh.