ASAKUKI Oil Diffuser (2023)
Pros
Easy to use and control.
Built-in LED lights give a nice effect.
Virtually silent operation.
Large 500ml water tank lasts a long time.
Minimalist and sleek appearance.
Cons
No remote included.
Oil does not last as long as advertised.
Only available in one color scheme.
Aromatherapy is a complementary therapy that uses essential oils from plants for their scent and therapeutic properties to improve physical, mental and emotional well-being. It's used to promote relaxation, reduce stress and anxiety, improve sleep, enhance mood, and alleviate pain and discomfort. It may also improve cognitive function, boost immunity, and is said to have a soothing effect on the senses.
However, if you know nothing about it, getting started with aromatherapy can seem a bit overwhelming. Luckily, it's actually pretty straightforward. In fact, all you need is a diffuser and your favorite set of essential oils. Available in a wide assortment of scents, essential oils are mixed into water and emitted into a super-fine mist. The result is a lively fragrance that many people immediately fall in love with.
ASAKUKI is a popular manufacturer of such devices. Their newest essential oil diffuser was recently released and has already gained quite a bit of popularity on social media. Recently, we were invited to check it out for ourselves, give it a trial-run and see exactly what it's capable of.
Today we're going to review the 2023 version of ASAKUKI's new-release essential oil diffuser. With a simplified, streamlined design, it boasts a lot of great features with its own set of colorful LED lights. Said to be both visually pleasing and highly effective, we gave it a trial run to see exactly what it's capable of, how it performs and if it delivers results. Let's get right into it.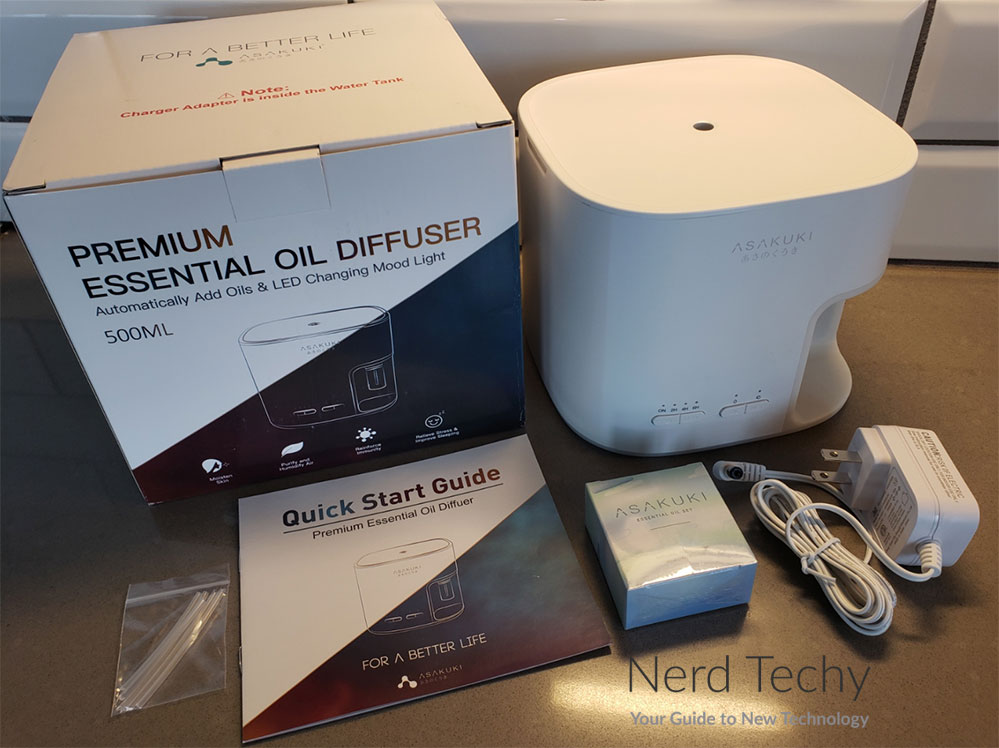 First Look
The ASAKUKI Essential Oil Diffuser carries a somewhat blocky form-factor with rounded corners and a minimalist appearance. Measuring roughly 6 inches tall, wide and high, it's designed to fit well on any bedside table or countertop.
The first thing you'll notice is the large indentation for the oil bottle. Here, there's a small hole to insert an included catheter. Next, utilize the built-in threads to screw-on an oil bottle. Luckily, two oil bottles and six catheters included in the package.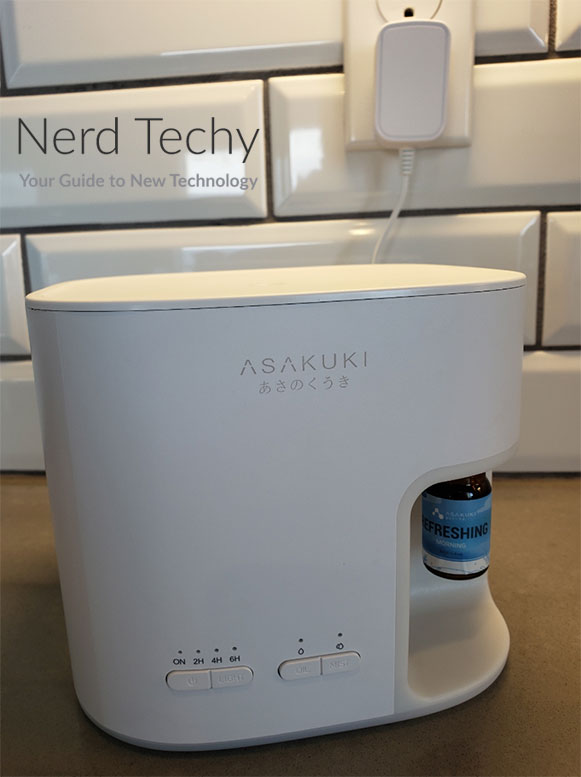 On the front are all of the controls that you need for operating it. First, there's a power button that cycles through constant-on, 2 hour, 4 hour and 6 hour time limits. Next to this is a button for activating the LED lights that emit an even glow around the bottom edge and oil bottle area. You can either cycle through a wide variety of colors or fix it to stay on your favorite color.
There are two additional buttons that control the oil and mist settings. They're basically the high and low oil and mist settings. When the "Oil" button is pressed, the diffuser will add essential oils and keep emit a low concentration aroma. If pressed again, it will adjust it to a high concentration aroma. The same goes for the "Mist" button; press once for low and twice for high.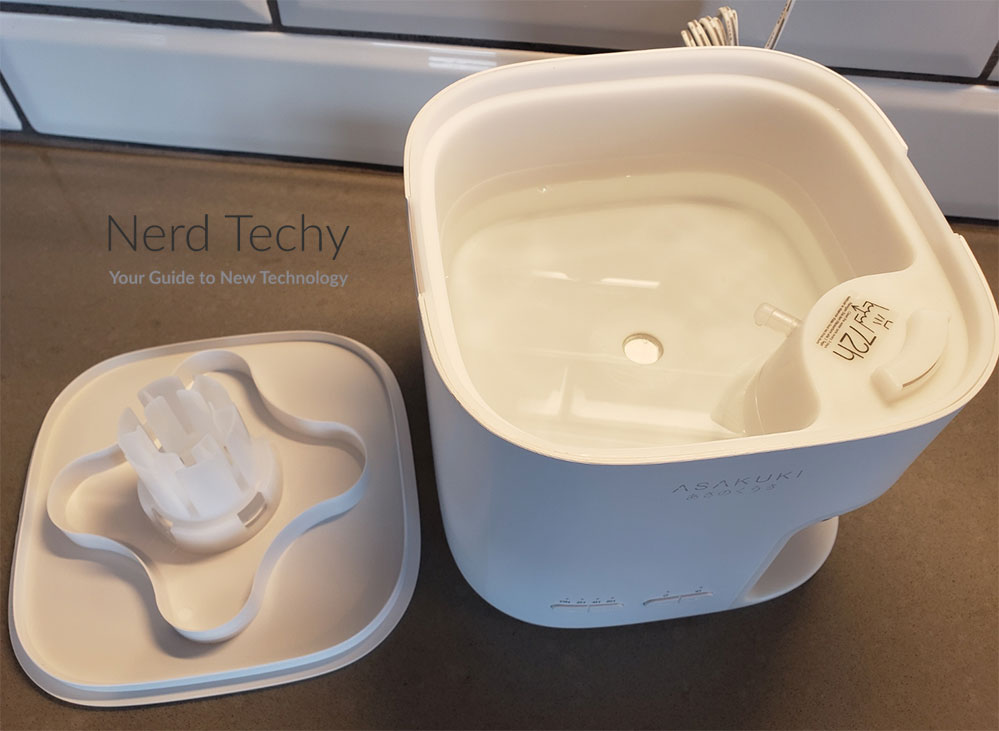 The top opens-up to expose a relatively large 500ml fresh water tank with a visual maximum fill-line. While the lid doesn't latch down or lock in place, it nests into position that makes accessing the fresh water tank quite easy. If you flip over the underside of the lid, you'll notice a plastic piece that assists to reduce noise. Rather than providing constant splashing water, it muffles any water droplets for a near-silent experience.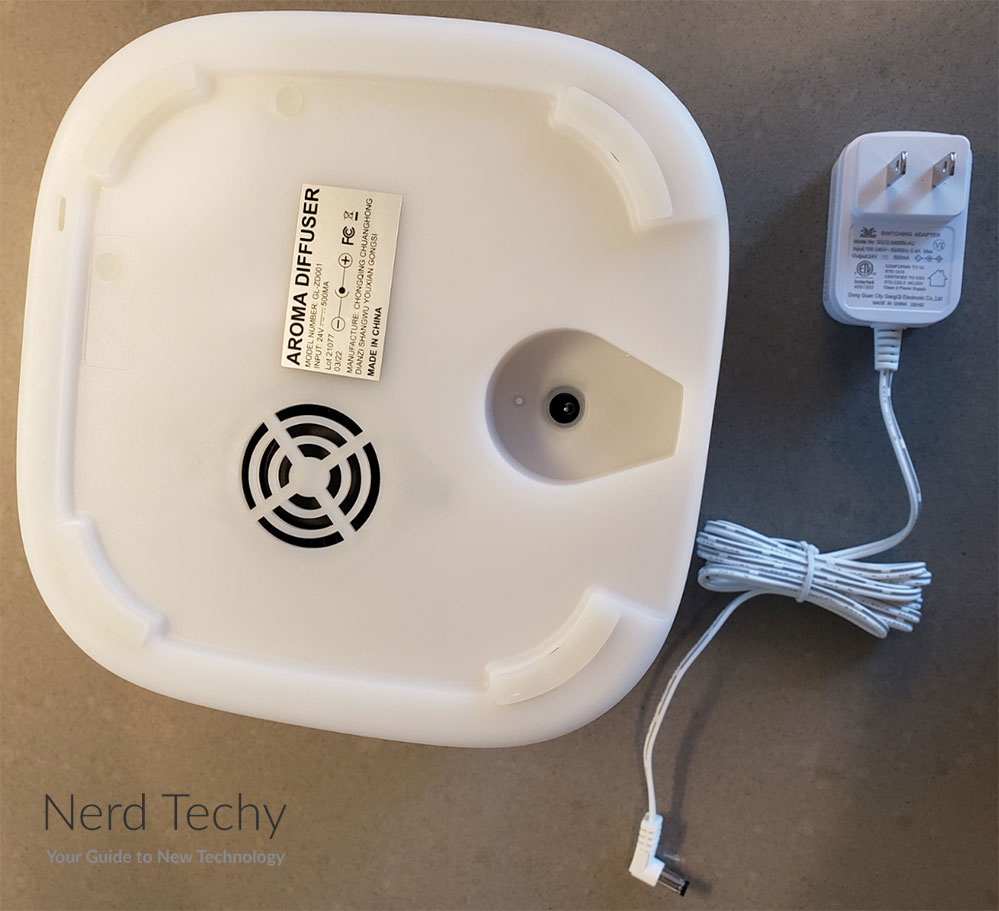 The power cord is plugged into the underside of the base where the cord routes cleanly out the backside. It's all very basic and easy to understand, even if you're not very familiar with diffusers.
Using the ASAKUKI Essential Oil Diffuser
Using the ASAKUKI diffuser is very simple. First, insert a catheter, screw on an oil bottle and connect the AC adapter. Next, simple press the power button and select your mist and oil settings. But don't forget to fill the fresh water tank.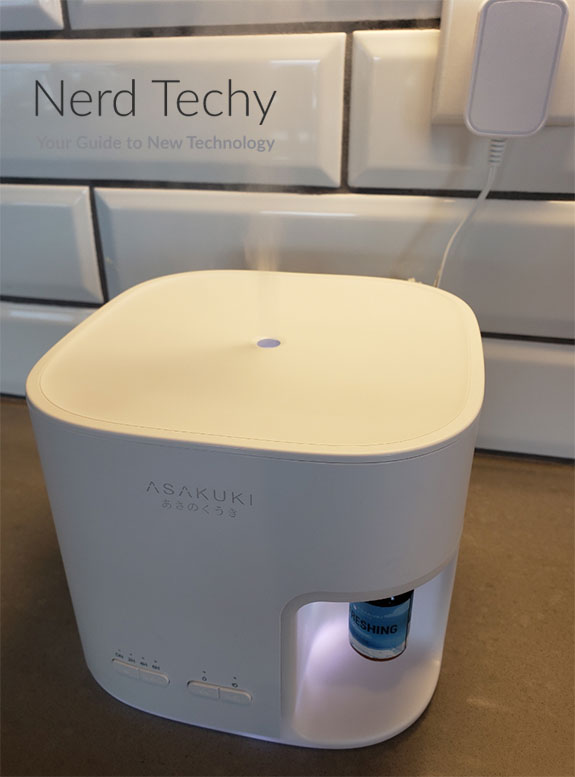 Once it's in use, the diffuser is extremely quiet. In fact, you can hardly even hear that it's operating, regardless of the high or low setting you choose. A super-fine mist is then emitted out the center of the top lid. It's instantly infused with your chosen essential oil and the results are immediately apparent.
ASAKUKI includes an innovative ultrasonic vibrating plate to produce extremely fine mist that doesn't tend to oversaturate. Even if the diffuser is placed near a lamp or object above it, we found that it never exposed it to too much moisture. In addition, we found that the low mist setting provided all we needed. While it's nice to have a high setting for the mist, we feel it's not necessary to use unless you have a very large space to fill.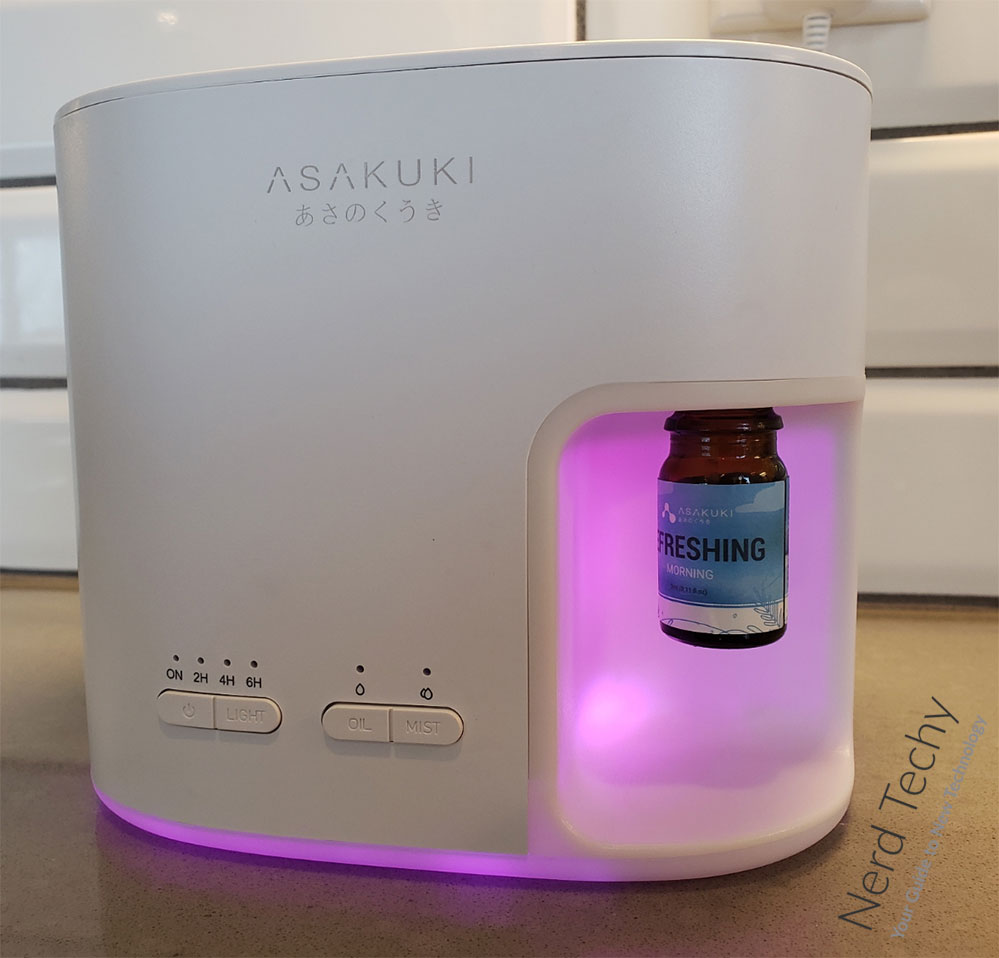 Cycling through the control buttons was very self-explanatory. One of our favorite features was the built-in LEDs. Capable of displaying an even glow around the entire base perimeter and indented oil bottle area, it gives off a favorable effect. We like to think that the glow attributes to an even better aromatherapy experience. While it's simply a visual effect, it's nice to have to promote a sense of calmness.
Oil Use
ASAKUKI claims that their oil diffusers can last for up to 17 hours of consistent use with the low mist mode and 12 hours with the high mist mode. There's an ultra-quiet pump inside that applies 6 drops of essential oils in the "low" mode and 12 drops in the "high" mode. Unfortunately, we didn't experience the same advertised duration.
In fact, after about 8 hours on the high mist mode, the oil bottle was completely empty. Next, we used the second bottle to test out the low mist mode. After running for 14 hours, the bottle was empty. While our results were a few hours less than the advertised specifications, we feel it's still within an acceptable range.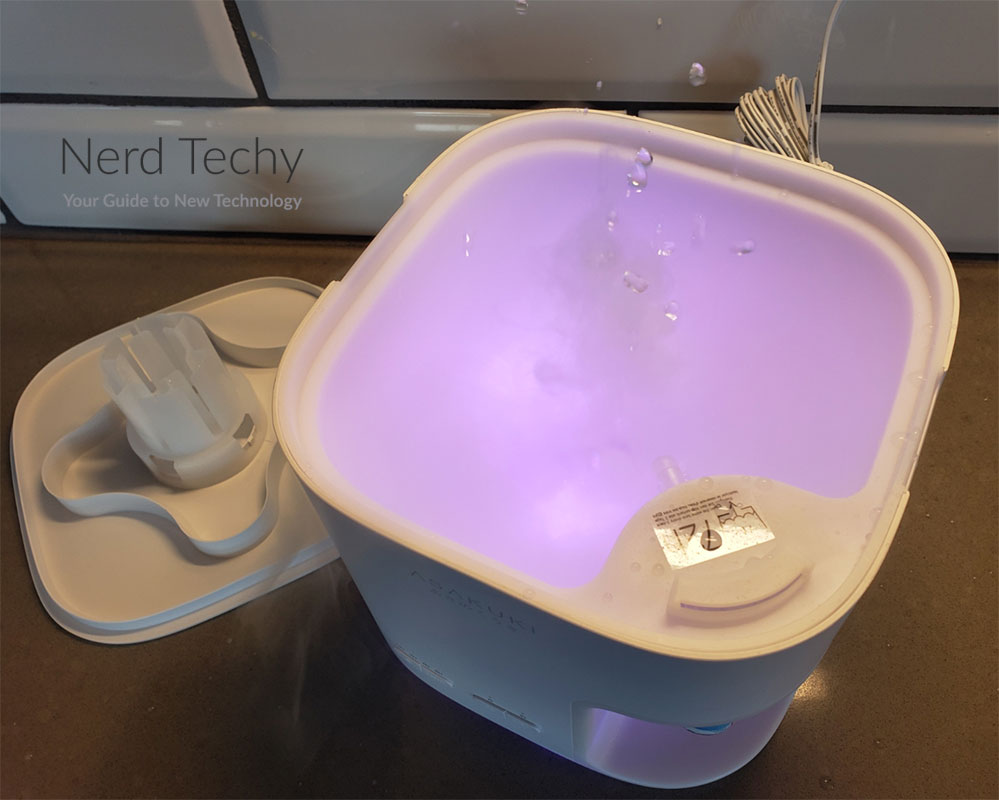 Some users of the ASAKUKI oil diffuser stated that they found a work-around to increase the duration beyond even their own specs. Instead of attaching the bottle to the pump, some users simply dropped their own desired amount into the fresh water tank. This way, the diffuser is able to last beyond the 17 hour maximum that ASAKUKI claims. While it's definitely not intended to be used this way, if you're trying to maximize the amount of oil it uses, this is a clever work-around.
In our opinion, even 8 to 14 hours seems to be an acceptable duration. Even though they claim 17 full hours, we feel that this is close enough. That said, we'll always opt to use the device as intended by screwing-on an oil bottle with the inserted catheter. Realistically, essential oils aren't that expensive. And if you desire a wide range of fragrances and you're worried about operating costs, you could always opt to buy in bulk.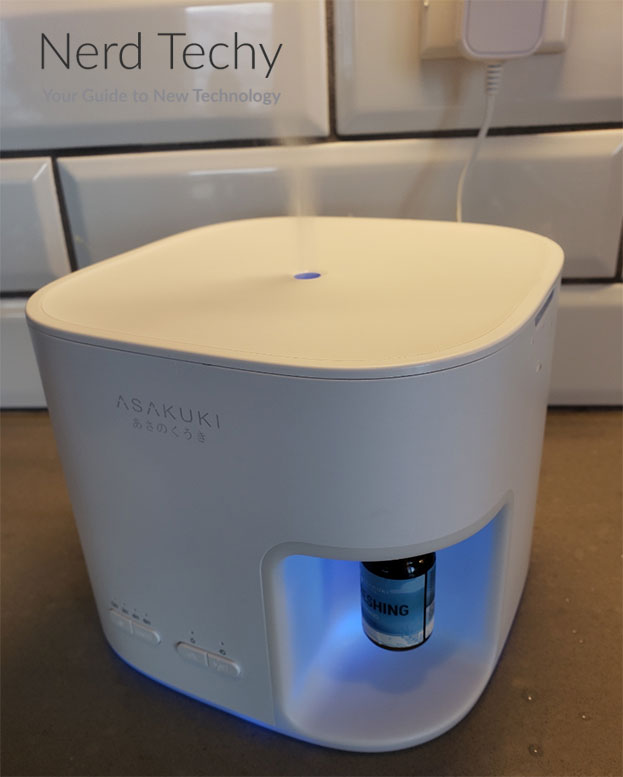 Noise Level
One thing that we really enjoyed about ASAKUKI's newest oil diffuser is the silent operation. With the combination of an efficient pump and the plastic piece on the inner-lid, operating in high or low modes is equally quiet. We never once heard splashing water, droplets or any annoying effects in terms of noise.
We've tried many diffusers in the past and some of them seem to produce more noise than others. Simply put, the ASAKUKI ranks near the top in terms of quiet operation. And if you're worried about noise and constant use, you could always utilize one of the built-in timers to automatically cut operation after 2, 4 or 6 hour increments.
Maintenance
Every oil diffuser needs to be properly maintained if you'd like to continue using it for months and years to come. If neglected, mold, mildew and other unpleasant smells may become an issue. Regardless, cleaning the diffuser is relatively simple and should be done once a week or before you store it long-term.
First, unplug the diffuser and pour out any remaining water from the side that's labeled "DRAIN SIDE". Next, add two or three drops of vinegar to 100ML of warm water. Leave it operating for at least 5 minutes. This will run a bit of vinegar through the inner mechanics and effectively inhibit mold and mildew growth.
Once ran through with vinegar, simply drain out any excess water and gently shake the device. Lastly, use a dry cloth or clean paper towel to pat-dry any remaining water droplets that are visible. In addition, it's best to leave the lid off for an hour or two just to make sure any excess moisture naturally evaporates.
If you maintain it properly, it'll likely last for years to come. Just make sure you never overfill the water tank and only use pure essential oils.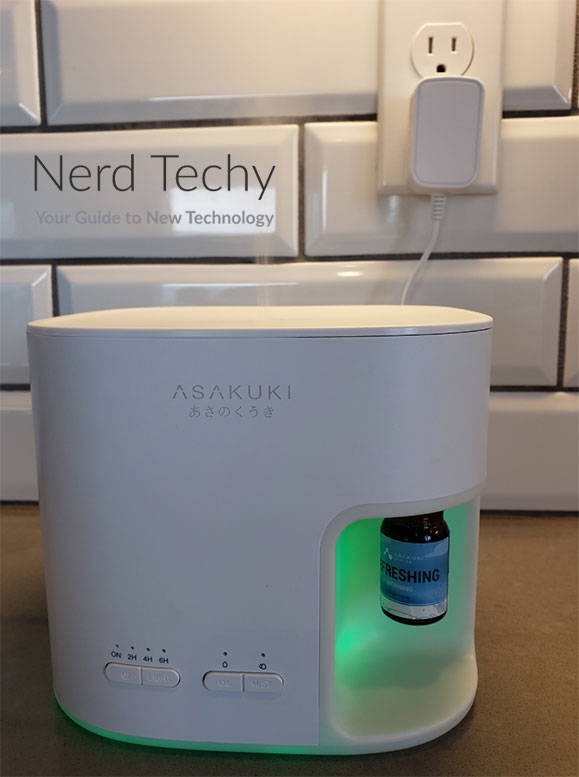 Final Thoughts
All in all, we were extremely pleased with the 2023 version of ASAKUKI's Essential Oil Diffuser. While the 17 hour estimate isn't all that accurate, in our experience, it's more than enough duration for most instances.
The inclusion of built-in LEDs is a nice touch. Not only does it look awesome, but we feel that it adds a nice element of calmness to the scented mist that emits from the unit. For those who aren't a fan of flashy colors, you'll be pleased to know that it's an optional feature. You can always turn it off if desired.
While there isn't a remote included, the controls are very simple to understand and laid out in a manner that makes the whole thing very easy to operate. From filling up the fresh water tank and screwing in your favorite oil bottle, we were up an running within minutes of unboxing it.
The minimalist appearance and stark white color with rounded corners is a nice look. Best of all, ASAKUKI includes a very handy quick start guide that clearly goes over all you need to know and more about the diffuser. Just keep in mind that if you use it regularly, you'll want to clean it at least once per week.