Whether it's in the lab or in the field, you may find yourself needing to calculate force. You could try material testers or a load cell, but the simplest and elegant answer to repeated force testing is a digital force gauge. Modern force gauges use many of the same traditional techniques to measure force that people have used for centuries, but augmented with digital technology to uncover new horizons of precision and ease of use.
One of the most important functions of a force gauge is to determine peak force, which is the amount of force something can withstand before it loosens, engages, or breaks. If the manufacturer of your smartphone wanted to find out how well your phone survives when you drop it while standing, they may use a force gauge to find out. Similarly, force gauges are commonly used to see how much force a sample can take while still remaining in one piece. In other words, if your phone falls off the top of a building, does it turn into shrapnel on impact?
A solid digital force gauge can be suited for a variety of applications in plastics, automotive, machine, and electronics industries. And they're one of the most important tools used by ergonomists, if not the very tool that defines the profession. But whatever your application, you'll need a forge gauge that's been made to match your tasks. Versatile models can take on a wider variety of applications, but the specific kinds of tests and samples you'll want to use can have a considerable impact on selecting the right digital force gauge.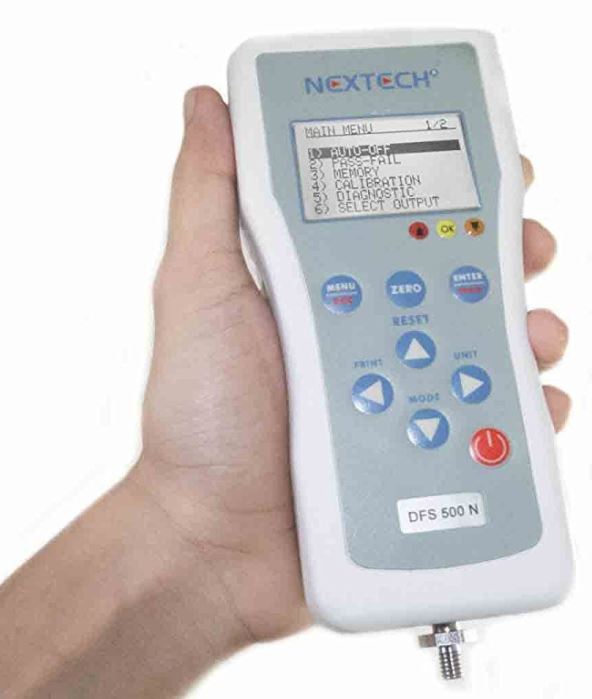 Choosing a Digital Force Gauge
Some people need to measure larger forces than others. Whatever digital force gauge you choose, it should cover the minimum and maximum forces you'll need for your purposes. If the largest forces you're dealing with are 200 N, then you don't need a device rated to hold 1,000 N of force.
On the other hand, in the interests of safety and accuracy, you don't want to be pushing your digital force gauge to its maximum capacity. It's usually best practice to keep your force-bearing instruments within a 20% margin of their capacity. That means if the heaviest forces you're dealing with are around 300 N, you'll want a maximum capacity closer to 400 N.
Portable and Mountable
Smaller applications for a forge gauge are suitable to be tested with handheld models, but larger jobs demand your gauge be mounted to some stable fixture. Mounting can prevent skewed readings and prevent potential damage to the load cell. Keeping your force gauge mounted on a fixed surface can also help ensure that you're a safe distance away from the larger forces you may be testing. Mounts are typically unavailable on force gauges built for smaller forces, but they're also rarely necessary when working with lighter weight.
Results and Features
The simplest gauges on the market use much of the same technology that digital force gauges used 30 years ago. Those gauges often show little more data than the force output that they're measuring. By contrast, more advanced gauges are capable of continuous data collection to help compare output, time, distance, and force.
More modern design may also allow you to connect the digital force gauge directly to a computer, allowing you to graph and calculate the data. But whether or not those connections exist, or if you'll end up having to buy aftermarket software to use the device, is another set of questions entirely.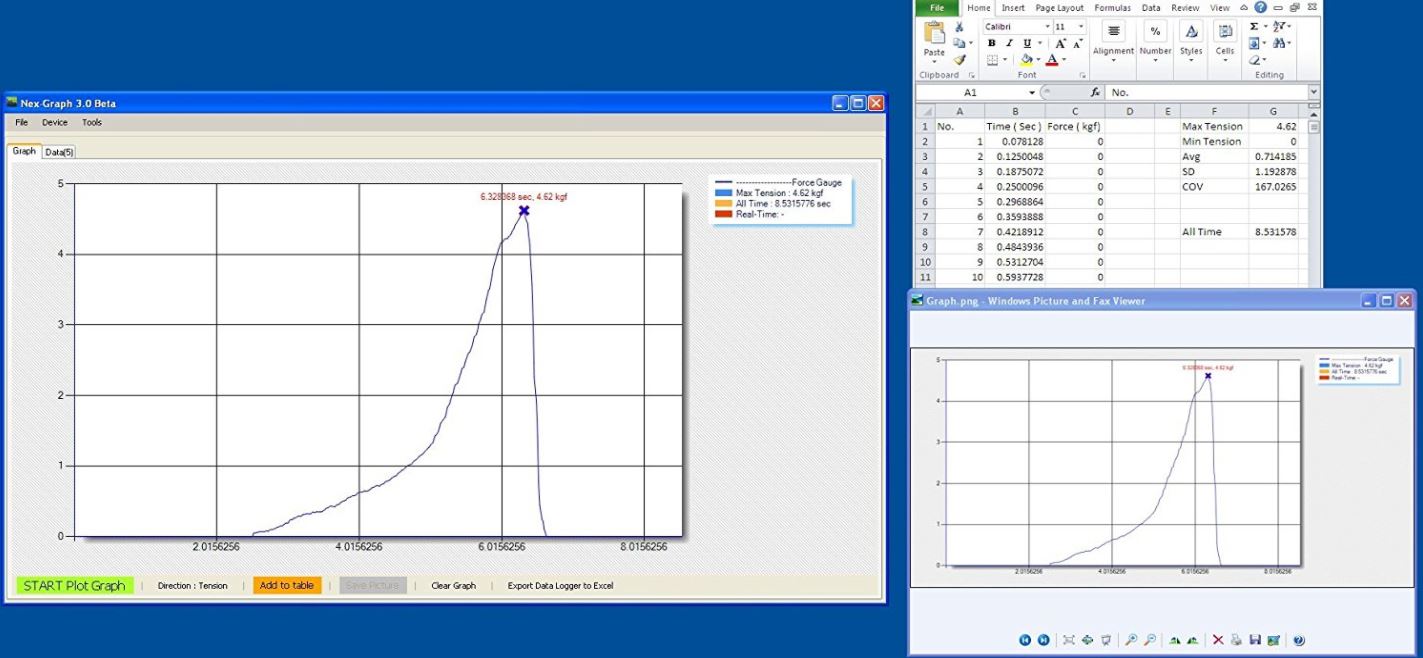 Ease of Use
Depending on what you're trying to measure and how you're trying to measure it, setting up a forge gauge can quickly become complicated. And complicated can be a problem when you're trying to move from one measurement to another in rapid succession. Running into significant ease of use problems is typically the result of buying knockoff products from unreliable brands.
But unless you often purchase measuring equipment, you may not know which brands in the industry have trust and respect. Once you know you're dealing with a reputable manufacturer, then you can focus on choosing the extra features that can make taking force measurements a little easier.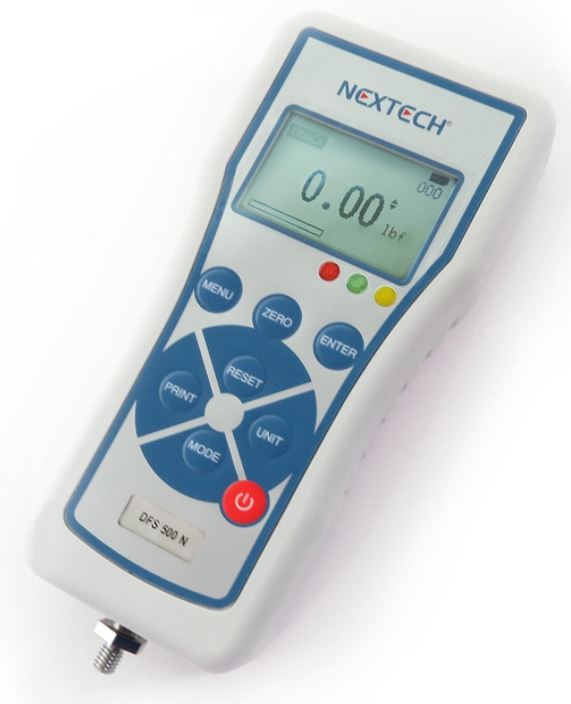 Nextech DFS500
For the better part of two decades, Nextech has specialized in manufacturing torque and force testing systems. Their DFS500 is a reflection of that experience. It's equipped with a common sense design that allows you to switch between units of measurement with the aid of one key. The DFS500 supports moderately strong forces, with a maximum 110lb and 500 N capacity. Alongside those capacity strengths, you'll find a variety of operation modes to maintain relatively versatile functionality, with accuracy rated at greater than 0.2% when under maximum capacity.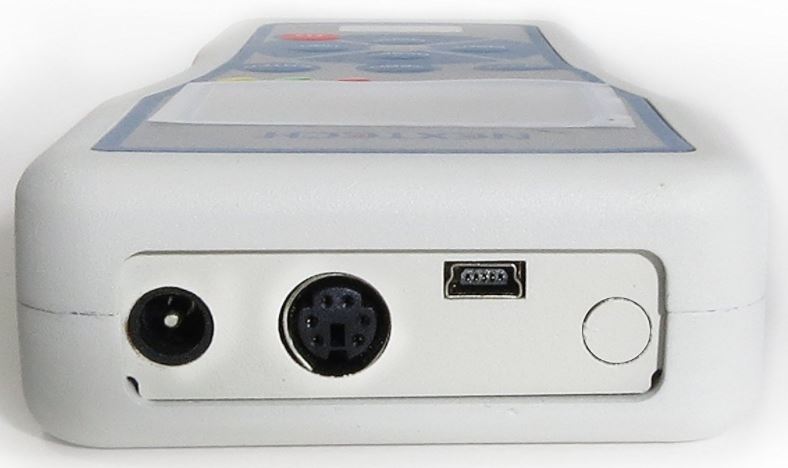 Build & Design
The DFS500 is built with sturdy metal housing, and supported by a sizeable backlit LCD for easy viewing. Inside the LCD you can see an analog graph bar to examine current readings relative to the maximum capacities of the scale, which can help ensure the safety of you and the device.
Apart from the general quality of the build, you'll be impressed by all the added ease of use features. For instance, there's a pass/fail mode that allows you to establish programmable limits for testing. Violation of those limits will produce an audible alarm, as well as a noise of positive affirmation when a test is passed.
The track mode shows you a live reading of your data, while the peak mode will keep the maximum reading of any given test. With one press, you'll be able to save as many as 500 readings on the internal memory of the device. That data can be viewed directly on the device, or connected to your computer thanks to a USB port. In addition to the USB port, you'll find a PS2 interface that allows you to conveniently attach a keyboard to take notes alongside your readings.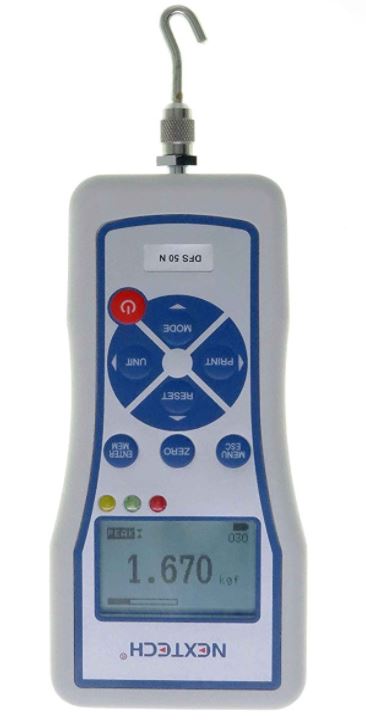 Adaptability and Extras
All in all, the DFS500 is ready to start testing straight out of the box without the need for additional setup. As a nice bonus, the DFS500 includes a Windows software suite for to help port your data without having to search for 3rd party software. But there is one downside. The included free software is clearly quite old, and while it does the job of porting your data, it's far from a spectacular experience.
The DFS500 includes a plastic case, charger, and USB cable. It operates on the four included AAA batteries, and its calibration is guaranteed through the included NIST traceable calibration certificate. It also comes with brass plated accessories including a hook, compression plate, and sharp point. Because this device is capable of dealing with moderately large forces, you'll also find a screw at bottom to help stable mount the device to a tripod or similar instrument.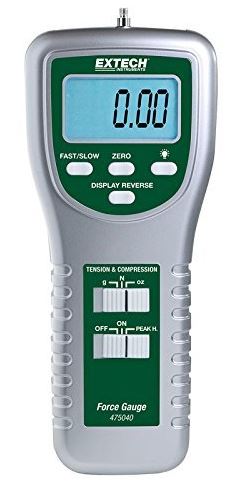 Extech 475040 Digital Force Gauge
The Extech 475040 is a multipurpose force gauge that's oriented towards the chemical, plastics, and electronics industries. It uses a highly accurate load cell transducer for measurement, and supports a variety of common and useful modes that can make ease of operation exceptionally simple. With an ergonomically design, this forge gauge is well equipped to being used in either the field or lab without becoming burdensome.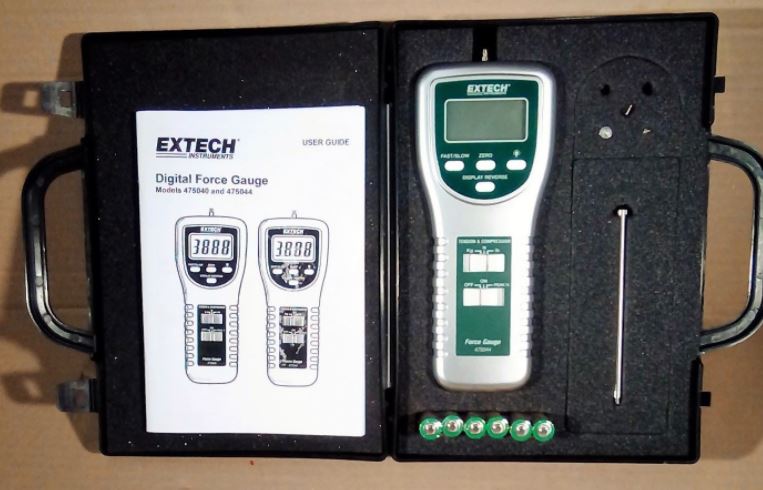 Build & Design
Extech's 475040 features a fully reversible LCD display with five-digit precision, which provides a convenient and highly visible viewing for taking measurements from a distance. The sensor makes use of a load cell transducer that's exclusive to Extech, and one of the best reasons for researchers to choose one of their devices.
Clearly made for smaller loads and forces, this scale has a total capacity of 5kg weight and 49 N of force. Within that range of weight you'll find accuracy to 0.4%, thanks in large part to their proprietary technology. You'll also find more commonplace features, like slow and fast response modes. Fast more can react to rapid changes in force in as little as 0.2 seconds, while the slow mode captures data at 0.6 seconds.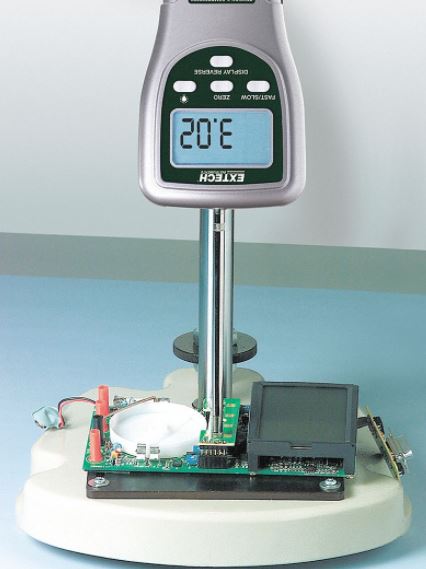 Adaptability and Extras
If you're doing more than measuring one or two things, then you're going to need a digital force gauge that's adaptable to all the various tasks you may have in mind. Out of the box, The Extech 475040 is equipped for essentially all types of small object force testing, thanks to the inclusion of a tension rod, flathead, cone, chisel, and hook adapter.
This instrument is powered by six included AA batteries, and includes a carrying case. You may find yourself needing that case for the bulky 8.5 x 3.5 x 1.8-inch design and it's equally hefty 1.4-pound weight. It also includes a one-year warranty, a certificate of NIST calibration, and is CE rated to ensure for conformity with European safety requirements.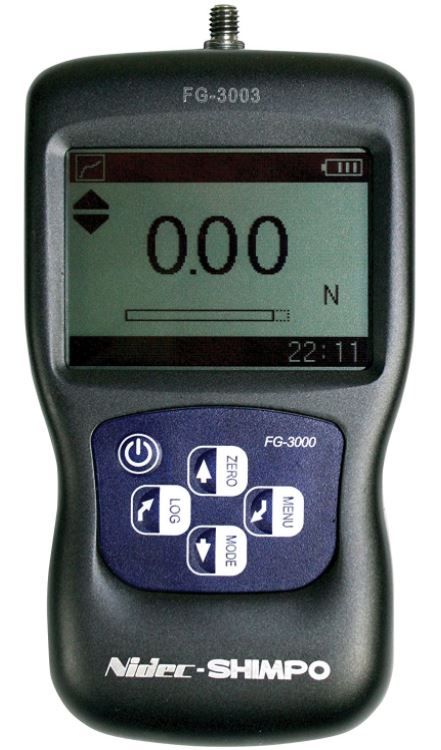 Shimpo FG-3009
The Shimpo FG-3009 is compact without the typical drawbacks you see from making a smaller force gauge. For instance, the LCD remains bright and adjustable. You'll find support for three operation modes: track mode for live readings, peak mode to capture maximum values, and pre-set mode to activate upon the preset points for pass/fail testing. And Shimpo supports full personal computer integration with this device, allowing for the rapid testing as you may need on a production line.
The FD-3009 holds a considerable 220 lbs. of weight, with a force limit of 1000 N. That makes this Shimpo's largest digital force gauge, and an ideal choice for research and development, quality inspections, and doing force stand testing on larger forces. With the FG-3009 you're looking at accuracy to 0.3% of your measurement, which is well within the standards of most labs.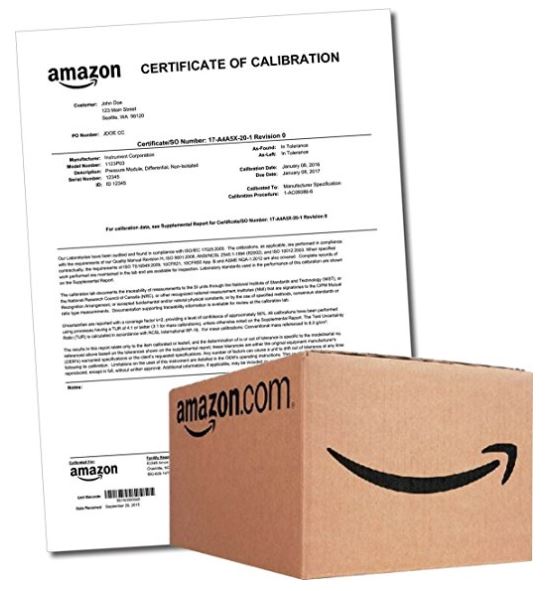 Build & Design
Rather than build a flashy and visually impressive display, Shimpo uses a function-oriented dot matrix backlit LCD that's optimal for viewing graphed data. The LCD is reversible to help you reach whatever angle your testing demands, which adds to both operation and intuitive use. Because this force gauge was made to handle larger forces, it provides four mounting holes on the back for a secure fit to most surfaces. Those holes make use of the ubiquitous M3-sized threads.
On the display you'll find an ever-present analogue bar graph to help you keep tabs on the maximum capacity of the device, to help ensure safety. Through that display you'll also find the FG-3009 can also log up to 500 readings that can be viewed, printed, or uploaded with their free software. Their Windows-based suite will help port data for both analysis and graphing, and seems to be far more modern than comparable software suites.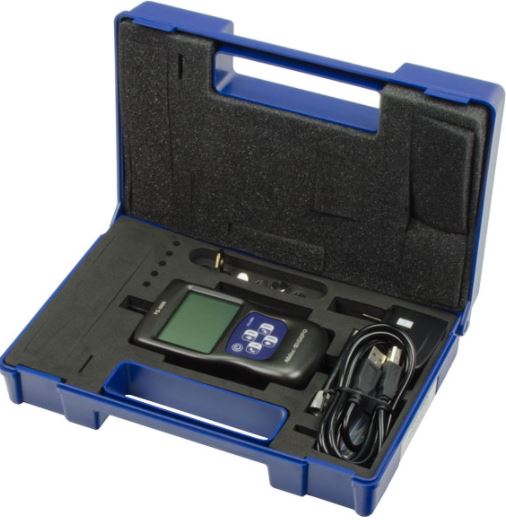 Adaptability and Extras
The FG-3009 uses compact and rugged housing made from aluminum. It's been crafted to a 1.4 x 5.5 x 2.8-inch design that's greatly portable considering the forces it's built to endure. To connect to external devices, it has RS-232 or USB port options. And for a full range of extendible testing, this kit includes a flat top, conical tip, chisel tip, notched tip, and hook extension adapter. You'll also receive the necessary AC adapter, an extension shaft, carrying case, USB cable, and a calibration report from the manufacturer, and carrying case.
Choosing Between 3 Accurate Digital Force Gauges
If you're measuring smaller forces and lighter objects in the range of 5 kilos and under, then you want the Extech 475040. It's adaptable enough to do almost anything, while remaining still relatively lightweight and portable. If this device could take on larger weights, it would have almost zero limitations.
For measuring large weights that approach 100 kilos, then you're going to want the Shimpo FG-3009. It can provide highly accurate readings for sizeable forces, and it supports all the connectivity and adaptability you might need to take on an array of different tasks. The FG-3009 is great for large forces, large weights, and anyone who needs a build quality rated to endure them.
The Nextech DFS500 is a good middle point that's suitable for forces that are greater than what Extech's forge gauge covers, but not quite as massive as the forces covered by Shimpo's FG-3009. For that middle point, you want the Nextech DFS500. It's support for 50 kilos is paired with all the essential ease of use and accuracy features you'll want from the best digital force gauges, without the price tag associated with an instrument that's rated to handle giant forces.