BougeRV Flash300
Pros
Fully charges in less than an hour.
Powers up to 10 devices simultaneously.
Convenient wrap-around handle.
Well-designed safety features.
Cons
Car charger can vibrate loose when driving.
No way to turn off LCD display.
These days, our electronics are central to our lives, and that's usually a good thing. Think of all the apps on your smartphone. You can do your banking, watch your favorite shows, and get directions. Unfortunately, there's a downside to this convenience. Without your smartphone, tablet, or laptop, you might be unable to function. This makes it important to have a reliable backup power supply.
A quality power station isn't just handy for use around the house. They can also come in handy when you're on the road. Take a day trip to the beach, for example, and you're going to want to keep your Bluetooth speaker charged. Go camping, and you might want to run a small kettle. In those scenarios, a small and portable power station is what's in order.
We're about to review the BougeRV Flash300 Fast Charging Power Station. This is a lightweight, easy-to-carry power station that can power 10 devices at once. It also charges incredibly quickly when you plug it into a wall outlet. But what else is it capable of, and is it the right fit for your needs? Let's get started, and see what we find!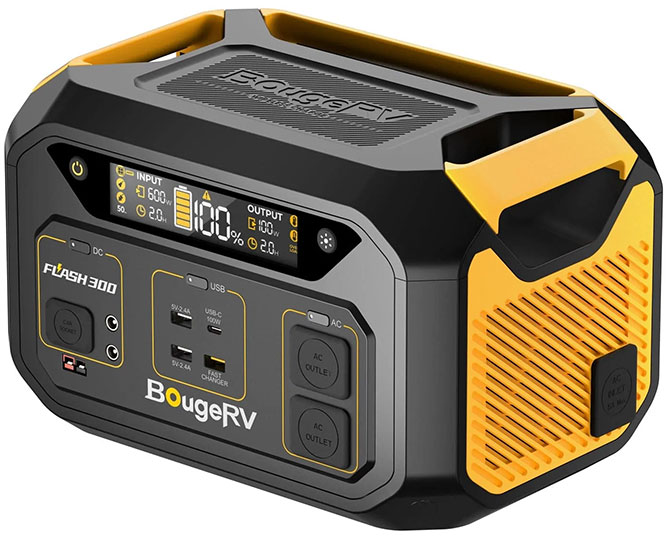 Design and Durability
The BougeRV Flash300 is constructed primarily from a matte black plastic. The side panels, handles, and a few of the accents are orange. The total size is 11 inches wide, 7 inches deep, and 8 inches tall. At 12.13 pounds, it's lighter than most power stations. It also sports a set of three carrying handles. They're built into the top sides, as well as the back. This wrap-around design makes the unit incredibly easy to carry.
The sides of the housing are vented for cooling. This design allows air to flow freely through the power station and prevent overheating. A set of fans is installed behind the vents, to further improve air flow. Even when these fans are running at maximum power, they only produce 40dB of sound. That's barely louder than a whisper, which is a good thing if you're trying to sleep while you're charging.
BougeRV provides an 18-month warranty to back their power station. That's more than long enough to discover if there are any factory defects. If the power station failures due to materials or labor, you'll get a refund or a free replacement.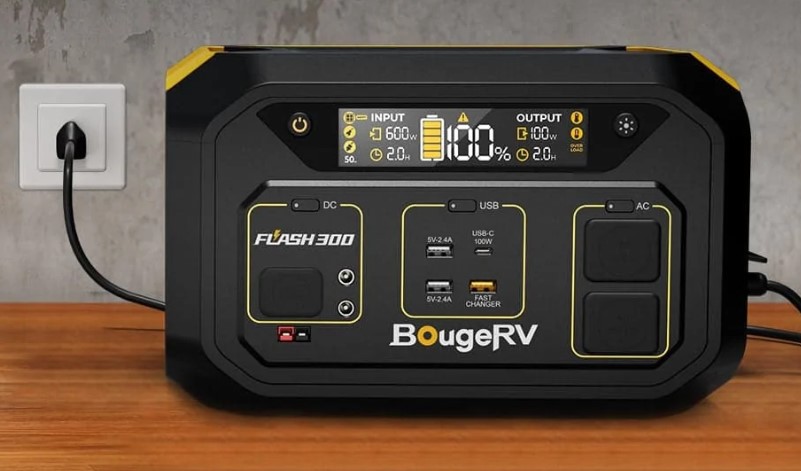 Ports and Display
Most of the interesting parts of the Flash300 are located on the front panel. At the bottom left is a DC automotive charging port, with a black plastic flap that flips up when it's in use. Next to the port is a pair of circular DC power ports, stacked one over the other. Above these three ports is a black plastic control button with a little indicator pip. This button can turn the group of ports on and off. Power them off, and they won't drain any trickle power when they're not being used.
At the bottom middle is a cluster of USB ports. To begin with, there's a pair of ordinary USB Type-A ports. Next, there's a USB Type-A quick charging port with an orange inner tab. You'll also find a USB Type-C charging port. Like the DC ports, the USB ports have a control button to toggle them on and off.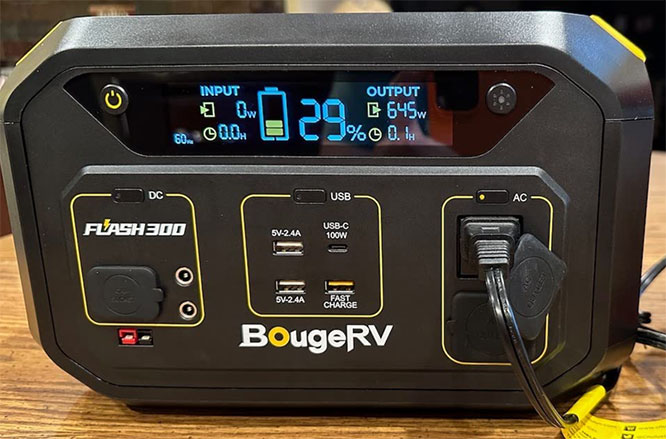 To the right, there are two AC power outlets, with black plastic covers similar to the one on the DC port. These also have a separate control button.
If that's not enough, the top of the power station serves as a wireless charging pad. It's slightly indented, which makes it easy to position your phone in the appropriate spot. The indent also makes it hard to knock your phone off the charger accidentally.
Across the top of the front panel is a bright LCD display, with white and yellow icons on a black background. At the left, you'll see your current input wattage – if any – with outgoing wattage at the right. Under these numbers, you'll see your estimated recharge time and discharge time respectively. These numbers will change as you plug or unplug devices – or plug and unplug the power bank itself. Between all the numbers is a battery meter with both a bar graph and a percentage. The display also shows what type of charge input you're using, along with any warnings. Our only gripe is that you can't turn the display off, which can be annoying when you want to sleep.
To the left of the display is a rubber power button that controls the entire power station. To the right is a control button for the flashlight, which we'll discuss later in more detail.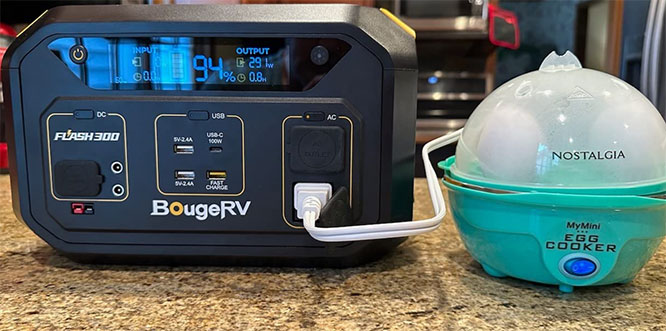 Use code "AFF16" for a 16% discount when you order directly from the BougeRV website.
Battery Capacity and Recharging
The BougeRV Flash300 has a capacity of 286Wh (watt-hours). That means that if you were to hook up a device that drew exactly 286 watts, it would run for an hour. By comparison, the iPhone 14 Pro Max battery – which is larger than most phones – has a capacity of 16.75Wh. Do the math, and you'd be able to charge it 17 times. The current MacBook Pro 16" has a 99.6 Wh battery, so you could charge it almost three times. Again, most laptops have smaller batteries than that, so your mileage may vary.
This power station supports 600-watt charging via AC and solar. At 600 watts, you can charge the battery to 90% in 30 minutes, and the rest of the way in under an hour. To be fair, you'd need a lot of solar panels to put out 600 watts. But if you want to go that route, you can. You can also charge in your car when you're on the road.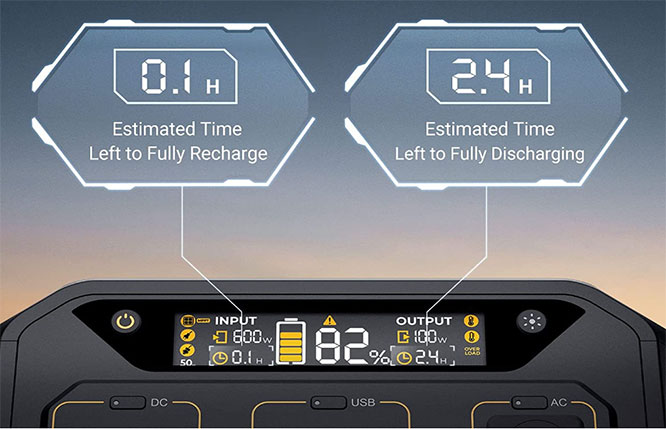 The AC and DC charging cables plug into a socket on the right side near the back. The solar cable plugs into a socket on the front, under the DC charging ports. A full set of cables are included, so you're ready to charge right out of the box. The only thing we took issue with was the DC charging cable. The tip is a little bit small, and it can easily vibrate loose of your car's power socket while you're driving.
The battery itself is rated for 700 duty cycles. This means that after 700 discharges and recharges, it will still retain at least 80% of its original capacity. That's a ton of charge cycles, enough to last you for years.
Charging Capabilities
We've talked about the various ports and the battery capacity. But how much power does the Flash300 actually deliver? That depends on which of the ports you're using.
To begin with, the DC ports provide standard 12-volt DC charging. If you have a device that plugs into an automotive outlet, you'll be good to go. The same goes for most drones and cameras that use barrel-style plugs.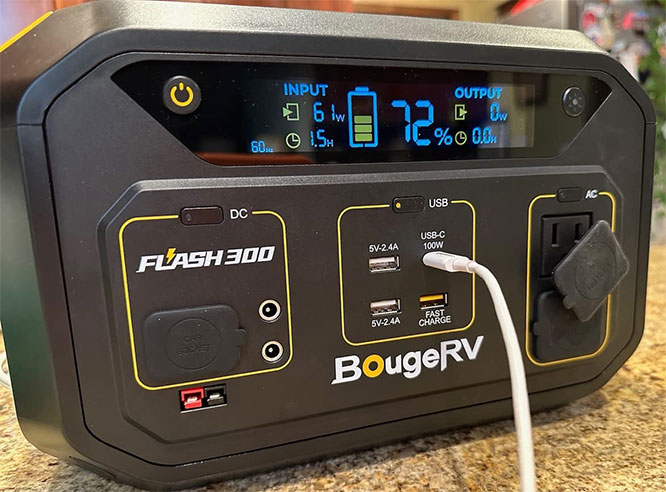 The USB ports provide three different types of charging. The two ordinary USB Type-A ports deliver 12 watts of power, or 5-volt DC power at 2.4 amps. That's standard USB power, and it's more than good enough for charging most USB-powered devices. The USB Type-A QC port is a little bit more powerful. It delivers 18 watts – not the maximum for QC power, but pretty fast. Most significantly, you'll get the maximum rate of charging on Apple devices that use a Lightning cable.
The USB Type-C port is the most powerful of all. It provides a whopping 100 watts, which is as fast as USB currently gets. That's powerful enough to charge a MacBook Pro 16" while you're using it. Just be aware that at 100 watts, you'll drain the power station's battery in under three hours.
The wireless charger is also excellent, with a maximum delivery of 15 watts. That might not sound all that impressive, but it's as fast as Qi charging currently gets. You'll be able to get the most out of your wireless-charging smartphone.
The AC power outlets deliver up to 600 watts. By comparison, a standard household power outlet delivers up 1,800 watts. You can run many devices, and charge anything that charges via AC power. You can even operate a small, 600-watt microwave. The circuitry can support up to 1,400 watts of surge power. As a result, most compressor-driven devices won't trip the built-in circuit breaker.
This power station supports pass-through charging, which means you can use it while it's being charged. This can come in handy when you're in a hurry, but be careful. Pass-through charging will wear down the battery faster than ordinary charging.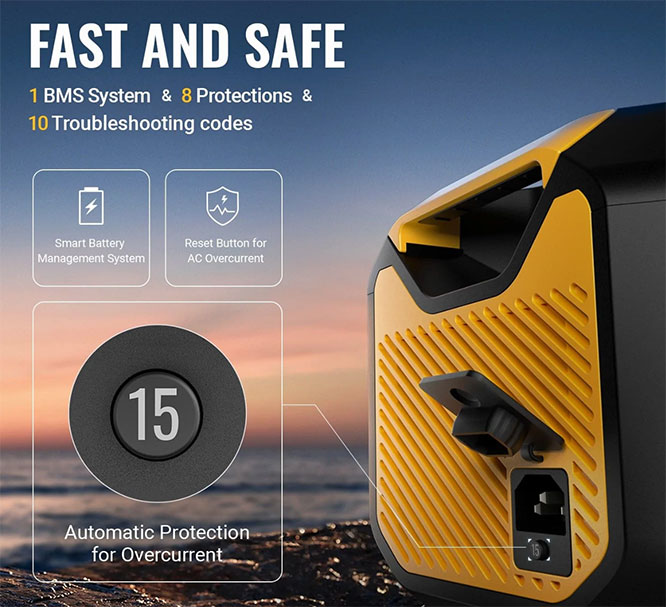 Safety and Extras
The Flash300 boasts a powerful battery management system (BMS) that provides several safety protections. To begin with, it keeps the battery from overcharging or over-discharging. It will shut off the current if there's a spike in voltage or an overload, along with protecting against short circuits. It also has a built-in temperature sensor that shuts everything down if it starts to get too hot.
The flashlight is located on the rear of the housing, and occupies most of the back panel. It has two brightness levels and two modes for a total of four settings. The flashlight mode shines daylight white, and can be at half or full brightness. The warm light mode is a warmer white, and has the same brightness options.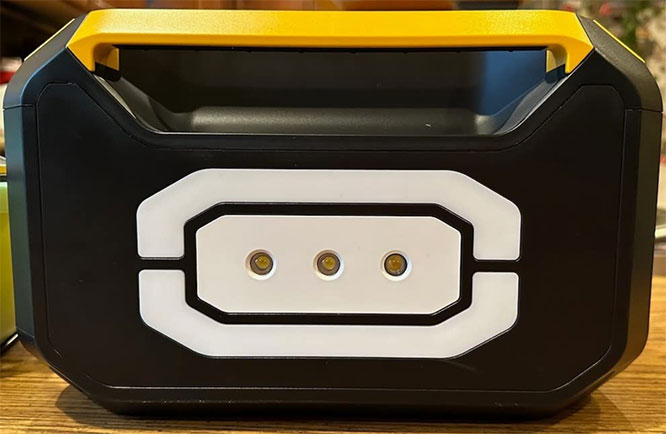 Use code "AFF16" for a 16% discount when you order directly from the BougeRV website.
Final Verdict
The BougeRV Flash300 Fast Charging Power Station is pretty well-designed. It's smaller and lighter than most power banks. And while it's not incredibly powerful, it has a great capacity for the size. Meanwhile, the wrap-around handle makes it easy to carry from place to place.
You can use this power station to power pretty much any device. Whether you need AC power, USB, DC, or wireless, it's got you covered. The 600 watts of AC power is enough for some small appliances. And with 1,400 watts of surge power, compressor-driven devices are no concern. We also liked the built-in light, which can be used to illuminate an entire room.