A monitor stand can help tilt and adjust your screen, placing it right where you want. They can help you avoid glare, maximize productivity, or even for hide things from coworkers. There are typically few limitations with a great stand.
Unfortunately, things can be slightly more complicated when selecting triple monitor stands. Fortunately, they're not three times as complicated. You just have to take a moment to ensure the mounting equipment and your monitors mange to match.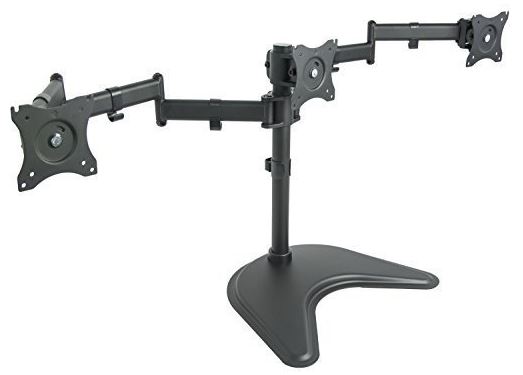 VIVO Triple Monitor Mount
Serving as a freestanding desk stand, the setting up the VIVO Triple Monitor Mount is as simple as placing it on your desk. It's built with a steel construction to help it confidently support larger panels. And it offers instant installation, making it an accessible option for people who use glass desks, corner desks, and desks not sturdy enough for a clamp.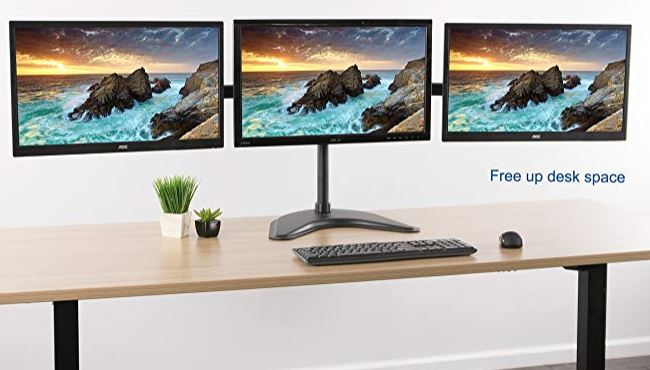 Build & Design
The base of this freestanding mount measures 17" x 12.5", which takes about the same amount of desk space as a 27" monitor stand. The steel construction contributes to a total weight of about 17lbs, which matches up well with its carrying capacity. The VIVO Triple Monitor Mount can handle up to 17.6lbs on each of its VESA plates. Those plates support both VESA 100 and VESA 75.
The bottom side of each adjustable arm has cleverly designed loops that allow for integrated cable management. You can run your monitor cords through the loops to keep everything looking clean and professional. The stand itself is a heavy duty metallic gray, also giving off a sense of professionalism.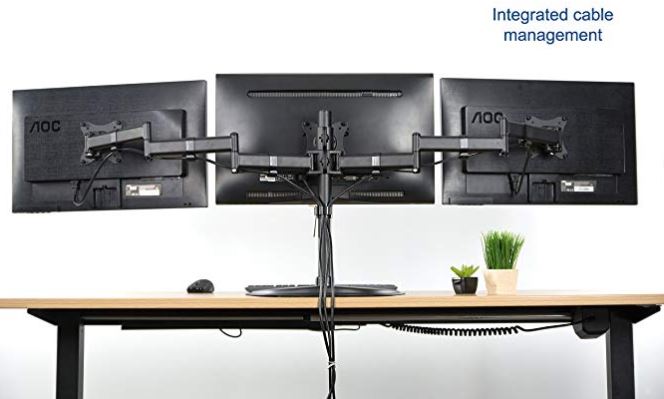 Adjustability & Other Considerations
Stretching the arms of the VIVO Triple Monitor Mount to their limits, there's a 48" distance from the leftmost and rightmost mounting spaces. That's somewhat limiting. However, the VESA mounting spaces are capable of 360° rotations. It also swivels 90° right and left, and tilts 45° up and down.
Three VESA mounting spaces allow you to attach monitors anywhere between 13" and 24". VESA plates can be raised or lowered by 1.1", but otherwise, there's no substantial height adjustment available with this stand. Although you can attach a 27" monitor, when doing so, you end up with considerably limited positioning options.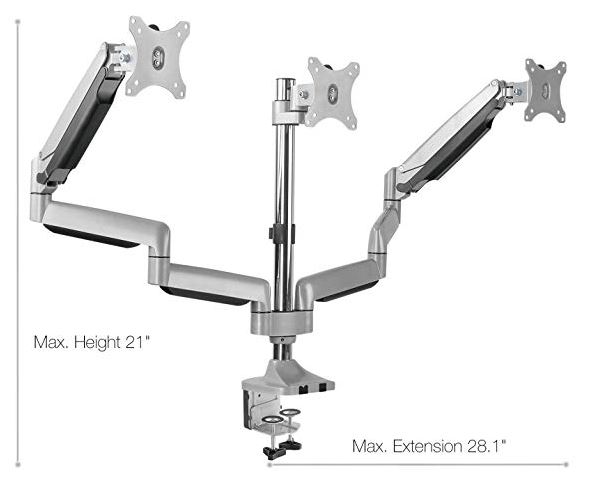 TechOrbits SmartSWIVEL Three Monitor Stand Mount
Using a clamp based design, the TechOrbits SmartSWIVEL is far more capable than any freestanding desk stand could ever be. It makes the most of its physical leverage to create fluid adjustability, exemplified by a construction based on an articulating gas spring arm. With wide support for nearly every panel you can find, and equally wide adjustability, it's hard to find fault with this design.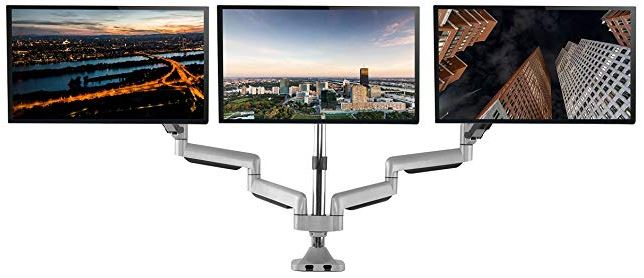 Build & Design
The TechOrbits SmartSWIVEL Three Monitor Stand Mount can support three panels, sized between 13" and 30". The stand itself weighs about 17lbs, the result of a heavy duty metallic construction. And the clamp fits between 0.4" and 3.3", supporting a fairly wide range of desks.
The smooth action of each arm isn't slowed down by that weightiness, but it does come at a price. Each arm holds a maximum of 15.4lbs, slightly less similar clamp-based mounts. That's still more than enough weight for most panels, but you might want to double-check if you're using a 27" or 30" panel.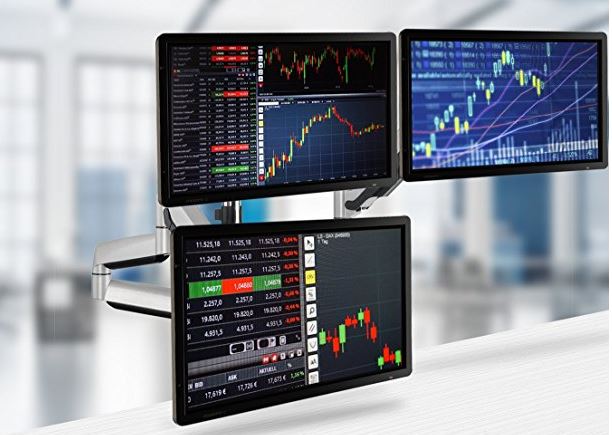 Adjustability & Other Considerations
Compared to a freestanding mount, the TechOrbits SmartSWIVEL has drastically better height adjustability. The maximum height of each arm is 21", with their maximum forward-extension reaching out to 28.1". Each VESA 100 plate is quite adjustable as well. You can rotate them 90° clockwise and counterclockwise, as well as an incredible 90° tilt.
Each Combined with 360° rotation of the arm, there's an almost limitless range of motion available here. Additionally, everything can be moved in unison because the base of all three arms can be rotated 270°. In short, it's not hard to find a perfect viewing angle, or make swift adjustments. All necessary installation hardware is included, as well as a 3-year warranty from TechOrbits.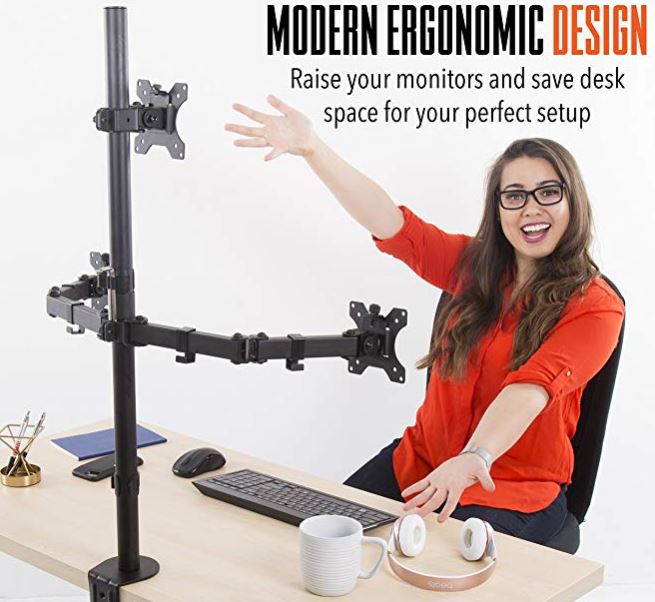 Stand Steady 3 Monitor Desk Mount Stand
Stand Steady 3 is a pole-based mount stand, capable of being attached with either a side-clamp or grommet. When you move from a single monitor mount to a multiple monitor mount, and monitors start to get cramped together, you'll find monitor stands often lose their adjustability.
The Stand Steady 3 avoids those problems entirely, retaining levels of adjustability you typically only see from single-monitor mounts. With additional support for cable management, there's almost nothing you can't ask of this monitor desk mount stand.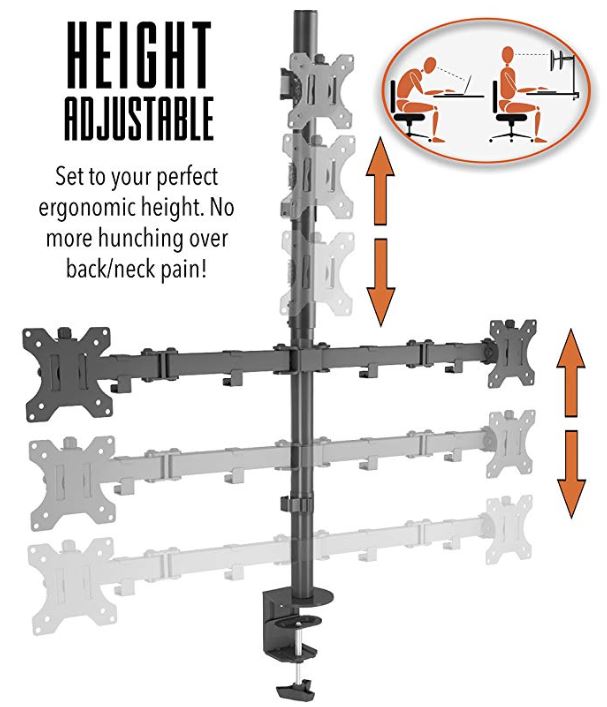 Build & Design
As the name suggests, the Stand Steady 3 is capable of holding three monitors. Each monitor can measure anywhere between 13" and 32", and each arm can carry up to 17.6lbs. Between those two factors alone, the Stand Steady 3 Monitor Desk Mount Stand can already accommodate nearly every monitor that's sold.
Your panels are mounted using VESA 100 or VESA 75, which makes the installation process about as simple as handling a fistful of screws. The stand itself is actually surprisingly lightweight, weighing only 11 lbs.
However, rising from one central pole, there's nothing subtle about this stand. It does its best to hide everything away, though with a multiple monitor stand like this, there's only so much that can be done. For instance, when you're running three monitors, you're probably also running at least six cables. The Stand Steady 3 tries to minimize the mess by including built-in cable management clips along each of the arms, and along the central pole.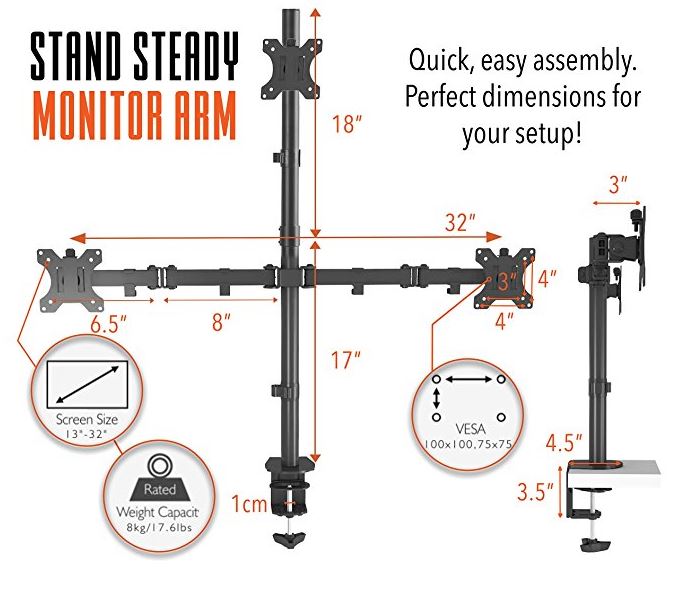 Adjustability & Other Considerations
Each of its arms allow for fully adjustable rotation including 360° spinning from the base of the stand. And each panel can individually be rotated 90° or tilted up to 45°. That's about half as much tilt as the TechOrbits SmartSWIVEL, but it's enough to position a monitor far above eye-level and still have it facing you directly.
Speaking of raising your monitors above eye level, the Stand Steady 3 has truly impressive height adjustment capabilities. Its full range of adjustment can accommodate height increases up to 35" above baseline.
The relatively lightweight design of this mount makes installation especially easy. However, installation can become more complicated if you decide to use the clamp and grommet installation option. If you decide to use the slide-on clamp alone, you'll find a quick and simple installation.
The clamp can attach to desktops up to 3.46". And the Stand Steady 3 Monitor Desk Mount Stand includes all the hardware necessary for assembly, assuming you don't intend to carve a hole through your desk. That's one thing this mount cannot help you with.
Choosing a Triple Monitor Stand (with Adjustable Arm)
When you're looking for a triple monitor stand, you're searching for six things. Those things are VESA compliance, adjustability, durability, aesthetic, panel size, and the specific type of mount appropriate to your circumstances.
Types of Monitor Stands
Freestanding monitor mounts work exactly like a regular monitor stand. They sit on your desk as though they were a monitor. That means there's essentially no installation process, apart from taking a few moments to mount your monitors. Freestanding monitor mounts are a good choice for someone with a flimsy desk or a glass desk because they do not require the semi-permanent installations used by other stands.
Side-clamp desk mounts attach to the edge of your desk, using force and pressure to hold the mount in place. This obviously requires a sturdy desk to work against if you want to achieve a sturdy installation. But using side-clamp desk mounts has one clear advantage. It clears every monitor off your desk, freeing up space.
The best mounting option you can select is a through-the-desk grommet stand. Like the name suggests, it requires you to stick a bolt straight through your desk, thus securing your monitors to the desk itself. This typically means you have to drill a hole in your desk. Though this is the most hands-on and permanent installation option, it's also the most secure.
VESA Compliance
A VESA compatible monitor has mounting holes which are drilled at standardized spaces. These holes are usually constructed to connect within the metallic frame of the monitor. The most common standard you'll see listed is VESA 100, indicating the spaces are positioned 100mm apart.
Occasionally you can find smaller panels which are not VESA compatible. This problem can sometimes be fixed with aftermarket adapters, but not all panels can be adapted.
Monitor Size
Most triple monitor stands are built to accommodate every common size of computer monitor. But there's often less support for larger panels, especially panels at 27" and beyond. Even if a triple monitor stand says it can support a 27" panel, that doesn't necessarily mean it can support three 27" panels. Even if it can support three, you may find you lose adjustability with larger sized screens.
Adjustability
An articulated mechanical arm is at the heart of any truly adjustable monitor stand. But different arms have different joints, and different ranges of flexibility. Some adjustable arms may allow you to move all three monitors from one central joint. Others might allow for tilt and rotation for individual panels. The full range of adjustability is important to pay attention to, especially if you have a specific layout in mind for your panels.
Durability
Stakes are raised when you've got three panels hanging from one mount. If something happens to the mount, there's three times the risk. How many pounds can the stand carry? What kind of material does the stand use to secure your equipment? Metallic constructions are generally what you're looking for.
Most people in most circumstances will not encounter issues with weight limitations, especially when you're choosing from among the best triple monitor stands. But if you're using a larger 30" screen with a built-in power brick, you may want to take close at how much weight is supported.
Stand Aesthetic
Nobody wants to have to look at hideous hardware. An appreciation of beauty is built-in to the brain. And studies show living in a beautiful environment has a measurable impact on happiness. In other words, it's not totally ridiculous to care about how the stand looks.
Granted, a person spends little time looking at their monitor stand. And even less time once you've got your monitors attached because they effectively block-out most of the stand. Aesthetic isn't something to obsess over, but it might be an effective tiebreaker.
Choosing Between 3 Reliable Triple Monitor Stands
The VIVO Triple Monitor Mount is two things: simple and solid. While it has considerable adjustability, it also has the lowest overall adjustability of any mount on this list, including virtually no height adjustment. But because it doesn't use a clamp, installation takes literally seconds. The VIVO Triple Monitor Mount is the right choice for someone with a desk that can't handle permanent or semi-permanent installations.
The TechOrbits SmartSWIVEL Three Monitor Stand Mount is pretty close to being a top-shelf stand. It's got a wide range of adjustment capabilities, and an amazingly high quality construction. The articulating gas spring combined with universal connection terminals makes this stand a great fit for almost any desk. If you're looking for something heavy duty, this is it.
The largest and most adjustable stand on this list is the Stand Steady 3 Monitor Desk Mount Stand. It's got the greatest range of vertical adjustment, and allows for considerably more layout options. With an almost unlimited range of adjustability for attached screens, this stand is definitely the right choice for someone seeking permanent installation options.
Meet Derek, "TechGuru," a 34-year-old technology enthusiast with a deep passion for tech innovations. With extensive experience, he specializes in gaming hardware and software, and has expertise in gadgets, custom PCs, and audio.
Besides writing about tech and reviewing new products, Derek enjoys traveling, hiking, and photography. Committed to keeping up with the latest industry trends, he aims to guide readers in making informed tech decisions.