At NerdTechy, we've had the opportunity to try out a whole lot of technology, both low end and high end. But there is one luxury we've been fortunate enough to have access to, that we just couldn't' live without.
If you spend a lot of time on the computer, dual monitors are one of the simplest and most effective ways to improve your productivity. Dual monitors make it easy to multitask. Whether you're filling out a report for work, typing up your thesis, or simply browsing the internet, dual screens let you quickly change between apps without having to enter an endless alt-tab cycle.
On a desktop, adding a second monitor is easy. Just pick up any model you choose and plug it in to one of the many available video outputs. But on a laptop, this isn't quite as easy. Not only do you need to find a monitor that's portable, but you also need something that will work with the limited ports you've got access to.
Fortunately, ASUS has come up with a solution. Their ZenScreen MB16AC Portable Monitor offers big-screen efficiency in a stylish and portable USB-C package. Wondering what the difference is between this unique screen and a standard model? In this review, we'll be putting it to the test. We'll find out exactly what this monitor can do, and help you decide if it has a place in your mobile workstation.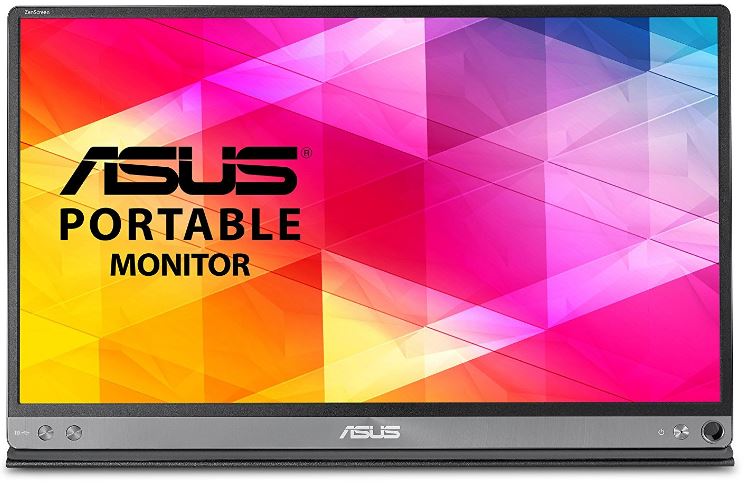 First Look
Featuring a stylish exterior and a 1080p screen, it looks great both on and off screen. It's designed to work primarily with USB-C computers, but also has backwards compatibility with USB type A outputs. At only 1.7 pounds, it's extremely lightweight. The included cover protects the screen when not in use, and doubles as a stand when it's on. The monitor pivots on the stand, and can be used in both portrait and landscape mode. As far as portable monitors go, this checks all of our boxes. But to really put it to the test, we'll have to see how it performs in the real world.
Connectivity
USB type A, or USB type C? No matter what you've got on your computer, both options are supported. Your USB port supplies both power and video signal, unless you're using a USB data blocker, so you don't have to worry about a power supply. But there are some important differences between these two standards that you should know about.
USB-C is an entirely new interface. It allows many different types of data to be transmitted over a common bus. When you use a USB-C monitor, you're actually sending it a DisplayPort signal. When using USB-C, this monitor behaves no differently than any other model. Video is transmitted at a high frame rate, and there is no lag or artifacts.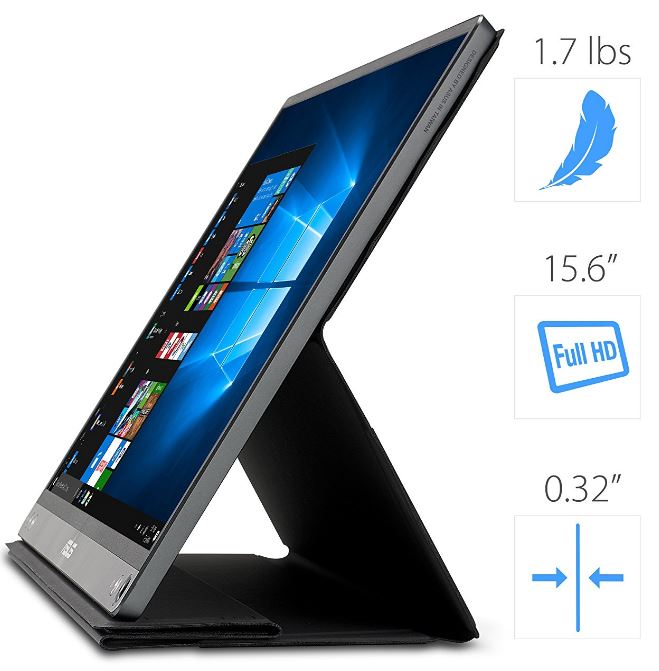 USB type A is completely different. Because of USB-A's limited bandwidth, the video must be heavily compressed. A built in processor translates this compressed video into what you see on your display, and it's lag depends on how much information you have on the screen. Are you browsing the web, or editing a document? For these types of activities, there is very little changing on the screen. Generally, using this monitor over USB type A is just the same as using a standard monitor. But if you're playing games or watching movies, there is lost of movement and data being transmitted to the screen. For these types of usage scenarios, you'll want to make sure you use USB-C, as USB-A introduces too much lag for the screen to be ideal.
Image Quality
ASUS is known for producing high quality peripherals and computers, and the ZenScreen MB16AC is no different. While full HD 1080p might not be the highest resolution available on the market, it still looks great. Text is sharp and clear, and video is crisp and detailed.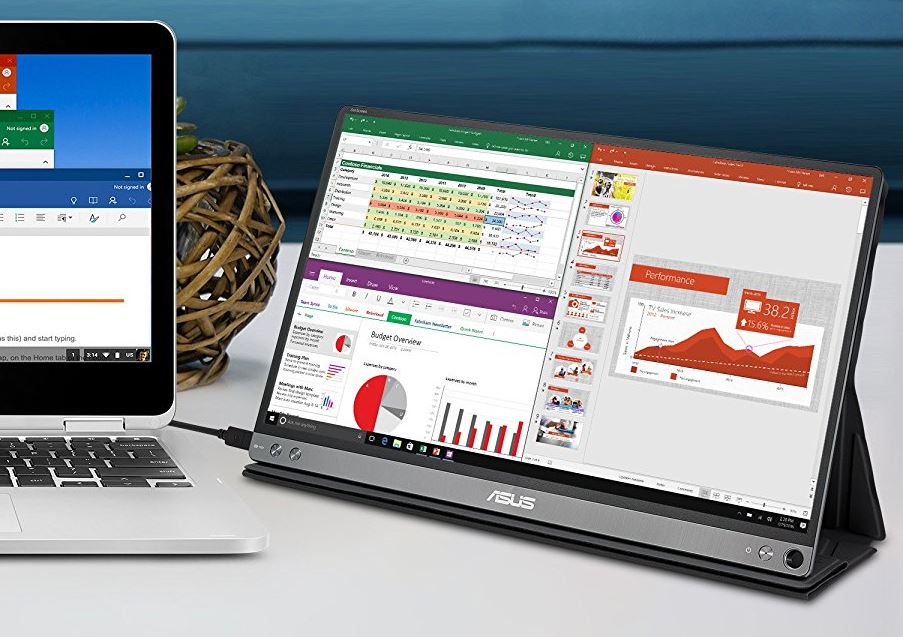 But it's not the clarity that really stands out about this monitor. It's the color. ASUS combined a high quality backlight with LCD technology to produce an image that is vivid and engaging. Viewing images and video is incredibly enjoyable on this monitor, making it the perfect choice for multimedia.
But if you're going to be spending a lot of time looking at this screen, it's important that it doesn't hurt your eyes. Asus uses a special backlight that is Rheinland-certified flicker free. This prevents frustrating flicker that gives many people migraines. They also installed a special blue light filter, which is known to prevent eyestrain. Many people believe that blue light has a negative impact on your sleeping habits when used in the afternoon and evening. If you're using a program that reduces blue light at these times, the blue light filter in this monitor will do the job for you.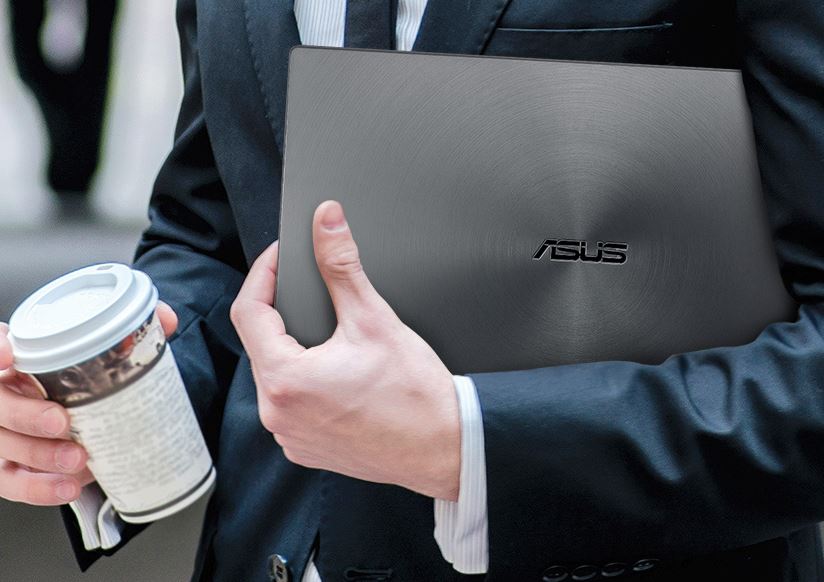 Design
A nice looking screen is important, but the visual appearance of the unit as a whole is also essential. In this department, ASUS doesn't disappoint. This external monitor has a sleek and professional look, allowing it to look great on any workstation.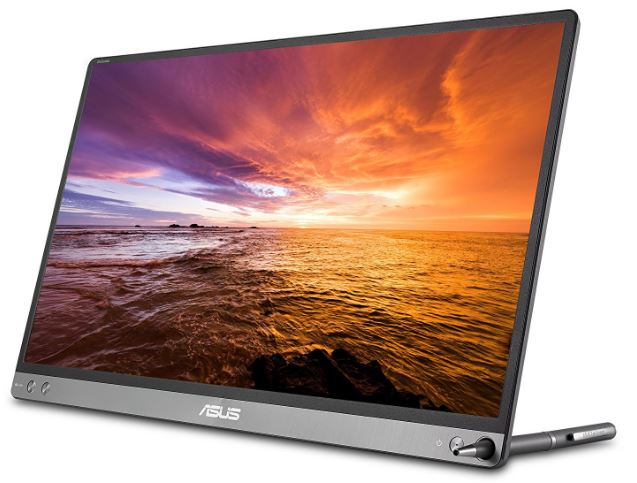 The first thing that you'll notice about it is the craftsmanship. Brushed metal seamlessly meets plastic, with the crisp lines adding a hint of contrast to an otherwise smooth exterior. The monitor is almost impossibly thin, measuring a measly 0.3 inches in width. This eye-catching design allows the monitor to fit the sleek style used across all of ASUS' "zen" branded hardware, and can drastically improve the appearance of your workstation.
One of the most unique design elements of the ASUS ZenScreen MB16AC is the smart pen hole. This is a tiny circular hole located on the bottom left of the screen. Should you choose not to use the smart cover, you can insert any pen into this hole to use it as a stand. If you walk into a meeting and need to stand the monitor upright, just grab any pen and you've got a stand ready to go.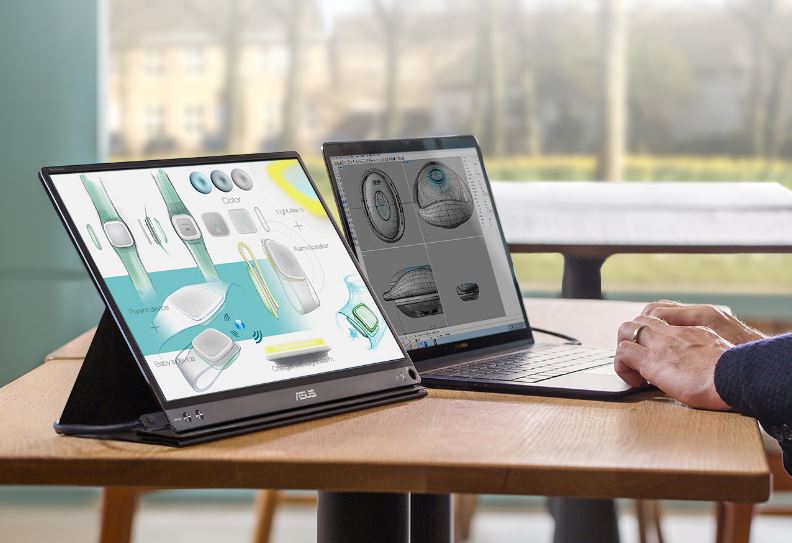 Features
One of the features that stood out the most of this display was the ASUS Display Widget. This is a piece of software that comes along with the monitor and allows you to quickly toggle important display settings. Brightness, contrast, orientation, and color settings are all available at the touch of a button. We appreciated having the color settings available because this monitor has a unique color profile. If you're editing images or trying to see how your report looks before printing it, the unique coloring means that what you see on the display won't be what others see on their screen. Cycling through the color options allows you to select a more muted looking tone, giving it a much more calibrated appearance.
When combined with the smart cover that doubles as a stand, this display is packed with features that you won't find elsewhere, providing good value.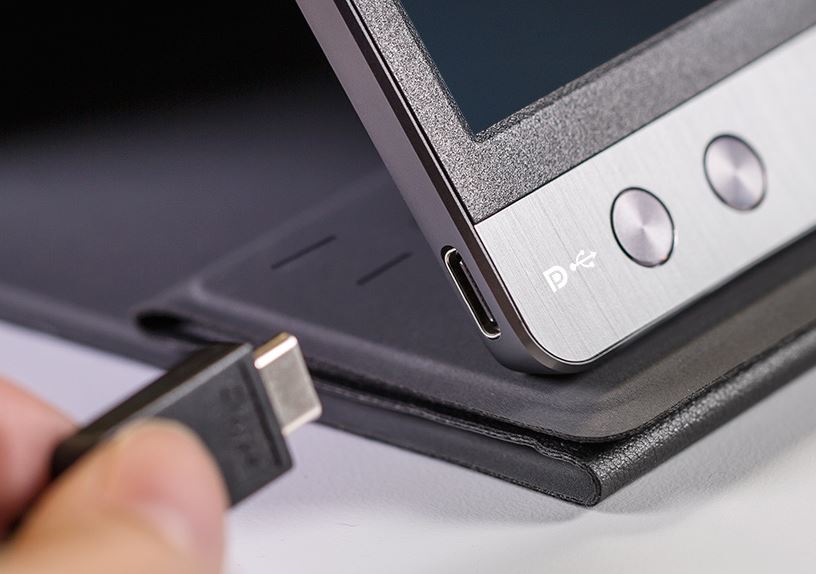 Disadvantages
Using LCD technology instead of LED allows the monitor to be thin, and helps in creating a vibrant color profile. Unfortunately, this technology is a little long in the tooth. You don't get quite the same black levels as with an LED monitor, and the color isn't quite as accurate. This technology is fine for many purposes, but isn't suitable for work that requires precision. LCD is also better in an indoor environment, and won't work quite as well outside in bright sunlight.
Final Verdict
If you're looking for a way to add a second monitor to your laptop, the Asus ZenScreen MB16AC would be a great place to start. This monitor makes a fantastic travel companion, as it's both portable and stylish. No matter where you choose to set up your office, this monitor will ensure that everyone around knows that you mean business.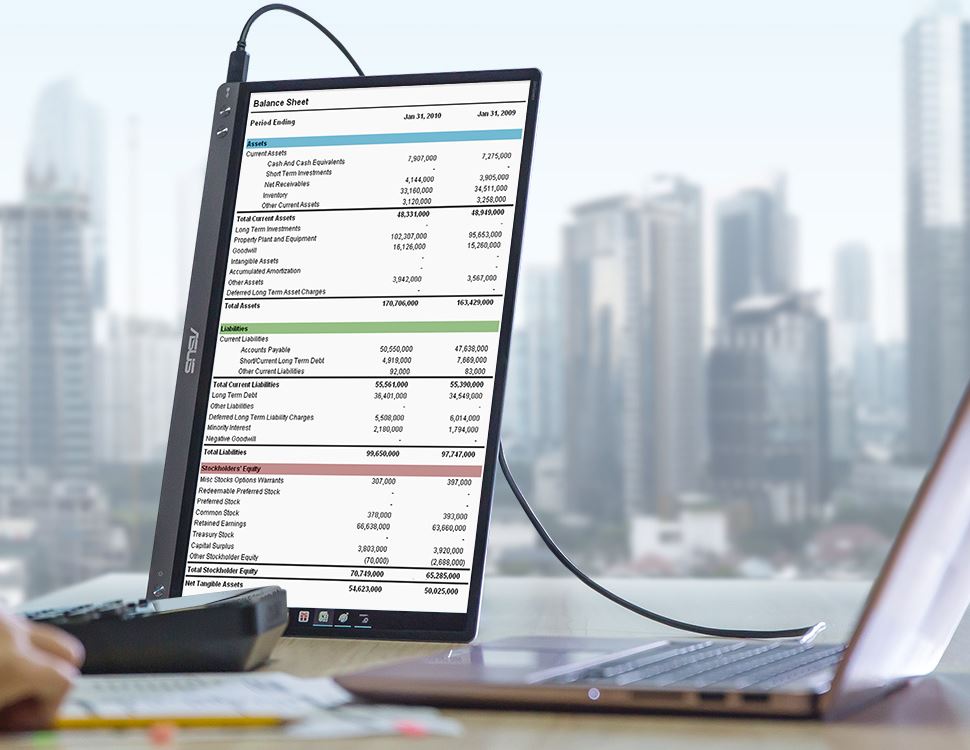 From a functional perspective, it's extremely easy to use. With only one connection to make, USB-C is definitely the most convenient interface on the market. As long as you're using this connection, this monitor will work just as well as anything else on the market.
Still using a computer that doesn't support USB-C? You're in luck, this monitor supports USB-A as well. But without USB-C, this monitor isn't for everyone. Lag is introduced when transmitting large amounts of video files, and it isn't suitable for all applications. If you're simply editing documents, surfing the web, or looking for a way to keep a reference document open while you work on your main monitor, we'd still recommend the ZenScreen MB16AC over USB-A. But if you're planning to play games or watch movies, we only recommend this for use with more modern connections.
Using the new MacBook? If having a single USB-C port had got you down, check out our review of the Belkin Thunderbolt 3 Express Dock HD. It enables you to connect a variety of thunderbolt compatible hardware, and also provides a number of additional ports so you can work with all of your older hardware.
Meet Derek, "TechGuru," a 34-year-old technology enthusiast with a deep passion for tech innovations. With extensive experience, he specializes in gaming hardware and software, and has expertise in gadgets, custom PCs, and audio.
Besides writing about tech and reviewing new products, Derek enjoys traveling, hiking, and photography. Committed to keeping up with the latest industry trends, he aims to guide readers in making informed tech decisions.