For Mac owners, Thunderbolt 3 is one of the most powerful communication standards on the market. It allows just a single port to provide power, high speed data, video, and even audio to and from your peripherals.
In the near future, every device we own will have a thunderbolt port. But for now, there are still plenty of devices that use another protocol. Our monitors are using DisplayPort, our storage devices are using USB type A, and our networking is over Ethernet. Additionally, many Macbook owners find themselves constricted with only a single Thunderbolt port to use.
Note: At no extra cost to you, we may earn a commission for purchases using our links. Learn more.
Maybe you're sick of deciding between charging your laptop and loading movies off an external drive. Perhaps you're not interested in throwing out your old Cinema Display to buy a new Thunderbolt model. No matter which of these issues you're experiencing, a Thunderbolt 3 dock can be the answer. This hardware allows you to convert one port into a whole plethora of connections. In most cases, the ports you get with a dock are significantly more complete than what you'd find on a standard laptop.
In this review, we're going to be taking a look at the Belkin Thunderbolt 3 Express Dock HD. We'll show you what it can do, and help you decide if this is a good addition to your mobile workstation.

First Look
With a fashionable design that meets that of your Macbook, the Belkin Thunderbolt 3 dock is often the first choice for those of you looking to expand the number of ports on your computer. Thunderbolt 3 provides up to 40 Gbit/s of bandwidth, allowing this dock to offer a ton of functionality while remaining compact. You plug in your charger to your dock, and the dock to your computer. It then keeps your laptop fully charged, while giving you access to a number of important ports for data, video, and audio.
Design
Apple is a very design focused company. For many people, their stylish look is one of the main selling points of their computers. There is no sense in buying something beautiful only to muck up your desk with a big ugly box, so we place a lot of importance on the material design of our peripherals.

In this regard, Belkin doesn't disappoint. They made this dock out of the same aluminum frame that the latest Macbook computers are made from. In the front, you've got a small cutaway that reveals two ports. On the back, a large strip of metal appears to be peeled away to show the rest of the ports. This balance is important. The bulk of your cables are tucked away in the back where they won't be obtrusive, but you still have convenient access to a few ports in the front. At only 1.1 inches thick, this dock is nice and compact. The face is left clean, with the exception of the Belkin logo, subtly etched into the lower left corner. Visually speaking, we have absolutely no complaints about the appearance.
Connectivity
So, what exactly can you connect to this dock? Belkin made sure that you can keep your options open. On the front, there are only two ports visible, but they are the ones you will most commonly use. You've got a USB 3.0 type A port for your flash drives or external hard drives, and a 3.5mm audio port. You can use this for full sized speakers, but it's mainly intended for headphones – something you'll want to insert and remove regularly.

On the back, you've got the ports you're going to want to leave connected all the time. From the left, you start with a Gigabit Ethernet port, so you can connect to a wired network. Next, you've got a 3.5mm audio jack for your permanent speakers. This second jack is given last priority. When you've got heaphones plugged into the front, the rear jack is disabled. But when the front port is empty, all sound is sent through the port in the rear.
Next, you've got two USB 3.0 ports, followed by two Thunderbolt ports. This works as a splitter, so you can use two more USB-C ports where you would have only had one.
Finally, you've got a DisplayPort for your monitor, and a power adapter that charges your computer, and supplies power to the rest of the computer.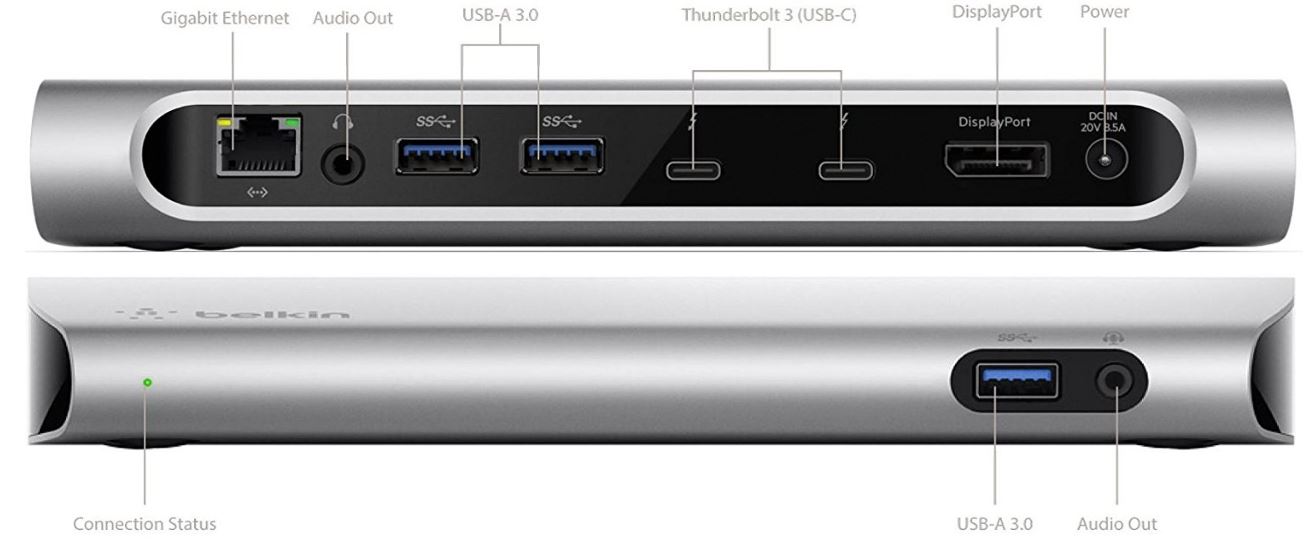 Video Output
Even though there is only one DisplayPort connection provided, this dock does offer video output to dual 4K screens. Modern desktops will simply connect dual thunderbolt compatible monitors. This won't even take up both ports, as Thunderbolt monitors are designed to be daisy chained. One plugs into the dock, and the second monitor plugs into the first.
What if you don't have any Thunderbolt displays? There are still options. You can get an inexpensive USB-C to DisplayPort adapter, and connect two DisplayPort compatible monitors.
There are USB-C to HDMI adapters available, but unfortunately these are not compatible with this dock.

Bandwidth
One of the nice features of this dock is the fact that it doesn't restrict your bandwidth at all. You get full access to the 40 Gbit/s offered by Thunderbolt, and it's automatically distributed across all devices.
It is important to understand how this bandwidth is allocated. Older ports are prioritized, followed by the more modern ones. This means that you will always use more bandwidth when you're using a display port monitor, as opposed to Thunderbolt monitors. Newer monitors support throttling the connection. This means that even if you were connecting two high speed SSDs that were using most of the bandwidth, the screen would still be able to display documents or text. But if you were using a DisplayPort monitor, they are always allocating the entire amount of bandwidth needed.
Will this actually matter in real world tests? Right now, not really. There are very few devices that require more than 40 Gbit/s of bandwidth. But if you're using a modern and expensive SSD system, you might want to consider using as many USB-C or Thunderbolt compatible devices as possible, to reduce throttling.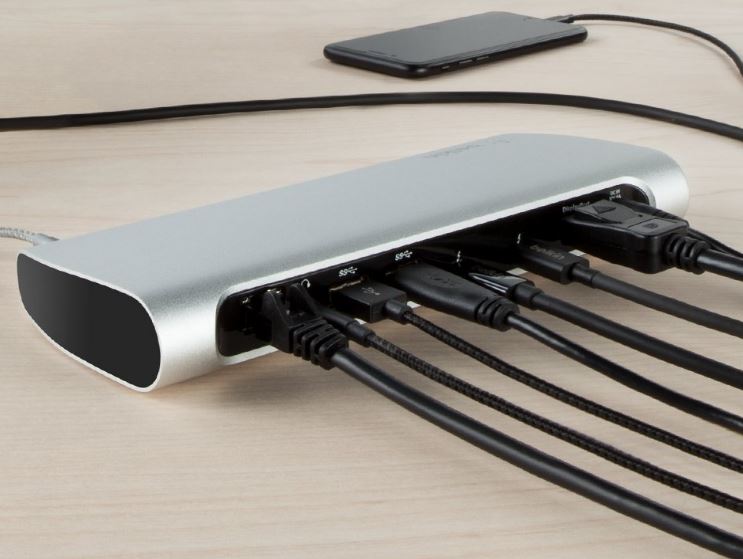 Charging
One of the main advantages of this dock is that it supplies power to every peripheral you're plugging into it. But unlike other docks, you're not going to be using the USB-C charger that came with your Apple laptop. Belkin provides you with their own charger, which supplies up to 85W. This is enough to charge your laptop, run a series of hard drives, and power up any USB peripherals that are connected. But there are limitations to this system. 85 watts isn't enough to run everything under the sun. Want to run two 30 inch cinema displays at 4K? You'll still need to use the included power supply, as these huge screens can use up to 250 watts.
Disadvantages
This dock is fresh on the market, and provides a ton of advanced functionality. However, there was on feature that we found a little lacking – the USB charging. Most modern smartphones use a turbo charger. They draw 2.5 amps to charge at a high rate. But this dock only provides 1.5 amps per USB port. If you're planning to charge you phone, you should know that this dock will be slower than your wall-wart AC adapter. You might be better off plugging it into another port, if your goal is to charge your phone.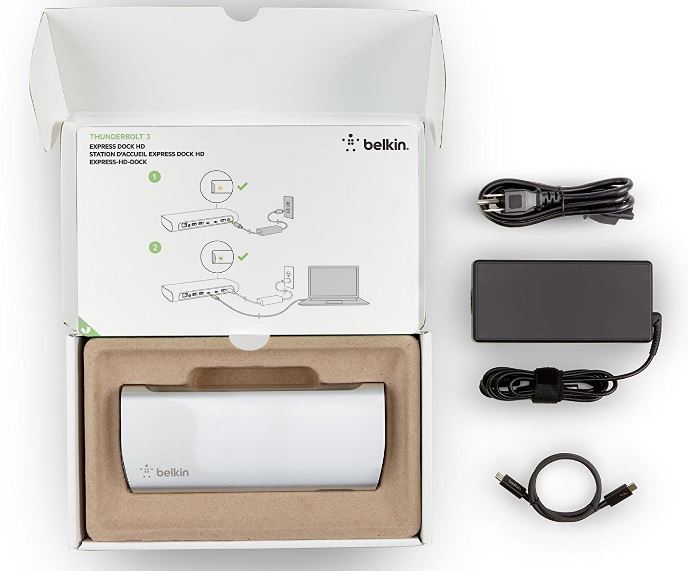 Final Verdict
Overall, this is one of the best Thunderbolt 3 docks on the market. You're able to move past the limitations of a one-port system, and use all of your existing peripherals.
Is the Belkin Thunderbolt 3 Express Dock HD right for everyone? Not necessarily. If you're just looking to connect a single device, it is probably cheaper to just buy an adapter, and a port replicator if necessary. But for those of you who transition from mobile office to desktop regularly, this is the perfect solution.
We recommend that you leave this dock on your desk. You plug in your monitor, speakers, mouse, and keyboard. You leave the power supply attached at all times. When you sit down to get some work done, all you have to do is plug a single cable into your computer, and you're ready to go. Your desk comes to life, and your laptop is charging. When it's time to leave, it only takes a second to throw the laptop back in your bag. You don't even have to remove the AC adapter.
Are you finding the price a little too high for your tastes? It's true that this isn't the cheapest dock on the market. However, models that are significantly less expensive often come with some pretty serious compromises. If you're not willing to sacrifice features, you might want to check out our review of the Elgato Thunderbolt 3 Dock.
Still not affordable enough? We did a roundup of the Best USB-C docking stations. You might lose a few features compared to the docks designed specifically for Thunderbolt, but these docks still provide much of the same basic functionality you'll find here.
Please consider sharing:
Note: At no extra cost to you, we may earn a commission for purchases using our links. Learn more.