There are some who claim that the compact camera is dead. In some circumstances, they're right. They days of buying a bargain basement camera and having it outperform your cellphone are over. But once in a while, one of the major manufacturers releases a camera that blows us away.
Nikon's W300 is a compact camera that performs like a mirrorless model. Based on the specs alone, it looks much better than you'd expect from something like this. But does the performance live up to the impressive specifications? We went hands on to find out.
First Look
Nikon's W-series adventure cameras are well regarded, and rarely disappoint. The latest update features a 16-megapixel image sensor, and has the ability to shoot video in 4K. This camera has an eye-catching design, and is capable of handling anything your environment throws at it from water to dust to freezing temperatures. From the avid outdoorsman to the weekend adventurer, this camera has all the specifications you need to capture the best outdoor shots.
Design
From the moment you see it, you'll be able to tell that this is a serious outdoors camera. Visually, it looks like one serious piece of outdoor gear. Featuring a billeted grip and large steel bolts that connect the plastic enclosure to the metal frame, it definitely seems like something you might see in a military kit.
Most of the visual appeal of this camera comes from its anodized aluminum enclosure. This combines durability with style, as the metallic appearance gives off an effect that simply cannot be replicated with paint. There are three colors available. Black is the simplest, while the orange and yellow are the most enticing colors. But this isn't just an attractive looking camera, as it's just as durable as it appears.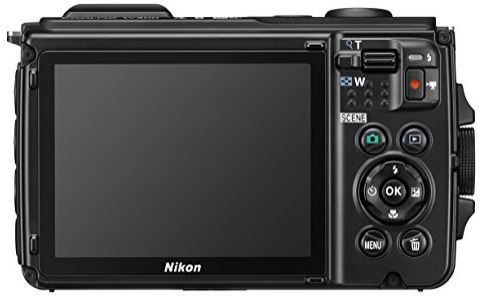 Durability
The main reason you'd want to buy this camera is the fact that it can go anywhere and do anything. It's waterproof up to 30 meters, or 100 feet. Althogh you can take it for a dunk, optics work differently underwater. You certainly don't have to worry about getting it accidentally wet.
It can also withstand being dropped from up to 8 feet, and will continue to function in freezing temperatures as low as -10C or 14F. From a durability standpoint, this is one of the better cameras on the market. For the money, the only thing that comes close is the previous generation of W-series cameras.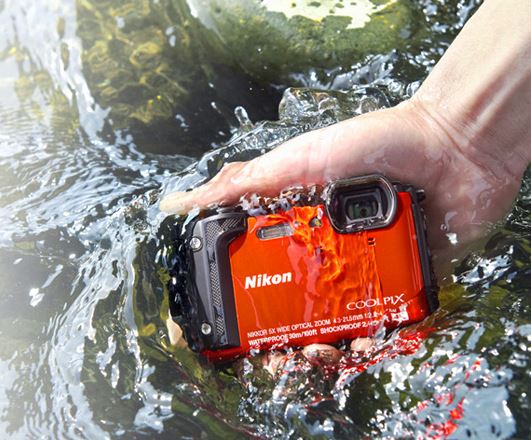 Controls
The control layout on the W300 is simple, intuitive, and mostly unchanged from previous generations. The large grip does make it easy to access the rear mounted buttons, and all of the core features are right where you need them to be. Settings for exposure, mode selection, shooting mode, and photo review are all accessible with a single button. An easy to access "tool" button allows you to tap into some of the cameras more advanced features such as altimeter, and GPS. This layout works well, but is common across many cameras, so there are no particular features that stand out in this regard.
Image Quality
One of the areas where the W300 really impressed us was the image quality. Although there are many cameras with 16 megapixel sensors, this resolution is still detailed enough to make large prints, even if you're cropping your photos.
But resolution is only a small factor in what makes an image look good, and the W300 is above average in almost every other regard. Images are smooth, clear, and vivid. There is very little noise, even when the photo is dark. Compared to some cameras, the colors may look a little muted. But they are, in fact, very accurate. The shots you take will be true to life, and it does a great job of compensating for white balance.
One of the main issues that cameras face is taking high quality shots at night. In order to get enough light to hit the sensor, they often have to leave the shutter open for longer periods of time. The disadvantage of this is the fact that small motions can make your photos blurry. Nikon compensates for this with their image stabilization system. The sensor physically moves to compensate for any unintentional movements of your hand, drastically improving low light performance.
If you're looking for vivid, heavily edited photos, using the cameras built in corrections system can help you. You can also choose from one of the many settings, giving tricky environments a point and shoot ease. But no matter what settings you choose, this camera will produce professional grade shots in all kinds of conditions.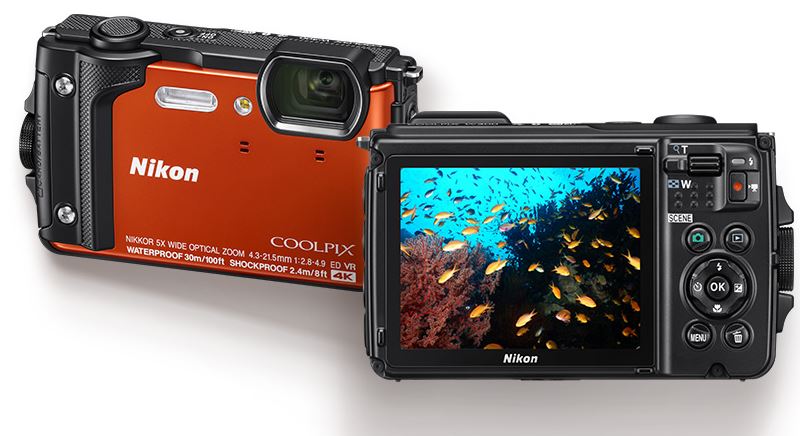 Video Quality
If you already own a W-series camera, the W300 provides you a pretty good incentive to upgrade thanks to its ability to shoot video in 4K. This is made possible not by a new sensor, but by an updated image processor. 4K video is shot at 30 frames per second, and has the same crystal clarity as the photos.
This video is good enough to upload directly to YouTube, or burn to a Blu-Ray. Even though the video is fantastic, they didn't skimp on the audio either. This camera has two built in speakers, and is capable of recording audio in stereo. The audio is clear, and sounds great. There is a lot of detail, and it does a great job of focusing on the subject, and cancelling out external noise. While this might not be sold as a video camera, it still does a great job.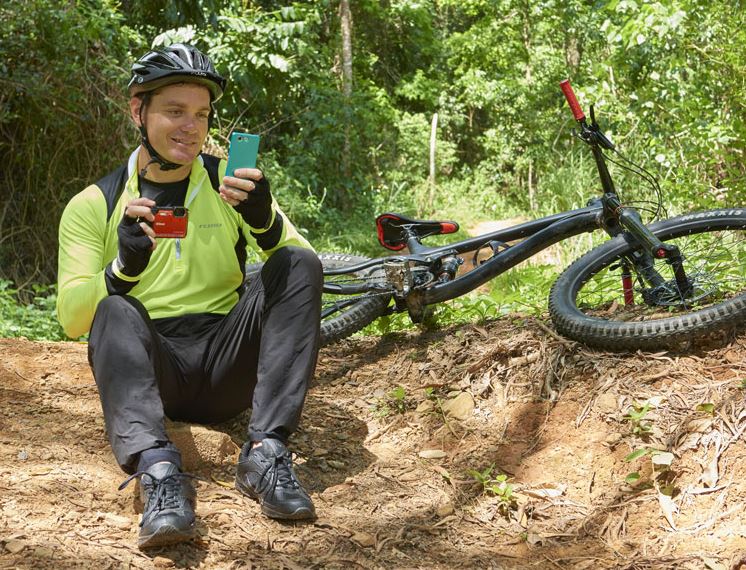 Connectivity
If you're looking for a quick and easy way to transfer your photos and videos back to your computer, the USB 2.0 port comes in handy. But for those of you looking for a faster solution, you've got two options. The easiest is Nikon's Bluetooth-based Snap Bridge system. This allows you to transfer files to any Bluetooth enabled computer, tablet, or phone, using their simple and easy to use application. The camera also offers WiFi, which is ideal for transferring large files (like your 4K video) at high speed.
Features
There are a few other sensors built into the camera that make it particularly appealing for the outdoorsy. It has a built in compass, altimeter, and GPS. All of this data is saved in the EXIF tags of your photos. Just save them to a computer, and you can find out all the stats of where they were taken. This is a great way to lay out your photos on a Google MyMaps, or share the details of your adventures with your friends.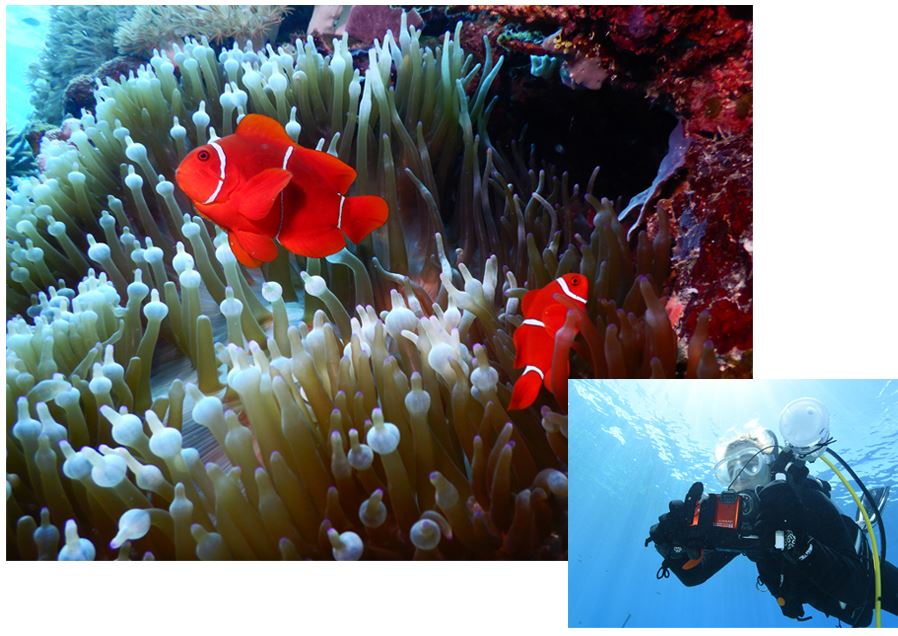 Another cool feature was the depth gauge. This is great for aquatic shots, as you can show people how deep you are. But it is also useful for the durability aspect of the camera. If you're taking shots under water, you want to make sure you stay above 100 feet. This gauge will let you know when you're getting close, so you know to turn the camera off or return to the surface.
A flash is a pretty common feature on any camera, but the W300 has something worth mentioning. It uses an ultra-bright LED based light. This is especially important if you're shooting video. Most flashes are only capable of creating short bursts of light. But the W300 can keep the flash on without draining the battery too much. This light is more than adequate to shoot with, so you can take night shots all you like.

Disadvantages
We're a little dumbfounded that Nikon used USB 2.0 as the primary cabled interface. If you're transferring 4K video, downloads can take a long time. We're talking several minutes, at best. With USB 3.0 and even C readily available, using one of these up to date standards could save consumers time downloading their files. Fortunately, this isn't a huge deal if you have a WiFi enabled device to transfer files to, or if you don't plan to take long 4K videos.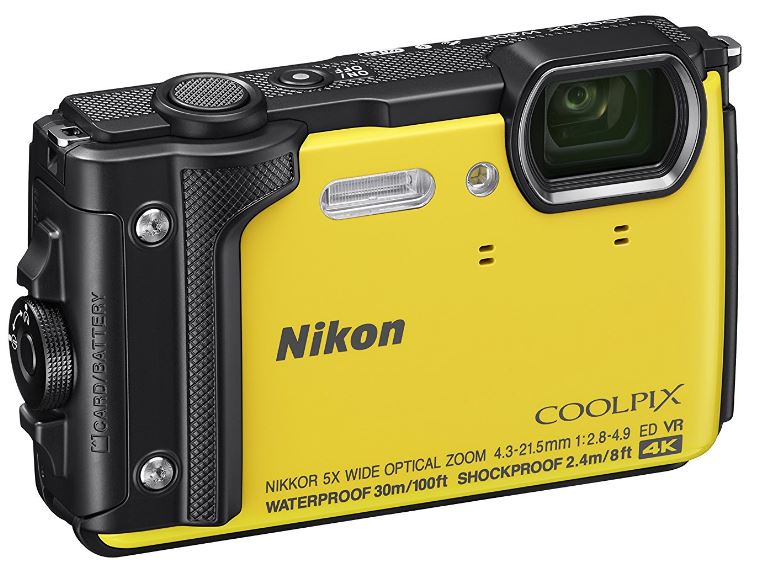 Final Verdict
Overall, the Nikon W300 is a fantastic camera for use outdoors. With it's waterproofing, dust proofing, freeze proofing, and (most importantly) drop proofing, this is the kind of camera that you can chuck in a bag and not worry about. If conditions are too tough for this camera, they're likely dangerous for you.
Smartphones may have taken a huge chunk of the point and shoot market, but cameras like this remind us that there is still a good reason to carry a dedicated camera around. The W300 is easier to use, produces much better pictures, and is usable in more conditions than a smartphone. No matter where your adventures take you, the W300 will help you document every moment of them.
Meet Derek, "TechGuru," a 34-year-old technology enthusiast with a deep passion for tech innovations. With extensive experience, he specializes in gaming hardware and software, and has expertise in gadgets, custom PCs, and audio.
Besides writing about tech and reviewing new products, Derek enjoys traveling, hiking, and photography. Committed to keeping up with the latest industry trends, he aims to guide readers in making informed tech decisions.