When it was first introduced only a few years ago, USB-C didn't manage to catch the attention of many people. But in recent years, there's been a dramatic shakeup in the availability of ports on everything from desktop PCs to smartphones. Among the chaos, you'll find that newer models of computers are rapidly discontinuing the use of legacy ports. The latest leading laptops from Mac, Acer, Asus, and HP re all been machines built solely around USB-C.
And much the same is true for other mobile devices. Since 2015, Android phones have been undergoing a lengthy process of discontinuing support for older ports. For many of these devices, USB-C is now the only way to physically connect to the phone. Even standard headphone jacks are being eliminated in favor of USB-C ports. That's because among the almost infinite combinations of ports you might encounter, USB-C is theoretically capable of replacing nearly every other type!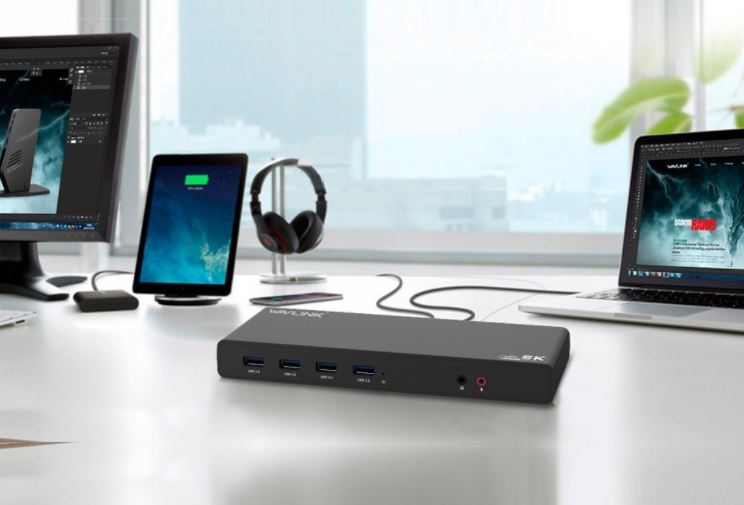 Improvements for USB
Since it first appeared in the early 1990's, the USB format has seen very few significant improvements. Most consumers probably never noticed the shift from USB 1.0 to USB 2.0, and fewer still many have felt the shift from USB 2.0 to USB 3.0. But USB-C (USB 3.1) is a radical change of pace. Even though it's only a small numerical increase over USB 3.0, the underlying differences are night and day. For example, USB-C has twice the bandwidth throughput of USB 3.0, and it's backwards compatible for all previous forms of USB.
But digital mechanics aren't the only thing to change. The size of the plug itself has undergone improvements. This is no doubt in response to the seemingly endless trend of mobile devices becoming thinner and thinner each year. Some of the smallest laptops on the market are as slim as 13mm, roughly the width of two pencils stack together. By contrast, the classic USB 1.0 connector stands 7.5mm tall, and the new USB-C connector is only 2.6 mm.
Growing Pains
There are always pros and cons when the computer industry moves to a new port standard. The pros are obvious, USB-C is substantially faster and more powerful than what its replaced. It can send power, data, and video to multiple devices. Unless you're using a USB data blocker, it can send data to one device while charging another, and do it all from one connection!
And there's more. With Thunderbolt 3, you can use USB-C to reach bandwidth throughput as high as 40Gbps. Unlike early iterations of USB which couldn't draw much power, USB-C supports 130W of juice to help power your laptops, headphones, and similar devices. And in the long run, those extra-high transfer speeds are going to be necessary as the world gradually shifts towards adopting ultra HD resolutions.
Unfortunately, the cons are also painfully obvious. New port standards mean that you'll need to find adapters, cables, and similar methods to keep your older gadgets working with new technology. But rather than end up having to buy half a dozen different adapters, the most efficient solution to modernize and future-proof your electronics is a USB-C docking station.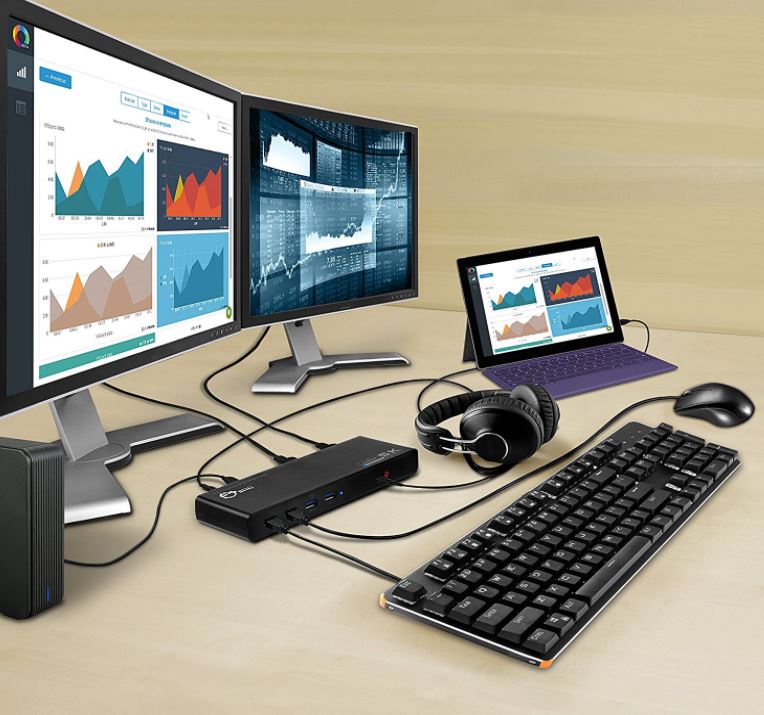 Choosing the Right USB-C Docking Station
If you're using a 4K resolution, you probably already know that doing so involves moving a tremendous amount of data. Handling that data is taxing to your computer at every stage, from the wires with which you make physical connections to a display, to your CPU and GPU. Most ports aren't up to the task of handling ultra HD resolutions, and many which claim they are only offer partial support.
For example, some USB-C docks can output 3K resolutions at 60Hz refresh rates, but in doing so they fall to UBS 2.0 speeds. Some USB-C docking stations limit their 4K output to 30Hz to help ensure USB 3.0 speeds are retained. And some achieve 60Hz with a 4K resolution by providing firmware and HDMI outputs appropriate to the task.
DisplayPort is Mandatory
If you want to run a 4K resolution with a 60Hz refresh rate, then you need to choose a docking station that includes at least one DisplayLink port. DP ports are a proprietary technology that share their digital bandwidth with connected USB devices. They can handle the hefty digital output of 4K at 60Hz through USB-C, providing you the best of both USB and HDMI technology.
But USB-C docking stations do far more than provide USB-C connections, they allow you to connect all your devices through a single port. From your display to your external hard drive, you can route virtually all of your computer's connections through one place. But what kind of ports are available, and how many? Does the connector provide enough power to recharge a laptop? Finding the right USB-C docking station is a matter of pouring over those types of details until you've narrowed your selection to only the highest quality docks.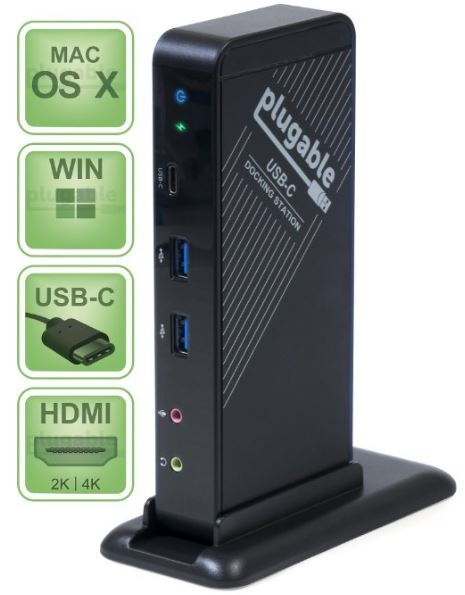 Plugable USB-C Docking Station
If you're not familiar with the brand, Plugable specializes in emulating high end features and offering them at inexpensive prices. Plugable was the first brand to market a USB-C station, and in the years since, they've gone on to perfect their design. The result is this docking station that's optimized for both ease of use and compatibility, as Plugable tries to reach the largest portion of the docking station market.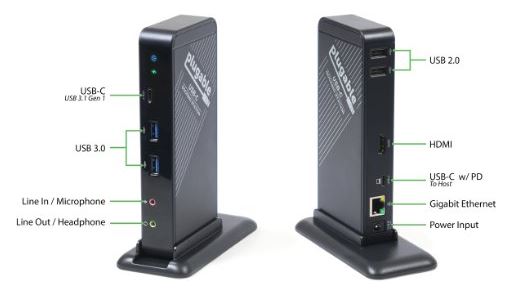 Connectivity
On the backside you'll find two USB 2.0 ports, an HDMI port, Ethernet port, and power adapter plug. You'll also find an emulated VESA DisplayPort that offers approximately the same bandwidth as an HDMI 1.4 connection. Beneath the faux-DP port is one USB-C port, which you can use to connect to your laptop or PC. This port is the primary connector between your computer and the docking station, and it's the port which Plugable designed to allow you to charge your laptop.
On the front side of the docking station, you'll find an additional USB-C port, two USB 3.0 ports, and a microphone and headphone jack. All in all, you have every port you could need on a USB-C docking station, even if some are few in number.
Compatibility
USB-C is a growing standard, and some manufacturers aren't on the same page. For instance, Apple's USB-C support drive requires the device to receive a special Apple-specific transmission before it will boot up. That means that particular product won't work with just any USB-C docking station on the market. However, this is one of the more widely compatible docks you can find. Unless you're using extremely obscure electronics, it's unlikely you're going to run into any compatibility issues.
The only significant drawback to Plugable's USB-C docking station is its handling of HDMI output. The included VESA DisplayPort Alternative can support 4k resolutions, but only at 30Hz. For casual business use, that's perfectly fine. But for media enthusiasts, movie lovers, and gamers, you're going to want to reach 60Hz for the smoothest viewing experience.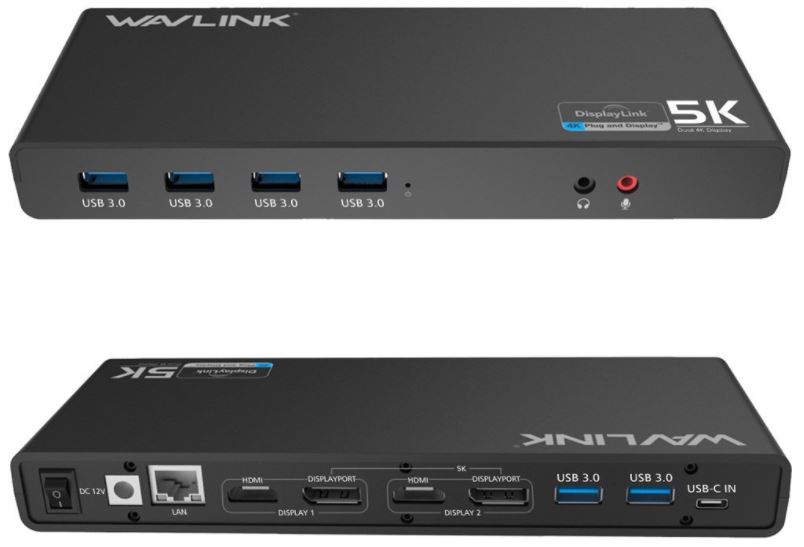 Wavlink Universal USB-C Ultra 5K Docking Station
It would be a grave understatement to call 4K resolution demanding, but Wavlink Universal's USB-C docking station exceeds that high standard, offering support for even greater 5K resolutions. And there's no catch – your resolution isn't restricted, adulterated with lower fresh rates, or otherwise downgraded. If you're someone who's intent on running extremely powerful resolutions, especially for more than one display, then you're going to want to take a close look at the Wavlink USB-C docking station.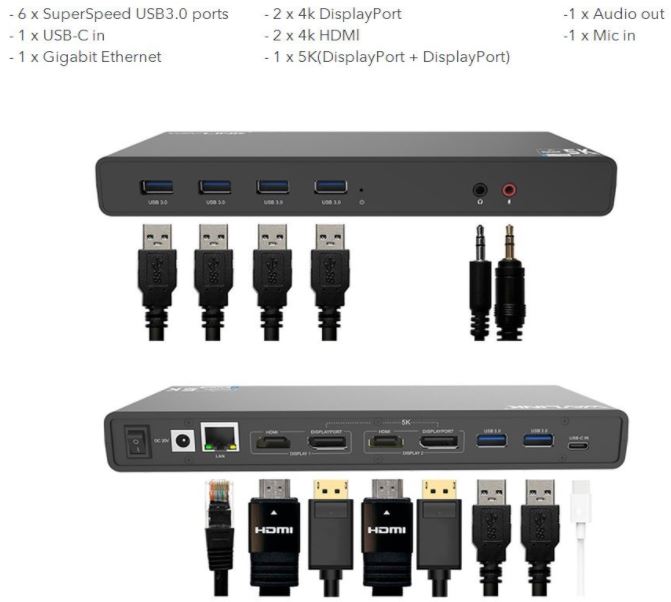 Connectivity
Whether you're trying to upgrade or futureproof, this USB-C docking station has you covered. It boasts six USB 3.0 ports, each offering 5Gbps data transfer rates. And going far beyond merely offering a headphone jack, this station supports full 5.1 channel surround sound. If you were pushing this docking station to its limits, you could connect two monitors and 11 peripherals, all through one USB cable.
As the name suggests, the Wavlink Universal USB-C Ultra 5K Docking Station supports 5120 x 2880 (5K) resolution while running one display. When running two displays, this docking station supports dual 4K mode. Simply connect one HDMI connection and one DisplayPort connection to each monitor. The resulting 4K output includes a full 60Hz refresh rate, ensuring that your docking station doesn't slow down the rest of your PC.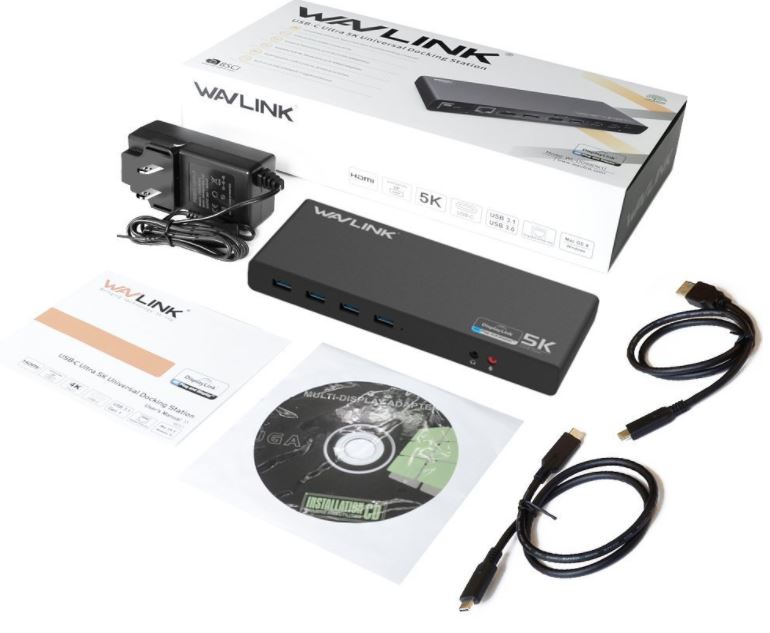 Compatibility
This docking station was explicitly made to be used with Windows systems, although it offers limited support for Mac operating systems. The built in gigabit Ethernet network connector will give you a quicker and far more reliable connection than you can get through anything wireless. And the included headphone and microphone inputs give you convenient access to your audio connections, or allow you to expand out for a 5.1 channel surround system.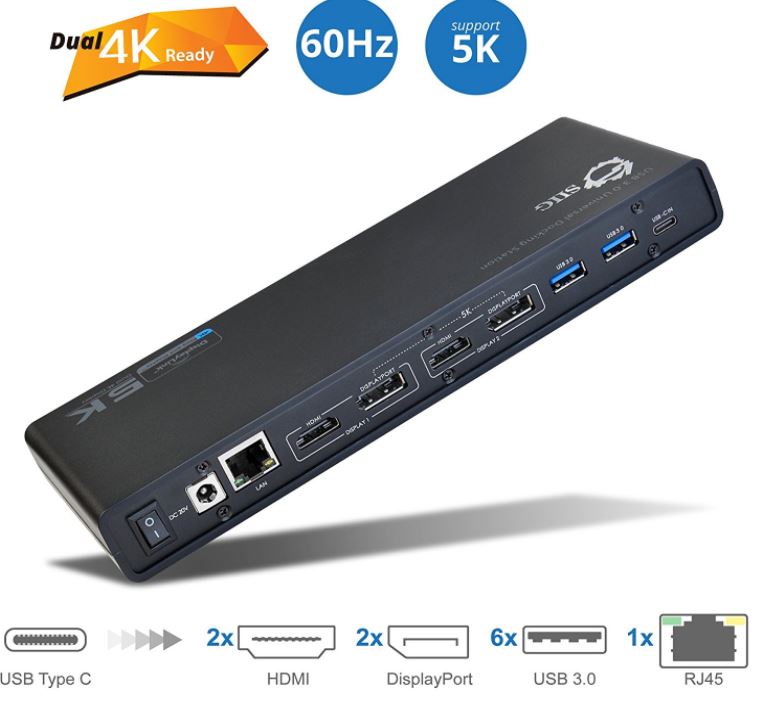 SIIG USB-C 4K Dual Video Docking Station
Among the seemingly endless stream of Windows-based USB-C docking stations, it can be hard to find strong options for Mac users. The SIIG USB-C 4K video docking station was specifically designed for higher end MacBook products, ensuring that anyone using a modern Mac OS won't have an issue with compatibility. If you use both Windows and Mac OS, you may appreciate this station offers competent support for a number of Windows products, including the Surface.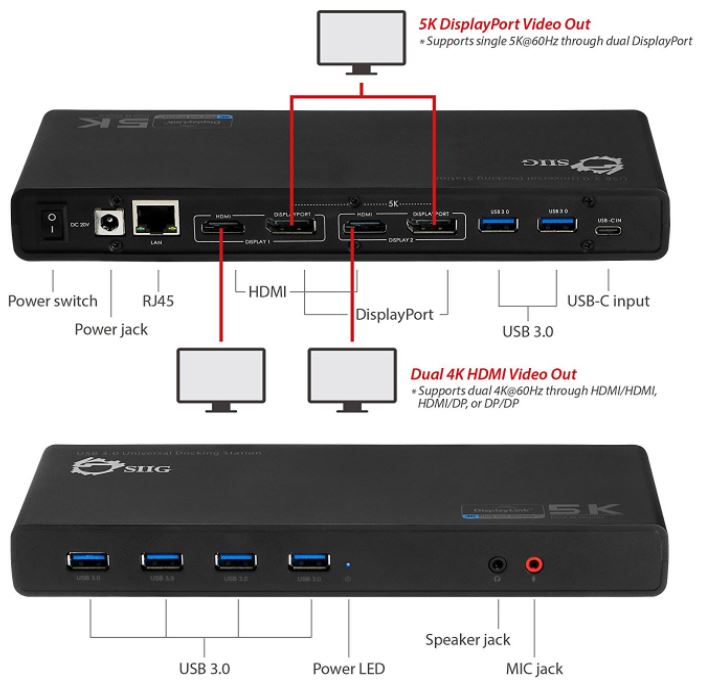 Connectivity
On the front side of this station you'll find four USB 3.0 ports, and two audio input jacks intended for a pair of headphones and a microphone. On the backside of the station, you'll find two more USB 3.0 ports, as well as USB-C port, two DisplayPort/HDMI port combinations, a LAN port, the 20V DC power port, and an on/off switch. You'll also find an Ethernet port ready to run up to 1000MB/s of data transfer.
Beyond that, you should know this station's connectivity supports dual 4K UHD outputs with a 60Hz refresh rate. Dual monitor output is possible by connecting your monitor to one HDMI connection and one DisplayPort. Alternatively, you can achieve a 5K resolution on a single display by using both DisplayPort connections for one monitor.
SIIG's station is fully compliant with USB 3.0 standards, and their USB ports are each backwards compatible for earlier versions of the format. Their station supports 5.1 channel surround sound through either a DisplayPort or HDMI connection, and offers an integrated HDMI 2.0 and DP 1.2/DP++ interface to help you easily determine how to properly plug-in and setup your devices.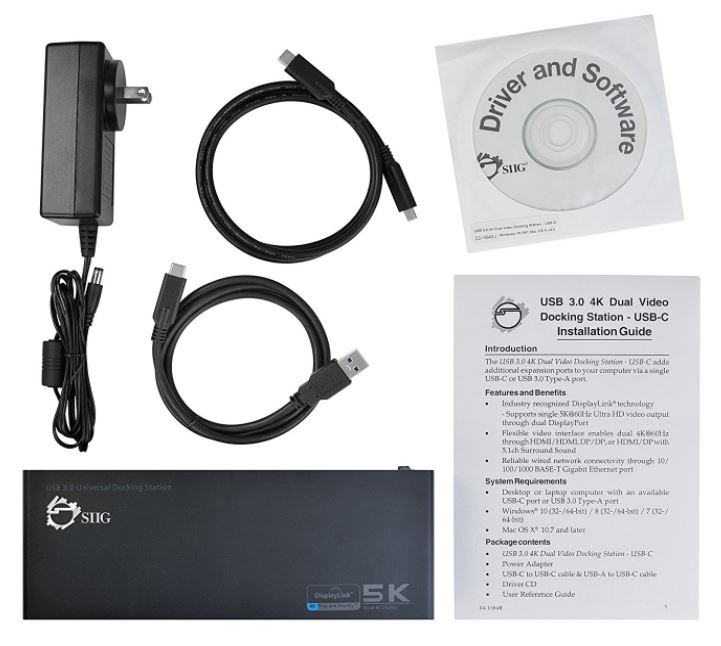 Compatibility
Apart from its Mac-orientation, the only thing to note about the compatibility of this device is it has limited support for lengthy cables. For HDMI connections, there's a 5-meter maximum length for any cord you use. For DisplayPort, the cap is considerably smaller at just 3-meters. These shorter cables are necessary to help ensure rapid data transfer.
Choosing Between 3 Strong USB Docking Stations
If you're satisfied running a 4K resolution at 30Hz, then the Plugable USB-C docking station is a powerful but inexpensive solution. The included 60W rapid charge connector is great for recharging small devices like phones and laptops. Although this station only has five USB ports, whether or not that feels constraining to you will depend on exactly how many peripherals you want to connect.
The Wavlink Universal USB-C docking station is a good choice if you need your 4K content to run at higher 60Hz refresh rates, or if you're looking to route multiple displays through the station. It has a wealth of USB 3.0 ports, and is easily one of the most versatile USB-C docks on the market. Although Wavlink explicitly claims their station is best paired with web productivity software and isn't intended for entertainment or gaming, there's no technical reason why it can't do both.
Finally, there's the SIIG docking station. Apart from charging your laptop, SIIG's station is equipped to handle almost anything. If you use many devices based on the Mac OS, then the SIIG station should be your first choice. It has literally a dozen different ports, includes a two-year warranty, and also comes with a handful of extra cabling that ensures you'll be ready to connect all your hardware quickly and easily.
Meet Derek, "TechGuru," a 34-year-old technology enthusiast with a deep passion for tech innovations. With extensive experience, he specializes in gaming hardware and software, and has expertise in gadgets, custom PCs, and audio.
Besides writing about tech and reviewing new products, Derek enjoys traveling, hiking, and photography. Committed to keeping up with the latest industry trends, he aims to guide readers in making informed tech decisions.