The standard USB plug hasn't changed much since it debuted in the 1990s. Sure, we've seen bandwidth increases from USB 1.0 to 3.0. We've see fancy combo ports that offer both eSATA and USB 3.0 in a single, easy to use port. But USB-C looks quite a bit different from what we are used to. At first glance, it appears to some like the micro-USB ports we have on our mobile phones and peripherals. However, USB-C is actually the biggest improvement we've seen to the standard since its inception.
USB-C is actually the USB 3.1 standard. Despite the small numerical bump, there are several huge improvements over previous standards. With an adapter, it's fully backwards compatible with every previous standard from 1.0 to 3.0. Bandwidth wise, USB-C offers twice the theoretical throughput of USB 3.0, totaling 10 Gbps. USB-C is also a capable connection for tons of standards we're used to – DisplayPort, HDMI, power, USB, and VGA. Apple enthusiasts may notice the lack of thunderbolt, and that's because USB-C has superseded the format in the same way that Thunderbolt superseded FireWire.
This change was long overdue in the marketplace as our laptops have continued to get thinner and thinner. We're seeing laptops hit that market that are as small as 13mm. The old USB connector was 7.5mm from top to bottom just in the socket alone. Additional clearance was needed for the internal connections. Laptops are now shipping with the USB-C connectors, although many of them (including the new MacBook) only have a single port.
Many times, this port is also used for the power cord. How are we going to connect all of our devices to a single port? Simple, with a USB-C Docking Station. Docking stations are not the simple port hubs that we are familiar with. These docks act more as "breakout boxes" turning your single USB-C port into a plethora of connectivity options. USB 3.0, HDMI, Ethernet, and much more are all possible depending on the dock you choose. Let's take a look at the three most popular options and find out which one will suit your needs.
Plugable USB-C Docking Station with Power Delivery
If you've read our review of the best Mini-Mouse, you know that Plugable is a company that offers high performance products at rock bottom prices. They were one of the first to market with a USB-C Docking station, but a few small tweaks mean that this successor now supports improved video compatibility.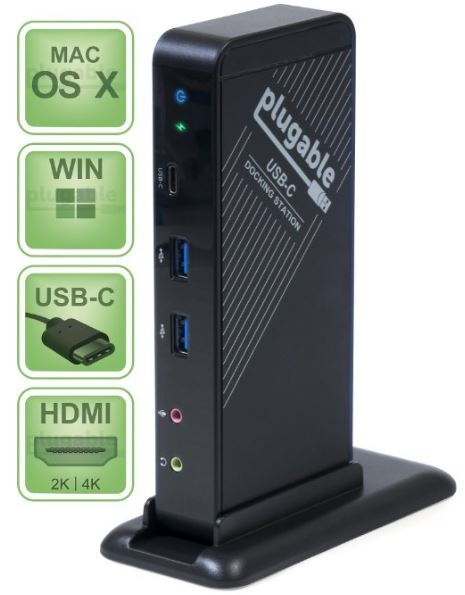 Connectivity
There are no shortage of ports on the Plugable USB-C Docking Station, allowing for you to connect to nearly any device you see fit. On the back, we've got two USB 2.0 ports. Next is the HDMI port, which sadly had a few considerations. The output is driven using "VESA DisplayPort Alternate Mode over Type-C," a standard that is roughly equivalent to HDMI 1.4. Below that is a USB-C port, which is used for host connectivity with your laptop. This is essentially the most important port, as it facilitates two-way communication and also charges your computer. The last two ports on the rear side are your gigabit Ethernet and a power adapter for the included charger.
On the front, Plugable gives us all of the ports that might see a little more day-to-day use. We've got another USB-C port for data communication, two USB 3.0 ports, a headphone jack, and finally a microphone jack.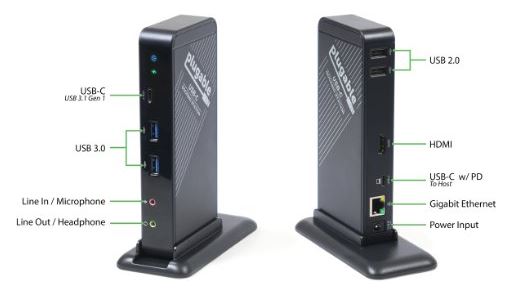 Compatibility
Unfortunately, despite USB-C being promoted as a universally standardized port, there are still a few manufacturers that are not fully compliant with the standard. For example, the USB-C super drive sold by Apple requires an Apple specific code to be transmitted before it will start up. This means that the super drive will not work with this, or any dock. Both video and power are reported to work with a wide range of USB-C systems from Apple, Dell, Gigabyte, Lenovo, and more. This is certainly one of the most compatible docks on the market, but you will need to check and see if your specific model is listed in the included chart.
The only disadvantage we found with this model is due to the way it handles HDMI output. With the VESA DisplayPort Alternative Mode over USB-C standard, resolutions of up to 4k (3840×2160) are technically supported. However, this resolution will only run at 30Hz. This is a little low for anything beyond office use. Media or gaming buffs will definitely want to use 1080p mode to take advantage of the smooth performance of 60Hz.
Design
Although the dock has a little bit of a 90s aesthetic, the layout is pretty well thought out. Ports that you'll need daily access to are placed in the front, while the rest remain buried in the back. The USB 2.0 standard is a little outdated, but their placement leads us to believe that they are designed to be used with a keyboard and mouse.
Kensington SD4600P USB-C Universal Docking Station with Power Delivery
Here is a solution from a company that has been on the market for a long time. Initially offering corporate solutions such their famous locking products and portable workstation mounts, they've also been producing consumer accessories as well. With their SD4600P USB-C Universal Docking Station you can expect the high build quality they're famous for, all wrapped up in a case that is pleasing to the eye.

Connectivity
Kensington gave you virtually every port you might need for a future-proof setup. You'll see two USB-C ports on the rear, one to connect to your laptop and the other for any accessories you might have. This time we get two video outputs, both DisplayPort and HDMI. Gigabit Ethernet comes standard as well as three USB 3.0 ports – two on the back and one on the front. Of course, they also included a security port for one of Kensington's own locks.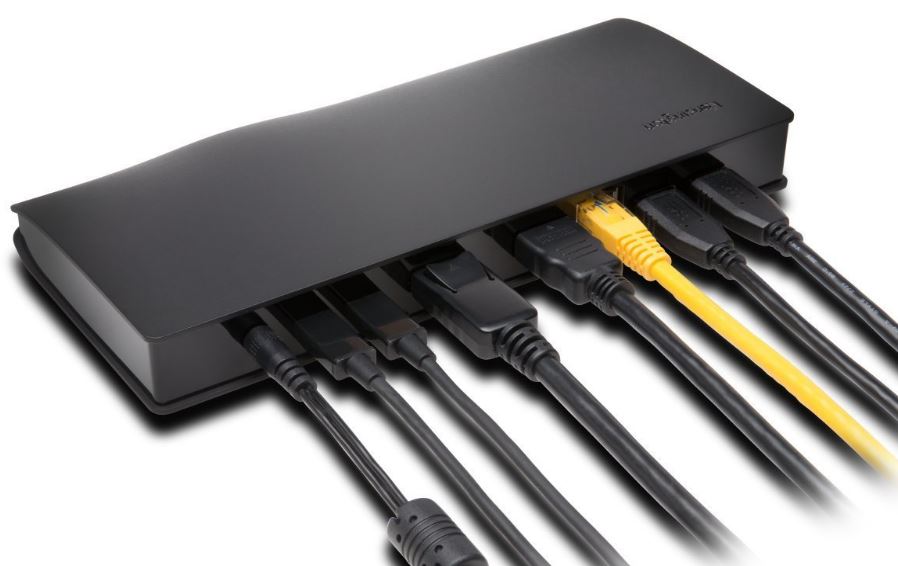 Compatibility
Kensington's SD4600P dock is capable of providing 4k video, although with a few considerations. In single monitor setup, your 4k monitor can be used with either the HDMI port or the DisplayPort. In a dual monitor setup, only the DisplayPort will receive 4k video while the HDMI output is restricted to 1080p. Unfortunately, Kensington doesn't provide information on which devices are compatible with the charging and video features of the dock.
We can tell you, however, that both charging and video worked perfectly on our Lenovo ThinkPad 13. Because both the Thinkpad and this Kensington dock work on the pure USB 3.1 standard, it's reasonable to assume that the compatibility would be the same as the Plugable dock above.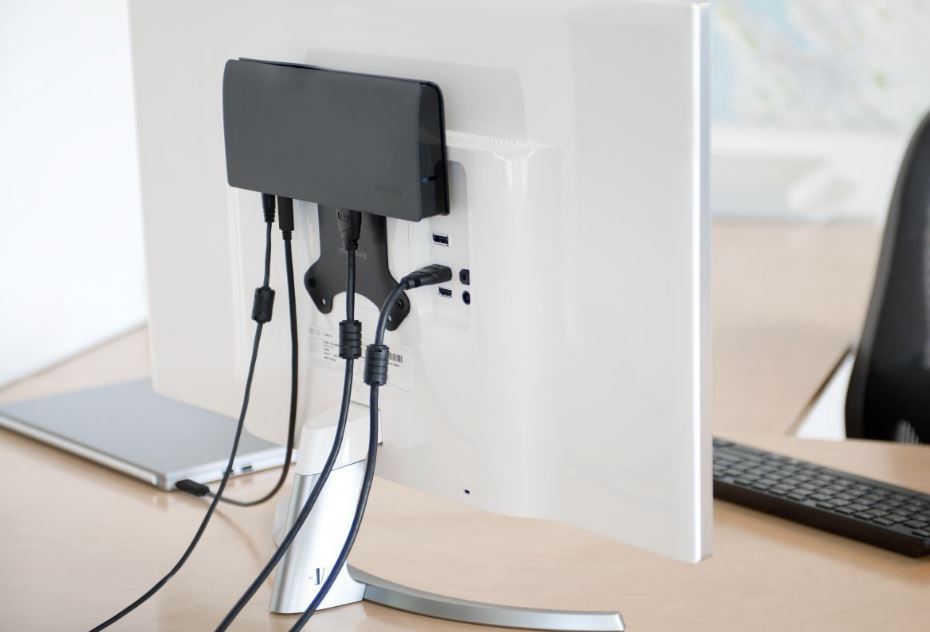 Design
The only way to describe the appearance of the Kensington S4600P would be "Business Casual." It keeps a reasonably slick appearance while remaining unassuming. The most intelligent part of the design is the included mounting bracket. The two holes line up perfectly with the standard VESA mount used on monitors. This means that as long as your monitors included stand leaves the VESA mount exposed, you can clip it to the back. This might not be ideal if you are going to be regularly using the front USB ports, but for cable management this design is a dream.
Unitek USB-C USB 3.1 Universal Charging Docking Station with Power Adapter
Although not exactly a household name, Unitek is no stranger to the peripherals marketplace. They've been manufacturing computer products for many years, with a tendency to focus on the high end. With one of the most attractive looking USB-C docking stations on the market, Unitek has creatively manufactured a dock which is just as suitable for mobile users as it is for desktop users.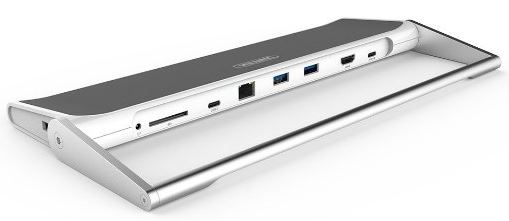 Connectivity
The Unitek USB-C USB 3.1 Universal Charging Docking Station includes all the basics you'd expect. Three USB 3.0 ports, one USB-C for data, one USB-C for charging, HDMI output, and a gigabit Ethernet port. Something we haven't seen before is the inclusion of an SD card reader. The included power cable delivers up to 3A at 20V, which should charge most laptops on the market.
Compatibility
The most impressive new feature on this dock is the inclusion of an SD card reader. It uses a pretty modern standard, so there are very few SD cards that won't work here. SDXC is supported up to the theoretical maximum of 2TB, but is also backward compatible with all other SD standards. You'll also have access to secure digital cards, and SDHC.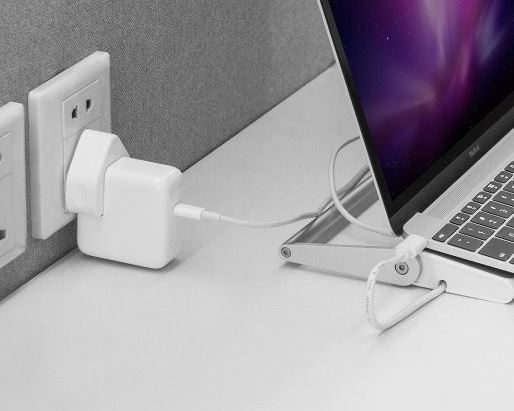 When it comes to power, there are a couple of considerations. The power output does currently charge every notebook on the market that supports charging over USB-C. However, it is not the most powerful charger we've seen, at 20V/3A. It is possible that some of the desktop-replacement notebooks that will be released in the future will not get enough juice from this dock, so you'll have to check the power draw to double check. Just like the Plugable dock, this docking station uses the same VESA DisplayPort Alternative Mode over USB-C standard. You can expect 4k resolutions at 30Hz, or 1080p at 60Hz.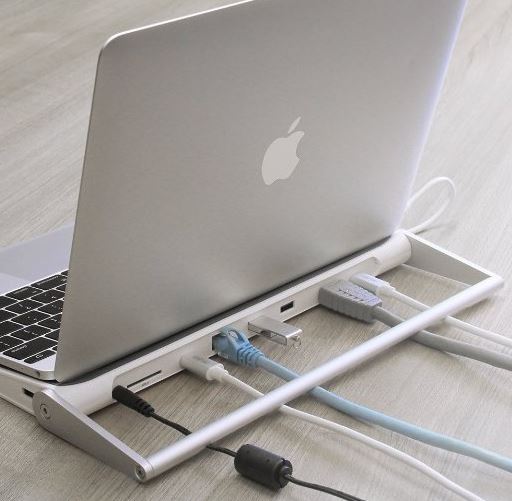 Design
Mobile users will be most impressed with this dock. The wedge shaped case is designed to fit right underneath your laptop. This acts a little like a cooling pad, lifting your notebook off the table and improving airflow. The aluminum "rollbar" on the back is to be left up while you plug all of your cables in. Once they're set up, you can place it down and it will hold them in place. Cable organization is often a nightmare for mobile users, and this dock makes it much easier.
This is easily one of the most attractive docking stations on the market, looking significantly more modern than anything we've reviewed today.
So, Which USB-C Docking Station Should I Acquire?
While USB-C might take a while to become fully standardized, these docks simplify the process allowing you to break out the USB-C port on your new notebook and tap into all of the connectivity features it offers. But which one is best for you? Each of these docks offer different features that will be useful for different scenarios. We've broken them down into three handy use cases, so making a decision is easy.
Power users who need access to four USB ports will benefit from Plugable's USB-C Docking Station. The dock is intelligently designed with high speed data ports and audio on the front, while all of your stationary peripherals connect to the back. This docking station is perfect for people who have a desktop workstation configured, and want an easy plug and play soltion. By simply connecting one cable, your entire system will be up and running.
Users who want to take advantage of dual monitor setups will want to take a look at the Kensington SD4600P. This dock offers both HDMI and DisplayPort, allow you to connect up to two monitors at a time. The included VESA mount lets you hide the docking station, keeping your cables neat and organized.
Finally, on-the-go users who will take your docking station with you should definitely check out the Unitek USB-C Docking Station. The design is incredibly attractive, and very convenient for on-the-go use.