Even though it seems like earbuds are pretty simple devices, they actually have to do a dozen different things. They've got to provide a nice battery lifespan. They've got to sound good. They've got to have some comfort options to fit different sizes of ears. And with true wireless earbuds, they've got to have a solid sync connection between each earbud.
You might care about calling features. You might care about noise isolation features. The list goes on and on. So picking the right pair of earbuds is really about prioritizing the features that will serve you best. And it's actually easy to see that kind of difference when comparing some similar earbuds, like the Raycon E50 vs HELM Audio True Headphones.
Raycon E50
In a bunch of ways, the Raycon E50 look like a fairly standard pair of entry-level earbuds. For instance, they're small, they make use of a Bluetooth connection, and they have a battery lifespan that's pretty close to average for their price point. However, there's actually a little more to the E50 than meets the eye.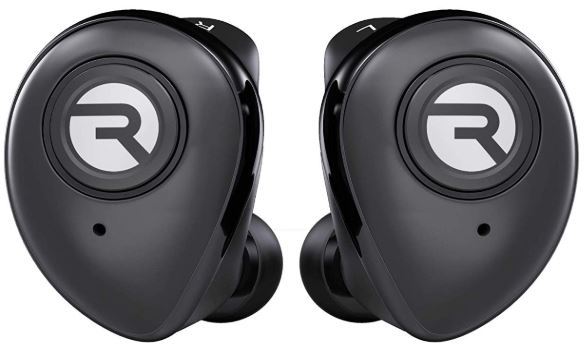 Especially when you start looking at their comfort features. Comfort tends to be a pretty subjective thing, but the E50 can still confidently be called one of the most comfortable pair of earbuds on the market. That's because they use a special gel-based design that's exceptionally good at both noise isolation and fitting nicely in your ear. Admittedly, apart from exceptional comfort, the E50 don't actually have many extra special features. But sometimes that's all it takes for someone to fall in love with a pair of earbuds.
Design & Layout
Aesthetically speaking, E50 are made in black, blue, white, and gold. In all cases except for the white, a dark black color dominates the outer casing of each style of earbud. The blue or gold earbuds really use those colors more like highlights. But the white is nearly entirely white, making it rather unique among the set.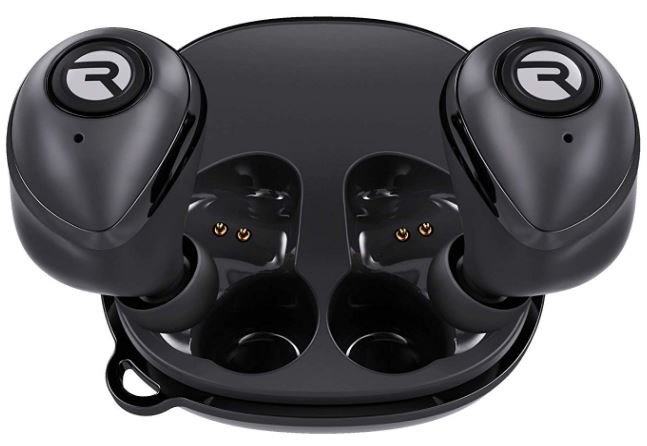 On the outside of each earpiece, the Raycon "R" logo is subtle placed. This logo also serves as an analogue touch interface. You will need to memorize a couple of tapping patterns in order to get through all the various commands available to you. But once you've got them down, you can turn on/off your earbuds, answer or hang-up calls, play/pause your music, skip between tracks, and adjust the volume.
The E50 are built with an IPX4 waterproof protection rating. That's one of the lower waterproofing certifications out there, so you really want to think of the E50 as resisting moisture instead of being immune to it. Still, it means these earbuds are perfectly adequate for running, hiking, working out in a gym, and so forth. You just don't want to take them with you into the shower, or run them directly under a faucet.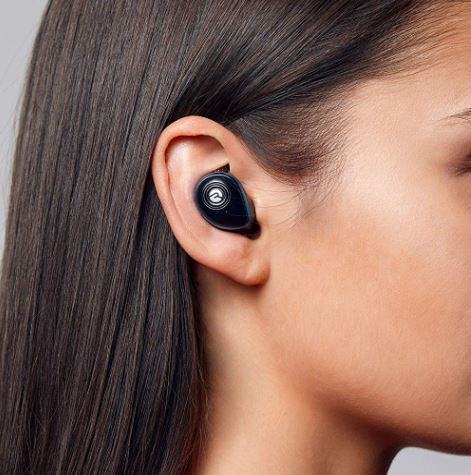 Worn Comfort
When it comes to comfort, you're looking at six types of silicone gel tips. These tips are a bit more ergonomic than ordinary tips because of their gel orientation. The end result is a generally longer lasting variety of in-ear comfort.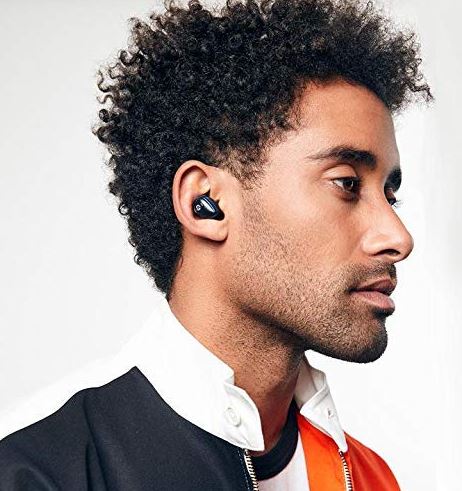 But sometimes, good benefits come with tradeoffs. The tradeoff of making your ear-tips incredibly soft and malleable is that they're less durable. Your ear will warp and disfigure these gel-tips over time. That means you'll need to replace them more often than you would with more standard tips. Of course, the Raycon E50 includes plenty of replacements, so you don't really have to worry about running out. But you will have to think about intermittently swapping out those ear-tips every 6 months or so.
Battery Lifespan & Audio Quality
The E50 are designed to use Bluetooth 5, allowing you to connect out around 30ft. That's a terribly average connection distance, however using Bluetooth 5 means you do get a number of benefits with respect to the sync between each bud. That sync remains quite steady, it supports higher quality audio codecs, and it uses less battery power in the process. You'll also find that after the initial setup process, Bluetooth connections will automatically connect you in the future.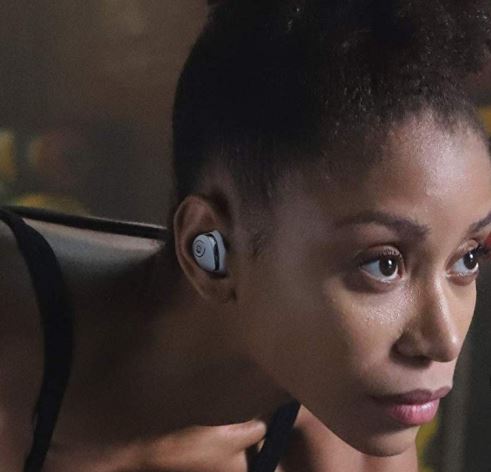 The soundscape behind these earbuds tends to be pretty neutral. They didn't go overboard with bass tones, and they didn't amplify the treble beyond recognition. IF you're looking for headphones with a little more pep to them, you can always head over to an equalizer and adjust things a little. But it's probably fair to say these earbuds end up sounding about average for their price. That's really to be expected when you see exactly how slowly they go through battery.
Speaking of battery power, each earbud is supposed to last for around 5 hours from one charge. When you add in the case, which uses a healthy sized 750mAh battery, you can get another 20 hours. That works out to a total of 25 hours, which isn't bad. It's about the same kind of playtime you get from a pair of over-ear wireless headphones.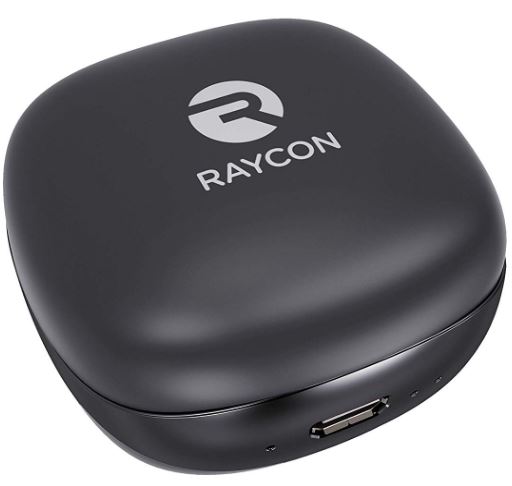 Other Considerations
With respect to their microphone, you'll find that the E50 earbuds are again incredibly average. They do help provide a little bit of noise cancellation to help make sure people can hear you while you're in a noisy environment. However, the calling features on the E50 are not robust. There isn't any native support for calling assistants or similar features. As such, you can really only give the microphone a passing grade, provided that the listener doesn't have great expectations for their calling performance.
HELM Audio True Headphones
Even though HELM Audio is a lesser known brand, they do have a number of decently designed headsets on the market. And since HELM is actually an audio company, and not a company that does a thousand different things, they're able to bring a couple of unique features to the table when creating audio equipment.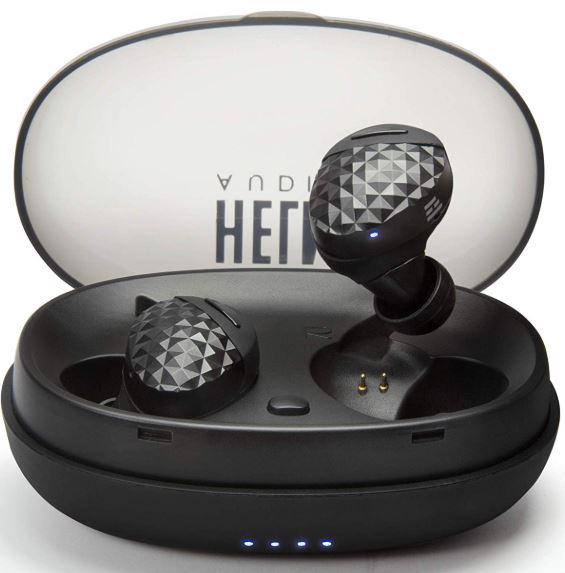 In this case, that mostly means you're looking at fantastic connection distances and generally stronger wireless connectivity. For a lot of people, having 30 feet of connectivity is more than enough. Especially for people who are only connecting to the smartphone that's in their pocket. But sometimes longer connection distances can be advantageous, especially if you're trying to connect around a number of smaller obstacles.
Design & Comfort
Aesthetically, HELM Audio's earbuds are only available in black. But the black has a pleasant checkered texture to the exterior that gives it a unique professional style. It's also generally inoffensive and simple looking, and it matches the exterior of their charging case.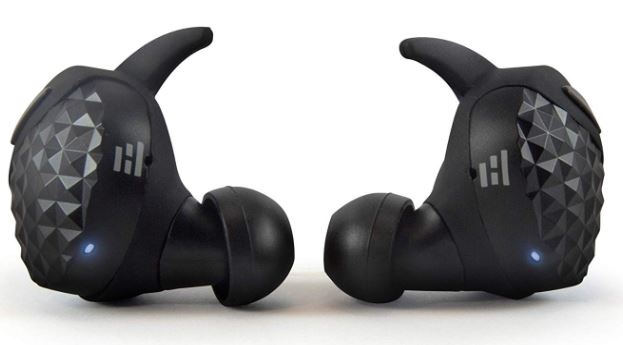 As with the E50, you're looking at IPX4 water resistance. And once again, that's one of the lower protection ratings you'll come across. So you really don't want to intentionally throw these things into water, but they will survive through rain, sweat, and so forth.
Similar to the E50, these earbuds make use of smart controls that allow you to manage your calls, volume, and tracks using voice navigation. So instead of having you tap a button on your ear, those controls are navigated through voice commands. Using voice commands is something that is right for everyone. But for people who can appreciate it, voice commands can also be incredibly convenient.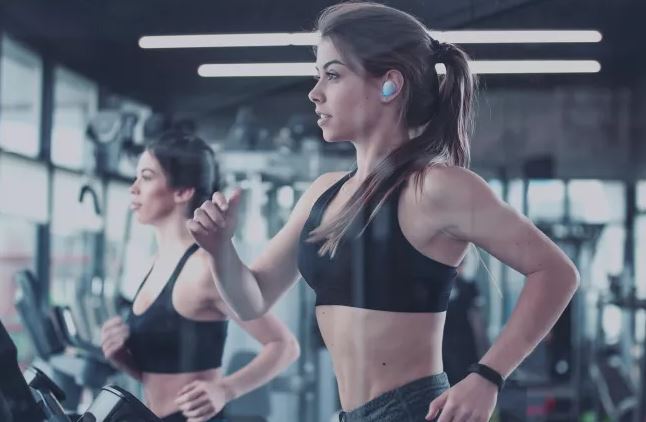 Worn Comfort
These earbuds include three sizes of tips, small medium and large. Getting the right size allows you to get better noise isolation, so it's not only about comfort. However, even though there are small tips included, these earbuds aren't perfect for people with smaller ears due to the larger nature of each earbud attached to the ear-tips.
Battery Lifespan & Audio Quality
How do these earbuds actually sound? For the most part, fairly good. Unlike a number of similar drivers, these support the full frequency range from 20Hz to 20kHz. They're also capable of becoming quite loud and have a surprisingly thumping range of bass tones. Though these aren't high impedance earbuds, and they're using dynamic audio drivers instead of any special audio driver technologies. Making use of this iteration of Bluetooth, you can expect your higher resolution audio files to be supported flawlessly as well.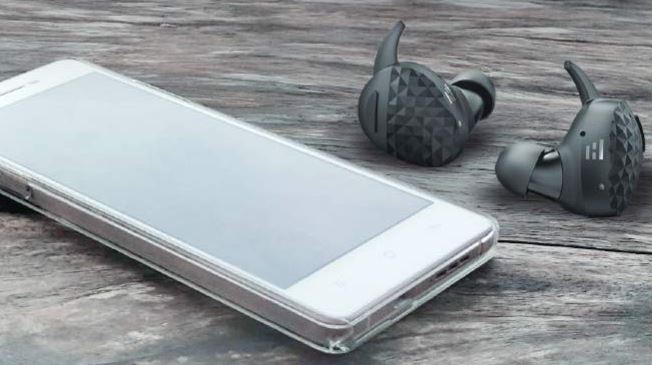 Of course, there are also some tradeoffs to running extra strong bass tones, as with the Helm Audio True Wireless Earbuds. In this case, those tradeoffs have to do with raw audio power leading to a slightly diminished battery lifespan. More specifically, there's 3.5 hours of listening possible from each earbud.
That three-hour mark is actually terribly close to average for true wireless earbuds like these. But even though that performance is pretty average, it's worth noting these earbuds are powered by a battery that's sized slightly above-average. The fact they don't end up performing marvelously with respect to their battery lifespan is partially because they're churning through extra power to create a more robust soundscape. Bass doesn't come easily.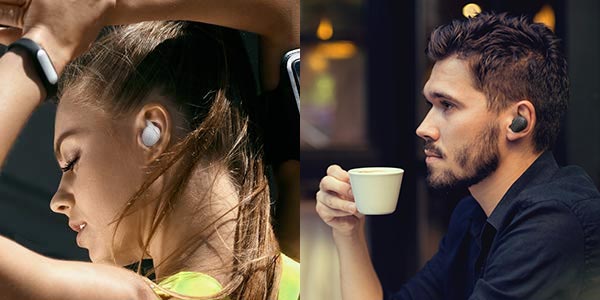 Other Considerations
There's a pair of dual microphones to help power the calling features. The HELM Audio True Headphones do not make excellent use of the fact these earbuds have two separate microphones. There's a lot of potential for noise cancelling technologies to be applied in such circumstances, but HELM decided to do without such things.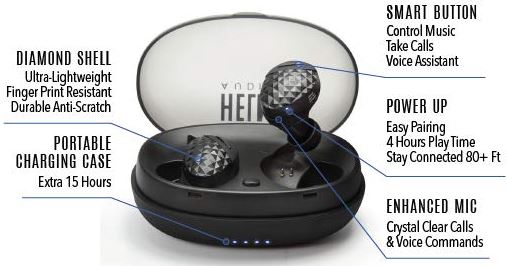 For connectivity, you'll find HELM is using their own antenna tech to allow you to get your signal out towards 80 feet. And even though they're using their own antenna technologies, you can still find compatibility with any Bluetooth-enabled device. You'll also find the same easy pairing features that are present in the E50.
Choosing Between Raycon E50 and HELM Audio True Headphones
Though superficially similar in a number of ways, these headphones actually have several distinct differences that help ensure both pairs are aimed at different types of listeners. Both have similarly portable and small charging cases, though the general aesthetic of Helm's case looks a bit more high-end than the E50's more utilitarian case. Both earbuds have equally compelling waterproofing, though only the E50 has multiple color options for different styles.
The Raycon E50 are for people who are unwilling to take cuts into their battery lifespan. The 25-hour battery estimate is quite respectable. The E50 are also preferable for people who like the analogue control interface of a touch button, while the HELM Audio True Headphones are preferable for people who enjoy voice commands.
Comparing how these earbuds sound, both end up pretty close to average for this price range, though the HELM Headphones will be a slightly better choice for people who really love bass. And neither pair of buds have serious sync problems, but only HELM Audio True Headphones have the ability to extend a signal out towards 80ft.