When you want to see every corner of a room, sometimes it's necessary to use more than one camera. And when you want to see inside several separate rooms, you definitely need more than one camera. In either case, a multi-camera security kit is probably going to be right up your alley. Picking between kits can be pretty tricky though, at least, it can be unless you already have a pretty firm idea of what you expect your cameras to be able to do.
Kasa Spot TP-LINK
As a brand, TP-LINK is mostly known for their routers. But over the years, they've also made a couple of pretty decent cameras. In this case, you'll find the Kasa Spot is a fairly strong 1080p device. Or rather, devices, since there are a total of three cameras included with the Kasa Spot. In each case, the cameras are essentially palm sized. And in each case, the cameras have a fairly wide range of adjustability.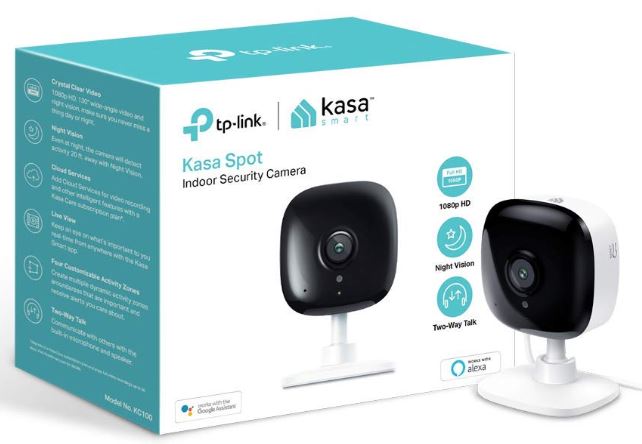 Going with smaller equipment has advantages. You're able to fit it into tighter spaces, it's easier to transport… the list goes on and on. But going with smaller cameras also has disadvantages. In this case, you're looking at a lens that provides users with a 130-degree view. That's technically a wide screen view because it's not a narrow 60-degree shot. But it's not the ultrawide 160-degree view you can find from many outdoor cameras these days.
Though the Kasa Spot isn't without its own special set of features to help distinguish it. Since this device originates from TP-LINK, it shouldn't be surprising that many of those features have to do with Kasa's connectivity. More specifically, it has some excellent native support for 24/7 live viewing features, as well as deep support for Google Assistant and Amazon Alexa. Does that make the Spot an attractive camera? It will to some.
Design & Layout
Again, the Kasa Spot is supposed to be pretty small and compact. You'll find each of the three Spot cameras measures around 2.3 x 3.5 x 1.9 inches. That's comparably to basically any modern webcam in size, which makes them nearly twice as small as many similar devices. Though notably, they are a little bit taller than a typical camera of this type because of the attached stand.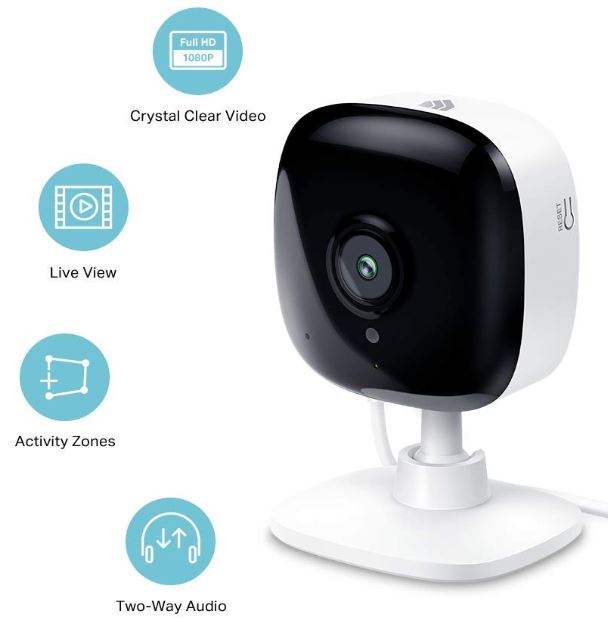 Yet the stand does more than add height to the camera. Because even though the stand looks pretty small and modest, it's actually a fully effective 360-degree rotational base. Being able to move around on the mounting plate is great because again, the lens itself only gives you a 130-degree field of view. For people who need to see larger spaces within a room, this base gives you the opportunity to move the camera into perfect positioning for any given moment.
Near the bottom of the lens, you'll find a pinhole microphone. This pinhole also serves as the speaker for the two-way audio. So as you might expect, the audio output isn't going to blow your mind. It sounds mono at best, sort of like using an old telephone. But you can hear what people are saying, and everything remains intelligible. At least, under most conditions.
Because the quality of the microphone is decent, but it doesn't have any noise cancelling features to speak of. Which means if you place one of these cameras inside a boisterous environment with a bunch of background noise, then you're probably going to run into problems hearing what people are saying over all the noise. Since this is an indoor camera, that should be less of a concern. Though it might be more of a concern if you intend to mount one on a porch near your front door.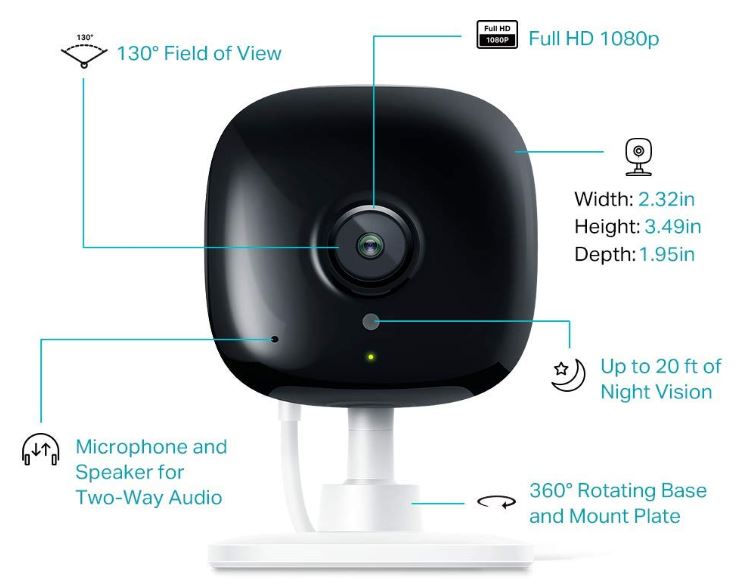 Recording Capacity
One thing you may have noticed about this kit is that you won't find a bunch of separate SD cards inside each of the cameras. That wouldn't necessarily be a terrible design, though it would certainly get expensive and difficult to manage over time. Instead, the TP-Link Kasa Spot makes use of cloud storage in order to store your footage. There's up to 30-days of storage provided for free. If that's insufficient, you'll have to get some paid-storage to help supplement your camera, which is possible to do through TP-Link.
Since everything is done online, it is probably not a surprise to hear the Kasa Spot is largely controlled through an app. And anytime you're going to be picking a device that's largely controlled with an app, it really helps to go with a larger brand. Because app development is surprisingly expensive, which makes smaller developers have a difficult time maintaining the kind of software support you can get from a brand like TP-Link
With that said, the TP-Link app is actually quite intuitive and approachable. You won't have any trouble sorting through footage on the various cameras in your network, saving files you want to keep for a longer period of time, or deleting old files as they're no longer needed. The app is also the primary control gateway for most of the better detection features. Additionally, their app is fully supported on both Android and iOS products. So you don't have to worry about encountering compatibility issues with your smartphone or tablet, even if you're using a more obscure or older device.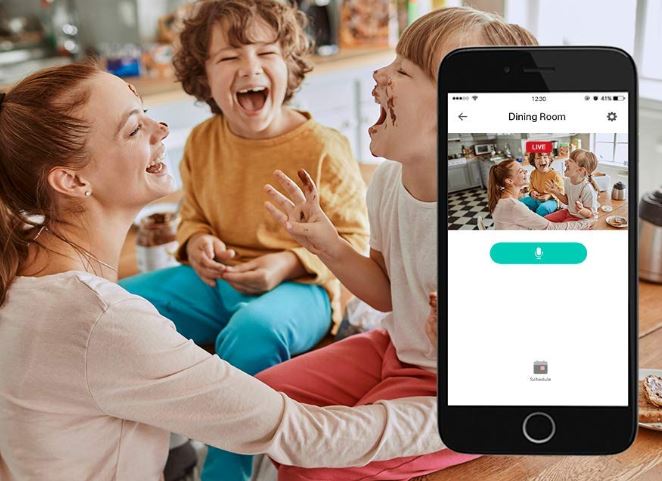 Added Features
And then there are a few features which are pretty much standard among all similar indoor Wi-Fi security cameras. For instance, The Kasa Spot allows you to get automatic alerts delivered to your mobile devices anytime your camera sees something. That includes any time it's able to see something in the dark. And the night vision capacity on this camera is actually marginally better than average.
Average for an entry-level camera is around 15ft, while these cameras reach out to 20ft. It's not a giant improvement over standard, but every little bit helps for an indoor viewing space. It's not distance that helps make the night vision special so much as the general clarity you get with each shot. You don't have to strain to make out what you're looking at, even in dimly lit conditions.
Clearly, with three cameras, you're able to establish coverage over an enormous area. But how can you hope to keep an eye on all of it? After all, it's not like you've got all day to sit around watching CCTV feeds. Kasa actually does quite a bit to help make managing your viewing a little easier. Part of that is simply being able to automatically get alerts based on the motion sensors.
But Kasa Spot does even more than that. For instance, you're able to use activity zones that allow you to move between separate pre-established areas within your camera's visual radius. By setting these zones, you can program your camera to look at specific areas during specific times of the day, or to only alert you about motion if it happens to occur inside one of the special zones.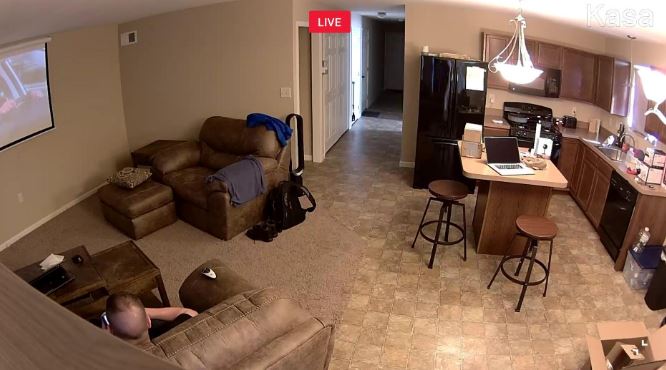 That kind of thing can be handy in a number of different circumstances. Suppose your business is partially accessible during closed hours, like a mailbox store where customers can still access mailboxes at midnight. In those kinds of situations, it really helps if your cameras are able to distinguish between customers who are in the allowed areas, and customers who are somewhere they shouldn't be.
It's also useful for more mundane tasks, like ensuring your cats aren't running all over your kitchen counters while you're away. If your cat leaps up on the counter, the camera can identify that's happened, and then send you an alert. Technically speaking, from there, you could try using the Kasa Spot's two-way communication features to try and discourage your cat from continuing to misbehave. But being a cat, there's a good chance they would probably ignore you.
As mentioned earlier, the Kasa Spot also has some pretty good integration alongside Alexa and Google Assistant. For instance, you can ask Alexa to show the camera pointed at your front door, or move between any of your other cameras. Those kinds of features are becoming more common over the past year or so, but are still not completely standard alongside most indoor security cameras.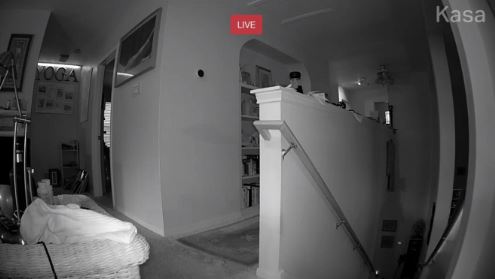 Other Considerations
One limitation you might find irksome is that you're only allowed to setup a total of four activity zones. If you want to go beyond four zones, then you'll need to be subscribed to a higher tier of service, going past free service. Unlimited activity zones are generally a feature you'll only find attached to cameras that require you to have some kind of regular cloud subscription service.
Another thing that may be important to mention is the encryption. Kasa Spot includes 128-bit AES encryption, so even though your video stream is going online, it's every bit as safe as logging in with a password, or using credit card numbers on a website.
Who Should Choose the TP-LINK Kasa Spot?
When it comes to many features, Kasa Spot is really only average. The instant activity alerts are about average, though it's nice that the camera can detect both motion and sound. The two-way audio features are again very average. And the 1080p video output certainly gets the job done – but also doesn't really help to distinguish the Kasa Spot against a million other similar devices.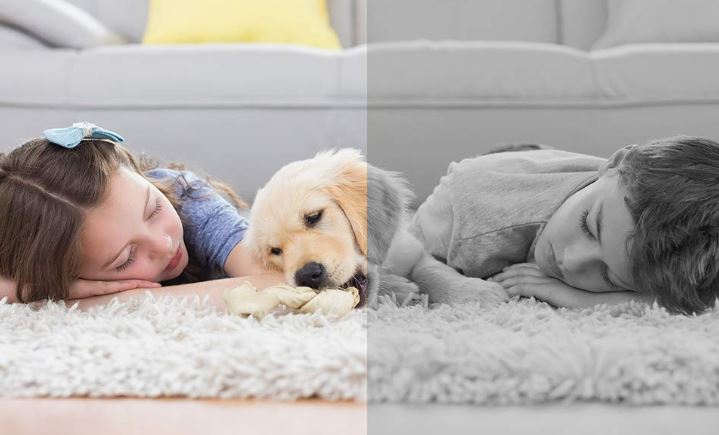 The Kasa Spot is special in only two or three ways. The voice control features are still fairly unique. That makes Kasa a good choice for people who want their camera to be smoothly integrated into their other smart home devices. Kasa Spot is also reasonably unique because this kit includes three cameras that are all great at working together, allowing you to establish viewing areas in three separate spaces.
It doesn't hurt that you get a month of free cloud storage, either. Many camera kits aren't nearly that generous, which means for people who can make-do with the month limit, the Kasa Spot might be a good way to save on data storage costs over time.