What's the difference between one projector and another? It partially depends on what you plan on doing with them. Because if you're only going to create a 60" screen, then you can get away with using a fairly modest machine, and still end up with a nice looking media presentation.
But how about if you plan on stretching your projection out towards the 150" mark? That's where you can really start to appreciate the difference between entry-level machines and something that's a bit better. A good way to better illuminate that point is a comparison of the Vankyo V600 and the WiMiUS P18. Because both projectors are aimed at a very similar target audience, but some seemingly minor differences really set them apart.
VANKYO Performance V600
For the most part, it feels like Vankyo mostly makes entry-level equipment. They must have two dozen different entry-level machines, each with a little more-or-less brightness than the last, and each with its own approach to portability and accessibility.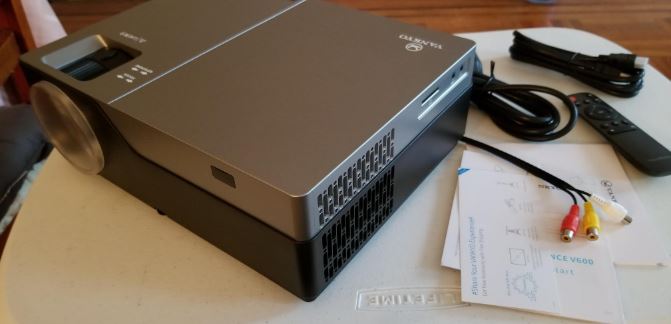 But every once in a while, they'll push a little further and show they're capable of creating some competent mid-shelf products, too. The V600 is a reasonably good example of that. This projector doesn't have the entry-level price that you'll find with most Vankyo units, but it does have the kind of performance you'd be more likely to expect from a brand like Sony.
But as strange as it might seem, better isn't always better. Depending on the space where you want to use the projector, you may or may not need a stronger machine like the V600 to help you along. Your needs for brightness may change, your installation preferences may change, and even the kind of things you want to connect with may end up varying.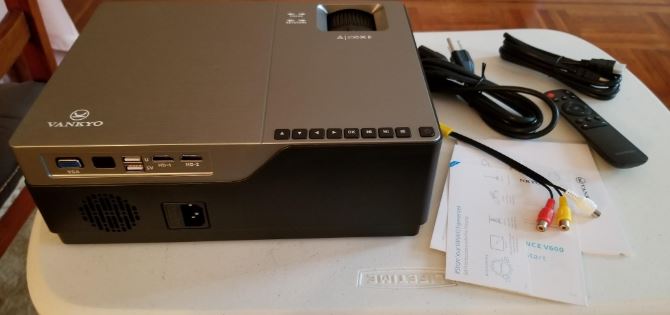 Design & Layout
Those kinds of differences are especially clear when it comes to size. Because as a general rule, the more powerful a projector becomes, the less portable it will be. That makes units like the V600 almost inherently unfavorable for people who have constant mobility in mind. But you're not actually dealing with a super-beast of a machine. It's a sizeable 15.35 x 15.35 x 5.9 inches, and weighs nearly 8lbs. But that's really not that much above average.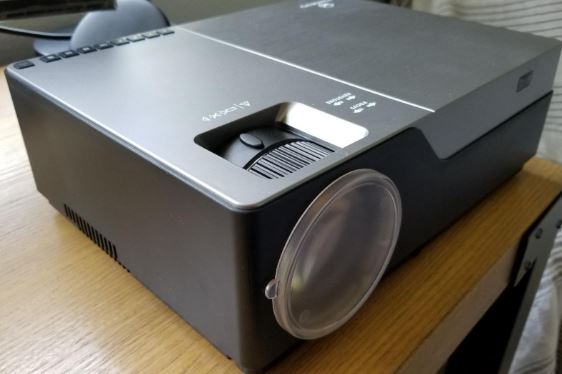 Unlike a lot of similar Vankyo projectors, this one actually looks pretty stylish. The exterior ls largely brushed aluminum, with a silver sleek appearance that's far better looking than the cheap plastics most projectors end up using. For controlling the unit, the top side has a number of clearly labeled analogue buttons. It's not exactly a high-tech interface, but it lets you get the job done. The included remote actually has a very similar layout to the controls on the projector itself.
With respect to its connectivity, the V600 has a total of two HDMI ports, one AV port, one USB port, one VGA port, and one SD card slot. It's good they've included legacy formats like VGA, though it's a small shame the USB is running at 2.0 speeds. There's also an audio-out for people who are interested in attaching some speakers, or perhaps a pair of headphones.
The onboard sound isn't going to blow your socks off. It's a single 5W speaker, so it's not technically stereo sound, but mono. You're clearly much better off swapping over to a soundbar, or otherwise supplementing the audio. But if you have to make due, the onboard speaker is at least capable of getting loud enough to fill a medium sized room.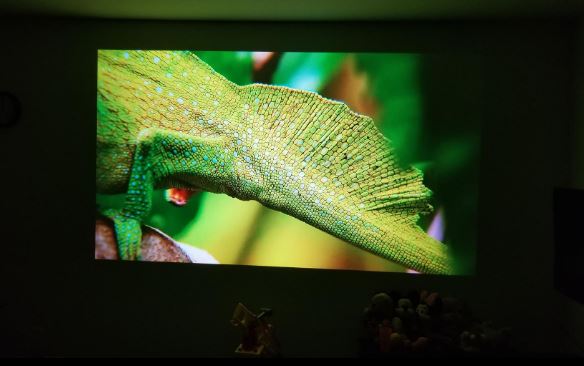 Video Presentation
The V600 is capable of presenting roughly three times as much detail as a more common 720p projector because it has a native 1080p resolution. Though the fairly large 5000:1 contrast ratio is largely the result of the brightness of the bulb. In this instance, you're working with a 4500 lux bulb. That's nearly twice as bright as a number of similar projectors, and almost twice as bright as most of the VANKYO line.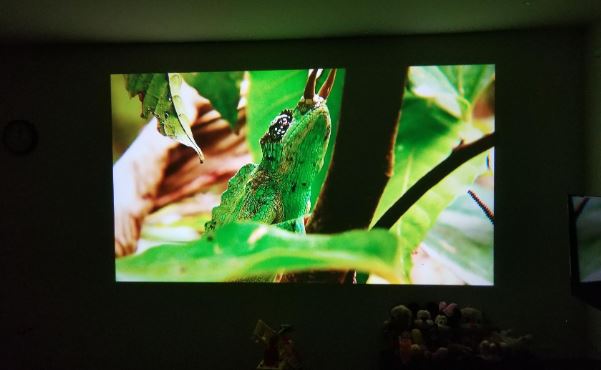 Display size can stretch out as far as 300" in total. For partially-lit spaces, that means you can actually still get decently strong performance. How bright do you need the room for a good presentation? Well, like any projector, you still need a dimmed room to get the best results. But with 4500 lux, you can actually get a pretty clear image even in rooms with a small amount of ambient lighting.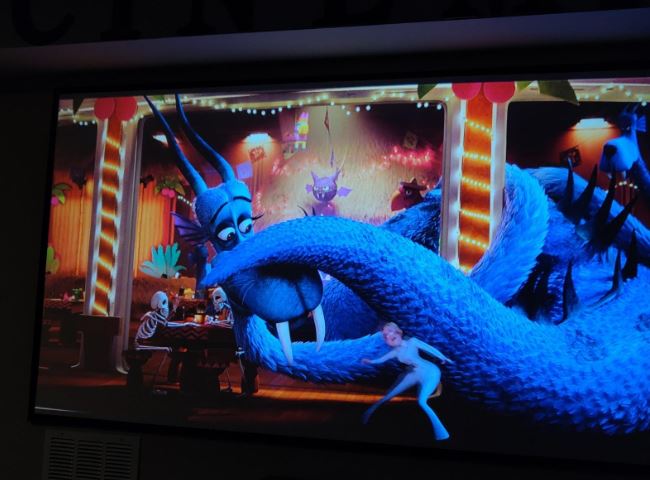 But for optimal image performance, you'd want to stop the screen around 120". As you go past that mark and head towards 300", you'll find the contrast starts to decrease, and the brightness and vivacity of the screen starts to fade a little. People who are going with the V600 clearly value a higher quality presentation. But if you want to maintain pristine HD quality at extremely large screen sizes, you still have to spring for a 4K machine like the Epson Home Cinema 4010.
Other Considerations
The V600 was constructed with a light source which is intended to survive persistent daily usage for more than a decade. That's assuming you're using the V600 for something like two or three hours each evening. If you decided to start running it in continuous operation, outcomes would look quite different.
It's worth noting the V600 includes a three month return policy, along with a 3-year warranty. Naturally, the warranty doesn't include the bulb. But it does include lifelong professional customer service and tech support. Vankyo also includes a carrying bag, HDMI cable, AV cable, power cable, and a remote control. But you don't get the AA batteries necessary for operating the remote, so you might want to pick some of those up.
WiMiUS P18
The WiMus P18 and the V600 actualy have an enormous amount in common. Both are similarly sized, and both have similar input options. Both have essentially the same degree of adjustability with respect to their manual focus and keystone correction. But when you look carefully at what the P18 is capable of, the difference between a good projector and a great projector really comes into focus.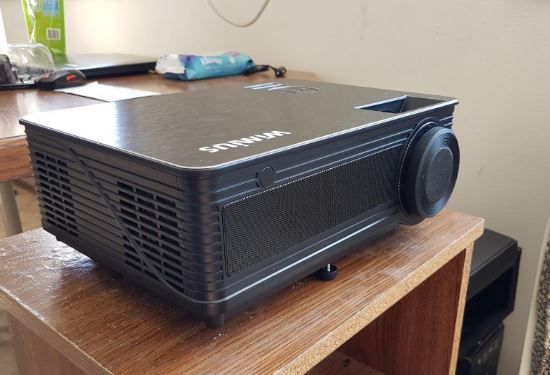 Design & Layout
Similar the the V600, the P18 was built with stereo sound output. WiMiUS claims that you won't need a stereo to go along with the P18. That actually depends on a number of different things, most importantly, your expectations for the sound. The P18 provides a pair of 2W speakers, so the volume output is only marginally lower than the V600.
But since you've got stereo sound, there's a much better sense of directionality. It would still be an exaggeration to say you wouldn't want to add speakers to this projector — but they are a better stand-alone option than the V600. The difference isn't night and day, but it's certainly there.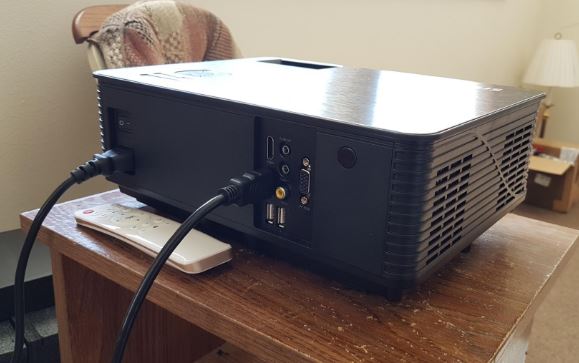 Similar to the V600, here you'll find faster heat dissipation technologies help ensure these LEDs are supposed to provide continuous lighting support for up to 50000 hours of operation. In more practical terms, that works out to decades of regular use before you have to replace a dead bulb. Of course, if you were interested in optimizing the presentation of your P18, then you'd want to consider swapping the bulb after five years or so, just to keep the brightness working at its peak.
And again quite similar to the V600, with respect to its inputs, you'll find an HDMI port, VGA port, AV port, and a USB port. There's also support for Amazon Fire, laptops, tablets, Chromecast, and so forth. Though if you want to connect to your tablet or smartphone, then you'll need to get an external HDMI adapter, which isn't included.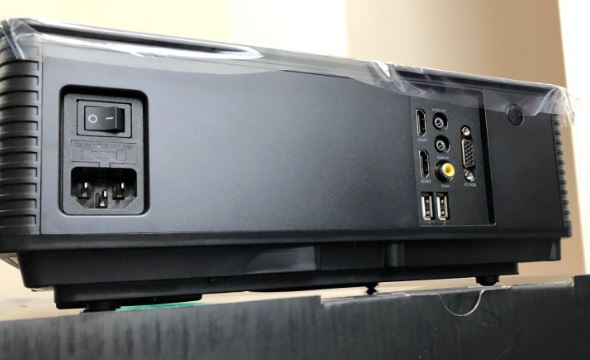 Video Presentation
The WiMiUS P18 was recently upgraded to support a total 4000 lumen output, as such, the contrast ratio works out to 4000:1, which is slightly lower than with the V600 projector. However, they're still in the same ballpark, and most people really won't be able to appreciate the difference between the two unless the room is perfectly dark.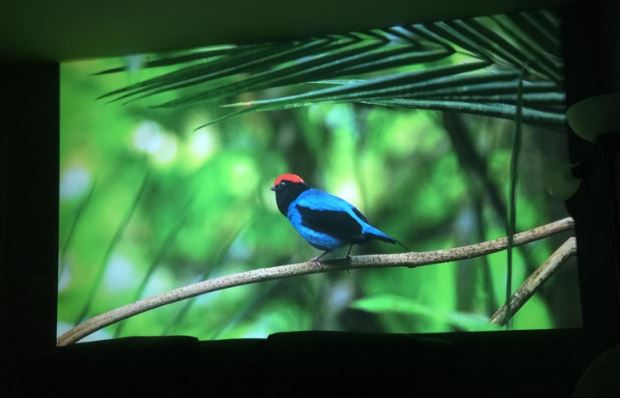 Display sizes are another story entirely. Here you're looking at projection potential spanning 50" to 200". However, the recommended viewing distance is around eight or nine feet because the native resolution is 1280×800 as opposed to 1080p. Technically, it's possible to play 1080p content on this projector. But it will come out in 1280×800. That's not technically 720p, but it's basically the same as 720p. As such, it's fair to say the V600 is capable of providing two or three times as much detail… depending on the circumstances of your presentation.
Other Considerations
The P18 includes a power cable, HDMI cable, AV cable, VGA cable, remote control, fuse, lens cloth, and a user manual. The remote control is pretty standard stuff. It won't amaze you with innovation, but if you're looking to raise or lower the volume of your presentation from a distance, it can help you out. The lens cloth is a fairly standard micro fiber lens cloth, but if you don't have one laying around already, it's nice that one is included. Additionally, WiMiUS includes a 3-year warranty for the P18.
VANKYO Performance V600 vs. WiMiUS P18 – Which Projector Should You Get?
If you're trying to take advantage of much larger screen sizes, and shooting far past 120", then you're going to end up with better visual performance from the V600. Even when you're working in smaller scale, and only projecting a modest 80" screen, the V600 will still technically outperform the P18 in basically every way, including brightness, resolution, and contrast ratio.
When it comes to sound production, the P18 is a sliver ahead of the V600. But if you plan on connecting some speakers to the projector, then these two projectors are basically equal in their audio input options. They're also about equal when it comes to general versatility. Both have support for legacy formats, and support for more modern types of connections. Technically, the P18 is a bit smaller than the V600. But the slightly bulky V600 includes its own carrying bag, so their portability is quite similar as well.
If a 720p presentation is good enough for you, then the WiMus P18 is probably going to be a good choice. It's better than an entry-level projector… but it's not a 1080p machine. The V600 has full HD as its native resolution. It's brighter, so it can support larger screen sizes with confidence, and it will do marginally better in poorly lit areas. That makes the VANKYO V600 the better choice for someone who's looking for a mid-shelf projector that can achieve 1080p at costs that are more similar to 720p machines.