As more and more cameras are capable of capturing 4K content, it can be tough to distinguish good cameras from great cameras. But as has often been the case, high end camcorders really shine through their implementation of special shooting features paired with higher quality hardware. Which means there will always be a good reason to pick a higher-end camera, even if those reasons are not immediately obvious to people who aren't acquainted with top-shelf equipment.
Canon VIXIA HF G60
For starters, it's clear the Vixia G60 is largely made from some pretty high-end hardware. From the sensor behind the lens to the lens itself, this camera wasn't made for the average person to shoot their home videos. You're looking at a machine that could be productively used for the creation of a Hollywood movie, or for a professional documentary.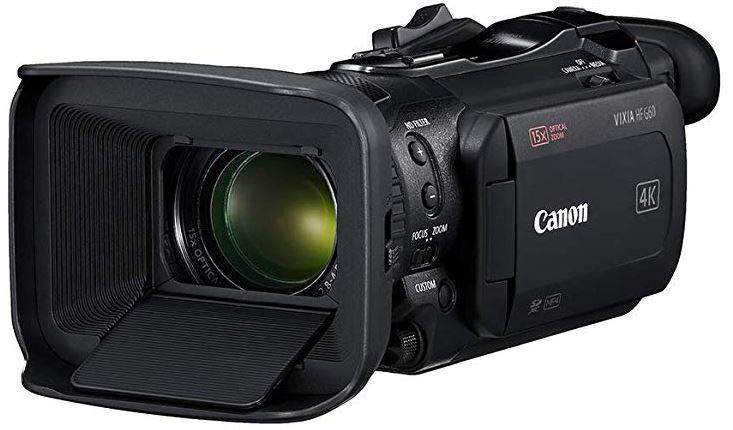 Higher end equipment can sometimes be unapproachable. After all, if you only expect professionals to use your equipment, you generally don't need to make it idiot-proof. But as a brand, Canon seems to place some real value on ease of use. And so the G60 actually ends up being a reasonably approachable camcorder, especially relatively to how many features it has on display.
It also helps that the camera itself isn't covered in a hundred million buttons and switches, like older camcorders were often made. That's because many of those buttons have been moved to the touchscreen, which is far more intuitive. But there's more to an excellent 4K camcorder than simply being able to use the thing. So how does the G60 stack up?
Design & Layout
The Canon Vixia HF G60 measures 8.4 x 4.3 x 3.6 inches, and weighs around 2.1lbs. That's a pretty lightweight design, so you typically don't have to worry about becoming fatigued by carrying around the camera. It's only when cameras start to creep up towards the 4-5lb range that the weight can really become a burden over longer periods of time.
The camera itself is mostly made from lightweight plastics, which doesn't exactly give it the look or feel of a top-end device. But once you've got it in your hands, it's much easier to develop a sense of exactly high-quality the design happens to be. Still, you really wouldn't want to accidentally drop it.
On the left side of the camera you'll find an infrared switch, battery information button, and pre-record button. And these buttons are al hidden away while you have the LCD flipped into the storage position. There's also a switch that's been cleverly hidden away on the topside, allowing you to move the camera's screen between presenting the viewfinder and presenting media that you've already recorded onto an SD card.
The screen itself as a fairly large 3" LCD. And it's a full touch screen display, along with its own 0.24" electronic viewfinder to make for greater flexibility and accuracy in aiming your next shot. The 3" touch screen is made from around 460,000 individual pixels, which allows for a lot of detail when configuring your next shot. Though it doesn't technically compare to the vivacity of a top-end smartphone because it's not a fancy OLED display.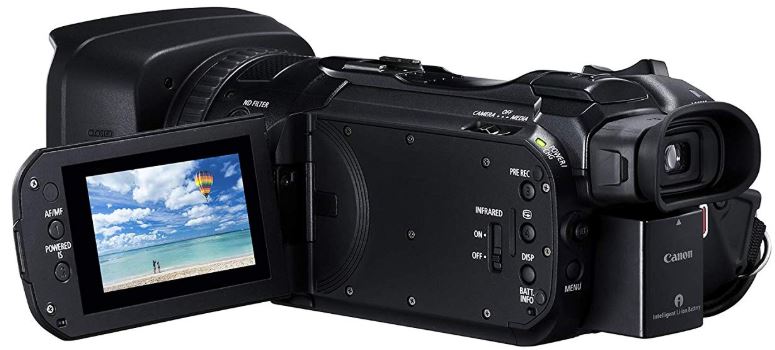 Video Quality
The Vixia G60 features a 1" CMOS censor capable of supporting 4K images, alongside a DIGIC DV 6 image processor to help round out those 4K shots in 30fps. The sensor actually allows you to get 60fps slow motion recording while running down in 1080p. But up at 4K, you'll be locked in at 30fps. There's also fast-motion recording available, though it's not nearly as impressive as the slow-mo.
One thing that might impress you is the 15x optical zoom lens, which allows you to keep 4K quality for the entirety of the zoom's range. Whether you're zoomed in at 15x or shooting at 1x, it's all UHD. At least, while you're making use of the optical zoom. Once you start trying to run the digital zoom, that's when you'll see the quality of the image sensors taking hits.
The camcorders dual pixel CMOS auto-finder helps make for a far more rapid and highly accurate automatic focus. And being built around that 1" sensor, the Vixia G60 is actually pretty good at dealing with low-light circumstances. You end up with much less noise in your shot because the larger sensor can take in more light. It also performs better when using a shallow depth of field alongside a large aperture. Again, that's because the sensor is pretty big, so it can let in a lot of light.
Speaking of lots of light, the Vixia G60 supports wide dynamic range gamma out to 800%. The result is a fantastically realistic looking shot from every capture, and a more accurate and faithful recreation of the scene around you. Additionally, wide dynamic range gamma allows for nearly seamless graduations while moving between different shades and tones of color. Your shots end up coming out with a greater amount of smooth detail, and with highly accurate color recreation. And you also end up avoiding blown-out highlights.
Focal Length & Data Capture
Two more things. Film fanatics will be pleased to note the 4K UHD quality has a focal length ranging between 25.5mm and 382.5mm. That happens to be the equivalent of 35mm film, making your shots highly standardized for import to editing programs. Secondly, an ND filter allows users to choose between ND setting at ¼, 1/16, and 1/64. You can swap the ND filter on and off as needed, and adjust the density of the filter using external buttons located below the filter activation switch. Quite handy.
The Vixia G60 allows you to use dual SD card slots to record footage. By default, files are recorded in the MP4 format. There's actually a little maneuverability in your format options, but you probably won't find it necessary to move from MP4 if you're sticking to 4K shots. And since you can operate two SD cards, you don't have to worry as much about running out of storage space during your run.
Added Features
Perhaps more than anything, the Canon Vixia G60 is defined by its five axis optical image stabilization features. In fact, there are actually three modes you can use to stabilize images. That includes standard, dynamic, and powered modes. The standard mode is good for situations where you need constant and independent magnification in your shots.
By contrast, the dynamic mode is good for stabilizing while you're walking with the camera. And the powered mode is good for stabilizing while running the lower frequency of the tele end of a shot. As such, you only want to use this mode for fixed-point shots, so you can guarantee the physical stability of the camera. But between them, you're ready for just about anything.
Another neat feature is that the lens is made with a nine blade iris. It produces artistic out of focus areas, allowing for a unique and stylish blurring motion for portions of your shot which are supposed to be out of focus. And the odd number of blades, nine, allows you to reduce flaring from occurring during highlights.
Optional Accessories
Since you're looking at a camera from Canon, it should come as no surprise there's a pretty wide range of possible accessories you can use alongside the G60. Many of these are the kind of accessories you'll find are available to virtually any of Canon's camcorders, but some are more specifically suitable for the G60.
For instance, you can use a wide attachment to create a 0.8x wider angle in your shots, great for tight spaces, and great for lending perspective during a narrative. The optional tele converter allows for 1.6x longer telephoto range, giving you access to shooting distant subjects without losing clarity in the process.
And then there's the optional RC-V100 remote controller. That's basically as if someone took all the various buttons on the camcorder and shoved them onto a remote. It allows you to completely adjust the image quality and other operational parameters, all while maintaining a great distance.

Other Considerations
The Vixia G60 includes a battery, mini remote, power cable, and power adapter. Notably, there's no internal storage and no included SD cards, so you'll need to bring your own. It's possible to get an extra battery pack, and then swap it into the G60 as needed. Again, no extra batteries are included. But since this is a Canon device, you typically don't have to concern yourself with struggling to find replacement batteries or accessories as needed. You can also rest fairly easy thanks to Canon having some respectable warranties.
Who Should Choose the Canon VIXIA HF G60?
Powerful cameras tend to be expensive. That's certainly the case with the Vixia HF G60. This is a camera that doesn't just allow you to shoot in 4K, but allows you to do it in style. Partially, the hardware is why this camera can perform as well as it does. And the 1" sensor and the 15x optical zoom can do an enormous amount of good, and they're what enable a lot of the better features to come.
But it's really all the extra shooting features that distinguish the G60 from a more entry-level camcorder. For instance, the extensive options you have for optical image stabilization, the ability to blur with a 9-bladed iris, and the deep support for wide dynamic range gamma. It also doesn't hurt the Vixia G60 has options for expansion with numerous optional accessories.
If you're looking for a simple 4K camera, you'll be able to get by with something cheaper, like a common GoPro. But when you're looking for professional quality shots and the potential to artistically impact those shots to better create your vision, then you really need a camcorder like the G60. It's the kind of device that makes sure you don't necessarily have to reshoot the first time something goes wrong, like the lighting momentarily changes in the middle of your scene.