Quick Analysis
Pros
Works in any weather.
The range can be expanded.
Long battery life.
Guiding lines for reverse parking.
Good night vision.
Cons
Battery must be exposed to the sun once per day.
Initial range not good for larger vehicles.
The screen must be controlled by remote.
These days, it's just common sense to have a backup camera whenever you hit the road. These cameras help you park more accurately. But they can also provide some solid legal protection if you are ever unfortunate enough to be an accident. Nothing proves your innocence better than video footage!
However, installing a camera on your vehicle can be more of a pain than an advantage without the right equipment. Many cameras require frequent recharging, which can be difficult to remember. As a result, some of the best backup cameras are solar-powered. These refill their batteries each time you expose them to the sun.
With the right solar-powered backup camera, you'll never be without video footage or in-car monitoring when you need it. Today, we'll look at the Auto-Vox Solar Wireless Backup Camera Kit and see what it can do for you.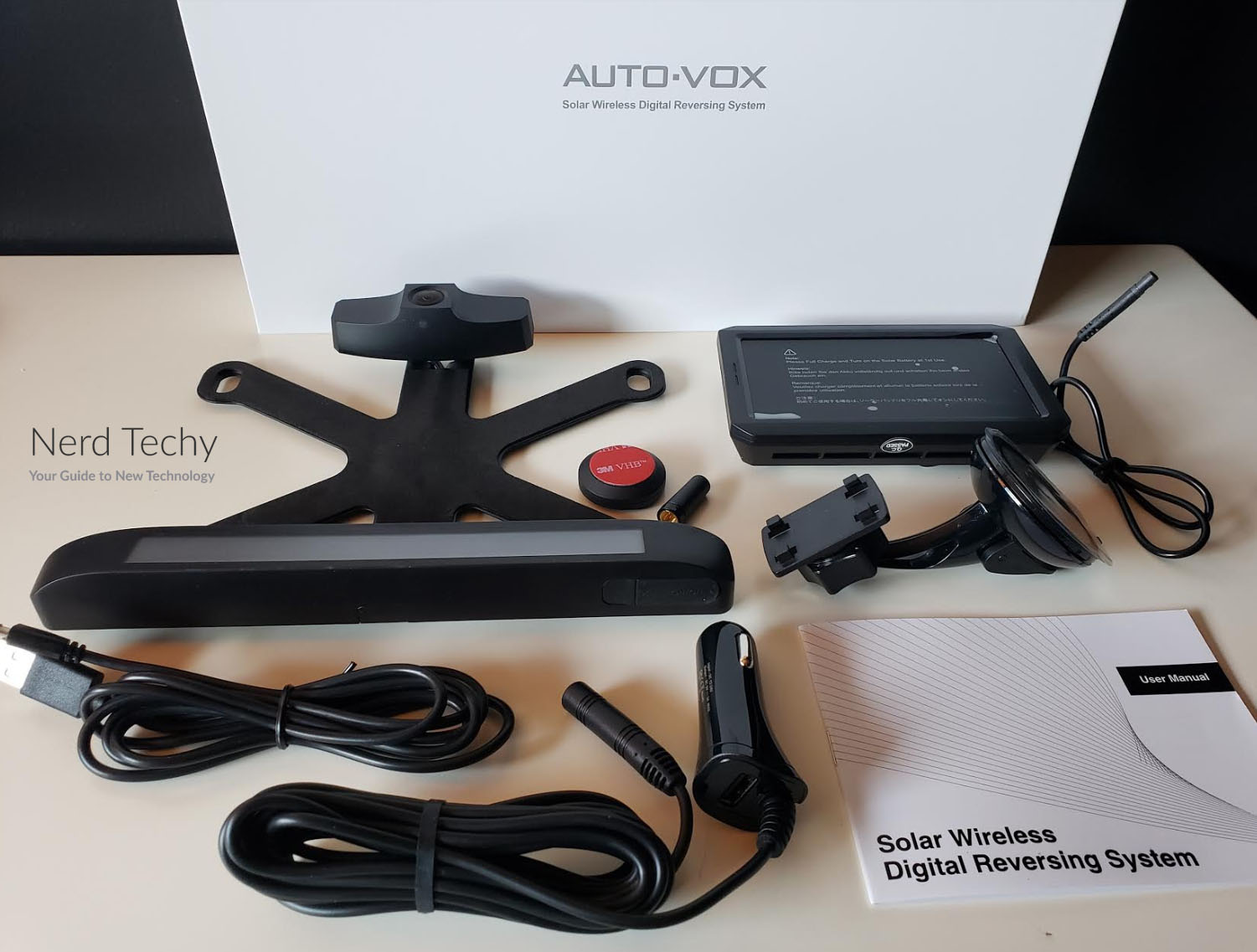 Installation and Mounting
The Auto-Vox Solar Wireless Backup Camera Kit is one of the easiest of its kind to install. In fact, it's likely to only take you five minutes to install it by yourself. Don't bother calling a professional camera installation team to your home. Pocket those hundreds of dollars instead and use a screwdriver to attach the camera to your back license plate.
The frame for the camera and solar battery can fit with the license plates with heights less than 6.97 inches. This provides you with lots of options for combining this backup camera with your existing license plate. Length doesn't matter at all, affording you even greater versatility. All you have to do is make sure that the upper screw distances are between 6.57 inches and 7.36 inches apart.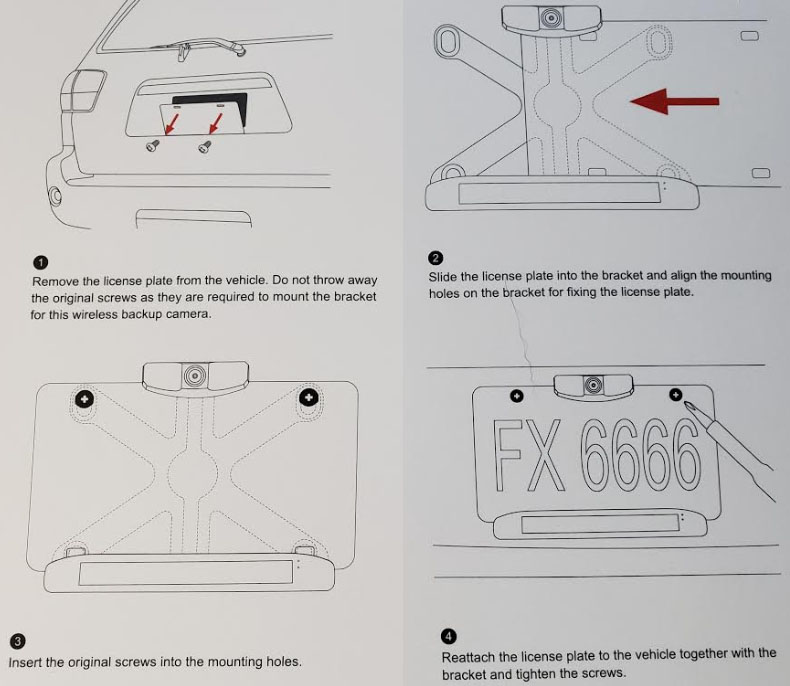 This excellent flexibility in terms of size can even let you mount this backup camera to the front of your vehicle if you prefer. It's true that many of its features are designed with rear mounting in mind. But we'd recommend that you follow your instincts and go with what'll work best for you!
Another excellent aspect of this backup camera's design is that it is easily uninstallable, too. Placing it onto your first vehicle's license plate is quick enough. But swapping it between vehicles is a breeze. You never have to feel attached to a particular car when using this backup camera. Pair it with multiple cars if that works better for your lifestyle. The option to choose is what matters in our eyes.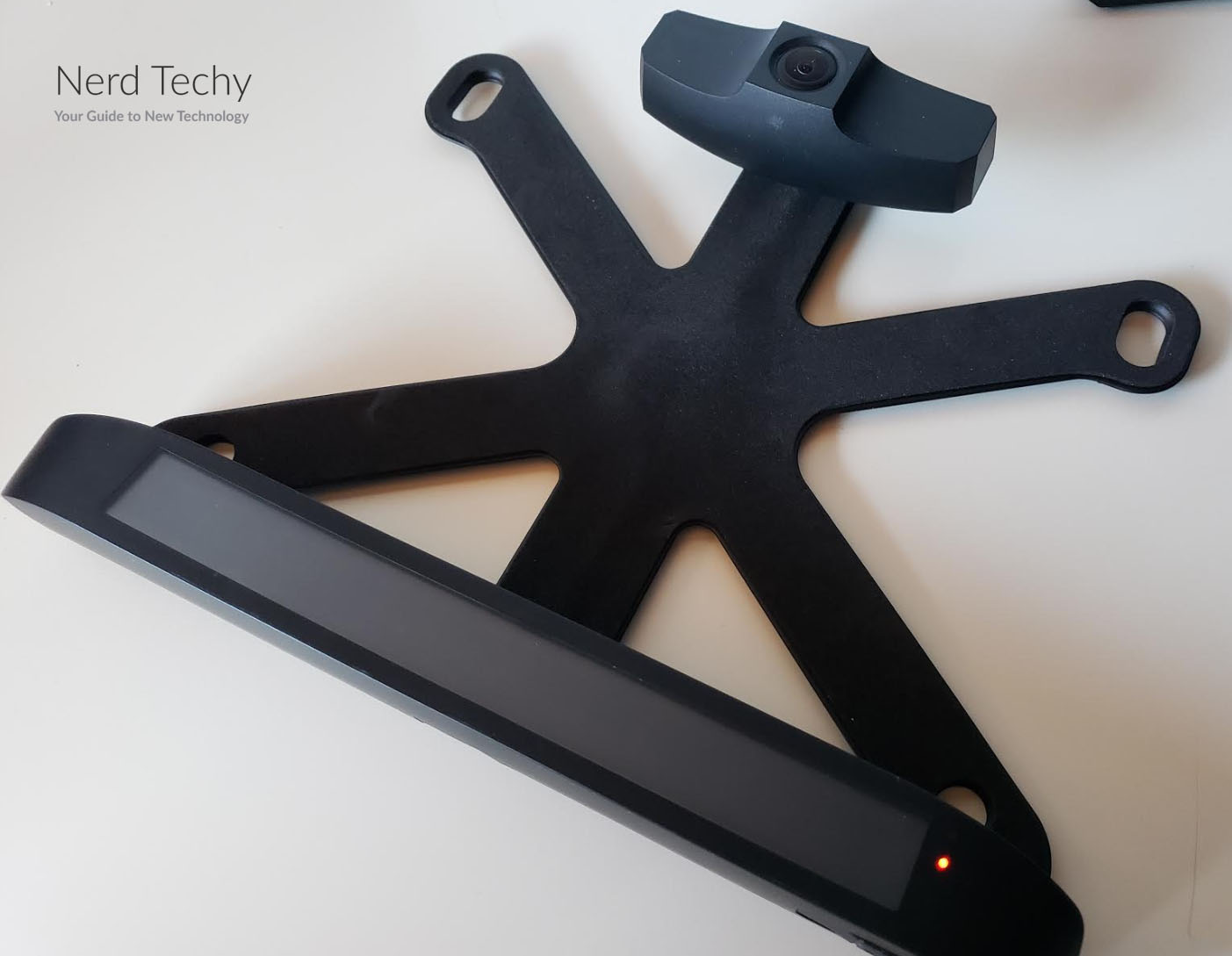 In this purchase, you'll get a top camera, a bottom-mounted solar battery, and the wireless monitor you can attach to your dashboard. All three pieces can be installed in mere minutes. All you need to do is detach your license plate and slide the battery into place. The top camera can be installed either before or after the license plate itself.
Sun-Powered Charging
After installation, you merely need to expose the camera's battery to the sun for 30 minutes per day. Exposure like this will provide enough juice to run the camera for months, provided that you start with a full battery. This is true even if you drive in cloudy weather! We're thrilled at the energy efficiency here. It combines the ease-of-use and recharge-ability of solar batteries with the consistency of regular batteries.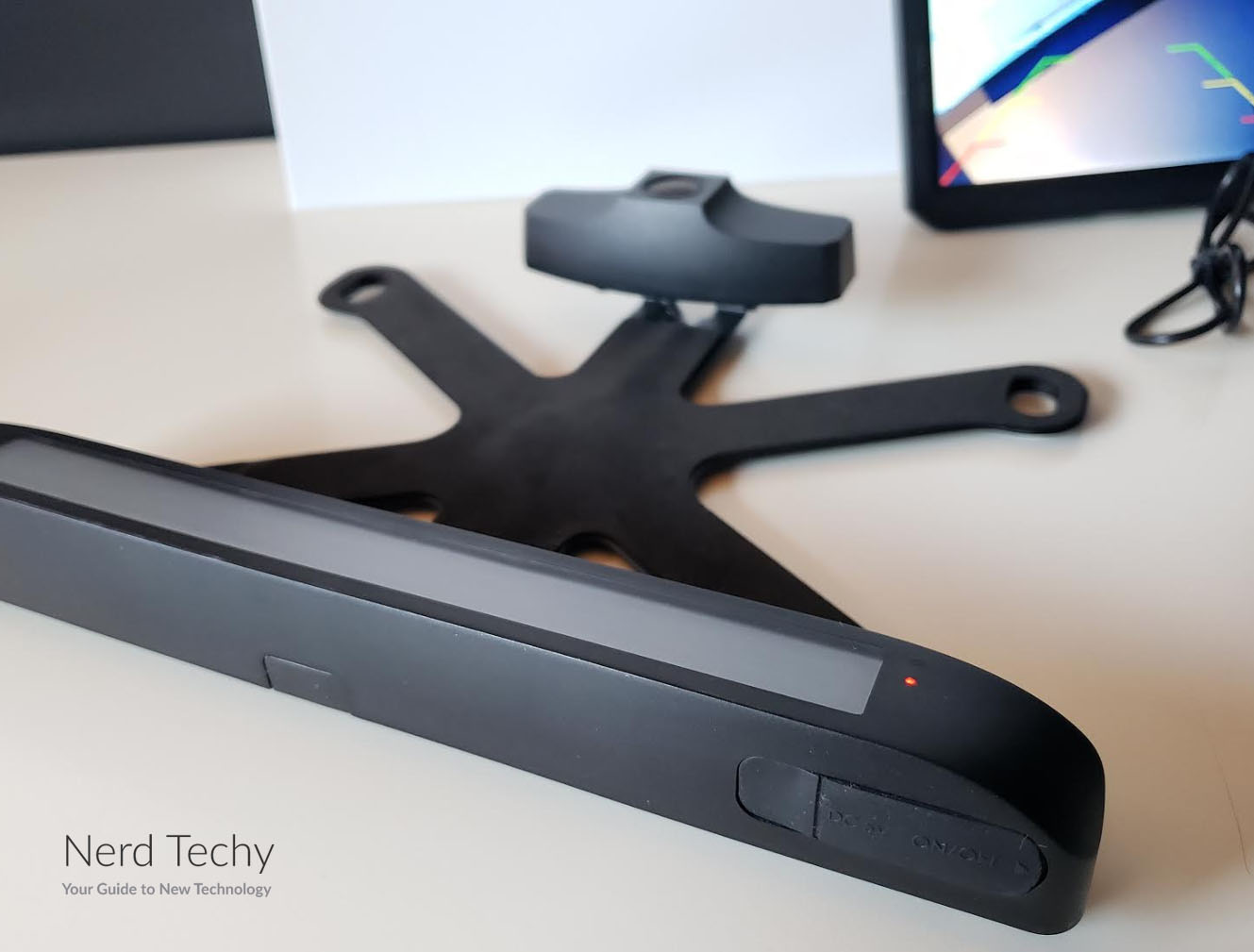 You can also use the available USB recharge port on the battery itself to charge the camera. This is a really helpful feature if you store your car in a garage for months between uses. It's recommended that you charge the camera this way initially so you can start using it right away. To make things even better, the necessary USB cable is included with your purchase! It's a perfect way to fill up the battery during cloudier months of the year.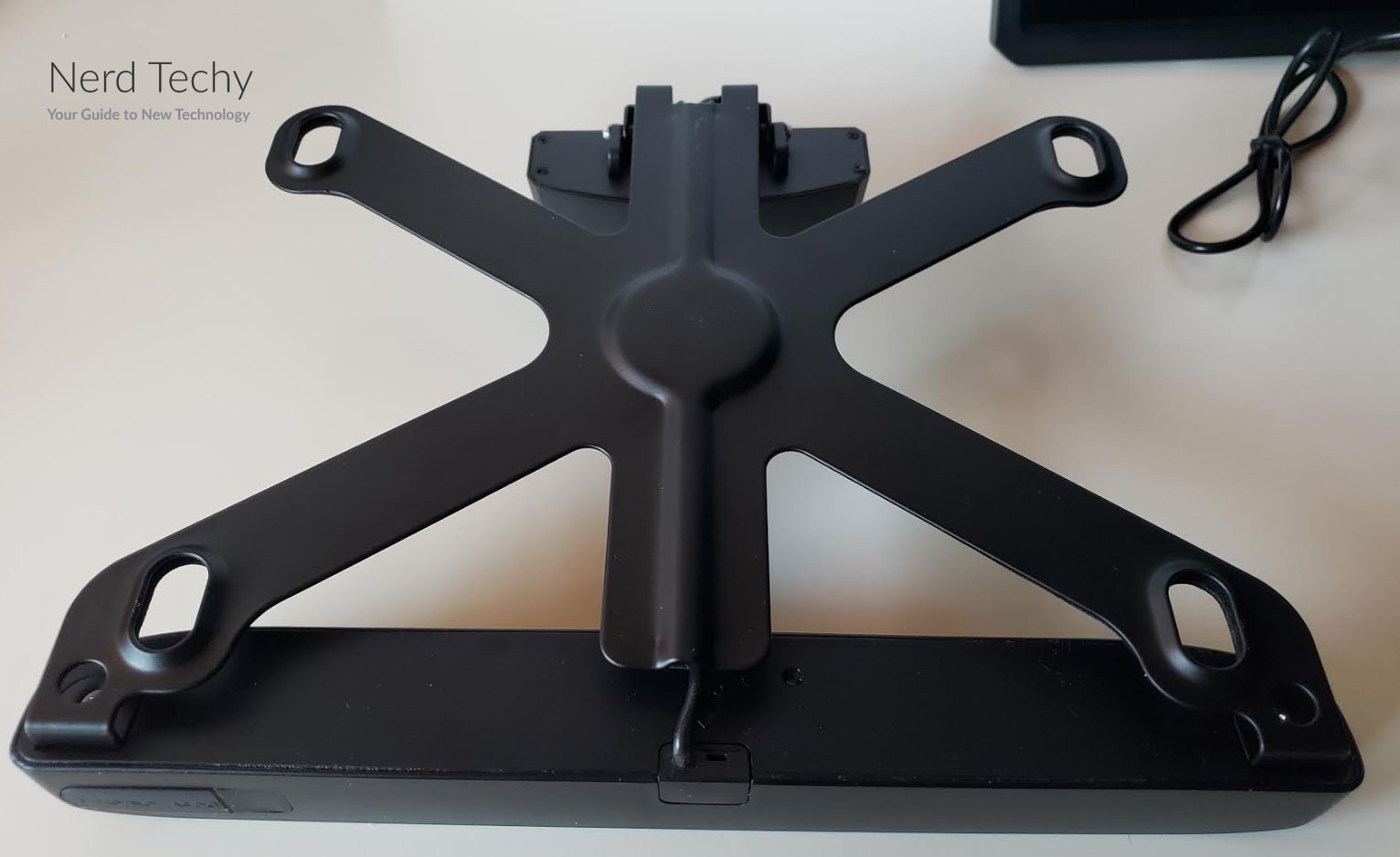 Connectivity and Camera Quality
This backup camera works with superior signal transmission technology. The PC1058 sensor on the back of your car will provide you with true to light-colored images on the monitor. Using the monitor is super easy, as there aren't many complicated buttons to get lost pushing. Simply turn the monitor on and you'll be presented with the camera's active imaging. It's perfect for keeping an eye on your vehicle's rear as you drive.
The camera's true quality shines in varied environments. For starters, the camera is powerful enough that it can see and provide you with imagery even in completely dark environments. Objects up to 3 meters away, only illuminated by your reversing lights, will show up clearly on the monitor. Such a camera is an excellent choice for nighttime driving. It's great for your own accident security. It's double good for stopping you from accidentally backing up over a hazard in the dark.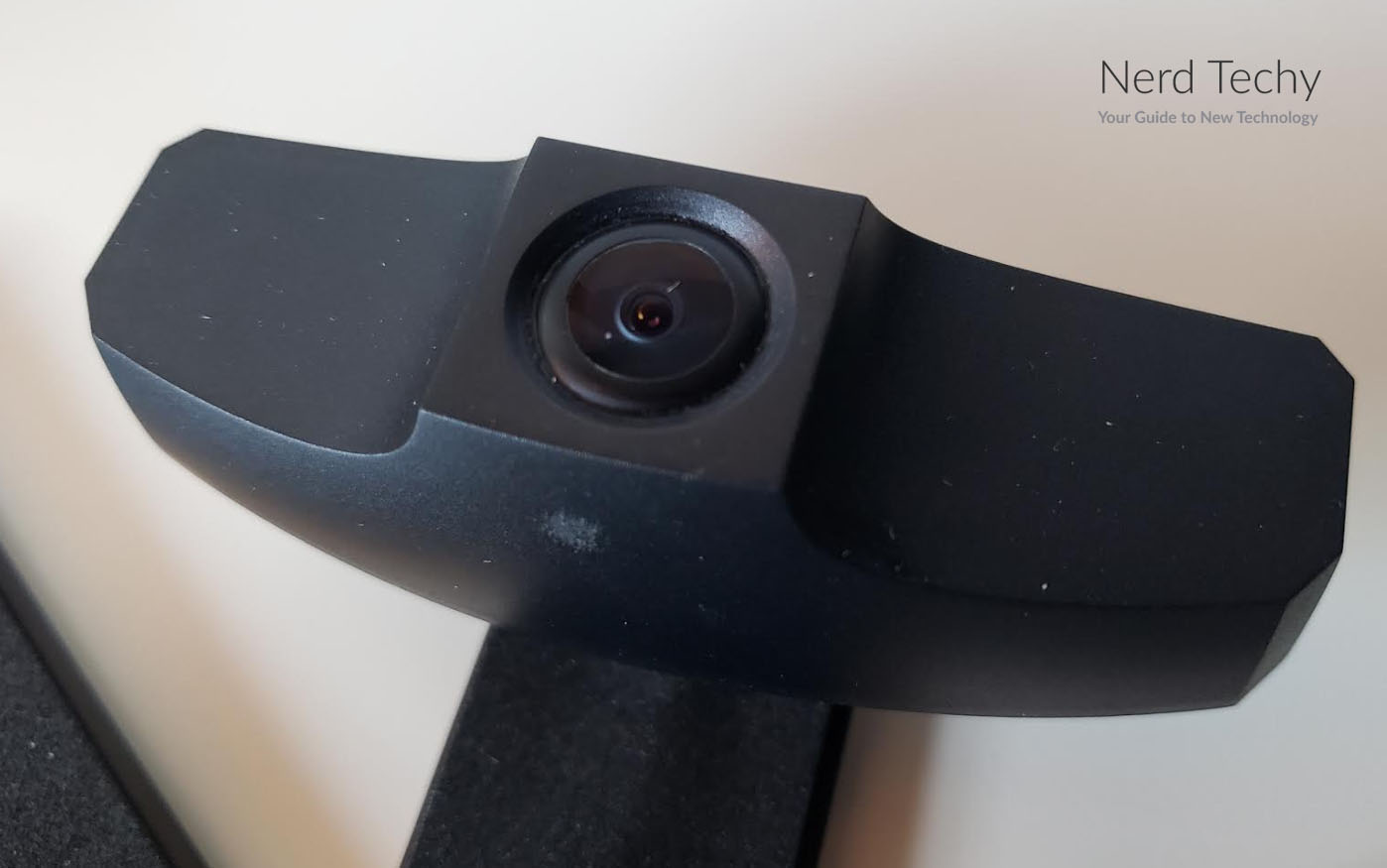 Superior Durability
Needless to say, the camera does a great job during the day when there's plenty of sunlight to go around. But even in inclement weather, this camera does a fantastic job. It's completely waterproof, rated IP 68 – a measure that many electronic devices follow to ensure performance in wet conditions.
Even temperature can't stop this camera from giving you the vision you need to drive safely. It's rated for optimal performance at temperatures as low as -13°F or as high as 140°F. Of course, battery efficiency does decrease dramatically the colder you go. So don't be surprised if the camera battery doesn't last for too long in the winter months.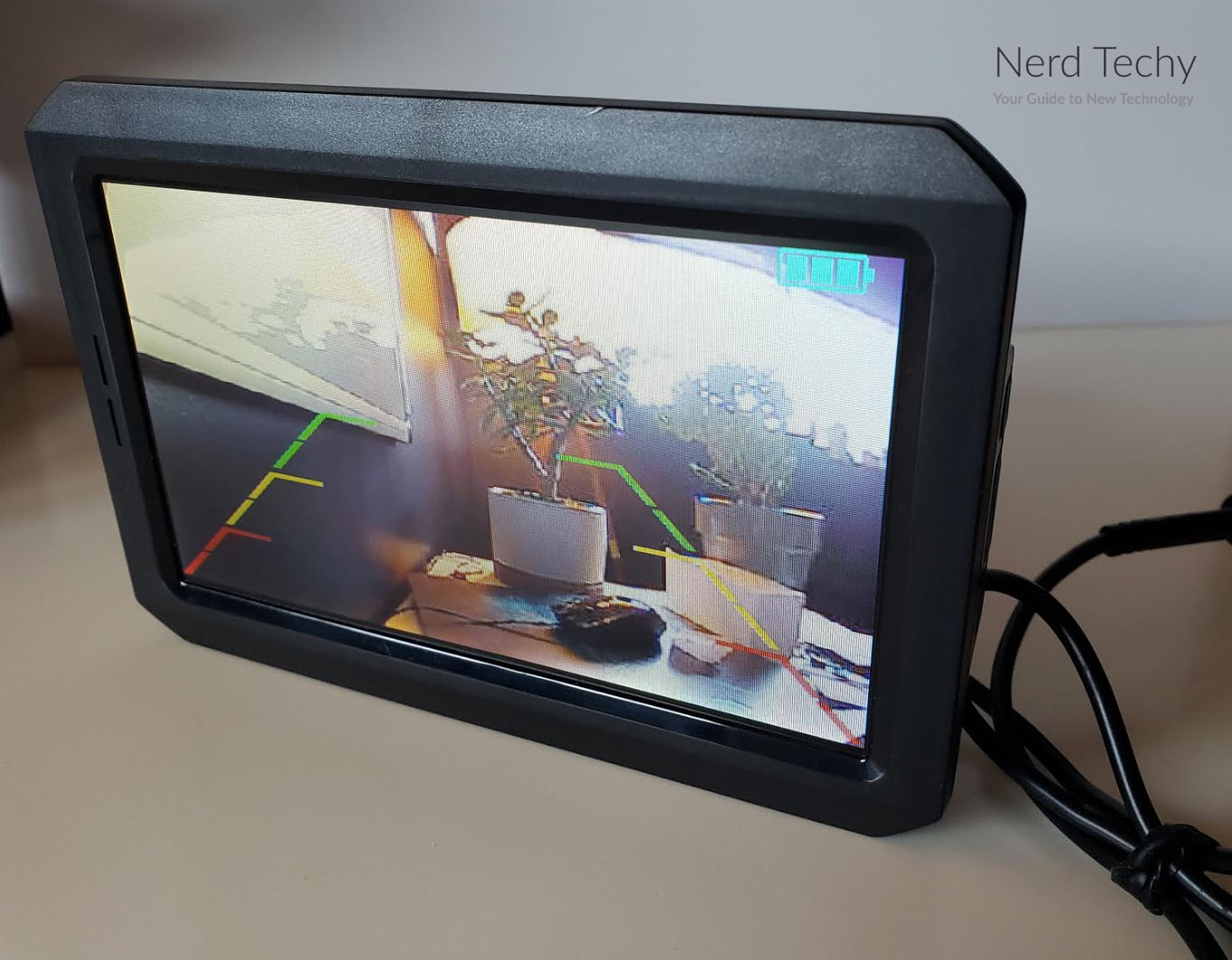 Still, the camera does a great job of working in a variety of conditions and environments. No matter where you drive, you'll experience 100% signal transmission. All the images provided by the camera and sent to the monitor are crystal-clear. The signal won't even interact with other devices' communications, such as Bluetooth signals.
Monitor Features and Control
The real-time monitoring you can take advantage of is bolstered with the lightweight remote that comes with the purchase. This remote can let you turn the monitor on or off. Even better, it has controls to let you adjust the displayed parking lines on the monitor. That's right! Just like more expensive cameras built into modern vehicles, this backup camera can help you reverse park. The adjustable lines can be swapped between six different variations. You'll be able to switch between these on the fly for excellent parking accuracy.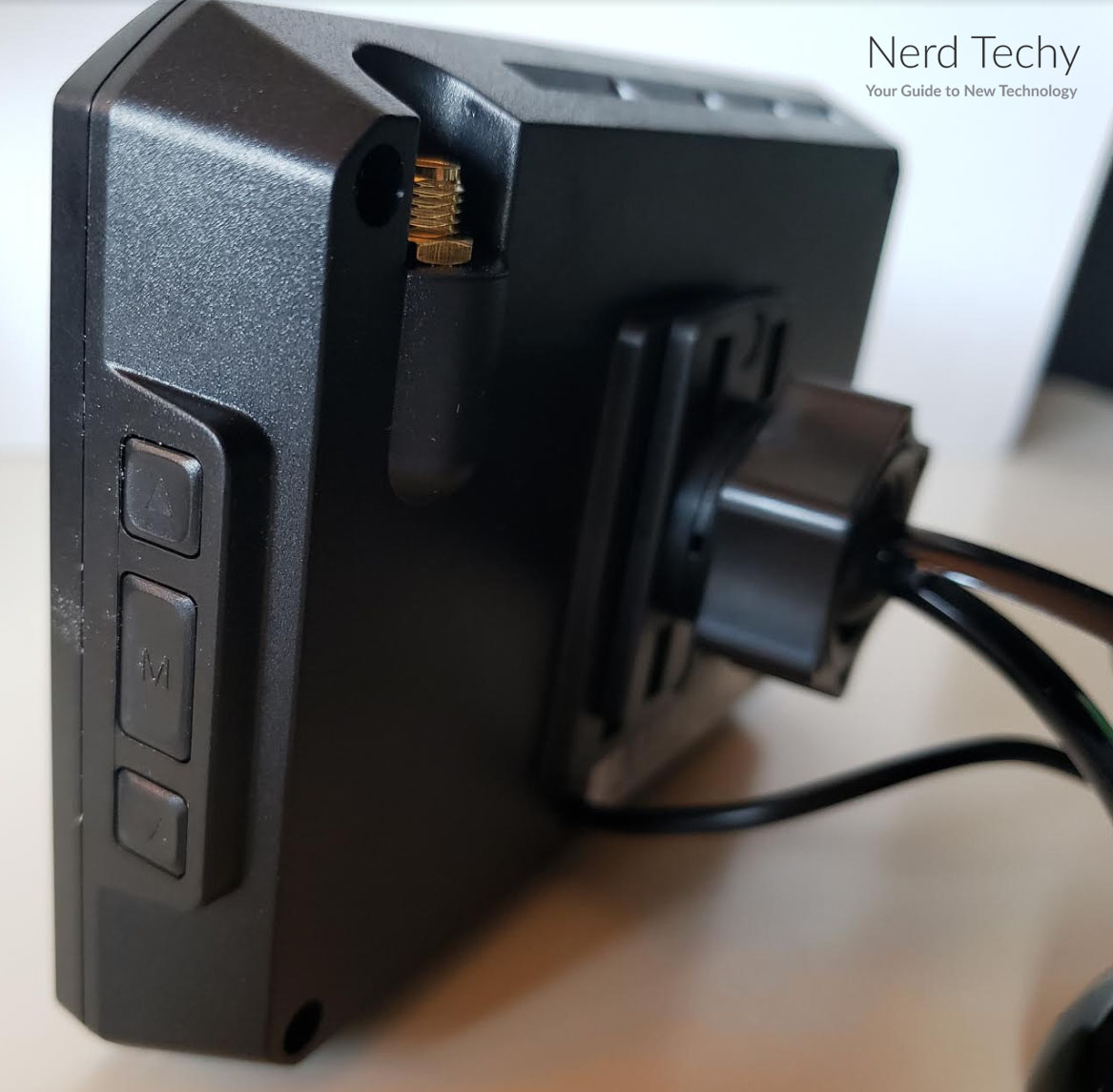 The monitor's really a phenomenal addition to the kit as a whole. It's powered using a standard car charger. Even this has an added bonus: an extra USB port that lets you charge other devices at the same time. This way, you won't take up your one car charger from your monitor alone. The remote, we should note, does take disposable batteries. However, it drains so slowly that we can't imagine this ever being a real concern.
The only real downside to be aware of is that the monitor isn't touch screen. So you'll need the remote functioning to use its features. Be aware of this in case you're driving in the dark and lose the remote.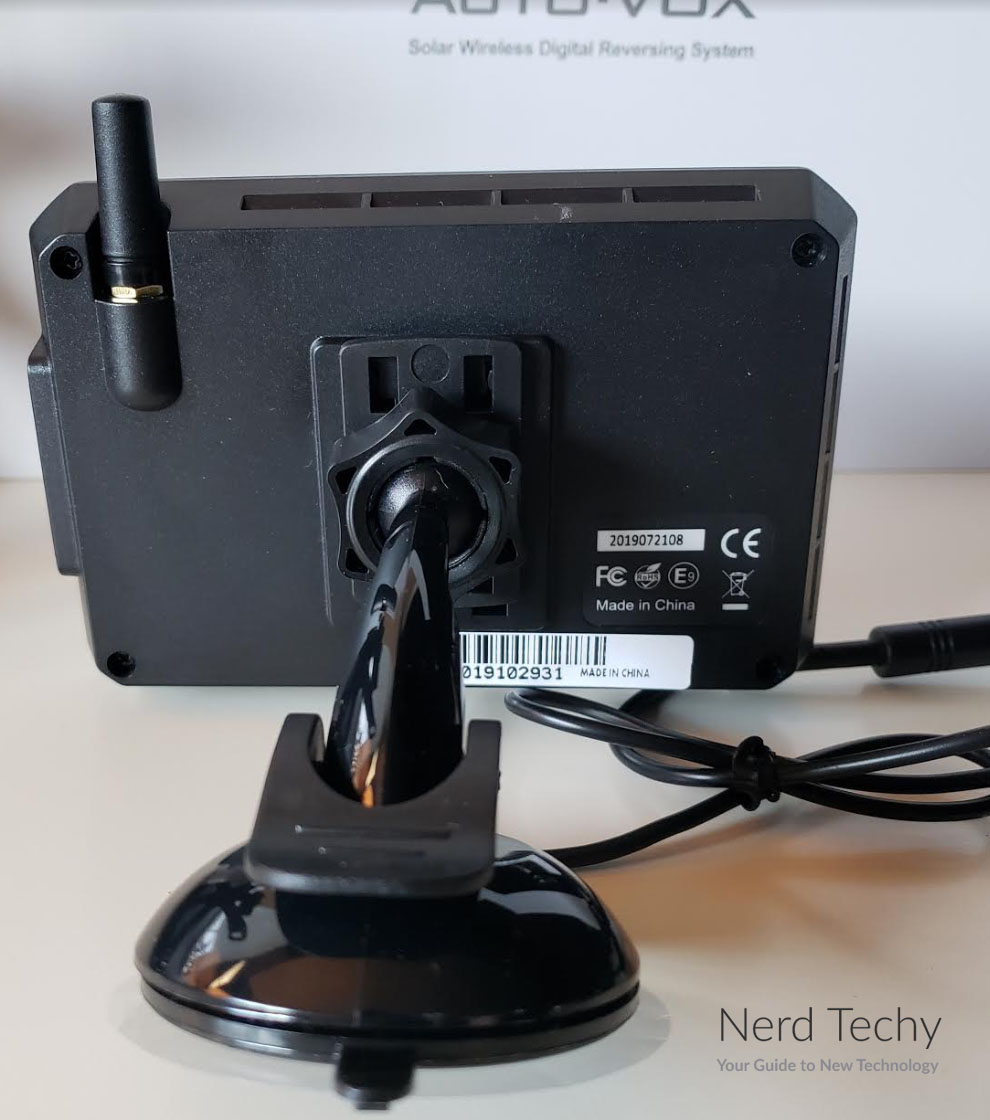 Appropriate Car Models
So, what models of car are compatible with this phenomenal backup battery? It ought to work with most cars whose lengths are within 32 feet or so. As a result, most modern SUVs, sedans, minivans, and other car models should work perfectly with this backup camera.
Larger vehicles, such as bigger vans, RVs, and huge trucks can also use this backup camera. They'll need to investigate the extra Auto-Vox HD Wireless Camera antennae. This additional antenna doesn't change anything about the exceptional quality of the camera itself. It's just a signal enhancer that you can mount to the inside of your dashboard or the outside of your cabin.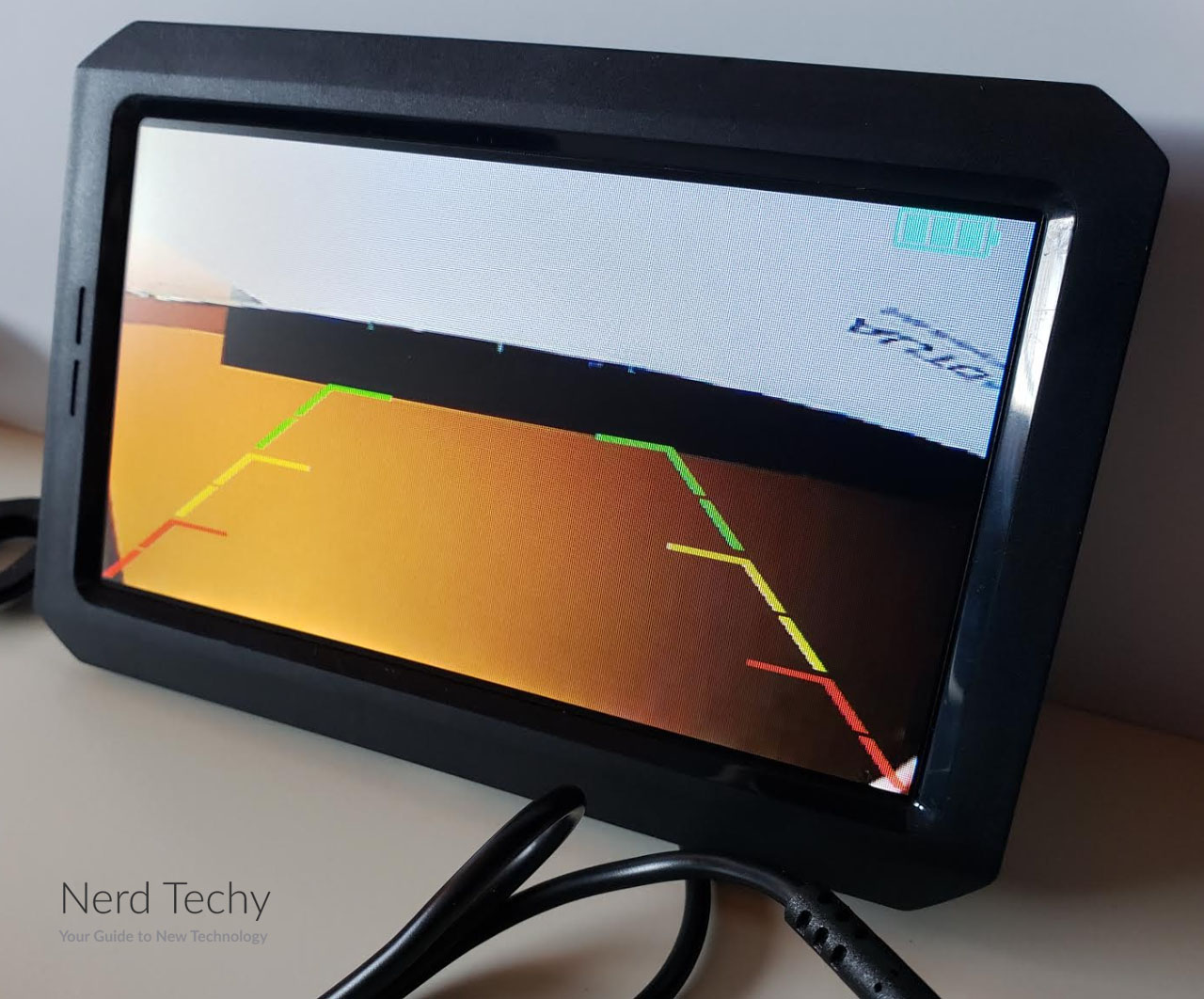 The magnetic base makes installing this antenna super easy and will keep it stable even as you drive over bumpy terrain. It can boost your signal strength with 360° functionality and extra flexibility. You'll be able to position it for optimal performance by bending the antenna this way and that. It ultimately increases your overall signal range up to 66 feet.
Final Verdict
Ultimately, the Auto-Vox Solar Wireless Backup Camera Kit will be an excellent choice for lots of folks. It's quite capable as a general use observational camera. It can serve just as well for helping you reverse park or keep an eye on your rear during a nighttime drive.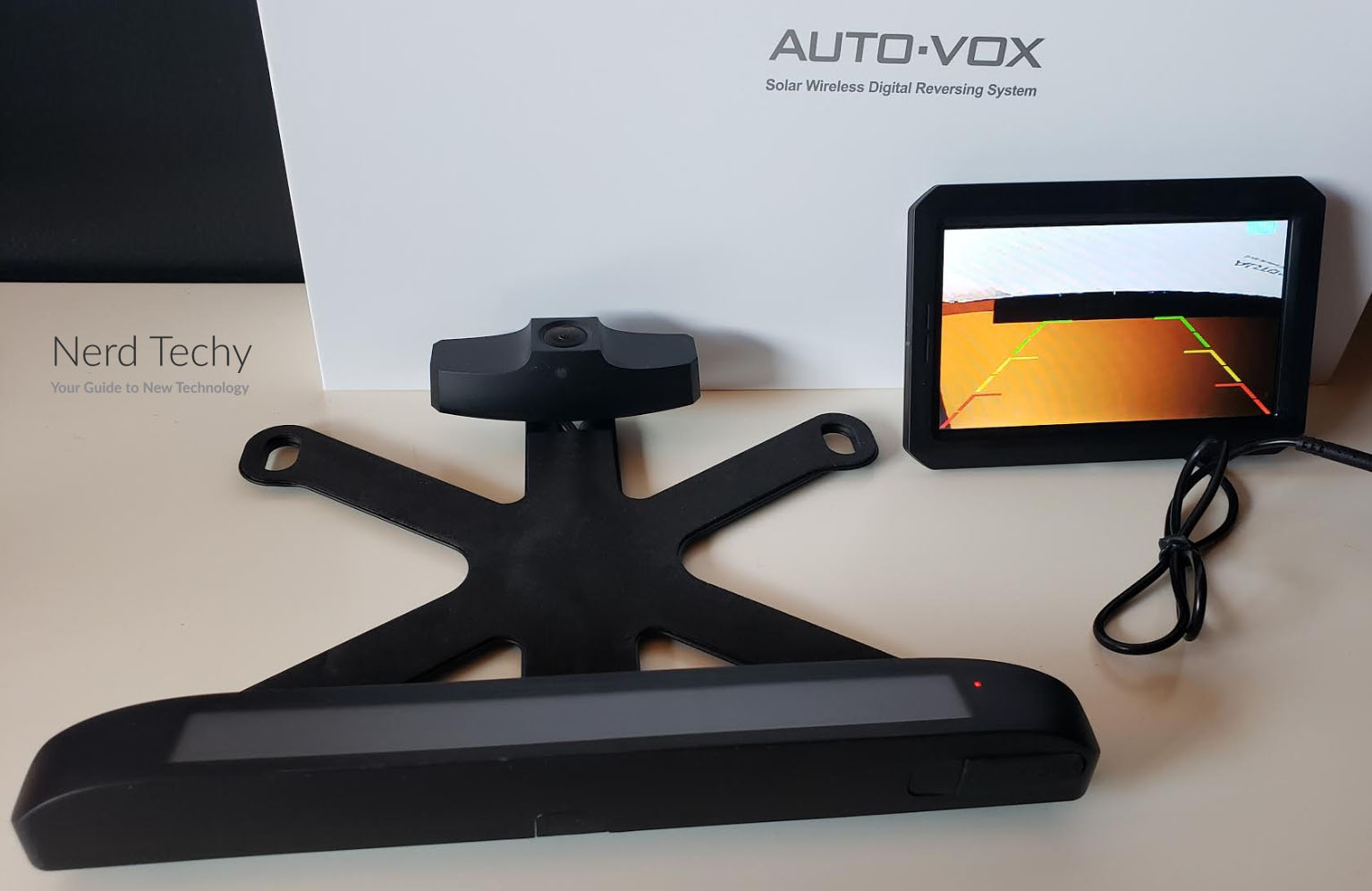 Its multiple charging options negate the one downside of solar power cameras. In the end, the only drivers who may have a bone to pick are ones with larger trucks. Even then, purchasing the affordable additional antenna will take care of those problems. All in all, it's an excellent backup camera regardless of what you might need one for.