Quick Analysis
Pros
Projects high-quality images in vibrant color.
Screen size and tilt can be adjusted easily.
Fairly quiet operation.
Can be used with a multitude of storage mediums, including SD cards.
Cons
Manual controls are slim; most are digital.
Can still run a bit hot at max settings/brightness.
There's nothing quite like gathering the family together and enjoying a movie on a projected screen. Full HD projectors are just starting to become more common household appliances. They can stand in for larger TVs and enable bigger groups to enjoy the same feature film or TV show. With these, you don't have to purchase a super-huge TV set for everyone to see the screen. Alternatively, you can use these kinds of projectors to set up your own backyard movie party. Grab a screen that works with the projector, and your own drive-in theater is almost ready to go.
Yet although these projectors can be fun for the whole family, they can also be frustrating. Cheaper, poorly designed projectors will leave you disgruntled up the quality of the film on the screen. Or they might run terribly hot or loud, preventing you from enjoying the action being projected. Other subpar projectors are difficult to use or may not bring the movie to life in high detail.
The Vankyo Performance V630 Full HD Projector seeks to provide an excellent movie-going experience. But doesn't succeed in its endeavor? We're going to find out in our in-depth review of all of its features and qualities. We'll examine how well it provides movie projection services and see how easy and comfortable it is to use. By the end, we'll all know exactly what it can offer and whether it's worth the asking price. Let's jump in!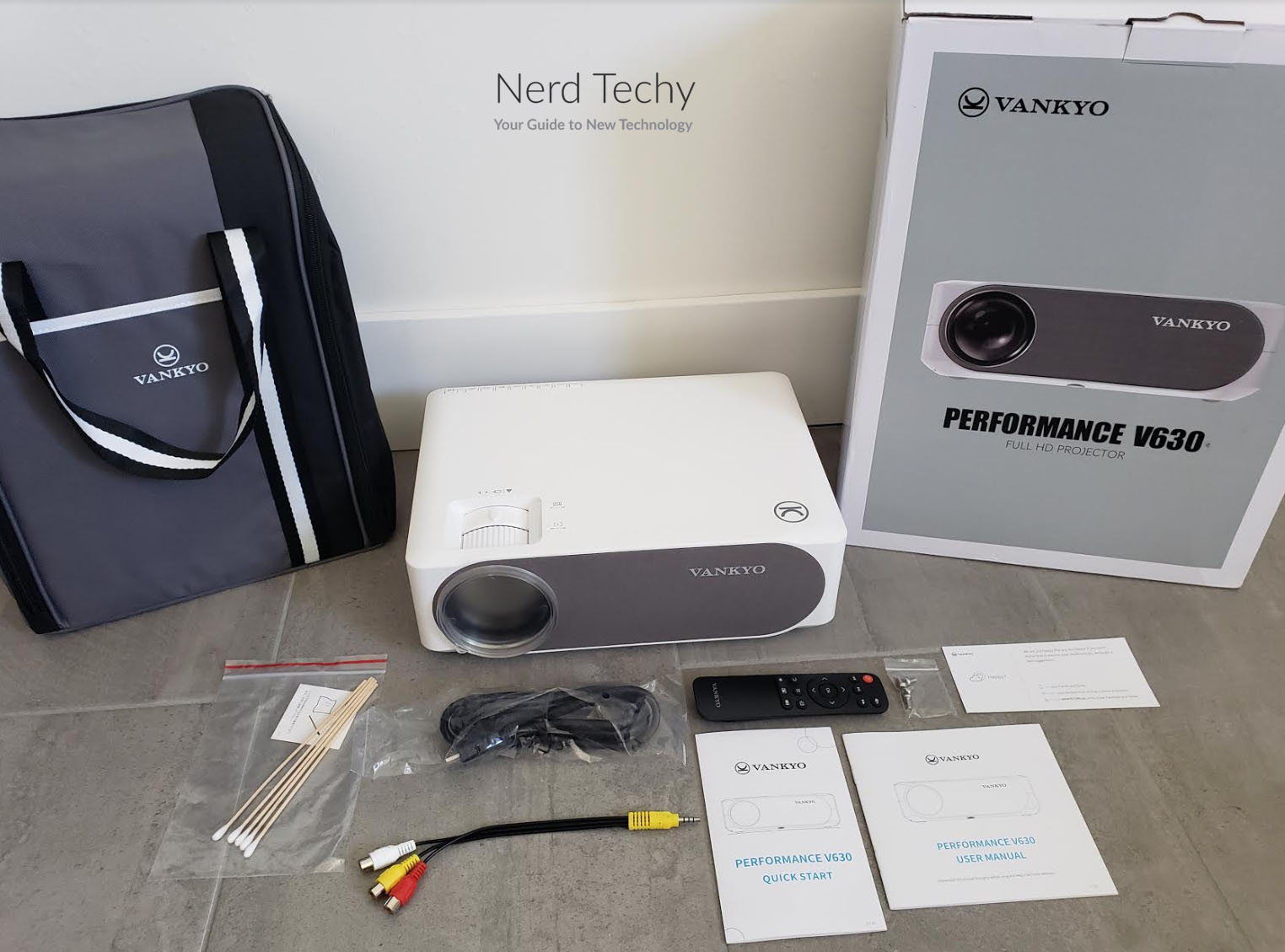 HD Projection Performance and Quality
The Vankyo Performance V630 Full HD Projector has a number of excellent features that make it worth a look. Let's start with its projection's normal or native resolution, which is 1920x1080p. To put this number in a more practical way, it's excellent. This is full HD imaging whenever you use this project are to play video or film. With a 5000:1 contrast ratio, pixel quality will be sharp and image detail will be extreme. Characters and backgrounds should look crisp and colors should be fully dynamic no matter what kind of video content you play. The colors are actually improved thanks to the high brightness power of the projector, too.
It measures in at 6500 LUX. For those not in the know, LUX is a way to measure the illuminance of a square meter of space. The higher this number, the better illuminated it is and the more color you can achieve with a video projector.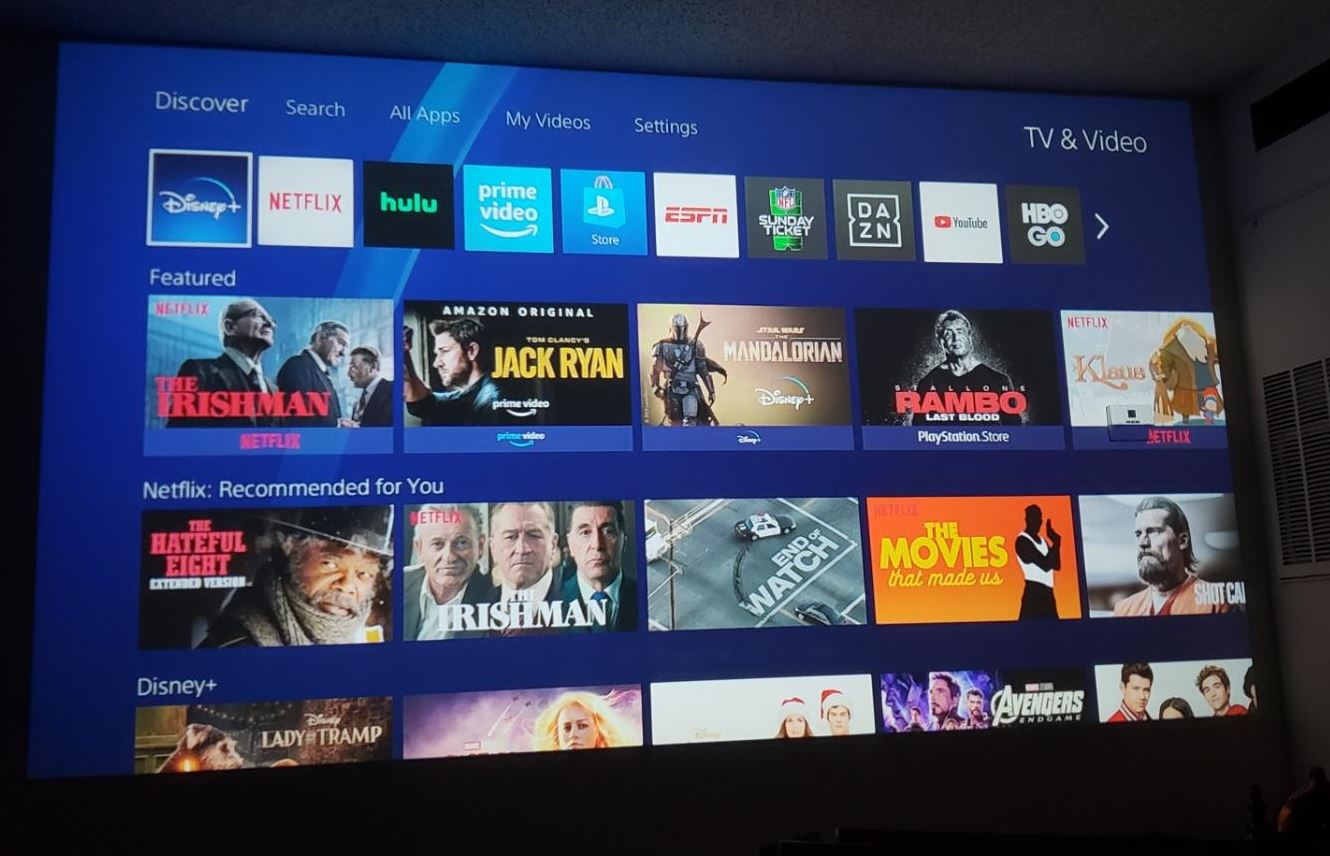 This high LUX rating is doubly useful because it means the projector will look great even in brighter ambient light conditions. For instance, weaker LUX projectors are best used for dark rooms only. But this projector is capable of projecting with enough intensity that you can use it during daylight hours.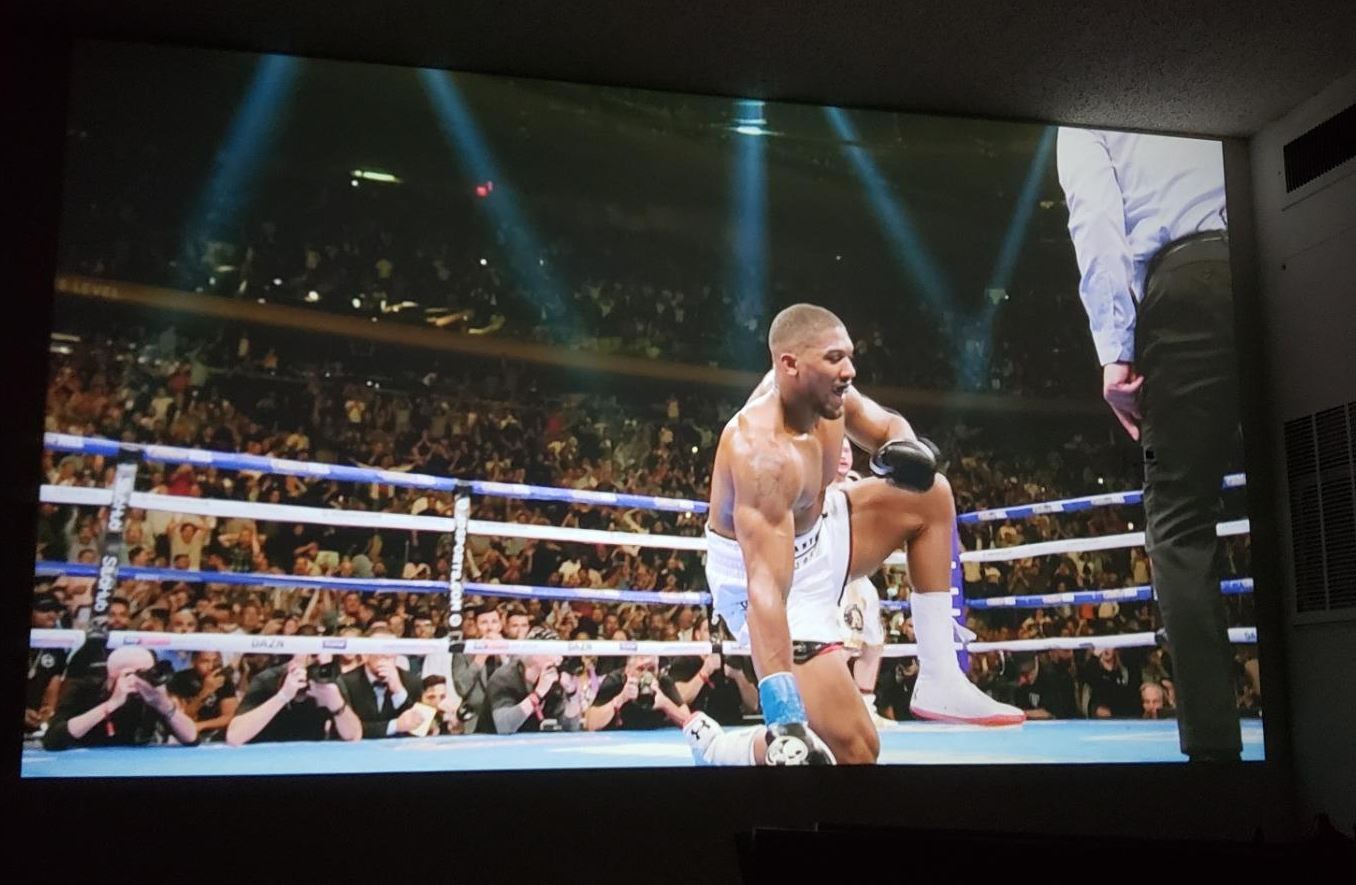 For context, the vast majority of other movie projectors can only reach 2400 LUX. They can also only reach 480 P resolution. These are the projectors you probably had to endure at school when teachers gave presentations. We can't understate how superior and more advanced the V630 is in comparison. The difference between the images projected by the former and latter types of machines will be night and day.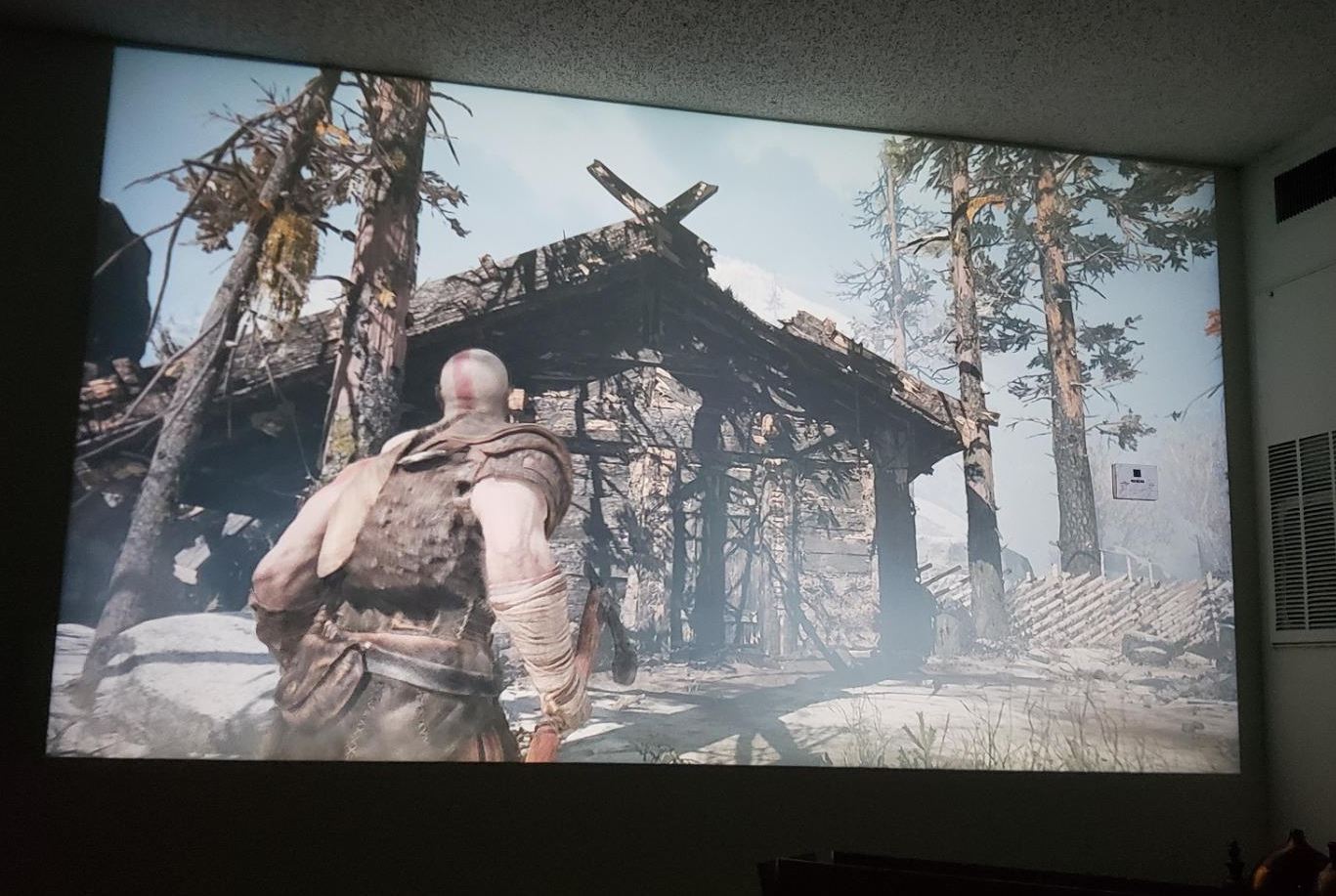 All of that brightness will eventually wear down even the most durable projector lamps. The V630's lamp life span is 50,000 hours: quite remarkable given the high lumens rating. This means you'll very rarely need to replace the projector lamp bulb, compared to cheaper projectors that require more frequent replacing.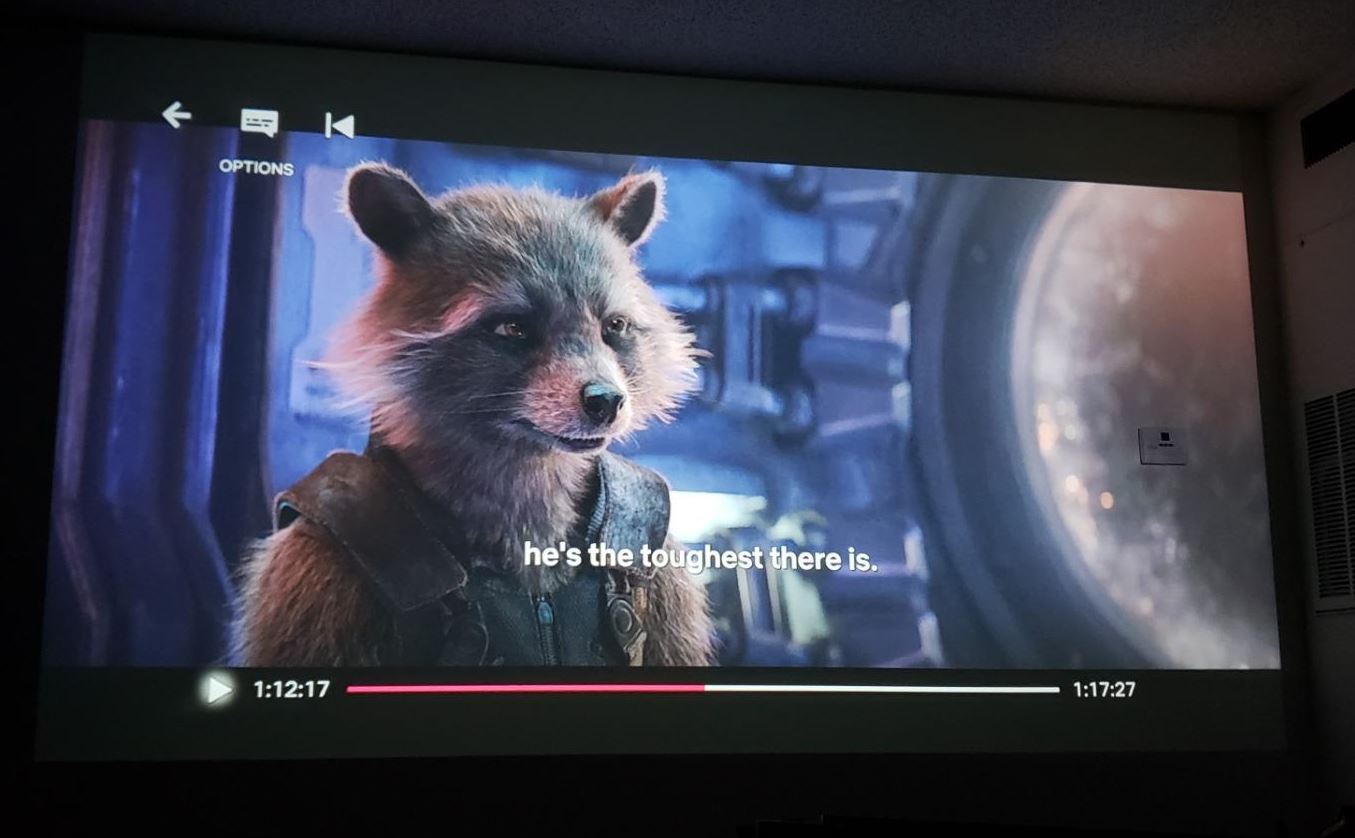 Projection Options and Adjustability
When it comes to projection screen size, the V630 doesn't disappoint. It can project at a maximum screen size 300 inches, with a minimum screen size of 46 inches. As you can see, there's plenty of versatility and flexibility with this projector. No matter the size of your screen, it should be able to provide you with ideal imagery within its borders.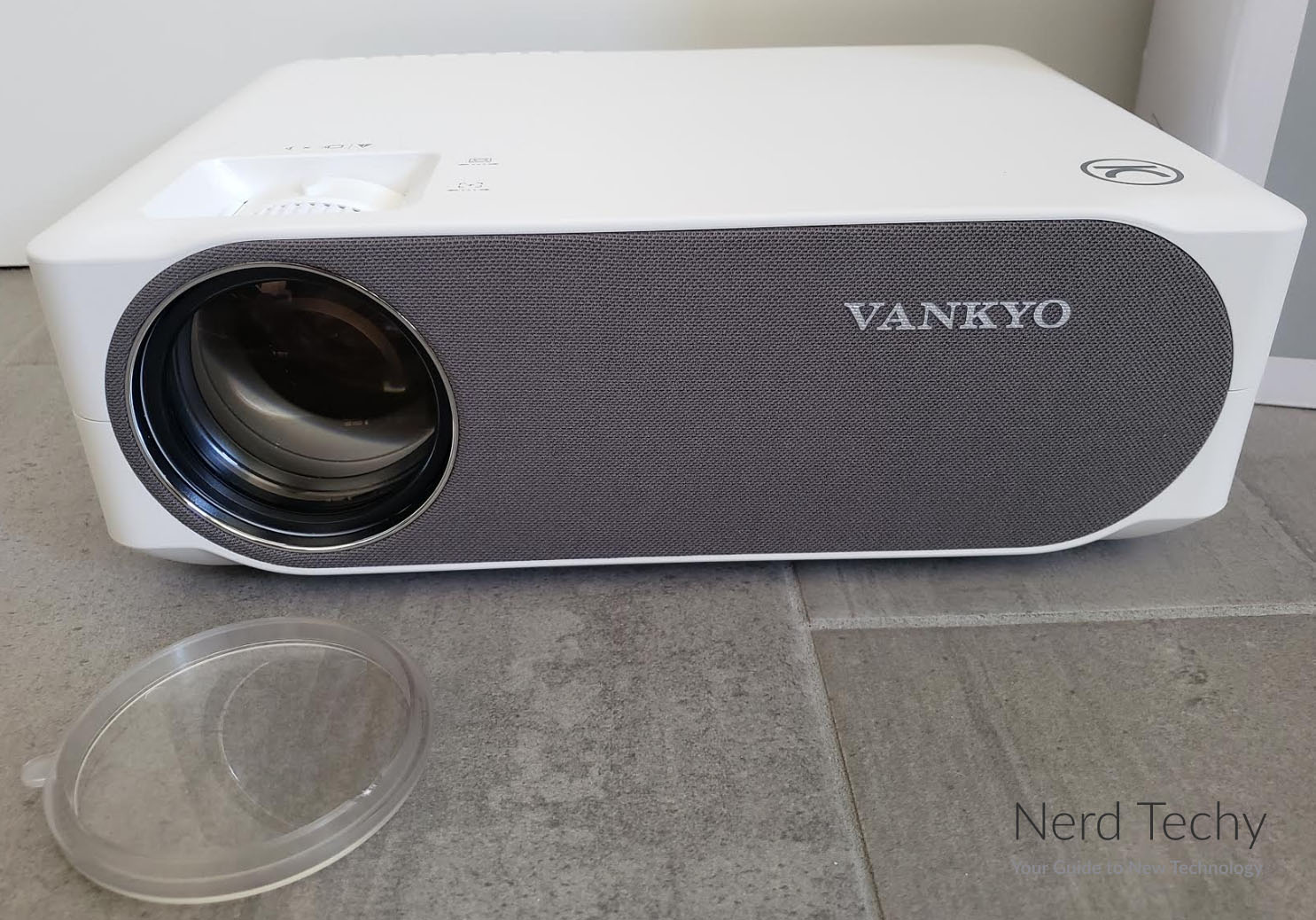 The projection distance is similarly flexible. The V630 can work from distances between 5.15 feet and 30.18 feet. This gives you lots of wiggle room one setting up your home theater or backyard movie viewing experience.
Other Features and Ease of Use
So far, we're impressed. What about extra features? The V630 LED projector makes good use of a set of advanced electronic keystone correction technologies. Once you get past the fancy words, this just means that it can adjust keystone correction up to 45°. Keystone correction refers to the tendency for projected screens to actually hit the wall at a slight angle. With this tech, the V630 can compensate for this. Your projected movies should look excellent no matter the surface on which you hang your screen. It's just another way that the projector ensures fantastic performance and visual fidelity.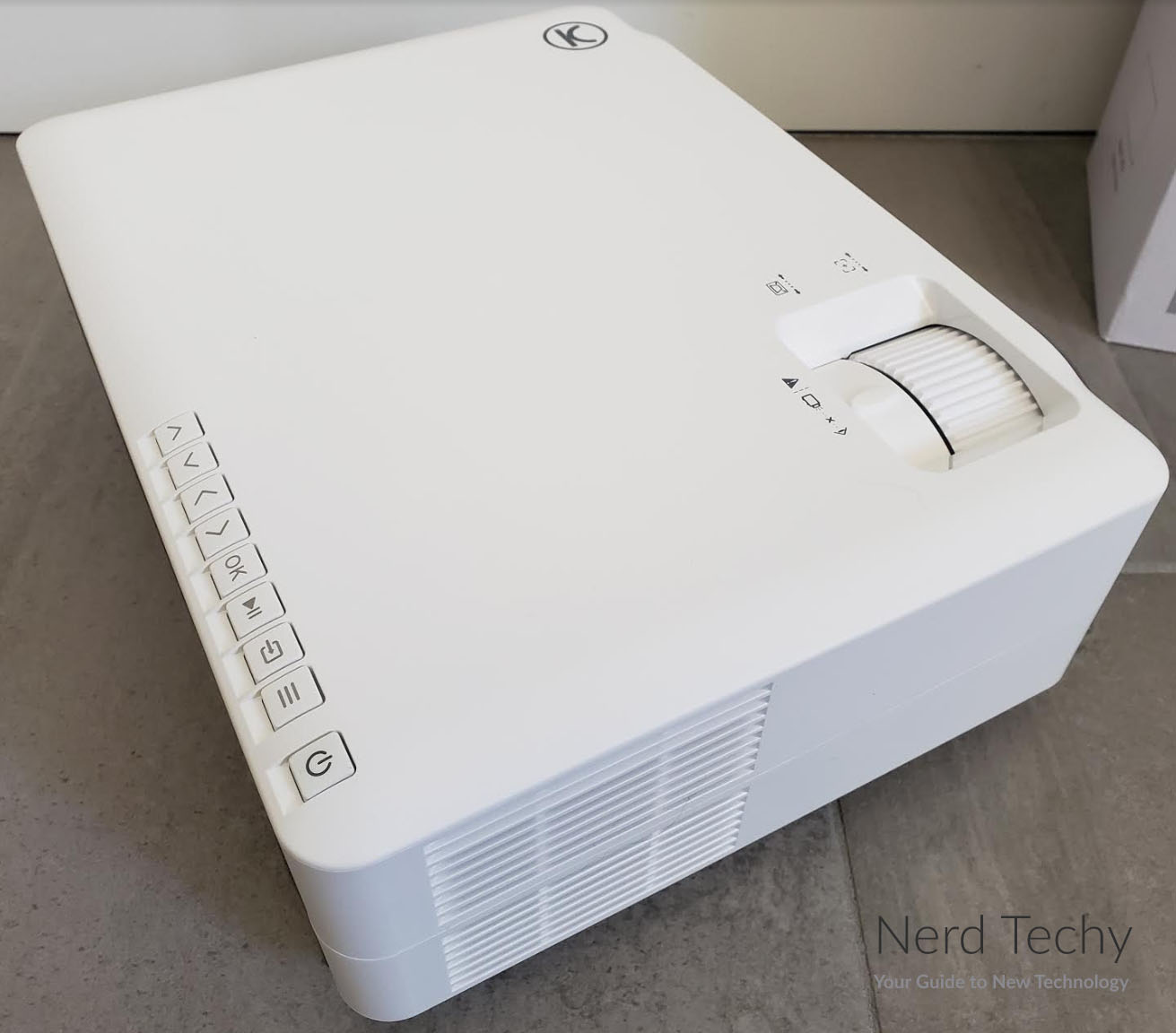 Controlling all of these systems is really easy thanks to the row of simple buttons located on the top of the projector. These buttons are easy to understand with or without the included instruction manual. They control the screen projection settings or brightness settings. A ring near the lens itself can help you change the width of the screen and other elements, too.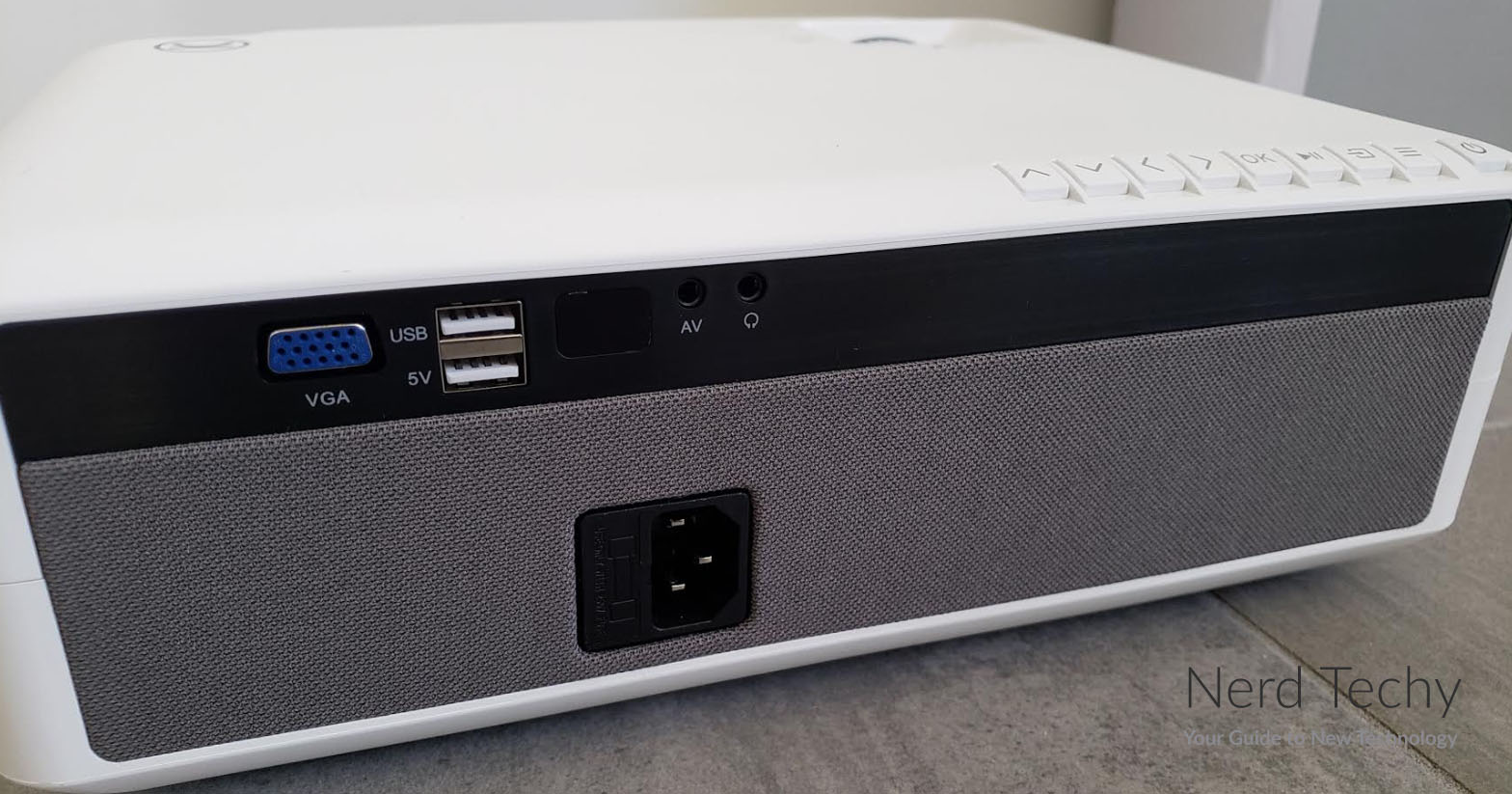 Noise and Cooling
However, many of the best movie projectors are quite loud thanks to their cooling systems. How does the V630 measure up? Quite well, with an innovative cooling system that effectively disperses heat. The design of the projector allows for ambient heat dispersal that works in conjunction with a built-in fan.
At the same time, the fan does a great job of keeping the internal components cool. The surrounding chassis for the projector cuts down on fan noise by about 80% compared to other projectors. As a result, one of the most annoying aspects of projectors is largely eliminated in the V630. You'll be able to set the projector relatively close to your seats and still hear your favorite movies above the fan.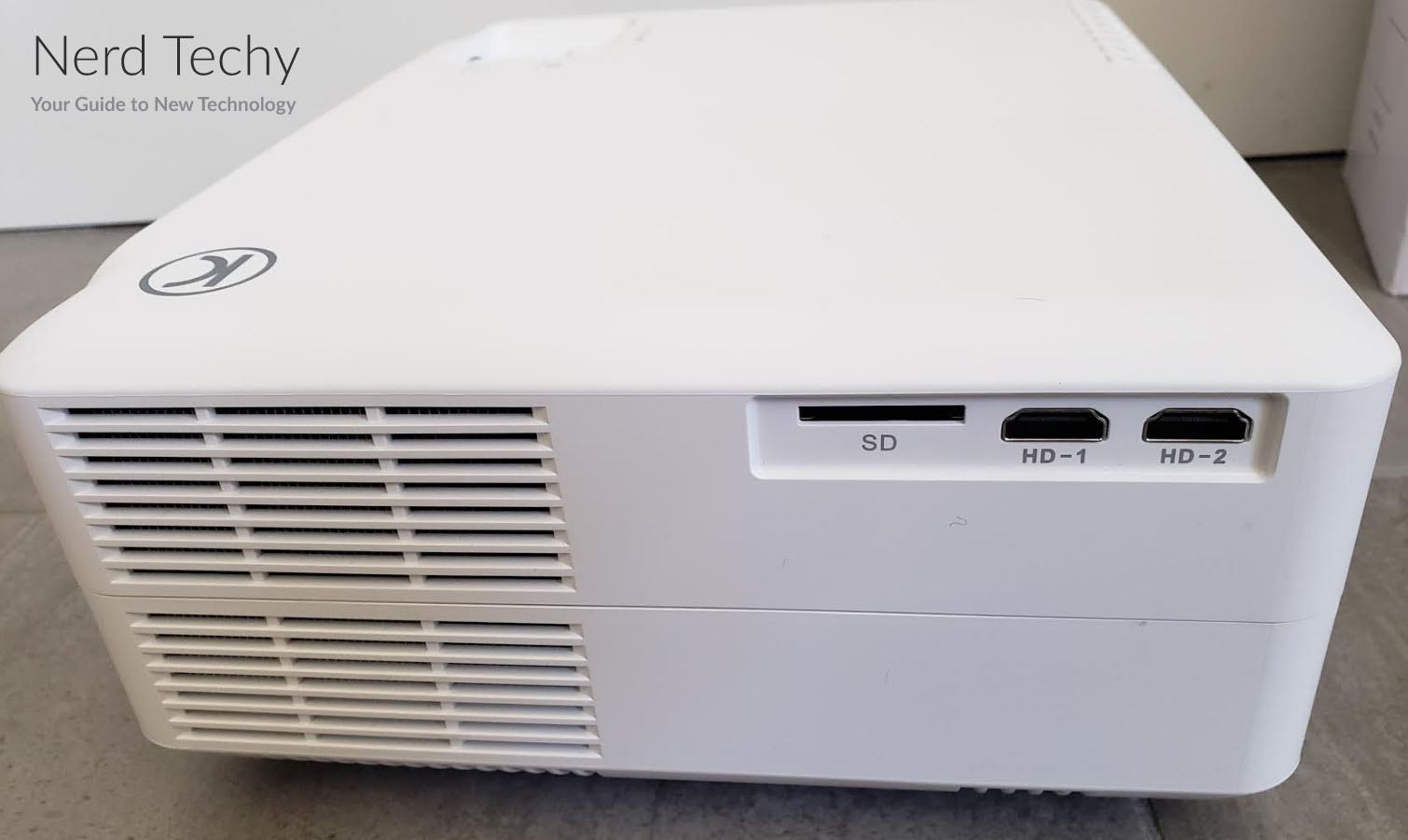 How Can It Play Movies?
There's even more that makes the V630 worthwhile, however. It's equipped with lots of compatibility ports, which we find helpful for most users. HDMI, AV, VGA, USB, and even SD card ports are all represented with at least one slot for each. This helps the average movie projector fan since you can combine this projector with multiple devices or video types.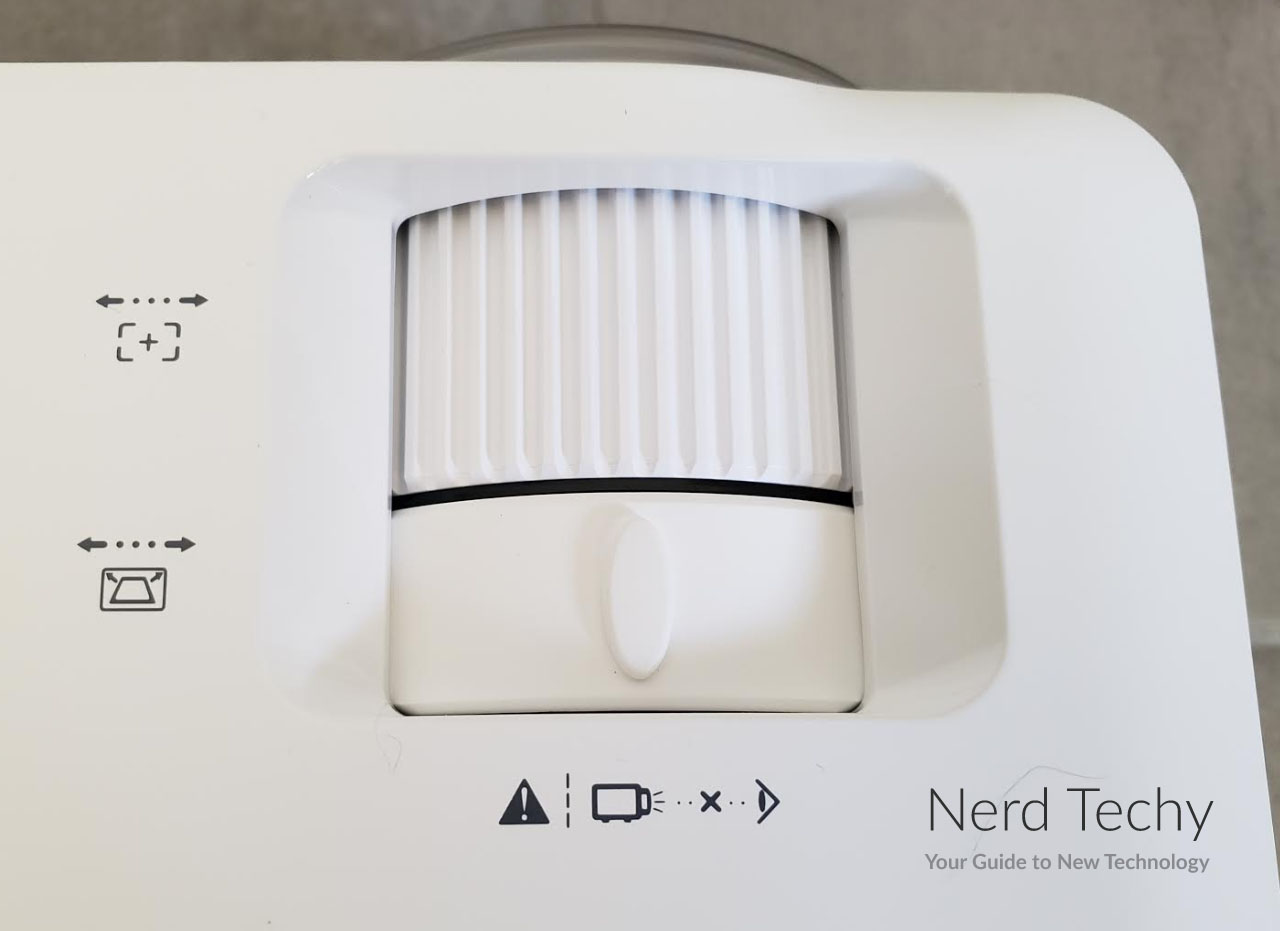 Too few projectors have SD card slots, so it's nice to see this functionality present in the V630. All of these ports allow you to combine the projector with gaming consoles, laptops, and even some smartphones. Basically, you can use this projector with almost any video-holding device you can imagine.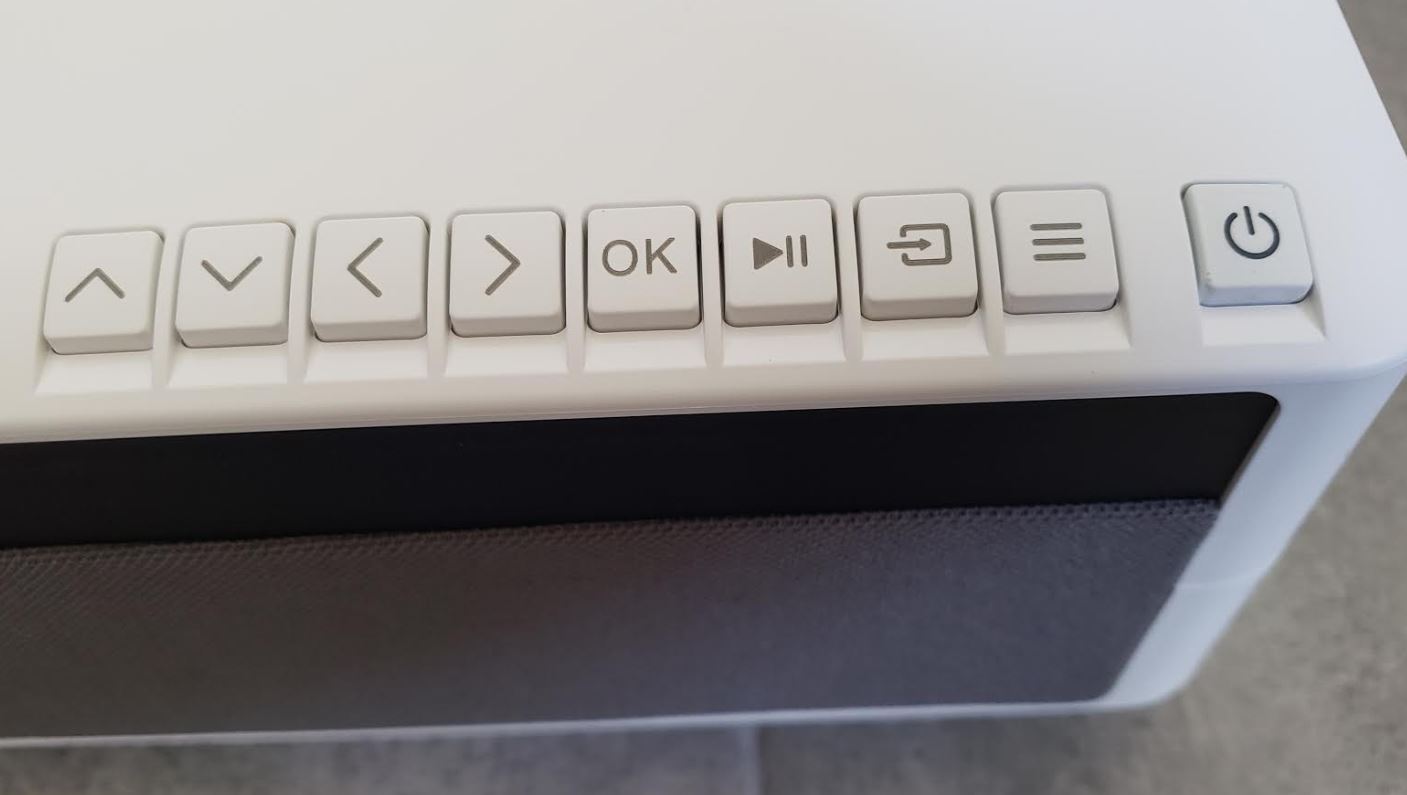 Then there's the three-year warranty and professional support. The warranty is actually precluded by a three-month period when you can return the projector for a full refund. Shipping is even covered during this timeframe. As such, this is a great projector to choose if you're not 100% sure about which kind you need for your set up.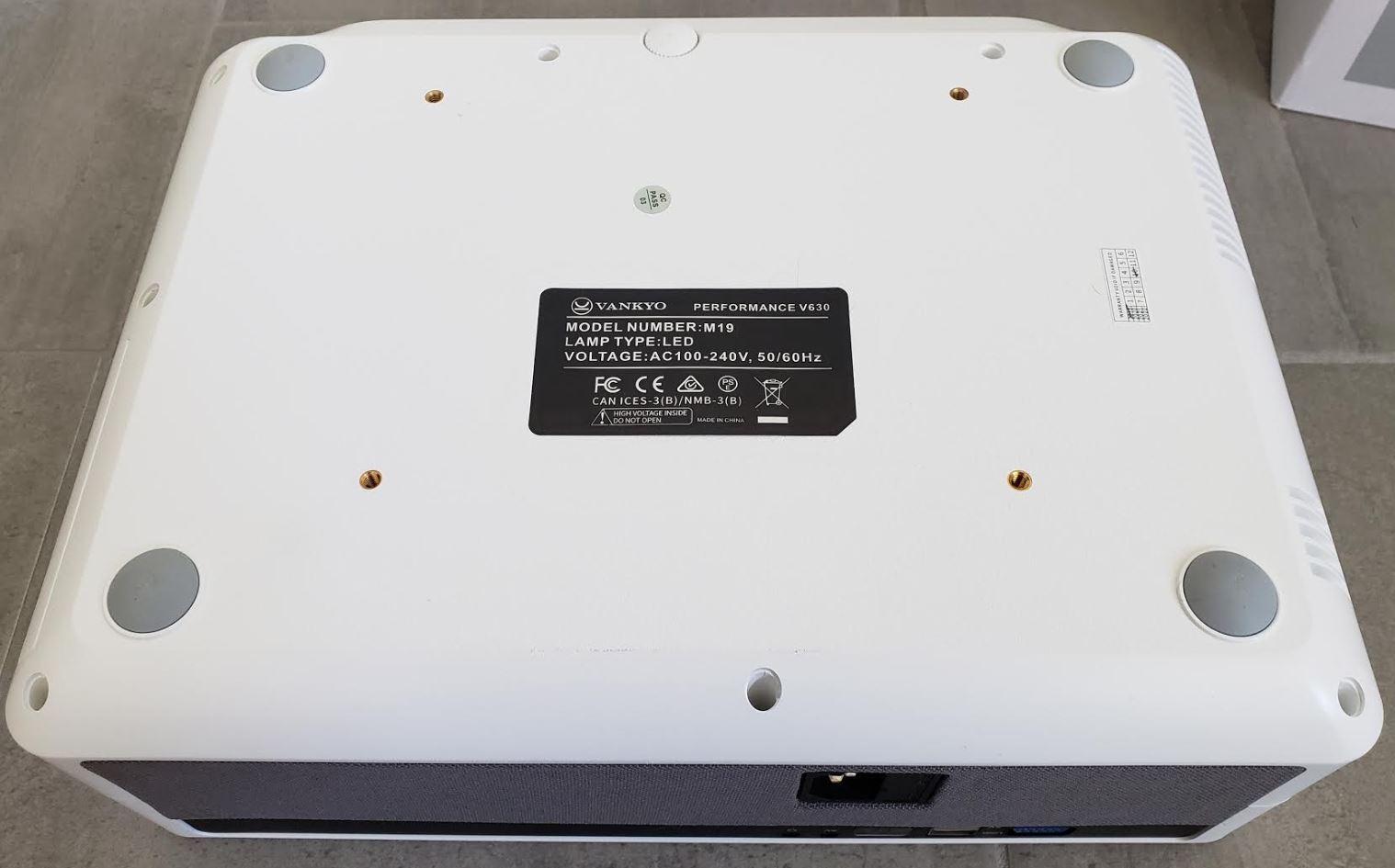 After the free return period has passed, the three-year warranty kicks in. It offers free repair and lifelong professional customer service. If you have any technical issues, the Vankyo support team is on hand to help you tackle those, too. Once again, this is great for those who aren't the most technically minded.
Final Verdict
We think the Vankyo Performance V630 Full HD Projector is a great example of its kind. It provides fantastic video quality for anyone who uses it and a very bright picture with high color fidelity. In short, you'll enjoy any film or TV show you combine with its projecting abilities. It's also super easy to use thanks to its myriad ports. Whether you have a show or movie on a computer or ST card, the V630 can handle it.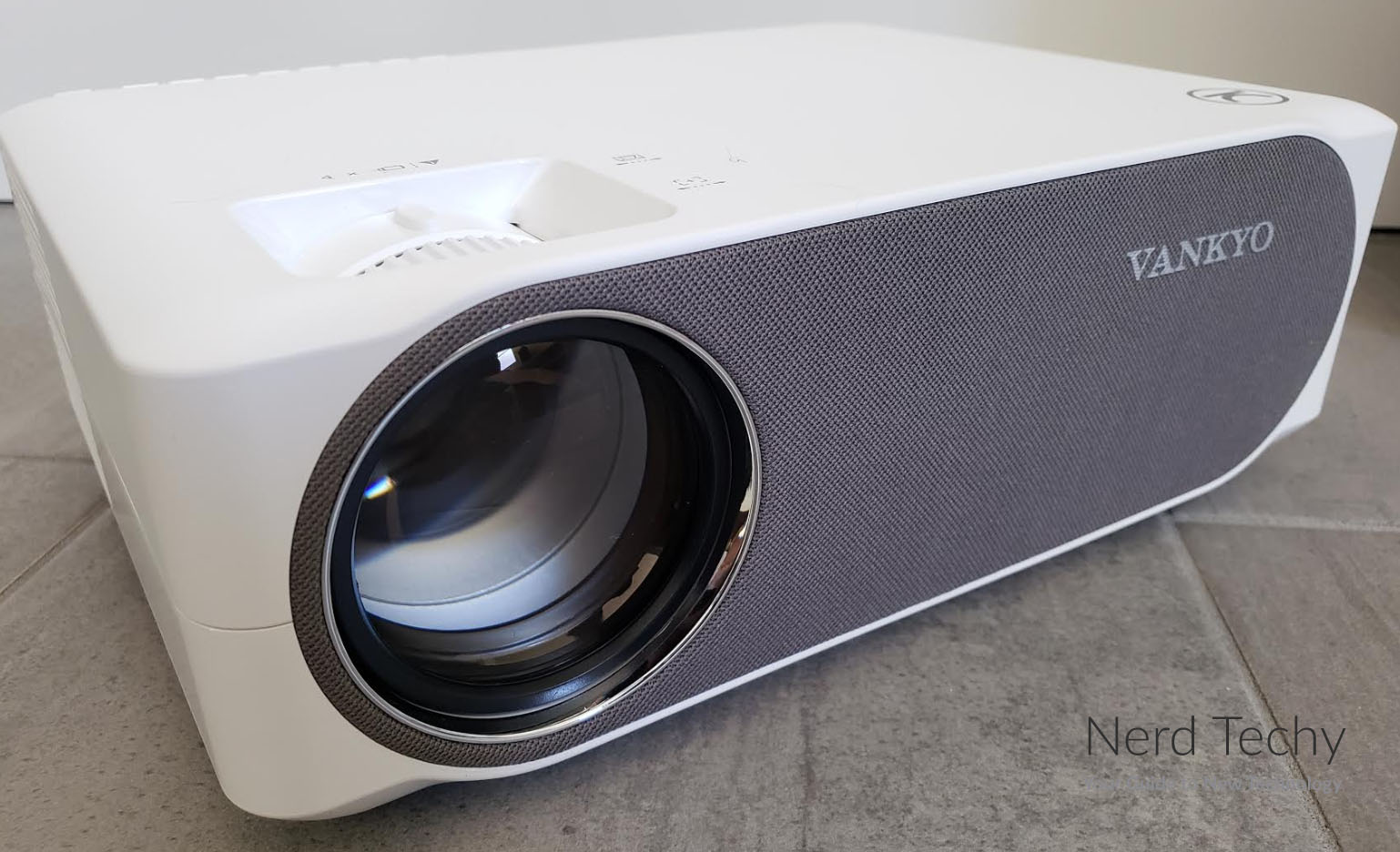 We also really appreciate its quiet running and its ability to properly cool itself without screaming in the background. Nothing ruins a movie faster than a whining projector. Add to that its excellent screen adjustment settings and you've got a real winner on your hands.
It'll work fabulously as either an indoor or outdoor movie projector. Pair it with a high-quality backyard screen and you'll be set up for a great time.