For many artists, tracing is a key part of the process. To be fair, that's not always the case. A lot of artists prefer to work freehand. After all, creativity and a "human touch" are part of the process, right? But there are many reasons you might want to trace an image. For one thing, suppose you want to copy the same image exactly, several times over? Working freehand, that's virtually impossible to do. The human brain isn't a photocopier. With a tracing projector, the task becomes easy. You can project and trace the same image over and over, creating near-identical copies with ease.
Let's look at a few examples of where this might be useful. For instance, suppose you're decorating a child's bedroom. You want to create a repeating pattern of teddy bears or balloons on the wall. There are stencils for this, but the variety is relatively limited. Instead, you find an image online, print it off, and project it on the wall. Presto! You have a virtual, custom stencil. The same can be done for public art. You can project flowers or other images on a concrete wall, and duplicate them without a physical stencil. The applications are virtually endless, which is why art projectors are growing in popularity.
We've reviewed a number of traditional projectors in the past, so we're familiar with the basic technology. And today, we're going to review three different art projectors. First, we'll look at the Artograph EZ Tracer Art Projector. This is an affordable, lightweight projector that's best suited for kids or for single-use applications. Next, we'll check out the Artograph 225-090 Multicolor Prism Art Projector. This is a more advanced projector that's a better choice for professionals. Finally, we'll examine the NeoLucida XL. This projector is designed to transfer real-world objects to paper, rather than vice-versa. Which one is the best for you? Let's take a closer look, and see how they compare!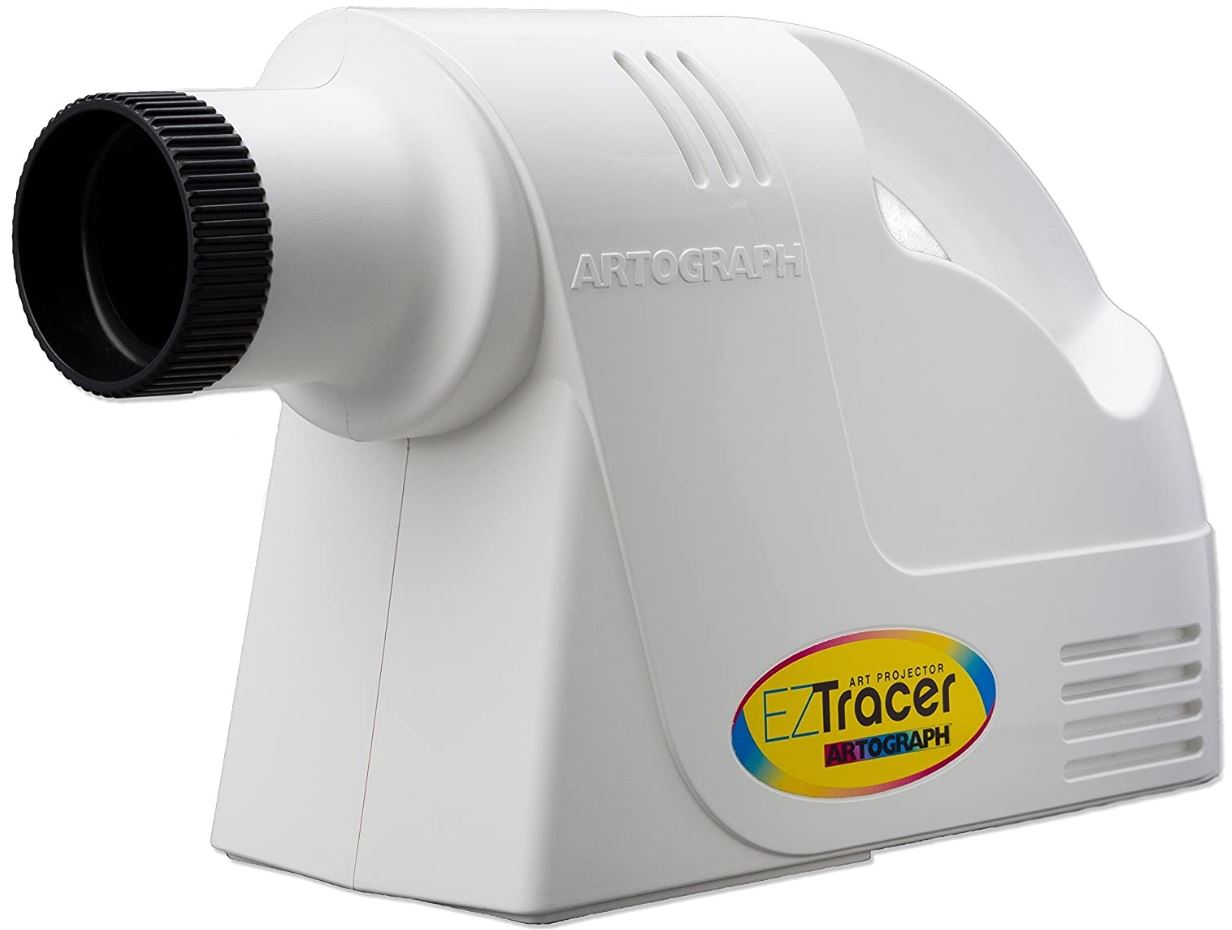 Artograph EZ Tracer Art Projector
Artograph is an established player in the tracer and art projector market. In the past, we reviewed their LightPad PRO1700, and it stacked up pretty well. As a result, we were excited to see how well their true projectors worked. The Artograph EZ Tracer Art Projector is compact, measuring 11 inches long, 8.6 inches tall, and 4.7 inches wide. It's also lightweight, tipping the scales at only 2.15 pounds. This makes it easy to transport, and ideal for transporting from place to place. Towards the back, there's a curved, ergonomic handle for carrying the projector. Even when the projector has been in use and most of the housing is hot, the handle remains cool. You don't have to worry about burning yourself while you're repositioning your projector.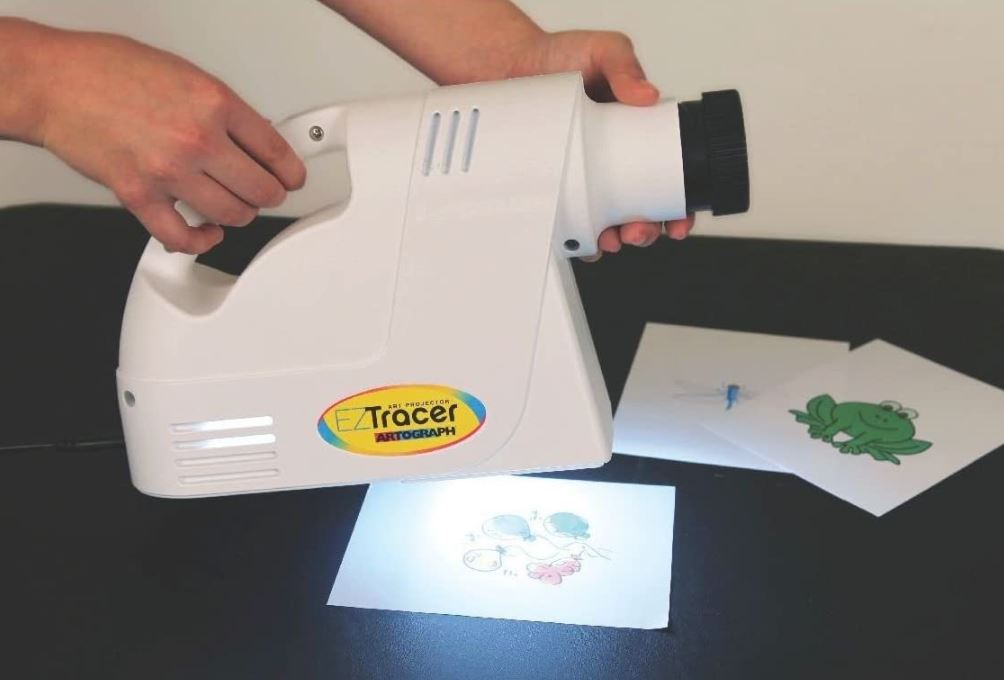 The outer case is white, and constructed from ABS plastic. The sole exception is the front lens housing, which is black. It can be pulled out or pushed in to zoom in or out respectively. It can also be twisted to improve focus. Behind the lens housing, there's a set of vent slots, with matching vent slots towards the bottom of the case. These slots are designed for maximum cooling capacity, and are complemented by an internal fan. The fan is virtually silent, so it won't disturb you while you're trying to work.
The EZ Tracer is protected by a 12-month manufacturer's warranty. If there are any issues, you can send it back for a full refund. And all of this comes at a very reasonable price. You don't have to pay a small fortune just to trace your artwork.
Image Quality and Performance
To project your image, simply place it in the small housing underneath the EZ Tracer. Placement is key here, and you may need to fiddle around with it a little to get the image straight. Still, when properly positioned, you can project up to a 4-inch by 4-inch image. Needless to say, this isn't terribly large. However, you can still get reasonably good quality. You just need to ensure that you have a sharp, crisp original image to copy from.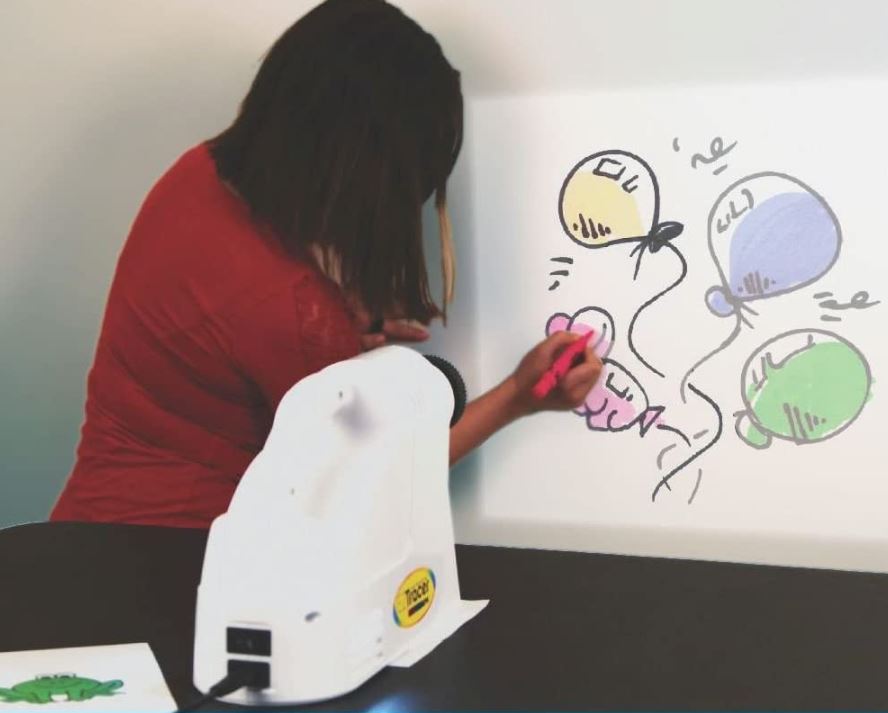 Using the front lens, you can expand the image from 2.5 to 5 times the original size. This equates to a size of 10 x 10 inches at the small end, or 20 x 20 inches at the larger end. Keep in mind, though, that the larger the magnification, the more you'll see any potential flaws. You'll also get less brightness at larger magnifications. For best results, use a 100-watt equivalent LED bulb. This should be bright enough for most purposes. And by using an LED, you won't have to worry about excessive heating.
In addition to tracing small printed images, you also have a couple different options. For one thing, you can actually trace small 3D objects. The key word here is "small". You can easily trace a leaf or a tiny miniature. Anything larger, and it won't be able to fit in the EZ Tracer's projection cavity. You can even trace an image from a smartphone screen. To do this, you'll need to turn off the EZ Tracer's bulb and rely on your smartphone's brightness for projection. As a result, it's only an effective option for dark rooms without any external light interference.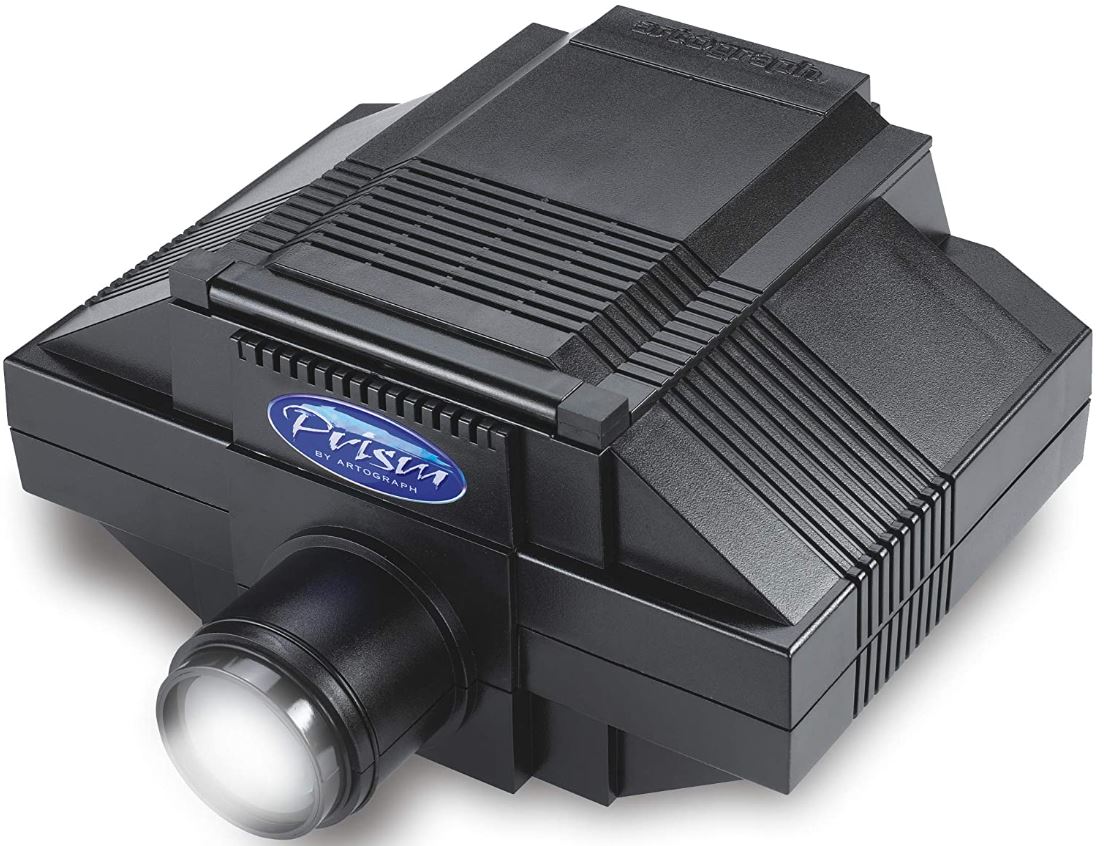 Artograph 225-090 Multicolor Prism Art Projector
The Artograph 225-090 Multicolor Prism Art Projector is a bit beefier than the EZ Tracer. It's also shaped more like a standard projector, with a wide, flat design. It measures 17.5 inches long, 17.2 inches wide, and 10.2 inches thick. It's also heavier than the EZ Tracer, weighing in at 11 pounds. Even so, it's not terribly heavy for the size. Moving it from one location to another is no big deal.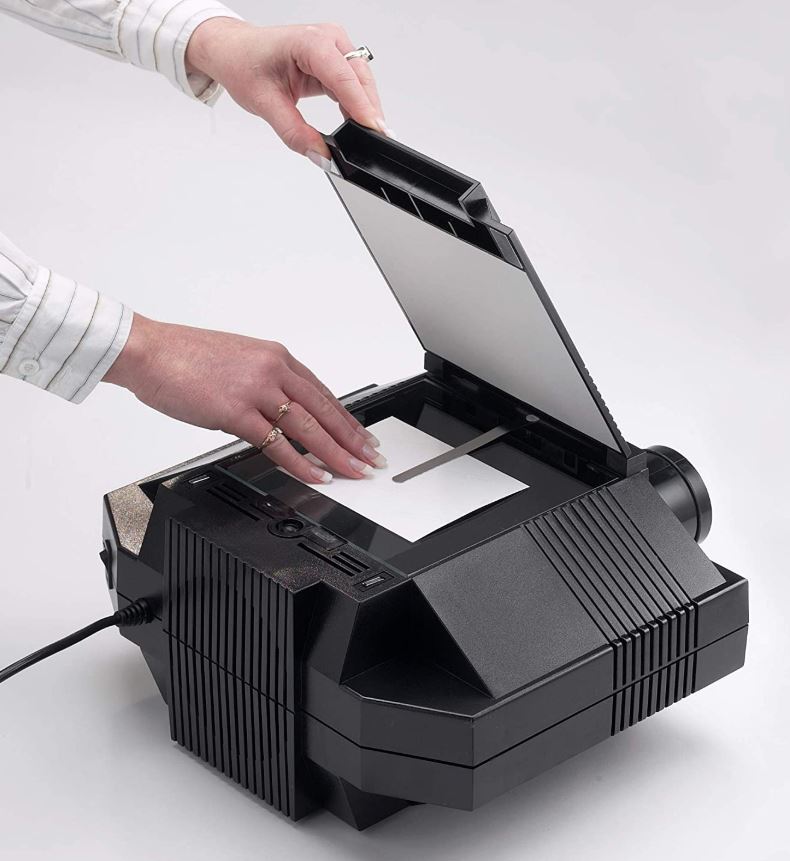 The case is constructed from black ABS plastic, with cooling vents on the side and back. A fan is located inside the back vents, and pushes air through much like the fan in a traditional projector. This will keep the projector relatively cool, even during extended operation. That said, the lens can still get hot if the unit is being used for a long time. Use common sense, and don't touch the lens itself. Not only might you burn yourself, but even if the lens is cool, you're going to smudge it.
The lens can be twisted for focus, or pulled in and out to zoom. In addition, the 225-090 can also be used in a vertical configuration. With the optional Prism/Super Prism Table Stand, you can clamp it to a desk and project on the surface. In other words, the 225-090 isn't just useful for creating wall art. It's also effective for making simple copies and improving your draftsmanship.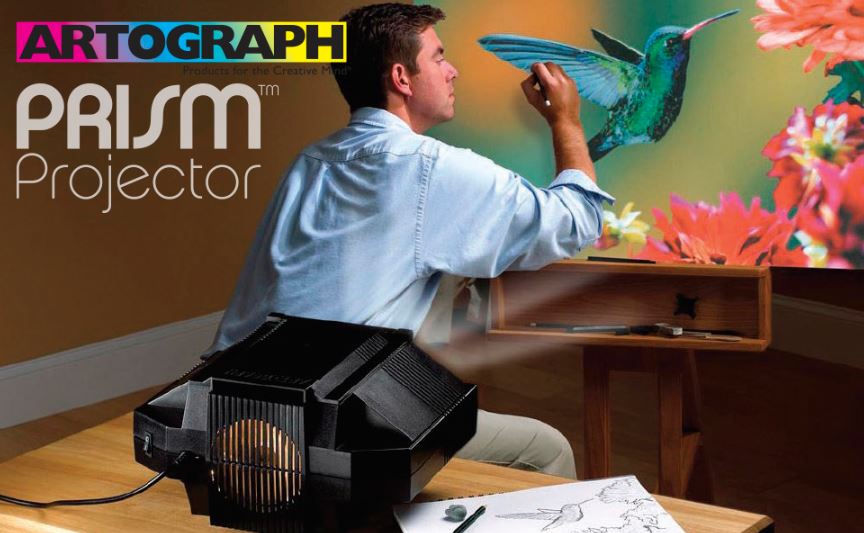 Image Quality and Performance
The Artograph 225-090 is very easy to use. To project your image, lift the hinge on the top to expose the projection chamber. Inside, you'll find a 7 by 7-inch glass sheet where you can place your image. There's even a springy metal clip to keep it in place. This makes it easy to orient your image, since once you've got it perfectly aligned, it will remain aligned. In addition to images, Artograph also claims that you can project small 3D objects. This is technically true, but when they say "small', they really mean it. Anything thicker than about half an inch isn't going to fit in the projection chamber.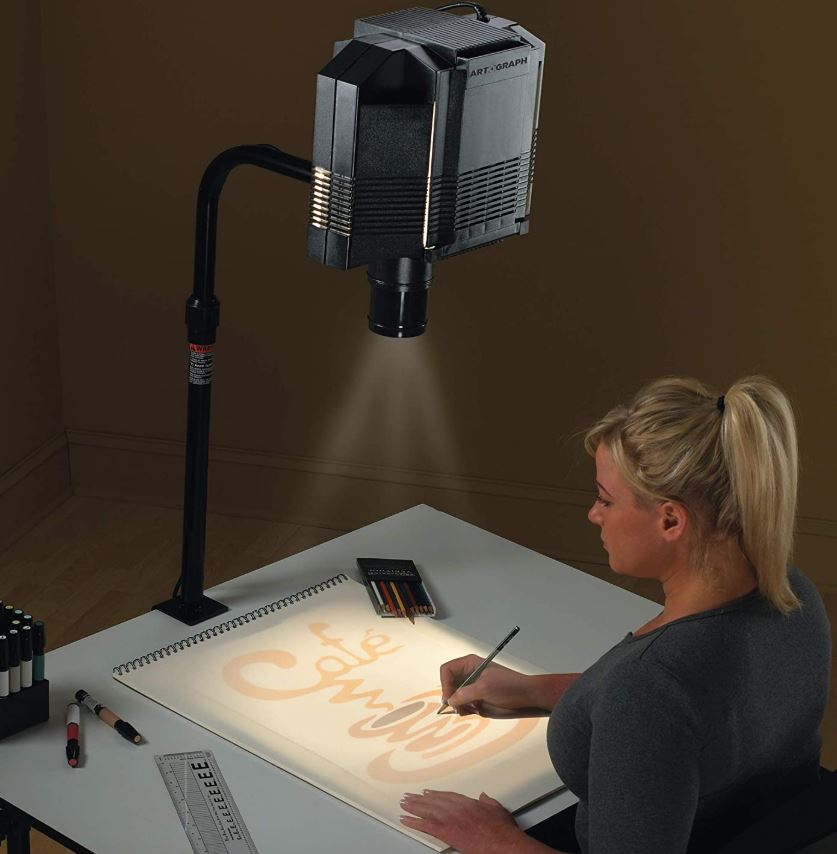 The lens can magnify objects up to 20 times. Assuming a 7 x 7-inch image, you're looking at a maximum image size of nearly 12 x 12 feet. That said, this is very large. Even the pair of 250-watt incandescent bulbs are going to look a bit dim at that magnification level. Moreover, unless your images are extremely sharp to begin with, that much magnification will result in blurring. Still, it's nice to have the option. And at more reasonable magnification levels, the 225-090 works very well indeed. You can even reduce the image to 80 percent of its original size. This isn't terribly useful for walls, but can be helpful in the vertical desktop configuration.
We already mentioned the 225-090's exceptionally effective fan. That said, with the stock incandescent bulbs, the projector can still get pretty hot over time. For best results, simply replace the incandescent bulbs with LED bulbs. This will considerably reduce the amount of heat the cooling system needs to deal with.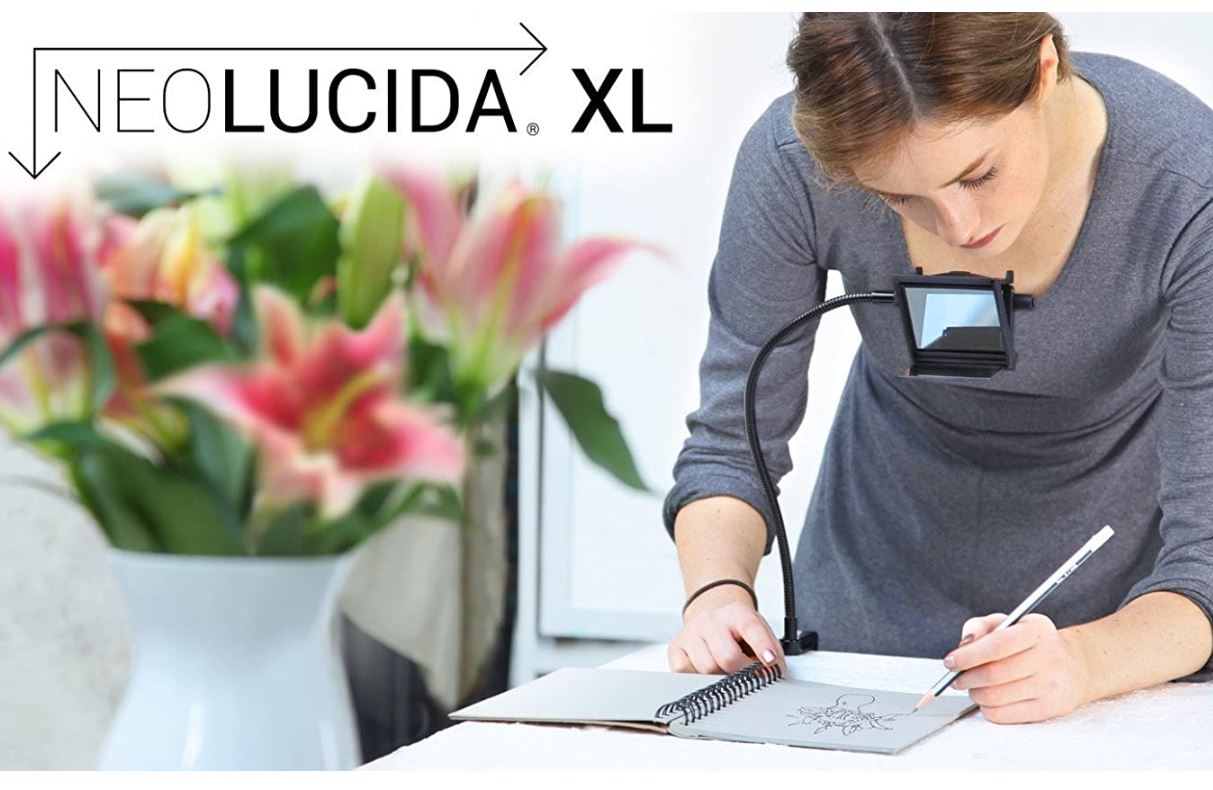 NeoLucida XL
The NeoLucida XL is a bit different than the last two projectors we looked at. Both of those options are designed to project a printed image so it can be traced on a wall. The NeoLucida XL, on the other hand, is designed to project a real-world image onto a piece of paper. As such, the design is noticeably different.
It consists of an angled mirror, which is attached to a gooseneck arm that ends in a clamp. The total length is about two feet, and the flexible arm lets you adjust the mirror as needed. Move it higher or lower, left to right, or tilt it from side to side to get the perfect image. This can take some practice to get right. But just stick with it for a few minutes, and it's fairly easy to get the hang of.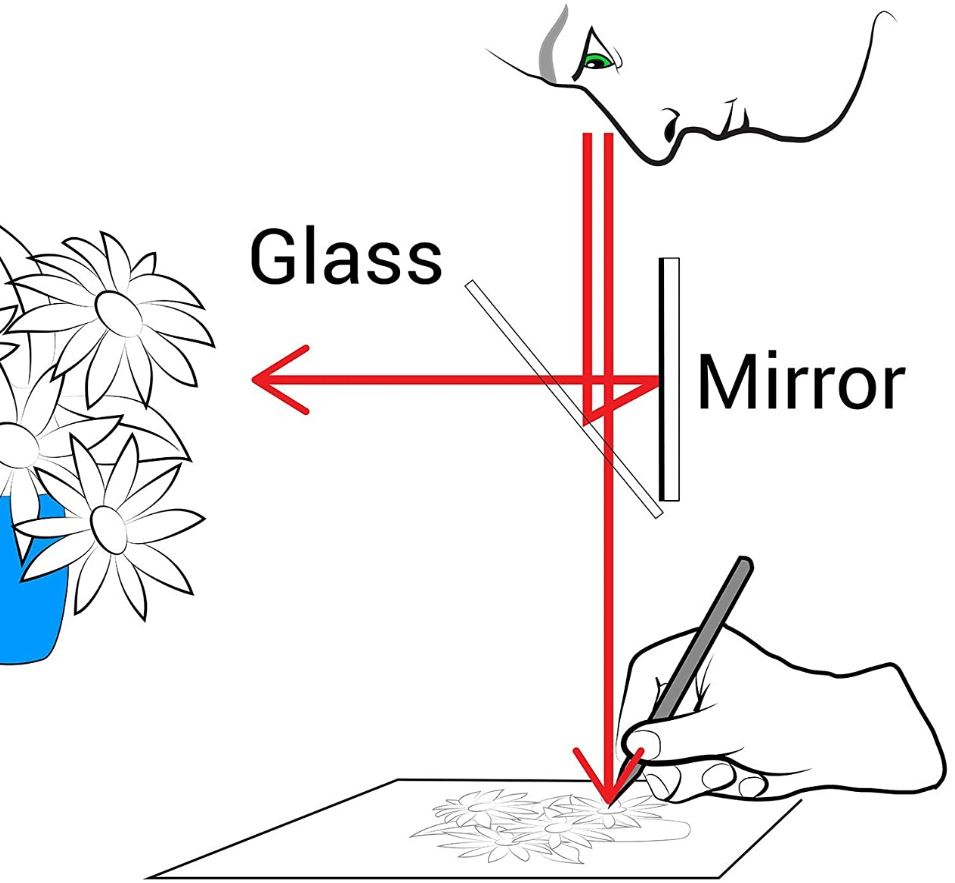 The clamp is nice and wide, and will attach to just about any desk or table. The all-metal construction also makes it durable, so you don't need to worry about the threads stripping. On the downside, there's no padding on the clamp tips. You'll want to use a towel or another soft cloth to prevent damage to wood surfaces.
The overall weight of the NeoLucida XL is only 14.9 ounces, which makes it easy to transport. It even comes with a soft felt carrying bag to protect it from damage. You can use it at home, then take it to an art studio, an office, or anywhere else you need to work.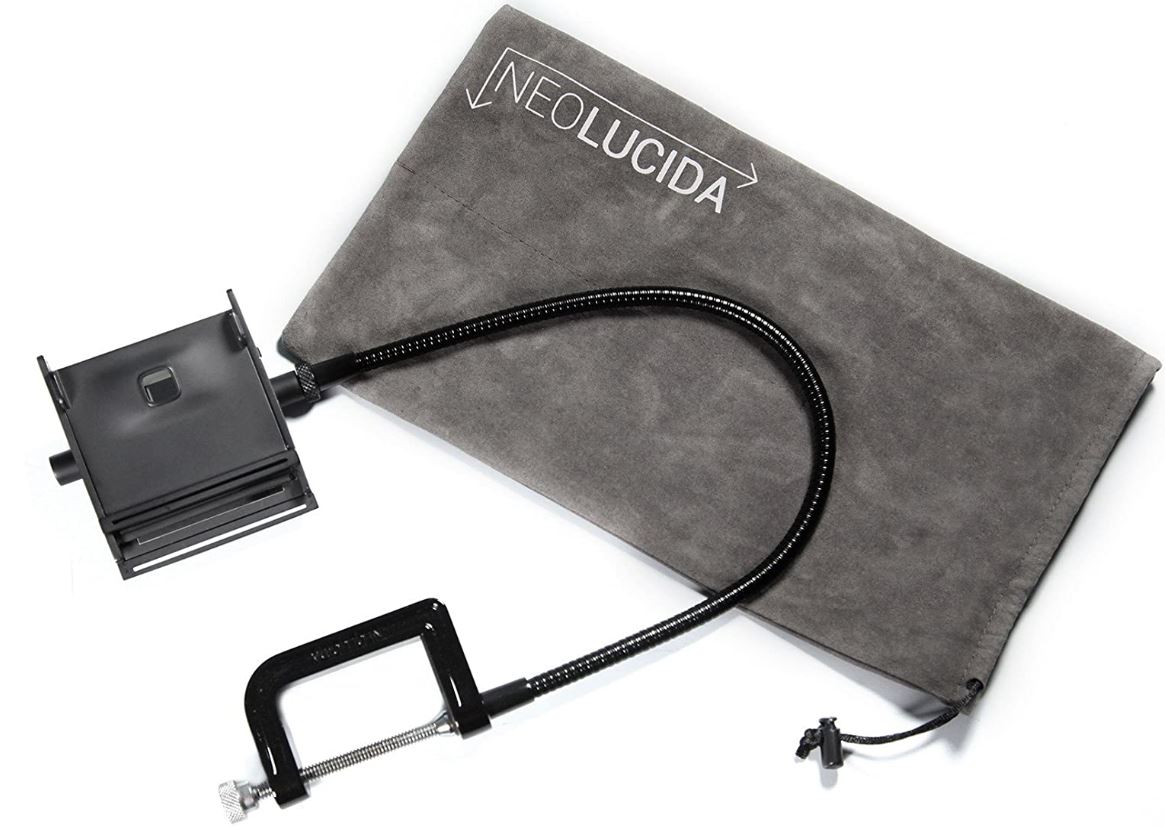 Image Quality and Performance
The NeoLucida XL doesn't have any built-in lights. This is to be expected, given the way it's designed. But because it has no lights, it depends on ambient light to get a good quality image. If the object you're trying to draw is poorly lit, you won't get a good image for tracing. Depending on your environment, this may or may not be an issue. That said, provided you've got good lighting, the image quality is excellent.
Final Verdict
So, how do these three art projectors compare? Let's do a quick recap. The first projector we looked at was the Artograph EZ Tracer Art Projector. This is a low-priced projector that's still effective enough to get the job done. It's lightweight, it's easy to transport, and it runs quietly. It can also magnify your images up to 20 inches on each side. That said, it's hampered by a relatively small projection chamber that only supports a 4 x 4-inch image. Still, considering the low price, it's great for small home projects, or even for kids.
For larger projects, the Artograph 225-090 Multicolor Prism Art Projector is a better choice. It can magnify images up to 20 times, and can accommodate an image of up to 7 x7 inches. The price is correspondingly higher, though. Not only that, but the stock incandescent bulbs can get pretty hot. But if you replace them with LED bulbs, cooling is a non-issue. Even better, you can orient the 225-090 vertically, which makes it considerably more versatile.
The NeoLucida XL is a different animal altogether. Instead of projecting a small image onto a wall, it projects a real-world object onto paper or a sketchbook. This makes it a great choice for capturing physical objects with excellent fidelity. Keep in mind, though, that it depends on ambient light to project the image. If your environment is poorly lit, your image won't be very bright. You might want to bring some extra lighting with you, just to be certain.