Ever found yourself in a pickle, trying to transfer a detailed design onto a canvas or wall, and wishing there was a simpler way? Well, there is! An art projector for tracing can make everything easier.
Here at NerdTechy, we've tried and tested an array of art projectors to help you find the best choice for your tracing needs. Art projectors are nifty devices that enlarge, reduce, or project an image onto a surface, allowing artists and hobbyists alike to trace or draw with remarkable precision and ease.
They're perfect for everything from mural painting and fabric design to intricate illustration. Today we'll navigate through the top picks, dissecting their features, performance, and how they can enhance your artistic endeavors.
Key Takeaways:
1. Artograph Inspire1200 Digital Art LED Projector

Key Takeaways:
Best professional, high-end option
Compact and easy to transport.
32 versatile built-in grid patterns.
Super bright 1200-lumen LED bulb.
Supports a variety of file formats.
Quiet operation, doesn't overheat.
Images enlarge from 16″ to 200″.
In our time with the Artograph Inspire1200 Digital Art LED Projector, we found it to be a game changer, especially for those looking to create large wall art. Its compact size of 7.25″ W x 6″ D x 2″ H makes it very easy to handle and transport. Simply put, it doesn't take up much space in your workspace.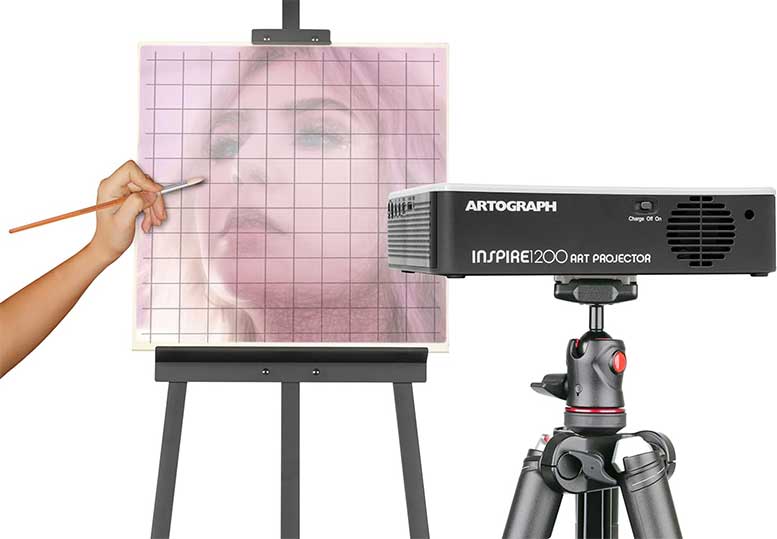 Most notably, the projector comes with 32 built-in grid patterns, offering a world of possibilities for muralists, graphic artists, quilters, and architects.
We were able to paint wall murals, trace intricate designs, and much more, all with the help of these built-in grid patterns. It's like having a personal assistant to guide your hand, making complex tasks simpler and more enjoyable.
We loved its super bright 1200-lumen LED light bulb. It illuminated our workspace perfectly, ensuring that every detail was visible, usable in both bright and dark conditions.
The bulb is designed to last for 30,000 hours, providing a reliable light source for countless projects. With a maximum resolution of 3840 x 2160 (4K) and a native resolution of 1920 x 1080, the clarity of the projected image was up to par.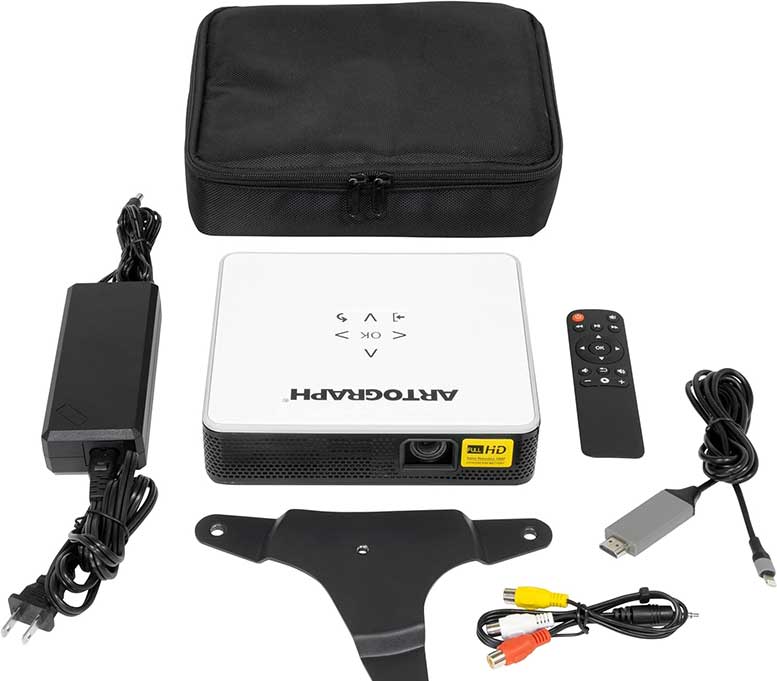 Connecting our devices was a breeze, thanks to the USB-C and HDMI ports. We were able to project photos, videos, and text, as even play music during our tracing sessions.
The projector supports a variety of audio and digital files, making it an essential tool for any creative drawing project. We especially appreciated the touchpad and remote control, which made adjusting settings and controlling everything incredibly easy.
For those longer sessions, we had the option to plug in the projector using the included AC adapter. That said, we were also impressed with the battery power, which allowed us to work cordlessly for just over two hours in eco-mode. This is particularly useful for artists who work on location or in areas without easy access to power outlets.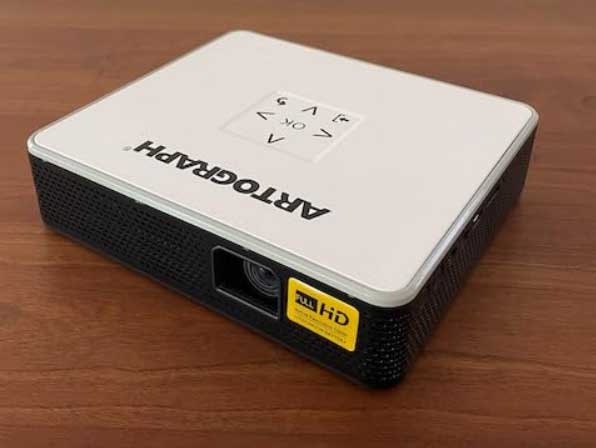 Despite its powerful performance, the Artograph Inspire1200 operates quietly and doesn't overheat, even after hours of continuous use. The projector's ability to enlarge images from 16″ to 200″ with easy focus control also adds to its appeal, making it an excellent tool for projects of all sizes.
While it does come at a steep price point when compared to others, it's an art-focused projector that doesn't cut corners. Whether you're a complete noob or an architect, this is a premium choice for those looking for a top of the line option.
2. Artograph LED Tracer Opaque Art Projector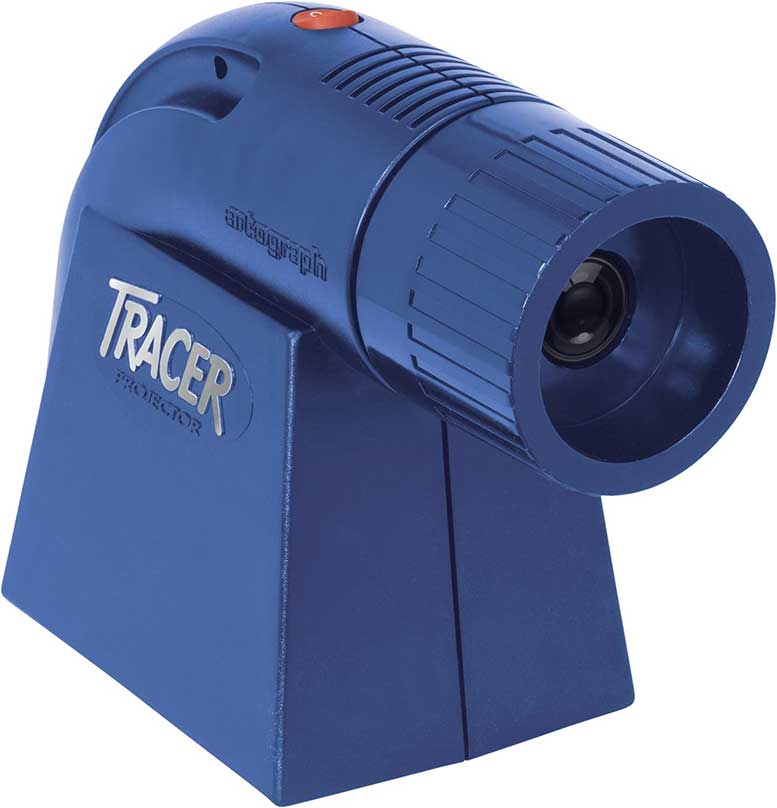 Key Takeaways:
Best budget-pick for small projects
Extremely simple design and operation.
Compact and easy to store.
Bright, high-intensity LED light source.
Enlarges artwork up to 14 times.
Much cheaper than the Artograph Inspire1200.
Long-lasting LED with replaceable bulb.
The Artograph LED Tracer Opaque Art Projector is another great option, oriented towards those who want easy tracing without the high price tag.
Right off the bat, we noticed its super simple design and operation, which made it clear that there would be little to no learning curve involved. This is a big win for artists who just want to dive into their work without a lengthy setup process.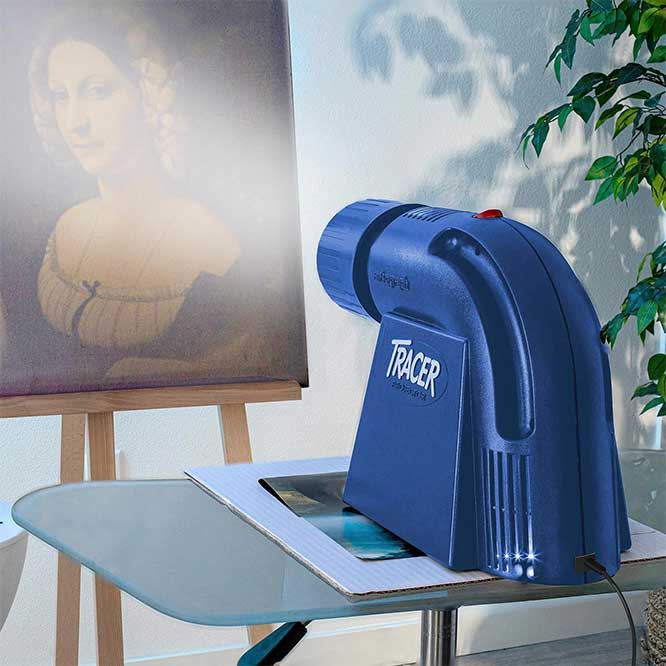 The projector is compact, with dimensions of 5.5″ W x 12.75″ D x 9″ H, making it easy to find a spot for it. Despite its small size, the Artograph LED Tracer packs a punch with its 200mm optical glass lens, capable of displaying images onto walls or canvases with ease. We found that using it in a dark room provided the best clarity, but even in our brightly lit tests, it performed decently.
One of the best features of this projector is its high-intensity LED light source. Not only does it run cooler and last longer than CFL bulbs, but it also offers a whopping 5,000 Lux brightness. This is a significant upgrade from the 600 Lux capability of the original version. The difference in brightness is truly noticeable.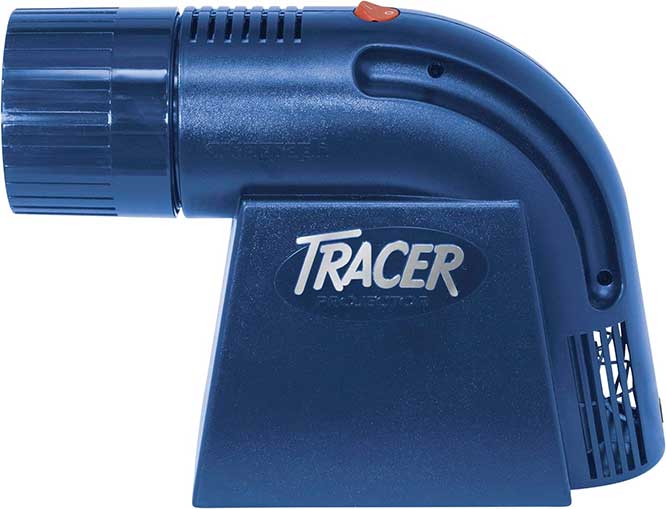 With an LED board designed to provide light for up to 10,000 hours before needing a replacement, the Artograph LED Tracer ensures longevity. And when the time does come for a new bulb, the process is straightforward. This is due to its fully replaceable LED bulb, compatible with any standard A19 base LED bulb up to a 100W replacement.
Although the projector doesn't run off a battery, it comes with a 6.5-foot long cord power adapter. When it comes to enlarging your artwork, it can enlarge flat artwork from 2 to 14 times the original size onto any vertical surface. With a 5 x 5 inch copy area, you can work in sections for larger designs and prints.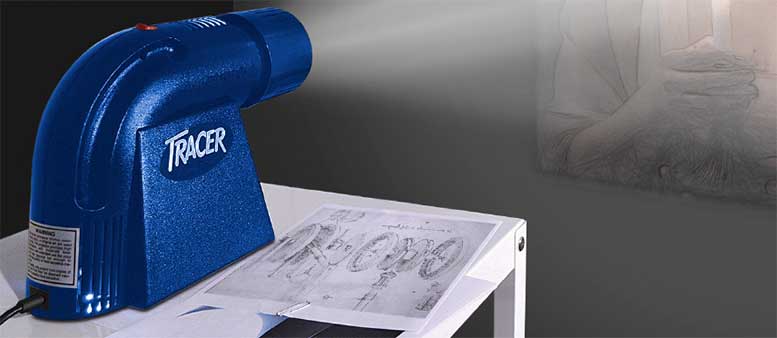 Using the projector is as simple as placing your art flat on a table, positioning the Artograph LED Tracer on top of it, and watching as it projects the image onto any vertical surface for tracing. A twist of the lens is all it takes to adjust the focus, ensuring that your artwork is projected exactly as you need it.
Our hands-on experience with the Artograph LED Tracer left us impressed with its simplicity, efficiency, and powerful performance. It's a valuable tool for artists of all kinds, especially those who don't want to spend an arm and a leg.
3. Artograph Super Prism Opaque Art Projector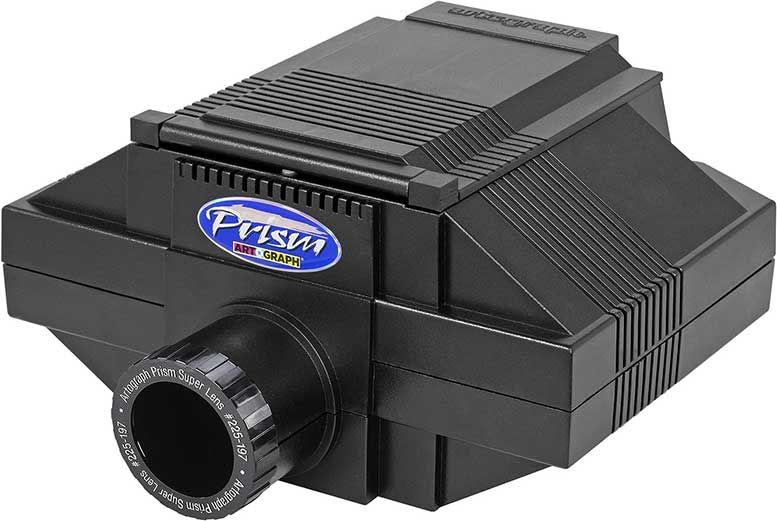 Key Takeaways:
Best mid-range option for tracing
Bulkier design, yet fits most workspaces comfortably.
Two lenses included for varied projections.
Enlarges up to 20x, reduces to 80% size.
200 mm precision-ground lens ensures clear projections.
Works best in darker environments, not as bright.
Requires power outlet; comes with 7.5-foot cord.
Although the Artograph Super Prism Opaque Art Projector is a bit outdated when compared to others, it's still a decent pick for artists and designers.
With a slightly larger footprint of 14″ W x 14″ D x 7.5″ H, it's not the most compact option out there, but it still fits comfortably in most areas. It comes with two lenses, including a 3-element, 230mm, color correcting lens and a standard Prism lens, giving you options in how you project your artwork.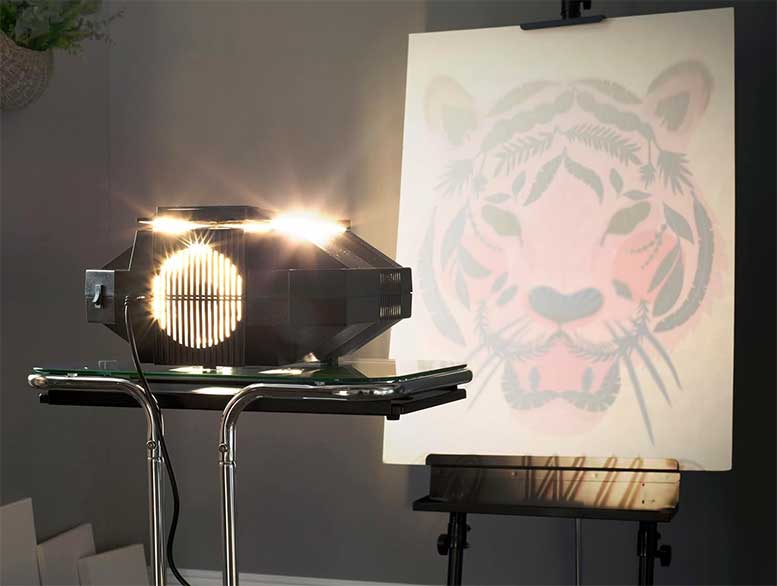 Enlarging art is a breeze with the Super Prism. It can blow up images from 3x to an impressive 20x their original size. And if you need to, you can even reduce images to 80% of their original size by reversing the lens.
The 200 mm precision-ground optical glass lens ensures that your projections are sharp and clear. Plus, the projector comes with a 1-year warranty, giving you peace of mind.
The top-loading 7 x 7-inch glass-covered copy area is incredibly easy to use. Just open the hinged cover, place your artwork inside, and you're ready to go.
The adjustable cover, complete with a magnetic, removable design, ensures that your artwork stays securely in place during use. And the little metal tongue depressor on the glass helps you straighten your image to perfection, whether you're working with a photo or a drawing.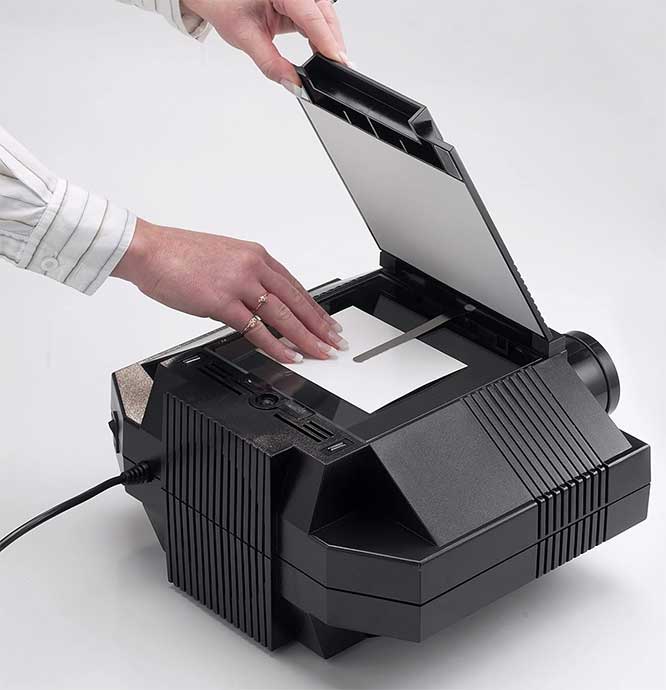 The Super Prism's 500-watts of photo quality lighting, powered by two 250-watt halogen photo lamps, ensures your artwork is illuminated evenly. While these aren't as efficient as LEDs, in our opinion, they're still quite suitable.
However, it's worth noting that this projector works best in darker environments, as its brightness doesn't quite match up to the Inspire1200 or LED Tracer. But, with its dual-cooling system and safety overload circuit, you can work for extended periods without worrying about overheating. This is great, since halogen bulbs produce much more heat output than LEDs.
Unlike some of the other projectors in Artograph's lineup, the Super Prism doesn't run on battery power. Instead, it comes with a 7.5-foot long cord AC adapter. While this does mean you'll need to be near an outlet to use it, the long cord gives you a good amount of flexibility in how you set up your workspace. Yes, it's bulkier and uses older technology, but it's still a great pick in our view.
4. CiBest Mini LED Projector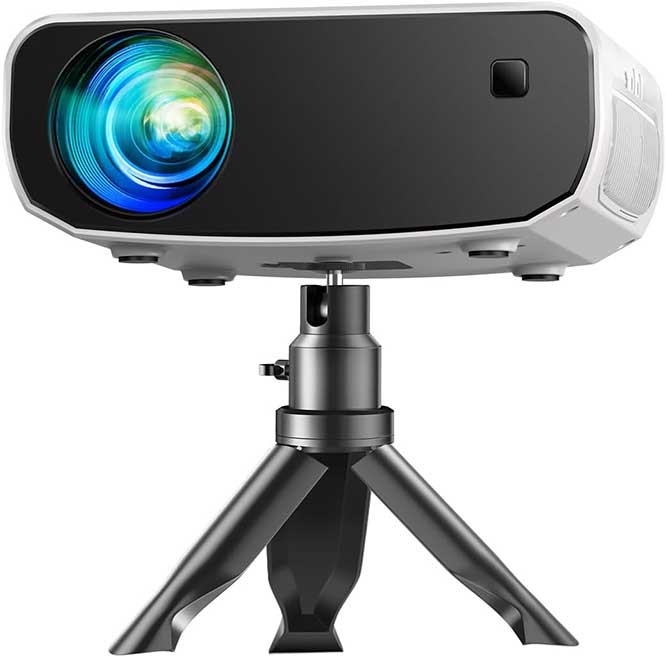 Key Takeaways:
Budget-friendly option for connecting to your phone, tablet, or laptop.
Works well for tracing, although not originally designed for it.
Native 1080P resolution ensures crisp image quality.
Impressively bright at 12,000 lumens.
Best for detailed tracing between 60-80″ range.
Compact and portable, easy for on-the-go use.
Long-lasting LED bulb, backed by extensive warranties.
The CiBest Mini LED Projector, although not explicitly designed for art purposes, has proven itself to be a reliable companion in our tracing endeavors.
From our hands-on experience, it becomes evident that this projector can easily be configured to cater to the needs of artists looking to trace designs. By connecting the projector to a laptop, phone, or tablet via HDMI or USB, we were able to display our artwork on the wall, creating the perfect setup for tracing.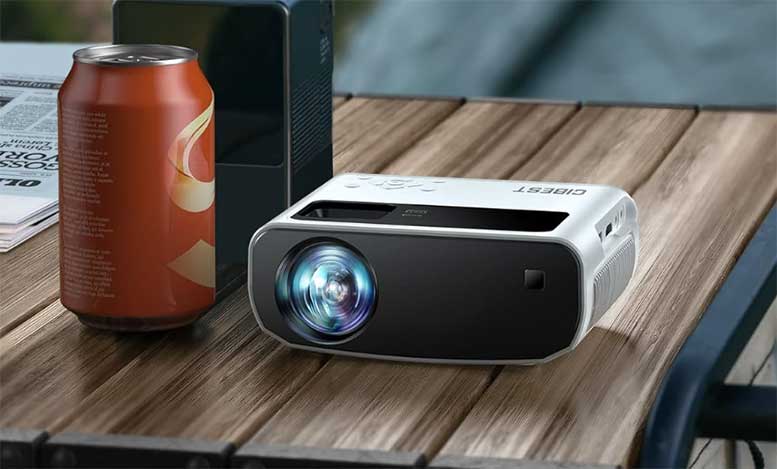 With its native 1080P full HD resolution and a remarkable 10,000:1 contrast ratio, the CiBest Mini LED Projector offers crisp and vibrant image quality. Its brightness is a game-changer, at an impressive 12,000 lumens, ensuring that we had no issues tracing in various lighting conditions.
It works perfectly fine in the full glare of broad daylight but excelled in complete darkness. Despite its wide viewing range of 30″ to 200″, we found that for tracing fine lines and intricate details, maintaining the projection size within the 60″ to 80″ range yielded the best results.
We really loved its incredibly portable design, measuring just a compact 6″ x 4.5″ x 2.5″. This made it very convenient for us to carry it around and set it up wherever needed.
It also runs cooler and quieter than many other projectors in its class, thanks to its efficient internal cooling system. This is a significant plus, especially during extended use. It ensures that the projector remains at an optimal temperature, quietly and without disruption.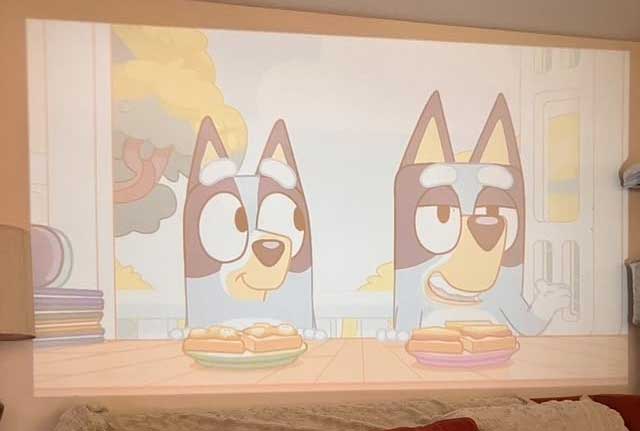 However, it's worth noting that the LED bulb of the CiBest Mini LED Projector is not replaceable. But with a generous lifespan of 50,000 hours and a 5-year warranty, this didn't pose as a concern for us.
That said, the projector comes with an incredibly generous 5-year return policy and a lifetime repair warranty in case it ever fails. Given its price point of under $75, there's little risk in choosing it as an ideal tracing tool for those looking to transfer artwork onto large surfaces.
Art Projectors for Tracing FAQs
What is an art projector for tracing?
An art projector for tracing is a device that projects an image onto a surface, allowing you to trace and create accurate reproductions or modify the design as needed. It's a valuable tool for muralists, illustrators, and anyone needing to scale their artwork precisely.
Is it complicated to set up an art projector?
Most art projectors are designed to be user-friendly. However, setup complexity can vary depending on the model. Generally, you'll need to connect the projector to your image source, adjust the focus, and possibly calibrate the settings to suit your artwork.
Do art projectors work in well-lit rooms?
Art projectors with higher lumens will perform better in well-lit rooms. However, for best results, especially when working with fine details, it's recommended to use the projector in a dimly lit room.
What should I consider when choosing an art projector for tracing?
Consider the projector's resolution, brightness (lumens), size, lens quality, and any additional features like built-in grids or the ability to mirror screens. Your specific needs, such as the size of the artwork and the environment you'll be working in, will determine the best projector for you.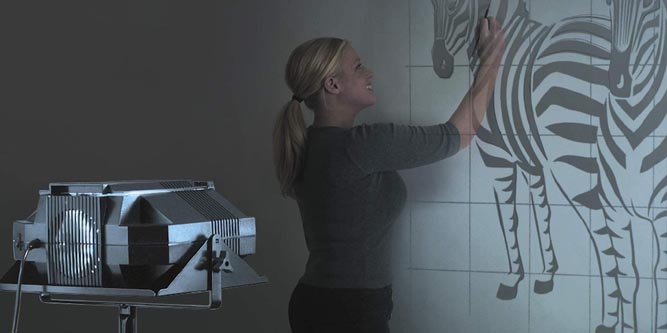 Can I replace the bulb in my art projector?
This depends on the model. Some art projectors have replaceable bulbs, while others have long-lasting LED lights that are not user-replaceable. Check the product specifications or contact the manufacturer to be sure.
Can I project different types of media for tracing?
Yes, most art projectors are versatile and can project a range of media types, including photographs, digital art, and even physical objects if the projector has the capability.
How do I maintain my art projector?
Keep the lens clean, ensure proper ventilation to prevent overheating, and follow the manufacturer's guidelines for bulb replacement if applicable. Regular maintenance will help prolong the life of your projector.
Meet Derek, "TechGuru," a 34-year-old technology enthusiast with a deep passion for tech innovations. With extensive experience, he specializes in gaming hardware and software, and has expertise in gadgets, custom PCs, and audio.
Besides writing about tech and reviewing new products, Derek enjoys traveling, hiking, and photography. Committed to keeping up with the latest industry trends, he aims to guide readers in making informed tech decisions.