The brisk atmosphere and dazzling hues of autumn invite us to immerse ourselves in nature's grandeur. However, before you embark on adventurous camping journeys or serene retreats in a snug cabin, ensuring you have a dependable energy source to power up your devices and maintain your creature comforts is crucial.
BLUETTI, a renowned brand in the realm of portable power solutions, is releasing some new state-of-the-art products just in the nick of time to equip you for your autumnal adventures.
Come November 2nd at 7 PM PDT, the innovative AC2A and AC70 portable power stations from BLUETTI will be available for purchase in the United States. In the interim, seize the opportunity to acquire these pioneering products at an exceptional early-bird rate, exclusively on the BLUETTI official website and Amazon.
BLUETTI AC2A Portable Power Station
The AC2A is astonishingly light, weighing in at a mere 3.6 kg (7.9 lbs), making it a breeze to stow away. Its compact size, akin to that of a toaster, coupled with a convenient built-in handle, allows for effortless one-handed transportation.
Yet, do not be deceived by its diminutive stature. The AC2A packs a punch with a robust 300W AC output and a 600W surge capacity. It's versatile enough to energize a wide array of devices, ranging from smartphones and tablets to LED fairy lights, projectors, and CPAP machines.
With its array of six ports, inclusive of a swift 100W USB-C port and a wireless charging pad, it addresses all your energy requirements while on the move.
Recharging the AC2A is a breeze, allowing for a swift 270W wall outlet recharge that completes in just 1.4 hours. Alternatively, you can choose the 200W solar charging option, ensuring a full recharge in 1.5 hours. In fact, the AC2A stands out with the company's lowest no-load loss at a mere 7.5W, marking it as an energy-conscious selection.
When contrasted with its precursor, the 4.6kg EB3A, the AC2A emerges as both lighter and more user-friendly. It intelligently ceases charging once fully charged which eliminates the need for manual disconnection. This feature proves invaluable during outdoor excursions, offering one less thing to fret about. Best of all, it champions energy conservation and battery longevity, as it can be powered down at any time during the charging process.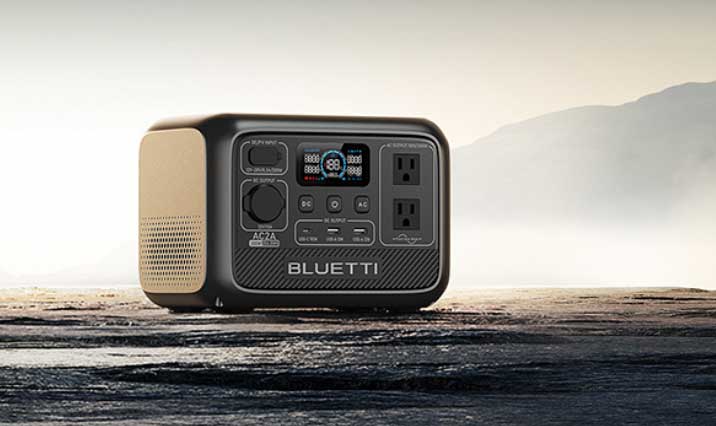 The AC2A even addresses a prevalent issue found in portable power stations: batteries that refuse to recharge. That said, it can be instantly revived upon connection to a power source, ensuring you are never left stranded without power when you truly need it.
The best part? The AC2A is available at an initial price of just $179. As a special bonus, NerdTechy readers can get an extra discount of $5 by using the promo code NTE2A during the debut between November 2nd and 17th.
BLUETTI AC70 Portable Power Station
Introducing the AC70: an evolved version of the cherished EB70S, with a substantial 716Wh/800W capacity. This device effortlessly navigates prolonged road adventures and acts as a reliable backup in emergencies, thanks to its ample 768Wh capacity.
With a continuous power output of 1,000W and a remarkable 2,000W peak, it seamlessly supports a broad spectrum of appliances. This ranges from refrigerators and slow cookers to coffee machines. Also, the AC70 efficiently operates high inductive load gadgets, which typically require up to 2,000W, such as compact kettles, hair dryers, and even small power tools.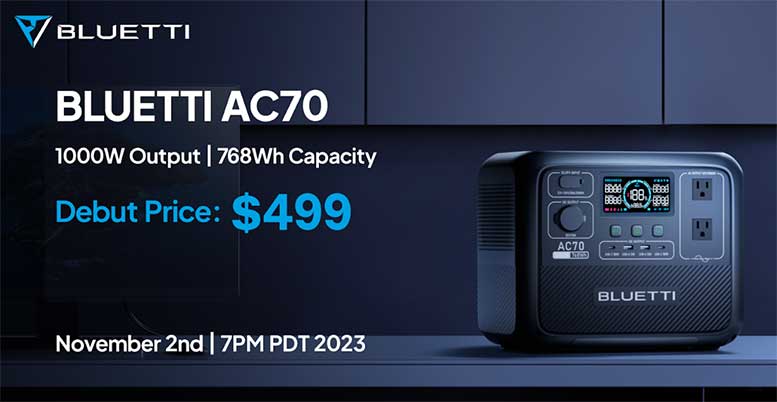 The AC70 distinguishes itself with its versatile charging capabilities and rapid recharge times. It accommodates a variety of power sources, including wall sockets, solar arrays, automotive chargers, and generators.
As one of BLUETTI's quickest portable energy stations, it swiftly progresses from a 0% to 80% charge in a mere 45 minutes. That said, it achieves a full recharge within just 1.5 hours through 850W AC charging. Furthermore, the AC70 is adept at capturing solar energy, achieving a full charge in approximately 2 hours under optimal sunlight conditions. This ability is thanks to its 500W solar input capacity.
Marking a significant advancement from the EB70S, the AC70 not only charges at a faster rate but also incorporates an integrated charger. This enables a direct wall outlet connection without necessitating a cumbersome adapter.
It also functions as a dependable backup power source, featuring a UPS function and transitioning within 20ms. Whether you're working remotely from home or living on the road, the AC70 offers uninterrupted productivity when you need it most.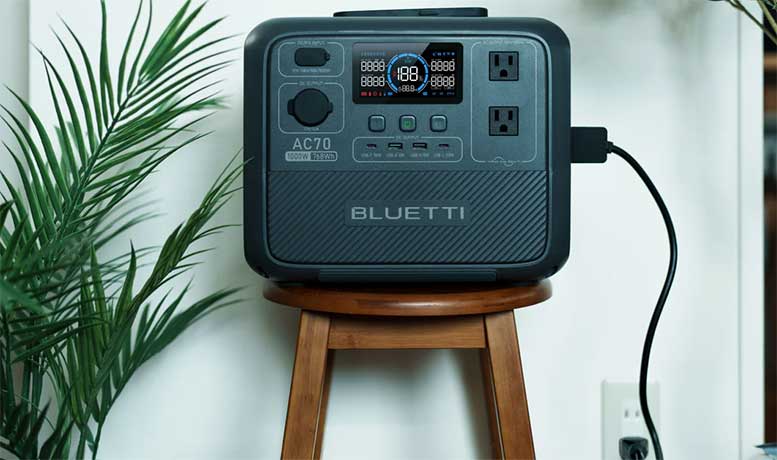 And the perks don't end there. The AC70 is also manageable via the BLUETTI App through Bluetooth connectivity. This allows you to monitor charge and discharge rates, battery percentage, and more, all in real time. In addition, on your mobile device, you have the capability to tweak settings, including activating the Power Lifting mode to unlock its maximum capacity, or engaging the ECO mode to conserve energy when it's not in operation.
Best of all, the AC70 is debuting at just $499. And as an exclusive bonus, NerdTechy readers can enjoy a bonus $15 off by using code NTE70 between November 2nd and 17th.
Perfect Backup Power for Adventuring
BLUETTI's AC2A and AC70 portable power stations include robust LiFePO4 batteries, ensuring enhanced safety and an extended lifespan surpassing 3000 cycles. To solidify your trust in these dependable allies, BLUETTI provides an extensive 5-year warranty, safeguarding your investment. Seize the opportunity to incorporate these portable camping power stations into your adventures, as the tranquility and assurance they bring are invaluable.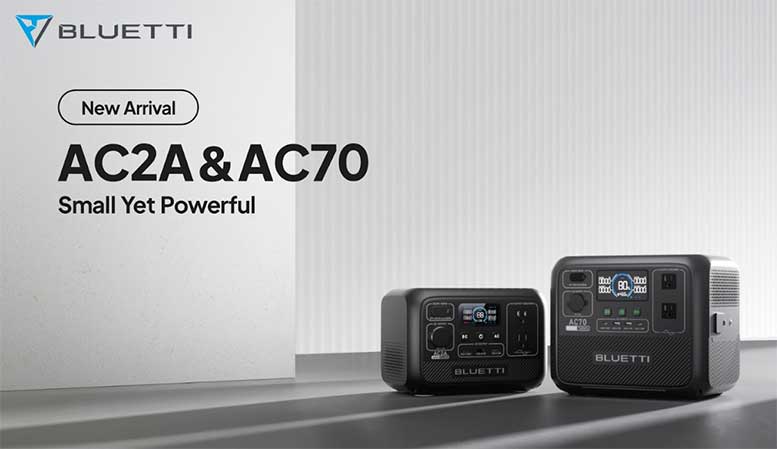 About BLUETTI
Since its establishment, BLUETTI has steadfastly championed the cause of environmental sustainability and the advancement of clean energy alternatives. They're dedicated to delivering renewable energy storage options for a plethora of applications, spanning both indoor and outdoor environments.
BLUETTI's mission extends beyond enhancing the quality of life in our living spaces. It's a profound contribution towards forging a sustainable and viable future for our world. This unwavering dedication to green energy has propelled BLUETTI's presence across a vast expanse of over 100 countries, earning the confidence and loyalty of millions of customers on a global scale.
Meet Derek, "TechGuru," a 34-year-old technology enthusiast with a deep passion for tech innovations. With extensive experience, he specializes in gaming hardware and software, and has expertise in gadgets, custom PCs, and audio.
Besides writing about tech and reviewing new products, Derek enjoys traveling, hiking, and photography. Committed to keeping up with the latest industry trends, he aims to guide readers in making informed tech decisions.