When it comes to gaming accessories, mouse pads are often underrated. A lot of people think you don't even need one. The logic is that modern optical mice already work on almost any surface. Unless you have a glass desk, why would you need a mouse pad?
The fact is, a good mouse pad will provide better tracking than most desk surfaces. Irregularities on the desk can cause the mouse to be off – often by only a couple of pixels. But depending on what you're playing, a couple of pixels could be enough to throw you off. Hard-surface mouse pads provide even smoother movement, since there's no textured cloth surface.
Today, we're going to review five of the best hard-surface metal and plastic mouse pads we could find. If you just want the bare basics, here's what you need to know about each one.
Of course, those are just the basics. To truly appreciate these mouse pads, we're going to have to take a deeper dive. Let's dig in, and see what we come up with!
1. Logitech G440 Hard Gaming Mouse Pad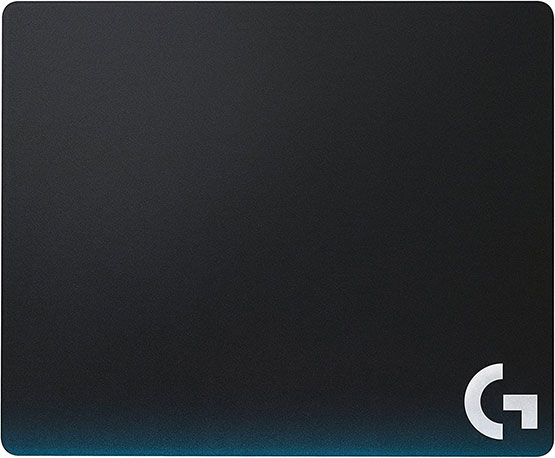 Key features:
Hard polymer surface with rubber backing.
13.39 x 0.12 x 11.02 inches.
The Logitech G440 Hard Gaming Mouse Pad is pretty straightforward. It has a rectangular shape, with elegant rounded corners, with plenty of surface area. At 13.39 inches wide and 11.02 inches long, you've got a lot of space to move around. The surface is made of an ultra-smooth polymer that provides excellent tracking. This smooth finish also makes it very easy to clean.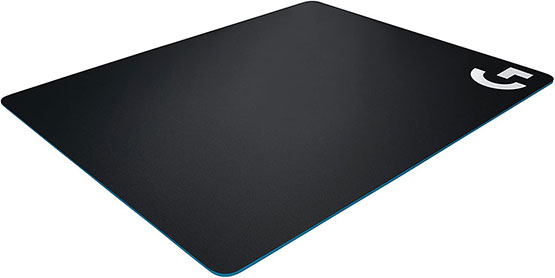 The aesthetic is minimalist, with a plain black surface and a Logitech logo at the front right. On the back side of the mouse pad, you'll find a textured rubber backing that provides excellent grip. Despite this two-layered design, the pad is remarkably thin at only 0.12-inch. This makes it very easy to slip into a laptop bag and carry it with you.

Logitech is one of those brands that needs no introduction. We've reviewed many of their products, including their throttle quadrant. It's a great little accessory that makes your flight simulator games more immersive. They make several mouse pads, and we wanted to check one out.
2. HONKID Metal Aluminum Mouse Pad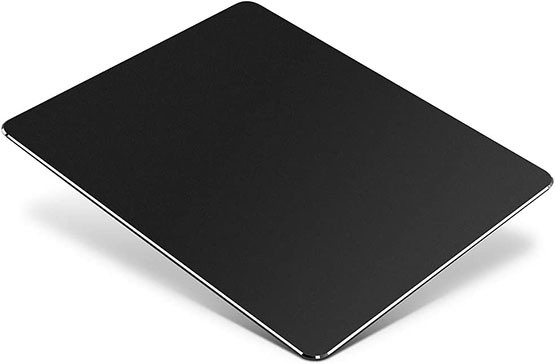 Key features:
Aluminum and PU leather construction.
9.05 x 7.08 x 0.1-inch and 9.45 x 7.87 x 0.1-inch size options.
Comes in black, gold, grey, rose gold, and silver.
The HONKID Metal Aluminum Mouse Pad has a two-sided design. One side is aluminum, with a smooth, polished finish that allows for fast mouse movements.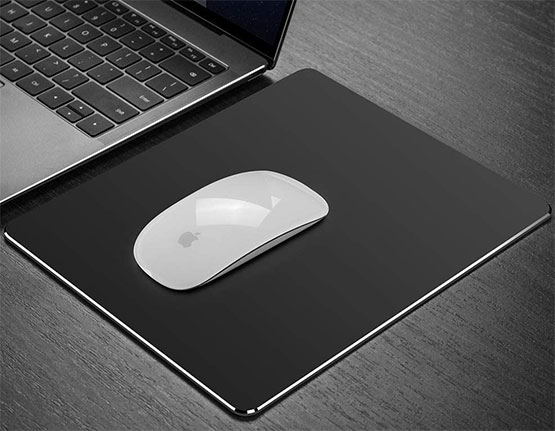 It's also tinted, and is available in five colors: black, gold, grey, rose gold, or silver. You also get your choice of two sizes. There's a 9.05 x 7.08-inch version, and a slightly larger 9.45 x 7.87-inch version. Both of them are only 0.1-inch thick.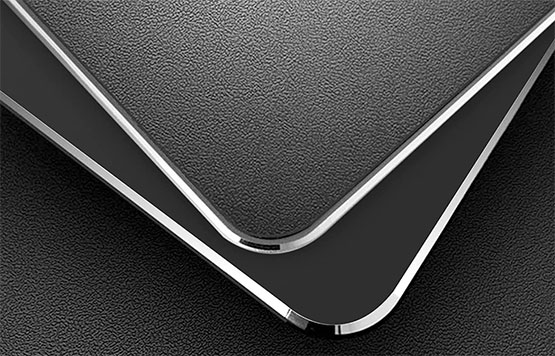 The reverse side of the mouse pad is a black faux leather. This side has a textured finish, and provides some amount of grip to keep the pad from sliding around. You can also reverse the pad and use the leather side for your mouse. In this configuration, it works more like a traditional cloth mouse pad.
3. ENHANCE Metal LED Gaming Mouse Pad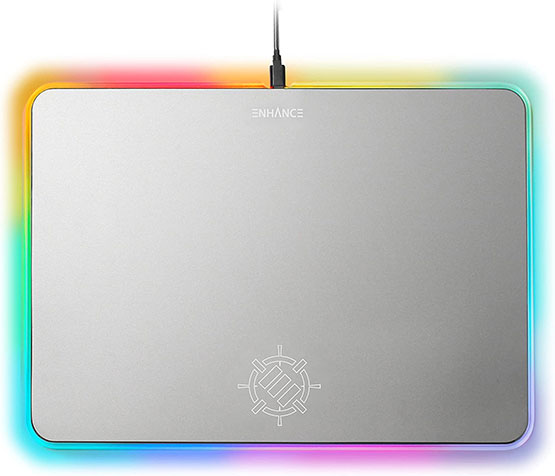 Key features:
Aluminum surface with rubber backing.
13.75 x 9.9 inches.
Comes in silver and black.
LED lighting around border.
The ENHANCE Metal LED Gaming Mouse Pad is also crafted from aluminum. The smooth surface is available in both silver and black, and measures 13.75 inches wide and 9.9 inches long. On the reverse side, you'll find a textured rubber pad. This helps prevent sliding and skidding so you can keep your mouse on target.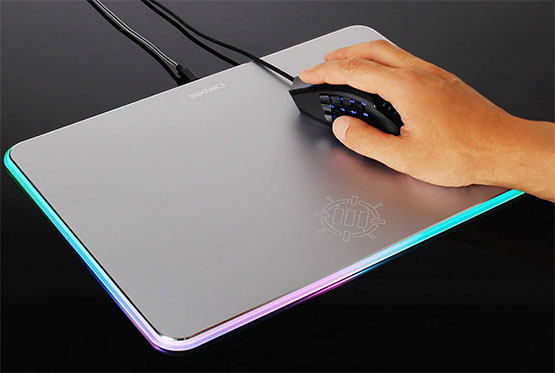 What really makes this pad stand out is the built-in LED lighting. The outer edge of the pad has an embedded rainbow light that forms a ring around the surface. It's powered by a USB Type-C cable, which plugs into a port in the back. Near the power port, you'll also find a pair of embossed buttons. One of these turns the lighting on and off, and the other cycles through different lighting modes.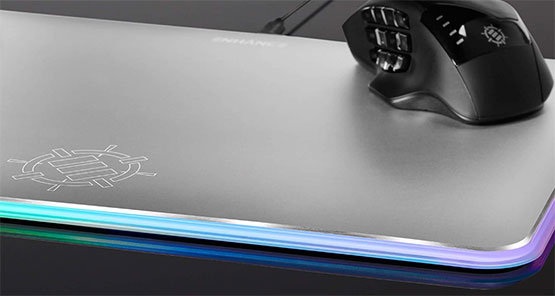 ENHANCE backs their metal mouse pad with a three-year manufacturer's warranty. If it fails prematurely, you'll get a refund or a free replacement.
4. Glorious Elements Air Mousepad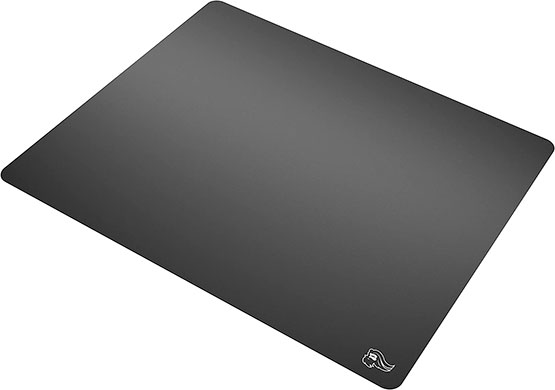 Key features:
Hard polycarbonate construction.
17 x 15 x 0.02 inches.
The Glorious Elements Air Mousepad is a rock-solid polycarbonate sheet. It's fairly large, measuring 17 inches wide and 15 inches long. It's also extremely thin, at a mere 0.02-inch. Stack up a few sheets of paper, and you'll achieve the same thickness. Despite that, it's strong enough to remain rigid, so you can slip it into a bag without ruining it.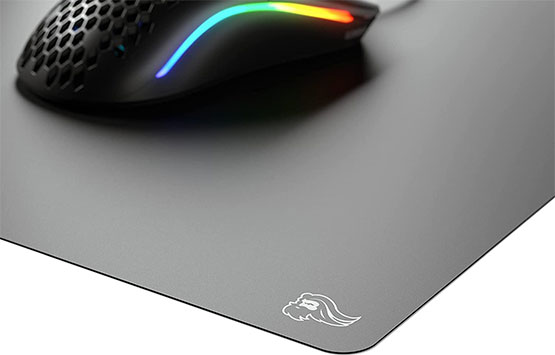 This mouse pad is built for one thing: speed. That's where the name "Air" comes from. This is reflected in the aesthetic design. While the surface is all black, there's a little emblem of a bearded guy with his hair blowing out behind him.
5. DSKKWS Round Metal Aluminum Mouse Pad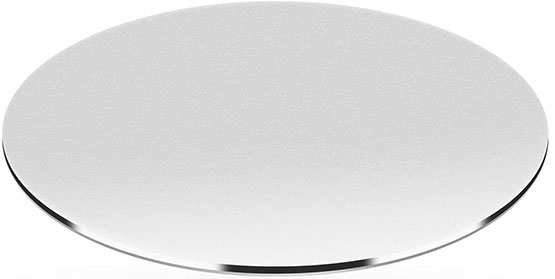 Key features:
Aluminum surface with PU leather backing.
Available in 7.8-inch round or rectangular 9.1" x 7.1"
The DSKKWS Round Metal Aluminum Mouse Pad is available in two form factors. The first is rectangular, and measures 9.1 inches wide and 7.1 inches tall with rounded corners. The second is a unique circular mouse pad with a diameter of 7.8 inches.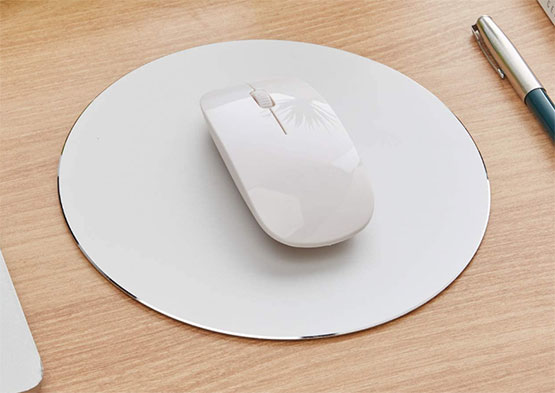 The top side of the pad is made from a smooth silver aluminum. The polished finish is easy on the eyes, and there's an engraved "DSKKWS" imprint at one corner. It's also easy to use, and your mouse moves effortlessly around the surface.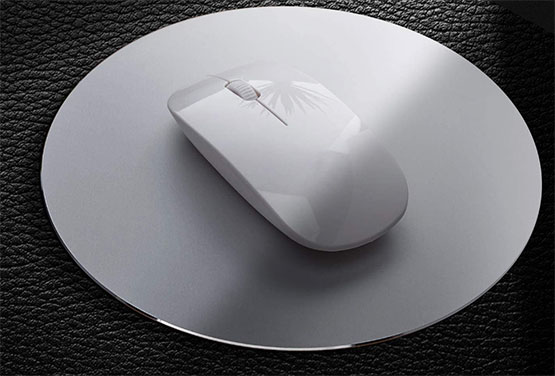 The back side of the pad is constructed from faux leather. This surface provides a reasonably good grip when you put the mouse pad on your desk. You can also flip it over and use the leather surface. This will perform similarly to a traditional cloth pad.
How to Choose a Good Hard-Surface Mouse Pad
Now that we've talked about the individual mouse pads, let's take a broader look. What are the factors that make one hard-surface mouse pad different from another? Here are some of the things you should look for while you're shopping.
Size
Size is one of the most important considerations. If you're working in a small space, a large mouse pad could be too big for your desk. On the other hand, a larger pad gives you more room to work. You can use lower mouse sensitivities and make wide movements very quickly.
Surface Material
Hard mouse pads can be made out of metal or plastic. This will impact how your mouse behaves at it moves across the pad. In most cases, metal pads are going to be the smoothest, and allow for the fastest movement. Plastic pads tend to be faster than cloth, but not quite as fast as metal. This can provide a little bit more control at the expense of speed. That said, some plastic pads are coated to provide a smooth, metal-like finish.
Ergonomics
To be fair, ergonomics aren't the main selling point for hard-surface mouse pads. You won't find any comfy wrist rests or other luxury features. The whole point is accuracy, speed, and better control.
That said, there are still some ergonomic features to think about. A thinner pad will generally be more comfortable than a fatter one, for example. Some pads have smoother edges and more rounded corners.
Aesthetics
If you're like most gamers, you probably like your rig to look as good as its performance. Think about the rest of your equipment and what would go best with it. Are you going for a blacked-out theme? Do you want RGB lighting? Are you using a bunch of silver-colored accessories?
There's no right or wrong answer here. But if you're stuck on two or three options, aesthetics can be the deciding factor.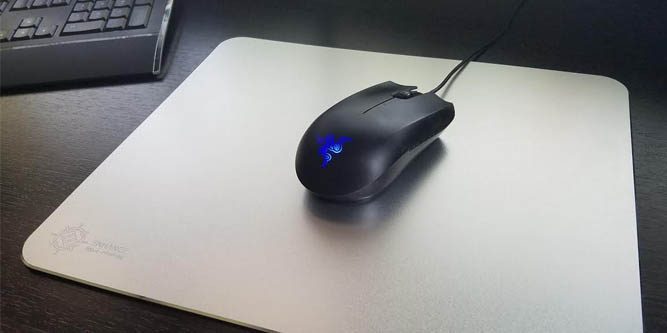 Hard Mouse Pad Pros and Cons
Before we wrap up, let's talk about why you might – or might not – decide to choose a hard-surface mouse pad. Here are the pros and cons.
Pros of Hard Mouse Pads
They have less friction. As a result, your mouse tracks more consistently than it will on a traditional cloth mouse pad.
They're easy to clean. When a hard mouse pad gets dirty, all you have to do is wipe it down. If it's really dirty, you might want to use a little Windex. With a cloth mouse pad, you have to throw it in the washer.
They're tough and durable. A good metal mouse pad can last almost indefinitely without wearing out. You can use the same one for the rest of your life. Plastic pads aren't quite as tough, but they're still more durable than cloth.
They're more stable. Because hard mouse pads are rigid, they remain flat on an irregular surface. You can use one in your lap, which isn't the case for a cloth pad.
Cons of Hard Mouse Pads
You can't fold them or roll them up. As a result, they can be tougher to pack up and carry.
They can be too slippery. While hard mouse pads are very smooth, this can make your mouse more sensitive to tiny hand tremors. If you need to be ultra-precise, this can become a problem.
They make noise. When you pick up and readjust your mouse, it's going to be audible.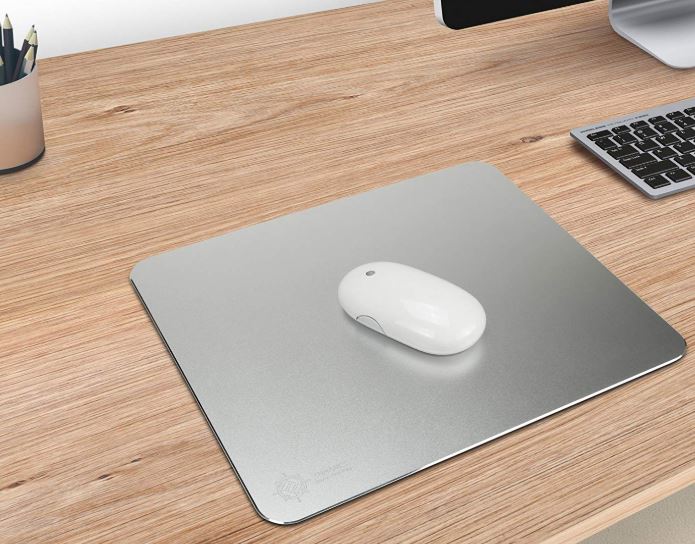 Wrapping Up
These are all great hard-surface mouse pads, and any one of them could be ideal for the right person. But which one will be the best fit for you? Let's recap what we've learned today.
We started out by reviewing the Logitech G440 Hard Gaming Mouse Pad. This is a large, oversized pad that's more than a foot wide and nearly a foot long. The polymer surface seems quite durable, and it's very smooth. The aesthetic is a bit spartan, but the rubber back performs well and it's very well-constructed.
Second on our list was the HONKID Metal Aluminum Mouse Pad. This pad comes in five colors, so you can use it to express your personality. It's also double-sided, with a smooth aluminum top side and a black faux leather back. This allows you to flip it over and use the leather side if you want more cloth-like performance.
Next, we checked out the ENHANCE Metal LED Gaming Mouse Pad. The main selling point of this pad is the LED light ring, which is customizable and powered by USB Type-C. That said, we had no complaints about the aluminum surface or the rubber backing. It seems very well constructed, and you're protected by a three-year warranty if anything goes wrong.
Fourth on our list was the Glorious Elements Air Mousepad. At 15 x 17 inches, this is the largest of the ones we reviewed today. It's also the thinnest, at only 0.02-inch. If you're looking for a versatile pad, you won't find it here. That said, the surface is exceptionally smooth and allows for fast mouse movements that are still precise.
Finally, we looked at the DSKKWS Round Metal Aluminum Mouse Pad. This is similar in some ways to the HONKID pad, with one aluminum side and the other side made of leather. What makes it unique is that it's available in a circular variant as well as a rectangular one. If you like the idea of a round mouse pad, you'll be pleased with this one.