Laser engravers and cutters enable us to create thousands of projects as soon as we think of them. All you need is an idea, a way to design it, and the right machine to bring it to life.
With so many different options out there, it can be tough to pick the right laser cutter and engraver for your needs. However, for those who plan to use theirs a lot and need it to do as much as possible, a high-powered option is the way to go.
In the world of high-powered laser cutters and engravers, the Longer Laser B1 40W is a very intriguing option worth checking out.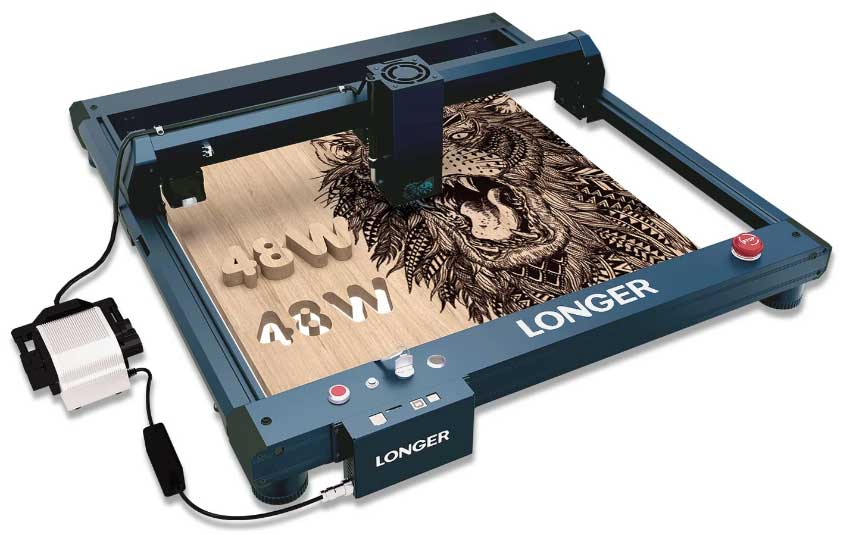 High-Powered Laser Output
If you're looking for a laser cutter and engraver that can tackle just about any project you dream up, then the Longer B1 40W is the way to go. This machine has an extremely powerful laser that can output between 44W and 48W. This is one of the strongest lasers available on the market today for this application. To achieve this, there are six laser diodes, each with 6W of power.
It's highly concentrated in order to increase cutting capabilities by 20%. On a single pass, it can cut through 18mm of hardwood, 15mm of black acrylic, or .1mm of stainless metal. With the addition of a few more passes, it can cut through materials such as 40mm basswood and 50mm acrylic.
Bigger Frame for a Larger Working Area
To help even further utilize the increase in power, the B1 40W has a large frame to give you more work area to use. The total working area size is 450mm x 440mm.
This is a 23.75% increase when compared to its leading competitors, making it ideal for large projects and even A3 panels. This, paired with the laser capabilities, allows you to create with over 1,000 different materials, including wood, steel, leather, acrylic, cloth, and more.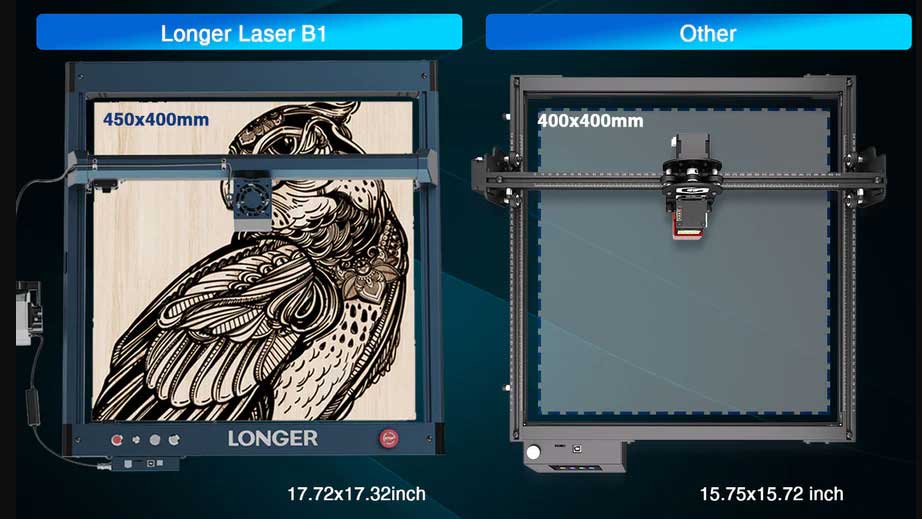 High-Speed Operation
Not only does the B1 have a powerful laser, it's also extremely fast. Utilizing a brand-new 32-bit motherboard and high-quality components, the laser is able to operate at speeds up to 36,000mm per minute.
This is four times faster than standard laser engravers and cutters. It also utilizes TMC2209 silent drivers in its construction. These drivers help the laser cutter work as silently as possible, reducing the overall noise created by operations.
These two features combine to allow you to make your dream projects as fast and as silently as possible.
Smart and Automatic Air Assist System
Along with a powerful laser, a critical component of any laser cutter and engraver is the airflow system. These systems are used to keep your projects from being burned more than intended. Without them, there's a good chance your cutting and engraving projects won't turn out how you want them to.
Luckily, the Longer B1 40W has a great airflow system. It has automatic air assist that can be triggered by the software you use to control the machine. While engraving, you won't need much air, so it can automatically adjust itself to the right level.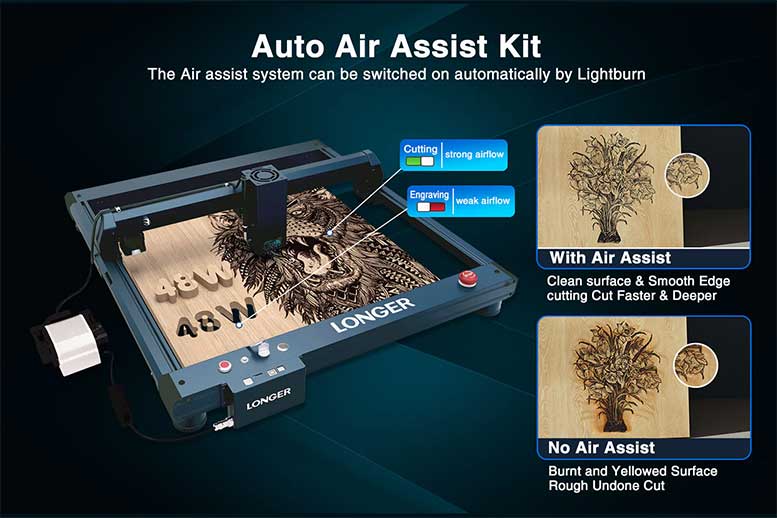 However, when you're cutting, you'll want as much as you can get in order to keep the cuts precise and clean. Either way, the smart air-assist system in the B1 does a great job at making your project exactly how you envisioned it.
Vibrant Multi-Color Metal Engravings
One of the more unique capabilities of laser engravers is that they can create colored engravings on metal projects. This is done through heating the metal and a process of oxidization. The B1 40W is great for this because of how powerful the laser is.
With its ability to go between 44W and 48W, you can easily create extremely vibrant colors of all kinds. When compared to lasers in the 20W range of power, they can't compare. Utilizing the higher-powered laser on the B1 creates much better colors.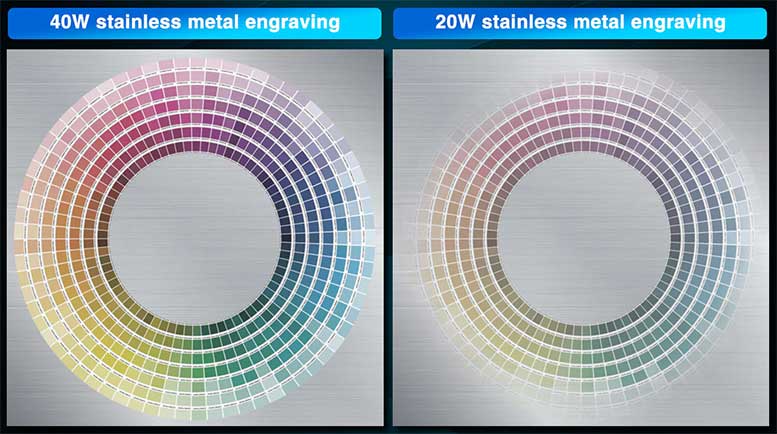 Eight Safety Features
Laser engravers and cutters available today are safe devices. However, that doesn't mean accidents don't happen. When used improperly or accidentally, these machines have the ability to cause harm to you, your work area, or the materials you're creating.
However, the B1 has eight different safety features built in to help minimize the chances of anything happening in the first place and also minimize damages if something were to happen. The features include offline protection, flame protection, thermal protection, security lock, eye protection, position movement protection, a bi-directional limit switch, and an emergency stop button.
All of these features work together to keep your machine from being operated while it shouldn't and minimize the effects of any accidental movement or fires that start.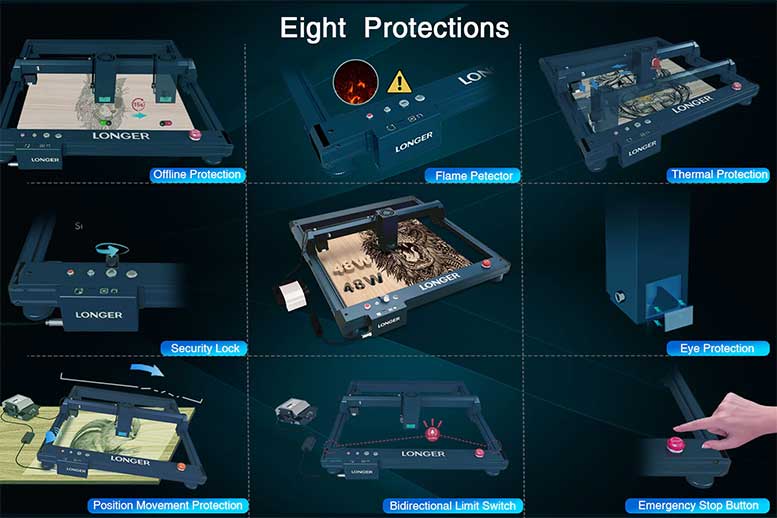 Laser Module with Great Features
The laser and the module it's housed in are what really set this laser engraver and cutter apart from the rest. It's packed full of features to keep the whole machine running at its best. The first is an awesome heat dissipation system.
At the top of the module, there is a cut-out grate area along with a fan. This helps push air through the internal components to keep everything cool while operating. Without it, there is a chance of overheating while doing longer projects at high power levels.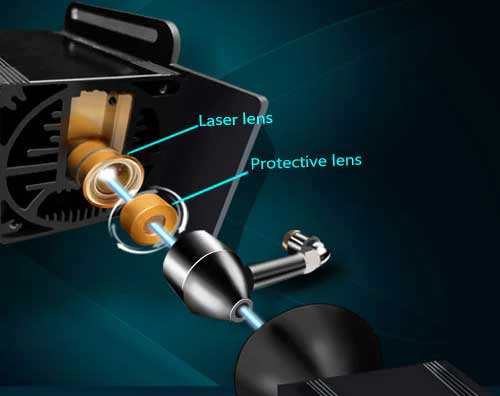 The module also has a focus positioning bar on the side. This bar makes it easy to pull it down and set the laser focus to whatever you need while it's cutting or engraving. The laser also has built-in protection inside the module with its protective lens and dust-proof hood.
These two parts are replaceable and keep dust and smoke out of the laser itself. Without them, these could get into the laser and cause damage over time, eventually making it non-functioning.
Connectivity Options
As for what device you need to make the laser cutter work, you have some options. For operating systems, it can work with Windows 7 and up, macOS, and Linux. To actually connect these devices to the B1, you can use WiFi, USB, TF cards, and the downloadable app.
This gives you a wide variety of ways to get your favorite files uploaded to the machine for use. Speaking of files, you can upload JPG, PNG, BMP, G-code, GIF, SCG, NC, and GC to work in the B1. As for software compatibility, the B1 can work with either LaserGRBL or LightBurn.
Clean Aesthetic
Overall, the B1 40W is a great-looking and functioning machine. It's designed to be as clean and minimalistic as possible. One great part about this is that all the cables needed to operate the machine (besides the power connection) are located within the frame of the B1.
This keeps things looking tidy and functioning well without the chance of them getting in the way of your projects. The frame itself is made of sturdy black metal that both looks and functions great.
Technical Specifications
Let's dive into the more detailed specifications of the B1 40W to make sure it's the right fit for your crafting needs. The laser technology used to create its laser is diode laser technology. This creates a laser with a wavelength of 450nm and a focal length of 50mm. The laser spot size runs at a consistent .1 x .15mm to create precise cuts and engravings.
The B1 can output its high-powered laser at a z-axis height of up to 50mm. The machine itself requires power from a 110-240V AC connection. This gives it a power rating of up to 175 Watts. While in use, you can expect the B1 laser head module to function without issue for over 10,000 hours.
Support for Multiple Countries
The Longer Laser B1 40W is available in more countries than just the United States. There are also options for purchasing one that will work in any EU country. Additionally, there are options for others, but you'll need to check on their site to see if you can get one shipped to you if you're not in the US or EU.
This makes it easy for people in multiple places all around the world to experience the cutting and engraving power of one of the best engravers on the market.
Pros and Cons
There are multiple reasons why this is a great machine, with a few cons to be aware of. Here's a breakdown:
Pros:
Laser output up to 48W
Airflow system that makes perfect cuts and engravings possible
Extra large working area to accommodate bigger projects
Able to cut and engrave at up to 36,000mm per minute
It can create some of the most vibrant oxidation colors on metal
There are lots of safety features to protect against accidental use, movement, and fires
Extremely well-designed laser head module
Supports a wide range of file types, operating systems, and ways to connect
Available across the globe
Cons:
There isn't an on-machine display monitor to control it or see how your project is progressing
There are only two software it's compatible with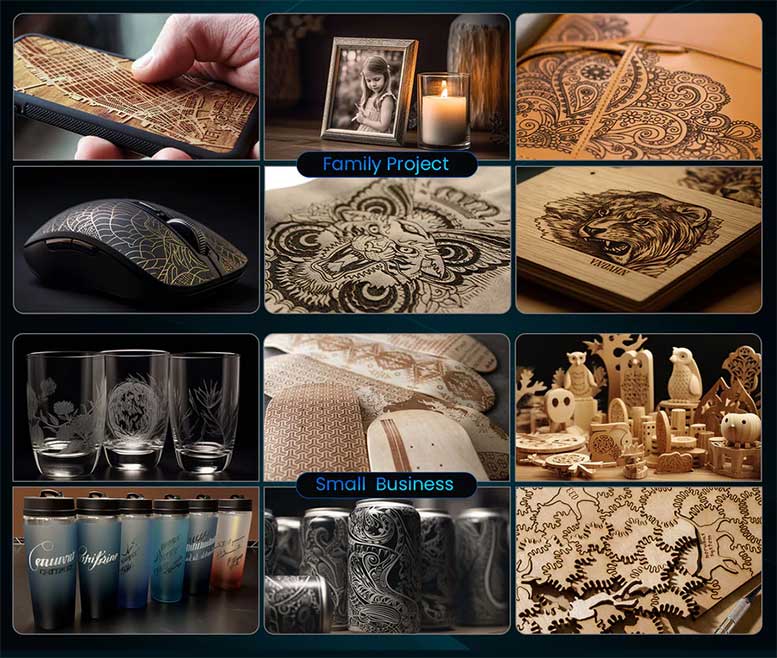 Final Thoughts
The Longer Laser B1 40W is a seriously powerful laser engraver and cutter. It has one of the strongest lasers available for this application on the market, and it's paired with tons of great features like smart air-assist, safety features, and a large working area.
All of these features work together to let you take any project you can imagine and design and bring it to life on over 1,000 different materials. For the people out there who want a laser engraver and cutter that can take on basically any project and do it safely and with a high degree of quality, the Longer Laser B1 40W is definitely worth considering.
Meet Derek, "TechGuru," a 34-year-old technology enthusiast with a deep passion for tech innovations. With extensive experience, he specializes in gaming hardware and software, and has expertise in gadgets, custom PCs, and audio.
Besides writing about tech and reviewing new products, Derek enjoys traveling, hiking, and photography. Committed to keeping up with the latest industry trends, he aims to guide readers in making informed tech decisions.