In the realm of computer peripherals, innovation often comes in subtle and unexpected forms. Enter the glass mouse pad – a fusion of elegance and functionality that has recently taken the tech world by storm.
Gone are the days of flimsy fabric mousepads that wear down over time. The modern computing landscape demands precision, durability, and style, and glass mouse pads deliver on all fronts.
A glass mousepad isn't just a mundane accessory; it's a statement piece that elevates your workspace to new heights. With their sleek and smooth surfaces, these offer a level of accuracy that's a dream for gamers, designers, and professionals alike.
But the benefits don't stop there. Ease of cleaning, resistance to wear and tear, and a touch of sophistication are just a few of the qualities that make glass mousepads a compelling choice.
While there aren't all that many options to choose from, there are a few that stand out. We've tested and used each one of these glass mouse pads. Let's get right into it.
Top Benefits of a Glass Mousepad
Precision and Smoothness: The smooth surface of a glass mouse pad offers unparalleled precision and tracking for your mouse. The absence of any friction or irregularities ensures that your mouse movements are translated accurately onscreen. This makes them particularly popular among gamers, graphic designers, and professionals who require pixel-perfect accuracy in their work.
Durability and Longevity: Glass mousepads are known for their exceptional durability. Unlike traditional cloth or plastic alternatives that can wear out or fray over time, glass mouse pads maintain their pristine condition even after extended use. They're naturally resistant to scratches and stains, making them a long-lasting investment for your workspace.
Easy Maintenance: Keeping your workspace clean is a breeze with a glass mouse pad. Spills, dust, and debris can be easily wiped off the smooth glass surface, leaving no residue behind. This not only contributes to a neat and tidy workspace but also ensures that your mouse tracking remains consistent over time. The low-maintenance nature of glass mouse pads is a significant advantage for busy professionals and avid gamers.
Best Overall: Razer Atlas Tempered Glass Gaming Mouse Mat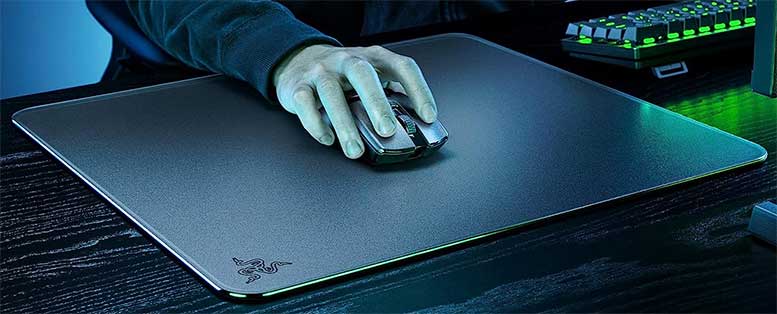 You'll love the Razer Atlas Tempered Glass Gaming Mouse Mat for its smooth surface and precise mouse movements. This innovative mouse pad is designed to provide gamers with the ultimate gaming experience. Measuring 17.72″ x 15.75″, it's more of a "mat" that's considerably larger than other options on the market. Available in either white or black colorways, there's a style to fit any desktop setup.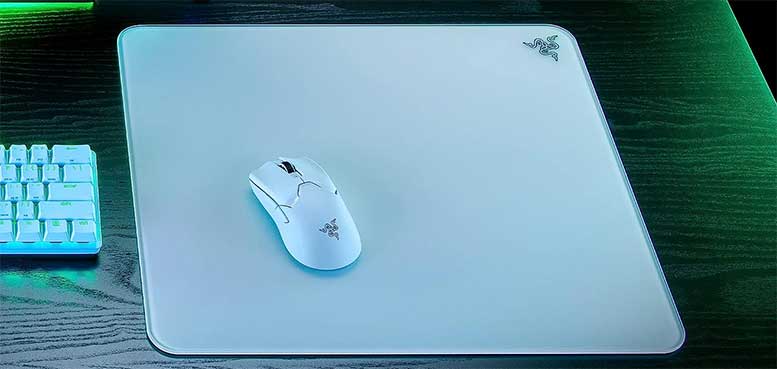 The premium tempered glass construction, combined with rounded edges and high tensile strength, ensures durability and longevity. The ultra-smooth surface with low friction allows for seamless and precise mouse movements, enhancing your gaming performance. The micro-etched surface is specifically designed to optimize performance with optical sensors, ensuring accuracy and responsiveness. While testing it for 3 weeks, we fell in love with the difference it made in quick movements for high paced gaming.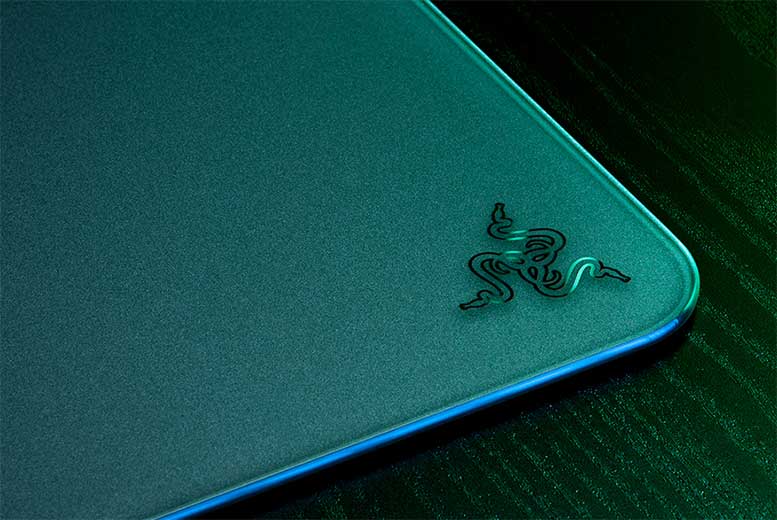 Best of all, the protective coating makes the mouse pad dirt and scratch-resistant, ensuring it stays in pristine condition. Simply put, it feels high-end without cutting any corners. With the Razer Atlas, you can enjoy quieter mouse movements, allowing you to focus on your game without distractions. While it may be an expensive upgrade for most, it's an ideal luxury for those needing the best of the best.
Pros:
Smooth and precise mouse movements
Durable and long-lasting construction
Optimized performance with optical sensors
Dirt and scratch-resistant coating
Quieter mouse movements for a seamless gaming experience
Cons:
Requires considerable desk space due to its large size
No smaller size option available for those who don't need a full-size mouse pad
May attract fingerprints and smudges on the glass surface.
Best Alternative: SkyPAD Glas 3.0 XL Gaming Mouse Pad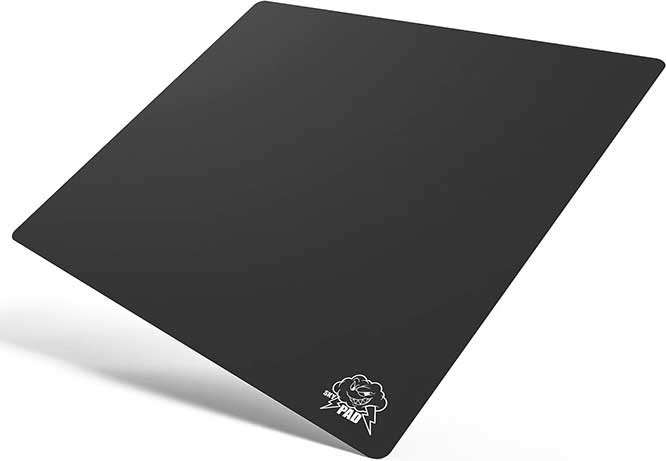 If you're looking for the best alternative glass mouse pad, you can't go wrong with the SkyPAD Glas 3.0 XL. Our experience with the SkyPAD 3.0 has been nothing short of exceptional. Although it comes in at a steep price tag, it's a bit of a luxury option and likely one of the most expensive mousepads out there. Measuring 11.8″ x 13.8″, it's larger than most, but not quite as large as the Razer Atlas. That's OK though, it leaves plenty of gliding space for most fast paced scenarios.
The pad's smooth glide and precise control have greatly improved our gaming performance. As fingertip grippers, we appreciate the ample space provided by the XL size. From our three weeks of use, there's a lot to like here.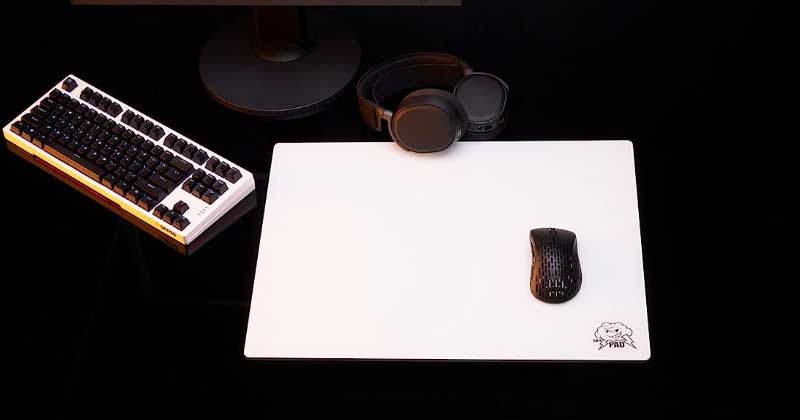 The solid build quality and non-slip properties ensure that the pad stays in place during intense gaming sessions. It doesn't slip around, creek, or seem cheap. It feels absolutely solid. Maintenance is also a breeze, just wipe it clean as you find necessary.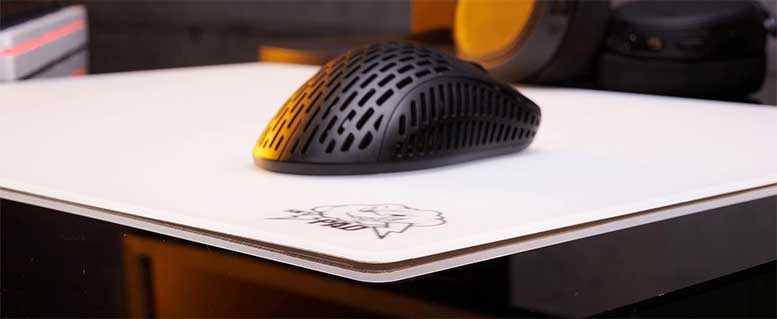 It's available in two different colorways; black or white. The white is our favorite, but the black is super sleek and nice too! Although the price point is quite high, at over $100, some say the SkyPAD Glas 3.0 XL is a gamers favorite splurge.
Pros:
Smooth glide and precise control
Beautiful aesthetics
Ample space for easy and comfortable use
Solid build quality and non-slip properties
Easy maintenance and cleaning
Cons:
Higher price compared to other mouse pads
Slight improvement needed in non-skid pad coverage
Potential sensitivity to moisture and sweat
Best Runner Up: Pulsar Superglide Premium Glass Mouse Pad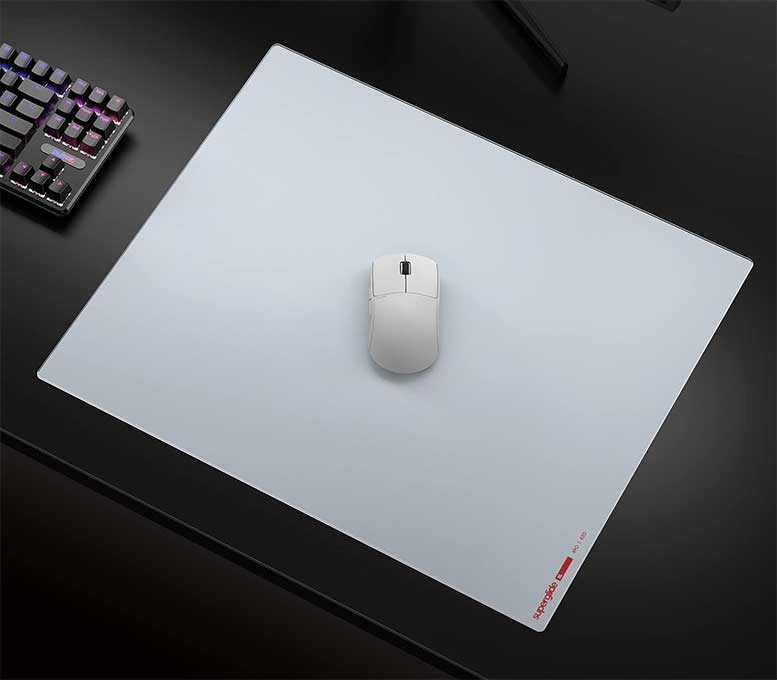 You'll be impressed with the durability and smooth performance of the Pulsar Superglide Premium Glass Mouse Pad. This runner-up option offers excellent performance and durability, making it a worthy alternative to the SkyPAD Glas 3.0 XL. Coming in at 19.3″ x 16.5″, it's the largest option that we've included in this article. Thankfully, this large surface is ideal for those looking to maximize performance for both gaming and work from home life.
The multi-layered construction ensures enhanced capabilities and effectiveness. In addition, the ALUMINO-SILICATE glass surface provides a high level of durability and resistance to scratches and cracks. The anti-slip bottom, made of high-density silicone rubber, ensures maximum adherence to surfaces and stability. It feels like a high-end piece of equipment, right out of the box.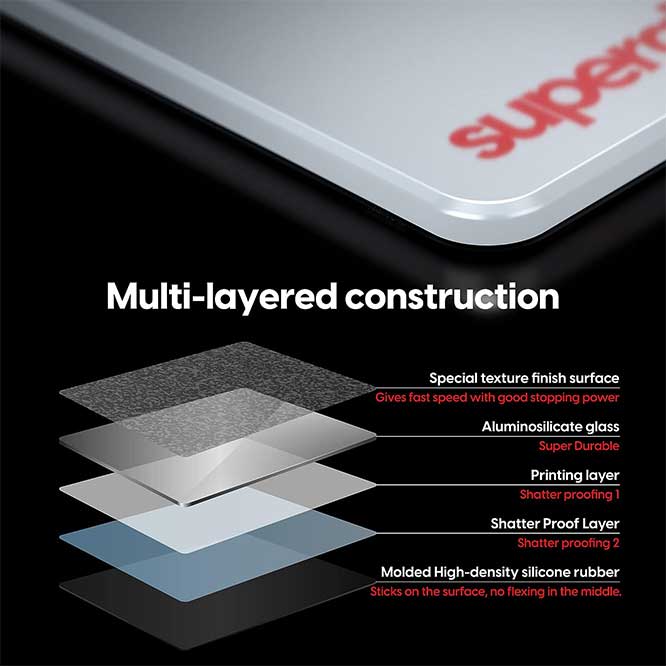 We praise the smoothness and speed of this pad, as well as its easy-to-clean nature. It's very well-built and intentionally solid, expected to last for years. However, any glass surface, debris and crumbs on the pad are noticeable when moving the mouse.
Overall, the Pulsar Superglide is highly recommended for its durability and performance. However, it's bold appearance may not be for everyone. The red colorway is definitely a bit flashy! Thankfully, there's a sleek and minimalist white/silver or black option that will suit the taste for most users.
Pros:
Ultimate performance and durability
Smooth and fast pad
Easy to clean
Well-built and solid
Cons:
Some complain of a slight scraping noise when moving the mouse over the pad
Considered slightly overpriced
Best Budget: XIFOWE Glass Mouse Pad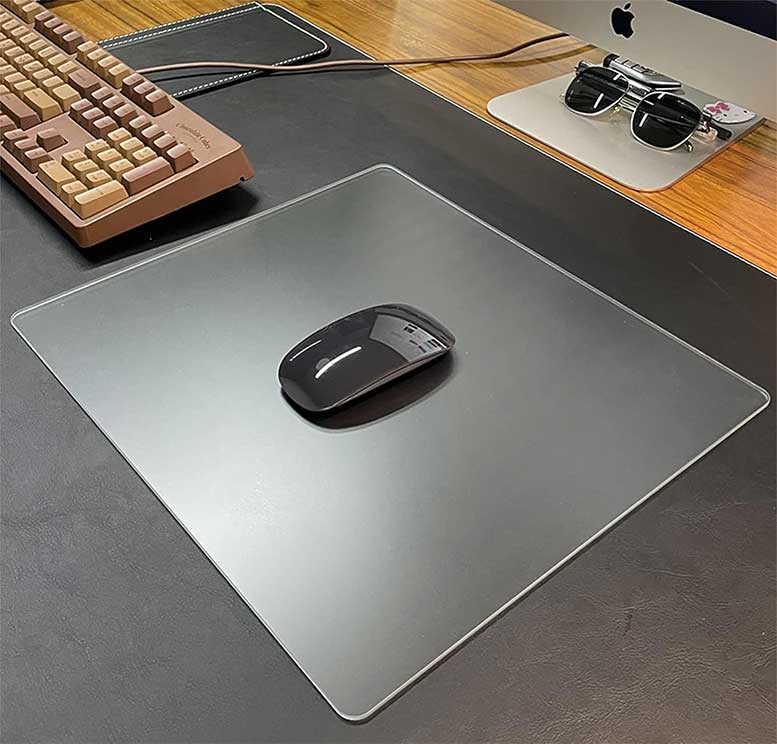 The XIFOWE glass mouse pad offers a cost-effective option for gamers and professionals looking for a reliable and durable surface for their mouse. For those that don't want to spend a lot, it's a thankful option. While it may be considered a bit small, at 11.81″ x 9.45″, it's an ideal size for those who prioritize its space saving design.
With its specially treated glass surface, it provides quick and accurate control for both gaming and work. As with the other two options, cleaning and maintenance are a breeze with regular glass cleaners or a clean rag.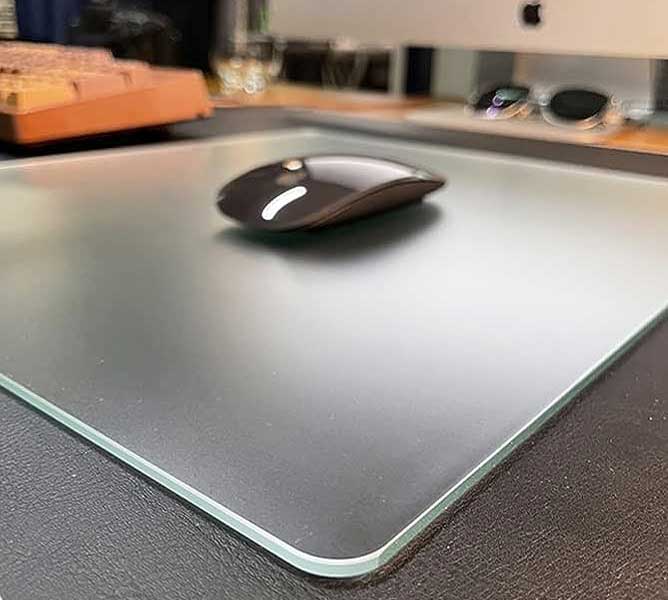 Coming in at a thickness of 3mm, it's suitable for any virtually any mouse. Although it's much cheaper than the Razer, SkyPAD, or Pulsar, it's still seemingly solid and durable. It comes in at an easy to attain price point and offers an inexpensive alternative to spending $100 or more.
Pros:
Specially treated glass surface optimized for gaming mice
Quick and accurate control for gaming and work
Easy to clean and maintain with regular glass cleaners
Suitable size for most mice on the market
Cons:
Not compatible with PMW3310 Chip mice
Limited color options (only available in Frosted Clear)
Glass Mouse Pad FAQs
Do glass mouse pads offer better accuracy than other materials?
Glass mouse pads are favored for their smooth and consistent surface, which can contribute to enhanced mouse accuracy. The absence of friction or irregularities ensures that your mouse movements are translated accurately onscreen, making them popular among gamers and professionals who require precise control.
Can glass mouse pads break easily?
Glass mouse pads are typically made from tempered glass, which is designed to be tough and shatter-resistant. They're not as fragile as regular glass and can withstand the typical pressures of daily use. However, dropping heavy objects on them or applying excessive force could potentially cause damage.
Do glass mouse pads require special maintenance?
They are relatively low-maintenance. Spills, dust, and debris can be easily wiped off the smooth surface with a damp cloth or a cleaning solution. Regular cleaning helps maintain optimal mouse tracking performance. Just be cautious not to use abrasive cleaners that could scratch the glass.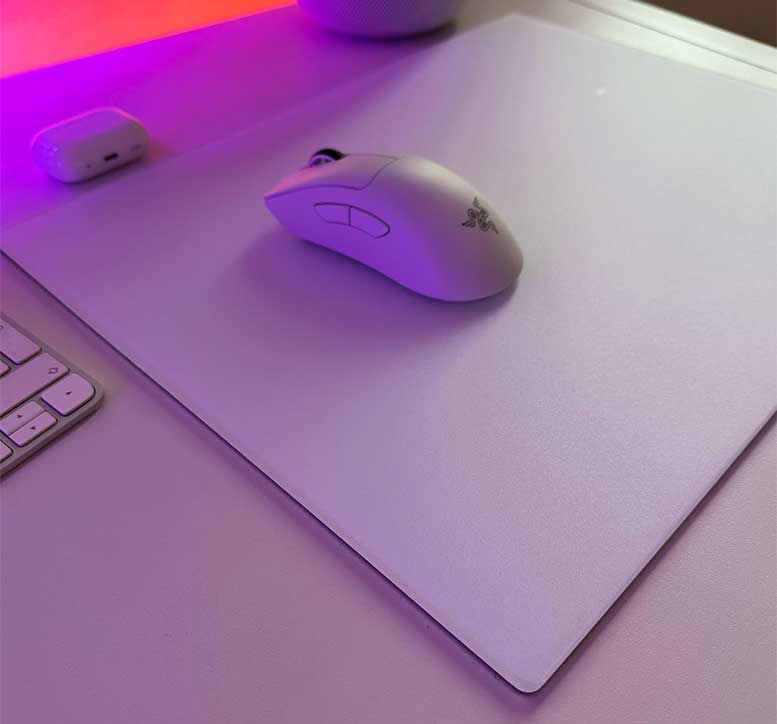 Do glass mousepads wear out?
They're known for their durability and resistance to wear compared to traditional fabric or foam mouse pads. The tough tempered glass surface is less likely to wear out or degrade over time, making them a long-lasting option. However, while they are less prone to wear, it's essential to handle them with care to prevent any accidental damage or breakage.
Do glass mouse pads work with all types of mice?
Glass mouse pads are compatible with a wide range of mice, including optical and laser sensors. Chances are, if you use a modern mouse, it'll work just fine. However, it's important to ensure that the mouse you're using works well on a smooth surface, as some optical sensors might struggle on extremely reflective surfaces.
Are glass mouse pads good for FPS games?
Yes, they can be beneficial for FPS gaming due to their smooth and consistent surface. It enhances precision and accuracy during quick aiming and tracking movements. The low-friction glide of glass pads is advantageous for swift adjustments, but personal preference should be considered as some gamers might prefer textured surfaces for better grip during intense gameplay.