Just because you have an older model car doesn't mean you can't enjoy the same hands free Android Auto experience as everyone else.
Instead of waiting to save enough funds to get into a new ride, a growing number of drivers are using Android Auto adapters to get the safety and convenience of this wireless technology right now.
Wireless Android Auto adapters give you access to a host of features including:
Hands-free control of your smartphone.
Convenient access to apps and Google Maps on your dash monitor. No more looking down at your phone.
Make and receive phone calls.
Voice activated Google Assistant.
Respond to text messages using voice commands.
Access apps like music, Audible and Spotify from your phone.
Connects your phone to the speakers.
Technology is constantly evolving and the number of options are exploding every single month. In order to help your search, we've compiled a list of the best Android Auto adapters for 2022-2023. We compiled this list based on several important factors including price, compatibility, ease of use and value. Let's get into it.
Best Overall: OTTOCAST U2-X Wireless Android Auto Adapter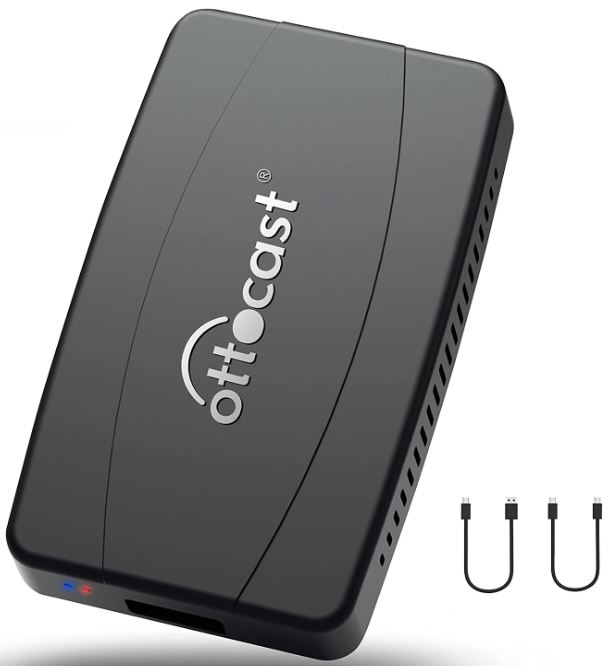 Key Features:
2-step setup.
Wireless Android Auto solution.
15S Auto-connect.
5GHz fast transmission.
One-year warranty.
We selected the OTTOCAST U2-X Android Auto Adapter as the best overall because it exceeded our expectations on multiple levels. Early versions of Android auto adapters were notoriously hard to set up. They often required over a dozen steps and success would be mixed.
The first thing you'll notice about this unit is that it's incredibly easy to set up. We didn't believe their 2-step setup claim initially but after testing it on several vehicles, we are pleased to report that this is the easiest setup of any unit we tested.
We appreciated OTTOCAST's attention to design with this Android Auto adapter. It's modern, prism form factor and unique finish make it aesthetically appealing in nearly any car. The low-profile design allows it to be discreetly stashed in the storage drawer under the center console or arm rest.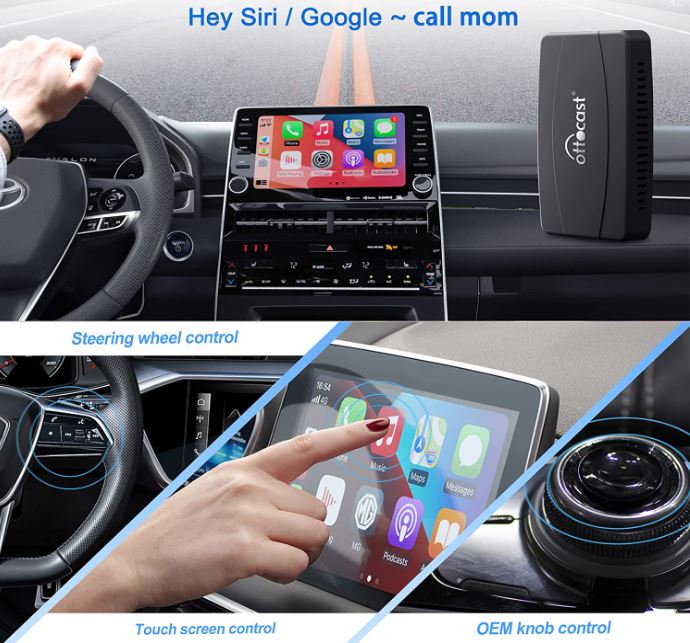 This adapter can equip older cars with the same features normally reserved for select late model vehicles; wireless Android Auto. This unit serves as a router/hub that wirelessly connects to your Android phone when it detects it's in the car.
OTTOCAST uses 15S auto-connect technology. For those looking to move to wireless Android Auto features, this is one of the few adapters we've found that provides consistent connectivity for a wide range of Android phones.
There's nothing more annoying than having audio and visual sync issues. It's caused by something referred to as lag, where the rate of transmission is not robust enough to properly sync audio and video. The OTTOCAST U2-X has a blazing 5GHz transmission rate that helps to keep delay and lag to a minimum.
With best-in-class form and function, we're big supporters of the OTTOCAST U2-X.
What We Like:
Enables wireless Android Auto.
2-step easy setup.
Auto-connect feature.
Sleek design and sturdy build quality.
5GHz transmission speed.
What We Didn't Like:
Can be pricey.
Auto-connect not always consistent.
Best Runner-Up: Motorola MA1 Wireless Android Auto Car Adapter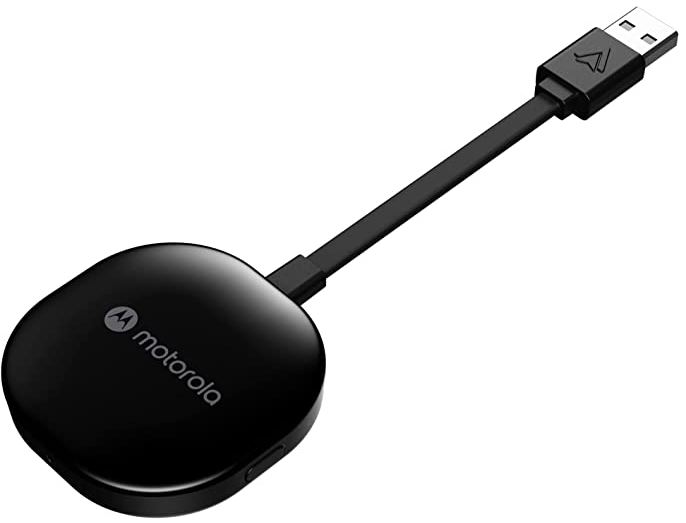 Key Features:
Adds wireless Android Auto functionality.
Sleek design.
5GHz transmission.
It was a tight race between the first two adapters in this roundup. The Motorola MA1 Wireless Android Auto Car Adapter makes the list as a solid runner up to the OTTOCAST. We were impressed with its sleek, non-invasive design. The black finish blends nicely into most car interiors and its slim profile design makes it easy to tuck away under the center console. The included gel mat to help keep the adapter in place is also a pleasant touch.
Even though it's priced at a premium, it's due to the fact that it enables most cars to have wireless Android Auto. Gone are the days of plugging in your phone every time you get into the car. Instead, the Motorola MA1 connects to your phone the moment you get into the car. It's both safe and efficient.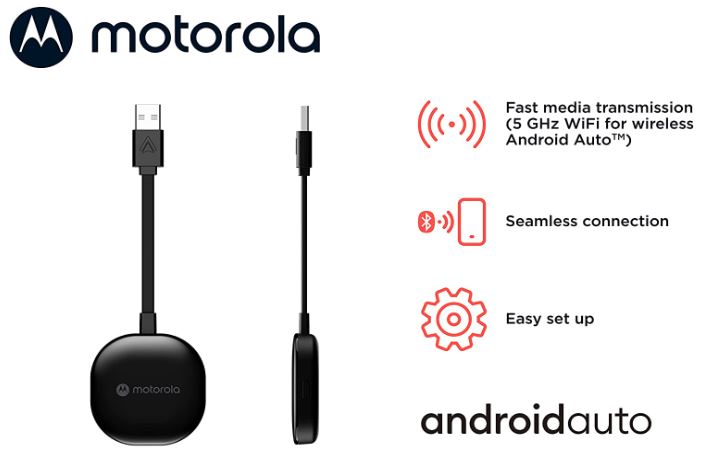 Setup for this adapter is very simple. Although it requires more steps than the OTTOCAST, it is still a "plug and play" style setup process. This unit boasts the same fast 5GHz transmission speed which makes it equal parts sleek and powerful.
Although it's compatible with most Android phones, one thing to keep in mind is that the Motorola MA1 is very sensitive to phone updates. You may want to check the manufacturer website to verify that the newest version of your operating system will be compatible with this adapter.
What We Like:
Fast 5GHz transmission.
Low profile, discreet design.
The included gel pad to prevent slippage.
Easy setup.
Bluetooth enabled connectivity.
Great customer support.
What We Didn't Like:
Expensive.
Some reports of compatibility issues with new Android updates.
Best Alternative: Ottocast A2Air Android Auto Wireless Adapter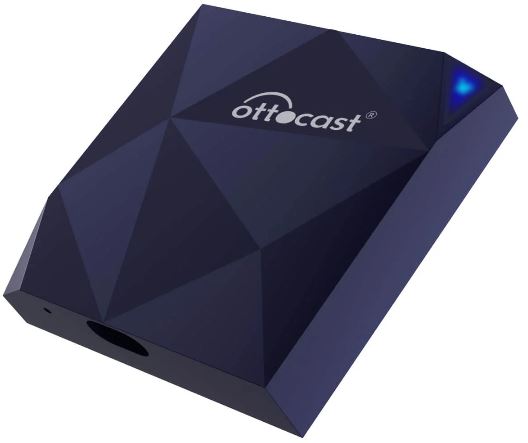 Key Features:
Utilizes both Bluetooth and WiFi.
18 second boot-up time.
Beautiful modern design.
USB plug and play operation.
Compatible with over 600 vehicle models.
The Ottocast A2Air Wireless Android Auto Adapter is a great option for those that want to partake of the same Ottocast U2-X technology but with some additional features and conveniences. While the outside form factor of this model looks similar to the U2-X, it provides some powerful surprises underneath the hood.
The major difference in this model comes down to speed and reliability. The A2Air has the fastest startup times of any other adapter we tested. At 18s, your phone will be able to connect before you can get your seatbelt on. It has a robust 5GHz Wi-Fi module that provides consistent transmission. We were impressed at the negligible amount of lag between the Android phone and the car. Even when playing videos, the sync was nearly flawless.
This adapter's wireless connection also gives you control over features in your car that are already integrated with your wired Android Auto ecosystem. For example, the play and forward buttons on the steering wheel will still be able to interact with the Android phone. Ottocast have been pioneers in the Android adapter space for several years. As a result, they are compatible with over 600 vehicle makes and models and most phones running Android 11.
Although the A2Air has some incredible features, the cost is dramatically more than some of the other adapters we've featured on this list. It would be beneficial to determine if these added features are necessary or even compatible with your vehicle and smartphone. With that said, we feel that the value justifies the cost.
What We Like:
Rock solid auto connect feature.
Easy 2-step setup.
Modern sleek design.
Provides console and steering wheel button compatibility.
Google Voice compatible.
Fast 5Ghz Wi-Fi module.
What We Didn't Like:
The most expensive model.
Can run into lag issues if multiple apps are running.
Best Budget: CarlinKit A2A Wireless Android Auto Adapter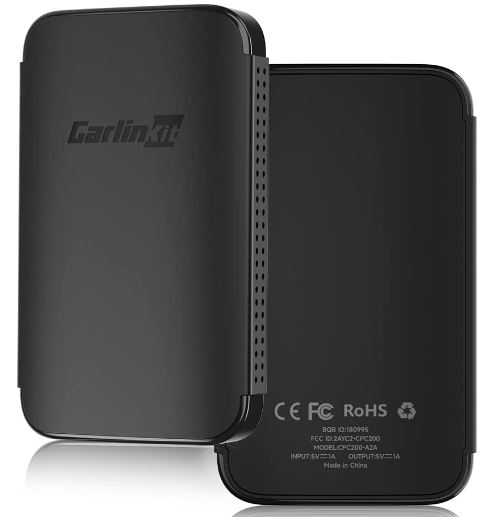 Key Features:
Bluetooth, Wi-Fi, USB Connection.
5.8GHz transmission speed.
Works with over 500 Android enabled vehicles.
Don't the budget friendly pricing fool you. The CarlinKit A2A is a rock solid choice when it comes to wireless Android Auto adapters. Of all the budget models we tested, this adapter was one of the few that did not sacrifice the feature set to cut costs. In fact, the CarlinKit boasts a faster Wi-Fi connection than the other adapters on this roundup.
Instead of cutting down on quality, you will notice the manufacturer simply made the unit larger to accommodate its components. Even though it is bigger than many wireless adapters on the market, its sleek form factor helps it to blend into the car's interior nicely.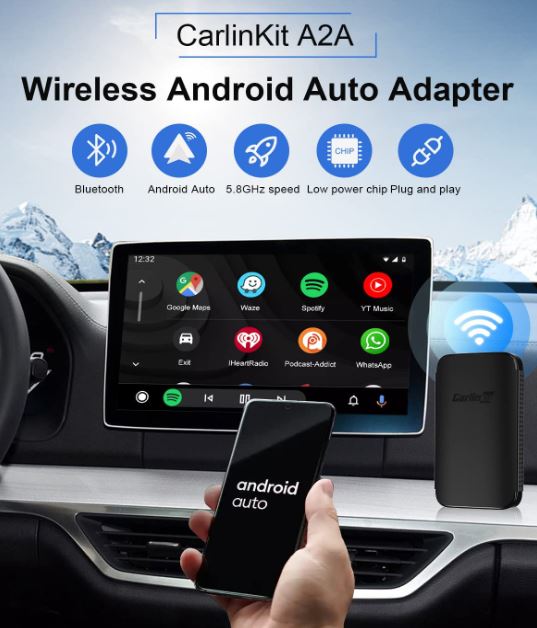 In terms of compatibility, this adapter works with phones that are Android 10 or above. Depending on your specific phone (their website has a detailed list), your phone may need to be upgraded to Android 11. The CarlinKit A2A adapter provides multiple ways to connect including USB, Wi-Fi and Bluetooth. Being able to still connect via USB is an added perk for those times when you need a rock solid connection and don't want to mess with the wireless component.
Although this is a solid option, it's important to note that connectivity is not as consistent as with other units on this roundup. Regardless, the CarlinKit A2A stands head and shoulders above it's competitors at this price point.
What We Like:
Fast 5.8GHz transmission.
Budget friendly.
Keeps the original car function.
Low lag.
Solid startup speed.
Compatible with Bluetooth, Wi-Fi and USB.
What We Didn't Like:
Larger form factor can get in the way.
Not compatible with as many vehicles.
How to Choose the Best Wireless Android Adapter
Wireless Android Auto is a beneficial feature to have. Not having to plug in your phone each time you get into the car is incredibly convenient. Besides making life easier, it's also a matter of safety.
Regardless if you're parked or driving, anything that takes your attention away from the road and surroundings can increase your risk. Going wireless means less opportunity for distraction. To help with your decision-making process, let's look at some factors you should consider before making your selection.
Compatibility
Lots of people waste valuable time ordering adapters that don't work with their car or phone. You'll want to look at the product website to make sure that your phone and car are on their compatibility list.
Connectivity
The more ways to connect the better. You'll want to only consider adapters that use USB, Wi-Fi and Bluetooth.
USB Type
You'll want to make sure that the USB port in your car is compatible with the cable and adapter you are trying to install. For example, older model cars have a USB-A port. You'll want to make sure the unit you order has compatible cables included.
Size
The real estate near the dash of your car can be in high demand. The last thing you want is a clunky adapter taking up space that could be put to better use. Keep in mind that the wireless Android Auto adapters tend to get more expensive the more compact they are. You'll need to find a personal balance between size and price.
Features
You'll want to compare features of the different models you are considering. It's important not to assume certain features are included. Always verify that the spec sheet is what you expect. While all adapters will give you wireless access to Android Auto, you'll want to go with adapters that allow you interact with it using onboard controls.
Price
Things can get pricey very quickly in the world of wireless Android Auto adapters. The truth is that you may not need all the features an expensive top-of-the-line adapter has to offer. It would be a waste to spend extra money on features that may not even be available with your specific car or phone. A good rule of thumb is to compile a list of features you would like to have and arrange them in order of importance. This can serve as a great way to narrow down your list.
Don't Be Afraid to Test
All of the models featured in this roundup have high customer service and generous satisfaction guarantees. You may not be able to decide until you get a hold of one and put it through the paces. If you're still on the fence, it may be worth taking the time to order one or two and see how they do in your particular situation.