By now, we're all aware of the dangers of texting and driving. Simply put, if you're on your phone, you shouldn't be driving. That's all well and good, but it presents certain practical challenges for responsible drivers. For one thing, a lot of us use a phone app, like Waze, for navigation. For another thing, most people use their phones to play audio nowadays. And of course, there's the simple fact that in some professions, you need to be reachable at all times. This has led to lots of demand for hands-free phone tools, some of which are better than others.
Today, we're going to review the best wireless Android Auto adapters for making your phone truly hands-free. First, we'll look at the Ottocast. This is an easy-to-use adapter that also works with Apple CarPlay. Next, we'll talk about the Carsifi. This is an adapter that supports connections from multiple smartphones, and comes with a companion app. Third up is the AAWireless. This is a tiny adapter that's easy to carry anywhere. These are all Indiegogo projects, and they're at different stages of funding. We got an early look at all three, and had a chance to go over them. Here's what we learned!
Note: At no extra cost to you, we may earn a commission for purchases using our links. Learn more.
How Does Wireless Android Auto Work?
Before we talk about any particular adapters, let's start with the fundamentals. If you haven't been keeping up with all the latest technology, you might not know what Wireless Android Auto is. So, what is this app, and how does it integrate with your car?
Simply put, Wireless Android Auto is a smartphone app that's designed to make hands-free operation easy. It works by shutting off your phone's screen controls, and giving control over to voice commands. You'll definitely want to become familiar with Google Assistant, if you're not already. Some controls are also passed on to your car's dashboard.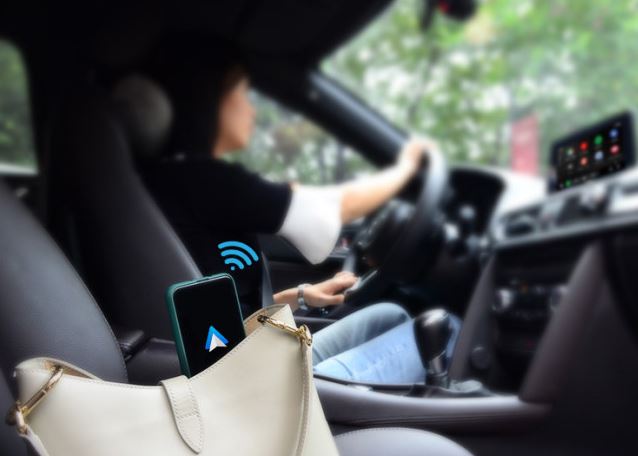 Wireless Android Auto doesn't just change the way you control your phone. It also changes the way you interact with your other apps. For one thing, games and video streaming apps will be blocked entirely. For other apps, the functionality is somewhat modified. For example, you can still send and receive texts, but you'll only be able to do it via voice commands. The same is true for audio apps like Spotify, which will go dark and work via voice only. Even Google Assistant will be modified. Instead of answering general queries, it will gear its answers towards traffic and navigation.
One important thing to remember is that you still need a data connection for voice commands. Google Assistant is cloud-based, and won't work offline. So if you're driving through a tunnel, Wireless Android Auto might stop working. The same is true in rural areas, or anywhere else you don't have a signal. Another thing to keep in mind is that these apps sometimes stop temporarily if your car interrupts them. This most often happens if your car has collision alerts or lane alerts. When the alert sounds, your music will pause. When it stops sounding, the music will pick back up.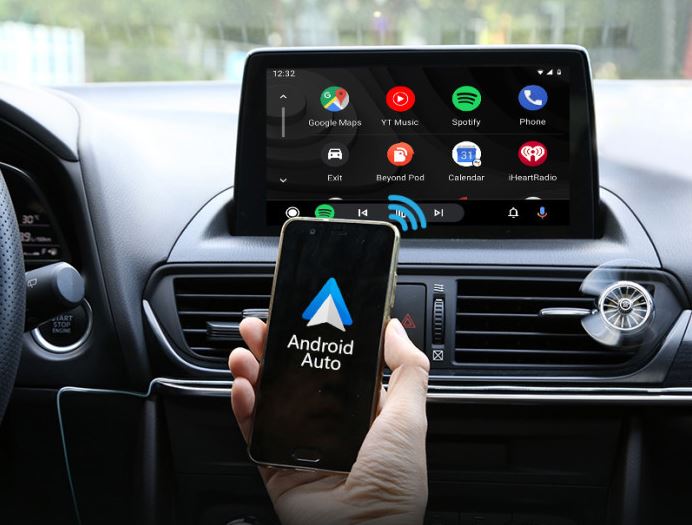 Wireless Android Auto Adapter Basics
When Android Auto first released in 2015, it was designed to work via USB. This was the most logical choice, since cars were already integrating USB chargers well before then. And in many vehicles, you still connect via USB. However, certain vehicles are now switching over to WiFi. The first vehicle to do this was the 2017 BMW 5-series, but it's becoming more and more commonplace. Because of this widespread adoption of WiFi, Google has now made Android Audio wireless. Early versions of Wireless Android Auto required a 5GHz WiFi connection. However, the latest version also supports 2.4GHz WiFi. This means you can use the app with any compatible, WiFi-enabled vehicle.
Speaking of compatibility, you'll want to check your vehicle manual first. Different vehicles are compatible with different services. Some automakers support Android Auto, while others exclusively support Apple CarPlay. Still others will support both. In some cases, different versions of the same vehicle will have different support. A good example is cars with built-in GPS screens, which may not always support Android Auto. Along the same lines, different vehicles will have different interfaces. Does your car's console have a touchscreen, physical controls, or a mix of the two? Depending on the control scheme, you'll have different options.
Phone compatibility is relatively good. Since Android Auto has been out for so long, you'll find that it works with almost any modern smartphone. If you're using a cheap Tracfone, you might run into some hardware issues. But if you're using any phone from a major manufacturer, you're going to be just fine.
But what if your vehicle doesn't have WiFi? Do you have to plug your phone into the USB port whenever you want to use Wireless Android Auto? Not exactly. With an adapter, you can bridge the gap between wired and wireless. Plug it into your car's USB drive, and you'll be able to connect your phone wirelessly. That way, you don't have to plug and unplug your phone whenever you get out of your car.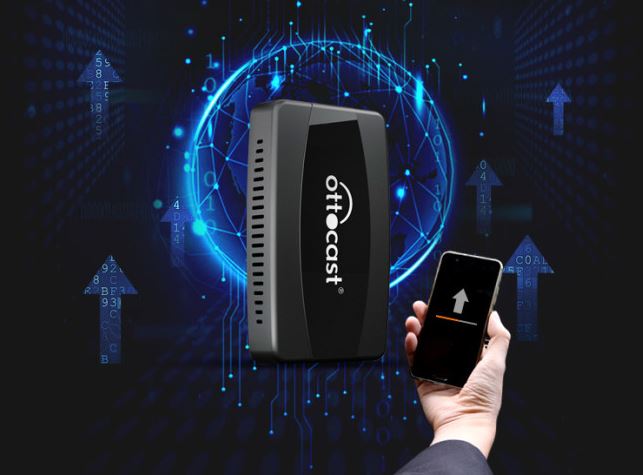 Ottocast
The Ottocast is the first Wireless Android Auto adapter on our list, and it's very capable. It's a black rectangular device that's smaller than a smartphone. It's constructed from ABS plastic, with a satin finish that easily stays clear of fingerprints. There are small vents running down the side, and a USB port on either end. On one end is a USB Type-C port, which is used to connect to your vehicle. A small USB Type-C to Type-A cord is included for this purpose. The other USB port is a Type-A port, and it's used for pass-through charging. You can plug your phone into this port, and it can charge without interrupting the Ottocast's function.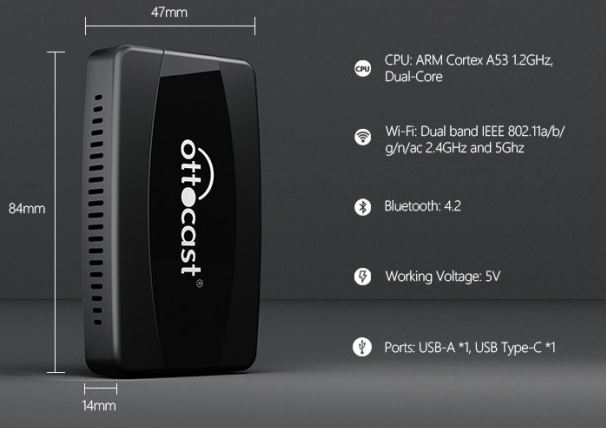 To use the Ottocast, you simply plug it into your car's USB port. If your car has more than one port, one may be designated for Android Auto. In that case, make sure you're using the right port. Once the adaptor is plugged in, it will function as a WiFi hotspot. As a matter of fact, it's dual-band WiFi, so it will work with any phone, and any version of Wireless Android Auto. Not only that, but you can actually use the Ottocast with Apple CarPlay as well. CarPlay is similar to Android Auto, but it's the Apple version of the technology.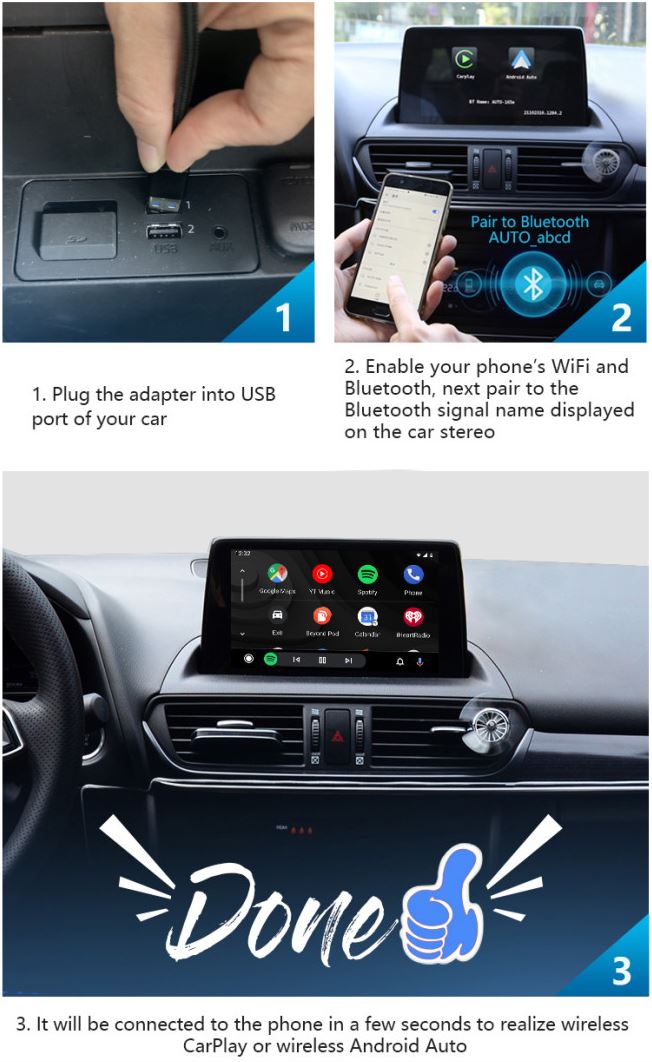 With the Ottocast plugged in, open your phone's WiFi menu. If you've done everything properly, you should see the Ottocast listed as a WiFi network. Connect to that network, then open up your phone's Bluetooth menu, and connect there as well. The reason you need both connections is that WiFi is used for many of the control functions. Bluetooth, on the other hand, is used for sending audio to your car. In most cases, your phone should automatically connect to both after you've been connected the first time. As long as the Ottocast is plugged in, you shouldn't have to re-pair in the future.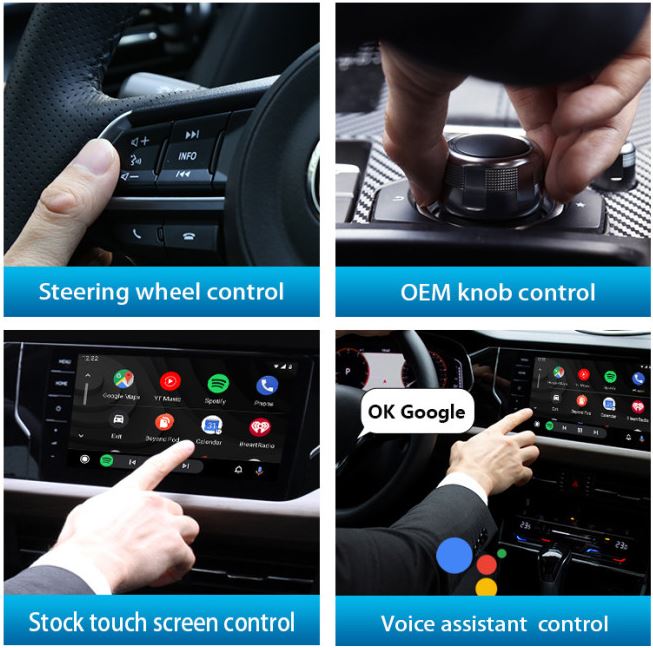 One thing we very much appreciated about the Ottocast is that it supports over-the-air firmware updates. This is a great feature, since you never know when Google is going to change their app. Without firmware updates, your wireless adapter could turn into a useless brick without warning. With the updates, all you have to do is run an update, and your Ottocast will once again function. It's a good idea to run an update any time you see quirky behavior. If something goes wrong right away, you don't have to worry. This adapter is protected by a 12-month manufacturer's warranty.
The Ottocast is currently shipping to early backers, as of the end of December. Beginning in January, 2022, they expect to start delivering to the general public. That said, Ottocast already has other products in full production. The Ottocast U2-One is one of our choices for best Apple CarPlay adapter. You can order one and have it next week, but it only works with Apple CarPlay, not Wireless Android Auto.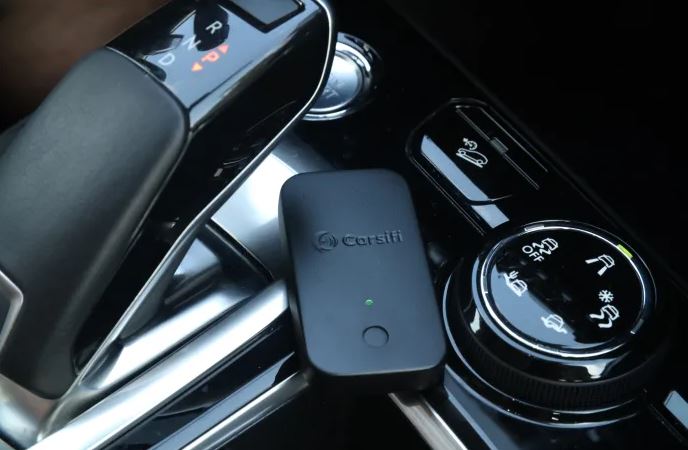 Carsifi
The Carsifi is a small black device with an ABS plastic housing. It measures 2.6 inches long, 1.4 inches wide, and only 0.3-inch thick. That's about the size of an old iPod Nano, and it's nice that Carsifi managed to make such a small adapter. At the front end, there's a USB Type-C port, which is used to connect to your car. On the front surface, you'll see an LED indicator that lets you know the adapter is powered on. Below the light, there's a control button, with an attractive LED ring around it.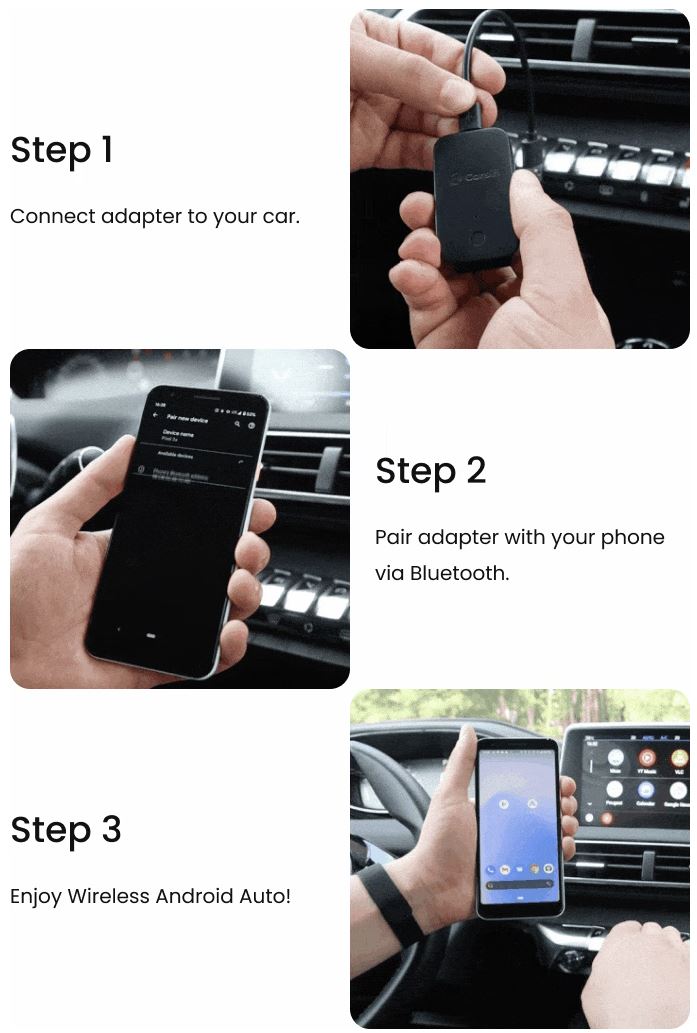 Like the Ottocast, this is a dual-band adapter. While it won't work with Apple CarPlay, it will work with any version of Android Auto. Also like the Ottocast, you'll need to connect simultaneously via WiFi and Bluetooth. For now, that's universally true of any Wireless Android Auto adapter. However, the Carsifi does something most adapters won't; it lets you connect multiple phones. This is great when you have separate personal and work phones. It's also helpful if you have a passenger who's playing audio from their smartphones. All phones will remain connected simultaneously, but you can only be actively using one at a time. To switch from one phone to another, just press the button on the front of the adapter.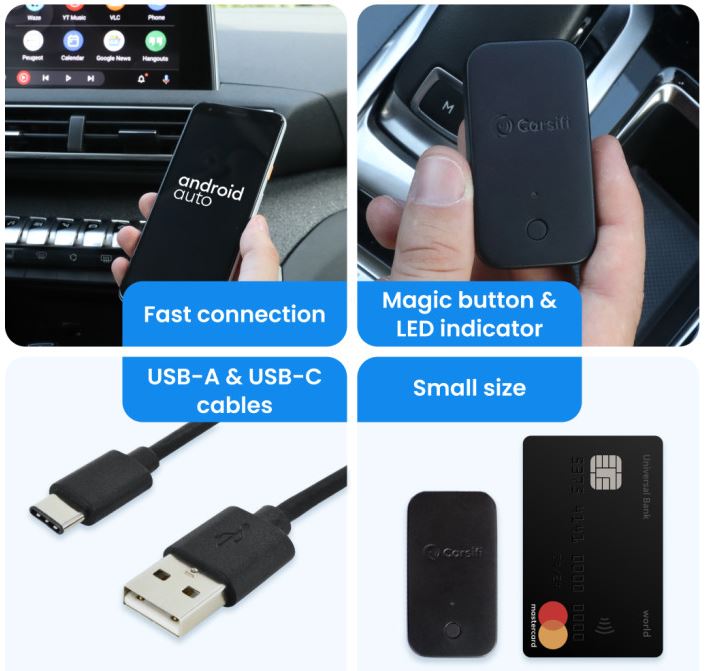 It's perfectly feasible to use the Carsifi just as we've described. That said, there's also a companion app that you can install on your phone. The app won't make Android Auto work "better" per se, but it allows you to change some system settings. For example, you can set the WiFi to 2.4GHz only if your 5GHz band is giving you trouble. You can also search for firmware updates directly from the app, which makes updating quick and painless.
The Carsifi is shipping right now to early Kickstarter backers. Late backers and Indiegogo backers are expected to receive theirs by the end of January, 2022. Starting in February, they will begin shipping orders to the general public.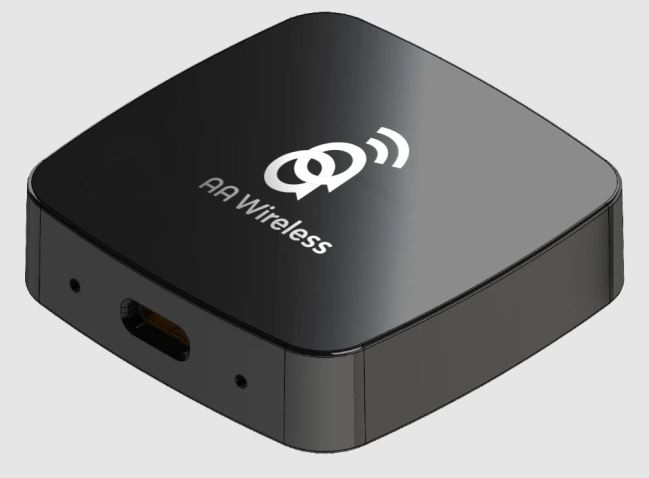 AAWireless
The AAWireless adapter is the smallest of the bunch, with a square shape that's only 1.9 inches to a side. And at less than half an inch thick, you can easily slip it into your pocket. The housing, like the other two adapters, is made from black ABS plastic, and feels sturdy and durable. Other than some engraved branding on the front, there are no striking visual features. The only other physical feature of note is a USB Type-C port for connecting to your car. As with the previous adapters, once it plugs in, you'll be able to connect wirelessly. Connect via WiFi and Bluetooth, and you're all ready to go.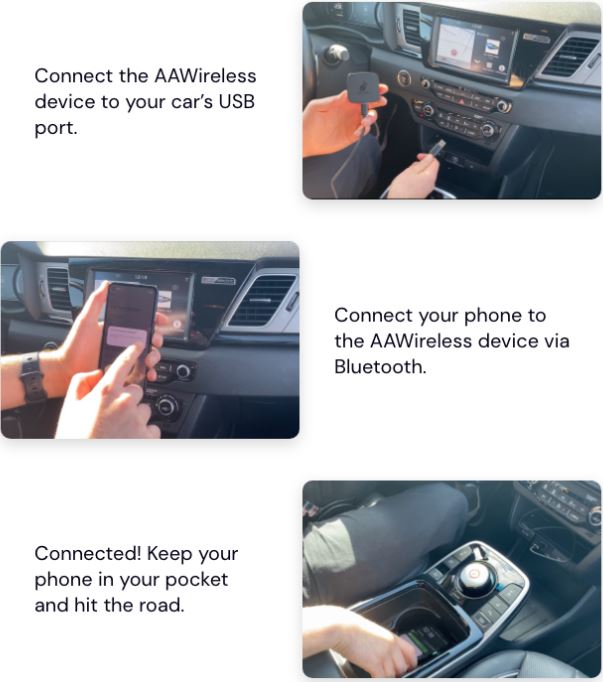 This adapter works with any Android Auto-compatible automobile. And thanks to OTA updates, it will also work with any Android Auto phone. If you're having trouble, just download the companion app and run a firmware update. 9 times out of 10, that will fix your problem. As an added bonus, you don't have to wait to get your hands on one. The AAWireless Indiegogo campaign is finished, and new orders are being shipped directly to the public.
Final Verdict
So, which one of these Wireless Android Auto adapters is the best of the bunch? Let's quickly recap what we've learned. The Ottocast is compatible with Apple CarPlay, and it supports pass-through charging. It also comes with OTA updates, so you can stay compatible with future versions of Android Auto.
The Carsifi also supports firmware updates, but it does so through a powerful companion app. We loved the app customization options, although some of them seemed superfluous. The thing we liked most, though, was the fact that the Carsifi supports multiple phones simultaneously.
The AAWireless is the smallest of the bunch, with a truly tiny housing. It's also available immediately to the general public, with no delayed shipping period. Then again, it doesn't come with any "extra" features like pass-through charging or multi-phone support. For those, you'll have to wait for one of the other adapters.
Note: At no extra cost to you, we may earn a commission for purchases using our links. Learn more.